MacBook Air and MacBook Pro get updates
There's a back-to-school promo!
Apple's latest updates on its MacBooks stream lines their laptop line which may have appeared confusing for a time. The 12-inch MacBook is now officially dead and refreshes to both the MacBook Pro base model as well as the MacBook Air creates a clearer distinction between the notebooks.
The Touch Bar Line
Beginning with this refresh all MacBook Pros will now feature a Touch Bar as well as Touch ID. These were only previously available to Apple's higher end MacBook Pro models. The new entry-level MacBook Pro now offers a 1.4GHz quad-core 8th Gen Core i5 chip (upgradeable up to 3.9GHz) from Intel's Coffee Lake lineup.
If you're yearning for more ports, you'll be disappointed as this model will continue to have only two USB-C ports instead of four that's found on the 13-inch MacBook Pro.
MacBook Air's new display
Apple has also updated the MacBook Air adding the True Tone display technology to keep it in line the company's other devices. The tech automatically adjusts the display's colors based on ambient light to achieve more natural colors. The specs remain the same meaning the MacBook Air will continue to be powered by Intel's dual-core 8th Gen i5.
Student Promos
Both devices are part of Apple's back-to-school promotion that can be availed by higher education students, their parents, faculty, staff and home-school teachers through the Apple Education Store. The promotion includes a pair of qualifying Beats headphones with the purchase of any eligible Mac or iPad, as well as education discounts on qualifying Mac, iPad, AppleCare, select accessories and services.
As part of the promo, the MacBook Air will start at US$ 999 and SG$1,449 in Singapore. Meanwhile, the base model MacBook Pro will start at
$1,199 in the US while it's priced at SG$ 1,749 in Singapore.
Samsung and TikTok team up for a dance challenge in Singapore
A Samsung GALAXY A80 BLACKPINK Edition awaits you
To celebrate positive and creative expression in culturally-diverse Singapore, TikTok partners with Samsung for the first time to bring the #slideandswivel dance challenge to the country.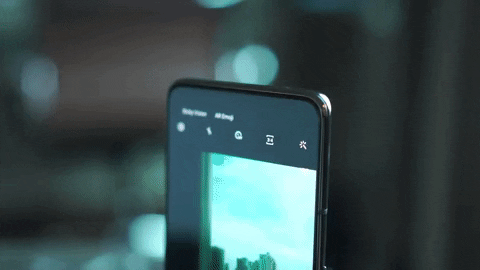 The Samsung GALAXY A80 features a camera that slides up and swivels when you take selfies. TikTok wants you to flaunt your best moves by incorporating slides and swivels for a chance to win a Samsung GALAXY A80 BLACKPINK Edition.
All you have to do is open the TikTok app, record a video using the "MVP" track, create unique dance moves, including slides and swivels, and post the video on TikTok with the hashtag #slideandswivel.
You can watch the demo videos below to further guide you.
Contest is open to residents of Singapore and must be at least 18 years old and above. You still got plenty of time as this contest will run until the 26th of July.
Buy the Samsung Galaxy A80 BLACKPINK edition now
You better hurry!
BLINKs, it's officially here — the Samsung Galaxy A80 BLACKPINK Edition is now available for purchase.
The BLACKPINK edition package comes with the Galaxy A80 smartphone in either Angel Gold or Phantom Black along with the BLACKPINK case, charging stand, a photocard, and a mesh pouch for PHP 34,990 (US$ 685). The separate BlackPink Edition package is valued at PHP 5,999 (US$ 118) but buying online now will net you the package for free.
There's also a free Nanofixit Screen Protection with 1 year screen cracking insurance warranty of up to PHP 5,000 (US$ 98) as well as a free Klook Voucher worth PHP 1,000 (US$ 20). This specific package is only currently available on July 14 via online purchase.
As an additional offer, you can trade in your old your old smartphone or tablet for the Galaxy A80 BLACKPINK Edition for some discounts as well as an additional PHP 4,000 (US$ 78) token.
Availability in other Southeast Asian countries
A similar package is available in Malaysia for MYR 2,499 (US$ 607.58). However, they have an additional color option which is ghost white and instead of the Nanofixit Screen Protection, the package comes with a Samsung Galaxy Fit worth MYR 369 (US$ 85). This package is only available to the first 1,000 buyers.
In Singapore, the package only includes the Galaxy A80 along with the BlackPink case, charging stand, and photocard. The suggested retail price is SG$ 898 US$ 662). The BLACKPINK merchandise is valued at SG$ 188 (US$ 139).
The Samsung Galaxy A80 BLACKPINK edition was first announced in Bangkok, Thailand and also goes on sale today starting at THB 21,990 (US$ 719). During the launch, we also saw the Galaxy Buds and Galaxy Watch in BlackPink edition.

Samsung Galaxy A80
The Samsung Galaxy A80 was first launched in April, also in Bangkok, Thailand along with the Samsung Galaxy A70 which at the time already had a BLACKPINK Edition.
The Galaxy A80 sports a set of triple cameras, octa-core Snapdragon 730G chipset, 8GB of RAM, 128GB of storage, 3700 mAh battery, and 4G LTE support. It also runs Android 9.0 out of the box.
This is Samsung's unique answer to the "notch problem" with its rotating camera mechanism. It was announced early in April but didn't hit certain markets right away.
SEE ALSO: GadgetMatch in BLACKPINK's area thanks to A Galaxy Event
Get free Lightning cables by planting trees
Stay charged for the planet
Sturdy Lightning cables that don't break the bank are hard to come by, but one brand is here to save the day — and the planet.
You can get a free Lightning to USB cable from Nomad by making a donation to plant trees. You can choose the amount to donate — US$5 for 5 trees, US$10 for 10 trees, or US$20 for 20 trees — and 100 percent of the proceeds go to Carbon Fund. For comparison, Apple's Lightning to USB cable starts at US$19.
Funds raised will help address deforestation in Brazil. Deforestation in itself is responsible for about 20% of global warming. Reforestation will help reduce climate change as trees absorb carbon dioxide emissions. Planting trees also helps preserve biodiversity, control flooding, and creates jobs.
Nomad is committed to offsetting all carbon emissions generated from production up until final delivery, so each shipment will be completely carbon neutral. The initiative will run until supplies last.
Money may not grow on trees but by getting a Lightning cable, your money can help plant trees. Visit Nomad's website to get your free Lightning cable today.