TappLock: The world's first smart padlock
It seems like everything is turning "smart" these days and that includes padlocks.
If you're always misplacing the keys or fumbling to remember the combination to your padlock, then you probably need TappLock in your life. Just like on most high-end smartphones these days, this high-tech padlock can be unlocked with something unique to you – your fingerprints.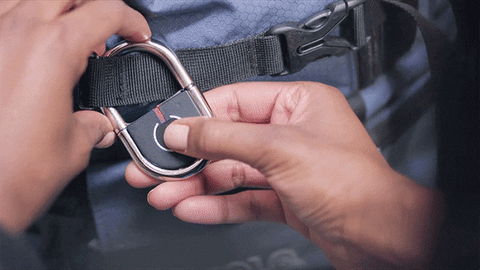 Simply place your finger on the sensor and the padlock should unlock in 0.8 seconds. No keys or combination codes necessary. It even has a built-in alarm so that if anyone attempts to force it open, TappLock will set off an alarm to let you know your valuables are in danger.
What if someone else needs access to your lock? TappLock comes with an app for iOS, Android, and Windows that lets you grant access to whomever you wish. You can store up to 100 fingerprints and even set how much time other users have access to that padlock.
TappLock is water resistant and can even act as a mini power bank.
It also has a little brother called the TappLock Lite meant for securing bags and other smaller compartments. It's everything the TappLock is except being a mini phone charger.
TappLock is an Indiegogo project that seeks to raise $40,000 in funding. As of this writing it has 230 backers have pledged more than 94% of its goal. They have a little over 20 days to reach their target. If you want one, make sure you back them up.
[irp posts="4100″ name="Latest iOS security patch is more important than you think"]
HUAWEI Band 7, Sound Joy now official in Singapore
Perfect companions for outdoor activities
Huawei is releasing two more lifestyle devices in Singapore: the Huawei Band 7 and the Huawei Sound Joy.
Both devices will be available in the island from July 4 at all authorized stores and Huawei's official Lazada and Shopee online stores.
Band 7: Thinnest smart band yet
The Band 7 is the company's thinnest smart band to date which packs a punch with its comprehensive all-day health monitoring features.
As usual, it boasts Huawei's TruSleep technology, TruRelax pressure-tracking algorithm for stress, and an upgraded TruSeen 4.0 for accurate heart monitoring.
The wearable also features 96 workout modes, up to 14 days battery life, and a 194 x 368 high quality glass display.
Available in Graphite Black, Wilderness Green, and Nebula Pink, the Band 7 will retail for SG$ 68 (from SG$ 88) as an introductory offer.
Sound Joy: Convenient audio experience
The slim, lightweight, and ergonomic Sound Joy is designed to deliver a better audio experience for users on the go.
It is powered by Devialet SAM technology for clearer audio with minimal distortion and deep bass.
There is a Shake Stereo Link Up function that allows two Sound Joy units to be paired and turned into a stereo system for bigger parties.
Its One-Touch Transfer feature allows users to connect their device to the speaker and instantly transfer media playing on it.
Aside from these, the Sound Joy also has an IP67 dust and water resistance rating and an anti-slip surface. Its battery supports up to 26 hours of play time, as well as fast charging.
Available in Obsidian Black and Spruce Green, the Sound Joy is priced at SG$ 168 (from SG$ 188) when it releases.
WATCH: Huawei Sound Joy vs JBL Flip 5
7.7 Super Sale
Complementing the launch of the Band 7 and Sound Joy is Huawei's upcoming 7.7 Super Sale on Lazada and Shopee.
Customers stand to enjoy up to 40 percent off on Huawei's range of products.
Here are the discounted rates of participating items in the sale:
Product
Discounted 7.7 price

Watch GT 2 (Active Edition 46mm)

SG$ 148 (from SG$ 238)

MateBook D 15

SG$ 838 (from SG$ 1,098)

MatePad 11

SG$ 598 (from SG$ 698)

Plus a free Smart Keyboard

MatePad T 10

SG$ 168 (from SG$ 228)
Latest LG DualUp monitor has world's first 16:18 aspect ratio
The future of work
g
Another innovation is coming to Singapore as LG has released the LG DualUp Ergo monitor.
The 27.6-inch display sports the world's first 16:18 aspect ratio format, an expansive screen size that will benefit a wide range of users like designers, video editors, and even just everyday professionals.
The monitor has a Square Double QHD 2,560 x 2,880 resolution Nano IPS display, and is paired with LG's newest Ergo stand that offers a wider swivel angle and a better adjustability range.
The display is also equipped with an ambient light sensor that adjusts screen brightness according to the surrounding brightness level.
For productivity, the screen has a vertical split view function. It utilizes USB-C connectivity for convenient charging, data transfer, and screen display.
The LG DualUp Ergo monitor is priced at SG$ 999 will be available starting July 1, 2022 through KrisShop, Lazada, Shopee, and the following authorized retailers:
Best Denki

Challenger

COURTS

Gain City

Harvey Norman
Samsung has Starbucks-themed cases for coffee lovers
Exclusive to South Korea
Since the company is from the country, Samsung offers a lot of exclusives in South Korea. Previously, the company sold a Pokémon-themed exclusive edition of the Galaxy Z Flip 3 in — you guessed it — South Korea. Now, it has another set of exclusives. This time, it's for coffee lovers. Samsung is now selling a Starbucks-themed cases for the Galaxy S22 series and the Galaxy Buds 2.
The smartphone cases are pretty straightforward. Sporting the coffee company's iconic green, the Galaxy S22 and S22+ cases have either a patch with the Starbucks logo or a tagline that says, "Count Stars in Your Galaxy."
Meanwhile, the Galaxy S22 Ultra features a more iconic case with a strap at the back. One variant has the iconic green-and-white color combination with a patch of a bear wearing a Starbucks apron. The other one has the strap designed as a Starbucks receipt.
While the smartphone cases are nifty on their own, the charging case for the Galaxy Buds 2 are on a league of their own. One model is a minimalist green with the Starbucks patch. The other, however, looks like a coffee mug with aesthetic latte art inside and a Starbucks logo at its side.
As with the previously mentioned Pokémon-themed products, the Starbucks-themed set is exclusive to South Korea and will be limited while supplies last.
SEE ALSO: Samsung unveils a Pokémon Edition of Galaxy Z Flip 3