TappLock: The world's first smart padlock
It seems like everything is turning "smart" these days and that includes padlocks.
If you're always misplacing the keys or fumbling to remember the combination to your padlock, then you probably need TappLock in your life. Just like on most high-end smartphones these days, this high-tech padlock can be unlocked with something unique to you – your fingerprints.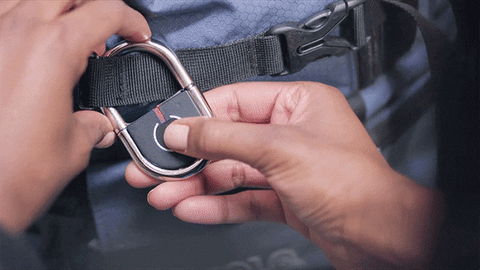 Simply place your finger on the sensor and the padlock should unlock in 0.8 seconds. No keys or combination codes necessary. It even has a built-in alarm so that if anyone attempts to force it open, TappLock will set off an alarm to let you know your valuables are in danger.
What if someone else needs access to your lock? TappLock comes with an app for iOS, Android, and Windows that lets you grant access to whomever you wish. You can store up to 100 fingerprints and even set how much time other users have access to that padlock.
TappLock is water resistant and can even act as a mini power bank.
It also has a little brother called the TappLock Lite meant for securing bags and other smaller compartments. It's everything the TappLock is except being a mini phone charger.
TappLock is an Indiegogo project that seeks to raise $40,000 in funding. As of this writing it has 230 backers have pledged more than 94% of its goal. They have a little over 20 days to reach their target. If you want one, make sure you back them up.
Cauldryn Fyre V2 is a smart mug you'll want to own
This smart mug will make mornings easy
Imagine a world where your coffee will brew itself upon your command. Well, folks, that world is real.
Of all the cool things we saw at CES 2018, it was this device that totally made our Vegas mornings.
The Cauldryn Fyre V2 is not your ordinary mug. This 16 ounce, stainless steel beauty keeps your beverage hot in a vacuum insulated bottle. The mug itself allows you to maintain a certain temperature all day so your coffee stays hot and your juice cold.
It also has Google Assistant! Now all you need to do is tell your mug to brew coffee and it will.
It's fully modular — attachable accessories allow you to do so many things. You can choose to attach a blender and grind your own coffee beans; there's a percolator accessory, a Bluetooth speaker base, and even a lantern with a bug zapper for outdoor adventures with your Cauldryn.
They say you can't teach an old dog new tricks but true innovation happens when you can talk your water bottle into making you coffee.
MORE ON CES 2018: GadgetMatch LIVE coverage
Motorola outs new Moto Mods for productivity and health care
New Year, New Moto Mods
Motorola is keeping their Moto Mod lineup updated with two new accessories: Lenovo Vital Moto Mod and Livermorium Slider Keyboard Moto Mod.
The Vital Mod from Motorola's parent company is a health accessory which can accurately measure key vital signs including heart rate, respiratory rate, Pulse Ox, and core body temperature, as well as systolic and diastolic blood pressure from the finger. If you don't want to carry your usual health kit with you, this Moto Mod is a smart alternative as long as, of course, you have a compatible Moto Z handset.
Users who likes to type on a physical keyboard will be fond of the Livermorium Slider Keyboard. This accessory is the grand prize winner of Moto's first Transform the Smartphone Challenge in partnership with Indiegogo. It features a full QWERTY keyboard and tilts the phone up to 60 degrees for easier typing when on the go.
Motorola will have the Livermorium Slider Keyboard Moto Mod on sale sometime before March for US$ 99, while the Lenovo Vital Moto Mod will be available for purchase in April for US$ 395. If you have a Moto Z, you can also check out these products and more on the Moto Z Market app which is available in the Google Play Store in countries where the phone is for sale.
LG's new projector throws a 150-inch 4K screen to your wall
Can play HDR video!
While TV screens are continually getting bigger, LG hasn't given up on the projector market. At CES 2018, the company is bringing a new 4K projector that breaks barriers without breaking wallets.
The LG HU80K is the company's first 4K UHD projector. It promises ultra-sharp and vibrant images that rival those in the UHD TV segment. The tech's promise has already garnered it a Best of Innovation award at CES.
The home-ready system can deliver up to a 150-inch screen at a blazing 2,500 lumens. At its size, the projector can easily playback videos at Blu-ray resolution. In addition, it's compatible with HDR 10, allowing for images that will make you reconsider your TV purchases.
Despite its power, the HU80K is designed to be smaller than its competitors. The reduced size allows for a more conservative price that shouldn't break the bank. Concept images also hint that the projector is capable of short-throw usage.
Its upright design makes the projector compatible with both portable and mounted use. Those who prefer the projector on a stand will enjoy the included carrying handle and Auto Cord feature. The Mirror Reflector may also act as a cover for the lens when the projector isn't in use. A pair of built-in 7W speakers negates the need for an external sound bar or speaker system.
As for content, the HU80K comes with LG's webOS 3.5 interface. The system enables access to the standard array of streaming services. The device is also compatible with USB, Ethernet, and HDMI cables. It also includes wireless support for keyboards and mice.
The LG HU80K projector joins LG's new audio options and smart kitchen appliances on display at CES 2018.
SEE ALSO: LG builds a smart kitchen that 'talks' to you and your home