TappLock: The world's first smart padlock
It seems like everything is turning "smart" these days and that includes padlocks.
If you're always misplacing the keys or fumbling to remember the combination to your padlock, then you probably need TappLock in your life. Just like on most high-end smartphones these days, this high-tech padlock can be unlocked with something unique to you – your fingerprints.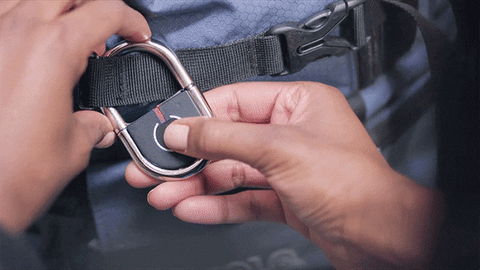 Simply place your finger on the sensor and the padlock should unlock in 0.8 seconds. No keys or combination codes necessary. It even has a built-in alarm so that if anyone attempts to force it open, TappLock will set off an alarm to let you know your valuables are in danger.
What if someone else needs access to your lock? TappLock comes with an app for iOS, Android, and Windows that lets you grant access to whomever you wish. You can store up to 100 fingerprints and even set how much time other users have access to that padlock.
TappLock is water resistant and can even act as a mini power bank.
It also has a little brother called the TappLock Lite meant for securing bags and other smaller compartments. It's everything the TappLock is except being a mini phone charger.
TappLock is an Indiegogo project that seeks to raise $40,000 in funding. As of this writing it has 230 backers have pledged more than 94% of its goal. They have a little over 20 days to reach their target. If you want one, make sure you back them up.
[irp posts="4100″ name="Latest iOS security patch is more important than you think"]
OnePlus introduces Explorer Backpack — and I want it!
Launching along with the OnePlus 6T
All eyes will be on the OnePlus 6T launch at the end of this month, but my money will likely be spent on the accompanying backpack instead.
OnePlus revealed through its official forum that the new Explorer Backpack is set to be revealed on October 30, as well.
As you may or may not know, the tech startup is no stranger to creating sleek accessories to match whatever phone they have in stock; I myself had their first-generation backpack.
While it wasn't the best backpack in the world — it wore out easily and got replaced by the more rugged Xiaomi backpack I use now — Project Manager Donna L. touts that this model will last for "years to come."
When it comes to the gear you carry, you can count on our products to be thoughtfully designed, inside and out. Introducing our all-new Explorer Backpack.

— OnePlus (@oneplus) October 17, 2018
There are no pictures of the interior, but it supposedly has multiple compartments, including a secret pocket on the back — which is important for a techie such as myself who has multiple gadgets at once.
Other features include a compartment with breathable vents, premium magnetic Fidlock, and two colors to choose from: Slate Black or Morandi Green.
Price and availability will hopefully be announced on stage in New York. I can already smell it.
Freitag R523 Hoffmann: Recycled laptop bags have never looked this good
Each bag is literally one-of-a-kind
Continuing the never-ending search for a laptop bag I'd actually use, Freitag's R523 Hoffmann was the next victim.
A good laptop bag is essential to your work, and your #OOTDs! When shopping for a bag that will house one of my most prized possessions (not to mention, the tool that gives me my living) there are certain considerations: Is the bag spacious enough? Will it protect my computer? Will I be able to carry it around on long days? Does it ruin my outfit?
So, does the Hoffman live up to my standards? What's so special about this brand? Let's find out.
What's the deal with Freitag?
It's really not your usual brand. Zurich-based Freitag boasts that each bag is made of truck tarpaulin, each one selected (yes, they have special truck spotters), washed, and cut to create bags — each one entirely unique to others.
So yes, these bags are made out of recycled materials but they look oh so good.
Also, they're heavy-duty because, well, they are made out of materials designed to be outdoors under all elements. A big plus: That makes these bags waterproof, which is a great thing because I'm putting my laptop in it.
The bag I tried on for size was the Hoffmann:
Look and feel
My pick was a white bag because you can never go wrong with this color. It looks crisp, classic, and ready to match any given outfit.
Interestingly, it doesn't seem like it's a bag that's made out of tarpaulin — at least not how I imagined a tarpaulin bag would look. It's classy and it matches even business or work outfits which is great for those long meeting days. Also worth noting: Its texture gives off a great look and feel.
It has a strap handle which is pretty sturdy; no way this will break even when you have a laptop (and a whole lot of other things like I do 🙈).
It also has a longer strap so you can wear it around your shoulder. If you're like me and you have frail arms, this feature is a godsend.
These straps are also very sturdy and adjustable. The better to carry everything you need with!
What's inside?
There are two outside pockets for stuff you want to keep but need easy access to.
And of course, it has a dedicated laptop pocket! There are also smaller side pockets inside for other stuff and knick-knacks. Great for organizing your things — no more bags that are bottomless pits of random stuff.
This is a surprisingly spacious bag. It can house my work gear (laptop, external hard drive, small camera, cords, and chargers) plus all my everyday essentials (a semi-big makeup bag, wallet, and perfume).
Final thoughts
Despite it being sourced from upcycled materials, this is one expensive-looking bag. That's also because it is. All those good qualities come at a price, listed at CHF 314.80 on their website and priced at over PhP 20,000 from Urban Traveller & Co. in the Philippines.
Freitag's Hoffmann offers a good-looking laptop bag made out of heavy duty materials, ensuring your machine is always safe. A big plus is that it's recycled — a great whoop for the environment!
One thing's for sure: When you get yourself a Freitag bag, you get more than just a bag. You get a one-of-a-kind piece that's not only an awesome home for your laptop, it's also a statement on how you can breathe new life into random objects with some creativity. Each one serves as an example of how you can create new and amazing things from stuff that are seemingly worthless.
My top 5 pink gadgets: A guide for the pink-loving techie
On Wednesdays we wear pink!
It's no secret that I like pink. When pink gadgets and tech come my way, I am understandably through the roof because I firmly believe that everything should just come in this rosy hue.
Since today is October 3 and it's a Wednesday, you know what that means! I'm wearing pink! Kidding — I wear pink every day. 😂
But, seriously: Throughout my time reviewing tech, I've come across a number of pink gadgets. Here are my top picks for the pink-loving techies out there.
Huawei P20 in Rose Gold a.k.a. the Pink 20
Yes, we do actually call this phone the Pink 20. Yes, I still use it to this day because it looks good with my hair and it's just the prettiest phone ever. Look:
Yep, I know you want this phone, too.
SEE ALSO: Huawei P20 review: Pink and perfect?
Samsung Galaxy Watch
This was the smartwatch I'd been waiting for because it finally came in my color! Samsung's latest wearable comes with a rose gold face and a pastel pink strap. This thing hasn't left my wrist since I reviewed it.
SEE ALSO: Samsung Galaxy Watch review: Who is it perfect for?
Dyson Supersonic
The Dyson Supersonic is every girl's dream hair dryer. This top-of-the-line dryer is ergonomically designed for better handling.
Plus it's pink and makes me pretty. Alternatively, there's a purple version, but who'd want that over this color?
SEE ALSO: Dyson Supersonic review: Bladeless hair dryer
Instax SQ6
Fujifilm's latest Instax release has that vintage feel — and it comes in rose gold. Create beautiful memories with an even more beautiful camera!
SEE ALSO: Shooting with a Fujifilm Instax SQ6: Walkthrough, review, and sample shots
Foreo UFO
This pink puck is actually a high-tech face mask! Foreo's UFO allows you to have the Korean skincare experience in just 90 seconds.
SEE ALSO: Foreo UFO: A high-tech replacement for face masks?