TappLock: The world's first smart padlock
It seems like everything is turning "smart" these days and that includes padlocks.
If you're always misplacing the keys or fumbling to remember the combination to your padlock, then you probably need TappLock in your life. Just like on most high-end smartphones these days, this high-tech padlock can be unlocked with something unique to you – your fingerprints.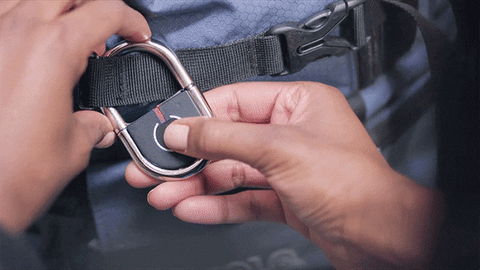 Simply place your finger on the sensor and the padlock should unlock in 0.8 seconds. No keys or combination codes necessary. It even has a built-in alarm so that if anyone attempts to force it open, TappLock will set off an alarm to let you know your valuables are in danger.
What if someone else needs access to your lock? TappLock comes with an app for iOS, Android, and Windows that lets you grant access to whomever you wish. You can store up to 100 fingerprints and even set how much time other users have access to that padlock.
TappLock is water resistant and can even act as a mini power bank.
It also has a little brother called the TappLock Lite meant for securing bags and other smaller compartments. It's everything the TappLock is except being a mini phone charger.
TappLock is an Indiegogo project that seeks to raise $40,000 in funding. As of this writing it has 230 backers have pledged more than 94% of its goal. They have a little over 20 days to reach their target. If you want one, make sure you back them up.
[irp posts="4100″ name="Latest iOS security patch is more important than you think"]
Apple Watch Series 6 vs Watch SE: Unboxing and Buyer's Guide
There's a new Apple Watch iteration every year — although this year, we have two new models to unbox. Other than that, we also have the newest one-piece bands called 'Solo Loop' — both in silicon and braided.
Although Apple completely removed the charging brick out from the usual packaging, they packed several new features on the Watch Series 6 including the new blood oxygen sensor and Always-On Altimeter. Meanwhile, the Watch SE is meant for people who'd want to experience Apple's wearable without having to spend too much.
Between these two, which of them is your GadgetMatch? Or are you struggling to choose one?
You can head over to our latest Apple Watch Series 6 vs Apple Watch SE Unboxing and Buyer's Guide right here to find out more.
Apple has removed free chargers from the Apple Watch
For eco-friendly reasons
Three months ago, a spicy rumor made its way across the internet. According to an analyst, Apple will stop shipping upcoming iPhones with a free charger. Naturally, the rumored decision met with a lot of criticism. Now, however, all rumors are gone; Apple has removed free chargers from the Apple Watch.
In the big Time Flies event today, Apple announced the Apple Watch Series 6 and the Apple Watch SE. Though both smartwatches have impressive specs, they will miss one of the most essential accessories for devices: a plug-in charger. Instead of the wired adapter, the device should come with a wireless adapter for wireless charging.
Finally, Apple has confirmed the landmark decision. Announced by Lisa Jackson, Apple's vice president of environment, policy, and social initiatives, the accessory's removal comes as part of Apple's initiative to reduce the company's environmental impact. The company has previously announced a plan to go carbon neutral by 2030.
Of course, Apple might have other reasons to remove the charger. According to a previous rumors, 5G hardware has considerably upped Apple's costs across the board. Removing "non-essential" accessories might reduce Apple's productions costs and might keep prices relatively around the same range. Curiously, the Apple Watch's titanium and Hermes models will still ship with power adapters, despite the on-paper environmental reasons.
There it is: Apple removing USB power adapters from Apple Watch. Next month: iPhone.

— Mark Gurman (@markgurman) September 15, 2020
Also, according to a new rumor, Apple isn't stopping with the Apple Watch. Tech leaker Mark Gurman has hinted that Apple is also removing the power adapter from the iPhone 12's box.
Unfortunately, Apple did not announced the much-awaited iPhone 12 during the Time Flies event against previous speculation. The company is still set to release the next iPhone generation sometime in the next quarter. If the trend has truly started, you might not see a free charger next month anymore.
IKEA, ASUS ROG launching affordable gaming furniture, accessories
We need a sneak peek!
Another thing to add to the things we didn't expect from this year but, has left us thinking, "huh, sounds about right." IKEA and ASUS ROG are partnering to create a line of affordable gaming furniture and accessories.
The IKEA Product Development Center in Shanghai will be developing all 30 products in this line-up. And, if you're wondering who's designing these products, you're in for a treat. IKEA's designers stacked up on design concepts and critiques from ROG designers, professional gamers, and gaming enthusiasts to really nail down aesthetic, comfort, and functionality.
IKEA is happy to be teaming up with ROG to smoothly marry its home furnishing expertise with ROG's exceptional gaming technology and design.
There's a catch though. I won't lie, I was hoping they'd launch their partnership with tantalizing patent designs. But, we're left with imagination to fully take its course on this one. Design, concepts, and patents of the "affordable gaming furniture and accessories" haven't officially been released. For now, the most obvious assumption of items in the line-up would be gaming desks and chairs.
A quick search on IKEA for gaming desks and chairs show decent products to have on anyone's set-up so we're looking forward to designs they've mustered up with this partnership. The line-up is launching in China in February of 2021 and will be available in the US and elsewhere by October 2021.