Razer holds first ever SEA Games bootcamp for esports teams
Held in partnership with one of the best eSports teams in the world
Preparations for the upcoming 2019 Southeast Asian Games are underway, especially with eSports now added to the competition. Razer, the official eSports partner for the SEA Games has an idea on how to make preparations more interesting. The global gaming lifestyle brand wants to bring esports teams from all participating countries to train them by learning from the best players in the world.
Razer officially rolls out the Razer SEA Games eSports Bootcamp, a two-day training camp for eSports teams participating in the Dota 2 tournament for the SEA Games. The bootcamp will feature a series of mentorship sessions and practice games for all the competing teams from Singapore (Team X) , Malaysia, Thailand, Indonesia (PG.Barracx), and the Philippines (Sibol). With the inclusion of eSports in this year's SEA Games, Razer's Global Sports Director David Tse hopes to "bring eSports to the next level."
To guide these teams to success, Razer taps upon a global eSports powerhouse in the Evil Geniuses. EG's Dota 2 coach, Sam "Bulba" Sosale will mentor the five participating teams to compete at the highest level for the upcoming tournament.
"Evil Geniuses is excited to help some of the best players in Southeast Asia prepare for it," Sosale said. As of writing, members of the EG's Dota 2 team are competing in the Upper Bracket semifinal round of The International 9 in Shanghai.
The Razer SEA Games eSports Bootcamp will run from September 2 to 3, 2019 in Singapore. As a treat, Evil Geniuses is hosting their first ever meet-and-greet in Southeast Asia on September 1. Fans will have a chance to get up close with members from EG's Dota 2 team: Arteezy, SumaiL and s4, along with Bulba. Fans will also get a chance to win signed jerseys from their favorite players.
SCARLET NEXUS First Impressions: Technological dystopia
BANDAI NAMCO's take on an anime-style, cyberpunk RPG
I knew BANDAI NAMCO mostly from their incredible work on classic games like PAC-MAN and TEKKEN. In fact, I grew up playing their games quite a lot, whether with family members or with some friends. To this day, they're still producing a decent amount of games across both current and next-generation consoles and the PC.
This time around, they've ventured into an action RPG mixed with a little bit of "brain punk" as they described it. They called this game, "SCARLET NEXUS," and it's set for release for the PlayStation 4, PlayStation 5, Xbox Series X|S, Xbox One, and the PC. Now, I gave the demo a shot to see just how everything will turn out.
Short, sweet, and action-filled
In total, the entire demo took about 30 minutes to finish, which for a demo isn't that long. At the start, you even get to choose which main protagonist you want to roll with, for a good reason too. Apart from the same tutorial section, you actually get to play a different main stage design. I honestly thought it would be the same all throughout.
Regardless, gameplay immediately picks up after a short tutorial session, and I found myself just having a blast. Honestly, the controls are pretty easy to understand and master after a few combat sequences so the learning curve isn't steep. Plus, part of the combat mechanics includes the SAS, which grants access to additional attacks and abilities.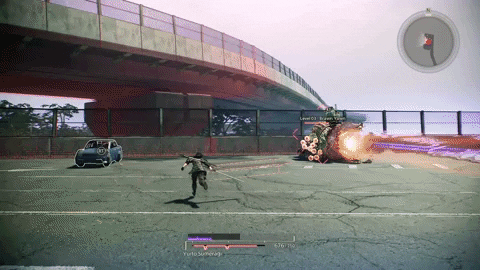 It's a gameplay style I've come accustomed to with other RPGs in the last few years. Even for a short demo, action looks quite fast-paced and reaction-heavy on some occasions. Also, you can add onto that a bit of exploration with the vast level design, so combat feels more loose and exciting to mess around with.
Visuals suited for the time
If you're planning to get the version for the PC or  next-gen consoles, the design for the demo is amazing. I have to give credit to BANDAI NAMCO for integrating some apt lighting fixtures in Kasane's demo level, further emphasizing the technological wasteland in the background. Although, I think that this will also be present in the PS4 and Xbox One versions but not as prominent.
Also, like I mentioned before, the demo levels are quite vast, which also aids in the exploration aspect. I noticed that they scatter some items across the whole level, ranging from healing items to items that aid in combat. In some instances, these items were well-hidden in some of the nooks and crannies of the level.
Of course, it isn't just in the overworld visuals that I'm amazed at, but even in some of the cutscenes in between combat and exploration. The cartoony, comic book-style animations mixed in with some techno-punk were nice touches. I could feel that there was a lot of love given just to this department alone.
Worth all the waiting?
If I could sum up my initial impressions on SCARLET NEXUS, it's an RPG that I truly enjoyed even for 30 minutes. Honestly, the biggest culprit for this goes to the gameplay mechanics that feels so great to execute, and you take a short time learning everything. Packed with some incredible visual design, I think this game has potential to be a favorite for this year.
One of the things I am looking forward to later on is the storylines we'll be working with. The demo doesn't really touch on plot points that you could do mental gymnastics with. Although, it does reveal that you play with different NPCs instead of taking on the enemies all by yourself. Nonetheless, I feel that it's something worth diving into when the full game comes out.
SCARLET NEXUS will be available on June 25.
Ratchet & Clank: Rift Apart Review
A damn good time
Ratchet & Clank: Rift Apart has all the looks, charm, and heart of a Pixar movie. But it's playable and takes the experience further by taking advantage of all the next gen features of the PlayStation 5.
Quick background 
Ratchet & Clank is a fairly popular series that was first introduced in November 2002 for the PlayStation 2. There's been around nine games since the first release including a very self-aware soft reboot in 2016 for the PlayStation 4.
Ratchet & Clank: Rift Apart builds on the lore of this dynamic duo without needing much of a background from the previous games. If you're really curious, you can hop on to YouTube for recaps and retrospectives on the franchise.
Multidimensional madness
Rift Apart is pretty much a standalone story. It begins with Ratchet & Clank being honored in a grand celebration as heroes for their past exploits. This establishes the duo's stature in their universe.
As expected, long-time recurring villain Dr. Nefarious crashes the party touting a Dimensionator — a weapon that opens dimensional rifts. A tussle naturally occurs with the Dimensionator exploding and opening various rifts across the universe.
Ratchet & Clank are separated but Clank finds himself in the company of another Lombax — Rivet. Rivet is part of a rebellion battling against The Emperor. We quickly learn that The Emperor is the Dr. Nefarious of this other universe.
The rest of the game sees our heroes Ratchet, Clank, and Rivet go on adventures as they figure out how to fix the Dimensionator to prevent all of the universes from falling apart.
The charm and heart of a Pixar flick
I think it's safe to say that most of us have seen a Pixar movie or two. They typically have this fun, heartwarming tone and that's exactly how Ratchet & Clank: Rift Apart comes off.
The writing is solid and has strong character moments for each of the leading casts. The dialogues are witty, and very entertaining that you'll likely catch yourself smiling at times. Whether it's a cutscene or just in-game banter between characters.
The way it balances heavy moments with good, clean, fun while remaining tonally consistent is a magnificent feat. While the story itself isn't mindblowing, it is told efficiently and wonderfully. It's never boring and keeps you interested.
Vivid worlds, gorgeous details 
PlayStation and Insomniac Games have been very loud about this game. After all, this is a year one title for the PlayStation 5 (PS5). All the trailers and gameplay footage they showcased are eye-popping and this quality is maintained throughout the game.
One of the hallmarks that was routinely mentioned is how busy and lived-in the different environments look, feel, and sound. This is an aspect of the game that I don't think would have been possible if not for the PS5.
The fast loading times allow for the busy-looking background. Certain areas of the world offer a different feel on the DualSense controller much like how it felt in some parts of the "demo game" Astro's Playroom. And, the incredible Sound Design offers depth in every section of the game.
In cutscenes where I normally would put the controller down, I found myself holding on to the DualSense just to see how a scene is enhanced by the rumble. All of these things come together nicely and are implemented in just the right way at just the right moments to deliver a truly astonishing experience.
Fidelity, Performance, and Performance RT 
Ratchet & Clank: Rift Apart will be available to play in three visual modes. Fidelity for 4K with ray-tracing, additional VFX and increased scene density at 30 FPS. Performance RT provides 60 FPS gaming with ray-tracing but at a lower resolution with adjusted lighting, VFX, and scene density. Lastly, there's Performance mode which totally does away with ray-tracing but offers high resolution 60 FPS gameplay.
My six-going-on-seven-year-old 1080P TV couldn't really take advantage of the Performance and Performance RT modes. However, even if I had a TV that fully supported these modes, I still would have likely gone with Fidelity mode.
To me, personally, it fits the look and feel of the world better. And maybe it really is just my TV,  but Fidelity mode offered a richer picture quality overall versus the more flat-looking Performance and Performance RT modes.
Really fun gameplay
Rift Apart provides a healthy mix of action, shooting, platforming, and puzzle-solving to keep you on your toes. And while it isn't an open world game, it still encourages a healthy amount of exploration as you examine every nook and cranny of a particular area to make sure you get all the collectibles.
The game does a good job of encouraging you to actually look for the collectibles. For instance, completed armors not only give you a different look, they also provide a permanent stat boost.
You'll also want to smash everything in sight to collect bolts. Bolts are your currency to buy weapons, and weapons in Ratchet & Clank are incredibly fun to use.
Best video game weapons
You'll want to get your hands on as many of them as possible. Different weapons do different things. While there are those that straight up inflict damage, some are great for managing huge crowds of enemies — something you'll do a lot of in this game.
Weapons are improved in two different ways: First is by levelling them up by continuously using them. Second, is by collecting raritanium to unlock the weapon's abilities and raise its limits. The higher the level, the more abilities you're able to unlock.
My personal favorites are the Topiary Sprinkler (for stunning), Glove of Doom (for extra help), and the Blackhole Storm (for straight up dealing damage).
You can assign weapons to the directional buttons to quickly switch. However, if you really need a breather from combat that can get chaotic, you can press the triangle button to pull-up the weapons menu and select one that best fits your predicament.
Puzzles, mini games
Clank's sections are still puzzles. This time, though, each set of puzzles he solves closes a volatile dimensional rift. I can see the puzzles being challenging to a younger audience, but anyone with a significant amount of gaming experience will breeze through these.
Ratchet will also pick up Glitch — a tiny robot that combats bugs to help the male Lombax open doors to gain access to a new section of an area both to advance the story or to acquire collectibles.
Again, the sections with Glitch shouldn't be too challenging. They help in adding another layer to the action, shooting, and platforming, and there weren't too many of them to be considered a distraction.
Another great PS5 showcase
Following Returnal, Ratchet & Clank: Rift Apart is another fantastic showcase of all the next gen capabilities of the PlayStation 5. Unlike the aforementioned game though, this one's wrapped in a bright, colorful package that should be welcoming to a wider variety of gamers.
Ratchet & Clank: Rift Apart is a lighthearted adventure with some lessons of forgiveness and rising above adversity. It has entertaining gameplay, stunning visuals, immersive sound, and an overall incredible feel. For older gamers, it'll evoke the feeling of being a kid again, and for younger gamers, it's certainly a game that will leave a positive mark.
It's the perfect title to get into PS5 gaming and one that every PS5 owner should consider adding to their library.
E3 2021 announces full schedule and fan registration guidelines
If you've ever wanted to go, here's how you can participate
E3 2021 is almost upon us, and this time around everything will be online and pushing through. After last year's event was cancelled due to the COVID-19 pandemic, the ESA will proudly bring the experience to the world's most accessible platform at this time. Earlier today, they've announced the full four-day schedule featuring some of the biggest names in all of gaming, and an opportunity for you to partake in them.
For starters, here's a brief rundown of the schedule of events for E3 2021 from the 13th to the 16th of June (Manila time). If you're eyeing any specific company's presentation, kindly refer to the schedule below:
Saturday, June 13 (pre-show at 1 AM Manila time): Ubisoft and Gearbox Entertainment (press conferences), session with GamesBeat
Sunday, June 14 (pre-show at 11:45 PM Manila time): Xbox & Bethesda Games Showcase (Microsoft), SQUARE ENIX, Warner Bros. Games, Back 4 Blood, 24 Entertainment
Monday, June 15 (pre-show at 11 PM Manila time): Mythical Games, Freedom Games, Razer, Capcom, panel discussion with Take-Two Interactive; Verizon and Intellivision
Tuesday, June 16 (pre-show at 11 PM Manila time): Nintendo Direct & Treehouse: Live, BANDAI NAMCO, Yooreka Games, Gamespot
For those who want in on the E3 action, the ESA is opening fan registration starting today. To do so, simply go to E3's registration portal and click on "Fan"from the choices. After clicking on it, just fill in your credentials and you're good to go! After registration, you will gain access to E3's online portal and app on the first day of the show.