Samsung and TikTok team up for a dance challenge in Singapore
A Samsung GALAXY A80 BLACKPINK Edition awaits you
To celebrate positive and creative expression in culturally-diverse Singapore, TikTok partners with Samsung for the first time to bring the #slideandswivel dance challenge to the country.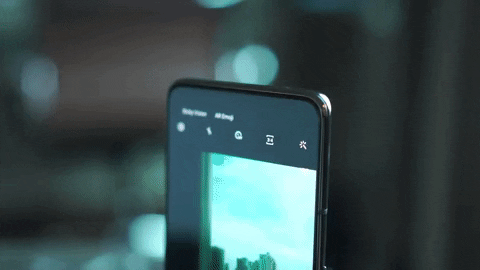 The Samsung GALAXY A80 features a camera that slides up and swivels when you take selfies. TikTok wants you to flaunt your best moves by incorporating slides and swivels for a chance to win a Samsung GALAXY A80 BLACKPINK Edition.
All you have to do is open the TikTok app, record a video using the "MVP" track, create unique dance moves, including slides and swivels, and post the video on TikTok with the hashtag #slideandswivel.
You can watch the demo videos below to further guide you.
Contest is open to residents of Singapore and must be at least 18 years old and above. You still got plenty of time as this contest will run until the 26th of July.
ROG Phone 2: Price and availability in the Philippines
Includes pricing for accessories
The ASUS ROG Phone 2 is officially in the Philippines!
The ROG Phone 2 with 12GB RAM  and 512GB  storage began pre-orders at the price of PhP 49,995 (US$ 962) last October 3 to October 11, 2019. It will hit the market on November 2019 along with the Ultimate Edition that has 12GB RAM and 1TB storage for PhP 59,995 (US$ 1165).
The phone's accessories are available at ROG Stores only. Pricing are as follows:
Accessories list
Price
Professional Dock
PhP 4,995
Lighting Armor Case
PhP 2,495
ROG Kunai Gamepad
PhP 6,995
TwinView Dock II
PhP 14,995
Mobile Desktop Dock Revised
PhP 10,995
ROG Phone Bag
PhP 2,495
ASUS WiGig Display Dock
(Champion's Super Pack Exclusive)
PhP 13,995
AeroActive Cooler II
(Out-of-box Accessory)
PhP 2,995
Aero Case
(Out-of-box Accessory)
PhP 995
Gaming phone refined
The ROG Phone 2 is perhaps one of the most specced out phone in the world today. It's powered by the Qualcomm Snapdragon 855 Plus with a 120Hz AMOLED Display, 12GB of RAM, 512GB storage, and 6,000mAh battery.
Other features like performance improvement and cooling that keeps the phone in optimal condition promises to deliver the best mobile gaming experience to date. There are even new and improved accessories like the Kunai gamepad that makes the phone look almost like a Nintendo Switch to take your gaming experience to an even higher level.
Editor's Note: This article was updated on October 11, 2019 to add pricing details of the accessories.
Samsung Christmas TV Promo: Big discounts and savings
Discounts and freebies are up for grabs
Christmas season is fast approaching. Soon, we will hear festive jingles and Christmas songs. This also means special Christmas episodes and movies are on the horizon.  What better way to enjoy these episodes and movies by viewing them in a big screen inside the comforts of our own home.
Samsung Philippines' Christmas promo will surely delight those looking to buy new TVs in time for the festive season. With the Merrier Christmas Gifts for TV promo, Samsung will offer 25 percent discounts on its QLED, UHD, and FHD TV models. Buyers will also receive free Samsung products upon purchase.
Samsung Philippines bundles premium products for free with the purchase of select QLED and super-sized TV models. Premium products bundled with participating TVs include the Galaxy Note 10+, a side-by-side refrigerator, the Galaxy Tab S5e, the Galaxy Tab A 10.1, the Galaxy A20s, and a Dolby Atmos soundbar. After purchase, buyers simply have to log in here to redeem their purchase.
Up to PhP 50,000 savings are also available upon purchase of Samsung's curved and flat UHD/FHD TVs. The promo runs from October 1 to December 31, 2019. It is valid on all authorized Samsung dealers nationwide.
Featured in this promo are the new QLED 8K and 4K TVs, with AI upscaling features that turn movies into sharper, clearer, and more colorful cinema experiences. Also, new Samsung TVs have voice assistant Bixby and energy-efficient Ambient mode for pleasurable viewing experience.
SEE ALSO: TWICELIGHTS on the Samsung QLED 4K TV | Samsung QLED 8K TV 2019 lineup
Realme 5, Realme 5 Pro: Pricing and availability in the Philippines
This pair will be competitive
The Realme 5 and Realme 5 Pro have officially arrived in the Philippines. The new pair of smartphones from Realme offer capable handsets that can handle basic tasks and them some while offering a quad-camera setup at a very competitive price!
The Realme 5 and Realme 5 Pro are powered by the Qualcomm Snapdragon 665 and Snapdragon 712 respectively. But the true crowning glory of both phones are the quad-cameras.
The Realme 5 Pro setup consists of a 48-megapixel Sony IMX586 primary lens, an 8-megapixel wide-angle sensor, a 2-megapixel macro lens, and a 2-megapixel depth sensor. The front gets a 16-megapixel selfie shooter. The software comes with various shooting modes like Nightscape, Chromaboost, and auto HDR.
The Realme 5 has pretty much the same setup and features but is equipped with a 12MP main shooter instead of 48MP.
Pricing and availability
The Realme 5 is available nationwide starting October 4. It will come in two variants: 3GB+64GB for PhP 7,990 (US$ 154), and 4GB+128GB for PhP 9,990 (US$ 192). There's also a Lazada Exclusive model which is 3GB+32GB and is priced at PhP 6,990 (US$ 136).
Meanwhile, the Realme 5 Pro also has two variants: 4GB+128GB for PhP 11,990 (US$ 231), and 8GB+128GB for PhP 13,990 (US$ 269). Offline pre-order period is from October 4 to 11 with first day sale and claiming happening on October 12.
On Lazada, the pre-order period for the Realme 5 Pro is from October 3 to October 8 and shipment starts on October 9. Customers who pre-order will get a Realme 10,000mAh powerbank that's valued at PhP 1,599 (US$ 31) for free!
Both phones are available via Home Credit at six and nine month installment plans with zero percent interest.
Read the Hands-On: Realme 5 | Realme 5 Pro