Samsung and TikTok team up for a dance challenge in Singapore
A Samsung GALAXY A80 BLACKPINK Edition awaits you
To celebrate positive and creative expression in culturally-diverse Singapore, TikTok partners with Samsung for the first time to bring the #slideandswivel dance challenge to the country.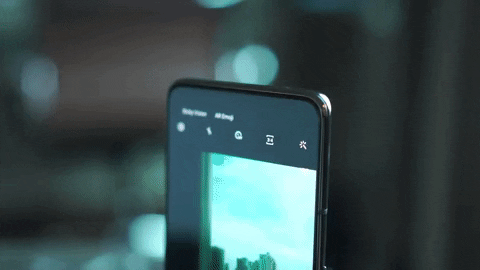 The Samsung GALAXY A80 features a camera that slides up and swivels when you take selfies. TikTok wants you to flaunt your best moves by incorporating slides and swivels for a chance to win a Samsung GALAXY A80 BLACKPINK Edition.
All you have to do is open the TikTok app, record a video using the "MVP" track, create unique dance moves, including slides and swivels, and post the video on TikTok with the hashtag #slideandswivel.
You can watch the demo videos below to further guide you.
Contest is open to residents of Singapore and must be at least 18 years old and above. You still got plenty of time as this contest will run until the 26th of July.
12.12 sale: Ultimate tech guide
The last sale of the year is here
Last November 11, Lazada and Shopee held its annual sale where tech brands offered discounts to buyers.  This December 12, Lazada is holding another sale — the much-awaited 12.12 sale. Most tech brands will join the annual sale, so we have compiled discounted devices for your convenience:
We will update this list once in a while. From time to time, refresh this page to see more products on discount.
Aftershokz
Trekz Titanium Wireless Bone Conduction Headphones — PhP 3,378 from PhP 4,590 (Lazada)
Anker
PowerCore Select 20000mAh — PhP 1,720 from PhP 2,695 (Lazada)
Laptop X407 — PhP 16,857 from PhP 17,995
VivoBook X407 — PhP 24,335 from PhP 26,995
VivoBook X540 — PhP 26,072 from PhP 28,995
VivoBook 14 X412FJ — PhP 30,079 from PhP 32,995
VivoBook 14 X412FL — PhP 39,191 from PhP 42,995
Defunc
Headphone Go — PhP 300 from PhP 490 (Lazada)
Honor
Shopee-exclusive
Band 5 — PhP 1,199 (12:00 to 12:59 AM)
Band  5 Sports — PhP 829 (1:00 to 1:59 AM)
7S — PhP 3,679 with free game pad (11:00 to 11:59 AM)
Watch Magic — PhP 5,390 (8:00 to 8:59 PM)
8X — PhP 8,279 (5:00 to 5:59 PM)
20 Lite — PhP 9,999 with free Bluetooth speaker (12:00 to 12:59 PM)
Huawei
DM203 5,000 mAh Powerbank — PhP 390 from PhP 990
D-M129 10,000 mAh Powerbank — PhP 390 from PhP 990
Ear Hook Bluetooth Headset — PhP 590 from PhP 990
D-M129 20,000 mAh Powerbank — PhP 690 from PhP 1,490
Dual Battery Sports Bluetooth Headset — PhP 790 from PhP 1,490
D-M205 10,000 mAh Multi-function Powerbank — PhP 990 from PhP 1,490
D-M223 10,000 mAh Powerbank — PhP 990 from PhP 1,490
Sports Earphones — PhP 890 from PhP 1,690
Unilateral Wireless Earbuds with Charging Box — PhP 690 from PhP 1,290
TWS Bilateral Wireless Earbuds — PhP 1,390 from PhP 1,890
Marshall
Stockwell II + Major III Bluetooth — PhP 15,990 from PhP 24,880 (Lazada)
Nokia
Nokia 8.1 — PhP 16,990 from PhP 19,990 with free Bluetooth earbuds (Lazada)
Nokia 3.2 — PhP 6,990 from PhP 7,990 with free Bluetooth speaker (Lazada)
Oppo
Lazada
Shopee
Realme
Lazada-exclusive
C2 2020 (2 / 32GB) — PhP 3,990 from PhP 4,990; PhP 3,940
3 (3 / 32GB) — PhP 5,890 from PhP 6,490; PhP 5,490 (12:00 – 2:00 AM, black only)
3 Pro (4 / 128GB) — PhP 10,990 from PhP 14,990
5 (3 / 32GB) — PhP 5,990 from PhP 6,990; PhP 5,890 (12:00 – 2:00 AM)
5 (3 / 64GB) — PhP 7,590 from PhP 7,990; PhP 7,490 (12:00 – 2:00 AM)
5 (4 / 128GB) — PhP 9,390 from PhP 9,990; PhP 9,290 (12:00 – 2:00 AM)
5 Pro (4 / 128GB) — PhP 11,490 from PhP 11,990; PhP 11,290 (12:00 – 2:00 AM)
5 Pro (8 / 128GB) — PhP 12,690 from PhP 12,990; PhP 12,490 (12:00 – 2:00 AM)
XT (8 / 128GB) — PhP 16,990 from PhP 15,990; PhP 15,490 (12:00 – 2:00 AM)
J2 Prime — PhP 2,495 from PhP 4,990
J6 Plus — PhP 3,995 from PhP 7,990
A50 — PhP 7,995 from PhP 15,990
Tab 10.5 — PhP 11,995 from PhP 23,990
A9 (2018) — PhP 13,495 from PhP 26,990
Tab S2 8.0 — PhP 13,974 from PhP 22,990
S9 — PhP 22,194 from PhP 36,990
Note 9 — PhP 23,994 from PhP 39,990
Urbanears
Ralis Speaker + Jakan — PhP 11,990 from PhP 18,990 (Lazada)
Xiaomi
Lazada-exclusive
Mijia Electric Air Pump — PhP 1,850 from PhP 2,199
Mi Dash Cam Pro — PhP 2,329 from PhP 2,756
Redmi Go — PhP 2,490 from PhP 3,990
Redmi Note 5 — PhP 5,990 from PhP 13,990
Mi A2 — PhP 6,790 from PhP 14,990
Redmi Note 6 Pro — PhP 6,490 from PhP 13,990
Redmi Note 7 — PhP 7,490 from PhP 9,990
Redmi Note 8 (3 / 32GB) — PhP 7,590 from PhP 7,990
Mi 8 (6 / 64GB) — PhP 9,990 from PhP 25,990
Mi Mix 3 — PhP 14,990 from PhP 29,990
Win a trip to the GRAMMY Awards
By purchasing items in Lazada from December 12-14, one gets a chance to win a free trip to Los Angeles for the 62nd GRAMMY Awards. Simply purchase an item with Mastercard from Lazada's  "Music is My Fashion" page. Upon checkout, type the code "ROADTOGRAMMYS" and click submit.
5 reasons to gift yourself an LG OLED TV this Christmas
YOU deserve it 🎁
The television has become a staple in every household through the years. Whether you're single or with a family, the TV serves as a hub for when you need some me time or movie nights with the kids.
While the role of TVs hasn't changed, TV resolution and picture quality have been through an evolution the last 20 years. Thanks in part to brands like LG who has taken strides in pushing for technological innovation, TVs have gone from plasma in the 1990s to LCDs in the 2000s, to OLED and 4K TVs in the 2010s. Today, hyper realistic details and 8K resolution are already available in the market.
Whether you're getting a TV for yourself this holiday season or for someone else, here are reasons to get an LG OLED TV:
It has an IPS Panel and AI Picture
Wherever you place your TV — whether in the family room, the living room, your bedroom, or even the kitchen — you'll get great viewing angles thanks to an IPS 4K panel. Even when you sit on the side and watch from a 60-degree angle it can display almost 100% color accuracy. The 2nd generation α7 Intelligent Processor recognizes the quality of the original content and optimizes the clarity and sharpness.
It has Dolby Atmos and AI Sound
A good Netflix and chill session is not possible without a good sound experience. A 360-degree surround sound ensures that you not only see the every detail possible, but you hear it, too. With AI Sound, you get the best sound no matter the arrangement of your room or where you are sitting. The technology will recognize your watching spot so you can fully enjoy the optimized sound.
It comes with a 2-year warranty
TVs are an investment; we grow up and grow old with them. Like any other investment, it's important they come with good after-sales support. A two-year warranty will safeguard your purchase.
Its sales performance speaks for itself
A good brand track record is essential with every purchase. LG has been the world's best selling OLED TV brand for six consecutive years. This just shows customers all around the world continue to trust and support the brand.
Proceeds go to a good cause
LG Philippines has dedicated a portion of each sale of an LG product to go towards furnishing the children of Shelter of Hope. LG has also committed to donate home entertainment and home appliances worth more than PhP 1 million to the organization. Shelter of Hope is currently building a new home for their resident children who are cancer patients.
Bonus: Get a raffle ticket with every purchase
OLED and NanoCell TV purchases from today until December 15th come with a raffle ticket to get the chance to win one of 10 LG TVs or soundbars. The grand winner can take home a 65" OLED TV. Winners will be drawn on December 16th. For more information, follow LG Philippines on social media.
Sony products are discounted this Christmas
Discounts and cashback for the holidays
While Sony keeps struggling in the smartphone market, it still remains one of the top products for digital imaging. Its line of mirrorless cameras is one of the best in business. Plus, Sony is doing well in home and personal entertainment, with its line of TVs, speakers and headphones remaining the best in their category.
Sony Singapore is offering discounts and cashback for select cameras, TVs, speakers, and headphones. Here are the discounted products:
Cameras
TV
A9G (55″ 4K TV)  — SG$ 5,799 after SG$ 2,200 cashback
Headphones and earbuds
Speakers
The promo runs from November 1, 2019 to January 5, 2020. The discounts are available on all Sony stores across Singapore. For more information about the promo, visit Sony's website.