Samsung Galaxy A80 offers an all-display solution
Spoiler: It's a rotating camera
Nearly every phone manufacturer is taking a crack at giving us a solution to the notches and punch-holes "problem." As a result, we've seen pop-up cameras and secondary displays. With the Samsung Galaxy A80, the company is offering their take on the pop-up camera solution — the rotating camera.
Instead of just having the front-facing camera hide inside the phone, Samsung's idea is to make the upper part of the phone lift then flip the camera module to face you. This happens automatically when you switch to selfie mode on the camera app. At around a little over a second, it's pretty fast considering the number of actions that have to take place before the camera flips.
It's important to note that we have seen a mechanism similar to this before from the likes of OPPO and Gionnee. However, those rotating cameras had to be moved manually unlike the automatic one on the Galaxy A80.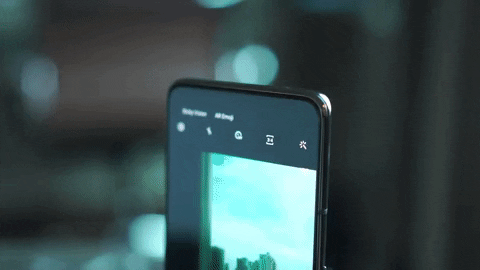 What are the cameras you ask? The Galaxy A80 has a three-camera setup. There's a 48MP main camera, an 8MP ultra wide-angle lens, and lastly, a 3D depth sensor. We only had a limited time with the device, but take a look at these quick samples so you can judge for yourself how it performs:
This slideshow requires JavaScript.
Capable of live streaming
Samsung is positioning the Galaxy A80 as the phone perfect for the "era of live." The company believes that people are moving on from selfies to live streaming. Having this camera mechanism makes sure no quality is sacrificed when you decide to take selfies or go live.
As of writing, we're still confirming what chipset the phone is using. Samsung representatives tell us that it's an octa-core Qualcomm Snapdragon chip, but we don't know which series yet. You also get 8GB of RAM along with 128GB of internal storage.
Samsung says the Galaxy A80 is equipped with an "intelligent performance enhancer" which regulates the phone's usage. This includes controlling the CPU, RAM, and battery usage for optimum performance. Speaking of the battery, it has a 3700mAh capacity (much lower than the one on the Galaxy A70) that supports 25W fast charging.
All-display goodness
Front and center is the 6.7-inch FHD+ Super AMOLED New Infinity Display which is extremely satisfying to look at. The display also houses an on-screen fingerprint sensor and when taking calls, it vibrates, effectively becoming the call's audio source.
The Samsung Galaxy A80 comes in three colors: Phantom Black, Angel Gold, and Ghost White but only black and gold will come to the Philippines. One can only assume the white one decided to ghost the country.
Pricing will be announced soon.
OPPO makes Reno 10x Zoom official in Europe
OPPO's new product series
After launching in China and the Middle East, OPPO is ready to take its new flagship device to Europe.
Earlier this month, OPPO unveiled the Reno in China, a new product line that's meant to embody the Chinese company's creative vision. The OPPO Reno comes in two variants: the standard model and 10x Zoom.
The standard model is powered by Qualcomm's Snapdragon 710 processor and has a dual-camera setup, while the flagship 10x Zoom sports the latest Snapdragon 855 and a triple camera setup, including the periscopic telephoto lens where the phone derives its name.
Both Reno variants will be available in two colors: a matte Ocean Green, and glossy Jet Black.
Qualcomm, Swisscom, and OPPO also announced its commitment to bringing 5G connectivity in Switzerland.
OPPO Reno will be available on May 10 and will retail for EUR 499. The 10x Zoom model will go on sale in June for EUR 799, while the 5G model for EUR 899 and in Switzerland, CHF 999 sometime in May as well.
Xiaomi launches selfie-focused Redmi Y3 with 32MP front camera
Capturing selfies like a pro
After launching the highly anticipated Redmi Note 7 and Note 7 Pro, Xiaomi is back with another successor. Following the success of Redmi Y2 in India, the brand has launched the Redmi Y3 today in India.
The phone features an upgraded front camera setup, improved design, and a more powerful processor. Xiaomi has been fairly vocal about its offering and even compared the phone's front camera with midrange contenders like the Vivo V15 Pro and Samsung Galaxy M30.
In a nutshell, the phone is built for selfie lovers. The front has a dot-notch design and houses the front camera. It's a 32-megapixel selfie shooter with a significantly large sensor to capture more details. 4-in-1 pixel technology merges the four pixels into one, bringing in better details even in low-light.
In terms of software, the camera app now comes with Beautify 4.0, smart HDR, as well as auto scene recognition. For group selfies, the field of view has been bumped to 80 degrees.
The rear has a 12- and 2-megapixel dual camera setup for portrait pictures. For authentication, a fingerprint scanner is located on the back and the phone also supports face unlock.
The front has a 6.26-inch HD+ display with Gorilla Glass 5 protection. In line with the Redmi Note 7 Pro design, even the Redmi Y3 has a gradient back, but with a plastic build.
Powering the phone is a Snapdragon 632 processor along with 3GB RAM and 32GB internal storage in the base variant. Backing these internals is a 4000mAh battery which can deliver up to 40 hours of talk time. For added comfort, the ports and buttons of the phone are sealed and can offer basic splash protection.
The Redmi Y3 starts at INR 9,999 (US$ 143) with 3GB RAM and 32GB internal storage, while the 4GB RAM and 64GB storage option costs INR 11,999 (US$ 172). It will be available for purchase starting April 30 via Redmi.com, Mi Home Stores, and Amazon.
ASUS has new ROG Zephyrus laptops with GTX Turing, 9th-gen Core i7
More new gaming laptops from ASUS
Aside from the new Strix notebooks, ASUS' popular ROG line of gaming notebooks also has new Zephyrus models. Complete with the latest GTX Turing graphics and 9th-gen Intel Core processors, you have three powerful laptops to choose from.
First is the ROG Zephyrus G which is one of the subtle gaming laptops in the ROG family. How so? This ROG notebook lets go of the flashy RGB backlighting and only has a simple white backlit keyboard. Also, it's overall design is more subdued than other gaming laptops in the market.
Don't mistake it to be a run-of-the-mill gaming laptop though; the Zephyrus G sports the new AMD Ryzen 7-3750H processor and NVIDIA GTX 1660 Ti graphics. It also has a 15-inch 120Hz IPS display with narrow bezels. The notebook can support up to 24GB DDR4 memory and up to 512GB SSD. ASUS promises seven hours of battery life; that is if you're just browsing the web.
Next in line are the updated ROG Zephyrus S and ROG Zephyrus M models. Both ROG notebooks practically share the same chassis with 15-inch displays, but with minor differences in specs.
The top-of-the-line Zephyrus S comes with the latest 9th-gen Intel Core i7 processor and NVIDIA RTX 2070 graphics, plus it has ROG Boost for better performance. It even comes with a GPU switch to save battery life when G-Sync is not needed. Speaking of the display, it features a Pantone Validated panel with an insanely fast 240Hz refresh rate and 3ms response time.
The Zephyrus M, on the other hand, is a toned-down version with NVIDIA GTX 1660 Ti graphics. Since this one doesn't need much power to supply its internals, it can be charged through USB-C when needed. It'll also come with a new 9th-gen Intel Core i7 processor with dual M.2 NVMe SSD slots.
Unfortunately, ASUS has yet to disclose the official prices of these notebooks. They'll be available where ROG notebooks are distributed soon.
SEE ALSO: ASUS unleashes new ROG Strix with GTX Turing graphics, enhanced RGB lighting