Samsung Galaxy A80 offers an all-display solution
Spoiler: It's a rotating camera
Nearly every phone manufacturer is taking a crack at giving us a solution to the notches and punch-holes "problem." As a result, we've seen pop-up cameras and secondary displays. With the Samsung Galaxy A80, the company is offering their take on the pop-up camera solution — the rotating camera.
Instead of just having the front-facing camera hide inside the phone, Samsung's idea is to make the upper part of the phone lift then flip the camera module to face you. This happens automatically when you switch to selfie mode on the camera app. At around a little over a second, it's pretty fast considering the number of actions that have to take place before the camera flips.
It's important to note that we have seen a mechanism similar to this before from the likes of OPPO and Gionnee. However, those rotating cameras had to be moved manually unlike the automatic one on the Galaxy A80.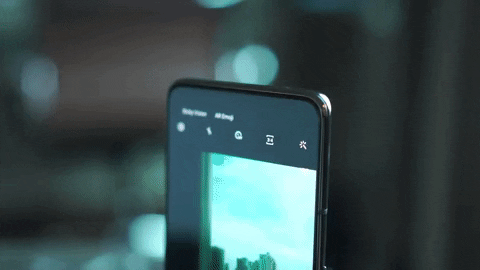 What are the cameras you ask? The Galaxy A80 has a three-camera setup. There's a 48MP main camera, an 8MP ultra wide-angle lens, and lastly, a 3D depth sensor. We only had a limited time with the device, but take a look at these quick samples so you can judge for yourself how it performs:
Capable of live streaming
Samsung is positioning the Galaxy A80 as the phone perfect for the "era of live." The company believes that people are moving on from selfies to live streaming. Having this camera mechanism makes sure no quality is sacrificed when you decide to take selfies or go live.
As of writing, we're still confirming what chipset the phone is using. Samsung representatives tell us that it's an octa-core Qualcomm Snapdragon chip, but we don't know which series yet. You also get 8GB of RAM along with 128GB of internal storage.
Samsung says the Galaxy A80 is equipped with an "intelligent performance enhancer" which regulates the phone's usage. This includes controlling the CPU, RAM, and battery usage for optimum performance. Speaking of the battery, it has a 3700mAh capacity (much lower than the one on the Galaxy A70) that supports 25W fast charging.
All-display goodness
Front and center is the 6.7-inch FHD+ Super AMOLED New Infinity Display which is extremely satisfying to look at. The display also houses an on-screen fingerprint sensor and when taking calls, it vibrates, effectively becoming the call's audio source.
The Samsung Galaxy A80 comes in three colors: Phantom Black, Angel Gold, and Ghost White but only black and gold will come to the Philippines. One can only assume the white one decided to ghost the country.
Pricing will be announced soon.
A new iMessage feature alerts you of any government spies
Anyone can use it
Do you have an irrational fear of government hackers spying on your text messages? If you do, Apple has a new feature to help alleviate your phobia. Starting today, users can opt into the new iMessage Contact Key Verification feature, a security measure designed to prevent any unwanted snooping on your messages.
If it sounds too specific, it's because Apple designed the feature for those who face "extraordinary digital threats," like journalists and politicians. Naturally, this subset of the population can benefit from keeping their conversations away from snoopers (which includes, according to Apple, state-sponsored attackers). However, there's no denying that the feature is also a boon to users who want an extra layer of protection for their messaging needs.
To use the feature, both the sender and the receiver need to have the option turned on while using their device. On a more basic level, the device will alert both users if an unexpected party suddenly crashes and enters the encrypted conversation. A more advanced level even allows iMessage users to compare verification codes, ensuring that both parties are indeed talking to whomever they intend to talk to.
While most users might not find a lot of use for an exorbitant amount of protection against hackers, it's a step in the right direction for total message encryption. Despite some significant hiccups, Apple remains focused on bringing encryption to its users.
SEE ALSO: Apple is tracking users even with settings turned off
Microsoft is being prevented from buying Activision Blizzard
Sued by the FTC
The year started off with a bang. Microsoft, already a respectable name in the gaming industry by itself, announced the impending acquisition of Activision Blizzard for US$ 68.7 billion. Perhaps it's fitting that the year will end right back where it started. The FTC is officially suing Microsoft to block the monumental purchase from going through.
Announced today, the United States' FTC (or Federal Trade Commission) has filed a legal claim against Microsoft, stating that the acquisition will allow the company to suppress competition between its rivals in the gaming industry. The commission believes that it has enough to effectively block the purchase. Allowing Microsoft to go through with the purchase will supposedly enable the company to prevent Activision Blizzard's titles — including the Call of Duty franchise — from coming out easily on other platforms.
Since the announcement of the acquisition, Activision Blizzard has gone through a rocky year. The company had its dirty laundry aired out: a plethora of disagreeable practices from within the company. Exacerbated by the rocky launches of Diablo Immortal and Overwatch 2, it's not exactly a stellar year for the company.
In fact, it's not a good year for monopolistic practices either. Recently, Ticketmaster found itself under the microscope after a massive kerfuffle preventing Taylor Swift fans from purchasing tickets to the star's upcoming concert.
While the deal between Microsoft and Activision Blizzard is still up in the air, it seems company acquisitions aren't as easy as this year has made them out to be.
Google is merging Waze with Google Maps
Apps will remain separate
It's not a secret. Google owns both Google Maps and Waze. Though both certainly come with their own pros and cons, using either app can boil down to a matter of preference, especially in driving cities. Starting soon, the two might even look more alike. Google is merging the teams of Google Maps and Waze together.
Since acquiring Waze in 2013, Google has kept the app's development separate from Google Maps. Even knowing this face, it's hard to draw comparisons between the two. They felt like separate products, and they were.
Now, as announced today (via Wall Street Journal), Google will merge Waze's team (which consists of over 500 employees) with the larger team that oversees Maps, Earth, and Street View. While there are no plans to lay off any employees, incumbent Waze CEO Neha Parikh is expected to leave the company after the merger.
Though a merger might spell the end for Waze, Google remains committed to keeping its own services separate from each other. However, by merging the teams, the company can reduce a lot of redundant work that the two teams have in common.
From a more generalized standpoint, Google Maps and Waze are incredibly distinct apps. While the latter focuses more of directions for drivers, Google Maps offers a grander sweep of directions for all travelers including those who prefer to walk or take public transportation.