Samsung Galaxy A80 offers an all-display solution
Spoiler: It's a rotating camera
Nearly every phone manufacturer is taking a crack at giving us a solution to the notches and punch-holes "problem." As a result, we've seen pop-up cameras and secondary displays. With the Samsung Galaxy A80, the company is offering their take on the pop-up camera solution — the rotating camera.
Instead of just having the front-facing camera hide inside the phone, Samsung's idea is to make the upper part of the phone lift then flip the camera module to face you. This happens automatically when you switch to selfie mode on the camera app. At around a little over a second, it's pretty fast considering the number of actions that have to take place before the camera flips.
It's important to note that we have seen a mechanism similar to this before from the likes of OPPO and Gionnee. However, those rotating cameras had to be moved manually unlike the automatic one on the Galaxy A80.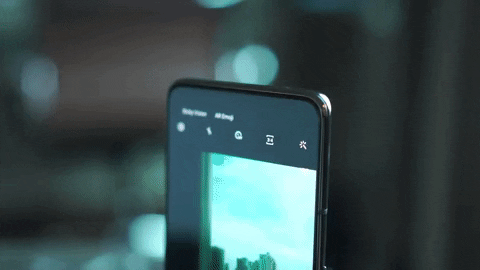 What are the cameras you ask? The Galaxy A80 has a three-camera setup. There's a 48MP main camera, an 8MP ultra wide-angle lens, and lastly, a 3D depth sensor. We only had a limited time with the device, but take a look at these quick samples so you can judge for yourself how it performs:
Capable of live streaming
Samsung is positioning the Galaxy A80 as the phone perfect for the "era of live." The company believes that people are moving on from selfies to live streaming. Having this camera mechanism makes sure no quality is sacrificed when you decide to take selfies or go live.
As of writing, we're still confirming what chipset the phone is using. Samsung representatives tell us that it's an octa-core Qualcomm Snapdragon chip, but we don't know which series yet. You also get 8GB of RAM along with 128GB of internal storage.
Samsung says the Galaxy A80 is equipped with an "intelligent performance enhancer" which regulates the phone's usage. This includes controlling the CPU, RAM, and battery usage for optimum performance. Speaking of the battery, it has a 3700mAh capacity (much lower than the one on the Galaxy A70) that supports 25W fast charging.
All-display goodness
Front and center is the 6.7-inch FHD+ Super AMOLED New Infinity Display which is extremely satisfying to look at. The display also houses an on-screen fingerprint sensor and when taking calls, it vibrates, effectively becoming the call's audio source.
The Samsung Galaxy A80 comes in three colors: Phantom Black, Angel Gold, and Ghost White but only black and gold will come to the Philippines. One can only assume the white one decided to ghost the country.
Pricing will be announced soon.
Number portability is here, how will it work?
Easily switch among 3 telco providers!
Number portability or the ability to move your mobile number under any carrier you want seemed like a pipe dream. Not anymore thanks to the combined efforts of the Avengers. No, just kidding. They're called the Telecommunications Connectivity Inc. made up of DITO Telecommunity, Globe Inc., and Smart Communications. So, kind of like the Avengers, but of Telecom companies in the Philippines.
This was made possible thanks to teh passing of the Mobile Number Portability Act. Republic Act No. 11202, also known as the Mobile Number Portability Act, ensures that mobile phone users can keep their numbers even when they transfer to another service provider, or when they switch their subscription from postpaid to prepaid, or vice-versa.
How to avail Number Portability
How to port within networks, you need to meet the following requirements:
An active SIM and the requestor is the assignee of the mobile number to be ported
Zero remaining balance from your previous bill (for postpaid)
Non-existent court prohibitions
No pending transfer of ownership
Number porting makes it possible to also keep your number when switching from prepaid to postpaid plans. Syniverse will be the provider of number portability services in the Philippines.
"Mobile Number Portability is a complex process not only do we need to adopt it into our system but we need to integrate it with the networks of our competitors," said Atty. Froilan Castelo who sits as the Chairman of the Telecommunications Connectivity Inc. General Counsel, Globe Group of Companies.
"It took us 22 months to build MNP, upgrade the system, integrate with the MNP service provider, and do testing with the other telcos," he added.
Price and availability
As discussed earlier, number porting is free of charge. You can try out number porting on September 30, 2021.
Ubisoft offers Far Cry 5 for free this weekend
Experience the violence in Hope County for a limited time only
Ubisoft has another weekend offering for everyone, focusing more on their popular franchises. In previous offerings, they gave players one whole weekend to play games such as Assassin's Creed Origins for free. As such, any progress accumulated will carry over when you purchase the game. This time around, they're offering the same mechanics to those who wish to play Far Cry 5 this weekend.
For those who are still unaware, Far Cry 5 is the fifth installment in one of Ubisoft's most popular first-person shooter franchise. The game tackles socio-political and religious topics as you play a Deputy in Hope County, Montana attempting to detain Joseph Seed. Throughout the game, you will encounter members of Seed's congregation, the Eden's Gate, who will stop at nothing to see a prophecy fulfilled.
From August 5-9, 2021, Ubisoft is offering players for the PC, PlayStation 4, PlayStation 5, Xbox One, and Xbox Series X|S access to Far Cry 5 for free. For each platform, here are the timings:
Ubisoft Store (PC) – August 5, 9 PM
Epic Games Store (PC) – August 6, 1 AM
PlayStation Store (PS4, PS5) – August 5, 3:01 PM
Microsoft Store (Xbox Series X|S, Xbox One) – August 5, 3:01 PM
YouTube offers Premium lite – a cheaper, ad-free viewing plan
But it is only available in select European countries for now
YouTube Premium is currently the service's premium option today, but that is changing — at least in some parts of Europe. There, avid YouTube users can now take advantage of a cheaper plan that offers ad-free viewing but without additional features.
Dubbed "Premium Lite", the cheaper plan introduces ad-free viewing of YouTube videos but removes other premium features such as offline viewing and playing in the background. This plan also removes the perks from YouTube Music Premium.
For short, the plan only brings ad-free viewing to the table and not much else. Ad-free viewing is available for all platforms where YouTube is available — mobile apps, desktop, and even TV apps. It is also available for YouTube Kids as well — perfect for parents who let their kids binge-watch child-friendly shows.
For now, only users from some parts of Europe are able to take advantage of the YouTube Premium Lite plan. A statement by Google sent to The Verge confirms that the company is testing the plan in the Nordics (Denmark, Finland, Sweden, Norway) and Benelux (Belgium, The Netherlands, and Luxembourg). Users in those countries can pay for EUR 6.99 per month (approximately USD 8) to avail of the plan.
SEE ALSO: 4K Remaster of the Rickroll Video
Emphasis on the word "testing", though. It is apparently in experimental phase and the plan might change in the future based on user feedback. However, one can only hope that Google offers a similar plan option in the future, considering the amount of ads on YouTube today.