Samsung Galaxy A80 offers an all-display solution
Spoiler: It's a rotating camera
Nearly every phone manufacturer is taking a crack at giving us a solution to the notches and punch-holes "problem." As a result, we've seen pop-up cameras and secondary displays. With the Samsung Galaxy A80, the company is offering their take on the pop-up camera solution — the rotating camera.
Instead of just having the front-facing camera hide inside the phone, Samsung's idea is to make the upper part of the phone lift then flip the camera module to face you. This happens automatically when you switch to selfie mode on the camera app. At around a little over a second, it's pretty fast considering the number of actions that have to take place before the camera flips.
It's important to note that we have seen a mechanism similar to this before from the likes of OPPO and Gionnee. However, those rotating cameras had to be moved manually unlike the automatic one on the Galaxy A80.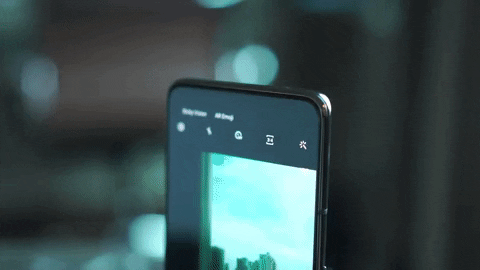 What are the cameras you ask? The Galaxy A80 has a three-camera setup. There's a 48MP main camera, an 8MP ultra wide-angle lens, and lastly, a 3D depth sensor. We only had a limited time with the device, but take a look at these quick samples so you can judge for yourself how it performs:
Capable of live streaming
Samsung is positioning the Galaxy A80 as the phone perfect for the "era of live." The company believes that people are moving on from selfies to live streaming. Having this camera mechanism makes sure no quality is sacrificed when you decide to take selfies or go live.
As of writing, we're still confirming what chipset the phone is using. Samsung representatives tell us that it's an octa-core Qualcomm Snapdragon chip, but we don't know which series yet. You also get 8GB of RAM along with 128GB of internal storage.
Samsung says the Galaxy A80 is equipped with an "intelligent performance enhancer" which regulates the phone's usage. This includes controlling the CPU, RAM, and battery usage for optimum performance. Speaking of the battery, it has a 3700mAh capacity (much lower than the one on the Galaxy A70) that supports 25W fast charging.
All-display goodness
Front and center is the 6.7-inch FHD+ Super AMOLED New Infinity Display which is extremely satisfying to look at. The display also houses an on-screen fingerprint sensor and when taking calls, it vibrates, effectively becoming the call's audio source.
The Samsung Galaxy A80 comes in three colors: Phantom Black, Angel Gold, and Ghost White but only black and gold will come to the Philippines. One can only assume the white one decided to ghost the country.
Pricing will be announced soon.
Xiaomi Mi A3: Price and availability in the Philippines
It still comes in an affordable price
Remember when Xiaomi announced the Mi A3 in India days ago? Good news for everyone as the Mi A3 will also be in the Philippines.
This latest A-series offering is known as the "stripped-down" version of the Mi CC9e. It packs the same internals: Snapdragon 665 chipset, 4GB RAM, plus 64 or 128GB storage options. What's different? Instead of the heavily-skinned MIUI 10, it packs the Android One with a fresh, stock-like Android experience — just like using a Google Pixel.
There's a new 6.088-inch Super AMOLED display in tow. With the new display technology, it's expected to be power-efficient. Although changing the technology from IPS-LCD may sound good, the downgrade of screen resolution from 1080p to 720p might become a dealbreaker for some. Other than that, there's an optical in-display fingerprint scanner, eliminating the rear-mounted fingerprint scanner of the Mi A2.
This year's A3 packs a triple camera setup: 48-megapixel main camera, 2-megapixel depth sensor, and a new 8-megapixel ultra-wide shooter. The Dot Drop Display notch houses the 32-megapixel selfie camera. Both cameras have AI functionality.
When it comes to battery, the 4,030 mAh capacity is a huge improvement over last year. It is expected to have a longer battery life than Mi A2's so-so 3,000 mAh battery. 18W Fast Charge is still supported, all thanks to USB-C. They also brought back the 3.5mm audio jack for dongle-less usage. The IR blaster is still present for controlling appliances.
Pricing and availability
The Xiaomi Mi A3 will be available in local Mi Authorized stores starting August 24, 2019 and will be on Lazada and Shopee starting September 9, 2019. There are three color options to choose from: Not Just Blue, Kind of Grey, and More than White. The sole variant with 4GB/128GB configuration will retail at PhP 11,990.
Spotify extends free trial to 3 months
Try Spotify Premium for a longer period of time
Spotify offers a free trial for everyone wanting to try the Premium experience. Spotify Premium used to be free for just 30 days, but that is changing today. Starting this August, Spotify is extending its Premium free trial for three months.
Spotify Premium is now offering the first 3 months for free. Everyone can try it out. The feature is rolling out globally with all of the plans eligible upon sign-up.
However, the three month offer is open only for those who haven't tried Premium before. To activate, visit the website of Spotify Premium. Signing up requires either a credit card or a carrier billing.
Those lucky to grab the three month offer gains access 50 million song tracks available on-demand and ad-free, along with access to 450,000 podcast titles. Spotify is the leading music streaming service globally, and it offers an Android, iOS, desktop and web apps for all. Today, it boasts 217 million users across 79 markets.
Android Q is just Android 10
10 is not a dessert
Android is changing things up. After years of naming its newest iteration after a sweet treat, the newest version will now just be called Android 10.
Google's mobile operating system explains that the decision to change its naming convention is aimed at being more inclusive.
Android Q will be called #Android10. As a global operating system, it's important that the release names are clear and relatable for everyone in the world. Learn more: https://t.co/VKBcoSBGLt pic.twitter.com/Ek7izFEnuq

— Android (@Android) August 22, 2019
Android says that while using names of tasty treats and desserts has always been a fun way of releasing each update annually, it wasn't immediately understood by everyone. Especially not with a 2.5 billion user-base that's spread all around the world. They've even gone out of their way to explain that "L and R are not distinguishable when spoken in some languages."
They also made a fair point that it's not easy for most people to identify if they're device is running the latest OS. After all, there's no clear indication that KitKat comes after Lollipop.
By switching to just Android 10, it becomes more easily understandable for all of its users, and the company felt that it was time for a change.
A new name also merits a new look. The Android robot is now officially part of the logo and the font color changed to black. The video below details the evolution.