Samsung Galaxy A80 offers an all-display solution
Spoiler: It's a rotating camera
Nearly every phone manufacturer is taking a crack at giving us a solution to the notches and punch-holes "problem." As a result, we've seen pop-up cameras and secondary displays. With the Samsung Galaxy A80, the company is offering their take on the pop-up camera solution — the rotating camera.
Instead of just having the front-facing camera hide inside the phone, Samsung's idea is to make the upper part of the phone lift then flip the camera module to face you. This happens automatically when you switch to selfie mode on the camera app. At around a little over a second, it's pretty fast considering the number of actions that have to take place before the camera flips.
It's important to note that we have seen a mechanism similar to this before from the likes of OPPO and Gionnee. However, those rotating cameras had to be moved manually unlike the automatic one on the Galaxy A80.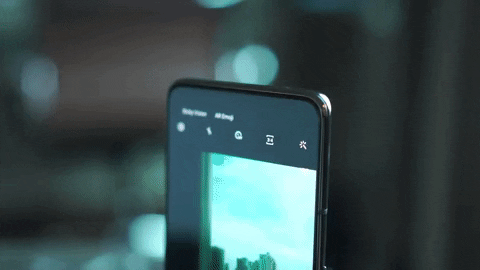 What are the cameras you ask? The Galaxy A80 has a three-camera setup. There's a 48MP main camera, an 8MP ultra wide-angle lens, and lastly, a 3D depth sensor. We only had a limited time with the device, but take a look at these quick samples so you can judge for yourself how it performs:
Capable of live streaming
Samsung is positioning the Galaxy A80 as the phone perfect for the "era of live." The company believes that people are moving on from selfies to live streaming. Having this camera mechanism makes sure no quality is sacrificed when you decide to take selfies or go live.
As of writing, we're still confirming what chipset the phone is using. Samsung representatives tell us that it's an octa-core Qualcomm Snapdragon chip, but we don't know which series yet. You also get 8GB of RAM along with 128GB of internal storage.
Samsung says the Galaxy A80 is equipped with an "intelligent performance enhancer" which regulates the phone's usage. This includes controlling the CPU, RAM, and battery usage for optimum performance. Speaking of the battery, it has a 3700mAh capacity (much lower than the one on the Galaxy A70) that supports 25W fast charging.
All-display goodness
Front and center is the 6.7-inch FHD+ Super AMOLED New Infinity Display which is extremely satisfying to look at. The display also houses an on-screen fingerprint sensor and when taking calls, it vibrates, effectively becoming the call's audio source.
The Samsung Galaxy A80 comes in three colors: Phantom Black, Angel Gold, and Ghost White but only black and gold will come to the Philippines. One can only assume the white one decided to ghost the country.
Pricing will be announced soon.
OPPO Watch: Pricing and availability in the Philippines
Announced months ago in China and launched globally at the start of the month, the OPPO Watch is also coming to the Philippines.
The OPPO Watch bears an undeniable resemblance with the Apple Watch. But the device has a larger 46mm variant with a 1.91-inch AMOLED curved display. Meanwhile, the 41mm variant has a 1.6-inch AMOLED display.
For now, only the 41mm variant will come to the Philippines.
It has five workout modes: Fitness Run, Fat Burn Run, Outdoor Walk, Outdoor Cycling, and Swimming. It has the usual plate of tracking measurements including heart rate and sleep tracking. It also comes with Google Fit in its software.
It does run Wear OS but with OPPO's own customization. This means Google apps integration should be seamless.
The 41mm variant comes with a 300mAh battery, powering the watch for up to 24 hours normally and up to 14 days on Power Saver mode. It's compatible with OPPO's VOOC Flash Charging tech.
Pricing and availability
The OPPO Watch 41mm will be available in black for PhP 12,990 in all OPPO concept and online stores and exclusive e-commerce partner Lazada.
Google is killing the Pixel 4 just nine months after launch
Making way for the Pixel 5
Google's flagship Pixel 4 and Pixel 4 XL are now discontinued. The announcement is shocking because the phones were launched just nine months ago and the company just recently announced its younger sibling — the Pixel 4a.
It's worth noting that Google usually followed an 18-month sale cycle with its previous offerings. Going off course from the usual trend, Google has already confirmed the imminent arrival of Pixel 5 along with the Pixel 4a 5G.
"Google Store has sold through its inventory and completed sales of Pixel 4 and 4XL," Google said in a statement to Business Insider. However, some variants are still said to be available in other regions for the time being. If you're lucky, you can still search for pending stock with an offline seller or even marketplaces like Amazon.
The Pixel 4 series wasn't able to take-off and meet expectations because its sale was limited to a few regions. It's the first phone to feature radar and backed with Project Soli, it could offer the fastest secure face unlock on a smartphone. It further helped enable motion gestures on the phone, something no other phone has been able to so far.
But, its unique selling point also became the biggest hurdle to its sale. Markets like India do not have any regulation around civilian radar usage and the phone couldn't compete in such price-sensitive environments.
Even in developed countries, Apple and Samsung continued to dominate the premium segment. The phone is an excellent piece of hardware that churns out pictures that are often comparable to a DSLR. But, poor battery, marketing, and brand recognition just couldn't make the phone an ideal iPhone competitor.
Apple's macOS Big Sur Public Beta is now available for download
It can still run on your old 2013 MacBooks and iMacs
Good news for MacBook and iMac users, you can now start testing out the Public Beta release of Apple's macOS Big Sur.
Here's a list of supported devices:
MacBook (2015 and later)
MacBook Air (2013 and later)
MacBook Pro (Late 2013 and later)
Mac mini (2014 and later)
iMac (2014 and later)
iMac Pro (all models)
Mac Pro (2013 and later)
If your Mac is supported, you can head over to Apple's Beta Program Website to enroll your device for download.
Just a refresher, Big Sur is the latest macOS update that was announced during Apple's WWDC 2020 event together with iOS 14, iPadOS 14, and watchOS 7. Other than performance improvements, you also get a revised look with a simpler and more seamless UI compared to older versions of California-touting macOS versions including  Catalina, Mojave, High Sierra, and Sierra.
Another addition to Apple's continuous Mac improvements are the newest 27-inch iMac with Intel's latest Core i9 chipsets, before they ditch Intel-based architecture and completely rely on their in-house ARM chipsets — starting with the upcoming Apple Silicon-powered MacBook that should be available in the market as early as 2021.