Samsung Galaxy A80 offers an all-display solution
Spoiler: It's a rotating camera
Nearly every phone manufacturer is taking a crack at giving us a solution to the notches and punch-holes "problem." As a result, we've seen pop-up cameras and secondary displays. With the Samsung Galaxy A80, the company is offering their take on the pop-up camera solution — the rotating camera.
Instead of just having the front-facing camera hide inside the phone, Samsung's idea is to make the upper part of the phone lift then flip the camera module to face you. This happens automatically when you switch to selfie mode on the camera app. At around a little over a second, it's pretty fast considering the number of actions that have to take place before the camera flips.
It's important to note that we have seen a mechanism similar to this before from the likes of OPPO and Gionnee. However, those rotating cameras had to be moved manually unlike the automatic one on the Galaxy A80.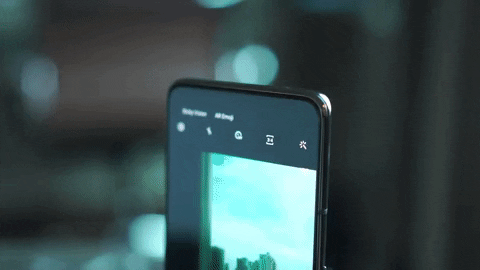 What are the cameras you ask? The Galaxy A80 has a three-camera setup. There's a 48MP main camera, an 8MP ultra wide-angle lens, and lastly, a 3D depth sensor. We only had a limited time with the device, but take a look at these quick samples so you can judge for yourself how it performs:
Capable of live streaming
Samsung is positioning the Galaxy A80 as the phone perfect for the "era of live." The company believes that people are moving on from selfies to live streaming. Having this camera mechanism makes sure no quality is sacrificed when you decide to take selfies or go live.
As of writing, we're still confirming what chipset the phone is using. Samsung representatives tell us that it's an octa-core Qualcomm Snapdragon chip, but we don't know which series yet. You also get 8GB of RAM along with 128GB of internal storage.
Samsung says the Galaxy A80 is equipped with an "intelligent performance enhancer" which regulates the phone's usage. This includes controlling the CPU, RAM, and battery usage for optimum performance. Speaking of the battery, it has a 3700mAh capacity (much lower than the one on the Galaxy A70) that supports 25W fast charging.
All-display goodness
Front and center is the 6.7-inch FHD+ Super AMOLED New Infinity Display which is extremely satisfying to look at. The display also houses an on-screen fingerprint sensor and when taking calls, it vibrates, effectively becoming the call's audio source.
The Samsung Galaxy A80 comes in three colors: Phantom Black, Angel Gold, and Ghost White but only black and gold will come to the Philippines. One can only assume the white one decided to ghost the country.
Pricing will be announced soon.
Limited edition Honor MagicWatch 2 design series unveiled
Honor taps into the world of art and fashion
Time-pieces have always been more than just a way to tell time. In some ways, it's become a form of self-expression. With that in mind, Honor launches nine limited edition Honor MagicWatch 2 designs.
The designs were made in collaboration with a number of rising stars in the worlds of art and graphic design including Jacky Tsai, George Greaves, Wang DongLing and Giovanni Ozzola. These were made with the vision of bringing together elements of illustration, graphic design, photography, sculpture and calligraphy.
HONOR x Jacky Tsai An Innovative Fusion of Pop Art and Chinese Craftmanship with "Floral Horse" and "Shanghai Tang Café" 
With two eye-catching limited-edition designs, named "Floral Horse" and "Shanghai Tang Café" respectively, Jacky fuses elements of pop art with iconic eastern influences using splashes of colour across the watch faces and straps.
With two eye-catching limited-edition designs, named "Floral Horse" and "Shanghai Tang Café" respectively, Jacky fuses elements of pop art with iconic eastern influences using splashes of colour across the watch faces and straps.
HONOR x George Greaves A Touch of Exotic with "The Palm Tree"
Bristol-based illustrator George Greaves is a master in dreamlike, archetypal imagery. Inspired by nature, the unisex palm tree design combines geometric elements with a muted color palette, evoking a sense of majestic landscapes and far-flung adventures
HONOR x Wang DongLing Reinterpreting Historical Calligraphy with "Cheng Hao, 'Autumn Moon', Entangled Script"
Wang Dongling is widely recognized as China's greatest living calligrapher and is known for his large abstract works that he calls "calligraphic paintings." Bringing together poetry and painting, Dongling creates his work through performances where he translates the text of ancient Chinese verses into gestural interpretations of traditional characters.
HONOR x Giovanni Ozzola Experimenting with light, photography and sculpture in "One Day", Old Walls" and "Ficus" 
Originating from Florence, Giovanni is a multidisciplinary artist working primarily in photography, as well as video and sculptural installation.
His artworks have been exhibited internationally in numerous public and private institutions, including Fosun Foundation in Shanghai, 313 Art Project in Seoul, District 6 Museum in Cape Town, Tate Modern in London and many more.
HONOR x Zhou Li Creating movement and rhythm with dynamic lines and brunch strokes
Known for her oriental aesthetic and acute sensory observations of the world, Zhou Li is one of the most influential female artists in China. Zhou creates paintings, sculptures, installations and public arts using multiple mediums including oil paint, ink, charcoal and cotton textiles.
HONOR x Pencil Bryan Capturing the surreal through dreamlike illustration
Founder of Pencil Bryan's design team, Xu Lei has produced a number of illustrations for high-end fashion magazines over the years as well as collaborating with a range of global brands. Xu is known for his surreal, conceptual art, with a vivid and unique style, combing the rational and the conceptual he is able to illustrate the perceived world with a unique, avant-gard perspective.
Honor MagicWatch 2 pricing and availability
The Honor MagicWatch 2 will be available in two sizes — 46mm and 42mm.  The 46mm variant is designed with an auto-racing watch panel for a sporty, bold and adventurous look, the 42mm variant is designed with fashion in mind.
It has a 1.39-inch full-color AMOLED touchscreen, customizable watchfaces, up to 14 days of ultra long-lasting battery life and a range of health and fitness features. There will also be three straps to choose from: including elastic rubber (an eco-friendly hypoallergenic material), leather and metal, you can customize the watch for any occasion.
The Honor MagicWatch 2 46mm Charcoal Black is available to purchase from GBP 159.99 in the UK on Amazon and eBay and coming soon to John Lewis starting  February 3, 2020. The 42mm Agate Black variant of the watch will be available from GBP 149.99 in the UK on Amazon and John Lewis starting from February 12, 2020.
Samsung Galaxy S20 series pricing leak online
The 5G models are pretty expensive
The tech community is busy scouring the Internet for details regarding Samsung's next flagship. The Galaxy S20 series, as well as another flagship foldable from Samsung, will go official by February. Until then, leaks keep pouring about the details of these phones.
The latest of these leaks come courtesy of XDA Developer's Max Weinbach. On Twitter, he posted the pricing information of upcoming Galaxy S20 phones. Note that the prices are approximate pricing in Euros.
So just heard S20 prices. Expect these to be lower than listed but at the moment we are expecting:

S20 5G: €900-1000
S20+ 5G: €1050-1100
S20 Ultra 5G: €1300

Galaxy Z Flip is supposed to be about €1400 but I expect that to change before launch.

— Max Weinbach (@MaxWinebach) January 20, 2020
For those who missed out on rumors, Samsung is revamping the naming scheme of its flagships. Expect a Huawei-like naming scheme on Samsung's next generation of flagships.
The Galaxy S20 will supposedly arrive in 4G and 5G models. The pricing for 4G models is EUR 100 less than their 5G counterparts.
Furthermore, Weinbach believes the US pricing for S20, S20+, and S20 Ultra would be US$ 850, US$ 950, US$ 1200, respectively. The pricing is a notch higher than the current pricing of the Galaxy S10 series. However, it is worth noting that the Galaxy S20 will arrive with chock-full of improvements over its predecessors.

As for the Galaxy Z Flip, details remain scarce on what the phone will look like. However, Samsung teased a clamshell foldable last October, so this could be an early look at how the foldable will look.
The world will know more about Samsung's next flagships at Unpacked 2020 taking place on February 11.
SEE ALSO:
Samsung Galaxy S20+ rumor roundup: 120Hz display, ultrasonic fingerprint scanner
Samsung Galaxy Z Flip rumor roundup: the next foldable smartphone
Mystery 44-megapixel selfie cam surfaces on Twitter
Can you guess who made it?
By now, we've heard of the 108-megapixel smartphone. But, have you heard of the 44-megapixel selfie shooter?
While the world is focusing on blockbusting rear cameras, a mystery smartphone maker has sneaked in a 44-megapixel front-facing shooter from under our noses. A famous British tech personality, Arun Maini, has leaked an unnamed smartphone with the world's first 44-megapixel dual punch-hole camera.
Mysteriously, Maini has not revealed the device's brand or model, prompting Twitter users to guess instead. While the guesses are undeniably varied, a clear leader is emerging as the rumored brand: OPPO.
OPPO has launched a similar user interface in the past. Most recently, the punch-hole camera was featured in the new Reno3 and Reno3 Pro. Further, the company uses a very similar layout and wallpaper on its phones.
However, the leaked phone is clearly not the recently released series. The Reno3 Pro has a sizable but smaller 32-megapixel selfie shooter. Whatever this is, it's something new.
If anything, the Twitterverse is right. The leaked phone is likely an OPPO smartphone.
That said, we are now approaching the age of huge selfie shooters. Besides OPPO, Samsung is also rumored to launch a huge front-facing camera. Reportedly, the upcoming Galaxy S20 Ultra will carry a whopping 40-megapixel shooter in the front. Undoubtedly, 2020 is bringing the sexy selfie back.
SEE ALSO: Will the OPPO A9 2020 last our 10-hour binge-watch test?