Samsung Galaxy A80 offers an all-display solution
Spoiler: It's a rotating camera
Nearly every phone manufacturer is taking a crack at giving us a solution to the notches and punch-holes "problem." As a result, we've seen pop-up cameras and secondary displays. With the Samsung Galaxy A80, the company is offering their take on the pop-up camera solution — the rotating camera.
Instead of just having the front-facing camera hide inside the phone, Samsung's idea is to make the upper part of the phone lift then flip the camera module to face you. This happens automatically when you switch to selfie mode on the camera app. At around a little over a second, it's pretty fast considering the number of actions that have to take place before the camera flips.
It's important to note that we have seen a mechanism similar to this before from the likes of OPPO and Gionnee. However, those rotating cameras had to be moved manually unlike the automatic one on the Galaxy A80.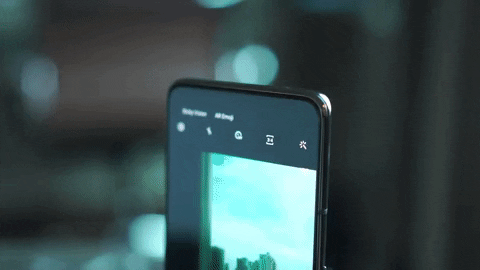 What are the cameras you ask? The Galaxy A80 has a three-camera setup. There's a 48MP main camera, an 8MP ultra wide-angle lens, and lastly, a 3D depth sensor. We only had a limited time with the device, but take a look at these quick samples so you can judge for yourself how it performs:
Capable of live streaming
Samsung is positioning the Galaxy A80 as the phone perfect for the "era of live." The company believes that people are moving on from selfies to live streaming. Having this camera mechanism makes sure no quality is sacrificed when you decide to take selfies or go live.
As of writing, we're still confirming what chipset the phone is using. Samsung representatives tell us that it's an octa-core Qualcomm Snapdragon chip, but we don't know which series yet. You also get 8GB of RAM along with 128GB of internal storage.
Samsung says the Galaxy A80 is equipped with an "intelligent performance enhancer" which regulates the phone's usage. This includes controlling the CPU, RAM, and battery usage for optimum performance. Speaking of the battery, it has a 3700mAh capacity (much lower than the one on the Galaxy A70) that supports 25W fast charging.
All-display goodness
Front and center is the 6.7-inch FHD+ Super AMOLED New Infinity Display which is extremely satisfying to look at. The display also houses an on-screen fingerprint sensor and when taking calls, it vibrates, effectively becoming the call's audio source.
The Samsung Galaxy A80 comes in three colors: Phantom Black, Angel Gold, and Ghost White but only black and gold will come to the Philippines. One can only assume the white one decided to ghost the country.
Pricing will be announced soon.
Globe has first-ever Eco-SIM in Asia
More sustainability
Globe debuted the first-ever Eco-SIM cards in Asia for postpaid mobile customers made from recycled refrigerator waste.
The initiative is part of Globe's contribution to environmental sustainability in time for January's Zero Waste Month celebration.
The Eco-SIM card was first developed in 2020, in partnership with the Veolia company; it has a neutral carbon footprint.
100 percent recycled waste
The telecom provider partnered with Thales to employ the said Eco-SIM cards starting from November last year, made from 100 percent recycled materials.
The SIM cards are made from recycled polystyrene recovered from discarded refrigerator interiors.
Thales has a comprehensive carbon offset program that also ensures there is no further carbon footprint during the manufacturing process of the Eco-SIM cards.
SIM cards, while the smallest consumer items, equate to about 20,000 tons of plastic and other polymers as about 4.5 billion cards are manufactured every year.
A global leader in advanced technologies, Thales has presence in the Philippines since 2010.
The company has been a strategic partner for consumers in the civil aviation, defense, digital security, air traffic management, and ground transportation sectors.
From eSIMs to Eco-SIMs
In 2018, Globe was also the first in the country to introduce electronic SIMs or eSIM, as another alternative to the physical SIM cards.
They are basically digital SIMS embedded in compatible mobile phone models, allowing users to manage multiple mobile numbers on just one device.
The eSIM also allows gadgets like smartphones and smartwatches to be connected under one mobile number.
More sustainability
Back in 2019, Globe became a signatory to the United Nations Global Compact, committing to implement universal sustainability principles on human rights, labor, environment, and anti-corruption in its operations.
While in January 2021, Globe also formally expressed its support to the globally-recognized Task Force on Climate-Related Financial Disclosure (TCFD), supporting the TCFD framework along with more than 1,800 companies worldwide.
Globe strongly supports the United Nations Sustainable Development Goals, particularly UN SDG No. 12, which highlights the roles of responsible consumption and production patterns.
MediaTek hosts world's first demo of Wi-Fi 7
Here's what to expect
We've come a long way from dial-up. Now, the name of the game is Wi-Fi 6. Amid the rise of 5G connectivity, the home internet sector is adopting the current standard for their devices. But, of course, the advance of technology is not stopping. As Wi-Fi 6 tries to take over the entire market, the industry is already working on Wi-Fi 7. With development well underway, what can you expect from the upcoming standard?
Naturally, better speeds. Recently, MediaTek showcased the world's first live demo of the new technology. In an impressive show, the standard will reportedly achieve speeds 2.4 times faster than what Wi-Fi 6 can do. The technology can maximize uses for the current spectrums available for Wi-Fi at up to 6GHz. The technology can also reduce latency and interference using MLO and MRU features.
According to MediaTek, Wi-Fi 7 will support the ever-growing need for faster internet speeds brought on by emerging uses for online users. These needs include AR/VR applications, cloud gaming, 4K video calling, and 8K streaming. With technology advancing the way it is, high-speed internet — even faster than what's available today — is turning into a necessity to cope with multi-user households.
MediaTek predicts that products that can support Wi-Fi 7 will start coming out in 2023.
Google is working on an AR headset called Project Iris
With its own processor and OS
Understandably so, a good portion of the world is strongly resistant to Meta's push for a metaverse based on virtual and augmented reality. However, though people are still hesitant to try on Facebook's VR-tinted goggles, other companies are more than happy to take on the technology themselves. Google, joining Meta and Apple, is also working on its own AR headset called Project Iris.
According to sources from The Verge, Google is getting back into the augmented reality stage. The company is reportedly working on an AR headset with the current codename. The Project Iris headset is supposedly targeting a 2024 release date.
Inside the mysterious headset, the device will supposedly have its own processor and OS. Given Google's feats recently, an in-house processor and operating system are within the realms of possibility. Google recently launched its first in-house chipset for smartphones, the Tensor chip. The company is, of course, still the thriving developers of Android, currently tailoring its latest Android version for different form factors.
Plus, it's not Google's first time with an augmented reality project. Remember the ill-fated Google Glass? The revolutionary wearable had all the potential but ultimately fizzled out into oblivion. At the time, analysts cited the device's poor timing. Now, especially with other companies vying for dominance, Google does have more initiative to reestablish itself in the augmented reality market.
SEE ALSO: Facebook changes name to Meta