Samsung Galaxy A80 offers an all-display solution
Spoiler: It's a rotating camera
Nearly every phone manufacturer is taking a crack at giving us a solution to the notches and punch-holes "problem." As a result, we've seen pop-up cameras and secondary displays. With the Samsung Galaxy A80, the company is offering their take on the pop-up camera solution — the rotating camera.
Instead of just having the front-facing camera hide inside the phone, Samsung's idea is to make the upper part of the phone lift then flip the camera module to face you. This happens automatically when you switch to selfie mode on the camera app. At around a little over a second, it's pretty fast considering the number of actions that have to take place before the camera flips.
It's important to note that we have seen a mechanism similar to this before from the likes of OPPO and Gionnee. However, those rotating cameras had to be moved manually unlike the automatic one on the Galaxy A80.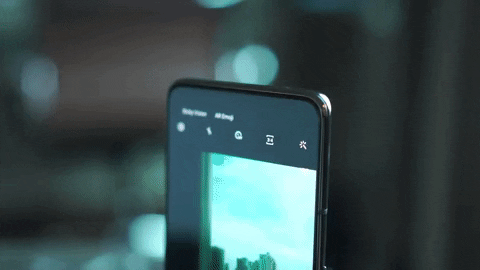 What are the cameras you ask? The Galaxy A80 has a three-camera setup. There's a 48MP main camera, an 8MP ultra wide-angle lens, and lastly, a 3D depth sensor. We only had a limited time with the device, but take a look at these quick samples so you can judge for yourself how it performs:
Capable of live streaming
Samsung is positioning the Galaxy A80 as the phone perfect for the "era of live." The company believes that people are moving on from selfies to live streaming. Having this camera mechanism makes sure no quality is sacrificed when you decide to take selfies or go live.
As of writing, we're still confirming what chipset the phone is using. Samsung representatives tell us that it's an octa-core Qualcomm Snapdragon chip, but we don't know which series yet. You also get 8GB of RAM along with 128GB of internal storage.
Samsung says the Galaxy A80 is equipped with an "intelligent performance enhancer" which regulates the phone's usage. This includes controlling the CPU, RAM, and battery usage for optimum performance. Speaking of the battery, it has a 3700mAh capacity (much lower than the one on the Galaxy A70) that supports 25W fast charging.
All-display goodness
Front and center is the 6.7-inch FHD+ Super AMOLED New Infinity Display which is extremely satisfying to look at. The display also houses an on-screen fingerprint sensor and when taking calls, it vibrates, effectively becoming the call's audio source.
The Samsung Galaxy A80 comes in three colors: Phantom Black, Angel Gold, and Ghost White but only black and gold will come to the Philippines. One can only assume the white one decided to ghost the country.
Pricing will be announced soon.
Apple is shrinking the notch this year
Is this the iPhone 13?
Another year, another iPhone. Even if the year is just starting, we're already in for a flurry of rumors for the next iPhone. Sometimes, however, those rumors can give as an acute case of déjà vu. Today, one of the earliest details about 2021's iPhone 13 series once again hints that Apple is shrinking the notch this year, mimicking years-worth of speculation.
According to a report from DigiTimes, the next generation of iPhones will come with smaller notches. The company will finally be able to pack in its front-facing sensors into a smaller surface area, resulting in a new form factor.
Consumers have notably decried the controversial notch since its inception in the iPhone X. Though other brands have adopted the notch themselves, most have already moved past the trend with teardrop notches, punch hole cameras, or even under-display sensors. In comparison, Apple has furiously stood by its large notch. The iPhone 13 series might finally change Apple's long-standing status quo.
If you're in doubt, you have every reason to be. We're still months and months away from any incredibly substantial leaks for the iPhone 13. However, if anything, DigiTimes has reported on the upcoming iPhone before, as well. A few weeks ago, the outlet revealed that the entire series will come with improved LiDAR sensors. There might be some truth to this year's "smaller notch" rumors. But again, waiting (and taking everything with a grain of salt) is key.
WhatsApp delays roll-out of new privacy policy until May
Signal and Telegram are trending instead
WhatsApp rolled out a new privacy policy that clearly specifies how the instant messaging app will leverage your data for monetization. But the new privacy policy is on hold.
WhatsApp, owned by Facebook, has announced that it will delay enforcing its new privacy terms from February 8 to May 15. In the blog post, the company says that none of its privacy-focused features are changing.
"We're also going to do a lot more to clear up the misinformation around how privacy and security works on WhatsApp. We'll then go to people gradually to review the policy at their own pace before new business options are available on May 15," the statement said.
It faced massive backlash as users are worried about their personal data. When the privacy policy changes went public last week, the response from the public was downright brutal. Alternative apps like Telegram and Signal started trending worldwide as users started joining it in hopes of ditching WhatsApp.
Even though WhatsApp is end-to-end encrypted, Facebook will still fetch some crucial information like your transactions, location, and other behavioral data from linked Instagram profile. And, we all know Facebook has a nasty reputation as far as personal data management is concerned. What makes it even more outrageous is that the policy is leave or take, and there's no third option.
In the wording used, WhatsApp says the new privacy policy will change how it partners with Facebook to "offer integrations" and that businesses can use Facebook services to manage WhatsApp chats. It said that hat all private messages between friends and family members will remain end-to-end encrypted.
According to a CNBC report, India's technology ministry also asked WhatsApp to withdraw planned changes to its privacy policy that has drawn widespread backlash.
Huawei P50 Pro could come with a 120Hz display, 200x digital zoom
What about Harmony OS?
Huawei may be barred from using Google Mobile Services, but it is far from giving up. The Chinese brand has pivoted to natively developed options and continues to work on its flagship P and Mate series. Going by the usual trend, the Huawei P50 series is expected to launch soon, and we already hear a lot of chatter about it.
According to @RODENT950 on Twitter, Huawei P50 Pro will have a 6.78-inch display with a 120Hz refresh rate. Another user on Weibo claims that the regular version of Huawei P50 will be using a 90Hz refresh rate screen, while the top-end option may come with a 120Hz panel.
Under the P50 Pro and P50 Pro+ hood will be the Kirin 9000 or Kirin 9000E chipset. Designed on a 5nm process, these are Huawei's best-in-class and offer massive performance improvements. Furthermore, the phone will support 66W wired fast charging and 50W wireless charging.
Most importantly, the cameras are expected to get a major upgrade. The "space zoom" technology could go one step further by incorporating 200x digital zoom. Keep in mind, the recently launched Galaxy S21 Ultra has 100x digital zoom. So, Huawei's offering makes a lot of difference, at least on paper. The P50 Pro+ will continue the race, as the phone will likely offer a massive 200x zoom from a derived 20x optical zoom setup.
While many reports said Huawei could ship the P50 series with Harmony OS, recent inputs suggest the brand shall continue with Android-based EMUI 11. In other aspects, the Huawei P50 series will come with 4 surround speakers and an upgraded vibration motor for haptics.
The phone is expected to launch in the coming months. The P50 series will consist of multiple options, and the details mentioned above are based on leaks, speculations, and unverifiable information. The end product could differ vastly.