TWICE, BLACKPINK part of Just Dance 2020 lineup
Dance to Fancy and Kill This Love!
To celebrate 10 years of making gamers move, Just Dance 2020 is adding some popular asian music to their lineup. In particular, hit songs from two of the most popular K-Pop girl groups today made the lineup — TWICE's Fancy and BLACKPINK's Kill This Love.
Joining those two tracks are these other chart toppers:
God Is a Woman — Ariana Grande
Skibidi — Little Big
Vodovorot — XS Project
Bangarang — Skrillex Ft. Sirah
Con Calma — Daddy Yankee Ft. Snow
Bad Boy – Riton & Kah-Lo
High Hopes — Panic! At The Disco
Sushi — Merk & Kremont
I Like It — Cardi B, Bad Bunny & J Balvin
Policeman — Eva Simons Ft. Konshens
Rain Over Me — Pitbull Ft. Marc Anthony
365 — Zedd & Katy Perry
Con Altura — ROSALÍA & J Balvin Ft. El Guincho
Fit But You Know It — The Streets
I Am The Best (내가 제일 잘 나가) — 2NE1
Old Town Road (Remix) — Lil Nas X Ft. Billy Ray Cyrus
Só Depois Do Carnaval — Lexa
Taki Taki — DJ Snake Ft. Selena Gomez, Ozuna, Cardi B
The Time (Dirty Bit) — Black Eyed Peas
Just An Illusion — Equinox Stars
Baby Shark — Pinkfong
Bassa Sababa — Netta
My New Swag (我的新衣) — VAVA Ft. Ty. & Nina Wang
Tel Aviv — Omer Adam Ft. Arisa
Ugly Beauty (怪美的) — Jolin Tsai
New and returning game modes
The new mode recently announced is the All-Stars Mode. This will allow the players to rediscover and progress through 10 iconic songs from 10 years of Just Dance, to unlock an exclusive song at the end.
Making a return is the Co-op mode which will let players to team-up to combine their scores. There's also an enhanced recommendation system enables players to choose among a personalized offering of their most loved Just Dance content. In addition, players can create their own playlists to customize their Just Dance parties.
The other modes are as follows:
Sweat Mode: Players can exercise while having fun with the Sweat Mode! They can track their calories burned, time spent dancing, and keep themselves motivated with their dedicated sweat playlists.
Kids Mode: The dedicated Kids Mode allows the youngest players to enjoy it in full with 8 new kid-friendly curated songs, accompanying a fun dance experience tailored to kids' needs.
Just Dance Unlimited: The Dance-on-demand subscription streaming service gives access to 500+ songs and more! Every copy of the game comes with one month's access.
To make the game more accessible, there's also the Just Dance Controller app. Players can use their smartphone to navigate in game, track and score their moves. Up to six players can play with their phones simultaneously. The application is available for free on iOS and Android.
If you've been looking for a game that you can play with friends and family this holidays, look no further than Just Dance 2020. The game will be available on PS4 Pro, PSR and the Xbox One family of devices on November 5, 2019.
The cost of the post-pandemic movie
Why you should care about Mulan's terrible premiere
The fate of the Hollywood blockbuster rests on a fingertip. A formerly grandiose affair with celebrities dressing up to the nines, the red-carpet premiere is now an impossibility thanks to the ongoing COVID-19 crisis. On the other side, streaming services blossomed with new titles and exclusives. It was (and is) a great era for the home theater. But the home theater will not last forever. Hollywood is now facing a crisis for the future of the premiere.
If the past year is any indication, Hollywood will, of course, not go down without a fight. Large networks and production houses have released their own streaming platforms to monopolize their content, putting additional weight on a consumer's budget. Take Disney's Disney+ or NBC's Peacock, for instance. Now, a few of these (like Disney and Netflix) make their own blockbuster content as well. We've seen Netflix's streaming-only premieres already. How about Disney's (or anyone else's) Hollywood premieres, which often rely on astounding box office numbers?
This week, we got a taste of such a strange premiere scheme. In an earnings call, Disney CEO Bob Chapek detailed the future of a delayed movie, Mulan. Initially premiering in theaters back in March, Mulan was repeatedly delayed because of the continued shutdown of movie theaters. Now, as the company is itching to finally launch it, Chapek announced a hybrid release for the film. Partly premiering in theater in safe countries, the film will also launch simultaneously on Disney+ for unsafe markets.
Now, here's the catch: the film will cost US$ 29.99 for Disney+ users. Even if you have a subscription already, you have to fork over approximately PhP 1,474 to watch the new film. Of course, the hair trigger response is, "c'mon, Disney; stop haggling money from your customers." And the response is right. However, there is so much more to this. Mulan can set the stage for an unprecedented era for Hollywood premieres.
Let's get down to business
In New York, an average movie ticket costs around US$ 15 (approximately PhP 736). Mulan's price tag is twice as much as a theater ticket. It's even weightier in cheaper states and, most especially, in the Philippines (where movie tickets are only around US$ 5). Further, you'll still need an active Disney+ account to access the film, costing an additional US$ 6.99.
(Naturally, it's impossible to accurately translate the prices to an Asian market since Disney+ has not launched in all of Southeast Asia yet. We can only assume that Mulan's streaming price is 200 percent of normal ticket prices, whatever it might be.)
Objectively, Mulan's price is worse than a regular movie ticket. It's easy to conclude the argument with this statement and head home. However, there is a way to justify the price.
The whole family plus your cow
Now, a single movie ticket typically admits one person. Buying Mulan pays for the streaming privilege which can typically include an entire family. With a 15-dollar average, two people watching the same Mulan purchase is already a break-even point. In the same vein, a family of four obtains double the value of the 30-dollar film price. Even better, a family can watch the film over and over again. And, as any parent who has a Frozen-loving child can tell you, unlimited playbacks is a blessing for your wallet (albeit a curse on your sanity).
Unfortunately, despite the mathematical mind-bending, Mulan's price is still far from ideal. The movie-going experience is not the same on a streaming platform as in a cinema.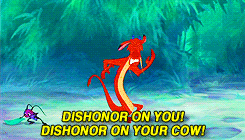 An assumption of equality
A cinema ticket is price of equality. Besides a few slight differences, everyone is paying for the same product. All other things considered equal, a 20-year old college student is paying and enjoying the same experience as a 50-year old CEO. Same film, same seat cushions, same facilities, same projector.
On the other hand, a streaming subscription cannot assume the same thing. A platform cannot control where and with what device a user will watch the movie from. A 20-year old college student watching the film on a laptop screen in a poorly lit dorm room is not enjoying the same experience as a 50-year old CEO watching the same thing in their high-end home theater with Dolby Atmos.
Likewise, the platform cannot assume how many people will watch the film in one purchase. Now, Mulan is a family film. Disney can easily assume that multi-person families will buy and watch the film. However, how will the audiences take the same price tag for a more polarized movie like Christopher Nolan's Tenet or the next James Bond film?
All of Hollywood knows you're here
In the same announcement, Chapek hints that Mulan's price is just a "one-off." Basically, other films might not follow the same pricing scheme. In a way, it makes sense. Mulan was made with a pre-coronavirus budget. It was expected to make millions from box office tickets. This might be the only way for Mulan to recoup its many losses. In the future, Disney might make films with lesser budgets and lesser expectations.
However, make no mistake; other filmmakers are intently watching Mulan's performance on streaming. If Mulan succeeds, they can likely charge the same amount without incurring a lot of losses. That said, streaming premiere prices will likely vary from film to film. Even then, this isn't the last discussion on the future of the film industry.
If the industry hopes to adapt to the new normal, it needs to rethink its strategy even further. Disney is offering only one solution for the problem of streaming. Unfortunately, the brand's solution leverages a family-oriented release, one that might not appeal to the average moviegoer today.
A price worth fighting for
My suggestion: Implement a tiered premiere price. Not everyone will want to pay the full 30 dollars for a film they're not wholly interested in. Most will watch it once and forget about it. Some won't even care about watching it in HD.
Why not implement a pricing scheme based on those different preferences? For example, charge US$ 5 for a standard-definition, one-time playback premiere; US$ 10 for an HD, one-time playback premiere; US$ 20 for a standard-definition, unlimited playback premiere; and US$ 30 for an HD, unlimited playback premiere. In one swoop, a film can appeal to all streaming markets and needs.
Get NBA League Pass with PLDT Home
It's a whole new game!
It's a whole new game! The NBA is back and hoop junkies subscribed to PLDT Home are in for a treat!
PLDT Home subscribers can now conveniently access NBA games and exclusive programs live and on-demand for as low as PhP 485 per month by charging their NBA League Pass subscription to their existing PLDT Home account.
This offer comes as the NBA Restarts after being unceremoniously postponed due to the Coronavirus pandemic.Will LeBron and the Lakers make it all the way to the Finals? Can the Toronto Raptors repeat as Champions despite Kawhi Leonard heading to the Clippers? And can "The Greek Freak" Giannis Antetokounmpo cement his legacy by finally adding an NBA Championship to his resume? If you want to know, having NBA League Pass is the best way to follow the league.
NBA League Pass gives you access to the seeding games as well as the 2019-2020 NBA Playoffs with new statistical overlays, alternative audio, and multiple viewing options.
League Pass subscribers can watch in new camera angles, multiple in-language streams, influencer commentary, as well as in-depth analysis and live game stats. Viewers will also have the ability to impact visual effects and sounds in the venue through a "tap-to-cheer" function.
There's also a 3-Game Choice that lets users watch up to three games of their choice per month.
To subscribe, visit pldthome.com/nbaleaguepass.
SEE ALSO: Kobe is the cover of NBA 2K21 Mamba Forever Edition
The Emmys will be a virtual ceremony in 2020
Will they be in formals or pajamas?
The 2020 Emmys Awards on Primetime will a fully-digital event to avoid public gathering amid a pandemic. The nominations were announced this week and Emmy executive producers, including host Jimmy Kimmel, sent a letter to key acting nominees informing them that this year's ceremony will be virtual.
It also asked them to be prepared to participate from home or wherever they are. The Coronavirus pandemic has forced countries to announce lockdowns and curtail public gatherings to prevent further spread of the virus. The US alone has reported more than 4 million positive cases so far and the rising graph shows no sign of dropping.
Unlike the usual formal wear, the letter said, "If you want to be in formal wear, we'd love that, but equally if you're in the UK and it's 3 a.m., perhaps you want to be in designer pajamas and record from your bed!"
The letter added the organizers are assembling a top-notch team of technicians, producers, and writers to work closely with Jimmy Kimmel and invited guests, to make sure everyone can be filmed.
The Emmys can't ignore the current circumstances and "we also acknowledge that our world is going through a challenging moment in many ways."
A virtual award ceremony is a very modern concept and its implementation matters the most. TV viewership has spiked since work-from-home models got implemented in March, prompting people to seek out new shows and binge older ones. Reality award ceremonies are a dose of fresh content, bringing back some level of normalcy.