Samsung tries something new with the Galaxy TabPro S, and succeeds
Whenever we hear the words Samsung and Galaxy put together, Android tablets and smartphones instantly come to mind. That's why it's so strange to see the Galaxy label plastered on a Windows tablet when talking about the Galaxy TabPro S. And yet, it's only when you begin using this convertible that you realize how similar it behaves to an Android tablet.
This revelation pops up despite this Samsung convertible directly challenging the likes of the Microsoft Surface series and Apple iPad Pro. On one hand, it doesn't have the relentless performance Surface tablets have been delivering for four generations; on the other end, it has a much more desktop-like operating system as compared to the iPad Pro's. The balance between both sides is what puts the TabPro S in a unique position to appeal to a desktop-hungry, yet mobility-loving audience.
Windows in an Android body
Throughout our experience with the Galaxy TabPro S, we couldn't help but feel like we've been using an Android tablet on steroids. This isn't to say it's a bad thing; on the contrary, having a fan-less, lightweight Windows 10 device is such a pleasure when all you want do is type and watch stuff while doing errands. Naturally, you're going to have to deal with a flat keyboard and limited travel, but the keys are easy to get used to thanks to the spacious tiles.
Checking out the product page of Samsung, you can tell how much focus is placed on the tablet aspect of the TabPro S, without much mention of how it's actually a full-fledged Windows tablet with a complete keyboard attachment. Even the setup out of the box looks like it came straight out of an Android product: an Adaptive Fast Charger along with a meter-long cable for the single USB Type-C port, plus a slot for inserting an LTE SIM card. This is as mobile as it gets for a 12-inch Windows tablet.
Just enough juice in the tank
Like all of Samsung's flagship tablets and smartphones, this convertible's AMOLED display is absolutely captivating. Not once did we think the 2160 x 1400 resolution wasn't enough. There were times we wished the colors were more accurate, especially while photo editing, but the highly saturated colors are alluring most of the time. We also have to give a positive nod to the stereo speakers found on the sides of the Galaxy TabPro S. They're surprisingly loud – way better than smaller Galaxy Tabs.
For the tech-savvy, you'll notice a no-frills setup here. You get an Intel Core m3 processor with 4GB of RAM and 128GB of internal storage. Putting it simply, there's ample power on board to run through several tabs on Chrome, high-resolution editing on Photoshop, and watching (not editing, mind you) videos on the side, all at the same time. At this price point, you'd hope for something more, as this is the bare minimum to run Windows 10 smoothly on a high-resolution screen, but the upside is there's no noisy fan to bother you.
Here's another juicy tidbit: The TabPro S is a total darling when it comes to battery life. This should go down as one of the rare cases wherein working on 10 percent of remaining charge isn't stressful. It seems like there's always enough to get through a full day's worth of work without looking for a wall socket. Again, we have to credit the energy-efficient Core m3 processor for this.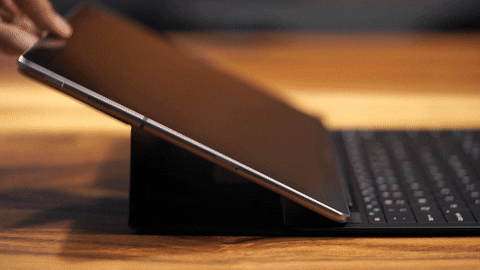 Some things are missing
One of the first things you'd expect in the box is a stylus. To our disgruntlement, it isn't a standard feature of the Galaxy TabPro S; you'll have to make do with touch gestures and the fiddly track pad. And despite the simplicity of the keyboard attachment mechanism, there's a limit of two positions for the rear stand, and they're only usable while the keyboard is latched on. For something that's advertised as being able to work on its own, the tablet is heavily reliant on the keyboard to function properly. Without physical keys and a stylus, working through Windows 10 purely on finger touches is a clumsy affair.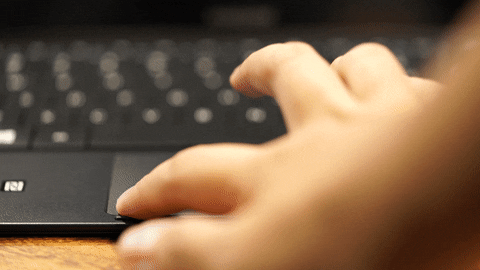 While we're on the subject of pure tablet usage, there's only one digital port to do all your work. You have a single USB Type-C for charging, plugging in a flash drive, or connecting a compatible peripheral, such as a mouse or card reader. It seems like this is the path several manufacturers are choosing to take, and we're practically forced to adjust to the new restrictive standard. On the bright side – and this is also similar to Android devices – the TabPro S comes with Adaptive Fast Charging, letting you go from zero to 100 percent in less than three hours, so there's more time for you to plug in other devices.
Who's this for?
Any Samsung fan who's in need of a seamless transition from Android to Windows should seriously consider the Galaxy TabPro S. The beauty here lies in the sheer convenience of being able to power up a complete Windows 10 machine and attach a keyboard at will – just like an Android device. The official price begins at $899, so it's right up there with the big boys of mobile computing.
As long as you don't force the TabPro S to go beyond its specialities, like making it render graphics-intensive games or heavy photo/video editing, you have a GadgetMatch in your arsenal. You also need to keep the keyboard attachment on, because without it, you're better off buying a Galaxy Tab S2 Android tablet instead with its willingness to work solely on swipes and gestures.
With rumors circulating about a successor in the works, we can't help but feel hopeful about the future of the Galaxy TabPro S line. We're wishing for a stylus and more connectivity ports next time around.
[irp posts="6867" name="Samsung Galaxy TabPro S unboxing and hands-on"]
Sights and sounds of summer in the Upper East Side
Capturing New York City on film
"You need to come back, New York is different in the summer," a friend urged one absurdly cold day back in May. "It has a different energy to it; it's more alive," another friend noted with excitement about the magical effects of the impending warm weather on the city.
Living in a tropical country my whole life and enduring constant humidity year per year, I never really understood the hype. What could be so special about spending yet another summer in another city, I thought.  On the contrary, it's lower temperatures that always excited me. The thought of layering with soft wool sweaters and thick coats, and wearing thigh-high boots on vacation was ideal. It was something I never get to do on the daily, so I longed for it — until I was forced to live out of a suitcase from winter to spring, that is.
Having gone through the chore of exactly that — wearing wool sweaters, thick coats, and boots just to get eggs at the nearest bodega or go for a coffee run next door — made me appreciate being able to wear just about anything I want in the summer including the potential sweating that goes along with it. After months of freezing weather, summer just feels so liberating that you'll appreciate the heat even if it means smeared eyeliners and a face so oily you could fry two eggs on it.
That je ne sais quoi of summer in the city is not something anyone can describe with mere words or capture on Instagram without losing its essence. This article certainly doesn't, but here are some vignettes I caught on film, complete with audio recordings, using the Instax Mini LiPlay, one Sunday morning stroll along Upper East Side.
One large cold brew to go
Like any other day, I start with a nice cup of cold brew. Cafes like Bluestone Lane usually gets packed for brunch. It's especially nice when the sun is out that friends and families eat al fresco. Listen to the audio recording here.
Hotdogs and city performers
Hotdog stands can be found at every corner of the city. This one is outside the Guggenheim Museum, which tourists flock and buskers frequent. Listen to the audio recording here.
Honking yellow cabs
The sound of the train arriving or cabs honking is normally unbearable, but in New York it's part of what makes the city full of character. Listen to the audio recording here. 
Jacqueline Kennedy Onassis Reservoir
This spot in Central Park is beautiful whether you're there to see snow falling or flowers blooming; hear trees rustling or dried leaves crackling. Listen to the audio recording here.
Pick a spot at Central Park
Central Park is so big of an oasis that you can have your quiet little spot for reading and alone time, or watch kids and dogs play if you wanted to. Listen to the audio recording here.
Sun's out, bikes out
Whether it's for cardio, getting from one place to another, or just for leisure, everyone seems to be on their bikes during summer. Other locals take advantage of this and sell ice cold water for $2 in the middle of the park for anyone who needs to cool down. Listen to the audio recording here.
Grab something quick and cheap
For those who might want a quick bite after a long walk or bike ride, there are food trucks everywhere. Tacos? Check. Gyros? Check. Ice cream? Check. Listen to the audio recording here.
The Met
It can get too crowded for my taste, but The Met is quickly becoming my favorite place in the city. It's where I can run to for shelter when it's below freezing outside, or when temperatures get higher, walk around the vicinity for no reason or people watch on the steps. I can get trapped here for days and not feel like I'm wasting my time. Listen to the audio recording here.
Witnessing New York City transform from a dark, cold abyss in the winter, to a city with blossoming tress in spring, to the vibrant concrete jungle that it truly is in the summer, is special. If you live in this city, or travel here a lot, it's something you will learn to cherish once you see and hear it for yourself.
Samsung's mobile cameras take the spotlight: Weekend Rewind
Plus news on spying, banning, and new accessories
Here are the top stories on GadgetMatch this week.
1. Samsung making waves in camera department
The team behind Samsung's smartphone camera lenses should probably get a raise. Following the launch of the Samsung Galaxy Note 10 and Note 10+, DxOMark has officially dubbed its cameras as the best smartphone camera.
The Galaxy Note 10's rear camera got a strong overall score of 113, scored a strong 118 for photo capabilities and 101 for video capabilities. Samsung leads in both categories. The selfie shooter gets a score of 99 overtaking previous best 98 by the ASUS Zenfone 6.
Samsung also officially announced the 108-megapixel ISOCELL Bright HMX sensor. That's an insane number of megapixels.But the tech won't debut on a Samsung phone. That distinction goes to a yet to be named Xiaomi phone that's slated to launch later in 2019.
2. 2015 MacBook Pro banned from flights worldwide 
We're getting flashbacks of the Galaxy Note 7 as airlines worldwide are banning another product from flights.
To prevent any explosion situation, the US Federal Aviation Administration bans the 2015 MacBook Pro units from American flights. Back in June, Apple announced a global recall for potentially malfunctioning MacBook Pro units shipped from September 2015 to February 2017. The aging device carries a faulty battery that can overheat and catch fire.  Since then, the company has offered free battery replacements for affected units.
Apple invites affected users to turn in their units as soon as possible. You can check your unit's status on Apple's website.
3. Facebook listens to our Messenger chats
We've all had suspicions that Facebook is listening to our Messenger chats.
Well, in a tell-all on Bloomberg report, the company admits to listening to your audio messages. Facebook has been hiring third-party firms to transcribe personal conversations for unknown purposes. An anonymous firm says Facebook did not tell contractors where the conversations came from.
Facebook has terminated the service a week before the report was published. But is that enough to comfort us?
This isn't the first instance of tech companies listening to private conversations. Weeks ago, Apple was caught listening in on people having sex through Siri's voice recognition software. Google also hired outside contractors to transcribe the conversations on their servers.
The recent surge in privacy concerns sparks an absolute need for stricter data control in the future.
4. DJI's Osmo Mobile 3 is foldable!
DJI's latest stabilizer is now even more portable!
The DJI Osmo Mobile 3 is now able to fold making it easier to carry on trips. There are also plenty of improvements. You can access Quick Roll by pressing the Mode button twice. It lets  you rotate the phone's orientation from landscape to portrait and vice versa.
There's ActiveTrack 3.0 that helps in re-centering the subject being tracked. There are also several modes to play with like Sports Mode, Gesture Control, Slow Motion Mode, and many others.
The accompanying Mimo app that has Story Mode. It lets you edit videos right away with preset music, transitions, and filters.
5. Snap launches the Spectacles 3
In case you're wondering, Snapchat is still alive and kicking, and they even have some new hardware — the Spectacles 3.
With steel frames and classic details the Spectacles 3 feature two cameras on the front to properly capture depth. Of course it has AR Snapchat filters as well as 3D effects to closely take advantage of Snapchat's photo enhancing capabilities
Users can quickly tap one of the two buttons and record up to 60 seconds of video. This includes audio captured from four microphones or a still picture.  Captured media instantly gets synced with your phone and you can use Snapchat to add filters.
These are all great but is it enough to get more people to use Snapchat again?
---
Weekend Rewind is our roundup of top news and features you might have missed for the week. We know the world of technology can be overwhelming and not everyone has the time to get up to speed with everything — and that includes us. So sit back, relax, and enjoy the rewind.
Mobile Legends: Bang Bang roles and the best ones
A quick guide, in case you're just starting out
Mobile Legends: Bang Bang (MLBB/ML) is a mobile multiplayer online battle arena (MOBA) developed by Moonton. There are roles or classes in Mobile Legends that have their own distinct specialty. This ultimately affects the effectiveness and functionality of the team you and your teammates construct.
A role or class is a category that your hero plays throughout a game of MLBB. There are a total of 85 heroes you can choose from six roles: Tank, Fighter, Assassin, Mage, Marksman and Support. Some of these heroes fall into two roles sometimes; each of them having their own unique abilities, skills, and stats that work to both their advantages and disadvantages. It depends from hero to hero.
How well you can manage a hero and their role as well as their specialty depends on your familiarity to the hero as well as your capacity to be willing to learn to play other heroes, the more you play ML.
As mentioned before, heroes have their own set of skills, abilities, and stats that inevitably help a team win a game. Think of roles as the basic facets your hero has and through it, you can determine your hero's specialties and limitations.
Tank
Tanks are naturally bulkier. What I mean by bulky is that they have higher Health Points (HP), armor, and magic resistance. On the other hand, their attacks don't hurt as much on their own.
If you like being buff and beefy, then try the tank role. They're the walking shield of your team. They can take a beating from the enemy team so other roles can do the wrecking for them. Tanks can do Crowd Control (CC) with stuns, slows, hooks, and barriers which help save teammates and trap enemies.
Sometimes having a tank in your team can make or break a game. Most other roles have attacks that hit harder but if all of your teammates have naturally lower HP, it won't take long for the opposing team to target you one by one and wipe your team out.
If we're being realistic though, if you're the person who prefers sticking to the meta and everyone picks marksmen, you're the kind soul that worked on getting good at playing this role and probably more. Tanks are essentially the guys and gals who protecc, while his/her team attacc. Yes, with two c's because remember, tanks and crowd control.
Fighter
Fighters are melee heroes who have a good balance of HP, armor, magic resistance and attack damage. They usually attack by jumping into and out of enemy range.
Fighters are semi-tanks. They have significant attack damage while racking up a good amount of magic resistance, HP, and armor. This role often takes the jungle and can single-handedly accomplish objectives within the game.
Not every team needs a fighter, but it can help to have someone who has a good balance between attack damage and the damage they can take. It can be a little daunting to play fighter if you're non-confrontational since they're melee heroes.
If you think being tank is a little too tough since the role relies on teammates for damage, you can take the fighter role. Basically, if you like hitting hard, surviving hits, and also dealing significant damage yourself, use a fighter.
Assassin
Assassins are pretty much the role you'd think an assassin would take. They're quick and deal a painful amount of damage. Assassins normally roam and jungle, but they essentially take marksmen and mages down when they linger with low HP or overextend.
As the name of the role would imply, they like to catch people off-guard by sneaking and roaming around the map and making sure they punish any overextensions, secure kills and maybe sometimes steal skills from other teammates. Assassins are often equipped with multiple blinks and flashes — sticking true to their name and their role.
Remember: Assassins have mobility, stealth and damage at their advantage, but they can falter with not as much armor, magic resistance, and HP.
If you like roaming around the map, dealing significant damage to enemies, and sneaking in and out of clashes to execute the killing blow or prevent yourself from dying, play the assassin role. They're slippery heroes that are tough to deal with.
Marksman
This is the role you're taught to play from the get go. ML let's you play Layla, a marksman, to learn the basic mechanics of the game so it doesn't seem to be a difficult role to place. But what does a marksman have over other roles? Marksmen have high attack damage, high changes of critical hits, and range.
Marksmen are similar to Assassins with damage and attack speed but the marksman has range and skills with an Area of Effect (AoE). These default abilities and skills for heroes under this type enable them to hit hard, fast, and from far.
Marksmen are often referred to as Attack Damage Carry (ADC) heroes. They're heroes that hit hard which, by default, allow them to rack up a good number of kills in the game. Although they do stack up a ton of damage, marksmen can be soft.
They have the advantage or range, but if someone gets up close, they don't have that much HP, magic resistance, and mobility to often save themselves alone. If you're the type to push and deal a ton of damage yet have the capacity to feel out when you're being targeted and stay reasonably cautious, play marksman.
Mage
Mages are ranged heroes like marksmen but, instead of physical damage, they deal a painful amount of magic damage. They are similar to a marksman with their disadvantages: mobility and low HP.
They do find their strengths in the same category: attack damage or for mages, magic damage. On top of that, instead of solely magic damage, mages have a variety of spells, stuns, and slows that cripple both selected enemy targets and any area of effect they cast their spells on. Their spells depend on mana so mages preserve mana until they can burst spells down on an enemy target.
A fair warning though: if anyone so much as sneezes your way, you are absolutely done for. Mages hit hard but are soft. They are also significantly slow. Almost anything that can chase mages down and nibble at its HP is it's kryptonite.
They are good at crowd control and mages do well when asserting their dominance by consistently harassing their opponents and by bursting them down with spells.
Support
Supports are often healers. Think of them as medics in your team. They help heroes heal, as well as increase their chances of survivability in a fight. Their varied skills can often stun, slow down, and throw targets back but unlike mages, supports don't often prioritize their attack damage.
Support roles efficiently partner with roles that are disadvantaged with HP, magic resistance, and mobility to help heroes farm and take kills.
Supports are an essential part of team dynamics, but they aren't necessarily crippled of attack damage or magic damage. Many supports are capable of tanking kills. Although it isn't their primary objective, they can still take kills and rack up quite a number themselves.
If working around your teammates, cheering them on, and healing them is what you'd like to do, play a hero under the support role.
What is the best role to play in Mobile Legends: Bang Bang?
That's a trick question. The answer is all of them and none of them. If you and your teammates work on synergy, cooperation and teamwork, all of the roles are the best. A game like Mobile Legends: Bang Bang can foster the importance of diversity in teamwork when working towards winning.
Each role has its strengths and weaknesses but that is ultimately why it's important to have a healthy mix of different roles in your team. If your team were to play the same role, you'll find the role's and their heroes default weaknesses become amplified — making it easy for enemy teams to win.
If you're just starting out playing Mobile Legends: Bang Bang, ease into one role and maybe expand your skill set little by little. It'll help you grasp the significance of each role and what they can give to the larger objective of the game: teamwork, fun, and practice.