Samsung Galaxy J7 Core Hands-on Review
If Samsung is playing favorites when it comes to phone names, the J7 moniker would be its first choice. Just about a week ago, the South Korean company brought us its newest budget phone — and you guessed it — it sports the J7 title.
Let's take a look at the Galaxy J7 Core.
The front is a familiar Samsung face
There's a front-facing LED flash up top
A physical button and two capacitive keys on its chin
It has micro-USB and 3.5mm ports at the bottom
Even the rear is a traditional layout from Samsung
Removable 3000mAh battery and dedicated microSD card slot!
Performs great, gaming is okay
The Galaxy J7 Core is currently the lowest-end and cheapest offering in the J7 series, although it sports similar specs like its siblings. It's still powered by the aging Exynos 7870 processor paired with an ample 2GB of memory. Unlike the Galaxy J7 Prime from last year, Samsung blessed the phone with its gorgeous Super AMOLED display; however, the panel only has a 720p resolution. The display might not be the sharpest around (even for its price), but the color quality is top-notch. It perfectly shows the vibrant Samsung Experience UI on top of Android Nougat.
During its launch, Samsung said they positioned the phone to be a budget gaming device. The Philippine retail version comes with 10,000 battle points and three hero trial cards from Mobile Legends, plus a free 16GB microSD card to store your files and apps, because the 16GB internal storage will never be enough. Pre-loaded on the phone is Samsung's Game Launcher app, which we first saw on flagship models. Basically, this gives users some tools for better gaming like silent alerts, option to disable the capacitive keys (we need this since we always tap the back key accidentally), screen recording, and more.
Performance-wise, the J7 Core is no slouch. The system runs smoothly and it has a comparable gaming performance to its siblings (they sport the same processor and graphics units), without the higher price tag. The lower memory is a bottleneck, but it's necessary to keep its price low for a Samsung. Our favorite titles like Asphalt Extreme and NBA 2K17 run fine as long as you keep the settings in check. We manage to get smooth frame rates in low to medium graphics level.
Camera is okay and straightforward
If its Galaxy J7 Pro sibling is marketed to "capture the night" with its f/1.7 rear camera, the J7 Core is a runner-up with a 13-megapixel f/1.9 main camera. Those numbers are just on paper though, as we find the daylight images to be just okay. Low-light performance is pretty good, but the camera doesn't compensate for the shake and slow shutter speed. Here are a few samples:
The selfie photo was captured with the front LED flash on. This helps fill up light directly onto the subject's face, especially when taking a photo indoors. Not exactly a quality selfie phone, but the front flash is handy.
Is this your GadgetMatch?
For the phone's retail price of PhP 9,990, there are a number of options you can choose from. But, we get how some consumers like to stick to Samsung as a trusted brand. The Galaxy J7 Core has some unique offerings, including its Super AMOLED display, removable 3000mAh battery, and a triple-card slot. The budget segment has tough competition, but with a number of models you can choose from (and it continues to grow), you'll never run out of options.
SEE ALSO: Samsung Galaxy J7 Pro Review: Looks good, feels good
The Ford EcoSport is the essential travel buddy for tech geeks
For both beginners and sporty drivers
For years, automobiles have slowly left the realm of technology. Now, at least in the public's eyes, cars exist more as a means of transportation, rather than feats of technology.
However, if you were part of the driving public over the last decade, you would have realized two things. Firstly, a great car is just as invaluable as an amazing flagship phone. Secondly, with the number of features packed into a car today, the line between technology and transportation is blurring once again.
Just as how they pioneered the moto industry in the United States, Ford is again leading the charge for technologically capable cars for the modern market. In 1908, it was the first Model T Ford. In 2018, it's the Ford EcoSport.
What's under the hood?
Sporting a 1.5-liter Ti VCT 110ps/142Nm engine, the Ford EcoSport is a capable daily driver for both urban stop-and-start traffic and countryside rough riding. For its size, the EcoSport straddles the fine line between sedan and SUV.
Further, this hardy engine is mated to a 6-speed PowerShift transmission (5-speed for manual). From a performance standpoint, the EcoSport transitions smoothly in and out of Sport mode.
Potholes? No problem!
With all this in mind, the EcoSport can blaze through most driving situations you can throw at it. Whether it was for urban trekking through tight roads or riding through tough rural tracks, the EcoSport powered through with barely a hiccup.
Potholes and unpaved roads were no match for the EcoSport's suspension. Jolts and drops didn't have as much impact as it usually does with other cars. The EcoSport inspires confidence even for inexperienced drivers.
Even with moderately deep mud pits, the EcoSport can power through with just brute force. Its capable engine can clear obstacles without flooring the pedal. Additionally, its high ground clearance can go through the debilitating floods that usually frequent the metro.
The EcoSport's confidence carries itself despite challenging situations. A lot of cars today don't inspire the same confidence as the Ford EcoSport.
Crank it up to 11
As with most Ford cars, the EcoSport carries a welcome Sport mode for accessing that extra boost you need for both smoother and hardier conditions. Sadly, most people don't access this feature out of fear for what it's capable of.
As the name implies, the Sport mode brings a sportier vibe to the EcoSport's drive. Costing a small bit of fuel efficiency, the specialized mode injects improved speed, handling, and traction to everyday drives.
Personally, the Ford EcoSport brought one of the smoothest driving experiences I've handled across the industry. The Sport mode handled amazingly well against metro traffic.
All that junk inside that trunk
Besides exemplary performance, the EcoSport is a champ at four- to five-seater space allotment.
There's nothing more comfortable than a ride that offers a mile's worth of legroom. While the Ecosport isn't the most spacious, it offers more than adequate room for even long legs. Riding or driving for hours is a breeze with the EcoSport's space.
Sporting around twenty slots and compartments for gizmos, the EcoSport can carry an entire storeroom of goodies. Even as a dedicated tech geek, I was able to fit complete rosters of devices. On a road trip, I brought a sizable bag with my huge 15-inch laptop, an assorted yarn of chargers, mice, and mouse pads. It fits snuggly with a hard case for my DSLR and its variety of lenses.
Even then, the EcoSport can still pack in bags of food, gym bags, and more people. Ford even boasts that the back trunk has space for a 560-liter washing machine.
Despite the wide space available, the EcoSport's thermal control system can cool or heat passengers adequately throughout the cabin.
Jamming to the sync
Sadly, commercially viable self-driving cars are still years into the future. Thankfully, smart technology isn't limited to intuitive AI.
As always, Ford installs their trademark SYNC technology into the Ford EcoSport. The feature melds the car with the abilities of a smartphone.
Its most popular use is to connect your phone's media to the car's entertainment system. Besides through an AUX, USB, memory card, or CD, SYNC's Bluetooth connectivity adds convenience to jamming through congested traffic.
The feature also adds to your device's phone features. It takes a hands- and distraction-free approach to managing your phone life.
Additionally, the features boast added support for the most useful apps for driving. With a bit of technological know-how, the car's infotainment system can access and display Waze for convenient navigating through alleyways and side streets.
Safety first
Ford remains at the forefront of road safety. With a slew of safety features, drivers can rest assured that the EcoSport won't skid uncontrollably.
The EcoSport comes equipped with an Anti-lock Braking System, Electronic Brake Force Distribution, and Electronic Stability Program. The mechanisms prevent skidding, wheel spins, and understeering.
Further, the rear also has parking sensors to help with all forms of parking.
Pick your colors
Even with the all-in-one package, the Ford EcoSport offers options for how it looks. It comes in four variants (Ambiente 1.5L MT, Trend 1.5L MT, Trend 1.5L AT, Titanium 1.5L AT) and six different colors (Panther Black, Ingot Silver, Winning Blue, Candy Red, Mars Red, Frozen White). Personally, the Frozen White variant is quite the looker.
Further, sportier fans can grab the Black Edition, which offers more style than the six regular variants. Besides black finishing for the exterior grills and tires, the variant also touts roof cross bars, rear spoilers, illuminated scruff plates, and sports pedals.
SEE ALSO: Ford launches all-new Mustang and Expedition at MIAS 2018
Vivo NEX Unboxing and Hands-on: The future!
Truly bezel-less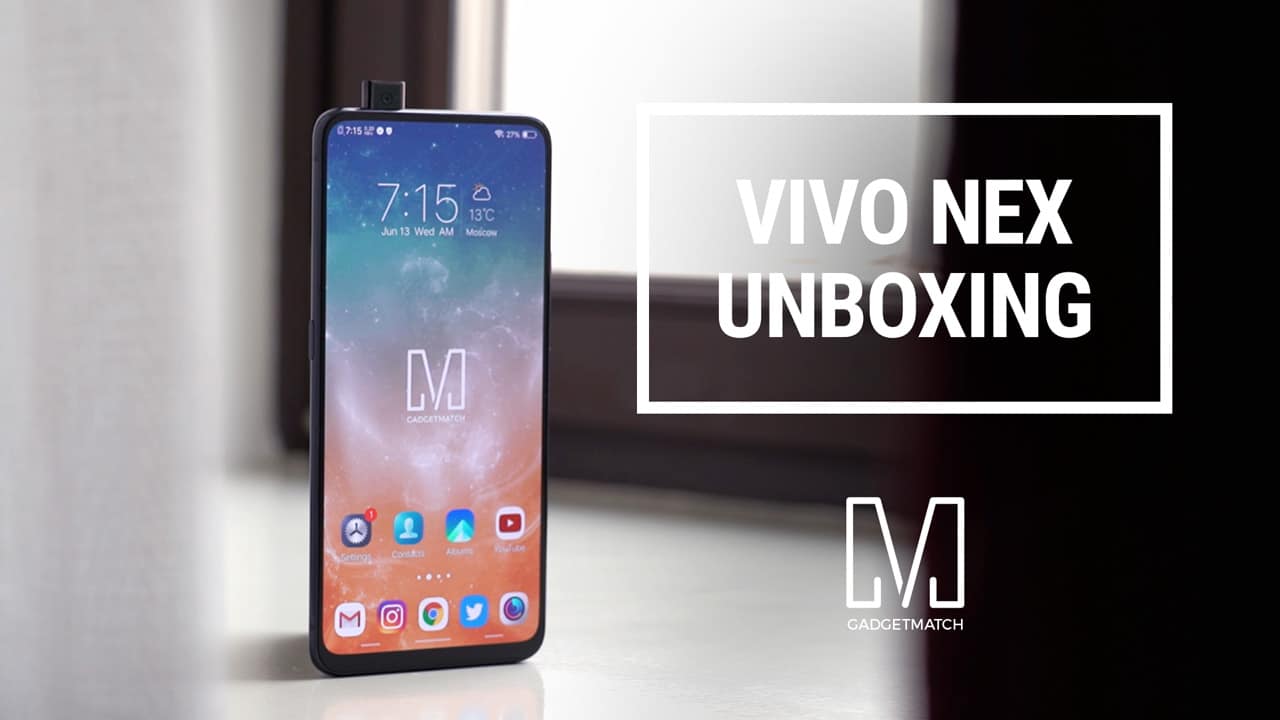 If smartphone trends of the last two years are any indication, the future, as we know it, is bezel-less. And the first to make that future a reality is Vivo.
Earlier this year at Mobile World Congress, Vivo showcased its APEX concept smartphone. An all-display phone with no notch, no bezels, but with a pop-up selfie camera.
Now, we finally have a phone we can buy. Vivo launched the NEX lineup in Shanghai, China this week and we just got our hands on a retail unit.
Fujifilm X-T100 hands-on: Serious looking with a selfie screen
Yep, a flip-out screen and an EVF!
Fujfilm's latest camera release, the X-T100, looks like the traditional Fujifilm cameras we know and love, plus it has a flipitty screen (a term I've used to refer to that camera screen that flips out).
Full disclosure: I'm a sucker for flippity screens, and, in fact, I got myself Fujifilm's entry-level X-A3 last year precisely for that reason. But, what can the new X-T100 do? Is it my next vlogging camera? Who is this camera made for? I got a chance to get handsy with the new device and here are some thoughts on the new camera.
This is the Fujifilm X-T100 announced just last month. It looks more like it's from the X-T line than the entry-level, fun-colored X-A line. It's definitely a serious-looking shooter.
It has a solid textured black body and metal details that come in black, dark silver, or gold. This particular unit is the champagne gold version.
In true Fujifilm fashion, controls and dials are up top. There's also a new function dial on the camera's left side with 18 assignable functions. Perfect for users who like their cameras personalized — more shortcuts to make this camera truly your own! This thing also has a hot shoe unlike some of Fujifilm's entry-level cameras. This means you can attach an external mic since this camera has an audio port.
It also has a pop-up flash up front. I still find it amazing that it comes out of nowhere, though I never really use the flash on cameras anymore.

The rest of the buttons on the camera are as follows…
The battery and SD card slot are found at the bottom, while HDMI and micro-USB ports are on the camera's right side.
This shooter also has a grip, but unlike higher-end Fujifilm cameras, this is just an attachment you can screw on and off. Having it on does give this thing a better feel, though.
To the delight of photography enthusiasts, there's also an electronic viewfinder on this.
But the best part is that despite that viewfinder, the screen can do this…
… this…
… and even this. Yes, there's a flippity screen for vlogs and selfies on this and there's an electronic viewfinder — two things only a few cameras have together.
Of course, the screen has touchscreen capabilities and touch focus is still a thing.
Fujifilm's signature filters are, of course, here, too. The interface is simple and it looks more like the one found on the X-A line than the prosumer X-T line.
Having spent a little time with this camera, it seems that Fujifilm is attempting to bridge the gap between beginners and more serious shooters. The X-T100 lies in the space found between the X-A5 and the X-T20.
This entry-level camera looks good and feels good, but it's designed not to be too daunting to those who are starting out in photography or film. It's looking like it's aimed for aspiring vloggers and those who want more than just a point-and-shoot camera.
As to how this camera actually performs, we'll have to wait and see.
The X-T100 retails for US$ 599 in the US and PhP 39,990 in the Philippines.