24 Hours in Busan with the Xiaomi Mi A1
There are very few cities that have a bit of everything for everyone, and Busan is one of them. Whether you're a coffee junkie, adventurer, history buff, art lover, foodie, shopaholic, or even a beach bum, Busan has something in store for you to discover.
Terarosa Coffee
No matter how you like your coffee — brewed, espresso, hand-drip, cold brew, or Dutch — there's no shortage of cafes and blends to try in Busan.
Terarosa Coffee in Suyeong is one you shouldn't miss. It's in F1963, a former factory renovated into a Kinda Blue art and culture hub, similar to Huashan in Taipei.
While I prefer cold brew any day, their iced hand-drip coffee and baked goodies are worth a try. If you have a lot of time, you can check out one of the many hard-bound titles they have inside, or visit the exhibition next door.
Geumnyeonsan Mountain
There are many ways to get an aerial view of Busan, paying KRW 5,000 (US$ 4.35) to get to the top of Busan Tower being the easiest. But if you're in for a little adventure, consider Geumnyeonsan Mountain. Like most sights in Busan, it's free and you get your dose of exercise for the day.
You can take the village bus to save time and shorten the hike down to 20 minutes.
United Nations Memorial Cemetery in Korea
South Korea's second city is not short of history. This UN Memorial Cemetery, the only one of its kind in the world, serves as a burial ground for the fallen UN troops during the Korean War, some of whom have no known graves in their home countries.
Haeundae
Did I say Busan has everything? This port city is also home to a lot of beaches, with Haeundae being the biggest and busiest. But it's autumn, and I think we can all agree that beaches are best saved for summer time.
The Pancake Epidemic
Thanks to tourists that flock Haeundae, restaurants and cafes are now found everywhere.
Among the plenty of choices in the area is The Pancake Epidemic, which serves Stumptown Coffee from Portland and makes some of the fluffiest pancakes I've ever tried!
If you know me well, you know I'm not a morning person, so having breakfast food at lunch time is not really that unusual. It helps that the food and cafe are perfectly Instagrammable.
Dalmaji-gil Road
An alternative to walking along the coastline of Haeundae is this old railway. It's especially beautiful with the trees on each side of the track, sometimes giving you a peek of the ocean to the right, and houses from the nearby villages to the left.
Haedong Yonggung Temple
From the railway, go off track and take bus number 100 from the Mipo Moontan Road Entrance stop. You'll know you're going the right way when you see the humongous Lotte Premium Outlet mall. A few stops away is the entrance to Haedong Yonggungsa Temple.
Get a hotteok from one of the food stalls before reaching the temple.
While most Buddhist temples in Korea are located in mountains, Haedong Yonggungsa is built next to the sea.
Gamcheon Culture Village
Another thing Busan is known for are the colorful houses built on its foothills. While there are a lot of them in the city, this one in Gamcheon is the most famous and touristy one.
The community painted these fish signs to guide visitors around the village.
Nampo-dong and Jokbal
Expect to have more than your usual number of meals in one day because walking around Busan will make you hungry.
There's an entire alley of restaurants serving Nangchae Jokbal or pig's feet in Nampo-dong. It's said to give you wrinkle-free skin thanks to the the collagen in the pig's skin. ??
Gukje Market
If shopping is a must, walk towards Gukje Market for souvenirs, clothes, shoes, socks, spices, humongous fruits, and seafood!
If you're visiting Busan to buy cosmetics and makeup, don't fret, you're sure to find stores around Nampo as well, and at every subway station.
Midnight dinner at BIFF Gwangjang-ro
They say eat where the locals eat! For a good sampling of Busan's seafood, find these carts along BIFF Gwangjang-ro and they'll cook whatever you point at. While you're at it, get a bottle of soju and drink the night away.
It doesn't matter whether you get there on a train, plane, or boat. You'll have plenty to see and do in Busan, even if you're there for just one day.
---
24 Hours is a series on GadgetMatch.com where we showcase our travels through a smartphone camera's perspective. It's also a documented guide on things to see and do in a city in case you happen to plan a trip there.
SEE ALSO: Xiaomi Mi 6 vs Mi 5X: Camera Shootout
24 Hours in Amsterdam with the Samsung Galaxy S9
A Dutch dream!
From chilly Barcelona for Mobile World Congress, I hopped on a plane to an even colder Amsterdam. I had a day to explore the infamous city in Netherlands and I wasted no time in doing so. I carefully curated these spots to make sure I get to know the city as much as possible in the short amount of time I was staying.
Of course, everything in this series is recorded through the lens of the Samsung Galaxy S9.
What you get yourself into and how to go around
Amsterdam, at this time of year, is cold. Temperatures reached a record-breaking low in Europe last week, and Amsterdam was no exception. Be sure to pack layers and layers if you visit soon — this was me simultaneously freezing and trying to be cute for a selfie.
Other than the miserable cold (excuse the bitterness as I am a tropical island girl by heart), the days were bright and nice, and the sun shone brightly, which made for perfect cityscape photos.
Oh, and did I mention the birds? There were pigeons everywhere — perfect to test the S9's slow-mo video feature. And yes, I ran after the bird to get this shot.
Here's another super slow-mo Galaxy S9 sample.

(Yes, I ran after the bird to get this shot 😂) pic.twitter.com/Y2coo6gHrW

— Isa Rodriguez (@sisasaid) March 6, 2018
The first order of business is deciding what your mode of transportation is. Amsterdam is an incredibly walkable city that's also known for its big bicycle culture. And though it may seem like a no-brainer to rent a bike and cycle through, this isn't an advisable option for tourists who are unfamiliar with local bike etiquette.
You can get a transport day pass for EUR 7.50 and this includes buses and trams (but not the trains) for 24 hours, which should suffice for your day tour.
Leidseplein
We headed to Leidseplein (doesn't this word remind you of Led Zeppelin?) which is an area that houses stores, cafes, and restaurants.
Walking around this area will give you a feel of the city.
These canals are part of the city's identity. Built throughout the centuries to reclaim land, these UNESCO World Heritage sites are a definite must-see. Canal tours are also popular, though during my time there, the water was partly frozen because of the cold.
Feel free to stop at any of these restaurants or cafes for a quick snack or beer.
Bloemenmarkt
Our sightseeing on foot brought us to Bloemenmarkt, home to the local flower market. Amsterdam is known for its flower gardens — the perfect destination late March through May when they're in bloom. We were too early for that spectacle, though we got a small dose of what that could look like here.
This street was lined with tulip blooms and bulbs ready for planting. It was a beautiful sight!
We spotted a Cheese Museum on this row and our curiosity brought us inside. The walls had lines of different cheeses, and the best part? We got to sample a number of their offerings.

We left with four different types of cheese and a tummy full from that taste test.
Museumplein
To get to Museumplein — home of Amsterdam's most popular museums — ride the tram and get off the Rijksmuseum stop.
If you have time, you can walk inside a number of museums in the area, but not without taking some snaps along the way.
In the vicinity, there's Rijksmuseum which is a Dutch Art and History Museum. The Van Gogh Museum, which houses the largest Van Gogh collection in the world, is also within walking distance.
The Modern Contemporary (MOCO) Museum Amsterdam is in the area, as well. During our time, they had an exhibit on works of British graffiti artist Banksy.
Although I didn't have time to go inside any of them, the area itself is beautiful — perfect for a leisurely stroll as you try to soak in the culture from the majestic museum buildings you didn't really visit.
Also, more birds!
Testing out the super slow-mo on the Samsung Galaxy S9. Here are some Dutch birds: pic.twitter.com/ubIOOVCfpt

— Isa Rodriguez (@sisasaid) March 6, 2018
Red light district
Amsterdam at night is a different animal.
Of course, I didn't want to leave without checking out the red light district. I hopped on the bus and went down Dam station. From here, you could walk through the historic part of town to the more adventurous side of Amsterdam.
Evening visits are more ideal so you could enjoy the neon signs and soak up the exciting atmosphere. Restaurants, cafes, and kinky shops are common sights here. And yes, there really are women in glass windows. No, I didn't take photos. Be warned: This place is more colorful than this picture purports it to be.
Honestly, Amsterdam has so much more to offer: windmill villages, tulip fields, a sex museum… 👀
But, I had to hop on a plane before I could check out all these other attractions. My trip was short and sweet, but it didn't make it any less interesting.
---
24 Hours is a series on GadgetMatch.com where we showcase our travels through a smartphone camera's perspective. It's also a documented guide on things to see and do in a city in case you happen to plan a trip there.
24 Hours in Phnom Penh with the Vivo V7
A hope-filled city with a horrifying history
Phnom Penh is such an underrated city. If you ask any tourist which Southeast Asian destination he or she would love to visit, the Cambodian capital will probably not even be on the list.
The more popular Siem Reap with its glorious Angkor Wat complex is usually what comes to mind first when talking about Cambodia.
But there's something so special about Phnom Penh. Perhaps the fact that there are fewer tourists here, despite the history and similarities it shares with its French Indochina neighbors is what makes me root for it more.
Feel Good breakfast
Mornings are made for great breakfast food and coffee. Cold brew is still not as common in Southeast Asia as I'd like, but most cafes in Phnom Penh like Feel Good Coffee make their cup of joe the way they also do in Vietnam: with a metal drip and a splash of sweetened condensed milk.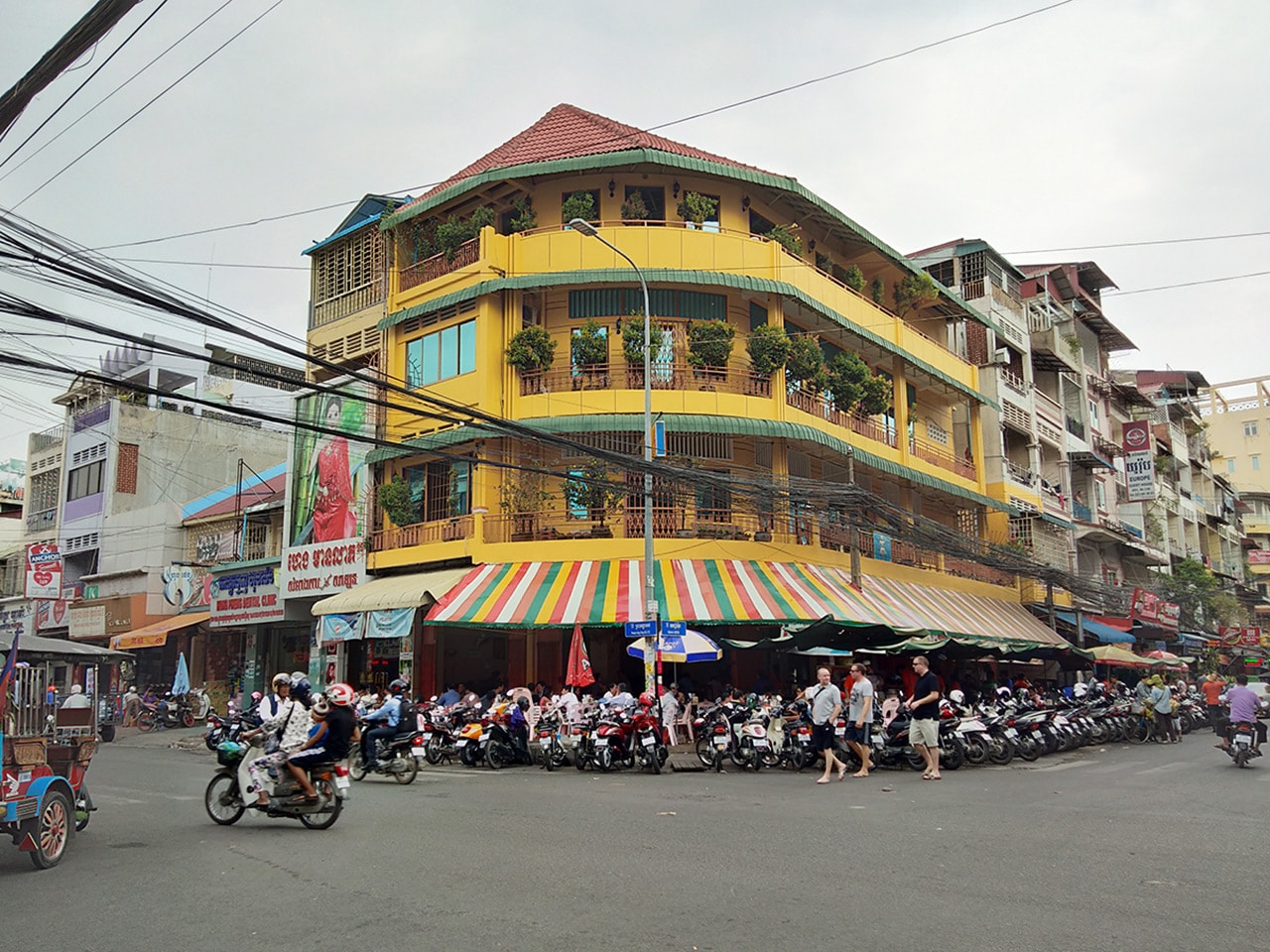 Walking around the neighborhood gives you a quick feel of what modern-day Phnom Penh is like. It's reminiscent of the bustling cities Hanoi and Ho Chi Minh and even Bangkok — lining every street are parked scooters and vendors selling iced beverages including my favorite Thai iced tea!
Choeung Ek killing fields
40 minutes from the city proper is the Choeung Ek memorial, a must if you're visiting Phnom Penh. Tip: Hire a rickshaw or tuktuk to take you there and then back, although the newer rickshaws are cheaper, a lot more comfortable, and feel safer than the latter.
There are no words to describe how disturbing Cambodia's history is — a very recent one at that. No more than 40 years ago, a quarter of the Khmer population — mostly people from Phnom Penh — were murdered by its own government for the promise of a utopian future.
Today, Cambodia tells the gruesome stories of the Khmer Rouge victims and survivors — some of them younger than my own parents — through memorials like the Choeung Ek Genocidal Center.
They are built to remind the new generation to not make the same mistakes and to embrace the freedom that they enjoy today.
Uy Kuyteav
Phnom Penh is home to a lot of good restaurants that serve local cuisine at a reasonable price.
While Khmer food staples lok lak and fish amok are easy to find, the noodle dish uy kuy teav isn't exactly as popular. It's not rare to see Vietnamese and Thai food in the menu as well.
Wat Phnom
If you must visit one temple in the city, it's got to be the tallest one. Inside the Wat Phnom complex is also a huge park where you can relax and reflect.
Shopping at Central Market
Cambodia isn't exactly known for the unique shopping finds unlike Thailand's Chatuchak Market, but a lot of your favorite clothing brands have products made in Phnom Penh. So you'll find good deals on quality overruns from Levi's, H&M, and Nike in the different markets around the city.
Central Market, also referred to as Psar Thmei, is the biggest one, with stalls selling not just clothes, but also jewelry, kitchen tools, and of course, food!
The market is one of the few landmarks that will remind you of Cambodia's colonial history. It was one of, if not the biggest market in Asia when it was built in 1937 during the French colonial period.
Tuol Sleng Genocide Museum
If you still have time, visit the Tuol Sleng Genocide Museum before sunset for more insight on the Khmer Rouge brutality.
The Tuol Svay Prey High School was converted into the largest detention center from 1975 to 1979 when Pol Pot's army took over Phnom Penh and the rest of Cambodia; former classrooms became interrogation rooms, torture chambers, and prison cells.
Phnom Penh Riverside
Phnom Penh sits at the intersection of Tonle Sap and Mekong Rivers. You can enjoy the view from the Riverside Park with a refreshing cup of iced Ceylon tea.
Across the park are restaurants and bars. Some of them have rooftops for a better view of the river.
Romantic dinner at Romdeng
End the day at Romdeng, a restaurant run by an NGO that trains locals in hospitality management and supports the marginalized.
Their version of Cambodia's national dish fish amok is especially tasty!
Cambodia is on a long road to recovery from the horrors of its past, but its capital and people do not forget; they remember. And despite everything they have been through, they remain steadfast — filled with so much hope and kindness — and we could all learn a thing or two from them.
---
24 Hours is a series on GadgetMatch.com where we showcase our travels through a smartphone camera's perspective. It's also a documented guide on things to see and do in a city in case you happen to plan a trip there.
24 Hours in Koh Rong with the Samsung Galaxy A8+ (2018)
How can something Koh Rong feel so right?
Koh Rong has been pretty much untouched and unknown to most tourists until very recently.
Getting to this beautiful island in Cambodia is no easy feat. There are very few flights that go to Sihanoukville, the jump-off point for the speed boats that will take you to the island itself.
The cheapest and fastest option that I found is to fly to Phnom Penh from Bangkok, and take the bus to Sihanoukville from there that lasts four to six hours depending on traffic. The return ticket for a speed boat to Koh Rong costs around US$ 25, depending on which beach you choose to stay at.
Koh Rong is a pretty big island so there's something meant for all kinds of travelers — families, couples, friends, and backpackers. Our beach of choice is the quiet one, Coconut Beach, but whichever part of the island you choose, the beach looks pretty much the same.
You'll get the same clear blue water…
And fine white sand…
That's perfect for walking barefoot!
Did I say the water is so clear? This is the stuff made for Instagram!
Whether you're there for three days, one week, or even longer, there's plenty to do at the island including snorkeling and kayaking.
You can also rent a scooter to go to other beaches although only the locals and very few tourists choose this option to get around. There are very few developments on the island for now — no paved roads, airports, or big buildings yet.
Pretty impressive stabilization on the Samsung #GalaxyA8Plus (2018). Shot while on a scooter driving through the rocky dirt roads of Koh Rong 🛵 pic.twitter.com/MQ2l0ZZeXK

— Chay Lazaro (@chaylazaro) January 30, 2018
Accommodations consist mostly of nipa bungalows and tents owned by foreigners who moved to Cambodia.
Closest to Coconut Beach is Long Set Beach. It's bigger and has fewer tourists when we visited but accommodations and food are also a little bit more expensive.
Pura Vita is one of the resorts at Long Set Beach that also has a restaurant at the beachfront.
My favorite thing, whether I'm on vacation or just in the office working, is food. I have been to Cambodia before so I'm a little more familiar with Khmer cuisine now. Beef lok lak with rice and a glorious runny fried egg is my favorite.
Here it's served with fries and the traditional Kampot pepper dip. Another thing to try is Cambodia's national dish, fish amok.
As any beach destination, fresh fruits are a great afternoon snack to get a little refreshed and a dose of energy.
Khmer dishes are also highly influenced by Lao, Vietnamese, and Thai cuisines, so don't be surprised if you find beef lab and spring rolls on the menu.
There are already plans of developing beaches of Koh Rong into luxury resorts, so traveling there will be much easier as the demand goes higher.
So if you're the type who likes a little adventure and just chilling at the beach without the luxuries of modern life, put Koh Rong on your list of places to visit in 2018 before the big corporations take over the island.