Hanebado!, Ant-Man and the Wasp, BAAM by Momoland: Now Playing
Pop culture overload!
Since the start of the year, GadgetMatch has been covering major tech events like CES, MWC, Computex, and E3. July is the month wherein the GadgetMatch team finally gets to slow down a bit to relax before the next wave of events comes up. If you're curious about what we're up to, here's what's now playing for GadgetMatch.
Movies to see
Ant-Man and the Wasp
Marvin: If you still haven't moved on from the catastrophic ending of Avengers: Infinity War, Ant-Man and the Wasp should be able to turn those sad tears into tears of laughter. It mimics the original movie in terms of action and character development, yet isn't afraid to make fun of itself and the superhero genre in general. Like always, be sure to stick around for two scenes during and after the credits. They fit into the Marvel Cinematic Universe in a… dramatic way.
Isle of Dogs
Chay: The long wait is over, Wes Anderson fans. His latest film is his second animated masterpiece, this time set in a dystopian Japan that centers around the search for a dog exiled to Trash Island. Like most, if not all his films, Isle of Dogs is filled with themes of melancholy and disappointment, and sometimes hope, depending on your own interpretation. Whether you watch it for Anderson's iconic style or your love for dogs, what we have here is a classic that needs to be watched at least more than once in your lifetime.
TV shows to binge watch
Hanebado!
Rodneil: The future is female, and for the first time in recent sports anime history, the main characters are mostly women! Hanebado opens with a riveting badminton sequence between freshman prodigy Ayano Hanesaki and third-year student Nagisa Aragaki. Hanesaki struggles with her desire to play while Aragaki struggles with working hard but still falling short. If you enjoyed titles like Haikyuu!! and Yuri on Ice, Hanebado! is definitely worth checking out.
GLOW
Kevin: The Gorgeous Ladies of Wrestling are who you'll need if you're looking for a well-written TV series that fuses drama, female empowerment, and the poofy hair of the 80s. It's about a group of women with different backgrounds but have a common reason to stick it out together. The second season was released last month, and it's filled with the same gems we loved from the first season.
Music to listen to
BAAM by Momoland
Rodneil: I'm not even gonna lie, this is really more about the visuals for me than the actual music, but as I watched from one version of the music video to another, the song eventually got stuck in my head. It has a nice perk-you-up vibe to it, similar to "Boom Boom" which is the song that propelled Momoland beyond South Korea's airwaves. In case it's not obvious, Nancy is my main bias and Yeonwoo is a close second.
Summer Pack by Childish Gambino
Kevin: Just like his This is America track, Childish Gambino (a.k.a. Donald Glover) dropped new tunes out of nowhere late this week. He didn't only release one, but two fresh originals. Together, they're called Summer Pack and the two-track release consists of "Summertime Magic" and "Feels Like Summer."
While both have that laid-back, relaxing vibe, "Summertime Magic" has more of a dance approach between the two and would go well on the beach while sipping on Pina Colada. "Feels Like Summer," on the other hand, makes you want to take a stroll downtown in a convertible and spark a fatty.
Apps to download

InShot
Rodneil: InShot is a mobile video editor available on both Android and iOS. With it, you can splice together clips you have stored in your phone and even choose the aspect ratio, whether it's 1:1, 16:9, or 9:16. There's also an option to add effects, text, and music that's also stored in your phone. It's a pretty powerful video editing tool on mobile — one that can help jumpstart your IGTV career.
Events to check out
AsiaPop Comicon Manila 2018
MJ: Once again, AsiaPop Comicon is back in Manila from July 27 to 29, 2018, to be held at the SMX Convention Center. Marvel plans to show what's new in the Marvel Cinematic Universe, while Netflix returns to premiere a never-before-seen film. It's also expected to be bigger and more exciting than last year's event. Finn Jones from Game of Thrones and Tye Sheridan who appeared on Ready Player One and X-Men as Cyclops, are the major celebrity guests to attend.
Did you like any of our picks or have suggestions of your own? Feel free to let us know in the comments section!
---
Now Playing is the GadgetMatch team's favorite games, movies, TV shows, and more each month. If you're curious to know what we're into at the moment, this is what you should check out. So grab your popcorn, get some drinks, and enjoy what's now playing!
The Galaxy Fold is real: Weekend Rewind
And it's pretty darn expensive
Here are the top stories on GadgetMatch this week.
1. Samsung unpacked… err… unfolded the future with Galaxy Fold
Yes, we expected Samsung to release a foldable smartphone. What we didn't see coming is that they would open the Galaxy S10 event with the Galaxy Fold.
No, this isn't just a concept anymore. Samsung demoed a working device on stage and said the device will be on sale starting April 26 at a staggering but also unsurprising price of US$ 1,980.
It'll be interesting to see how other brands respond to the Galaxy Fold. Watch out for our MWC 2019 coverage so we can all find out together.

2. Samsung Galaxy S10 cameras tie Huawei's flagships
Looks like Samsung is determined to hold on to its top smartphone maker reputation with its latest flagship Galaxy S10 tying Huawei flagship numbers on DxOMark. In fact, it even leads in the selfie camera department. That's made possible with an overall score of 109 for the rear cameras and 96 for the front shooters.
However, the S10 isn't just about its cameras. Watch our hands-on to get a good idea on how well-rounded a phone it is.

3. Xiaomi pre-empted Samsung with the Mi 9
Xiaomi almost came out of nowhere when they announced their first 2019 flagship — the Xiaomi Mi 9 — right before Samsung's Galaxy S10 Unpacked event.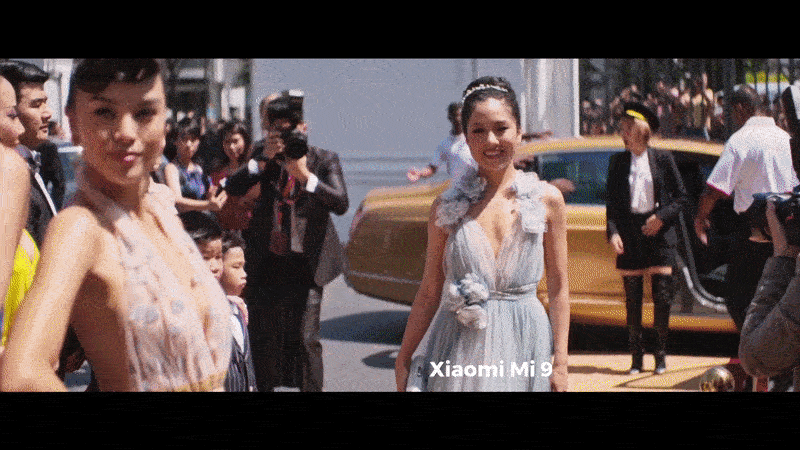 The Mi 9 had more than enough to grab hold of your attention with flagship specs: Snapdragon 855 and a 48MP camera among other things. And since it's Xiaomi, it's bound to be cheaper than the other flagships that will come out between now and MWC 2019.
Xiaomi's a disruptor and they did a good job disrupting with the Mi 9.

4. Huawei building up anticipation for the P30
Not to be outshone by Samsung and Xiaomi, Huawei has been constantly releasing bread crumbs about its upcoming flagship for all of us to chew on.
The P30 series is set to launch on March 26. As early as this week, the Chinese company even confirmed a quad-camera setup after showcasing a really close-up photo of the super snow moon.
All the teasers point to an improved zoom or telephoto lens for the P30. That's something we're definitely excited to test.
5. Fujifilm's X-T30 could be people's mirrorless camera choice
Fujifilm's cameras have always been pretty darn good, but this latest one from them could be a big hit. The X-T30 is a lightweight 4K mirrorless camera, making it a perfect travel companion wherever you go.
The Fujifilm X-T30 will be available in March starting at US$ 899 for the body only. It'll go up to US$ 999 when bundled with an XC 15-45mm f/3.5-5.6 OIS lens, or US$ 1,299 when bundled with an 18-55mm f/2.8-4 lens.
---
Weekend Rewind is our roundup of top news and features you might have missed for the week. We know the world of technology can be overwhelming and not everyone has the time to get up to speed with everything — and that includes us. So sit back, relax, and enjoy the rewind.
Samsung Galaxy S10 vs Galaxy S10+ vs Galaxy S10E: What are the differences?
A decade of Galaxies
Samsung has launched three new flagship phones: the Galaxy S10, Galaxy S10+, and Galaxy S10E. With three new models to choose from, it might be difficult to choose which Galaxy S10 is the one for you.
To help with this, we took the liberty to show you the differences between the three. Which of the Galaxy S10 models will be your GadgetMatch?
Display
Starting with the screen, the three Galaxy S10 models sport Super AMOLED displays in different sizes. The Galaxy S10E is the smallest among the bunch with a 5.8-inch display. It's followed by the regular Galaxy S10 with its 6.1-inch display and, of course, the Galaxy S10+ with its large 6.4-inch panel.
It's also worth noting that the Galaxy S10E has a completely flat display, while the other two Galaxy S10 variants have the curved panels we've come to expect from Samsung.
All three models don't sport a notch, but they do have holes on the upper-right corner for their front cameras. The Galaxy S10E and Galaxy S10 have a perfectly rounded hole-punch camera, while Galaxy S10+ has a pill-shaped cutout since it has two front-facing cameras.
Performance
Despite the size differences of the phones, all models are powered by a flagship processor. Depending on where you are, the Galaxy S10 family will sport either a Snapdragon 855 or an Exynos 9820.
Memory and storage configuration will also vary depending on the region. The lowest possible memory available is 6GB and it can go as high 12GB. As for storage, it starts at 128GB and will reach up to 1TB. The 12GB+1TB combo will be exclusively available for the Galaxy S10+.
Another significant difference between the Galaxy S10 phones is battery capacity. The Galaxy S10E has a modest 3100mAh battery, the Galaxy S10 owns a pretty standard 3400mAh battery, and the Galaxy S10+, being the biggest of the three, comes with a huge 4100mAh battery.
All three variants support fast charging using wired or wireless chargers. They can also do reverse wireless charging (which Samsung calls Wireless PowerShare) to charge other devices using the Qi wireless standard.
Lastly, both the Galaxy S10 and Galaxy S10+ feature the new ultrasonic in-display fingerprint reader, which is definitely faster than any of the in-display fingerprint readers we've tried before. The Galaxy S10E has a more conventional side-mounted fingerprint reader that's still accurate and fast, but not as advanced.
Cameras
The Galaxy S10 and the Galaxy S10+ are the first among the Galaxy S lineup to have triple rear cameras. The setup is composed of a main 12-megapixel Dual Pixel and Dual Aperture camera, a 16-megapixel ultra wide-angle, and a 12-megapixel telephoto with 2x optical zoom.
Since the Galaxy S10E is priced lower, it only has two of the three rear cameras of its more expensive siblings: the main Dual Pixel camera and the ultra wide-angle shooter.
The situation in the front is quite different, though. Both the Galaxy S10 and Galaxy S10E have a single selfie camera, while the Galaxy S10+ gets an extra depth sensor for a more precise bokeh effect or Live Focus.
Pricing and colors
The cheapest model is the Galaxy S10E which starts at US$ 750. The regular Galaxy S10 will set you back US$ 900, while the bigger Galaxy S10+ is priced at US$ 1,000.
All three models will come in Prism White, Prism Black, Prism Green, and Prism Blue. In addition, the Galaxy S10E will be available in Canary Yellow, as well. The Galaxy S10+ also has premium Ceramic Black and Ceramic White variants, but these are only available for the high-tier configurations.
Colors option may vary per region, so not all colors will be available in all markets.
Get to know more about the latest Galaxy S10 series by watching our hands-on video:
SEE ALSO: Samsung Galaxy S10 Hands-on: A refinement of everything
Instagram photo challenge with the Samsung Galaxy S10
Hands-on with all three versions!
Samsung's newest Galaxy S devices have just been announced and we're blessed with three versions: The Samsung Galaxy S10e (small), the Galaxy S10 (big), and the Galaxy S10+ (big big!).
Each phone is equipped with a number of cameras so you know what that means: IG photo test!
In our Her GadgetMatch video, we check out what's so cool about the new Samsung phones and test what the cameras can do. Spoiler: They do a lot!
In case you're having trouble viewing, watch HERE.
SEE ALSO: Samsung's new LED light cover is the phone case we've always wanted