Bank on a mobile app with ING Philippines
Do everything on your phone!
Banking is one of those chores that few people really want to think about. ING Philippines aims to reduce the hassle you experience by making sure you can do most of what you need all on your smartphone.
You're probably thinking, "Another bank? It's gonna take a while to set it up, and it will just get more money from me."
This isn't the case. ING promises a swift and frictionless experience to get you started.
Minimal requirements
To set up an account, you'll only need the following: a smartphone, a valid government I.D. and/or any proof of billing, and — this is the kicker — zero maintaining balance.
You'll also do the entire set up process all on the mobile app, which you can download on the App Store and Google Play. It was designed to be as easy to use as the apps we use daily like Facebook, Instagram, etc.
Set up your account in no time
Once you have all these setting up is pretty straight forward. You just need to follow the steps which include adding a five-digit passcode, putting in your information and taking a photo of your I.D. and signature.
As an additional security measure, you will also be asked to do some gestures using the front-facing camera. It's almost like what you would do when setting up face-security features.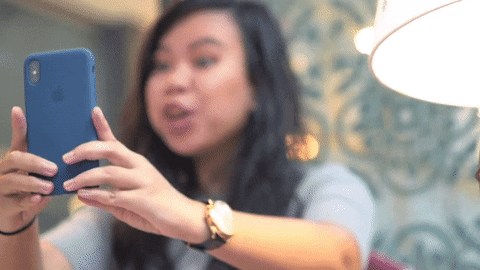 The gestures can be anything from nodding to opening your mouth. It sounds silly but it contributes to security. If you ever forget your passcode, you can use face verification once again to regain access. This also means simply putting a picture in front of the camera won't work.
ING then validates your information and in just a few minutes, you'll have an ING bank account.
Full disclosure, this writer did hit a snag while setting up his account. You just need to start the process from the top which is infinitely easier than having to line up at a bank, file a bunch of forms, only to wait for a few days before confirming that your account has been set up.
Easy transactions
Once you have your account you may proceed to put money in it. Depositing a check only requires that you take a photo of its front and back. There's zero human intervention and no waiting-in-line involved which is great if you're a lazy introvert like yours truly.
Another key feature is bank transfer that has absolutely no fees. This is possible through PesoNet and InstaPay. If you do have more questions, you also have access to their 24/7 chat support team within the app. Pretty convenient.
What else do you get out of it?
ING Philippines isn't asking you to put all your eggs in their basket. As it is now, the functions are still limited so they are positioning themselves as a secondary bank.
What ING encourages you to do is to manage your savings with them. With a 2.5% interest rate per year, even one of the financial advisers they invited at the event says it's a smart decision to keep your savings with ING.
More to come
The Philippines is the first country to have this all-digital banking service from ING. With a high smartphone penetration, the company hopes this will encourage more Filipinos to save money with them.
It doesn't end here though. Other functions like bills payment are in the pipeline. So if you're a digital native trying to look for a place where you can stash your hard-earned cash, ING appears to be a good place to start.
---
This feature was produced in collaboration between GadgetMatch and ING Philippines.
WhatsApp delays roll-out of new privacy policy until May
Signal and Telegram are trending instead
WhatsApp rolled out a new privacy policy that clearly specifies how the instant messaging app will leverage your data for monetization. But the new privacy policy is on hold.
WhatsApp, owned by Facebook, has announced that it will delay enforcing its new privacy terms from February 8 to May 15. In the blog post, the company says that none of its privacy-focused features are changing.
"We're also going to do a lot more to clear up the misinformation around how privacy and security works on WhatsApp. We'll then go to people gradually to review the policy at their own pace before new business options are available on May 15," the statement said.
It faced massive backlash as users are worried about their personal data. When the privacy policy changes went public last week, the response from the public was downright brutal. Alternative apps like Telegram and Signal started trending worldwide as users started joining it in hopes of ditching WhatsApp.
Even though WhatsApp is end-to-end encrypted, Facebook will still fetch some crucial information like your transactions, location, and other behavioral data from linked Instagram profile. And, we all know Facebook has a nasty reputation as far as personal data management is concerned. What makes it even more outrageous is that the policy is leave or take, and there's no third option.
In the wording used, WhatsApp says the new privacy policy will change how it partners with Facebook to "offer integrations" and that businesses can use Facebook services to manage WhatsApp chats. It said that hat all private messages between friends and family members will remain end-to-end encrypted.
According to a CNBC report, India's technology ministry also asked WhatsApp to withdraw planned changes to its privacy policy that has drawn widespread backlash.
Ultrahuman is an all-in-one fitness app
Workout, meditate and sleep soundly
Staying physically and mentally fit is extra challenging during a pandemic, but it's become essential now more than ever. Ultrahuman is a fitness app launched that offers a very convenient platform that targets the three main health points: physical exercise, meditation and sleep. It helps you stay fit from the moment you wake up until you go to bed!
This newest app, which debuted on CES 2021, features different content per category. It includes home workouts and yoga programs from world-class athletes and professional trainers to focus on your physical strength. You can choose from various workouts — from running and yoga to weightlifting and HIIT. The app is designed for all fitness levels.
With the app's biofeedback technology, you can also track your heart rate and calories burned in real-time.
There's also content focusing on mindfulness, including guided meditations, bedtime stories, calming meditation music, nature and sleep sounds, breathing exercises, among others. Manage stress and anxiety better by improving your mental health and sleeping patterns with the help of this series.
You can also listen to "brain music", a section where you can find songs curated by "neuro-musicians" that aids focus, sleep and productivity.
Ultrahuman also partnered with UCLA, Mindsize, and Unified Mindfulness to bring the best of mind science and technology together.
The app is available on iOS and Android, and is already rolled out across 50+ countries globally. It's been recognized by Apple as one of the top apps they love. Apple Watch users can also integrate their app to track their health progress real-time.
Prepare your meals through your phone, fridge using Samsung SmartThings
The kitchen, simplified
With everything going on in the world, it's no surprise that people are spending more time in the kitchen and looking out for new recipes.
The good news? Samsung has just the thing to get it sorted quickly and easily. They're bringing in Family Hub features into mobile users through the SmartThings app.
Samsung's SmartThings Cooking service helps bring all of your Samsung kitchen appliances together. How? It lets you search, plan, purchase, and meal prep seamlessly through your phone or fridge through the SmartThings app.
On top of that, it recommends customized recipes based on your taste and preferences while considering ingredients available to you. You can scroll through recipe collections when you're undecided or quickly zero-in on meals that suit your cravings.
SmartThings Cooking, powered by Whisk, is accessible through Samsung's SmartThings. If you've got the Family Hub in your smart kitchen arsenal, there's no need to fret.
The fridge keeps tabs of what you have and don't, adding missing ingredients directly to your online grocery cart for at-home deliveries. Not to mention, you can shop through Walmart, Kroger, Instacart, and Amazon Fresh, using the Whisk network.
With SmartThings added to the Family Hub smart fridge, you get to enjoy all the cool features and more! You get to access your other smart kitchen gadgets through widgets on the screen, prioritize most used apps, and feature family photos, notes, and recipes.
And, if cooking is what you're worried about, Samsung has you covered for even that. SmartThings guides you through easy cooking steps and lets you control cooking modes, temperatures, and time settings with one touch. Leaving you with little room for error.
So, with all that in mind, was it really a surprise to see Samsung's Family Hub win its sixth consecutive CES Innovation Award this year? For us, not quite.