Bank on a mobile app with ING Philippines
Do everything on your phone!
Banking is one of those chores that few people really want to think about. ING Philippines aims to reduce the hassle you experience by making sure you can do most of what you need all on your smartphone.
You're probably thinking, "Another bank? It's gonna take a while to set it up, and it will just get more money from me."
This isn't the case. ING promises a swift and frictionless experience to get you started.
Minimal requirements
To set up an account, you'll only need the following: a smartphone, a valid government I.D. and/or any proof of billing, and — this is the kicker — zero maintaining balance.
You'll also do the entire set up process all on the mobile app, which you can download on the App Store and Google Play. It was designed to be as easy to use as the apps we use daily like Facebook, Instagram, etc.
Set up your account in no time
Once you have all these setting up is pretty straight forward. You just need to follow the steps which include adding a five-digit passcode, putting in your information and taking a photo of your I.D. and signature.
As an additional security measure, you will also be asked to do some gestures using the front-facing camera. It's almost like what you would do when setting up face-security features.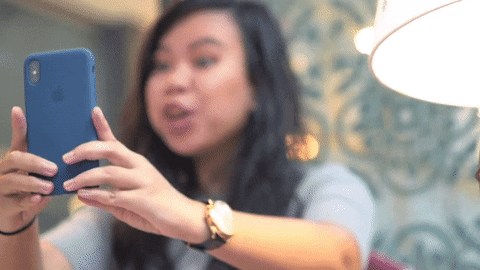 The gestures can be anything from nodding to opening your mouth. It sounds silly but it contributes to security. If you ever forget your passcode, you can use face verification once again to regain access. This also means simply putting a picture in front of the camera won't work.
ING then validates your information and in just a few minutes, you'll have an ING bank account.
Full disclosure, this writer did hit a snag while setting up his account. You just need to start the process from the top which is infinitely easier than having to line up at a bank, file a bunch of forms, only to wait for a few days before confirming that your account has been set up.
Easy transactions
Once you have your account you may proceed to put money in it. Depositing a check only requires that you take a photo of its front and back. There's zero human intervention and no waiting-in-line involved which is great if you're a lazy introvert like yours truly.
Another key feature is bank transfer that has absolutely no fees. This is possible through PesoNet and InstaPay. If you do have more questions, you also have access to their 24/7 chat support team within the app. Pretty convenient.
What else do you get out of it?
ING Philippines isn't asking you to put all your eggs in their basket. As it is now, the functions are still limited so they are positioning themselves as a secondary bank.
What ING encourages you to do is to manage your savings with them. With a 2.5% interest rate per year, even one of the financial advisers they invited at the event says it's a smart decision to keep your savings with ING.
More to come
The Philippines is the first country to have this all-digital banking service from ING. With a high smartphone penetration, the company hopes this will encourage more Filipinos to save money with them.
It doesn't end here though. Other functions like bills payment are in the pipeline. So if you're a digital native trying to look for a place where you can stash your hard-earned cash, ING appears to be a good place to start.
---
This feature was produced in collaboration between GadgetMatch and ING Philippines.
Canva adds new features for presentations on the go
Responsive presentations anytime, anywhere
Having a well-designed document goes a long way in engaging your audience. That's where Canva comes in, simplifying the creation of well-thought documents, posters, and more. Now, Canva is adding more features which would delight presenters on the go.
The first feature is responsive presentation — users can now create presentations on their laptops and view it on their mobile devices. Presentations adapt to different screens, so the days of fussing over the right screen size is over. Plus, users can edit and view presentations made with Canva anywhere, anytime.
The second feature is presentations playlist, which would suit well for team presentations. With this feature, teams can create accessible spaces for collaboration through shared folders. This feature also builds a single coherent event with transitional slides introducing each speaker.
Lastly, there is live Q&A, which Canva will add to its mobile apps soon. Audiences will be able to participate in from any device and have the option to send in questions anonymously. This should enable a more dynamic and engaging presentation with audiences.
With over a thousand designer-made templates, 50 million premium images and videos, Canva makes it easier to create beautiful documents, posters, and graphic materials. It is available on the web, on Android, and iOS devices. Users can sign up today for a free tier, with a premium tier also available to unlock more features.
Spotify releases the 2019 wrapped, here's how you can see it
Find out your guilty music pleasures
Every December, Spotify releases the much-awaited "Spotify Wrapped," where users find out their top songs of the year. Since this year and this decade is ending, Spotify added a different twist in this year's wrap-up.
The 2019 Wrapped will include songs, albums, artists, and podcasts you listened to throughout the year, and the artists you listened to the most throughout the decade. When I saw my wrap-up, I found it funny how I listen to the same songs every year. Spotify knows what songs we obsess over.
Furthermore, Spotify highlights the places where your top artists hail from through a world map. Additionally, podcasts are added to the "Wrapped" experience.
Spotify users, particularly those who were subscribed to a premium subscription, get a personalized recap, too. Some insights include a user's top artist every year and the number of minutes they streamed music throughout the decade. Premium users also get info on the artist they vibed most with this year.
Luckily, your personalized info can be shared through Instagram, Twitter, Snapchat, or Facebook. To access your "Spotify Wrapped," make sure to update your Spotify app and open it or head to Spotify.com/wrapped. Enjoy looking back!
Lazada launches 'digital giving' platform LazadaForGood
Spread the love, not just for the holidays
Lazada's 12.12 Grand Year End Sale is just around the corner but the company is also giving you another option to spend your hard-earned cash. It's one that will give you warm fuzzy feelings inside.
Launched alongside the announcement of their massive year-end sale, Lazada partnered with 11 local and international advocacy partners: Habitat for Humanity, Young Focus, Caritas Manila, MovEd, UNHCR, HEro Foundation Inc., UNICEF, WWF, Tahanan ng Pagmamahal, HOPE, and CCEF.
The digital giving platform won't just be available for Christmas, it will be a permanent fixture on the Lazada app. This means you can give love 24/7 and 365 days a year.
To donate, simply open the Lazada app, hit Load, Bills, & eCoupon, then click on Donation. The list of the advocacy partners will be there.
Lazada's 12.12 Grand Year End Sale
Of course, we can't forget the grand year end sale is indeed happening. Up to 90 percent off on more than 12 million deals will be available. Expect great offers and discounts from Xiaomi, Olay, FitFlop, Pampers, Hydro Flask, Wyeth, LEGO, Apple, Jansport, Coocaa, Tefal, and Reebok.