Bank on a mobile app with ING Philippines
Do everything on your phone!
Banking is one of those chores that few people really want to think about. ING Philippines aims to reduce the hassle you experience by making sure you can do most of what you need all on your smartphone.
You're probably thinking, "Another bank? It's gonna take a while to set it up, and it will just get more money from me."
This isn't the case. ING promises a swift and frictionless experience to get you started.
Minimal requirements
To set up an account, you'll only need the following: a smartphone, a valid government I.D. and/or any proof of billing, and — this is the kicker — zero maintaining balance.
You'll also do the entire set up process all on the mobile app, which you can download on the App Store and Google Play. It was designed to be as easy to use as the apps we use daily like Facebook, Instagram, etc.
Set up your account in no time
Once you have all these setting up is pretty straight forward. You just need to follow the steps which include adding a five-digit passcode, putting in your information and taking a photo of your I.D. and signature.
As an additional security measure, you will also be asked to do some gestures using the front-facing camera. It's almost like what you would do when setting up face-security features.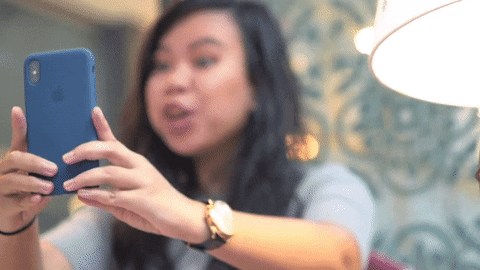 The gestures can be anything from nodding to opening your mouth. It sounds silly but it contributes to security. If you ever forget your passcode, you can use face verification once again to regain access. This also means simply putting a picture in front of the camera won't work.
ING then validates your information and in just a few minutes, you'll have an ING bank account.
Full disclosure, this writer did hit a snag while setting up his account. You just need to start the process from the top which is infinitely easier than having to line up at a bank, file a bunch of forms, only to wait for a few days before confirming that your account has been set up.
Easy transactions
Once you have your account you may proceed to put money in it. Depositing a check only requires that you take a photo of its front and back. There's zero human intervention and no waiting-in-line involved which is great if you're a lazy introvert like yours truly.
Another key feature is bank transfer that has absolutely no fees. This is possible through PesoNet and InstaPay. If you do have more questions, you also have access to their 24/7 chat support team within the app. Pretty convenient.
What else do you get out of it?
ING Philippines isn't asking you to put all your eggs in their basket. As it is now, the functions are still limited so they are positioning themselves as a secondary bank.
What ING encourages you to do is to manage your savings with them. With a 2.5% interest rate per year, even one of the financial advisers they invited at the event says it's a smart decision to keep your savings with ING.
More to come
The Philippines is the first country to have this all-digital banking service from ING. With a high smartphone penetration, the company hopes this will encourage more Filipinos to save money with them.
It doesn't end here though. Other functions like bills payment are in the pipeline. So if you're a digital native trying to look for a place where you can stash your hard-earned cash, ING appears to be a good place to start.
---
This feature was produced in collaboration between GadgetMatch and ING Philippines.
Twitter won't give us an edit button
@jack says they will "probably never do it"
There have been many demands made of Twitter but perhaps one of the most requested feature is the addition of an edit button, but Twitter CEO Jack Dorsey says it's likely not happening ever.
In a video Q&A with Wired, Dorsey answered several questions but addressed once and for all the loud majority clamoring for an edit button on the bird app. "The answer is no," said Dorsey with absolute finality.
"The reason there's no edit button [and] there hasn't been an edit button traditionally is we started as an SMS text messaging service. So as you all know, when you send a text, you can't really take it back. We wanted to preserve that vibe and that feeling in the early days," Dorsey expounded.
He added that not adding an edit button lets users feel at ease that anything they retweeted or quote tweeted would be the same messaged and won't be altered later on.
Dorsey did add that they thought about adding something like an "undo send" feature similar to the one found on GMail but ultimately decided against it. Dorsey that if we have other ideas, we're free to mention him on Twitter.
SEE ALSO:
Twitter is banning political ads
Twitter is cracking down on sexual and violent content
Twitter isn't sure how to remove inactive accounts
How to make your crush view your Instagram Story
Three easy steps to get that validation
Catching up with friends entails a discussion about your love life. Being single for a long time, a friend asked if I were dating someone new. I responded gleefully, "no, I'm not dating anyone but I have a new crush I met at an event."
Giggly about my newfound love interest, my friend advised me how to tease my crush. However, it'll only work if we're following each other on Instagram. To see if my friend's strategy works, we used our own accounts and to my surprise, we succeeded.
While it may yield different results, here are three easy steps you can do to make your crush view your Instagram story.
Step 1: Post a story you want your crush to see
Uploading a story feels like a small window to our lives. Make sure the photo you upload is something that you want your crush to see. It's like making an impression, and you only have one shot if he/she ever sees your story. I posted my gym photos and pizza stories — something that both my crush and I enjoy.
Step 2: Edit your story settings
Here's the not-so-tricky part! We're calling it the hide-unhide strategy. When your story is uploaded, immediately adjust your story settings and hide your story from your crush. Save it, and then change the story settings again to unhide the story. This strategy beats Instagram's algorithm and pushes your story to one of the first stories he/she can view.
Step 3: Enjoy the validation
As long as you and your crush follow each other on Instagram and regularly use the app, then it's guaranteed that he/she will view your story. Enjoy the frickin' validation. I've been doing it for almost a month now, and I always giggle whenever I see my crush's name.
There are times that the strategy won't push you to the first story he/she can view. For some reason, my friend tried hiding and unhiding her story to me, and she only ended up being second on the queue. Instagram still prioritizes the accounts you engage with the most through reacts and direct messages. However, being at the first five ensures you have a shot at making an impression that lasts.
Now, hurry and make your crush view your story. It won't be long before Instagram's algorithm changes again!
3 fitness apps for people who travel a lot
No excuses!
Traveling makes sticking to a workout routine difficult; but in an era with apps that cater to just about everyone's needs, it's now easier to achieve your fitness goals.
If you're committed to making health and fitness a priority this year or simply feel bad about not having a go-to workout, here are three apps that can help no matter how busy you are, wherever in the world you may be:
FlexIt
Work out whenever your schedule allows it, wherever you may be — sans the contract. That's the idea behind FlexIt, a pay-by-the-minute app that gives you access to thousands of gyms.
You simply scan a QR code at the front desk before and after a workout so you only pay for the time you spend at the gym. The app also lets you see which gyms offer the best per-minute rate in your area, and which times are off peak hours so you can get an even better deal.
FlexIt is currently available across the US, and will soon be expanding to Canada, Europe, and Australia.
ClassPass
Finding a workout that you enjoy can be daunting. With ClassPass, you get to try different physical activities for as little as US$ 19 per month. It's also perfect for people who get bored with sticking to just one type of workout.
With the app, you can search classes offered by the different gyms around you. Whether it's indoor cycling, yoga, HIIT, or boxing — booking a class that you feel like taking that day is one tap away. Can't find a gym in your area? A ClassPass membership also gives you access to on-demand workout videos.
ClassPass is available across the North America, Europe, Asia, and Oceania although monthly subscriptions vary per country.
J&J Official 7 Minute Workout
If time constraints and the lack of gyms in the area are what's stopping you, try J&J Official 7 Minute Workout app. It's completely free and it gives you access to a virtual coach and a video library of workouts that you can do in 7 minutes.
If you have a little bit more time to spare, there's a Smart Workout mode that creates a variety of workouts based on your fitness and motivation level.
The best part is none of the workouts require weights or machines, just your own body weight, making it easier to get your heart pumping whether you're in an airport lounge or an Airbnb.
Committing to a one-year gym membership can be too much — not just for people who travel a lot like me, but also for beginners. These three apps don't require contracts, but a self-commitment to make working out not just a New Year's resolution but also a lifetime habit. With everything accessible with a few taps on your smartphone, there are just simply no excuses.