Bank on a mobile app with ING Philippines
Do everything on your phone!
Banking is one of those chores that few people really want to think about. ING Philippines aims to reduce the hassle you experience by making sure you can do most of what you need all on your smartphone.
You're probably thinking, "Another bank? It's gonna take a while to set it up, and it will just get more money from me."
This isn't the case. ING promises a swift and frictionless experience to get you started.
Minimal requirements
To set up an account, you'll only need the following: a smartphone, a valid government I.D. and/or any proof of billing, and — this is the kicker — zero maintaining balance.
You'll also do the entire set up process all on the mobile app, which you can download on the App Store and Google Play. It was designed to be as easy to use as the apps we use daily like Facebook, Instagram, etc.
Set up your account in no time
Once you have all these setting up is pretty straight forward. You just need to follow the steps which include adding a five-digit passcode, putting in your information and taking a photo of your I.D. and signature.
As an additional security measure, you will also be asked to do some gestures using the front-facing camera. It's almost like what you would do when setting up face-security features.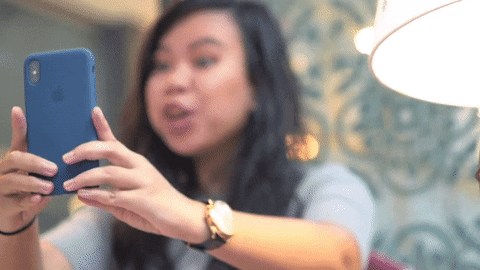 The gestures can be anything from nodding to opening your mouth. It sounds silly but it contributes to security. If you ever forget your passcode, you can use face verification once again to regain access. This also means simply putting a picture in front of the camera won't work.
ING then validates your information and in just a few minutes, you'll have an ING bank account.
Full disclosure, this writer did hit a snag while setting up his account. You just need to start the process from the top which is infinitely easier than having to line up at a bank, file a bunch of forms, only to wait for a few days before confirming that your account has been set up.
Easy transactions
Once you have your account you may proceed to put money in it. Depositing a check only requires that you take a photo of its front and back. There's zero human intervention and no waiting-in-line involved which is great if you're a lazy introvert like yours truly.
Another key feature is bank transfer that has absolutely no fees. This is possible through PesoNet and InstaPay. If you do have more questions, you also have access to their 24/7 chat support team within the app. Pretty convenient.
What else do you get out of it?
ING Philippines isn't asking you to put all your eggs in their basket. As it is now, the functions are still limited so they are positioning themselves as a secondary bank.
What ING encourages you to do is to manage your savings with them. With a 2.5% interest rate per year, even one of the financial advisers they invited at the event says it's a smart decision to keep your savings with ING.
More to come
The Philippines is the first country to have this all-digital banking service from ING. With a high smartphone penetration, the company hopes this will encourage more Filipinos to save money with them.
It doesn't end here though. Other functions like bills payment are in the pipeline. So if you're a digital native trying to look for a place where you can stash your hard-earned cash, ING appears to be a good place to start.
---
This feature was produced in collaboration between GadgetMatch and ING Philippines.
Apple launches the Apple Music Voice Plan
Cheaper and exclusive to Siri
With voice technology today, using an interface feels less of a necessity now. The tech world can now control their favorite apps completely hands-free with only the power of their voices. Is it finally time to ditch the user interface? Apple seems to think so. Apple Music has launched a new plan, allowing users to control the app using only their voice.
Subscribed to the new Apple Music Voice Plan, users will have access to the streaming platform's gallery of over 90 million songs and Apple Music Radio.
To complement the introduction of voice-centric features, Apple Music is also getting a boost of new playlist and mood functions. Subscribers can use Siri to play music customized to specific activities and moods. Apple specifically mentioned examples like "Play something chill" or "Play a playlist for hiking." Though obviously optimized for voice, the new feature is available for every Apple Music subscriber.
Currently, the new plan will launch for only a selected slate of launch countries: Australia, Austria, Canada, China, France, Germany, Hong Kong, India, Ireland, Italy, Japan, Mexico, New Zealand, Spain, Taiwan, the United Kingdom, and the United States.
The Apple Music Voice Plan will cost US$ 4.99 per month. The regular individual plan costs US$ 9.99. Finally, the family plan (available for up to six accounts) sells for US$ 14.99.
SEE ALSO: Apple Music could soon support HiFi audio streaming
iShop: One-stop solution for Brother's products
Get those printers, sewing machines, and cartridges!
Fans of Brother, assemble!
Brother Philippines has just introduced iShop — a new feature on the brand's Customer Plus App serving as a one-stop solution for all Brother products.
The new feature puts together Brother's available products. From inkjet and mono laser printers, label makers, sewing machines, to consumables like an ink cartridge. You can access iShop by tapping the shopping cart icon on the Customer Plus homepage, which will allow you to purchase products through Brother's authorized dealers and partners.
Moreover, you can shop for Brother products on other e-commerce channels, which is also accessible from the feature. Furthermore, you can opt to reserve or purchase products from physical stores. So you can pick it up on your preferred schedule.
The iShop feature is now available on Brother's Customer Plus App. The app can be downloaded on Google's Play Store and the App Store.
Pixel 6 will reportedly have a Magic Eraser feature
It can erase strangers from photos
Taking photos at a crowded location is usually a problem for most tourists. Most of the time, you'll end up taking photos with unwanted strangers in the background. In worse situations, someone might even bomb your photos on purpose. Luckily, with artificial intelligence now, getting perfect photos is easier. To show its power in AI technology, the upcoming Pixel 6 series will reportedly have a Magic Eraser feature.
Accidentally shared by retailer website Carphone Warehouse (and preserved through Wayback Machine), the upcoming flagship series will sport a flurry of camera features. Though the series will have the standard array of photography improvements, the most notable feature is an upcoming Magic Eraser which will "remove strangers and unwanted objects in Google Photos."
To anyone familiar with photography software, this is already possible especially through Adobe Photoshop's healing tool. However, getting the feature natively in a smartphone is a big step especially for tourists who might not have access to Photoshop.
Besides the feature, the accidental webpage reveals a lot of details about the upcoming flagship series. Of course, it's not a big reveal anymore. Google itself has already shared more about the Pixel 6 series more than the leaks. The series will officially launch on October 19 in a launch event.
SEE ALSO: Pixel Pass bundles a Pixel 6 with a subscription service