Bank on a mobile app with ING Philippines
Do everything on your phone!
Banking is one of those chores that few people really want to think about. ING Philippines aims to reduce the hassle you experience by making sure you can do most of what you need all on your smartphone.
You're probably thinking, "Another bank? It's gonna take a while to set it up, and it will just get more money from me."
This isn't the case. ING promises a swift and frictionless experience to get you started.
Minimal requirements
To set up an account, you'll only need the following: a smartphone, a valid government I.D. and/or any proof of billing, and — this is the kicker — zero maintaining balance.
You'll also do the entire set up process all on the mobile app, which you can download on the App Store and Google Play. It was designed to be as easy to use as the apps we use daily like Facebook, Instagram, etc.
Set up your account in no time
Once you have all these setting up is pretty straight forward. You just need to follow the steps which include adding a five-digit passcode, putting in your information and taking a photo of your I.D. and signature.
As an additional security measure, you will also be asked to do some gestures using the front-facing camera. It's almost like what you would do when setting up face-security features.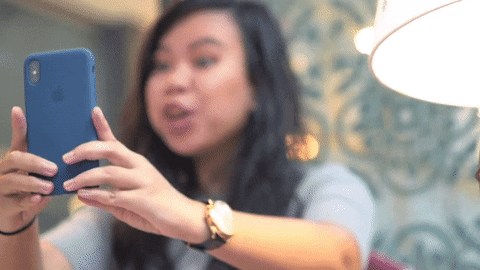 The gestures can be anything from nodding to opening your mouth. It sounds silly but it contributes to security. If you ever forget your passcode, you can use face verification once again to regain access. This also means simply putting a picture in front of the camera won't work.
ING then validates your information and in just a few minutes, you'll have an ING bank account.
Full disclosure, this writer did hit a snag while setting up his account. You just need to start the process from the top which is infinitely easier than having to line up at a bank, file a bunch of forms, only to wait for a few days before confirming that your account has been set up.
Easy transactions
Once you have your account you may proceed to put money in it. Depositing a check only requires that you take a photo of its front and back. There's zero human intervention and no waiting-in-line involved which is great if you're a lazy introvert like yours truly.
Another key feature is bank transfer that has absolutely no fees. This is possible through PesoNet and InstaPay. If you do have more questions, you also have access to their 24/7 chat support team within the app. Pretty convenient.
What else do you get out of it?
ING Philippines isn't asking you to put all your eggs in their basket. As it is now, the functions are still limited so they are positioning themselves as a secondary bank.
What ING encourages you to do is to manage your savings with them. With a 2.5% interest rate per year, even one of the financial advisers they invited at the event says it's a smart decision to keep your savings with ING.
More to come
The Philippines is the first country to have this all-digital banking service from ING. With a high smartphone penetration, the company hopes this will encourage more Filipinos to save money with them.
It doesn't end here though. Other functions like bills payment are in the pipeline. So if you're a digital native trying to look for a place where you can stash your hard-earned cash, ING appears to be a good place to start.
---
This feature was produced in collaboration between GadgetMatch and ING Philippines.
Hong Kong protests: Apple succumbs to pressure from China
Trying to please both the sides
Every international company, whether based in China or the US, is now stuck in the middle of the Hong Kong protests. While the people want pro-Democracy ideals to govern their city, China refuses to back down and continues its passive-aggressive push.
Apple has reportedly removed the Quartz app from the App Store at the request of the Chinese government. Quartz's Investigations editor John Keefe confirmed the app has been removed from the App Store and even the website has been blocked in Mainland China.
The publication has been covering the Hong Kong protests in detail and this hasn't gone down well with the government in Beijing. China has a long history of suppressing free speech and it's not surprising to see them block off content that doesn't suit their narrative.
Though, users are furious at Apple for not taking a stand and bowing down to pressure. A few days back, the Cupertino-based giant removed the Taiwanese flag from its keyboard for some users to please the Chinese officials.
Apple was also in the news this week due to its initial rejection of an app that kept a tab on police movement in Hong Kong. Back in 2017, Apple removed the New York Times app from App Store after the Chinese government requested its removal because it was "in violation of local regulations."
It is necessary for Apple to stay on good terms with China because of its business interests. Almost every other product designed by Apple will find its roots back in China, where everything is built — components as well as finished iPhones.
Instagram is finally getting a dark mode
Out on iOS, beta on Android
The spookiest and scariest month is upon us! A week into October, we can't wait to sink our teeth into Halloween. While we wait for our monsters to wake up, the tech world is slowly paving the way for a scary month. For one, Instagram, Facebook's popular photo-sharing social media network, has started embracing the dark side.
Finally! Dark Mode comes to Instagram. Do you like it? pic.twitter.com/l0iG3NAVo2

— Michael Josh (@michaeljosh) October 8, 2019
The app has released a much-awaited update for its iPhone variant. The update includes a dark mode, in collaboration with the newly released iOS 13's native dark mode support. Finally, Instagram turns off the lights on its iconic (and sometimes obnoxiously bright) white theme. We can now browse throughout feeds in eye-pleasing darkness.
Sadly, the new dark mode is not accessible using a normal on-and-off switch. The mode switches on based on your own iPhone's settings.
In addition to iOS, Instagram is also slowly rolling out the update for Android users. Unfortunately, the update is available only for Instagram Beta users. Even then, the Android update is only starting to trickle down to users worldwide.
Regardless, Instagram's dark mode is a welcome addition to our growing list of dark mode-friendly apps. It's getting easier to distract yourself from startling jump scares during those inevitable horror movie marathons on your couch this Halloween.
SEE ALSO: Facebook Dating is now live with Instagram integration
This is Huawei's alternative for missing Google Play services
Filling up the vacuum
2019 has been an awfully difficult year for Huawei. While the US and China are embroiled in a trade war, the Chinese telecommunication giant is stuck in the cross-fire. Like every other phone maker, it relies on Google's Android operating system and services to deliver a complete experience to the end user.
However, President Trump has barred American companies from doing any business with Huawei, which means the brand can no longer leverage Google Play services. Google has been banned from China for the longest time, so this won't have any effect on Huawei's sales in the country, but it will completely derail Huawei's plans of global domination.
To counter these missing Google apps, Huawei has released a plethora of in-house apps that will ensure the user doesn't feel left out. AppGallery is will replace the Google Play Store and can be used in 170+ countires. Launched way back in 2011, it was initially released for users in China only. In 2018, it was shipped to non-Chinese users and became a pre-installed package on all new phones.
Similarly, Huawei Browser replaces Google Chrome, Huawei Mobile Cloud replaces Google Drive, and Huawei Music replaces YouTube or Play Music. There's also an addition of Huawei Themes, Huawei Assistant, and many more.
Thanks to the open-source nature of AOSP, Huawei is not completely barred from using Android on its smartphone. The recently launched Mate 30 series runs on Android, but doesn't come with Google apps out-of-the-box, including Google Play Store.
This reminds us of Samsung's Galaxy phones that usually ship with Google apps as well as Samsung's own suite of apps. They are pretty much meant to do the same job, but come from two different vendors. Ultimately, offering more options to the user.
Will you be fine with these replacements or are Google apps necessary? As Plan B, Huawei has already announced its Harmony OS and we expect it to be ready for phones in the coming years. But, that's still a long way down the line.