Bank on a mobile app with ING Philippines
Do everything on your phone!
Banking is one of those chores that few people really want to think about. ING Philippines aims to reduce the hassle you experience by making sure you can do most of what you need all on your smartphone.
You're probably thinking, "Another bank? It's gonna take a while to set it up, and it will just get more money from me."
This isn't the case. ING promises a swift and frictionless experience to get you started.
Minimal requirements
To set up an account, you'll only need the following: a smartphone, a valid government I.D. and/or any proof of billing, and — this is the kicker — zero maintaining balance.
You'll also do the entire set up process all on the mobile app, which you can download on the App Store and Google Play. It was designed to be as easy to use as the apps we use daily like Facebook, Instagram, etc.
Set up your account in no time
Once you have all these setting up is pretty straight forward. You just need to follow the steps which include adding a five-digit passcode, putting in your information and taking a photo of your I.D. and signature.
As an additional security measure, you will also be asked to do some gestures using the front-facing camera. It's almost like what you would do when setting up face-security features.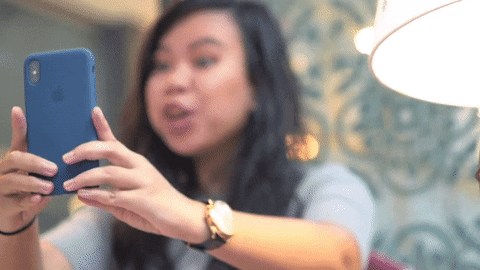 The gestures can be anything from nodding to opening your mouth. It sounds silly but it contributes to security. If you ever forget your passcode, you can use face verification once again to regain access. This also means simply putting a picture in front of the camera won't work.
ING then validates your information and in just a few minutes, you'll have an ING bank account.
Full disclosure, this writer did hit a snag while setting up his account. You just need to start the process from the top which is infinitely easier than having to line up at a bank, file a bunch of forms, only to wait for a few days before confirming that your account has been set up.
Easy transactions
Once you have your account you may proceed to put money in it. Depositing a check only requires that you take a photo of its front and back. There's zero human intervention and no waiting-in-line involved which is great if you're a lazy introvert like yours truly.
Another key feature is bank transfer that has absolutely no fees. This is possible through PesoNet and InstaPay. If you do have more questions, you also have access to their 24/7 chat support team within the app. Pretty convenient.
What else do you get out of it?
ING Philippines isn't asking you to put all your eggs in their basket. As it is now, the functions are still limited so they are positioning themselves as a secondary bank.
What ING encourages you to do is to manage your savings with them. With a 2.5% interest rate per year, even one of the financial advisers they invited at the event says it's a smart decision to keep your savings with ING.
More to come
The Philippines is the first country to have this all-digital banking service from ING. With a high smartphone penetration, the company hopes this will encourage more Filipinos to save money with them.
It doesn't end here though. Other functions like bills payment are in the pipeline. So if you're a digital native trying to look for a place where you can stash your hard-earned cash, ING appears to be a good place to start.
---
This feature was produced in collaboration between GadgetMatch and ING Philippines.
WhatsApp could soon let you use the same account on multiple phones
No need to maintain different numbers soon
WhatsApp is working on a feature that has been in-demand for ages. The ability to use the same account (phone number) across multiple phones. So far, WhatsApp does not permit a single account on multiple devices. The only exception being the WhatsApp Web feature which can only be accessed on browsers.
However, companies including Samsung, Vivo, OPPO, and Huawei offer Dual Apps mode, allowing users to switch between two different accounts of the same chat app. This doesn't exactly serve the purpose because you still end up having two different accounts.
With multiple device support, the chats will be synchronized across all logged-in devices. Similar to how it works on other instant messaging apps like Messenger and Telegram.
The feature was spotted by WABetaInfo in November 2019. However, it was a very limited release and didn't exactly shed light on how multiple devices shall be leveraged. The new WhatsApp beta v 2.20.110 release was spotted by WABetaInfo recently and the team was successfully able to test the feature.
For now, a few questions remain unanswered because the company hasn't officially released the feature. Will the first phone you logged in from become primary and the rest of the devices will rely on it to send messages, just like WhatsApp Web? Or can the feature make even the second phone run independently?
Moreover, this is exciting news for anyone who relies on more than one phone daily. Currently, you'll have to enable two different numbers to use WhatsApp on both the phones. Considering the competition, the feature is pretty standard and we're glad WhatsApp is finally taking cognizance of it.
Lastly, keep in mind the feature is still in beta. It could take months to reach the normal Joe and maybe never even come. That's the point of releasing it via the beta channel. To test whether the feature or product is successful and doesn't hinder regular usage.
Apple acquires the popular weather app, Dark Sky
Will iOS users see improvement in the Weather app?
Aside from pushing its hardware front and center, Apple is also busy expanding its ecosystem. Over the years, Apple has acquired smaller companies to improve its software offerings. Today, the company acquires Dark Sky, a popular weather app with millions of users.
In a blog post by Dark Sky, the company announced its acquisition by Apple. There will be no changes to the iOS app after Apple takes over. However, Android users are not so lucky, since the app won't be available to download on Play Store starting today. The app won't function beyond July 21, and premium users will receive a refund for any existing subscriptions.
Meanwhile, Dark Sky's website will close by July 21. App developers are also affected by the acquisition as APIs will only work until 2021.
Apple's acquisition of Dark Sky will further expand its growing portfolio of services. It is also a sign that the company is doing something new to its aging Weather app. Perhaps, Apple might introduce new powerful features in the app and give it a fresh coat of paint. A subscription plan for weather forecasts may also be in the cards, considering the company's push for subscription-based services.
Zoom isn't as safe as you might think
Doesn't offer end-to-end encryption, leaks personal emails
As working from home finally rises in popularity, teleconferencing apps are also getting their share of the limelight. Amidst all this, Zoom has become one of the most popular choices today, upending Skype and Google Hangouts for the top spot. The app offers ease of use and convenience in the work from home era.
Convenience, of course, is just one aspect of good app development. Cybersecurity, especially now, is another. Unfortunately, new investigations have revealed the software's dubious caveats.
First reported by The Intercept, Zoom is not offering true end-to-end encryption, contrary to what it's advertising. Conventionally, end-to-end encryption ensures that only the meeting's participants can access the information shared in a call. Ideally, no one can access the call's video, audio, and text messages.
According to the company's website, Zoom offers this exact service. However, from a spokesperson's exact words, the platform can't provide this service at all. Instead, it offers the more rudimentary TLS encryption.
In contrast, TLS encryption is a step below true end-to-end. Though it still protects the information from malicious third parties, it does not protect data from Zoom itself. The company can still access your call. If anything, its only truly encrypted feature is text messaging during calls.
Of course, Zoom emphasizes its respect for cybersecurity. "Zoom takes its users' privacy extremely seriously. Zoom only collects data from individuals using the Zoom platform as needed to provide the service and ensure it is delivered as effectively as possible," the company said in a statement.
Now, in a completely different report, Zoom is taking a more reactive approach to cybersecurity. Reported by Vice, the company is potentially leaking everyone's personal emails to other users.
The platform offers a feature called "Company Directory," which collates all users using the same domain. Naturally, the feature is helpful for companies with its own email addresses. For example, if you own an "@companyxyz.com" email, you'll be able to see other Zoom users with the same email.
However, if you use a personal email, this can lead to weird consequences. In the report, several users who did just that have seen unknown persons appearing on their Company Directory. Thankfully, Zoom doesn't list more popular domains in this feature. Gmail and Yahoo users are safe for now. Still, if you use a non-standard domain for your personal email, you might be in for a surprise.
Fortunately, Zoom is blacklisting domains as they get reported. The domains listed on the report have already been removed from the feature. Regardless, Zoom's recent hiccups can turn into a warning call. Even in the age of telecommuting, take care of your own security online.
SEE ALSO: WhatsApp usage rises significantly due to Coronavirus