Bank on a mobile app with ING Philippines
Do everything on your phone!
Banking is one of those chores that few people really want to think about. ING Philippines aims to reduce the hassle you experience by making sure you can do most of what you need all on your smartphone.
You're probably thinking, "Another bank? It's gonna take a while to set it up, and it will just get more money from me."
This isn't the case. ING promises a swift and frictionless experience to get you started.
Minimal requirements
To set up an account, you'll only need the following: a smartphone, a valid government I.D. and/or any proof of billing, and — this is the kicker — zero maintaining balance.
You'll also do the entire set up process all on the mobile app, which you can download on the App Store and Google Play. It was designed to be as easy to use as the apps we use daily like Facebook, Instagram, etc.
Set up your account in no time
Once you have all these setting up is pretty straight forward. You just need to follow the steps which include adding a five-digit passcode, putting in your information and taking a photo of your I.D. and signature.
As an additional security measure, you will also be asked to do some gestures using the front-facing camera. It's almost like what you would do when setting up face-security features.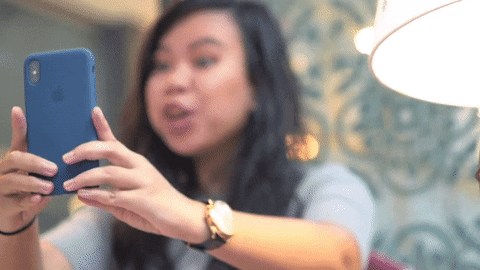 The gestures can be anything from nodding to opening your mouth. It sounds silly but it contributes to security. If you ever forget your passcode, you can use face verification once again to regain access. This also means simply putting a picture in front of the camera won't work.
ING then validates your information and in just a few minutes, you'll have an ING bank account.
Full disclosure, this writer did hit a snag while setting up his account. You just need to start the process from the top which is infinitely easier than having to line up at a bank, file a bunch of forms, only to wait for a few days before confirming that your account has been set up.
Easy transactions
Once you have your account you may proceed to put money in it. Depositing a check only requires that you take a photo of its front and back. There's zero human intervention and no waiting-in-line involved which is great if you're a lazy introvert like yours truly.
Another key feature is bank transfer that has absolutely no fees. This is possible through PesoNet and InstaPay. If you do have more questions, you also have access to their 24/7 chat support team within the app. Pretty convenient.
What else do you get out of it?
ING Philippines isn't asking you to put all your eggs in their basket. As it is now, the functions are still limited so they are positioning themselves as a secondary bank.
What ING encourages you to do is to manage your savings with them. With a 2.5% interest rate per year, even one of the financial advisers they invited at the event says it's a smart decision to keep your savings with ING.
More to come
The Philippines is the first country to have this all-digital banking service from ING. With a high smartphone penetration, the company hopes this will encourage more Filipinos to save money with them.
It doesn't end here though. Other functions like bills payment are in the pipeline. So if you're a digital native trying to look for a place where you can stash your hard-earned cash, ING appears to be a good place to start.
---
This feature was produced in collaboration between GadgetMatch and ING Philippines.
Instagram possibly letting users pay for a blue badge
Copied from Twitter's playbook
Twitter got the internet into an uproar after implementing a way to pay for a coveted blue checkmark. Despite the controversy, other social media platforms are potentially introducing similar systems soon. As spotted in new code, Instagram has started referencing paid badges, hinting at a similar feature in the future.
First noticed by developer Alessandro Paluzzi (who spotted other unannounced developments in the past), Instagram's coding includes mentions of an "IG_NME_PAID_BLUE_BADGE_IDV," via TechCrunch. Additionally, Paluzzi found references to a Facebook version of the same code. To cap things off, he also discovered a few references to an upcoming subscription product from the current code.
A word of caution, though: Small references inside code might not mean much for the platform's future plans. Paluzzi himself says that the feature is essentially unconfirmed for now, especially without a prototype.
Given the controversy surrounding the paid blue checkmark, it's likely that Facebook and Instagram are waiting if Twitter's experiment translates to better revenue in the long run. Though the initial Twitter Blue brouhaha simmered down for now, the new feature — along with Musk's other changes to Twitter — are still experiments to test the new ownership's vision for the platform.
For their part, both Facebook and Instagram have experimented with additional features to expand their offerings to their users. It's not unheard of for either platform to draw inspiration from the winning features of other social media platforms.
SEE ALSO: Twitter reverses Facebook, Instagram ban
Apple Music launches 'Rihanna's Road to Halftime'
In anticipation of Super Bowl 2023
After succeeding Pepsi as NFL's official Super Bowl Halftime Show partner, Apple Music is pulling all the stops as it braces for its first ever show in the sports event, which features music icon Rihanna.
In anticipation of her upcoming Super Bowl LVII halftime performance in Glendale, Arizona on February 13, Apple Music has launched "Rihanna's Road to Halftime", letting streamers experience the superstar's music catalogue in deeply-enriched multidimensional sound.
Apple Music Radio will also be holding a Super Bowl LVII Halftime Show press conference on February 10, with Nadeska Alexis interviewing Rihanna herself ahead of her highly-awaited performance in United States' annual sports spectacle.
An 8-episode "Rihanna Revisited Radio" will also keep fans engaged as the countdown to Super Bowl LVII continues ticking.
Even after the performance itself, Apple Music will have people covered with its "Halftime Recap Radio" to wrap everything up.
Meanwhile, the new Apple Music Sing feature will also allow subscribers to take the mic and reenact Rhianna's hits on compatible iPhone, iPad, and Apple TV 4K models.
Controversial Netflix policy might ban users for sharing passwords
Company says plans are still unconfirmed
Likely eclipsed only by Twitter, Netflix has gone through a ton of changes since last year. Underlying most of the new changes is a desire to curb password sharing. Now that 2023 is alive and kicking, the platform is readying its grand strategy to eliminate the phenomenon once and for all. Before the company can reveal their plans, a new report has leaked what's coming for subscribers.
According to The Streamable, Netflix has changed its Netflix Help Center to reflect the new strategy. Based on the changes, the platform will require all profiles using a single account to be from the same primary location. If the platform detects that someone is using the account in another location, Netflix can reportedly block that user automatically.
To remain in the fold of an account, devices must sign into their home Wi-Fi every 31 days to check in. Any device who can't do so might get blocked. Incorrect blockings can only be resolved with a call to Netflix's support.
Now, the biggest controversy revolves around those who travel regularly. Users can reportedly request for a temporary code from Netflix to use the service in another location for seven consecutive days.
Though the changes were spotted on Netflix's official pages, none of them have been officially announced yet. The page has been reverted to a vaguer version which only asks users in other households to have their own account. In a separate statement issued to The Verge, the company has stated that plans for subscribers (in the United States, at least) are still unconfirmed.
Still, the changed website is viewable via archiving sites like Way Back Machine. A change in the official support page might have come from a premature announcement, rejected plans, or an error.
SEE ALSO: Netflix confirms One Piece adaptation coming this year