Bank on a mobile app with ING Philippines
Do everything on your phone!
Banking is one of those chores that few people really want to think about. ING Philippines aims to reduce the hassle you experience by making sure you can do most of what you need all on your smartphone.
You're probably thinking, "Another bank? It's gonna take a while to set it up, and it will just get more money from me."
This isn't the case. ING promises a swift and frictionless experience to get you started.
Minimal requirements
To set up an account, you'll only need the following: a smartphone, a valid government I.D. and/or any proof of billing, and — this is the kicker — zero maintaining balance.
You'll also do the entire set up process all on the mobile app, which you can download on the App Store and Google Play. It was designed to be as easy to use as the apps we use daily like Facebook, Instagram, etc.
Set up your account in no time
Once you have all these setting up is pretty straight forward. You just need to follow the steps which include adding a five-digit passcode, putting in your information and taking a photo of your I.D. and signature.
As an additional security measure, you will also be asked to do some gestures using the front-facing camera. It's almost like what you would do when setting up face-security features.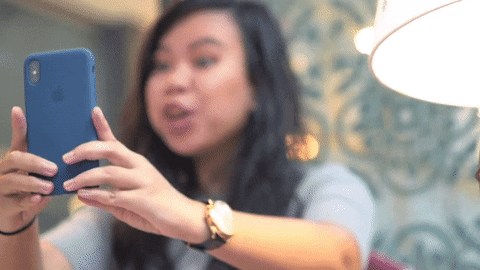 The gestures can be anything from nodding to opening your mouth. It sounds silly but it contributes to security. If you ever forget your passcode, you can use face verification once again to regain access. This also means simply putting a picture in front of the camera won't work.
ING then validates your information and in just a few minutes, you'll have an ING bank account.
Full disclosure, this writer did hit a snag while setting up his account. You just need to start the process from the top which is infinitely easier than having to line up at a bank, file a bunch of forms, only to wait for a few days before confirming that your account has been set up.
Easy transactions
Once you have your account you may proceed to put money in it. Depositing a check only requires that you take a photo of its front and back. There's zero human intervention and no waiting-in-line involved which is great if you're a lazy introvert like yours truly.
Another key feature is bank transfer that has absolutely no fees. This is possible through PesoNet and InstaPay. If you do have more questions, you also have access to their 24/7 chat support team within the app. Pretty convenient.
What else do you get out of it?
ING Philippines isn't asking you to put all your eggs in their basket. As it is now, the functions are still limited so they are positioning themselves as a secondary bank.
What ING encourages you to do is to manage your savings with them. With a 2.5% interest rate per year, even one of the financial advisers they invited at the event says it's a smart decision to keep your savings with ING.
More to come
The Philippines is the first country to have this all-digital banking service from ING. With a high smartphone penetration, the company hopes this will encourage more Filipinos to save money with them.
It doesn't end here though. Other functions like bills payment are in the pipeline. So if you're a digital native trying to look for a place where you can stash your hard-earned cash, ING appears to be a good place to start.
---
This feature was produced in collaboration between GadgetMatch and ING Philippines.
FaceApp goes viral again, raises security concerns
Taking social media by storm
FaceApp is taking social media by storm once again. The popular editing app which went viral two years ago has resurfaced after celebrities, YouTubers, and even NBA stars posted elderly versions of themselves.
Quick to jump in the bandwagon, people followed and started posting their aged version on Twitter and Instagram. Fancy seeing a glimpse of yourself in the future, as well? Here's how you can do it.
Easy, step-by-step guide on FaceApp
Download FaceApp via Google Play Store or the App Store. Open the app and select the photo you want to edit. Pro tip: Avoid using selfies with caps, sunglasses, and other accessories on.
After choosing a photo, you can then pick from an array of filters: Beauty, gender-swap, or the old age filter that everyone is obsessing over, and many more!
Using the old age filter, you can see how you'd look like when you're over 60 years old. If you want to see how you and your partner look when you're old and wrinkly, just apply the filter first on your face since you can only apply it one at a time. Then, save it, and upload the saved image to apply the filter once again.
You can do this with group photos, too, except you'll need more patience. It's an excruciating process but isn't it worthwhile?
Is our security compromised?
FaceApp's sudden virality has raised major privacy concerns, just like when Zepeto went viral last year. This is almost always the case when the app in question appears to be collecting data from its unknowing users.
A report on Fast Company indicates that the Russian company behind FaceApp saves the photos uploaded by transmitting it to their servers back in Russia. While it's all fun and magic on your end, the report supposes your security may be compromised.
Moreover, the US government poses the app as a threat to national security, prompting the FBI to investigate the Russian startup. Will this be a similar saga between the US and China trade war? Let's hope it won't escalate into a bigger issue.
BIG: Share if you used #FaceApp:

The @FBI & @FTC must look into the national security & privacy risks now

Because millions of Americans have used it

It's owned by a Russia-based company

And users are required to provide full, irrevocable access to their personal photos & data pic.twitter.com/cejLLwBQcr

— Chuck Schumer (@SenSchumer) July 18, 2019
FaceApp has responded to these allegations claiming that images are deleted from their servers within 48 hours from the upload date.
At the end of the day, FaceApp is pretty much similar to Facebook and Google, who have taken more information from us than we realize. If you're still afraid, the best course here is to stay away from photo editing apps and resist the urge to try senseless features for the sake of fun and likes on social media.
5 accredited Airbnbs you can book in Boracay
Life is always better at the beach
Boracay is one of the Philippines' most beautiful islands. Every tourist dreams of seeing its majestic sunsets and enjoy its heavenly white sands.
After Boracay's rehabilitation in 2018, the Department of Tourism of the Philippines has limited the number of tourists arriving in the island, hence, every traveler must present proof of booking from an accredited accommodation.
Most Airbnbs in Boracay aren't accredited yet. Thus, we prepared a list so you don't have to. You're welcome.
Bianca's Garden Apartment
This slideshow requires JavaScript.
If you're looking for a safe haven away from the crowd, then you should stay at Bianca's Garden Apartment! Located at the quiet side of Station 3, the apartment is situated on a peaceful hilltop side of Boracay. Despite being situated at a distance from the popular tourist attractions, it's still just a few minutes away from the center.
Tropicana Ocean Villa
This slideshow requires JavaScript.
Families can enjoy this entire villa by Tropicana Oceana. It's a home perched gracefully on a slope, offering a beautiful and panoramic view. In addition, it's situated in Din-i-wid beach, ensuring a serene and relaxed atmosphere away from the typical Boracay buzz.
Apartment 3, Sheridan Villas
This slideshow requires JavaScript.
For those looking for a homey place, Apartment 3 in Sheridan Villas is the place to go. It's suitable for groups, and it's also just a few minutes away from the white beach area in Station 3. Furthermore, you can bring your friends and families to nearby restaurants and eat to your heart's content.
Bamboo Bungalows Rest House
This slideshow requires JavaScript.
Bamboo Bungalows screams tropical and nature, adorned with a little bit of sleek and contemporary. Located at Station 2, this place might be ideal for couples wanting an oasis surrounded by lush greenery, but it's also great for solo travelers seeking tranquility. Nonetheless, Bamboo Bungalows are best for those who want to take a retreat whilst still near all the adventures Boracay has to offer.
Marrakesh Resort: Ocean View with Balcony
This slideshow requires JavaScript.
Located at the picturesque Station 1, Marrakesh Resort offers a stunning view of the beach and breathtaking sunsets. It also lets you experience Morocco through its themed rooms, restaurants, and bar serving Mezze and delicious cocktails. Enjoy a romantic getaway in one of the most beautiful islands in the world.
Friends is leaving Netflix for HBO Max
This is a huge blow to Netflix
Friends is officially leaving Netflix. Earlier this year, there were rumors that Netflix will lose Friends. It was officially confirmed when WarnerMedia — who owns Friends' distribution rights — launched HBO Max as the new home for the well-loved TV series.
Along with Friends, titles such as Pretty Little Liars, Batwoman, and The Fresh Prince of Bel Air will be streamed when HBO Max launches in spring of 2020. The streaming service is positioning itself to compete with the likes of Netflix and Hulu.
The show won't depart the streaming giant until later this year so you and your friends can still binge-watch until then. On the other hand, Netflix might take a huge blow from this since Friends is one of the most watched shows, according to research by Jumpshot.
More and more companies are capitalizing on video-streaming apps and services with paid video offerings. On a larger scale, this isn't just a problem for Netflix but for the whole industry as well. Users might find it expensive to maintain multiple subscriptions and might resort to piracy instead. Sure as hell, we won't pay three different subscriptions just to watch my favorite shows.