Katy Perry performs latest single in a bathroom selfie video
Redefining bathroom singing one video at a time
Known for her elaborate theatrics and gimmicks, Katy recorded a new music video of her latest single, Never Really Over, using her iPhone in a bathroom. Though singing in the bathroom might sound like something every non-singer does, you can tell that there's nothing amateur about Katy's IGTV video.
Her band took their respective positions in the bathroom: keyboards in the tub, guitar on the toilet, bass and backup singer are standing up, while Katy holds the camera in front of the mirror. They also wore matching purple costumes, with Katy wearing a pink ensemble wrapped with a periwinkle bow.
And the performance? It's so well-rehearsed that it's flawless, but it being recorded with just an iPhone in a bathroom selfie fashion by Katy herself makes it feel raw and something they just decided to do on a whim.
Here, watch it for yourself:

Why don't we see more musicians perform bathroom selfie videos?
YouTube Original Series to feature TWICE
First K-Pop girl group to be featured
K-Pop continues to be more popular than ever and it's now making its way to YouTube Originals. TWICE, who constantly tops Korean charts, will be featured in a YouTube Original Series. They are the first K-Pop girl group to star in the award-winning series.
The series will feature the North American leg of their 2019 World Tour called TWICELIGHTS. This might prove to be an emotionally charged content from the group as one of the members — Mina — took a leave in the middle of the tour due to anxiety.
According to Billboard, the series is "unlike anything released by TWICE before. The series will showcase exclusives, in-depth interviews, as well as an "intimate and personal portrayal of all of TWICE's members." It will also dabble into the group's four-year journey so far. The series will launch in the first half of 2020.
TWICE debuted in 2015 with nine members namely Nayeon, Jeongyeon, Momo, Sana, Jihyo, Mina, Dahyun, Chaeyoung, and Tzuyu. The group first hit their stride following their first comeback Cheer Up. The group has consistently released hit songs since and have been tapped as endorsers by multiple brands including tech-related ones like LG.
YouTube Originals and YouTube Premium
YouTube Originals had previously worked with K-Pop boy groups, most notably the one with BTS called BTS: Burn The Stage. It features various shows produced by YouTube itself. The show series was launched alongside YouTube Premium — a subscription based entertainment platform akin to Netflix, Hulu, et al.
YouTube Originals are currently only available to YouTube Premium subscribers but the content will soon be accessible for free but with ads starting September 24.
Spider-Man could be out of the MCU, #SaveSpiderMan trends
Fans are blaming Sony
Spider-Man's future in the Marvel Cinematic Universe (MCU) is looking bleak.
A report by Deadline says that Sony and Marvel failed to come to terms on a deal. Marvel reportedly offered an even 50/50 split on co-financing future films involving the wall-crawler. The deal could extend to the larger Spider-Man universe that Sony also intended on building and that, perhaps, was when the company started to become protective.
The report says Sony just "did not want to share its largest franchise." For its part, Sony has rebounded nicely from the mess that was the two Amazing Spider-Man movies. In 2018 they released the Marvel's Spider-Man PS4 game as well as the animated flick Spider-Man: Into the Spider-Verse. Both were massive hits critically and commercially.
It's a puzzling move on Sony's part considering how much life the MCU has breathe into the character. Tom Holland, the actor who plays Spider-Man in the MCU is still under contract to do two more films. Director of Spider-Man: Far From Home Jon Watts, likewise, is still under contract but if this stalemate between Sony and Marvel persists, we might be looking at a vastly different live-action Spidey.
If you've seen the latest Spidey film, you also know that it ended on a massive cliffhanger so this new turn of events is major bummer for fans.
#SaveSpiderMan trends on Twitter
Following the news, fans of Spidey in the MCU couldn't help but voice out their disappointment and displeasure with Sony. #SaveSpiderMan quickly trended on Twitter with fans pointing out how Sony is ruining the character.
WE LOST HIM MARVEL 😢#SpiderMan #SaveSpiderMan pic.twitter.com/nYkeb5tDVI

— Kimbula Banis (@PO5IT1VE) August 20, 2019
The entire Internet's reaction to Sony pulling Spider-Man from the MCU

(i spent too much time on this for you not to retweet) pic.twitter.com/rHLQ8SXRwr

— paul orgies (@PaulOrgies) August 21, 2019
TOM HOLLAND DESERVES BETTER

SAVE SPIDEY pic.twitter.com/0cqc2bhXoO

— SAVE SPIDEY (@KarolxSpidey) August 20, 2019
#SaveSpiderman or else Stan Lee is gonna whoop your ass Sony pic.twitter.com/qAQzWyzm6T

— Ali (@captmarvel_af) August 20, 2019
C'mon Disney do your thing! Buy Sony and #SaveSpiderMan pic.twitter.com/ApDGKbAMxI

— Omar Tafur (@omar75tafur) August 20, 2019
Clearly, Spidey fans aren't pleased. Here's to hoping Sony will listen to this outcry because right now, this is literally everyone…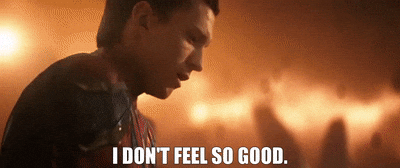 John Denver Trending, It Chapter Two, The Bold Type: Now Playing
Get ready to be shookt
August is ramping up the start of announcements in the realm of technology. Samsung unveiled the Note 10 while Xiaomi and Realme started teasing their monster smartphone cameras. While we may be busy catching up with everything in tech, we still don't forget to watch and relax. Here's what's Now Playing on GadgetMatch:
Movies to see
Spider-Man
Rodneil: Yes, the first one starring Tobey Maguire. This one recently showed up on Netflix and I couldn't resist the urge because I'm a Spidey stan after all. It's a nice throwback and that upside down kiss is still iconic.
The Red Sea Diving Resort
Shivam: Based on true events, the movie highlights Mossad's attempt to rescue refugees out of Sudan. Who expected an intelligence agency to run a resort in the middle of nowhere? Nobody. And, that's what makes this action packed movie different.
Shoplifters
Leez: Shoplifters, a Japanese film directed by Hirokazu Kore-eda, was awarded the Palme d'Or for main feature at the closing event of the Cannes film festival last year. There was no question as to whether or not I was going to watch it. It was a question of when. I don't understand why it took me this long to finally getting to watch it but, I finally got to it last weekend. It's a stunning film that dabbles into the complexity of what it means to be a family with people who tiptoe their way around dysfunction. It's a thought-provoking film that takes no time in diving deep into the conflicting morals, yet palpable familial connection within a financially deprived family. I'd definitely rewatch it this weekend.
John Denver Trending
Vincenz: Most people post everything on Facebook — even when someone gets brutally attacked inside the school premises. John Denver instantly became a hot topic in Antique. Too bad, the society only believes in one side of the story. The film made an impact on me that it felt heavy during and after watching the film. Best Film of Cinemalaya 2019, indeed.
Shows to binge-watch
SB Nation's The Rewinder
Rodneil: I don't have a lot of time to watch anything these days so I'm mostly shuffling through YouTube videos. SB Nation's The Rewinder is the perfect seven or 10-minute video that takes a look at historical NBA moments and discusses everything that lead up to it.
Patriot Act with Hasan Minhaj: The Dark Side of the Video Game Industry
Rodneil: The video game industry is enjoying a surge in attention — both positive and negative. And while video games are generally associated with fun, the people behind it are suffering in ways most of us probably don't know about. This is an important watch for every gamer.
The Bold Type
MJ: As a young millennial in his early 20s, one can't help but think about his life's directions. The Bold Type perfectly captures this scenario where the show features three young women working in a fictional magazine, who navigates the modern life and struggles in love, career, and their identity. Additionally, the show highlights the pressing social and cultural issues which gives that perfect, woke millennial vibe.
Dark
Shivam: If you like Stranger Things, but are looking for some more serious thrill, this show's for you. It starts out with a simple concept of time travel, but slowly escalates into an in-depth walk-through of inter-dimensional threads. All the characters play a key-role in setting up the story and you're sure to be glued day and night.
Albums/Songs/Podcasts to listen to
Wasabi by Little Mix
MJ: Everytime I hear this song, I can't help but feel as if I'm part of a film's montage, walking like a runway model. "Wasabi" exudes an empowering and confidence-boosting vibe, supported by its lyrics which talks about you not giving a f*ck on people hating on you and raining on your parade. It's one of the best song to listen when you feel like you're slaying it.
Love Is Over by Rocket Punch
Vincenz: Don't get me wrong, their debut title track "BIM BAM BUM" sounds great. However, this B-side track caught my ears which is all about being independent and not relying on love after a heartbreak — which makes sense for its appealing beat, strong vocals, and dark visuals.
Games to play
Underlords
Leez: I'm not too much into mobas from the get go. I grew up playing video games either alone or against my siblings and so, I naturally gravitated to RPGs, platformers, and strategy games. When Underlords was released, most people nagged me to give it a go, especially knowing the type of games I got hooked on and the ones I fell out off quickly. Well, I'm devastated to report that I've been stuck playing it at three in the morning almost every single day. If you haven't heard of the game before, it's essentially a Valve developed version of Autochess with beloved heroes from Dota 2. It's a game of strategy and gritting your teeth through the torturous loses. It's fun, painful, and it's what you need to realize you need your life straightened out soon.
Films to catch
Ready or Not
Ready or Not is a film about a young bride who participated in a tradition by her new husband's family. In a sudden turn of events, the newly-wed woman ended up being hunted by her in-laws as part of a diabolical ritual. It's scheduled to be released on August 21, 2019.
It Chapter Two
It Chapter Two is the sequel to the 2017 film It. The film follows twenty-seven years after the Losers Club defeated Pennywise, it returns to terrorize the town once again. It's scheduled to be released on September 6, 2019.

Weathering With You

Makoto Shinkai's follow-up to the massive 2016 hit Your Name (Kimi No Nawa) promises to deliver the same level of emotion and artistry. The animated film was first released Japan and is already a larger box-office hit than Your Name building up more excitement for viewers around the world.
Matchketeer's Recommendation
The Secret Life of Walter Mitty
Kyle Benson Azuelo, Matchketeer: The Secret Life of Walter Mitty will encourage you to do something with your life and chase your dreams. The film is a beautiful reminder to not let life get in our way. We may have responsibilities and different priorities, but the lesson here is to keep going after what you've always wanted. It's impossible to not feel empowered, happy, and inspired upon watching this film.
---
Now Playing is the GadgetMatch team's favorite games, movies, TV shows, and more each month. If you're curious to know what we're into at the moment, this is what you should check out. So grab your popcorn, get some drinks, and enjoy what's now playing!