24 Hours in Phnom Penh with the Vivo V7
A hope-filled city with a horrifying history
Phnom Penh is such an underrated city. If you ask any tourist which Southeast Asian destination he or she would love to visit, the Cambodian capital will probably not even be on the list.
The more popular Siem Reap with its glorious Angkor Wat complex is usually what comes to mind first when talking about Cambodia.
But there's something so special about Phnom Penh. Perhaps the fact that there are fewer tourists here, despite the history and similarities it shares with its French Indochina neighbors is what makes me root for it more.
Feel Good breakfast
Mornings are made for great breakfast food and coffee. Cold brew is still not as common in Southeast Asia as I'd like, but most cafes in Phnom Penh like Feel Good Coffee make their cup of joe the way they also do in Vietnam: with a metal drip and a splash of sweetened condensed milk.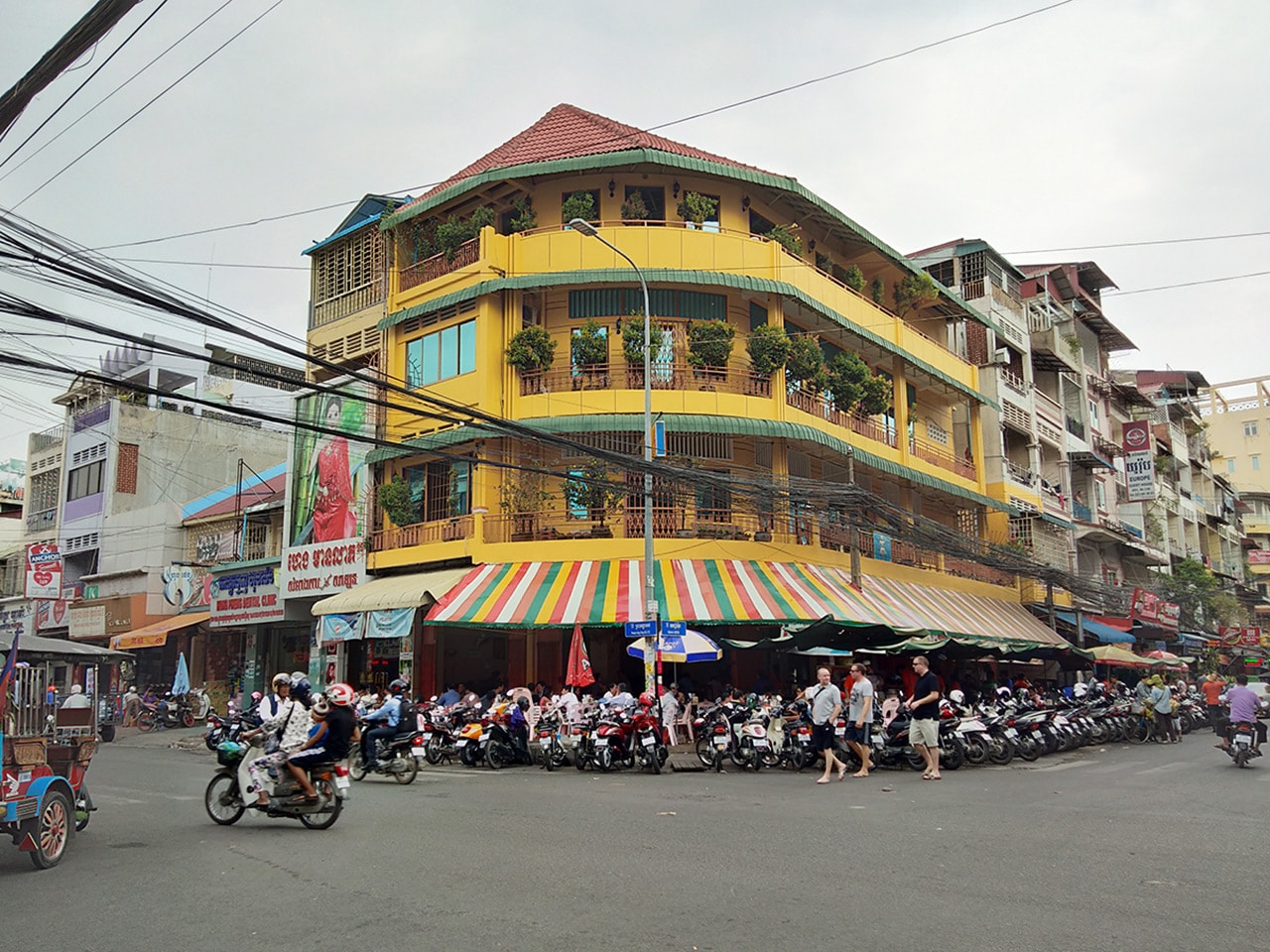 Walking around the neighborhood gives you a quick feel of what modern-day Phnom Penh is like. It's reminiscent of the bustling cities Hanoi and Ho Chi Minh and even Bangkok — lining every street are parked scooters and vendors selling iced beverages including my favorite Thai iced tea!
Choeung Ek killing fields
40 minutes from the city proper is the Choeung Ek memorial, a must if you're visiting Phnom Penh. Tip: Hire a rickshaw or tuktuk to take you there and then back, although the newer rickshaws are cheaper, a lot more comfortable, and feel safer than the latter.
There are no words to describe how disturbing Cambodia's history is — a very recent one at that. No more than 40 years ago, a quarter of the Khmer population — mostly people from Phnom Penh — were murdered by its own government for the promise of a utopian future.
Today, Cambodia tells the gruesome stories of the Khmer Rouge victims and survivors — some of them younger than my own parents — through memorials like the Choeung Ek Genocidal Center.
They are built to remind the new generation to not make the same mistakes and to embrace the freedom that they enjoy today.
Uy Kuyteav
Phnom Penh is home to a lot of good restaurants that serve local cuisine at a reasonable price.
While Khmer food staples lok lak and fish amok are easy to find, the noodle dish uy kuy teav isn't exactly as popular. It's not rare to see Vietnamese and Thai food in the menu as well.
Wat Phnom
If you must visit one temple in the city, it's got to be the tallest one. Inside the Wat Phnom complex is also a huge park where you can relax and reflect.
Shopping at Central Market
Cambodia isn't exactly known for the unique shopping finds unlike Thailand's Chatuchak Market, but a lot of your favorite clothing brands have products made in Phnom Penh. So you'll find good deals on quality overruns from Levi's, H&M, and Nike in the different markets around the city.
Central Market, also referred to as Psar Thmei, is the biggest one, with stalls selling not just clothes, but also jewelry, kitchen tools, and of course, food!
The market is one of the few landmarks that will remind you of Cambodia's colonial history. It was one of, if not the biggest market in Asia when it was built in 1937 during the French colonial period.
Tuol Sleng Genocide Museum
If you still have time, visit the Tuol Sleng Genocide Museum before sunset for more insight on the Khmer Rouge brutality.
The Tuol Svay Prey High School was converted into the largest detention center from 1975 to 1979 when Pol Pot's army took over Phnom Penh and the rest of Cambodia; former classrooms became interrogation rooms, torture chambers, and prison cells.
Phnom Penh Riverside
Phnom Penh sits at the intersection of Tonle Sap and Mekong Rivers. You can enjoy the view from the Riverside Park with a refreshing cup of iced Ceylon tea.
Across the park are restaurants and bars. Some of them have rooftops for a better view of the river.
Romantic dinner at Romdeng
End the day at Romdeng, a restaurant run by an NGO that trains locals in hospitality management and supports the marginalized.
Their version of Cambodia's national dish fish amok is especially tasty!
Cambodia is on a long road to recovery from the horrors of its past, but its capital and people do not forget; they remember. And despite everything they have been through, they remain steadfast — filled with so much hope and kindness — and we could all learn a thing or two from them.
---
24 Hours is a series on GadgetMatch.com where we showcase our travels through a smartphone camera's perspective. It's also a documented guide on things to see and do in a city in case you happen to plan a trip there.
24 Hours in Koh Rong with the Samsung Galaxy A8+ (2018)
How can something Koh Rong feel so right?
Koh Rong has been pretty much untouched and unknown to most tourists until very recently.
Getting to this beautiful island in Cambodia is no easy feat. There are very few flights that go to Sihanoukville, the jump-off point for the speed boats that will take you to the island itself.
The cheapest and fastest option that I found is to fly to Phnom Penh from Bangkok, and take the bus to Sihanoukville from there that lasts four to six hours depending on traffic. The return ticket for a speed boat to Koh Rong costs around US$ 25, depending on which beach you choose to stay at.
Koh Rong is a pretty big island so there's something meant for all kinds of travelers — families, couples, friends, and backpackers. Our beach of choice is the quiet one, Coconut Beach, but whichever part of the island you choose, the beach looks pretty much the same.
You'll get the same clear blue water…
And fine white sand…
That's perfect for walking barefoot!
Did I say the water is so clear? This is the stuff made for Instagram!
Whether you're there for three days, one week, or even longer, there's plenty to do at the island including snorkeling and kayaking.
You can also rent a scooter to go to other beaches although only the locals and very few tourists choose this option to get around. There are very few developments on the island for now — no paved roads, airports, or big buildings yet.
Pretty impressive stabilization on the Samsung #GalaxyA8Plus (2018). Shot while on a scooter driving through the rocky dirt roads of Koh Rong 🛵 pic.twitter.com/MQ2l0ZZeXK

— Chay Lazaro (@chaylazaro) January 30, 2018
Accommodations consist mostly of nipa bungalows and tents owned by foreigners who moved to Cambodia.
Closest to Coconut Beach is Long Set Beach. It's bigger and has fewer tourists when we visited but accommodations and food are also a little bit more expensive.
Pura Vita is one of the resorts at Long Set Beach that also has a restaurant at the beachfront.
My favorite thing, whether I'm on vacation or just in the office working, is food. I have been to Cambodia before so I'm a little more familiar with Khmer cuisine now. Beef lok lak with rice and a glorious runny fried egg is my favorite.
Here it's served with fries and the traditional Kampot pepper dip. Another thing to try is Cambodia's national dish, fish amok.
As any beach destination, fresh fruits are a great afternoon snack to get a little refreshed and a dose of energy.
Khmer dishes are also highly influenced by Lao, Vietnamese, and Thai cuisines, so don't be surprised if you find beef lab and spring rolls on the menu.
There are already plans of developing beaches of Koh Rong into luxury resorts, so traveling there will be much easier as the demand goes higher.
So if you're the type who likes a little adventure and just chilling at the beach without the luxuries of modern life, put Koh Rong on your list of places to visit in 2018 before the big corporations take over the island.
24 hours in San Diego with the Huawei Mate 10
Zoos, beaches, and everything in between
Huawei's latest flagships challenge what smartphone cameras can do. Equipped with Leica lenses and AI capabilities, the Huawei Mate 10 steps up the smartphone photography game.
I decided to put its cameras to the test, a very tourist-y test!
I took the Mate 10 on my recent trip to the US (which was quite fitting as Huawei just recently launched their flagships in the region) and brought it around a quick visit to San Diego with Joshua Vergara.
Getting there
Located in Southern California, sunny San Diego is approximately 195 kilometers south of Los Angeles. This means it's an easy two-hour drive. (All that time I spent playing with the phones' selfie mode.)
The city, which sits on the Pacific coast and adjacent to the Mexican border, is known for its great climate, beaches, and parks.
Wilding out
Upon arriving, the first stop was the world famous San Diego Zoo, home to the Panda cams. Unfortunately, I missed the chance to take panda photos as I was too busy squealing in delight at the sight of those black and white fur-balls. I did, however, manage to take a quick snap of Joshua in the wild, with his new friend.
Pro tip: the cable cars will take you to the other side of the zoo and give you a pretty awesome view of the whole place from up top.
A day pass will cost you around US$ 54 and a two-day pass is US$ 87. We spent the afternoon strolling around the massive zoo compound.
It was almost evening when we decided to leave. Admittedly, an afternoon is not near enough time to see everything that the zoo has to offer. A whole day or two would be ideal but we were pressed for time and I got to see the pandas which is what mattered most to me. 🐼
Little Italy
The next day, we started our day with coffee at Little Italy — mainly because Joshua and I are big coffee drinkers. Also because there were so many great Instagrammable spots and Joshua was trying to be a good IG boyfriend.
Like I said, San Diego has great weather conducive to photo walks. This particular area is home to many pretty coffee shops and boutique establishments. Rows of picturesque stores and quaint cafes line the streets.
A latte and a choco espresso cookie shot later, we were off to explore more.
In San Diego, you need not go far to find the beach or a park. A quick scenic stroll eventually landed us in this pretty spot that was perfect for basking in the sun.
University of San Diego
The next stop was Joshua's alma mater. The University of San Diego is one beautiful campus — all 180 acres of it.
It's located in Alcalá Park which overlooks San Diego. This makes for some pretty great views!
It was a walk in the park — they weren't kidding when they said it was a nice-looking school. I also had a private walking tour from my favorite USD alumnus (pictured below 😂).
You'd think that at this point, I would've had my share of walking, as I had definitely completed the number of steps I needed in a day, but there was one last stop before this trip concluded!
Pacific Beach
Of course, you can't leave San Diego without visiting the beach.
This is Pacific beach, a popular tourist destination. The water looked so inviting but my tropical-island-beach-girl self couldn't even fathom being in a bikini in that weather, though that certainly didn't stop others!
Stores, restaurants, and hotels line the boardwalk. If you choose not to swim, you definitely won't run out of things to do here.
San Diego is a big brewery city which means beer is almost always a good idea. We waited for the sun to set by the beach and grabbed a cold one before heading back.
I can tell you this much: It won't be my last time visiting. See you soon, San Diego!
---
24 Hours is a series on GadgetMatch.com where we showcase our travels through a smartphone camera's perspective. It's also a documented guide on things to see and do in a city in case you happen to plan a trip there.
24 Hours in Baguio with the Sony A9
Our very own Kevin Bruce got married over the weekend in the Summer Capital of the Philippines, Baguio City. The GadgetMatch team took this opportunity to support our favorite multimedia producer and have some fun along the way.