Sony Xperia XZ Premium Hands-On
Sony is once again pushing the boundaries of smartphone displays. After announcing the world's first smartphone with a 4K display (Xperia Z5 Premium), the company kicked it up a notch by introducing the world's first 4K HDR smartphone, the Xperia XZ Premium.
What about 4K content you ask? Sony partnered with Amazon Video to ensure that users have access to some 4K content. Wouldn't want all that crispy display to go to waste!
The phone also features new camera technology called the Motion Eye Camera. It lets you capture slow-motion video that's four times slower than the usual slow-mo on other phones.
See it for yourself in our hands-on video.
PRODUCER: Michael Josh Villanueva
VIDEOGRAPHER: Sascha Mehlhase
EDITOR: Chay Lazaro
[irp posts="11044″ name="Sony Xperia XZ Premium is the first 4K HDR smartphone"]
Trip to the Big O: Getting off with the OPPO Enco X
Senses, overwhelmed
The following is intended for readers 18+
Touch and hearing — two things that I consider the most important when it comes to our sensual wellness. During my journey to taking better care of myself, I took some time exploring how to turn myself on. I learned how to master the art of self-pleasure for six years — and I got really creative about it.
With the pandemic raging on for more than a year now, I have served gospel towards self-care and pleasure to friends and colleagues alike. I helped keep their sex lives alive and combat their urges to go out and respond to their cravings for human flesh.
Vibrators, massagers, fleshlights, VR headsets — those were common toys I recommend to people starting to explore and own their sexuality. But a year of drought made things more boring and it's time to spice it up.
In the quest to elevating the art of self-pleasure and self-care, the OPPO Enco X surprisingly turned the tables around.
A time to kick the beam
I was scrolling on Twitter and I stumbled upon one of my favorite creators, Le James, who was formerly half of the popular couple-slash-adult-creators called Okko.
Aroused at the sight of a French man with a glimmering tan and toned body, I went to his OnlyFans account — where I was subscribed — to get my La Petite Mort. Little death in French, IYKWIM.
My companion has always been Samsung's Galaxy Buds Live. However, I forgot to charge it when the opportunity to hop on a trip to the Big O arose. What lies next to it on my desk was the unsightly OPPO Enco X.
Frankly, I was averse to the idea of trying AirPods knock-offs because it lacks originality. And as a Leo with Libra placements, aesthetics matter to me.
But the occasion called for it. So I reached and took out the pair of TWS earphones and plugged it into my ears. That's when I knew I liked it. The way it sat comfortably in my ears, plugged in securely — I knew right then, it was going to be my companion as I kick the beam.
Senses overwhelmed
I didn't realize how much sound matters in the art of self-pleasure until I used the Enco X. Since it was developed in partnership with Danish speaker manufacturer Dynaudio, the Enco X comes with Hi-Fi audio that's well-around with some natural depth — it's perfect for conquering your arousals.
In addition to that, having a decent active-noise cancellation (ANC) is a game-changer during your sensual sessions. Noise is blocked, senses are overwhelmed, and grumbles and rattles are delivered deep, textured, and immersive AF.
Whatever your preferred sensual interests are, the Enco X will definitely help turn you and your senses on.
Also, its ANC comes with different options: max noise cancellation where you totally hear nothing aside from what you're listening to, and noise cancellation that softens noise in certain environments (like cars driving past you).
There's also a transparency mode so you can hear if someone is knocking on your door (or about to enter your room), or you can simply turn off ANC altogether.
Quick as a lightning bolt
One grungy afternoon, I was setting the mood to blow off some steam with my ex-paramour for the night — whom I reconnected with when I was sad, feeling isolated, and a bit of a wanton. I was alternating between my stash of erotic stories and lascivious audio clips that help me get ready to take off.
I was in the zone, seemingly unable to keep my hands to myself (thanks, ANC) until I heard a barrage of knocking on my door that I immediately pulled the earbuds out and put on my clothes.
After dealing with the interruption while I was huffing and puffing, I put the earbuds back on. To my amazement, the device connected instantaneously, even if one of the pairs is still inside the case.
The flash-like connection is surely a plus in my book since time is of the essence when it comes to carnal urges. Even a split second of distraction can cancel out the build-up of heat you've worked hard on.
Though it has the ability to connect swiftly, both the earbuds and its charging case come with long-lasting battery life. And believe me, no one likes it when you drain quickly. You have to last as long as you can.
All the Dionysiac adventures you can do
The charging case lasted for more than a day, while the pair of earbuds lasted nearly four hours even with max noise cancellation on.
Of course, I didn't spend the whole time pleasuring myself. I got a bunch of amorous affairs that I went on together with the Enco X.
Some of them are doing workouts that help me improve my form in bed and in outdoor sports I enjoy. Other activities include sessions that made me focus on my breathwork and senses like yoga and meditation.
Sometimes, I play songs from my favorite musicians such as The Weeknd, Alina Baraz, and SZA to get my sultry body moving to its slow, voluptuous beat.
The perfect accompaniment when you want to feel sexy while doing deeds that make you want to churn the butter. For instance, reminding yourself that you are ~hot~ in front of the mirror or dancing alone in your room, naked.
And when things are getting steamy, the Enco X has intelligent controls that you can navigate with a single touch. Just like when you wank or flick the beans.
The new BFF in your bedroom
Above all, the Enco X has been exceptional for all kinds of adult entertainment. Whether it's the sexiest shows on Netflix, or watching your favorite adult creators on OnlyFans perform and play with themselves.
Or even re-watching interviews of your favorite celebrities and listening to them speak *ahem* Chris Evans *ahem* Manny Jacinto *ahem* while you feel the bolt and shiver rush into your garden of delight or gospel pipe.
The OPPO Enco X undoubtedly helped me elevate the art of self-pleasure through bawdy experiences. It has everything you'll need out of a pair of TWS earbuds — customizable active-noise cancellation, crisp and clean sound, instantaneous connection, long battery life, and responsive touch controls.
Not to mention, it has an IP54 rating so you can bring it to your bathtub should you decide to get intimate in your alone time. Just don't get it all wet.
The OPPO Enco X retails for PhP 6,999. It comes in Black and White, and it's available for purchase at OPPO Concept Stores, OPPO's Shopee and Lazada Flagship Stores, and authorized retailers.
There's also the OPPO Band which retails for PhP 1,699. When you're in the OPPO ecosystem, it's best to maintain it and stay connected. The OPPO Band can be adjusted depending on your comfort levels, and lets you receive messages and call notifications, or even navigate your music playback while you're engulfed by your sensual sessions.
vivo X60 Hands-On: vivo X Zeiss team up for mobile photography
Redefining power and photography
Now that we're at an age of portability with a purpose, we definitely want to own a smartphone that can provide everything that we want and need, so we don't have to rely on any other gadgets. That's what the vivo X60 aims to be.
One of the features we usually look for in a smartphone is if its cameras are top notch. With that in mind, vivo made sure that they can contend against the best of the best as they comeback with the vivo X60 series — among these is the vivo X60.
With the X60, vivo co-engineers their cameras with high-end lens manufacturer Zeiss, making us experience Zeiss' cutting edge imaging technology through our phones and making X60's photography function more powerful than ever.
Specs and performance
Providing us so much in the camera department, vivo also ticks all the boxes when it comes to amazing specs:
Qualcomm Snapdragon 870 processor
6.56" AMOLED display
120Hz refresh rate
12GB+3GB RAM
256GB internal storage
Expect lag free browsing of your social media content and your favorite mobile games, even the very demanding Genshin Impact.
With so many things that you want to do with your smartphone, the vivo X60 is packed with a 4300mAh battery. This gives you more than enough power for a day of media streaming, social media browsing and some games on the side.
It even comes with a 33W flash charger that lets you juice up your phone back to a hundred percent in just a little over an hour.
As for the software, the vivo X60 runs Funtouch OS 11.1 based on Android 11 which has to be one of the most efficient skins from vivo yet.  It's a very simplistic skin which feels close to vanilla Android but with visual improvements to enhance that vivo experience.
Stunning display
Despite its 6.56" display, the X60 is still ebay to grip thanks to it being slim at only 7.44mm and light at 176g.
Its AG glass back definitely grabs your attention with its gradient finish. Shifting its colors depending on how the light hits it, the shimmer blue design we have in our hands is absolutely gorgeous.
As we've touched on the 6.56" display of the vivo X60 earlier, do not be deceived as this is not your ordinary display. This is a 120Hz LTM AMOLED display and it boasts an HDR 10+ certification. This means you can expect details on the shadow side and lighter side of images that you won't normally see on an average smartphone.
So surely, it would be your perfect companion for streaming films, documentaries, and TV series. LTM technology lets you enjoy clear visuals even with bright sunlight.
Now let's talk about the star of the show, the camera with Zeiss optics.
Smartphone companies partner with camera or lens manufacturers to enhance their camera systems. And vivo pulled off a great move in partnering with Zeiss, making its superb technology present on all of vivo X60's cameras.
Fantastic camera features
There's the 48MP main camera, 13MP telephoto camera, and a 13MP ultra wide angle camera. And up front, you have the 32MP selfie camera.
With all these, you can take remarkable photos in whichever mode you choose. Your photos will look like it came straight out of a DSLR or a mirrorless camera with your main shooter.
Landscape views look amazing on the X60's ultra wide mode, and your photos still look sharp and detailed with the telephoto lens.
The vivo X60 also has the Zeiss biotar portrait style, giving your portrait photos that iconic bokeh look. The portrait lens also has an equivalent 50mm focal length which is a staple for photographers to take great portraits.
As for its super panorama mode, shots are so seamless that you wouldn't see any stitches.
Video taking
Now when it comes to taking videos, its main camera has optical image stabilization (OIS) making your video shots really smooth and steady. The vivo X60 has ultra stabilization which combines OIS and EIS.
But what happens when the lights are out and you only have your surround light to keep you lit? That's what really puts the vivo X60 on the pedestal — its outstanding low light capability.
With vivo's updated AI noise reduction algorithm, you can take stunning photos even at night. With its HDR super Night Portrait Mode, you can still stay in the spotlight and shine even in darkness.
Even if it's pitch black outside, the vivo 60 can still make it seem like it's daytime, giving us photos with good light and clear details, thanks to its Extreme Night Vision 2.0.
The X60 also lets you shoot in long exposure mode, giving you the chance to capture light streaks without worrying about too many settings.
The vivo X60 surely puts the wonder in wonderful with its outstanding cameras. It even takes things a few notches higher among smartphone contenders with its amazing display and performance, with a competitive base flagship pricing.
Pricing and availability
vivo X60, 12GB+3GB RAM/ 256GB Storage — PhP 34,999. Available in vivo Official Stores, Lazada, and Shopee.
---
This feature is a partnership between GadgetMatch and vivo Philippines.
SCARLET NEXUS First Impressions: Technological dystopia
BANDAI NAMCO's take on an anime-style, cyberpunk RPG
I knew BANDAI NAMCO mostly from their incredible work on classic games like PAC-MAN and TEKKEN. In fact, I grew up playing their games quite a lot, whether with family members or with some friends. To this day, they're still producing a decent amount of games across both current and next-generation consoles and the PC.
This time around, they've ventured into an action RPG mixed with a little bit of "brain punk" as they described it. They called this game, "SCARLET NEXUS," and it's set for release for the PlayStation 4, PlayStation 5, Xbox Series X|S, Xbox One, and the PC. Now, I gave the demo a shot to see just how everything will turn out.
Short, sweet, and action-filled
In total, the entire demo took about 30 minutes to finish, which for a demo isn't that long. At the start, you even get to choose which main protagonist you want to roll with, for a good reason too. Apart from the same tutorial section, you actually get to play a different main stage design. I honestly thought it would be the same all throughout.
Regardless, gameplay immediately picks up after a short tutorial session, and I found myself just having a blast. Honestly, the controls are pretty easy to understand and master after a few combat sequences so the learning curve isn't steep. Plus, part of the combat mechanics includes the SAS, which grants access to additional attacks and abilities.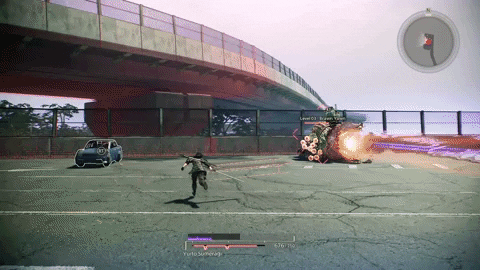 It's a gameplay style I've come accustomed to with other RPGs in the last few years. Even for a short demo, action looks quite fast-paced and reaction-heavy on some occasions. Also, you can add onto that a bit of exploration with the vast level design, so combat feels more loose and exciting to mess around with.
Visuals suited for the time
If you're planning to get the version for the PC or  next-gen consoles, the design for the demo is amazing. I have to give credit to BANDAI NAMCO for integrating some apt lighting fixtures in Kasane's demo level, further emphasizing the technological wasteland in the background. Although, I think that this will also be present in the PS4 and Xbox One versions but not as prominent.
Also, like I mentioned before, the demo levels are quite vast, which also aids in the exploration aspect. I noticed that they scatter some items across the whole level, ranging from healing items to items that aid in combat. In some instances, these items were well-hidden in some of the nooks and crannies of the level.
Of course, it isn't just in the overworld visuals that I'm amazed at, but even in some of the cutscenes in between combat and exploration. The cartoony, comic book-style animations mixed in with some techno-punk were nice touches. I could feel that there was a lot of love given just to this department alone.
Worth all the waiting?
If I could sum up my initial impressions on SCARLET NEXUS, it's an RPG that I truly enjoyed even for 30 minutes. Honestly, the biggest culprit for this goes to the gameplay mechanics that feels so great to execute, and you take a short time learning everything. Packed with some incredible visual design, I think this game has potential to be a favorite for this year.
One of the things I am looking forward to later on is the storylines we'll be working with. The demo doesn't really touch on plot points that you could do mental gymnastics with. Although, it does reveal that you play with different NPCs instead of taking on the enemies all by yourself. Nonetheless, I feel that it's something worth diving into when the full game comes out.
SCARLET NEXUS will be available on June 25.