YouTubers React: How to Spot Fake News
Our collab with YouTube to celebrate Safer Internet Day
Let's face it. Clickbait does exist and everyone should be extra cautious with what they share online.
Here are some tips from our YouTuber friends on how to spot fake news.
This video was made in collaboration with YouTube to celebrate Safer Internet Day. It aims to show users online safety tips as well as educate them on responsible digital citizenship.
Subscribe to our friends:
Joshua Vergara youtube.com/joshuavergara
Arun Maini youtube.com/mrwhosetheboss
Wil Dasovich youtube.com/tsongandtsonggo
Alodia Gosiengfiao youtube.com/alodia9
How to start streaming with the Lenovo Legion Phone Duel 2
Time to show the world your mobile gaming skills
During this entire pandemic, some people spent their newfound time and energy towards more indoor-friendly activities. Instead of playing basketball with a group of friends, you're either playing by yourself indoors or playing NBA 2K21 with your group. Also, some are resorting to e-numans (virtual drinking sessions) or having your version of a rave on TikTok. Whatever floats your boat, right?
For a handful of people, they invested their time, energy, and savings into streaming content. Even if some of you aren't hardcore gamers, it's still a great way to mix passion and profit into one. Of course, you need the proper hardware to start streaming on YouTube, Twitch, or Facebook — apart from faster internet. Maybe there's a way around that.
I present to you the Lenovo Legion Phone Duel 2, the newest gaming smartphone in the market. You're probably wondering how a gaming smartphone will help you start streaming content. Allow me to demonstrate:
Matching power with performance
A key component in any streaming setup is, well, the devices you're using to play the games. For most streamers, a dedicated PC with powerful hardware and decent peripherals is all it takes. However, as I pointed out, the entire bundle is pretty costly if you want the best.
The thing is, gaming smartphones like the Legion Phone Duel 2 are pretty powerful in their own right. Inside the Legion Phone Duel 2, you have a Snapdragon 888 5G CPU with up to 16GB of RAM — a total mobile gamer package. With these hardware, you can play virtually any mobile game to your heart's desire while multitasking with other apps.
Apart from these, the Legion Phone Duel 2 comes with a 6.92-inch AMOLED display for those crispy in-game visuals. What makes it even more powerful is that it also comes with a 144Hz refresh rate — a great feature to have. Because of this, you will experience smooth gameplay and react a bit faster to any challenge.
The streamer-centric features
All the things I just mentioned catered to a bulk of content you will stream to people online. Obviously, you want to keep it as personal and unique to you so a face-cam is in order. Now, you might be wondering: where will you get a webcam to connect to this gaming smartphone for that face-cam? Well, the answer is hiding inside the phone.
See, the Legion Phone Duel 2 comes with a retracting 44MP front camera hiding inside the power button spot. When you open the Camera app, you can simply switch to the front camera and it will instantly pop up. For content creators and streamers, the 44MP front camera supports 4K recording at 60 FPS for buttery-smooth videos.
Also, the Legion Phone Duel 2 comes with an AI-enabled noise cancelling microphone, which is a big deal for most streamers. In essence, you can achieve clear voice audio without having to turn away your fan or close your windows. I mean, you would want to keep a literally cool head when you're playing and streaming, right?
Properly setting everything up
So, how does the Lenovo Legion Phone Duel 2 bring all of these together to achieve a great streaming experience? Allow me to share some ways you can take advantage of these features to maximize your gameplay and streaming capabilities.
Download the streaming service app you want
Before you start broadcasting your gameplay to the world, you will need the streaming service app first. Fortunately, the YouTube, Twitch, and Facebook Gaming apps allow you to stream directly from your phone. Unfortunately, YouTube requires you to meet specific eligibility requirements first before doing that.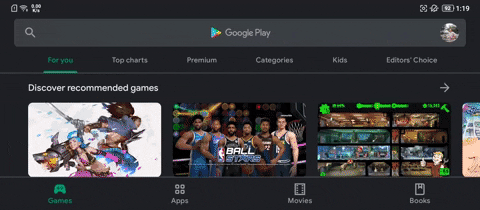 Also, if you decide to stream from those apps natively, it's just you and the game. Essentially, you don't have access to any creative overlays or camera adjustments you envisioned for your first stream. If you want those fancy overlays, I suggest downloading and using Streamlabs instead.
Placing the elements you want and need
If you decide to download and use Streamlabs, it's important to know which elements you want and need for your stream. By default, the app captures your screen when you open it up so you have to add everything else. After opening the app, click the three lines you see on the upper right-hand corner and toggle "Go to advanced settings."
Under these settings, go to the "Editor" section then press "Layers" on the upper right-hand corner. From there, simply press "Add layer" and you can add pretty much all the elements you need. Of course, you have a wide selection of layers to choose from, like your front camera, your overlays, and even your alert boxes.
Fix your streaming settings first
After placing these elements, exit Editor and go to "Streaming Settings" to adjust some more things before you stream. For the most part, you will only need to change the video settings for the stream and the platform settings (whichever platform you want).
For the video settings, I highly suggest researching on the most optimized video bitrate for the resolution you want. See, Streamlabs allows you to stream up to 1080p at 60 FPS, so it's better to match the bitrate towards your desired resolution.
Time to go live
Once everything is in order, it's time for you to go live on your preferred streaming platform! If you opted for the native apps, it's as easy as just clicking the "Go Live" button on those platforms. If you opted to use Streamlabs, it's basically the same idea but with more creativity on your part.
Also, the Legion Phone Duel 2 has a pretty nifty feature that will make the streaming experience less of a hassle for you. See, this gaming smartphone comes with Octa-Triggers, which you normally configure on your games. It allows you to have a controller-like experience that's suitable for most fast-paced games you play.
Now, you can also take advantage of this feature as your own little stream deck, like how Elgato does it. Simply add Streamlabs to your list of games under the Legion Realm app, and map the triggers accordingly. Although, you don't really have to do this, so it's entirely up to you.
The Lenovo Legion Phone Duel 2 is still accepting pre-orders until June 30, 2021, at the following price points:
PhP 39,995

for the 12GB RAM + 256GB storage option

PhP 49,995 for the 16GB RAM + 512GB storage option
How to use the DualSense controller with PC, Mac
Since the PS5 is still scarce…
Sony PlayStation recently released new colorways of the PlayStation 5 (PS5) DualSense controllers — the Cosmic Red and Midnight Black. If you feel tempted to buy one but don't own a PS5, you actually have good reasons to do so — especially if you own a Mac or a PC.
You see, the DualSense controller works like most other bluetooth controllers. You can pair them with a laptop where you do your gaming. =
Pairing
Pairing is super easy. Just follow these steps:
Make sure your Mac or PC's bluetooth connection is turned on
Hold the Create and PS button on the DualSense controller for 5 seconds to enter pairing mode
Look for DualSense Wireless Controller in your Bluetooth Settings
Click Pair
Apple Arcade 
Wait. Gaming? On Mac? Am I high? On occasion, yes. But not right now. Apple has beefed up their gaming library with the introduction of Apple Arcade. For a monthly fee, you get access to hundreds of games. Some of which have controller support.
In fact, you can buy a DualSense Controller directly from Apple. Official support is included in iOS 14.5, iPadOS 14.5, macOS 11.3, and tvOS 14.5.
Apple Arcade has a pretty huge selection of games you can play. Granted, these aren't the AAA titles you gain access to on consoles or even PC, but there are still pretty compelling titles.
In particular, I've cycled through three games: NBA 2K21 Arcade Edition by 2K Sports, FANTASIAN by Square Enix, and World of Demons by Platinum Games.
The NBA 2K21 Arcade Edition is closer to its Android counterpart than the one on consoles. That said, it took me back to a time when the only real device I had was a MacBook where I went through so much hoopla just to play an NBA game. Now, It's much more easily accessible.
JRPG lovers will feel right at home with FANTASIAN. Especially if you started playing on the original PlayStation. It has all the trappings of your typical JRPG but one that you can play on any Apple device you own.
Meanwhile, World of Demons is an Action-RPG made for mobile but feels great to play with a controller.
PC Gaming
I reckon those familiar with PC Gaming probably have other preferences when it comes to gaming controllers. But if you're more of a casual gamer and trace your roots to PlayStation gaming, getting a DualSense to pair with your machine still makes sense.
With Steam's Big Picture mode, using a controller instantly feels natural. The mode lets you access your existing game library or make purchases of new ones from the Steam Store.
You can also opt for a PC/Xbox Game Pass and launch games from there.
What to take note of
While the controller and all of its buttons do work on both PC and Mac, it should go without saying that you won't experience the full benefits of DualSense.
Haptic feedback doesn't at all. Not just with how it's intended on a PS5 + DualSense combo. There's nothing at all. The built-in mic and speaker also does not work.
If you want to switch from PC, to Mac, or even to any other device, you'll have to go through the pairing process again.
So if you're itching to grab any of the three colors of the DualSense but still don't have a PS5, know that you'll still be able to use it with a PC or Mac.
How I Upgraded My Smart Home with SwitchBot
Out of the ordinary smart home solutions
Ever since moving into my new place at the start of this year, I've been on the look out for more ways to make my apartment smart. Watch this video as I walk you through these out of the ordinary solutions from SwitchBot.
These products might not seem like a big deal individually but watch them come together. Let's start with a HUB Mini. You'll need this so the devices can talk to each other and so that you can use voice controls. The SwitchBot Meter is for measuring both room temperature and humidity. The SwitchBot Bot is a handy dandy button presser. The SwitchBot Humidifier  does as its name implies. The Switch Bot Remote is a programmable button. Finally, the SwitchBot Curtain is for automatically opening and closing your curtains.
Try SwitchBot on Prime Day! Get 30% off http://my.gadgetmat.ch/SwitchBotPD (excluding SwitchBot Motion Sensor, SwitchBot Contact Sensor and SwitchBot Indoor Cam) on June 21, 00:00 PT to June 22, 23:59 PT