Are you still bothered by slow internet in your country? Even with the advancements and supposed improvements in infrastructure, we're all living in a 4G world. The current generation of internet connectivity is still present in today's mobile and telecommunication networks. But now, a new generation has emerged, and it has the potential of taking the whole world by storm.
Let's stop and ask first: What really is this new generation? How different is it from the existing generation's internet? And, what needs to be done to welcome the change?
What really is 5G?
5G is the new generation we're speaking of here. Specifically, it's the next level of mobile network connectivity being rolled out at the moment. What 5G offers to everyone is pretty straightforward: faster internet speeds, close to zero latency, and improved accessibility. It's expected that 5G will replace existing 4G technology once fully deployed in the near future.
Currently, 5G is still in its early stages of deployment — much like an early-access game. Companies are given plenty of time to integrate the 5G connectivity interface on their devices, or at least until March 2019. Once the initial deployment is done, 5G will be available in more devices, whether it's your phone or your smart device.
A connection that comes in waves
Remember that one science class you had about the electromagnetic spectrum and visible light? Basically, devices that emit electromagnetic waves fall under a spectrum depending on their frequencies and wavelengths. For most network connections, their waves follow a similar concept, with 4G found on the leftmost and 5G in the middle.
There are two ways that 5G can work in any place at any time, and one of them includes waves. This strand of 5G is called the millimeter wave (mmWave), and is currently present in most research facilities and military devices. With mmWave, 5G connections are ideally faster (peaking at 10Gbps) and provide lag-free services because it adds additional bandwidth for devices to use. Although, it is held back by obstacles such as walls and floors that just bounce the signal off.
The second way is through a sub-6GHz spectrum. Unlike mmWave, the sub-6GHz spectrum is more of a middle-of-the-pack approach to 5G connectivity. Basically, 5G signals will strengthen connections that currently exist in the world like 3G and 4G. This is mostly because 3G (2.4GHz) and 4G (5GHz) fall under the 6GHz limit. This method is the more cost-effective approach, and it doesn't easily experience interference.
How different is it really from 4G?
We always talk about how 5G is faster than 4G in terms of data transfer, which is true. But, there are other things that differentiate 5G from its predecessor. For starters, 5G connections can cover a wider area than 4G. This means that even if you're far from your router or cell tower, you can still access 5G networks at the same speed. Just don't be too far away, as the technology isn't capable of reaching that far yet.
Apart from that, 5G is less prone to interference compared to 4G networks. Even if mmWave is hampered with the presence of obstacles, it still doesn't stop it from performing relatively better than 4G. For example, even if there were several other antennas in your area, you still experience better speeds while on a 5G network compared to 4G. 5G targets devices directly, instead of spreading the waves across the whole area.
Finally, with 5G connections, more devices have access to the network. Currently, 4G networks still have a cap when it comes to the number of devices simultaneously connected. As more devices connect to the same 4G network, internet speeds tend to get slower. With 5G, however, adding more devices won't hamper its overall performance mostly because of additional bandwidth and wider coverage.
What's next for the new generation?
Believe it or not: We're living in the early-access world of 5G. We hear about major telecommunication companies starting to adopt 5G in their mobile networks, and things are about to get bigger. While their data plans are available to the general public, several improvements to network infrastructure are to follow. We're talking better signal towers, and more of them across the world.
In the future, 5G may not be limited to just mobile networks. Car companies are looking at the possibility of applying 5G to smart cars, especially for navigation. Cars on the road will be able to share data like traffic situation, road hazards, and other delays. Even things like virtual and augmented reality can make use of 5G for better simulations.
By March 2019, the early deployment of 5G will be finished. Hopefully by then, we can get more information on what 5G can do for the world. The new generation is here, but we still have to wait and see how far 5G will take us.
Stranger Things 3: What exactly is an ignition cable?
Possessed Billy knew what he was doing
By now, you've probably seen the third and newest season of Stranger Things on Netflix. If you still haven't, it goes without saying that there are spoilers ahead and you should stay away from this article.
Seeing a pop culture reference such as Stranger Things together with the seemingly unrelated world of automotive in one writeup such as this could be strange (pun intended) for some. We really don't mind and thought it would be a fun and unique way to talk about the show and learn a few things from it, as well.
So we ask the question: What exactly is an ignition cable?
The ignition cable is part of a vehicle's ignition system. In simplest terms, it's a mechanism that starts the engine. By generating a high voltage from the car's battery to the spark plugs in its engine, it causes them to ignite the engine's combustion chambers and get it up and running.
And in order to transfer that voltage from the source to the engine, you'll need an ignition cable as it's like a subway system that acts as pathways for the voltage to pass through. So if the ignition cable is not present, there's no way to start the car.
Back to Stranger Things, Billy (although already possessed by the Mind Flayer) obviously still had his knowledge on cars so he took away the ignition cable trapping our favorite gang at Starcourt Mall's parking lot.
Just to further stress the importance of an ignition cable and the whole ignition system for that matter, we'd like to visit other possibilities and ask, "What if Billy didn't take it away?"
Well, the plan was for Eleven and her group to go to Bauman's secret place and stay safe while Joyce, Hopper, and the rest try to close the portal and render the Mind Flayer powerless. If their ignition cable was intact, they'd be a lot safer away from the Mind Flayer although we wouldn't be able to see that amazing fireworks scene inside the mall.
Through this, we see the importance of that one small part under the hood of the car. In real life, it really pays to make sure that everything is in good working condition and that one faulty cable could mean trouble for you if remained unaddressed — unless there's a car on display inside a mall somewhere that you can take spare parts from!
SEE ALSO: Netflix launches AR Trailer with Stranger Things 3
A phone's water protection plan: IP ratings explained
It doesn't give you the right to dunk it in water, though
If you plan to bring your phone to a beach trip with your friends, you normally bring a pouch with you. The main function of that pouch is to protect your phone from contact with any liquid while you enjoy the waves. Of course, it doesn't fully guarantee that water won't seep through it — especially when a big wave crashes on you and opens the pouch. But, it does give a sense of safety and security for your beloved smartphone.
That's the whole concept behind an IP rating that's given to most smartphones today. Nowadays, you hear a lot about these smartphones being advertised with IP68 ratings. But, what does an IP68 rating actually mean? Is it worth something to consider when buying a new smartphone?
What is an IP rating?
IP ratings are not new in the tech world. In fact, a lot of the electrical appliances and technologies you have at home come with it. An IP rating, or ingress protection rating basically tells you the level of protection any electrical device has against solid and liquid objects. It acts as a security measure to determine what objects the device can handle without malfunctioning.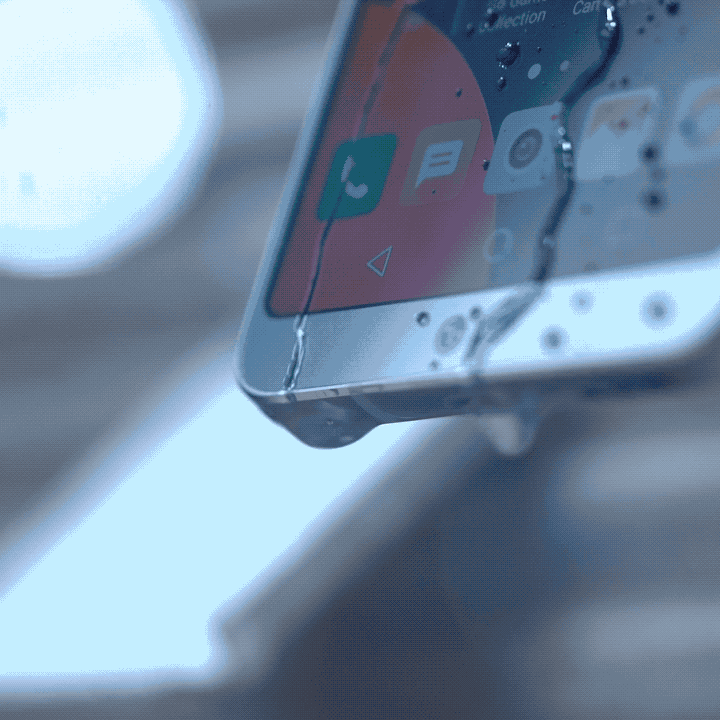 The International Electrotechnical Commission (IEC) gives out these ratings to manufacturers as a safety measure for production. It consists of two numbers that describe its protection against a vast number of objects, even human touch. The first number denotes a device's protection against common solid objects and dust. Meanwhile, the second number denotes a device's protection against liquids, even steam-jet liquids. The higher the number, the more protection it gets!
IP ratings are not just present in most recent smartphones. Things like electrical sockets, cameras, even phone cases come with IP ratings, as well. 
The reason it exists
Manufacturers and consumers see an IP rating quite differently. Those two numbers ultimately stand for how well your device can stand against, well anything. For manufacturers, an IP rating basically gives them a standard to follow when producing more devices. Before shipping their latest smartphones, they subject their devices to numerous tests to validate their IP ratings.
Also, it gives a more concrete way of stating that their devices are resistant to such objects. When you come across smartphones that claim to be water resistant, oftentimes you tend to ask just how resistant it is. With manufacturers, the IP rating gives a more definitive measure to that claim. For example, a smartphone with an IP68 rating is heavily protected against dust, and you can submerge it in waters deeper than a meter — perfect for beach trips.
For consumers, the IP rating just provides a peace of mind when buying a new smartphone. It's basically placed there to tell you that your phone can still be used even if you subject it to too much dust or water that's too deep. You see this in most YouTube videos or channels that basically bend, scratch, and dunk phones in buckets of water. In the end, you won't have to worry about destroying your phone that much when you go on that beach trip without a pouch.
Some manufacturers simply don't need the rating
However, there are manufacturers that simply found the rating unnecessary or simply just a marketing tool. Companies like OnePlus even did an entire ad that showed off their new flagship devices, the OnePlus 7 and OnePlus 7 Pro without an IP rating. The whole issue sparked debates on whether or not IP ratings do make sense, or companies could simply do without them.
OnePlus argues that one reason their new smartphones don't have an IP rating is because of the cost to get one. Even simply requesting for a phone for consideration costs a lot on the manufacturing side, which ultimately bumps up the phone's price. Pete Lau, one of the co-founders of the company estimated the cost for getting an IP rating is at US$ 30. Of course, it is entirely up to the consumer's view of its value to the overall product.
The other reason is because of the coverage of the device's warranty, particularly towards water damage. OnePlus claims that even if smartphones have IP ratings that show how resistant they are to water, water damage isn't fully covered by its warranty. This also furthers their argument on why they wouldn't want to spend on getting one in the first place. An IP rating is not a legitimate reason for people to have their phones fixed for free after dunking them in buckets of water.
To them, it does not make sense to simply attach an IP rating onto a phone even as a marketing tool. It gives off the wrong impression that the device is waterproof when the rating basically leans towards phones being water resistant.
Do we really need to know the IP rating?
The IEC created IP ratings for everyone's protection — from manufacturers to consumers. The whole purpose of having an IP rating is to provide a level of protection for anything electrical, smartphones included. It ensures the safety of everyone, but it's not a way to bail anyone out when they dunk their phones in water.
While some may argue that it helps to know what your device's IP rating is for better care, others just see it as a marketing ploy. It only seeks to sell a device perceived to be waterproof according to a standard. However, IP ratings were not meant to waterproof your phone by any means. It's there to tell you that your phone can handle water, just possibly not too much.
At the end of the day, we have to ask ourselves whether we truly see the value in having these IP ratings. Whether or not your preferred device has an IP rating, just remember: it's not a reason for you to exploit your phone.
Huawei vs the US: A timeline
An FAQ on Huawei's problems
Who's afraid of Huawei? Right now, everyone is. Does anyone really know why?
Since 2017, the US has dealt continuous blows against the Chinese company. More than two years later, the war is still in full swing. Both sides have fired multiple salvos against the other. Still, despite the conflict's longevity, most people are not really sure what's happening.
Why are they fighting? Should we stay away from Huawei? Is it time to get rid of our Huawei devices as soon as possible? Should we really fear for our cybersecurity?
For ordinary consumers, the entire Huawei debacle is mired in political lingo and endless controversy. It's time to clear the air. What's up, Huawei?
How did this all begin?
Let's go back to where it all started. In late 2017, American lawmakers reviewed the businesses of ZTE, another Chinese tech company. Soon after, the investigation unveiled a flurry of shady business deals involving Iran. By law, companies operating in the US are not allowed to communicate with blacklisted countries including North Korea and Iran. Naturally, the violation caused monumental sanctions against ZTE. The US banned ZTE from American soil — effectively, the same ban on Huawei today.
At this time, Huawei was just a moderately innocent passerby stuck between two fighting giants. At most, Huawei was accused of spying on its customers. American lawmakers proposed a boycott of Huawei's products. The proposal drew from the emerging rise of Sinophobia. Still, at the time, the US government's eyes were firmly on ZTE.
In its infancy, the Huawei-ZTE issue was a product of a small fear. It still hadn't affected everyone. In fact, US President Donald Trump even tried to save both companies from utter destruction. Both companies enjoyed a reprieve from America's ire. However, this was short-lived.
In a surprising about-face, Trump started his controversial trade war against China. The American leader abandoned his salvific efforts. Instead, he adopted an incredibly aggressive push against Chinese companies. Unsurprisingly, ZTE already crumbled from the initial push, leaving Trump without a company to make an example out of.
Trump set his sights on Huawei, the world's second largest smartphone maker. His weapon: the same ban meant for ZTE. His motive: potential cybersecurity issues. This time, America means business. Recently, Trump finally pulled the trigger, enacting a total ban against Huawei on American soil. However, instead of just the US, Trump has been lobbying for a similar ban on other countries. Since then, Huawei has suffered a world of hurt.
What does the ban mean?
Naturally, a "total ban" sounds daunting. Banning Huawei smells like certain doom for the tech giant but what does the ban really mean?
When enforced, Huawei can no longer deal with American companies. To Huawei's dismay, the tech maker uses a fair number of American components in its products. Most notably, Huawei's smartphones come with Google's Android. The ban will prevent Huawei from using the operating system going forward. On paper, this is a huge deal. Android remains the world's biggest operating system. A lot of consumers trust Android. Huawei is losing a massive chunk of its package with the loss.
As if that wasn't enough, Facebook — and its slew of apps — have withdrawn from Huawei's products. The company's smartphones will no longer have Facebook, Messenger, Instagram, or WhatsApp installed out of the box. The threat is becoming real.
Additionally, Intel, Broadcom, and Qualcomm have blacklisted Huawei after Google's announcement. Huawei has also lost the support of the ubiquitous ARM chip architecture.
It's not looking good for the Chinese company. Huawei is slowly being dismembered. Faced with an army of bans, it's natural to worry about Huawei. Worst case scenario, Huawei will become a mere shadow of its former self, devoid of the components that helped its recent success.
Should we really worry, though?
Not just yet. Right now, Huawei is enjoying a temporary reprieve. Soon after the initial ban, the American government granted the company a three-month extension. Until around the end of August, Huawei can still operate with its current partnerships. Except Facebook, its devices will still ship with the same components we love. At least for the near future, Huawei is safe.
In the meantime, Huawei is hunting for adequate alternatives for its failing parts. This means a new operating system, new chips, and likely an entirely new package. To its credit, Huawei's development team is working around the clock. Only a month removed from ground zero, they are already promising optimistic developments for the future. Huawei remains confident in their future, launching a bevy of new phones amidst the controversy.
Likewise, some American companies are also lamenting the loss of business. Before the ban, Huawei was a loyal customer, delivering American components to a massive global audience. They aren't happy with Trump's ban. For one, Google has publicly defended Huawei. According to them, Huawei's — and subsequently, the world's — cybersecurity standards will collapse without a collaboration between international companies. With Android, Google can act as Huawei's checks and balances against potential cybersecurity threats from malicious forces. If anything, Huawei still has its share of public defenders.
Most importantly, Trump still has the power to reverse the ban before the 90-day extension runs out. If China and the US reach a meeting point, all might go back to normal. Though uncertain, it's too early to give up on Huawei just yet.
What will Huawei 2.0 look like?
Unfortunately, Huawei's future is muddled with uncertainty. This includes any potential iterations in the future. As far as we know, Huawei isn't bleeding from the multitude of losses. The company has reinforced its Kirin chipsets. Further, they are developing their own dedicated operating system codenamed Ark OS.
Other than that, there's not much to go on. Speculatively, the biggest changes will come from its app supports. If Google leaves, Huawei will be left without the Play Store's support and security. The Chinese company will have to rely on its own native software to power their phones. Unfortunately, an all-Chinese ecosystem is less than ideal for most. In fact, having one might even justify the American Sinophobia. But again, it's all up in the air.
I have a Huawei phone. Should I just sell it?
No, you still shouldn't. The grey market is already doubling down against the onslaught of Huawei returns. If you don't know a willing contact, finding a buyer will be difficult. If you do find one, you'll receive only a mere fraction of what you paid for.
At its current iteration, Huawei's phones are still on top. They are a delight to hold and use, and if anything, have challenged its competitors to offer better value to consumers over the years. Right now, it's best to play the long game. Wait and see what happens. If anything, Huawei — and its official partners — already has an insurance policy in place. Several retailers have declared a 100 percent refund policy in countries like Singapore. If Google cuts the cord, Huawei users can get their money back.
Similarly, Google has promised Android Q support for existing Huawei handsets. Just this week Huawei also announced the rollout of Android-based EMUI 9.1 to older models. If you already own one, a Huawei phone shouldn't be an immediate cause for panic.
So, should we really be worried about Huawei?
Understandably, uncertainty isn't an ideal for everyone. Huawei's troubles are an excruciating thorn for both businesses and consumers alike. Switching to another brand is a natural solution against the company's shaky future. However, if you're looking at the silver lining, worrying is likely a premature reaction. If you're not a Huawei user, the controversies shouldn't affect you. If you're already a Huawei user or looking to buy a Huawei device, it will likely pay off to play a longer strategy. After all, Huawei devices are still some of the best smartphones you can buy on the market.
Editor's Note: Looks like we really shouldn't worry after all. Not even an entire day has passed since this article was originally published but Huawei no longer banned in the US. Rejoice, Huawei users!