5 smartphones that are Beautiful in Blue 
While Greenery may be the new Pantone color of the year for 2017, blue is undoubtedly the color that's caught the imagination of the smartphone industry.
From Shenzhen to Silicon Valley, smartphone manufacturers the world over gave users a shiny new color to pick from. Move over rose gold; this year, blue is the new black.
Here are five phones that come in awesome shades of blue. Warning: None of these photos do them justice!
SAMSUNG GALAXY S7 EDGE / GALAXY A5 and A7 (2017)
While the Galaxy Note 7 may be gone for good, one our favorite color-ways lives on in other Samsung phones. Last year's Galaxy S7 Edge comes in the exact same "Blue Coral" and the new Galaxy A5 and A7 (2017) smartphones come in "Blue Mist." Samsung's take on our unofficial color of the year is either a light metallic shade that echoes the blues of the sky when hit by the right light which contrasts surprisingly well against a gold trim (for Blue Coral — our favorite) or a lighter periwinkle shade that's closer to power blue (for Blue Mist).
SEE ALSO: Samsung Galaxy S8 secrets revealed
GOOGLE PIXEL
Take my money now! Sure, the Google Pixel has a lot going for it tech-wise, but I would have bought this phone just for its its limited edition color alone, if only the blue model didn't sell out mere minutes upon the pre-order page going live. The phone comes with a white face and a glass and metal back painted in a rich royal blue. Google calls it Really Blue and we agree!
SEE ALSO: Google Pixel review (3 months later)
SONY XPERIA XZ and X COMPACT
Sony couldn't decide between dark or light blue, so it gave us both. The Xperia XZ comes in a luxurious midnight blue that's shiny plastic up front and metallic on its back. Lay it face down on a table and it's hard not to admire. It's little brother the Xperia X Compact comes in a soft powdery hue.
SEE ALSO: 7 reasons why the Sony Xperia XZ succeeds
XIAOMI REDMI NOTE 4
Blue on a budget, the Redmi Note 4 is one of our favorite budgets phablets of last year. Initially available in the usual colors (gold and silver), the Chinese tech giant delivered a dark blue model in time for the holidays and it's flying off shelves. For $225, it's hard not to see why.
SEE ALSO: Xiaomi's new Redmi Note 4 sets another budget benchmark
HONOR 8
Talk about shiny! The online-only Honor 8 smartphone by Huawei catches the light in the most amazing of ways, giving it a luminescent glow. For a midrange offering, this phone is in every way a winner already, but if you find yourself in doubt, its good looks should be enough to win you over.
Are we missing any of your favorites? Let us know in the comments section!
SEE ALSO: Best Premium Smartphones (February 2017 Edition)
The Ford EcoSport is the essential travel buddy for tech geeks
For both beginners and sporty drivers
For years, automobiles have slowly left the realm of technology. Now, at least in the public's eyes, cars exist more as a means of transportation, rather than feats of technology.
However, if you were part of the driving public over the last decade, you would have realized two things. Firstly, a great car is just as invaluable as an amazing flagship phone. Secondly, with the number of features packed into a car today, the line between technology and transportation is blurring once again.
Just as how they pioneered the moto industry in the United States, Ford is again leading the charge for technologically capable cars for the modern market. In 1908, it was the first Model T Ford. In 2018, it's the Ford EcoSport.
What's under the hood?
Sporting a 1.5-liter Ti VCT 110ps/142Nm engine, the Ford EcoSport is a capable daily driver for both urban stop-and-start traffic and countryside rough riding. For its size, the EcoSport straddles the fine line between sedan and SUV.
Further, this hardy engine is mated to a 6-speed PowerShift transmission (5-speed for manual). From a performance standpoint, the EcoSport transitions smoothly in and out of Sport mode.
Potholes? No problem!
With all this in mind, the EcoSport can blaze through most driving situations you can throw at it. Whether it was for urban trekking through tight roads or riding through tough rural tracks, the EcoSport powered through with barely a hiccup.
Potholes and unpaved roads were no match for the EcoSport's suspension. Jolts and drops didn't have as much impact as it usually does with other cars. The EcoSport inspires confidence even for inexperienced drivers.
Even with moderately deep mud pits, the EcoSport can power through with just brute force. Its capable engine can clear obstacles without flooring the pedal. Additionally, its high ground clearance can go through the debilitating floods that usually frequent the metro.
The EcoSport's confidence carries itself despite challenging situations. A lot of cars today don't inspire the same confidence as the Ford EcoSport.
Crank it up to 11
As with most Ford cars, the EcoSport carries a welcome Sport mode for accessing that extra boost you need for both smoother and hardier conditions. Sadly, most people don't access this feature out of fear for what it's capable of.
As the name implies, the Sport mode brings a sportier vibe to the EcoSport's drive. Costing a small bit of fuel efficiency, the specialized mode injects improved speed, handling, and traction to everyday drives.
Personally, the Ford EcoSport brought one of the smoothest driving experiences I've handled across the industry. The Sport mode handled amazingly well against metro traffic.
All that junk inside that trunk
Besides exemplary performance, the EcoSport is a champ at four- to five-seater space allotment.
There's nothing more comfortable than a ride that offers a mile's worth of legroom. While the Ecosport isn't the most spacious, it offers more than adequate room for even long legs. Riding or driving for hours is a breeze with the EcoSport's space.
Sporting around twenty slots and compartments for gizmos, the EcoSport can carry an entire storeroom of goodies. Even as a dedicated tech geek, I was able to fit complete rosters of devices. On a road trip, I brought a sizable bag with my huge 15-inch laptop, an assorted yarn of chargers, mice, and mouse pads. It fits snuggly with a hard case for my DSLR and its variety of lenses.
Even then, the EcoSport can still pack in bags of food, gym bags, and more people. Ford even boasts that the back trunk has space for a 560-liter washing machine.
Despite the wide space available, the EcoSport's thermal control system can cool or heat passengers adequately throughout the cabin.
Jamming to the sync
Sadly, commercially viable self-driving cars are still years into the future. Thankfully, smart technology isn't limited to intuitive AI.
As always, Ford installs their trademark SYNC technology into the Ford EcoSport. The feature melds the car with the abilities of a smartphone.
Its most popular use is to connect your phone's media to the car's entertainment system. Besides through an AUX, USB, memory card, or CD, SYNC's Bluetooth connectivity adds convenience to jamming through congested traffic.
The feature also adds to your device's phone features. It takes a hands- and distraction-free approach to managing your phone life.
Additionally, the features boast added support for the most useful apps for driving. With a bit of technological know-how, the car's infotainment system can access and display Waze for convenient navigating through alleyways and side streets.
Safety first
Ford remains at the forefront of road safety. With a slew of safety features, drivers can rest assured that the EcoSport won't skid uncontrollably.
The EcoSport comes equipped with an Anti-lock Braking System, Electronic Brake Force Distribution, and Electronic Stability Program. The mechanisms prevent skidding, wheel spins, and understeering.
Further, the rear also has parking sensors to help with all forms of parking.
Pick your colors
Even with the all-in-one package, the Ford EcoSport offers options for how it looks. It comes in four variants (Ambiente 1.5L MT, Trend 1.5L MT, Trend 1.5L AT, Titanium 1.5L AT) and six different colors (Panther Black, Ingot Silver, Winning Blue, Candy Red, Mars Red, Frozen White). Personally, the Frozen White variant is quite the looker.
Further, sportier fans can grab the Black Edition, which offers more style than the six regular variants. Besides black finishing for the exterior grills and tires, the variant also touts roof cross bars, rear spoilers, illuminated scruff plates, and sports pedals.
SEE ALSO: Ford launches all-new Mustang and Expedition at MIAS 2018
NEX is now, E3 2018 was a blast: Weekend Rewind
The future looks exciting!
Here are this week's top stories on GadgetMatch.
1. NEX is now!
Launched alongside the World Cup 2018, Vivo nearly hit a hat trick by announcing two variants of the Vivo NEX. The Chinese company's all-screen smartphone with an in-display fingerprint scanner is finally here in midrange and flagship forms. The midrange variant is powered by a Snapdragon 710 with 6GB of memory and 128GB of storage while the flagship is running on a Snapdragon 845 with 8GB RAM and up to 256GB of storage.
Speaking of the World Cup, here are four apps you can download to keep tabs on this major football tournament.

2. Samsung Galaxy S9 overtakes iPhone X in sales
X doesn't mark the spot for the iPhone as the Samsung Galaxy S9 nabs the crown as best-selling smartphone according to the latest report from Counterpoint Research. The Galaxy S9 and S9+ captured a global market of 2.6 percent each against the iPhone X's 2.3 percent. The report is dominated by Apple and Samsung phones but Xiaomi managed to crack the list with the Xiaomi Redmi 5A and Redmi 5 Plus

3. Xbox came out with a bang!
Microsoft arguably had the best conference at E3 2018 as their Xbox briefing was absolutely jam-packed: 50 games, 18 exclusives, 15 world premieres to be exact. Exclusives include Forza Horizon 4, Halo Infinite, and Ori and the Will of the Wisps. Also part of the announcement are Fallout 76, Kingdom Hearts 3, Devil May Cry 5, Jump Force, and Cyberpunk 2077.

4. PlayStation still king
Sony didn't blow the competition out of the water but they still had plenty of interesting titles to keep E3 2018 attendees hooked. The company revealed new gameplay footage for previously announced titles like Marvel's Spider-Man and Ghost of Tsushima, and also announced the remake of classic horror RPG Resident Evil 2. However, most people were buzzing over the trailer and gameplay footage for the Last of Us 2.

5. Nintendo looked to smash
Not to be outdone, Nintendo announced two major titles for the Nintendo Switch. Battle royale game Fortnite is finally coming and that alone could play a major role for the Switch's growth, but they didn't stop there. Every character to ever appear in Super Smash Bros. alongside new ones will make their way to Super Smash Bros. Ultimate. The characters are unlockable instead of being downloadable content. It doesn't get any more ultimate than that.
---
Weekend Rewind is our roundup of top news and features you might have missed for the week. We know the world of technology can be overwhelming and not everyone has the time to get up to speed with everything — and that includes us. So sit back, relax, and enjoy the rewind.
Vivo NEX Unboxing and Hands-on: The future!
Truly bezel-less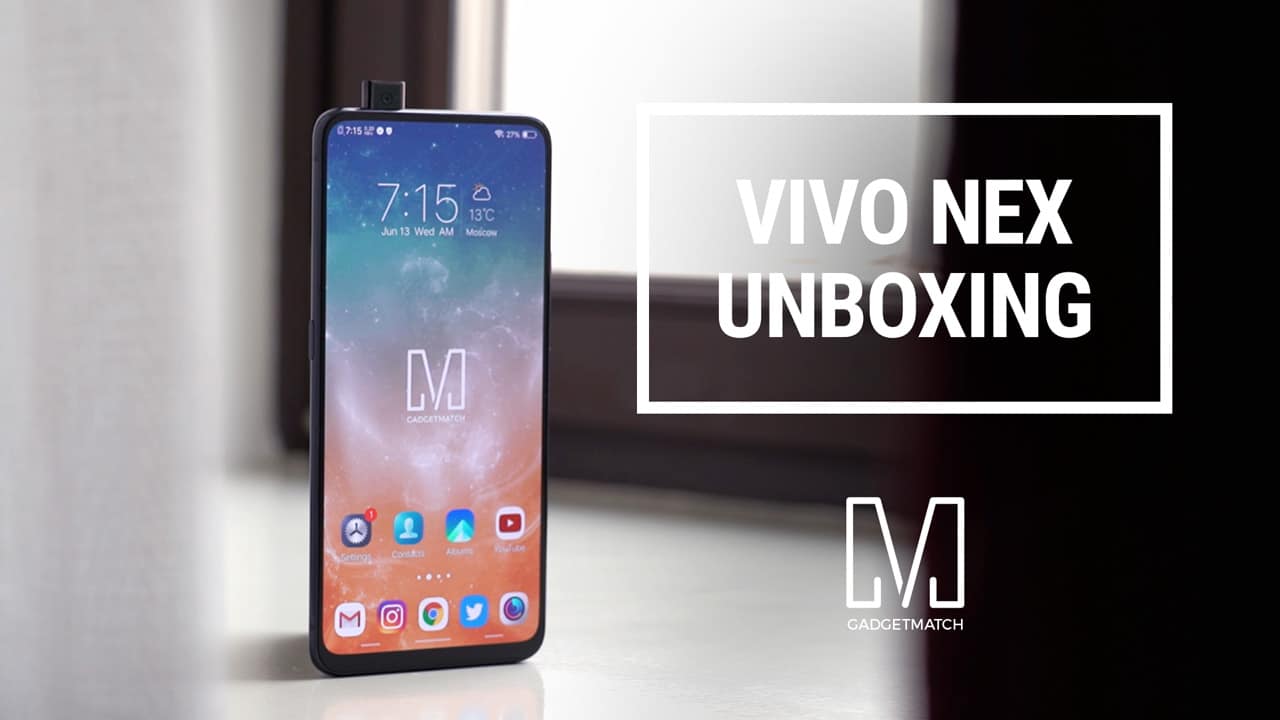 If smartphone trends of the last two years are any indication, the future, as we know it, is bezel-less. And the first to make that future a reality is Vivo.
Earlier this year at Mobile World Congress, Vivo showcased its APEX concept smartphone. An all-display phone with no notch, no bezels, but with a pop-up selfie camera.
Now, we finally have a phone we can buy. Vivo launched the NEX lineup in Shanghai, China this week and we just got our hands on a retail unit.