Remember Prime Air? Amazon's grand plan to deliver packages via drones with a promise of deliveries in 30 minutes or less.  The vision was unveiled by Amazon CEO Jeff Bezos with much fanfare way back in December 2013, but has since remained one of those big ideas that has failed to lift off, literally.
More than two years later, Amazon Prime Air is still stuck in legal limbo with regulators in a bind over safety concerns. Until specific regulations for commercial use of "small unmanned aircrafts" are finalized, commercial drones cannot take to the sky.
But for Amazon Prime Air to become a reality, there are other challenges that need to be addressed. One specific shortcoming is a problem that rival Google seems to have found an answer to.
Amazon's concept requires that you are at your delivery address at the time the drone is about to drop of your package. Meaning, forget about a change in schedule or friends inviting you out for drinks last minute. Unless you want to risk someone else walking away with your package, you'll have to stick around until the Amazon drone shows up with your order.
Google recognized this and has come up with an idea that would allow you to order goods online and have it delivered to your doorsteps even without anyone being home. Just days ago, the US Patent Office granted Google a patent that provides us with a unique insight into how Google is planning to win the drone delivery war.
So how is Google planning to solve the Amazon Prime Air dilemma?
The answer is simple and brilliant at the same time.
The basic idea involves a "mobile delivery receptacle" developed to work in tandem with delivery drones.
Details on the receptacle are still somewhat murky. The image filed with the patent shows a box on wheels.  But to spark your imagination, just think of the delivery receptacle as an R2D2-like droid from Star Wars.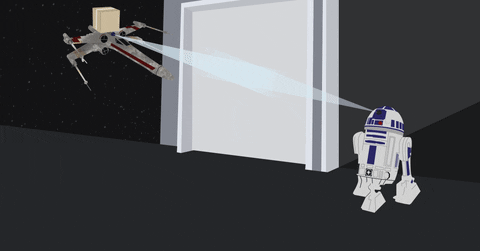 You keep the droid at home. After the droid is notified of a pending delivery, it would move outside to communicate with the drone in mid air. Infrared beacons would then be used to guide the droid to a precise meeting point for the drone delivery. After the package is received, the droid would then transport the package to a secure location, such as your garage. Safe and sound while you are out enjoying the evening with friends.
Project Wing
Both inventions are part of an initiative codenamed Project Wing, the latest project to come out of X, Alphabet, Inc.'s top secret research and development facility.
Alphabet is Google's parent company and X is essentially a high-tech lab setup to develop and test all their new cool and groundbreaking technology gadgets.
Other top secret X projects that have come out of the shadows include, "Glass" for augmented reality, "Loon" for Internet-by-air-balloons, and "Driverless Cars".
Like Amazon, Google is keen on getting a head start in the drone delivery business. It has ambitious plans of getting from concept to reality by 2017.
The company has been working on Project Wing for two years already, its existence confirmed by no less than Google Cofounder Sergey Brin in August 2014. Brin also confirmed a drone-testing facility in the Australian Outback with a hybrid drone that can take off vertically (like a rocket) and then rotate mid air to a horizontal position to fly around.  
Why Australia, you may ask. The answer is simple. The Outback is a big empty place, except for some kangaroos and the occasional tourist. This allows the Australian government to be way more relaxed around unmanned aircrafts in its airspace.
DJI launches new Mavic Air drone
It's the size of a smartphone!
DJI is at it again with its consumer quadcopters.
The Chinese company has launched the new Mavic Air and it fits right between the Mavic Pro and the smaller Spark. Think of the Spark's size but with the folding arms of its predecessor.
DJI says the Mavic Air is lighter by 41 percent compared to its previous model but receives the entire gesture system of the Spark — something that attracts consumers. This means you can make it snap a photo, make it move to a different spot, and call it back to land by simple hand actions.
Using your hand to manipulate the drone has a range limit of almost 6 meters (19 feet). Connect a smartphone and it bumps up the range to 80 meters, but using a dedicated remote will increase that to 4km.
Just like the Mavic Pro, the Mavic Air has a 4K video resolution, 12-megapixel image sensor, and three-axis gimbal. It also has HDR, and low-light shooting to help you achieve better photos in general. DJI also threw in a new software algorithm that lets users stitch together 32-megapixel shots for panoramas and photo spheres.
DJI added 8GB of internal storage to the Mavic Air. There's also a USB-C port which is a bump up from the Pro's micro-USB, although battery life saw a downgrade as the new Air has a maximum flight time of 21 minutes. In real-life usage, that means around 16 minutes.
Don't let it dishearten you, since position tracking, obstacle avoidance, and the ventilation system have all been improved according to DJI.
Finally, and unlike the Pro, it comes in different colors. The new Mavic Air will be available in white, black, or red. Pricing will start at US$ 799 which is a little more expensive than the Spark but more affordable than the Mavic Pro. Pre-orders start immediately and shipping will commence next week.
Pocket drone AirSelfie2 takes selfies to new heights
Take fly photos! This pocket drone is made for selfie lovers
In 2018, selfies are getting even better.
AirSelfie, the company behind last year's pocket-sized selfie drone, is at it again. Let me refresh your memory:
Yes, more selfie drones are coming this year, and they're even better.
Announced at CES 2018, the AirSelfie2 has significant improvements. The new and improved pocket drone owns a 12-megapixel camera as opposed to the original AirSelfie's 5-megapixel shooter. It also comes with a longer battery life and bigger storage capacity that means more photos! According to their announcement, even the smartphone app will be upgraded with the new drone release. The best part? It will come in rose gold! (And three other colors, but we all know which color is cutest.)
This powerpacked drone is still teeny at around the size of a smartphone and weighs only a little over two ounces. It's covered with an anodized aluminum casing which can, supposedly, withstand everyday modern life. The AirSelfie 2 can travel 60 feet from home base and is equipped with a vibration absorption system and an 85-degree field of view — those landscape #OOTDs will finally be doable by yourself!
The AirSelfie 2 will retail for US$ 300 and it will be available on airselfiecamera.com March of 2018.
MORE ON CES 2018: GadgetMatch LIVE coverage
8 underwater drones that you must check out
Drones have become a regular sight in the sky and soon they're going to be taking over the waterways. (more…)