Remember Prime Air? Amazon's grand plan to deliver packages via drones with a promise of deliveries in 30 minutes or less.  The vision was unveiled by Amazon CEO Jeff Bezos with much fanfare way back in December 2013, but has since remained one of those big ideas that has failed to lift off, literally.
More than two years later, Amazon Prime Air is still stuck in legal limbo with regulators in a bind over safety concerns. Until specific regulations for commercial use of "small unmanned aircrafts" are finalized, commercial drones cannot take to the sky.
But for Amazon Prime Air to become a reality, there are other challenges that need to be addressed. One specific shortcoming is a problem that rival Google seems to have found an answer to.
Amazon's concept requires that you are at your delivery address at the time the drone is about to drop of your package. Meaning, forget about a change in schedule or friends inviting you out for drinks last minute. Unless you want to risk someone else walking away with your package, you'll have to stick around until the Amazon drone shows up with your order.
Google recognized this and has come up with an idea that would allow you to order goods online and have it delivered to your doorsteps even without anyone being home. Just days ago, the US Patent Office granted Google a patent that provides us with a unique insight into how Google is planning to win the drone delivery war.
So how is Google planning to solve the Amazon Prime Air dilemma?
The answer is simple and brilliant at the same time.
The basic idea involves a "mobile delivery receptacle" developed to work in tandem with delivery drones.
Details on the receptacle are still somewhat murky. The image filed with the patent shows a box on wheels.  But to spark your imagination, just think of the delivery receptacle as an R2D2-like droid from Star Wars.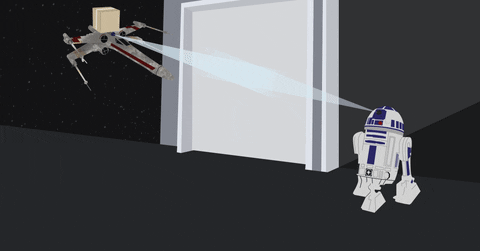 You keep the droid at home. After the droid is notified of a pending delivery, it would move outside to communicate with the drone in mid air. Infrared beacons would then be used to guide the droid to a precise meeting point for the drone delivery. After the package is received, the droid would then transport the package to a secure location, such as your garage. Safe and sound while you are out enjoying the evening with friends.
Project Wing
Both inventions are part of an initiative codenamed Project Wing, the latest project to come out of X, Alphabet, Inc.'s top secret research and development facility.
Alphabet is Google's parent company and X is essentially a high-tech lab setup to develop and test all their new cool and groundbreaking technology gadgets.
Other top secret X projects that have come out of the shadows include, "Glass" for augmented reality, "Loon" for Internet-by-air-balloons, and "Driverless Cars".
Like Amazon, Google is keen on getting a head start in the drone delivery business. It has ambitious plans of getting from concept to reality by 2017.
The company has been working on Project Wing for two years already, its existence confirmed by no less than Google Cofounder Sergey Brin in August 2014. Brin also confirmed a drone-testing facility in the Australian Outback with a hybrid drone that can take off vertically (like a rocket) and then rotate mid air to a horizontal position to fly around.  
Why Australia, you may ask. The answer is simple. The Outback is a big empty place, except for some kangaroos and the occasional tourist. This allows the Australian government to be way more relaxed around unmanned aircrafts in its airspace.
Moments: Baler
Paradise captured by the DJI Mavic Air
Many consider Baler to be paradise. A haven for those jaded by city life, the place offers a quiet escape for people who want to dip their toes in sand and sea or a chance to conquer the waters by learning to ride the wave. What better way to capture it than through the bird's eye view of the DJI Mavic Air.
The DJI Mavic Air was officially launched a few months back but has only made its way to the Philippines recently. Compact but not lacking in features, it's the perfect companion for travelers who want to capture the beauty of the archipelago. In a DJI Mavic Air bootcamp, members of the media learned that flying this drone is relatively easy but it does require some practice — just like learning how to ride waves in the beaches of Baler. You'll need patience and perseverance but there's nothing stopping you once you figure it out.
Drones fly luxury Dolce & Gabbana handbags on the runway
Who needs models when you have drones?
Dolce & Gabbana stepped up their game this year during their fashion show in Milan. The Italian luxury fashion house flew drones carrying handbags on the runway, stunning the crowd.
See the spectacle for yourself:
Here are @dolcegabbana's Nice Boys pic.twitter.com/lrA7KLUPJP

— Tyler McCall (@eiffeltyler) February 25, 2018
The show ran nearly an hour late for the big surprise. According to Fashionista who attended the event, "Signs and announcements in several different languages pleaded multiple times for audience members to turn off their personal Wi-Fi and hot spots."
Of course, it isn't easy to ask a 600-strong audience to turn their internet connections off before a spectacle, resulting in these quadcopters flying a bit craggy. It's possible that those reluctant to follow the organizer's requests caused an interference with the drone flights. Who wouldn't want to capture a surprising performance and share it on social media? We live in the social media age, guys!
But the fashion house was prepared for any unfortunate accident if the drones were to malfunction and crash on someone's head. People dressed in white walked alongside the drones, ready to intercept or offer help if an incident occurred.
Fortunately, the show went on without a hitch. As the drones buzzed off, actual human models were back on the runway wearing D&G clothes for the Fall Winter 2018/19 collection. Maybe it isn't time yet for technology to enter the world of high fashion, but it's a great start.
Airbus' drone taxi successfully flies autonomously
This is the future!
Just last month, European aerospace company Airbus flew its autonomous air taxi for the first time. The electric vertical take-off and landing (eVTOL) aircraft hovered for 53 seconds on its own and we only got a glimpse of it through photos. Well, the company has just released a video showing what it's capable of.
A giant drone taking off and hovering for less than a minute before coming back down isn't really an astounding sight. Although, this is quite an achievement since it's a totally different aircraft from what Airbus has been producing and the fact that it's all-electric is already a feat in itself.
As you can see, this less-than-a-minute demonstration of autonomous flight is actually a breakthrough since it's one of the first to ditch the use of an engine or a gas-electric hybrid and relies solely on a battery to fly. The company said it aims to produce an array of autonomous eVTOL aircrafts that fly from rooftop to rooftop to help alleviate traffic on the road. Airbus envisions this through the use of the latest technologies.
"Our goal is to democratize personal flight by leveraging the latest technologies such as electric propulsion, energy storage, and machine vision," said Vahana Project Executive Zach Lovering.
It might not happen anytime soon, but we're one step closer to realizing a future where you hail flying taxis that don't need their own drivers.