Remember Prime Air? Amazon's grand plan to deliver packages via drones with a promise of deliveries in 30 minutes or less.  The vision was unveiled by Amazon CEO Jeff Bezos with much fanfare way back in December 2013, but has since remained one of those big ideas that has failed to lift off, literally.
More than two years later, Amazon Prime Air is still stuck in legal limbo with regulators in a bind over safety concerns. Until specific regulations for commercial use of "small unmanned aircrafts" are finalized, commercial drones cannot take to the sky.
But for Amazon Prime Air to become a reality, there are other challenges that need to be addressed. One specific shortcoming is a problem that rival Google seems to have found an answer to.
Amazon's concept requires that you are at your delivery address at the time the drone is about to drop of your package. Meaning, forget about a change in schedule or friends inviting you out for drinks last minute. Unless you want to risk someone else walking away with your package, you'll have to stick around until the Amazon drone shows up with your order.
Google recognized this and has come up with an idea that would allow you to order goods online and have it delivered to your doorsteps even without anyone being home. Just days ago, the US Patent Office granted Google a patent that provides us with a unique insight into how Google is planning to win the drone delivery war.
So how is Google planning to solve the Amazon Prime Air dilemma?
The answer is simple and brilliant at the same time.
The basic idea involves a "mobile delivery receptacle" developed to work in tandem with delivery drones.
Details on the receptacle are still somewhat murky. The image filed with the patent shows a box on wheels.  But to spark your imagination, just think of the delivery receptacle as an R2D2-like droid from Star Wars.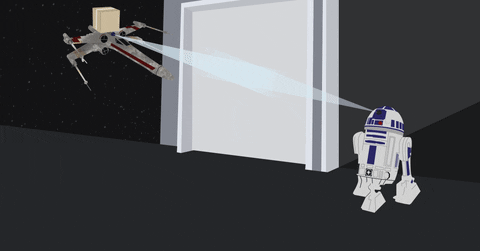 You keep the droid at home. After the droid is notified of a pending delivery, it would move outside to communicate with the drone in mid air. Infrared beacons would then be used to guide the droid to a precise meeting point for the drone delivery. After the package is received, the droid would then transport the package to a secure location, such as your garage. Safe and sound while you are out enjoying the evening with friends.
Project Wing
Both inventions are part of an initiative codenamed Project Wing, the latest project to come out of X, Alphabet, Inc.'s top secret research and development facility.
Alphabet is Google's parent company and X is essentially a high-tech lab setup to develop and test all their new cool and groundbreaking technology gadgets.
Other top secret X projects that have come out of the shadows include, "Glass" for augmented reality, "Loon" for Internet-by-air-balloons, and "Driverless Cars".
Like Amazon, Google is keen on getting a head start in the drone delivery business. It has ambitious plans of getting from concept to reality by 2017.
The company has been working on Project Wing for two years already, its existence confirmed by no less than Google Cofounder Sergey Brin in August 2014. Brin also confirmed a drone-testing facility in the Australian Outback with a hybrid drone that can take off vertically (like a rocket) and then rotate mid air to a horizontal position to fly around.  
Why Australia, you may ask. The answer is simple. The Outback is a big empty place, except for some kangaroos and the occasional tourist. This allows the Australian government to be way more relaxed around unmanned aircrafts in its airspace.
[irp posts="10750" name="Drone assists in 2017 NBA All-Star Dunk Contest"]
How the tech world helped in the Notre Dame fire incident
Modern technology isn't our foe at all
In light of the recent news about the fire incident that happened in the Notre Dame Cathedral in Paris, France, several companies, including those from the tech sector, have shown how much they care for the ruined 856-year-old historic landmark.
DJI
When the flames broke out, firefighters used Mavic Pro and Matrice M210 drones. The cathedral was severely damaged but thankfully, the drones helped in distinguishing where the fire had spread out. Several tweets show how helpful drones are, even during unexpected disasters like this one.
— Alexandre Fremont (@alex_fremont) April 15, 2019
People from DJI talked about how their drones helped Paris' Emergency Response Team in determining the fire inside the cathedral.
Learning that Emergency Response for Notre Dame also included the use of drones, made me feel good. Then seeing a female operator made me proud. Both individually are not common, both together even less. Such a difficult incident to deal with, done with exemplary. pic.twitter.com/Qdh3UIwmer

— Romeo Durscher (@romeoch) April 16, 2019
Craftsmen built Notre Dame eight centuries ago. Now it may be up to robots to save it.https://t.co/zyfMU1lEuI

— Brendan Schulman (@dronelaws) April 17, 2019
Apple
After the incident, many people, including popular icons all around the globe, have shown their distress about the destruction of the cathedral. Tim Cook, the CEO of Apple, is one among those people. He even promised Apple would help in the progress of rebuilding Notre Dame's ruined architectural landscape.
We are heartbroken for the French people and those around the world for whom Notre Dame is a symbol of hope. Relieved that everyone is safe. Apple will be donating to the rebuilding efforts to help restore Notre Dame's precious heritage for future generations.🇫🇷

— Tim Cook (@tim_cook) April 16, 2019
Ubisoft
Most gamers can tell that the Notre Dame Cathedral is found in the gameplay of Assassin's Creed: Unity. Ubisoft, which is also a French company, said that the infrastructure was scanned using their state-of-the-art 3D mapping technology. Using data preserved for the game may help architects and builders in restoring the cathedral. As an addition, the game is for free at the Ubisoft store to honor the fallen landmark.
It may be insignificant for most people but these all prove that companies and their existing technologies can still help in times of global incidents like this.
DJI Mavic 2 Pro Review: 1 month in
Not a perfect drone, but…
We won't bore you with a rundown of its specs, but instead, we'll give you the lowdown on DJI's new drone — what works, what doesn't, and what's there to love. This is our DJI Mavic 2 Pro review.
DJI Mavic 2 Zoom and Mavic 2 Pro officially launch in the Philippines
The best compact drones in the market right now
Less than a month from its official announcement, DJI's Mavic 2 Zoom and Mavic 2 Pro have officially arrived in the Philippines through ICT company MSI-ECS. These drones offer the latest technologies seen in a quadcopter and aim to bring aerial videography to new heights.
As a quick recap, both new drones shoot 4K video at up to 100 megabits per second — meaning it can capture high-quality footage. DJI also equipped the Mavic 2 with its own 8GB internal storage in case you forget your memory cards at home. They have more sensors for obstacle avoidance and boast improved battery life (31 minutes versus the older 27 minutes). They're also a lot quieter than previous models.
The Mavic 2 Zoom is the world's first foldable consumer drone with optical zoom capabilities. This way, you can get up close to your subject (like wildlife, for example) while maintaining your distance, so you won't disturb them in their habitat.
It can also perform a dolly zoom by flying backward while zooming in. This produces a vertigo effect that renowned filmmakers use in movies.
On the other hand, the Mavic 2 Pro is the first drone with a camera co-engineered with Hasselblad — a leading brand in medium format photography. It carries a 1-inch CMOS sensor with a 10-bit Dlog-M color profile which translates to a professional-grade image with a lot of tweaking possibilities during post-production.
The Mavic 2 Pro shoots 20-megapixel photos and 4K UHD videos, has support for 4K 10-bit HDR, and can switch between f/2.8 to f/11 apertures depending on the lighting condition. Think of it as your professional aerial equipment that folds up and can fit inside a small bag.
Pricing in the Philippines will start at PhP 76,300 for the Mavic 2 Zoom and PhP 98,800 for the Mavic 2 Pro. Going for the Fly More bundle which includes extra batteries, propellers, and other accessories will come at an extra cost just like the previous iteration.