A phone's water protection plan: IP ratings explained
It doesn't give you the right to dunk it in water, though
If you plan to bring your phone to a beach trip with your friends, you normally bring a pouch with you. The main function of that pouch is to protect your phone from contact with any liquid while you enjoy the waves. Of course, it doesn't fully guarantee that water won't seep through it — especially when a big wave crashes on you and opens the pouch. But, it does give a sense of safety and security for your beloved smartphone.
That's the whole concept behind an IP rating that's given to most smartphones today. Nowadays, you hear a lot about these smartphones being advertised with IP68 ratings. But, what does an IP68 rating actually mean? Is it worth something to consider when buying a new smartphone?
What is an IP rating?
IP ratings are not new in the tech world. In fact, a lot of the electrical appliances and technologies you have at home come with it. An IP rating, or ingress protection rating basically tells you the level of protection any electrical device has against solid and liquid objects. It acts as a security measure to determine what objects the device can handle without malfunctioning.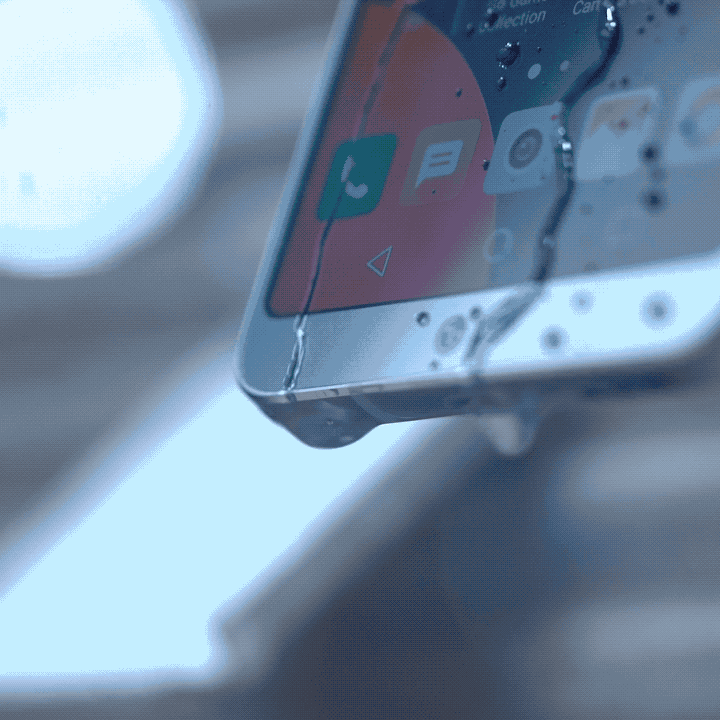 The International Electrotechnical Commission (IEC) gives out these ratings to manufacturers as a safety measure for production. It consists of two numbers that describe its protection against a vast number of objects, even human touch. The first number denotes a device's protection against common solid objects and dust. Meanwhile, the second number denotes a device's protection against liquids, even steam-jet liquids. The higher the number, the more protection it gets!
IP ratings are not just present in most recent smartphones. Things like electrical sockets, cameras, even phone cases come with IP ratings, as well. 
The reason it exists
Manufacturers and consumers see an IP rating quite differently. Those two numbers ultimately stand for how well your device can stand against, well anything. For manufacturers, an IP rating basically gives them a standard to follow when producing more devices. Before shipping their latest smartphones, they subject their devices to numerous tests to validate their IP ratings.
Also, it gives a more concrete way of stating that their devices are resistant to such objects. When you come across smartphones that claim to be water resistant, oftentimes you tend to ask just how resistant it is. With manufacturers, the IP rating gives a more definitive measure to that claim. For example, a smartphone with an IP68 rating is heavily protected against dust, and you can submerge it in waters deeper than a meter — perfect for beach trips.
For consumers, the IP rating just provides a peace of mind when buying a new smartphone. It's basically placed there to tell you that your phone can still be used even if you subject it to too much dust or water that's too deep. You see this in most YouTube videos or channels that basically bend, scratch, and dunk phones in buckets of water. In the end, you won't have to worry about destroying your phone that much when you go on that beach trip without a pouch.
Some manufacturers simply don't need the rating
However, there are manufacturers that simply found the rating unnecessary or simply just a marketing tool. Companies like OnePlus even did an entire ad that showed off their new flagship devices, the OnePlus 7 and OnePlus 7 Pro without an IP rating. The whole issue sparked debates on whether or not IP ratings do make sense, or companies could simply do without them.
OnePlus argues that one reason their new smartphones don't have an IP rating is because of the cost to get one. Even simply requesting for a phone for consideration costs a lot on the manufacturing side, which ultimately bumps up the phone's price. Pete Lau, one of the co-founders of the company estimated the cost for getting an IP rating is at US$ 30. Of course, it is entirely up to the consumer's view of its value to the overall product.
The other reason is because of the coverage of the device's warranty, particularly towards water damage. OnePlus claims that even if smartphones have IP ratings that show how resistant they are to water, water damage isn't fully covered by its warranty. This also furthers their argument on why they wouldn't want to spend on getting one in the first place. An IP rating is not a legitimate reason for people to have their phones fixed for free after dunking them in buckets of water.
To them, it does not make sense to simply attach an IP rating onto a phone even as a marketing tool. It gives off the wrong impression that the device is waterproof when the rating basically leans towards phones being water resistant.
Do we really need to know the IP rating?
The IEC created IP ratings for everyone's protection — from manufacturers to consumers. The whole purpose of having an IP rating is to provide a level of protection for anything electrical, smartphones included. It ensures the safety of everyone, but it's not a way to bail anyone out when they dunk their phones in water.
While some may argue that it helps to know what your device's IP rating is for better care, others just see it as a marketing ploy. It only seeks to sell a device perceived to be waterproof according to a standard. However, IP ratings were not meant to waterproof your phone by any means. It's there to tell you that your phone can handle water, just possibly not too much.
At the end of the day, we have to ask ourselves whether we truly see the value in having these IP ratings. Whether or not your preferred device has an IP rating, just remember: it's not a reason for you to exploit your phone.
What you need to know about Elon Musk's Starlink
The much-awaited internet service is coming sooner than later
Over the last few weeks, reports started pouring in about the possible arrival of Starlink internet service to the Philippines under a partnership between Converge ICT and SpaceX. These reports came after a senator's meeting with representatives of SpaceX discussing the benefits, possible timeline, and requirements needed from the internet service.
These reports quickly became the talk of the town especially with the frenzy surrounding Starlink. You may have heard it before given the media attention it had received in the past. SpaceX — the company behind Starlink — promised fast network speeds and coverage almost anywhere around the planet with its internet service. There's so much more to that though, so here are the things you need to know.
What is Starlink?
For those out of the loop, Starlink is a satellite internet service provided by SpaceX. SpaceX is a company founded by Elon Musk that builds next-gen space exploration technologies. The company is also behind the high-profile launches of reusable rockets as well its plans to bring people to Mars.
Starlink works through a constellation of small satellites. These satellites are placed in low to medium Earth orbit, communicating signals through an array of antennas and lasers. They work in tandem with dedicated ground transceivers to receive from and transmit signals to the satellites. In effect, the internet service relies on satellites instead of physical cables to provide an internet connection to consumers.
The technology behind Starlink is not a novel one, with the first satellite internet service dating back to the 1990s. However, most of these services ultimately failed due to logistical constraints and the prohibitive costs involved in setting things up. Granted, there had been few services that have seen some success but their adoption is few and far between. Reducing latency and lowering costs for consumers remain major challenges to many satellite internet providers.
Wanting to improve the whole situation, SpaceX began product development of Starlink in 2015. By 2018, it began testing its satellites which culminated in the launch of operational ones last 2019. Just last year, the company reached a milestone by launching up to 60 satellites at a time. This 2021, it is setting its sights for the global coverage of the populated world. Ultimately, SpaceX aims to put about 42,000 satellites in orbit in the future.
One goal of Starlink is to provide people in remote areas with a fast and reliable internet connection, which means a lot for developing countries like the Philippines.
How do I sign-up for the service?
Right now, the company is offering a limited beta service in the US and Canada. If you live in areas where the service is available, you can go ahead and sign-up for the service on Starlink's website. Not all who signed up can avail of the service though since they are limiting their users at the moment on a first-come, first-serve basis. If you're lucky, you may receive an email containing further instructions.
What does it feel like to use the service?
During its beta phase, Starlink claims speeds of 50 to 150 Mbps. Latency — which is also a crucial factor in internet-related tasks such as gaming and streaming — ranges from 20ms to 40ms. These figures are far from the advertised 1Gbps speed, as well as the advertised latency of 25ms to 35ms.
Still, those figures are fast enough for everyday use, especially when compared to other satellite internet services. Those figures are also close to the actual experiences by people participating in the limited beta service. For its part, Starlink promises continued improvement to network speed, latency, and software.
At the moment, the cost of signing up for Starlink is much higher than availing of a cable internet connection. The satellite setup kit is reported to cost around US$ 499 (PhP 24,000) while monthly fees start at US$ 99 (PhP 5,000). In comparison, PLDT's internet plans max out at PhP 6,099 for 300Mbps while Globe's internet plans max out at PhP 9,499 for 1Gbps.
To get connected, Starlink users must configure their setup kits and download the respective app. Each setup kit consists of the satellite dish, Wi-Fi router, power supply, cables, and a mounting tripod.
A clear view of the sky is also a prerequisite for a stable connection. As a note, weather disturbances can affect the connection between the user and the satellite infrastructure.
Starlink also requires its setup equipment to be stationary at all times. This is unlike cellular networks, which are designed to be mobile. While it offers a "wireless" connection to the internet, it still is "fixed" in the sense that it requires constant communication between the transceiver (the satellite dish) and the orbiting satellites.
When is it really coming to the Philippines?
Recent reports suggest that Starlink is coming soon to the country, but no definitive timeline has been given. Rumors suggested that the service will arrive later in Q3 2021. The most recent development squash any hopes of imminent arrival though, with Converge ICT stating that the partnership is still "premature".
During the later weeks of February, however, Filipinos who signed up for Starlink started receiving a reservation email. The reservation fee costs around US$ 99 (approximately PhP 5,000) though it is fully refundable too. The email also details a possible coverage of the whole country by 2022. The exact date, however, remains unclear at the moment.
Likewise, the internet service still has many obstacles towards its widespread adoption in the country. The initial cost for would-be subscribers comes to mind. As mentioned, the approximate cost of Starlink hovers at PhP 24,000 with a monthly fee amounting to PhP 5,000. For that cost, you are getting better speeds with local telco offerings.
Despite its high cost, the promise of a fast and reliable internet connection is tempting especially in far-flung areas. Reaching out to these far-flung areas is a major challenge for all local telcos since the necessary physical infrastructure is non-existent or hard to setup.  Starlink could reach these areas easily, providing internet connection to those willing to shell out money.
Are there any other things that I should know about the service?
Starlink has garnered some concerns as well, with most directed towards its potential to cause light pollution. The potential to contribute to light pollution is a particular concern for astronomers. Apparently, Starlink's satellites are bright enough to leave a trail of light, "photobombing" shots of the night sky. To this end, SpaceX said that it is already working on a solution to amend the problem.
As Starlink continues to push forward, more and more people are hoping to get aboard with the service. After all, a fast and reliable internet connection is still far from reality for many people living in remote areas. Hopefully, the service would come sooner as this will greatly improve the current situation of the internet in the Philippines.
The industry's next big thing: Cloud gaming explained
It's gaming on the go, but for internet that's not slow
Everybody's getting into gaming these days, and you can't blame them. With the pandemic continuing its ravaging ways in the world, people turn to their consoles or PCs for some action. However, not everyone can afford all the expensive PCs and the next-gen consoles when they come out.
Instead, a new player comes into the fray with a pretty great idea. What would happen if you can just play your favorite games from any device? Also, what if we told you that this won't take up space on your device at all? This is basically what cloud gaming offers to you: a way to play games from any device at any time!
So, how does that actually work? What do you need to ensure quality gameplay, and should you even consider it?
The basics of playing on a cloud
On paper, it's pretty easy to understand how cloud gaming works. Basically, you have access to a library of games from a cloud storage service. When you subscribe to the service, you can virtually play your library from any device regardless of the specs. Also, you don't have to worry about storage problems since these games are stored on a server.

It's no joke when these companies tell you that you can play your games on any device. With their dedicated data servers, they make sure that the games run smoothly once you access them from the cloud. On your end, you will need a strong and consistent internet connection to play the games smoothly.
Several companies already have cloud gaming software available for people to subscribe to. Some examples include NVIDIA's GeForce Now, Microsoft's xCloud, and Google Stadia — all of which store PC games on a server. These companies even take the time to update their server hardware every so often to bring the best possible quality.
System requirements for cloud gaming
Much like your ordinary PC or gaming console, companies that run cloud gaming servers need certain equipment to run smoothly. First, these companies must set up active data centers and server farms that run the games. These data centers ensure that games are up and running, while reducing latency. In other words, these serve as the powerhouse of cloud gaming.
Next on the list is the network infrastructure necessary to send these to the users. To ensure that people don't experience lags when they play their games, companies also invest in acquiring proper data connections. However, in most cases, this isn't something these companies have control over; it's mostly coming from their available internet service providers.
On the front-end, companies also provide dedicated hardware and software to house the cloud. For example, NVIDIA integrated GeForce Now into their own cloud streaming device, the NVIDIA Shield back in 2013. Meanwhile, Google Stadia relies heavily on using pre-existing Google software like Google Chrome and the Stadia App.
Something great to offer, for the most part
Cloud gaming services offer something unique in the industry. Essentially, it eliminates the user from investing so much into buying expensive PCs as it allows people to play from virtually any device. Whether it's on a smartphone, laptop, or even a smart TV, people get access to games at high frame rates without an RTX 3080.
Furthermore, the game and save files are stored on the cloud, and don't take up any storage on your devices. This is greatly beneficial for people who are already running on limited storage space, especially if they play Call of Duty: Warzone. With everything stored on the cloud, you don't need most of the 512GB of SSD storage.
However, one of the biggest issues with cloud gaming revolves around the thing it's based on: the internet. Specifically, it's on the user's internet connection as these services require the fastest internet to run smoothly on any device. Basically, you will need either an Ethernet or a 5G wireless connection to ensure the lowest latency possible.
That infrastructure isn't readily available in most markets, which is a prominent issue among several third-world countries. Furthermore, even if there are companies that have 5G in their pipeline, these same providers also put data caps on it. Even if the user can play at an optimal frame rate, they're doing so with a restriction in place.
Does this new player have any place?
With the world continuously opening its arms to the gaming industry, innovation becomes the forefront of success. Companies come up with a variety of gaming technologies that seek to cater to a wide variety of people. From individual hardware to pre-built systems, gaming often revolved around these things.
With cloud gaming, it gives people not just another option within the mix. Rather, it seeks to challenge the notion of availability and accessibility, and give it a viable solution. Essentially, it takes away the physical hardware limitations on the user's end, and makes it available for everyone.
But like most gaming technologies, everything is still limited somehow. These systems still experience bottlenecks both on the manufacturer and the user's end. In the end, it will depend on how much you're willing to shell out for them, and how willing you are to accept the risks.
Your MagSafe Questions Answered
Do you really need it?
If you've ever owned an old MacBook before, you'll know that those chargers magnetically snap onto place. That particular technology is called the 'MagSafe'.
After the MacBook Pro touch bar and USB-C overhaul last 2016, everyone thought MagSafe ended for good. Not until they announced the new MagSafe for the iPhone 12 series four years later.
The MagSafe technology might not be new but the implementation for the latest iPhones makes the technology even more usable. Other than the securely-placed phone for wireless charging, there are a plethora of case manufacturers who continuously work on future accessories that support MagSafe existing ecosystem.
But is the Apple MagSafe more than just a gimmick? And do you really need it?
Watch our in-depth Apple MagSafe explainer here.