A phone's water protection plan: IP ratings explained
It doesn't give you the right to dunk it in water, though
If you plan to bring your phone to a beach trip with your friends, you normally bring a pouch with you. The main function of that pouch is to protect your phone from contact with any liquid while you enjoy the waves. Of course, it doesn't fully guarantee that water won't seep through it — especially when a big wave crashes on you and opens the pouch. But, it does give a sense of safety and security for your beloved smartphone.
That's the whole concept behind an IP rating that's given to most smartphones today. Nowadays, you hear a lot about these smartphones being advertised with IP68 ratings. But, what does an IP68 rating actually mean? Is it worth something to consider when buying a new smartphone?
What is an IP rating?
IP ratings are not new in the tech world. In fact, a lot of the electrical appliances and technologies you have at home come with it. An IP rating, or ingress protection rating basically tells you the level of protection any electrical device has against solid and liquid objects. It acts as a security measure to determine what objects the device can handle without malfunctioning.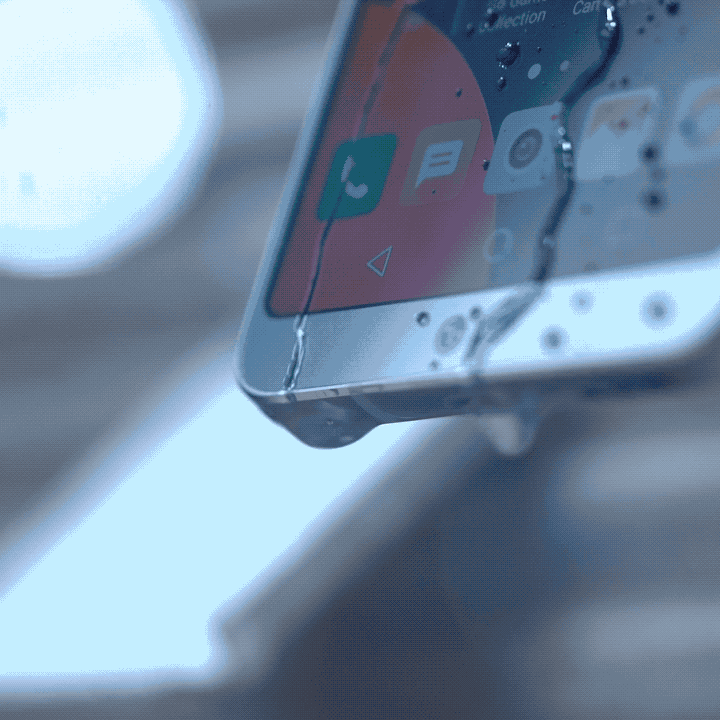 The International Electrotechnical Commission (IEC) gives out these ratings to manufacturers as a safety measure for production. It consists of two numbers that describe its protection against a vast number of objects, even human touch. The first number denotes a device's protection against common solid objects and dust. Meanwhile, the second number denotes a device's protection against liquids, even steam-jet liquids. The higher the number, the more protection it gets!
IP ratings are not just present in most recent smartphones. Things like electrical sockets, cameras, even phone cases come with IP ratings, as well. 
The reason it exists
Manufacturers and consumers see an IP rating quite differently. Those two numbers ultimately stand for how well your device can stand against, well anything. For manufacturers, an IP rating basically gives them a standard to follow when producing more devices. Before shipping their latest smartphones, they subject their devices to numerous tests to validate their IP ratings.
Also, it gives a more concrete way of stating that their devices are resistant to such objects. When you come across smartphones that claim to be water resistant, oftentimes you tend to ask just how resistant it is. With manufacturers, the IP rating gives a more definitive measure to that claim. For example, a smartphone with an IP68 rating is heavily protected against dust, and you can submerge it in waters deeper than a meter — perfect for beach trips.
For consumers, the IP rating just provides a peace of mind when buying a new smartphone. It's basically placed there to tell you that your phone can still be used even if you subject it to too much dust or water that's too deep. You see this in most YouTube videos or channels that basically bend, scratch, and dunk phones in buckets of water. In the end, you won't have to worry about destroying your phone that much when you go on that beach trip without a pouch.
Some manufacturers simply don't need the rating
However, there are manufacturers that simply found the rating unnecessary or simply just a marketing tool. Companies like OnePlus even did an entire ad that showed off their new flagship devices, the OnePlus 7 and OnePlus 7 Pro without an IP rating. The whole issue sparked debates on whether or not IP ratings do make sense, or companies could simply do without them.
OnePlus argues that one reason their new smartphones don't have an IP rating is because of the cost to get one. Even simply requesting for a phone for consideration costs a lot on the manufacturing side, which ultimately bumps up the phone's price. Pete Lau, one of the co-founders of the company estimated the cost for getting an IP rating is at US$ 30. Of course, it is entirely up to the consumer's view of its value to the overall product.
The other reason is because of the coverage of the device's warranty, particularly towards water damage. OnePlus claims that even if smartphones have IP ratings that show how resistant they are to water, water damage isn't fully covered by its warranty. This also furthers their argument on why they wouldn't want to spend on getting one in the first place. An IP rating is not a legitimate reason for people to have their phones fixed for free after dunking them in buckets of water.
To them, it does not make sense to simply attach an IP rating onto a phone even as a marketing tool. It gives off the wrong impression that the device is waterproof when the rating basically leans towards phones being water resistant.
Do we really need to know the IP rating?
The IEC created IP ratings for everyone's protection — from manufacturers to consumers. The whole purpose of having an IP rating is to provide a level of protection for anything electrical, smartphones included. It ensures the safety of everyone, but it's not a way to bail anyone out when they dunk their phones in water.
While some may argue that it helps to know what your device's IP rating is for better care, others just see it as a marketing ploy. It only seeks to sell a device perceived to be waterproof according to a standard. However, IP ratings were not meant to waterproof your phone by any means. It's there to tell you that your phone can handle water, just possibly not too much.
At the end of the day, we have to ask ourselves whether we truly see the value in having these IP ratings. Whether or not your preferred device has an IP rating, just remember: it's not a reason for you to exploit your phone.
DITO is all-in for the next generation of mobile connectivity
But what do they mean by this, exactly?
For as long as most Filipinos can remember, the Philippines has always had only two major mobile networks that they could choose from. This made the choice of network provider a bit simple but very limited for consumers. Recently, however, an actual third player came into the picture in the form of DITO Telecommunity.
While availability started back in March, DITO is making strides in terms of the services it's offering. Currently, they are available in over 650 cities and municipalities across the country. Also, for the most part, these offers consist of high-speed data plans at an affordable rate. Where they want you to shift your attention to, however, is that their network also supports 5G connectivity. In their words, it's the "next-gen technology" they want their consumers to experience.
So, what is this "next-gen technology" that they're going on about?
Let's review: the essence of 5G
The biggest thing about DITO's new network service is their claim to bring "the real 5G" to the Philippines, at least according to DITO CTO Retired Major General Rodolfo Santiago. We had already talked about the whole 5G experience and what it brings to the table, so let's not get into it too much. Basically, 5G serves as the next big thing in mobile connectivity, promising faster connections and wider coverage.
As such, telecommunication companies are opting-in to provide just that to its consumer base. However, like most new technologies, there are obstacles in the way that makes fast mobile data a little impossible to achieve. Well, DITO pretty much has that covered with what they call their world-class digital infrastructure.
Standing alone, or not standing alone?
While competitors began to introduce 5G to its consumers earlier, what they initially deployed was 5G non-standalone (NSA) network. This means that their 5G architecture is assisted by their existing 4G infrastructure. DITO, on the other hand, began developing their 5G standalone (SA) network since their rollout in 2019. 
In theory, 5G standalone networks like DITO provides super-fast transmission speeds with ultra-low latency, which is suitable for most enterprises. Per its namesake, it relies heavily on its own 5G infrastructure instead of using its legacy 4G infrastructure as a jump-off point. In turn, DITO users will experience true 5G speeds every time they connect to the internet through mobile data. In other words, 5G standalone is "true 5G".
With 5G standalone, DITO unlocks the "true 5G" in accommodating what 4G networks previously couldn't. While it is building on what 4G connectivity initially offered, over time, it will eventually solidify itself as the standard for mobile connectivity.
The true goal for DITO
"Our goal has been to allow Filipinos to experience next-generation technology and we in DITO are excited to bring 5G to more areas in the country to truly transform digital connectivity and online interactions," added DITO Chief Technology Officer Rodolfo Santiago.
For DITO, this is the "breakthrough connectivity" they want to bring to the general public. Apart from achieving greater mobile data speeds, each DITO SIM gives users access to more enhanced versions of innovations that are already widely available since the introduction of 4G. Two of which are VoLTE and ViLTE, the latter of which is something DITO proudly boasts.
Their next-gen offer: VoLTE and ViLTE
What exactly are these two innovations they're enhancing with their services? Let's start with VoLTE, mostly because this isn't necessarily something new for most people. Simply put, Voice over LTE or VoLTE allows users to make voice calls without compromising mobile data speed. Normally, it's an either-neither thing, wherein one use case will be a priority.
What is new is ViLTE, or as DITO calls it: Video over LTE, which works the same way as VoLTE but for video calls. In essence, users can make video calls from your device without the need for a video calling app. Also, these video calls are charged with the same rates as a normal voice call. However, this feature is currently limited to video calls between DITO subscribers.
Bringing it all together, DITO offers a package with faster connections and greater savings considering the innovations. It's not something that a lot of other telcos are offering; for DITO, however, the experience doesn't stop there.
Any phone will do, but what exactly do you need?
Upon its early availability, DITO released a list of compatible phones that supposedly bring out the telco's best features. Like most providers, the DITO SIM works with any smartphone, 5G or not, for the bare minimum features like calling, texting, and mobile data. To experience "the real 5G," however, they want a 5G device with a more standalone architecture.
For context, the 5G smartphones on this list come with either 5G NSA or 5G SA. The main difference between the two is, well, non-standalone architecture isn't necessarily true 5G; rather, it is applying 5G to a 4G network. Meanwhile, 5G SA is its own 5G network, built and connected to 5G network bases to deliver higher speeds with lower latency than 4G.
In DITO's case, only a handful of smartphones actually support the 5G SA architecture, which is where their 5G capabilities are built on. Currently, they are continuously exploring avenues to expand their network in order to bring "the real 5G" to more Filipinos, provided they have a supported smartphone. Again, these kinds of smartphones are a bit pricey, but to experience "the real 5G," it's not a bad trade-off.
The future is DITO (here)?
DITO enters the scene with the goal of bringing the next big thing in telecommunications, and their offer hinges on it. In their eyes, the promise of faster internet and wider coverage is already here, and it's just a matter of getting people to opt-in. With its latest innovations, DITO provides a more enhanced mobile data experience.
To fully experience the next generation of technology, users must be properly equipped to wield such power. There's a reason that DITO put out a device compatibility list upon initial launch: to provide users the best possible experience with all the features they have. Sure, any device will work with the DITO SIM, but certain devices give you that best experience.
Is it time to make the switch to the next-gen? In DITO's eyes, the answer is simple and they're waiting for people to join them.
---
This feature is a collaboration between GadgetMatch and DITO Philippines.
The secrets behind iPhone 13's Cinematic Mode
Together with Apple's VP for iPhone Product Marketing as well as their Human Interface Designer
For the first time ever, we had a three-way interview with Apple's VP for iPhone Product Marketing, Kaiann Drance as well as one of their leading Human Interface Designers, Johnnie Manzari. If you're not starstruck enough, both of them appeared in Apple's September 2021 Keynote event!
Other than new camera sensors, newer camera features are also found on the new iPhone 13 Series. One of those is the new Cinematic Mode.
If you've watched some of our latest iPhone videos including the Sierra Blue iPhone 12 Pro Max unboxing, we've let you take a sneak peek on that new video mode.
We're not gonna lie, it's one amazing camera feature Apple has managed to deliver.
But what are the secrets behind it? And are you curious how technicalities work?
Watch our 16-minute interview with the Apple executives explaining why Cinematic Mode is the next big thing in mobile videography.
How Google alerted the Philippines during the July earthquake
Crowd-sourcing data
Back in July, an earthquake rocked Metro Manila. Unbeknownst to most but noticed by some, a globally renowned company was helping everyone through the natural incident: Google. In the few minutes leading up to and during the 6.7 magnitude earthquake, Android users received important alerts warning them of the ongoing tremors. Though it wasn't the dreaded Big One, the alert afforded attentive users a few precious seconds to either seek appropriate cover or stop doing dangerous tasks.
Incidentally, the tech surrounding Google's earthquake alert system wasn't just hastily built on ongoing databases or social media. Google actually packed in a fully responsive earthquake sensor for Android phones.
Faster than an earthquake
The forever-increasing speed of technology has always been a contentious element since the rise of smartphones. Developers and users alike have wondered how accurate or quick our favorite devices can warn us of things happening around us. There's even an XKCD comic about how Twitter can warn us of an earthquake minutes before it reaches the reader.
Over the years, technology has developed new ways to deliver alerts. From simple weather apps to city-wide messaging systems, users can receive warnings in a timely fashion. Practically nothing is a surprise anymore with the right technology.
That said, Google has successfully developed a new system that can rely on other Android smartphones to accurately tell whether or not an earthquake is happening.
A quake detector in your pocket
Speaking to Android Police, the feature's lead engineer Marc Stogaitis described how Google's earthquake sensor leveraged other devices to tell users about the quake. It all revolves around the different sensors built inside your phone.
As it is, every smartphone comes with a host of sensors to support its different functions. A light detector can seamlessly adjust brightness and camera settings, and a gyroscope can support compasses, for example. With earthquakes, the biggest element to ponder on is a smartphone's movement and vibrations during an earthquake.
According to the lead engineer, figuring out the metrics for detecting an earthquake wasn't a problem. After decades of accurate seismograph technology, developers already have an idea on what they need to measure.
However, the technology does not stop there. Naturally, there are hiccups to relying on just a single (or even every) phone's data. For one, a city-wide messaging system can set off everyone's phone in a single area, potentially causing false positives. Plus, relying on a single phone is definitely tricky. There are multiple actions which can cause vibrations akin to an earthquake.
Crowdsourcing a quake
The feature doesn't rely on just one phone. It doesn't tap into every Android phone in an area either. Instead, it collates data from phones plugged into a charger. Naturally, a plugged-in phone is the most reliable barometer in terms of battery reliability. They won't die out in the middle of an earthquake and ruin a source of data. Additionally, charging phones are often stationary. They won't be affected by motions that mimic earthquakes.
Google "listens" to charging devices in an area. If the subset meets the criteria for an earthquake, the company quickly determines the earthquake's epicenter (based on approximate location) and magnitude. Once the system declares that a quake is indeed happening, it sends out an alert to nearby devices and gives them the time needed to seek shelter.
The alerts naturally prioritize people nearer to the epicenter. But, of course, the speed will ultimately depend on the phone's connectivity. A phone hooked up to a building's fast Wi-Fi connection will receive alerts faster than a commuter's phone on data while going through a tunnel.
Still, the short time that the alerts give users is enough to save themselves from a precarious situation. Though the feature can potentially warn users of quakes minutes in advance, Stogaitis says that it will more realistically push alerts five to ten seconds before the incident. However, five seconds is enough to go under a table and have some sort of protection against falling debris.
Still keeping things private
For anyone worrying about how Google is handling their data, Stogaitis says that the company removes all identifiers from the data except for approximate location. And, despite that, Google still maintains that the feature will be the most accurate that it can be. Either way, the feature will be useful for any earthquakes in the future.
The earthquake sensor is available for any Android phone running Lollipop and above. Naturally, the feature still necessitates that users turn on emergency alerts on their phone.