The Meizu M5s is a respectable upgrade from its predecessor, the M5. Despite its late release to the series (a year after the M5). It almost feels reminiscent to the Arc Reactors Tony Stark kept upgrading. Similar to altering from one palladium arc to the next, the M5s sustains the same specs as the M5, such as its display, memory, and body, but tweaks the build to a sturdier metal.

The Flyme experience
It might feel a little strange as it runs on the Flyme operating system on top of Android 6.0 Marshmallow, so instead of logging into your Google account, you need to sign in or create a Flyme account. The sign-in prompt will pop up once you've turned on the phone, but once you skip the test, it'll block you from downloading applications on your phone. The Flyme account helps you transfer files, as well as offer a phone tracking system that'll help you find your phone if you lose it.
The interface is minimalist with no frills and no fancy animations to distract you from navigation. An interesting feature I found was the DND (do not disturb) mode which you can easily enable, customize, and schedule. This feature allows calls and messaging to be muted for those who want to unplug from the digital space. I suspect that most people would typically use the airplane mode to shut off calls and messages, but the Meizu M5s sets this mode so you can conveniently schedule and set your very own shut off time.
For the navigations, the home button serves as the standard back button while customizable gesture control options make browsing through the phone far simpler than on other Android smartphones. You can assign many gestures to certain tasks to access everything. It has a dozen gestures to customize, from the expected swipes and double-taps to letter gestures! 
With these set features and the new metal build and stylish silver design, the Meizu M5s fulfills a little more than the practicalities demanded of a phone at the price range of $150 to $180, depending on how much built-in storage you choose.
How's the camera?
The Meizu M5s has a 13-megapixel rear camera and a 5-megapixel front camera that take respectable photos. They also have filters you can choose from, as well as settings for capturing photos and videos.
Playing with the settings on the camera is a load of fun. You can capture HDR, GIFs, slow-motion shots, and even scan QR or bar codes aside from the standard beauty and panoramic settings. Some modes, such as slow-motion, come out blurry and the camera does shift colors while attempting to focus on a subject. You can check some of the samples shots I've taken below. 
As you can probably notice, the Meizu M5s' front camera takes impressive photos during the day, but the photos can suffer from a lot of noise with little lighting. It can take a while to focus but despite that, the phone has fun filters and features that allow users to experiment and play around with. As for me, I had a bit of fun integrating QR codes into my messages and conversing with my friends in code. 
A decent battery life
The Meizu M5s is equipped with a 3000mAh battery which isn't such a huge difference from the 3070mAh battery of the M5. The phone survived an entire day of average to heavy use.
It took a bit of a beating since I played Hearthstone, listened to Spotify, and watched YouTube videos on it while I was out, but it managed to stay alive for about eight hours with moderate app usage. With light usage, you can easily extend the battery for longer. Unlike the M5, the M5s comes with Meizu's mCharge solution which makes charging the M5s much faster than its predecessor.
It's got the basics down pat
Before I start skipping about like Baloo in The Jungle Book, let's plow through what the Meizu M5s actually offers.
The M5s is powered by a low-end MediaTek MT6753 chipset with 3GB of RAM. While the eight-core system works well with loading apps by themselves, performance tends to slow down when hungry apps like Facebook and YouTube run in the background. Despite the smooth gesture control for alternating tasks, the M5s can't handle multiple applications running at the same time. Switching off apps that aren't in use can help with this issue.
Little features you might be looking for
Not everyone looking for a phone wants one with top-of-the-line specs. And, some don't even know how to maximize their expensive phone's features. Here are features you might find helpful or within your baseline checklist.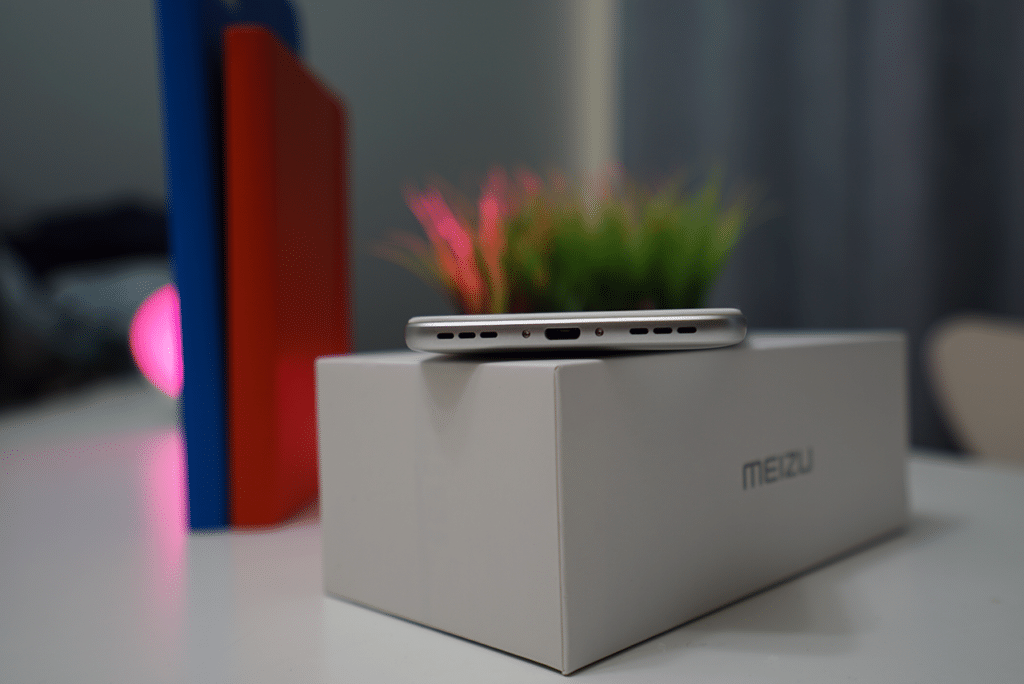 This Meizu is dual-SIM just like the M5, and while the home bottom maintains its standard back button use, it also triples as a fingerprint scanner. The micro-USB port is at the bottom while the audio jack is stationed at the top of the M5s. This could seem strange while working on your phone, but it can be easy to keep inside your bag or pocket while listening to music.
Is this your GadgetMatch?
For a phone that has a better build than its predecessor, the Meizu M5s can fall a bit flat on features people would or could have hoped to see, but it does well regardless.
If you're looking for a budget phone that delivers a little more than the bare necessities, this is the phone for you. It has fun modes you can test out and play with on the camera and some customizable gesture sets to integrate an all-around personalized experience.
With decent specs for storage, performance, battery life, and camera, this phone is great for those looking for a phone that delivers on the essentials and manages to add fun features to play around, all without hitting their wallets hard.
SEE ALSO: Best Budget Smartphones below $300 (June 2017 Edition)
GoPro HERO 6 Black vs HERO 5 Black Comparison
Which is the action camera for you?
GoPro is one of the biggest names in sports videography and is a name that first comes to mind when the need for a portable, easy-to-set-up camera arises. Although, the past couple of years were a bit hard for the company as sales plummeted, and after introducing their first-ever drone, some literally fell from the sky.
Still working hard on making another hit, GoPro has returned with their latest action camera, the HERO 6 Black, and it boasts some pretty impressive features. Will it be the saving grace the company needs right now? How does it fare compared to its predecessor, the HERO 5? We answer those questions plus more in this comparison.
Design
On the outside, nothing has changed with the new action camera at all. It's made of the same robust, rubbery material that's designed to go underwater for as deep as 10 meters without needing an extra waterproof case. Button placements are carried over — one up top to start recording and another one on its side to switch between shooting modes.
Underneath, the same 1220mAh battery is stored while connectivity ports are on the other side. Even the protective lens is still removable and replaceable. There's virtually no way of telling the two apart except for the small print on the side of the camera.
Features
The biggest upgrade of the HERO 6 has more to do with output. It can now shoot up to 4K resolution at 60fps, whereas the previous HERO 5 topped out at 4K 30fps. It might seem like a small detail but having the option to shoot smoother video is always a good thing.
Another difference is frame rate. The HERO 5 Black can capture videos at a speedy 240fps but resolution is limited to 720p. The newer HERO 6 Black, on the other hand, can shoot the same 240fps rate at a clearer 1080p resolution.
For more flexibility, the HERO 6 can also shoot at 2.7K at 120fps so you get nice slow-mo video with the ability to resize or re-scale your footage if the need arises. Other features that differentiate the new action camera from its predecessor include better low-light performance and dynamic range.
Video Sample
Of course, all this means nothing if we can't see for ourselves. I brought both cameras during my travels and you may refer to the embedded video below (starting at 2:46) for some sample video comparisons.
You can easily see that the sky from the HERO 6's shots is more vibrant than the pale blue color from the HERO 5. There's also a noticeable difference in exposure. The HERO 5 has darker blacks which, in this case, worked well since it was able to bring out more details on the snowy mountain.
Although both are set to auto white balance, footage from the HERO 5 still turns out to be warmer as seen in the indoor shoot.
In terms of stabilization, the new HERO 6 really stepped up its game to remove unwanted jerks and jitters. The difference is day and night, and it's impressive how the HERO 6 almost looks like it was mounted on a gimbal thanks to its electronic image stabilization.
Don't get us wrong, the HERO 5 also has its own EIS, but just not as good as the new flagship's.
One more thing to notice when the camera's EIS is turned on is that the HERO 5 needs to crop the image by 10 percent to achieve a smoother shot, while the HERO 6 has improved this and only crops about 5 percent of the original image.
Additionally, stabilization on the HERO 5 can only be used until 2.7K resolution at 60fps, while the HERO 6 supports stabilization until 4K. The only limitation here is that EIS maxes out at 30fps with no support for the higher 60fps.
Onto low-light shooting: Footage taken with the older HERO 5 couldn't achieve the same level of clarity shot on the HERO 6. Colors are also livelier and digital noise has been reduced significantly on the latter.
Although there were instances, like when we went ice skating, that we preferred the color and details shot by the HERO 5. It looked more natural and the ice on the floor is still visible, unlike the one shot by the HERO 6.
Photo Samples
We now look at some photo samples from both action cameras.
This photo was taken at Italy's oldest shopping mall and shows a good balance between light and dark areas. We like how the HERO 5 has a higher contrast which added detail to the metal structure of the mall. 
While waiting for a train, we see the sun lighting the Swiss Alps from behind with a dark and shaded station in the foreground. Again, we see a more vibrant blue sky from the HERO 6 with good details.
But look closer on the warning sign in front of you and the HERO 5 was actually able to deliver a better, more legible image. Even when you crop them to 100 percent, the smallest details seem to appear better on the HERO 5.
At night, both proved to be capable shooters, but the HERO 6 showed more details by effectively capturing the cracks on the floor. One thing that I had been complaining about with my HERO 5 is that it easily overshoots light flares, creating an unwanted glow and losing details.
It's very much distracting here since it washed out the person's face. Meanwhile, we're happy that it was addressed on the HERO 6 as it's clearly the better photo.
Zooming in to 100 percent shows that the green motorcycle has a livelier color and less noise on the HERO 6 compared to its predecessor. Here are more sample photos:
Battery Life
As mentioned earlier in this video, the HERO 6 Black carries the same 1220mAh battery capacity as the HERO 5 Black. So it should technically last for the same amount of time right? Well, no.
We conducted a battery test on the two at full capacities, same video settings, and started recording until they both drained their batteries. After more than an hour and a half, the HERO 6 actually gave up first at 1 hour and 42 minutes while the HERO 5 continued on and reached 2 hours and 5 minutes. That's 23 minutes of difference and could go a long way in real-world shooting.
Responsible for this result might be the HERO 6's newer custom processor. Yes, it could produce better dynamic range, low light shots, and stabilize the camera really well — but at the cost of a more power-hungry chip. That's definitely a trade-off to consider.
Conclusion
So the question here is this: Should you upgrade to a HERO 6 Black from a HERO 5 Black?
Well, you first have to ask yourself the question: Will you be using it to shoot serious action scenes with really fast movement? Are you after the best quality there is? Or are you more of a casual user who just uses a sports camera to document your out-of-town trips?  
Because if it's not for professional work, the HERO 5 Black is more than capable to document all your trips. It's also worth every penny since it just dropped its price to US$ 299, making it a really attractive offering — not to mention longer battery life.
Although if you plan to use your action videos for broadcast and want to have a lot of flexibility in shooting and editing, then you can't go wrong with the HERO 6 Black at US$ 399.
Samsung Galaxy A8 and A8+ (2018) Unboxing and Review
Impressive but expensive
Polaroid OneStep 2 review: The ultimate throwback camera
Bringing back what's classic
When the Polaroid OneStep 2 debuted, I didn't know what to expect. All I knew was that it was one pretty camera so logically I was instantly drawn to it. (I like beautiful things and quirky cameras.) I previously reviewed the Fujifilm Instax SQ10 and the Polaroid SnapTouch so I was quite curious as to what this classic brand had to offer.
Background
The OneStep 2 is the brainchild of Polaroid Originals. It's technically that same iconic camera brand but also, it's technically different. Let me explain.
Throughout the years, Polaroid has made itself known for its cameras — hence the reference in that OutKast song and the reason why Instagram's very first logo was influenced by a Polaroid camera.
The rise of digital photography, however, wasn't the best development (pun intended) for a classic camera manufacturer and pretty soon, Polaroid was going out of business — until a startup called Impossible Project swooped in.
Impossible Project was no stranger to the Polaroid brand. It was the same company that kept the film manufacturing process alive when Polaroid announced that they would cease doing so. In 2017, Impossible Project's main shareholder purchased the Polaroid brand and intellectual property giving birth to Polaroid Originals.
Now, enough of this history lesson and on to the actual camera.
Picture perfect
If you think the OneStep 2 looks familiar, you're right… and you're also probably old.
The OneStep 2 is the successor to Polaroid's original OneStep camera manufactured in the 1970s — one of America's bestselling ones at the time.
Just like the OneStep, the OneStep 2 is an analog camera. Only, there's a 21st-century twist — namely a lithium-ion battery with a micro-USB port for charging. There are no frills or special functions on this camera, just pure old-school goodness.
Setting up
The camera is pretty straightforward. The big red button up front is the shutter button, there's a timer switch on the left of the lens and finally, there's a yellow lighten/darken switch which allows you to adjust photo exposure. On the back of the camera, there's an on and off switch, a flash override button, and the micro-USB port for charging.
Before anything else, you're going to need a pack of film. The OneStep 2 uses i-Type film which come in cartridges that house eight shots each.
To load the film, slide the cartridge into the camera. That tiny latch up front opens the film door. It may sound complicated but it isn't as hard after the first try.
Ready, set, shoot!
The OneStep 2, true to its analog roots, only has a no-frills viewfinder. This can make picture taking pretty tricky; you need just the right angle to take a perfectly framed photo. It also doesn't help that said angle entails half of your made-up face to be on the back of the camera. (Que horror!)
Press and hold the red button to take a photo and the image will immediately print. There's no option to edit or save. All you really do after you press the shutter is hope you framed your photo right.
The film comes out of the camera's front, and now you sit and wait. It takes a few minutes for the photo to develop.
But all that considered, photo taking on this thing is still very fun — that is, if you don't run out of film. Eight shots is not a lot when you're still fumbling with a camera that prints each picture automatically. These lights will tell you how much film you have left.
Verdict
Without knowing what the OneStep 2 can do, I am immediately drawn to it. I mean, look at it! It's so Instagrammable, we probably took more photos of it than from it.
However, if you're looking for a shooter that will give you the clearest instant print, it won't be this camera. There's a certain learning curve on this thing and it takes a while to perfect taking photos — in our case, more than a pack's worth of film.
I have to be completely honest, though: I enjoyed playing with this camera a lot. There's just something about instant cameras that make them all so appealing to me.
Now, some might argue that an instant camera launched in this decade should, at least, have more functions. This is what other brands have done in an effort to evolve. But, to apply that standard to the OneStep 2 is completely missing the point. This camera release relives the simple times and takes us back to the nostalgic glory of the Polaroid OneStep. It reminds us of the sentimentality that old-school photography used to have and allows us to experience the same.
The Polaroid OneStep 2 retails for PhP 8,990 in the Philippines and US$ 100 in the US. The film costs PhP 1,490 per pack of eight in the Philippines, and US$ 16 for the same in the US.
SEE ALSO: Fujifilm Instax SQ10 review