How to start streaming with the Lenovo Legion Phone Duel 2
Time to show the world your mobile gaming skills
During this entire pandemic, some people spent their newfound time and energy towards more indoor-friendly activities. Instead of playing basketball with a group of friends, you're either playing by yourself indoors or playing NBA 2K21 with your group. Also, some are resorting to e-numans (virtual drinking sessions) or having your version of a rave on TikTok. Whatever floats your boat, right?
For a handful of people, they invested their time, energy, and savings into streaming content. Even if some of you aren't hardcore gamers, it's still a great way to mix passion and profit into one. Of course, you need the proper hardware to start streaming on YouTube, Twitch, or Facebook — apart from faster internet. Maybe there's a way around that.
I present to you the Lenovo Legion Phone Duel 2, the newest gaming smartphone in the market. You're probably wondering how a gaming smartphone will help you start streaming content. Allow me to demonstrate:
Matching power with performance
A key component in any streaming setup is, well, the devices you're using to play the games. For most streamers, a dedicated PC with powerful hardware and decent peripherals is all it takes. However, as I pointed out, the entire bundle is pretty costly if you want the best.
The thing is, gaming smartphones like the Legion Phone Duel 2 are pretty powerful in their own right. Inside the Legion Phone Duel 2, you have a Snapdragon 888 5G CPU with up to 16GB of RAM — a total mobile gamer package. With these hardware, you can play virtually any mobile game to your heart's desire while multitasking with other apps.
Apart from these, the Legion Phone Duel 2 comes with a 6.92-inch AMOLED display for those crispy in-game visuals. What makes it even more powerful is that it also comes with a 144Hz refresh rate — a great feature to have. Because of this, you will experience smooth gameplay and react a bit faster to any challenge.
The streamer-centric features
All the things I just mentioned catered to a bulk of content you will stream to people online. Obviously, you want to keep it as personal and unique to you so a face-cam is in order. Now, you might be wondering: where will you get a webcam to connect to this gaming smartphone for that face-cam? Well, the answer is hiding inside the phone.
See, the Legion Phone Duel 2 comes with a retracting 44MP front camera hiding inside the power button spot. When you open the Camera app, you can simply switch to the front camera and it will instantly pop up. For content creators and streamers, the 44MP front camera supports 4K recording at 60 FPS for buttery-smooth videos.
Also, the Legion Phone Duel 2 comes with an AI-enabled noise cancelling microphone, which is a big deal for most streamers. In essence, you can achieve clear voice audio without having to turn away your fan or close your windows. I mean, you would want to keep a literally cool head when you're playing and streaming, right?
Properly setting everything up
So, how does the Lenovo Legion Phone Duel 2 bring all of these together to achieve a great streaming experience? Allow me to share some ways you can take advantage of these features to maximize your gameplay and streaming capabilities.
Download the streaming service app you want
Before you start broadcasting your gameplay to the world, you will need the streaming service app first. Fortunately, the YouTube, Twitch, and Facebook Gaming apps allow you to stream directly from your phone. Unfortunately, YouTube requires you to meet specific eligibility requirements first before doing that.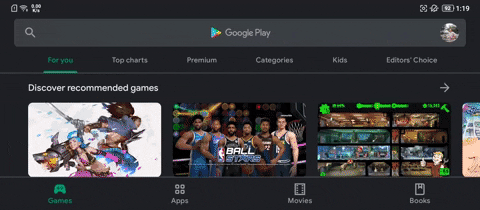 Also, if you decide to stream from those apps natively, it's just you and the game. Essentially, you don't have access to any creative overlays or camera adjustments you envisioned for your first stream. If you want those fancy overlays, I suggest downloading and using Streamlabs instead.
Placing the elements you want and need
If you decide to download and use Streamlabs, it's important to know which elements you want and need for your stream. By default, the app captures your screen when you open it up so you have to add everything else. After opening the app, click the three lines you see on the upper right-hand corner and toggle "Go to advanced settings."
Under these settings, go to the "Editor" section then press "Layers" on the upper right-hand corner. From there, simply press "Add layer" and you can add pretty much all the elements you need. Of course, you have a wide selection of layers to choose from, like your front camera, your overlays, and even your alert boxes.
Fix your streaming settings first
After placing these elements, exit Editor and go to "Streaming Settings" to adjust some more things before you stream. For the most part, you will only need to change the video settings for the stream and the platform settings (whichever platform you want).
For the video settings, I highly suggest researching on the most optimized video bitrate for the resolution you want. See, Streamlabs allows you to stream up to 1080p at 60 FPS, so it's better to match the bitrate towards your desired resolution.
Time to go live
Once everything is in order, it's time for you to go live on your preferred streaming platform! If you opted for the native apps, it's as easy as just clicking the "Go Live" button on those platforms. If you opted to use Streamlabs, it's basically the same idea but with more creativity on your part.
Also, the Legion Phone Duel 2 has a pretty nifty feature that will make the streaming experience less of a hassle for you. See, this gaming smartphone comes with Octa-Triggers, which you normally configure on your games. It allows you to have a controller-like experience that's suitable for most fast-paced games you play.
Now, you can also take advantage of this feature as your own little stream deck, like how Elgato does it. Simply add Streamlabs to your list of games under the Legion Realm app, and map the triggers accordingly. Although, you don't really have to do this, so it's entirely up to you.
The Lenovo Legion Phone Duel 2 is still accepting pre-orders until June 30, 2021, at the following price points:
PhP 39,995

for the 12GB RAM + 256GB storage option

PhP 49,995 for the 16GB RAM + 512GB storage option
Kovol 65W 4-port charging station Hands-On
Small in size, big on power
Nearly everyone I know carries around two to three devices. It's some combination of a laptop, smartphone/s, and tablet/s. Imagine having to lug around these devices along with their power bricks. That's a significant weight added to your bag. Enter the Kovol 65W 4-port charging station. This thing, as the company says, is small in size but big on power. 
Personally, I'm a member of this multi-device tribe. I almost always carry with me a laptop and two smartphones. That's excluding any other smartphones or laptops I may be reviewing at the time. 
This is part of the reason why I'm in the 'USB-C Everything' camp. It would make our lives as tech reviewers just that much better. But since that reality may not be happening anytime soon, multiport GaN chargers like this are the next best thing. 
Regulated power 
Just because it has 65W written on it, doesn't mean that it's the only power output available. It can smartly allocate power to each device based on its needs. The 65W ranges from 65W, 45W, 30W, 25W, 20W, and 18W. So, whichever fast charging output your device supports, that's what it's getting. 
There's also a 120W version of the charger and it can output at 87W aside from others that have already been mentioned. 
Kovol also claims it has low-heat and safe-charging. This means there will be no risk of overheating and overcharging your device. During my time using the charger, I can say I never felt any sort of unusual heating from it. 
How fast is it, really? 
But of course, the real question is how fast it actually is in real world use. Fret not, I have you covered. I'll list the charging times of the three devices I primarily use. 
Before we start though, I would like to describe my normal usage. I'm totally not the type who lets the devices reach red levels of the battery indicator. Small beads of sweat immediately form around my head as soon as my devices' battery indicator shows anywhere between 40% to 50%. 
Go ahead. Laugh all you want. But I've been in waaaay too many situations when I forgot to juice up only to need to charge but without any power outlet nearby. It's a sticky situation I would like to avoid as much as I can. 
With that said, here are the charging numbers I recorded. Duration in minutes (mins) is how long it took to reach 100%.  
At 30% – 40 mins 

At 40% – 32 mins 

At 50% – 23 mins 

At 65% – 16 mins 
At 10% – 59 mins

At 30% – 46 mins 

At 40% – 37 mins 

At 50% – 25 mins 

At 65% – 18 mins 
At 35% – 1 hour, 41 mins

At 40% – 1 hour, 26 mins

At 50% – 1 hour, 10 mins

At 65% – 40 mins
Naturally, these numbers will vary depending on your devices and the kind of wired fast charging they support. But what's evident is that these are more than decent charging speeds. These are especially useful if you only have a limited time access to a power outlet when you're out and about. 
Small for its power
The charging speeds are impressive but what really takes the cake is how small the Kovol 65W 4-port charging station is. It's a little chunky, but it's short enough that it'll easily slide into your bag without taking up much space. 
Personally, I carried it in this tiny-gadgets-and-cables pouch I normally bring around whenever I step out. 
Its small size is also helpful when you have limited table space. It can sit just right next to your devices without taking away any wiggle room you might need. 
Price and availability
Some manufacturers are following Apple's lead in taking away the power bricks from brand new devices. It's a good reason to invest in a multiport GaN charger other than the ones already mentioned. 
The Kovol 4-port charging station comes in two variants. Pricing are as follows: 
5 reasons why you should consider the OPPO Enco W11
Transition easily to the wireless lifestyle!
Anyone can hesitate to step on a wireless journey if everything you see is all godd*mn expensive. Unbeknownst to many, there are pairs of wireless earbuds that are affordable and perform exceptionally at the same time.
One example is the OPPO Enco W11. If you're considering switching to the wireless side, here are five reasons why the Enco W11 would make the perfect fit. In your ears and life, probably.
20-hour battery life
The Enco W11 lets you enjoy up to five hours of playback time on a single charge. Use the charging case and you can extend that to 20 hours.
Moreover, the charging case can recharge your pair of wireless earbuds for only 15 minutes, and you immediately get one hour of playback time.
Fits snugly
Depending on the form factor, some wireless earbuds can be a tad uncomfortable. Thankfully, the Enco W11 comes with an exquisite design that goes along with the shape of the ear. Plus, there are three sizes of soft silicone ear tips to choose from.
It also weighs 4.4g so you won't feel the weight in your ears, allowing you to listen comfortably while you're on the go.
Dust and water resistance
Get that extra peace of mind knowing that your pair of wireless earbuds have an IP55 dust and water resistance. It means that you can bring it to the gym, sweat it out, or even run through the rain — and you don't have to worry about your device. It can stand splashes of water and dirt if you accidentally drop them.
Stable connection, lower latency
Most people are hesitant to switch to wireless earbuds because of the latency issues. With the right technology, the connection can be stable. Such is the case for the Enco W11 which receives signals on both sides to reduce latency. Unlike ordinary true wireless earbuds that receive signals on one side before sending them to the other.
The Enco W11 also uses a built-in Bluetooth 5.0 chip to help you enjoy uninterrupted audio. It's perfect for those virtual meetings or just tuning out to your favorite playlists or podcasts.
Easy controls
Lastly, the Enco W11 doesn't require a lot of brainpower to use. It pairs easily and resumes connection instantaneously within 10 meters.
Further, it comes with touch controls that are easy to navigate. You can play or pause your music with a single tap, or move to the next song by double-tapping.
The voice assistant can be activated by triple-tapping, and you can adjust the volume when you touch and hold the wireless earbuds.
Should you buy the OPPO Enco W11?
The OPPO Enco W11 makes it easy for users to transition to the wireless lifestyle, albeit at a cost that won't hurt their pockets. It's lightweight, comfortable, and intelligent enough to make navigating the controls smoothly. It has an SRP of PhP 1,690.
On January 27, 2022, Shopee is offering an exclusive deal — a bundle of the OPPO A55 smartphone and the Enco W11 wireless earbuds for only PhP 10,988.
The supply is limited so if you won't be able to snag the deal, you can still get the OPPO Enco W11. Shop here.
For more exclusive deals, check out Shopee's Brands Spotlight Festival.
SEE ALSO: OPPO A55 review: Just the basics
Vacuum Wars: Shark AI VacMop vs Self-Empty XL!
Which vacuum is your GadgetMatch?
Like it or not, dusts and other particles accumulate on our floors over time. When you barely got time to mop and vacuum, why not invest on a smart home device that can do both for you?
Shark, known for their home cleaning devices, offers not just one but two of their latest smart vacuum cleaners. But which is the most suitable for your living space?
Hop on to our two-way Shark vacuum hands-on video to know which smart vacuum is your GadgetMatch!