How to start streaming with the Lenovo Legion Phone Duel 2
Time to show the world your mobile gaming skills
During this entire pandemic, some people spent their newfound time and energy towards more indoor-friendly activities. Instead of playing basketball with a group of friends, you're either playing by yourself indoors or playing NBA 2K21 with your group. Also, some are resorting to e-numans (virtual drinking sessions) or having your version of a rave on TikTok. Whatever floats your boat, right?
For a handful of people, they invested their time, energy, and savings into streaming content. Even if some of you aren't hardcore gamers, it's still a great way to mix passion and profit into one. Of course, you need the proper hardware to start streaming on YouTube, Twitch, or Facebook — apart from faster internet. Maybe there's a way around that.
I present to you the Lenovo Legion Phone Duel 2, the newest gaming smartphone in the market. You're probably wondering how a gaming smartphone will help you start streaming content. Allow me to demonstrate:
Matching power with performance
A key component in any streaming setup is, well, the devices you're using to play the games. For most streamers, a dedicated PC with powerful hardware and decent peripherals is all it takes. However, as I pointed out, the entire bundle is pretty costly if you want the best.
The thing is, gaming smartphones like the Legion Phone Duel 2 are pretty powerful in their own right. Inside the Legion Phone Duel 2, you have a Snapdragon 888 5G CPU with up to 16GB of RAM — a total mobile gamer package. With these hardware, you can play virtually any mobile game to your heart's desire while multitasking with other apps.
Apart from these, the Legion Phone Duel 2 comes with a 6.92-inch AMOLED display for those crispy in-game visuals. What makes it even more powerful is that it also comes with a 144Hz refresh rate — a great feature to have. Because of this, you will experience smooth gameplay and react a bit faster to any challenge.
The streamer-centric features
All the things I just mentioned catered to a bulk of content you will stream to people online. Obviously, you want to keep it as personal and unique to you so a face-cam is in order. Now, you might be wondering: where will you get a webcam to connect to this gaming smartphone for that face-cam? Well, the answer is hiding inside the phone.
See, the Legion Phone Duel 2 comes with a retracting 44MP front camera hiding inside the power button spot. When you open the Camera app, you can simply switch to the front camera and it will instantly pop up. For content creators and streamers, the 44MP front camera supports 4K recording at 60 FPS for buttery-smooth videos.
Also, the Legion Phone Duel 2 comes with an AI-enabled noise cancelling microphone, which is a big deal for most streamers. In essence, you can achieve clear voice audio without having to turn away your fan or close your windows. I mean, you would want to keep a literally cool head when you're playing and streaming, right?
Properly setting everything up
So, how does the Lenovo Legion Phone Duel 2 bring all of these together to achieve a great streaming experience? Allow me to share some ways you can take advantage of these features to maximize your gameplay and streaming capabilities.
Download the streaming service app you want
Before you start broadcasting your gameplay to the world, you will need the streaming service app first. Fortunately, the YouTube, Twitch, and Facebook Gaming apps allow you to stream directly from your phone. Unfortunately, YouTube requires you to meet specific eligibility requirements first before doing that.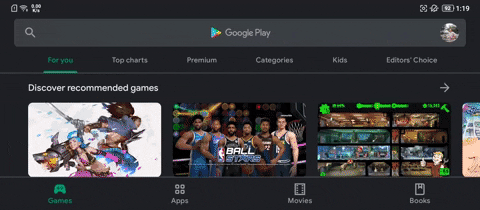 Also, if you decide to stream from those apps natively, it's just you and the game. Essentially, you don't have access to any creative overlays or camera adjustments you envisioned for your first stream. If you want those fancy overlays, I suggest downloading and using Streamlabs instead.
Placing the elements you want and need
If you decide to download and use Streamlabs, it's important to know which elements you want and need for your stream. By default, the app captures your screen when you open it up so you have to add everything else. After opening the app, click the three lines you see on the upper right-hand corner and toggle "Go to advanced settings."
Under these settings, go to the "Editor" section then press "Layers" on the upper right-hand corner. From there, simply press "Add layer" and you can add pretty much all the elements you need. Of course, you have a wide selection of layers to choose from, like your front camera, your overlays, and even your alert boxes.
Fix your streaming settings first
After placing these elements, exit Editor and go to "Streaming Settings" to adjust some more things before you stream. For the most part, you will only need to change the video settings for the stream and the platform settings (whichever platform you want).
For the video settings, I highly suggest researching on the most optimized video bitrate for the resolution you want. See, Streamlabs allows you to stream up to 1080p at 60 FPS, so it's better to match the bitrate towards your desired resolution.
Time to go live
Once everything is in order, it's time for you to go live on your preferred streaming platform! If you opted for the native apps, it's as easy as just clicking the "Go Live" button on those platforms. If you opted to use Streamlabs, it's basically the same idea but with more creativity on your part.
Also, the Legion Phone Duel 2 has a pretty nifty feature that will make the streaming experience less of a hassle for you. See, this gaming smartphone comes with Octa-Triggers, which you normally configure on your games. It allows you to have a controller-like experience that's suitable for most fast-paced games you play.
Now, you can also take advantage of this feature as your own little stream deck, like how Elgato does it. Simply add Streamlabs to your list of games under the Legion Realm app, and map the triggers accordingly. Although, you don't really have to do this, so it's entirely up to you.
The Lenovo Legion Phone Duel 2 is still accepting pre-orders until June 30, 2021, at the following price points:
PhP 39,995

for the 12GB RAM + 256GB storage option

PhP 49,995 for the 16GB RAM + 512GB storage option
The GameSir G8 Galileo is great for PS Remote Play
While we wait for the PlayStation Portal
We happen to be in a region where the PlayStation Portal has yet to be released. Good thing, PS Remote Play is available and GameSir has a controller you can hook up to your smartphone that's readily compatible. Enter the GameSir G8 Galileo.
You might not see it right away, but the biggest difference with the G8 Galileo compared to other smartphone controllers (even the ones GameSir made themselves) is it's actually full size. 
Most smartphone controllers prioritize portability. Thus, they're more compact. That means smaller face buttons, smaller thumbsticks, and generally smaller overall profile. 
Usable, sure. But not exactly ideal for people with chubby hands like yours truly. 
This is also one of the primary reasons why, despite owning a Backbone One, I've rarely used it for its intended purpose. And the reason why the PlayStation Portal is appealing to me. 
The GameSir G8 Galileo changes all of that because of its size. It's also not just larger. Its ergonomics are great too. Your hands will sit nicely on the nice, curved handles for a more comfortable, more enjoyable handheld gaming session.
PS Remote Play 
Another big area of convenience is you don't necessarily have to have the GameSir app to make it work. Simply download the PS Remote Play app, register, and fire it up. 
To make sure it's on PS Remote Play compatible mode, just press the Share and Options buttons simultaneously. Those are the tiny buttons on the left and right hand side of the controllers right above the left thumb stick and the face buttons. 
Upon pressing simultaneously, make sure the color on the GameSir logo on the lower right part of the controller is white. That's how you know it's on PS Remote Play mode. 
Once done, just easily plug-in your smartphone with a USB-C port on GameSir's signature flexible USB-C plug and off you go. 
Actual play time
Here's a quick Marvel's Spider-Man 2 gameplay using the GameSir G8 Galileo along with the HONOR Magic5 Pro with Remote Play:
Playing #SpiderMan2PS5 via Remote Play using an HONOR Magic5 Pro and the new @mygamesir G8 Galileo. pic.twitter.com/q6eDBYAq1E

— rodneil (@rodneilquiteles) November 30, 2023
This under a minute clip, naturally, isn't representative of the entire Remote Play experience. Anyone who has tried it before knows that with extended play time, you'll likely experience a few hiccups here and there. That's just the nature of the beast. 
That said, this whole set-up has been generally great. Other than Spider-Man 2, I've managed to play a handful of quick NBA 2K24 games like this. I still racked up a handful of wins despite suffering from occasional latency trouble. 
The feel of the controller is fantastic and is easily the most enjoyable out of every other smartphone controller that I've tried before. And I've tried a few other than the Backbone One. There's the GameSir X3,  GameSir X2 Pro-Xbox, and the Razer Kishi V2. 
Compatible games, mapping
Depending on the platform you're on, the GameSir G8 Galileo will work on multiple other games. If you're an iPhone 15 Series user, Remote Play, select Apple Arcade games, and even the AAA games set to release for that iPhone will work with this controller. 
For Android users, it's the usual handful of controller supported games that will work with this. For everything else, you'll have to resort to mapping — a task for those with patience. 
If you need more tutorials on how to get it working, just follow GameSir on Facebook or YouTube. They constantly post tutorials. 
---
You can buy the GameSir G8 Galileo here: https://bit.ly/gsg8galileo 
Use G8Creator on the Coupon Code for 10% off.
The Best TV Buyer's Guide 2023: Black Friday Deals
Which TV is right for you?
With plenty of different sizes, models and tech to choose from, do you go QLED or OLED? 4K or 8K? 55, 65, 75, 85, or 98K? Which TV is right for you? This Holiday Season we've partnered with Samsung to help you find your dream TV.
This Buyer's Guide will feature three TVs from Samsung: two from their Neo QLED series, the Neo QLED 4K QN90C and Neo QLED 8K QN900C, and another from their OLED line, the OLED S95C.
If you're in the market for a new TV, you can get up to $2500 off on Samsung's Black Friday deals: Samsung Neo QLED 8K, Samsung Neo QLED 4K, Samsung OLED 4K.
GoPro HERO12 Black: Making heroic shots with the new HERO
Small but not terrible
The HERO of action cameras is back! And no doubt, the GoPro HERO 12 Black is one of the hottest action cameras around.
Not only does it provide great video output, it's also packed with features and improvements that make it stand out from the crowd.
Packed Inside and Out
If you're already planning to purchase the new GoPro HERO 12 Black, here's what you should expect with its thicc packaging.
View this post on Instagram
If you're here for the nitty-gritty new features of the brand's latest action cam, you can see all the specifics in this article.
Keep on reading for the actual hands-on experience..
Reels-Ready
With the continuous rise of Reels and/or TikToks, having to shoot vertically is the way to go.
This is where the new Vertical Framing feature comes handy as it can shoot vertical videos for you without actually turning the device — as opposed to other action cameras including its older counterparts.
Make It Even Wider
The GoPro HERO 12 Black, just like any other action camera, comes with a default lens that it's enough to shoot wide enough footage.
But with the optional Max Lens Mod 2.0, it makes shots even wider.
You can choose between three lens views: the default Wide (16-34mm), Max SuperView (middle ground), and the Max HyperView (the extremest view).
Just remember, you can only apply these when shooting in the default horizontal orientation.
If you're shooting for Reels or TikTok and want this super wide look, you can stick with the default FoV (Field of View) of Vertical Mode. Otherwise, you can shoot in Horizontal Mode and just rotate it during post-process (or via GoPro's Quik app available in both Apple's App Store and Google's Play Store).
Also, don't forget to enable it in its drop-down quick settings menu. This way you can fully-maximize its full-blown super-wide angle view whenever, wherever.
Memento Making
I enjoyed using the combination of the new lens and vertical shooting of this wonder cam during the duration of my travel. And with just one press of the top button, it instantly starts recording.
Several swipes also enables it to shoot photos or record timelapses.
Terrific Thailand.mov
View this post on Instagram
Cute Capy Cafe.mp4
View this post on Instagram
Short Singapore Stop.mkv
View this post on Instagram
What's Poppin' in this Pop Up.hevc
View this post on Instagram
Compact Camera Companion
The GoPro HERO 12 Black is fantastic for recording and keeping travel mementos. But other than that, it's also be good for documenting your everyday life.
The thing I love about the GoPro HERO 12 Black is that it features a built-in mount that can be flapped out within seconds.
My former action camera relies on its case before it can actually be mounted.
View this post on Instagram
Despite the continuous advancements of smartphone cameras and their video-making improvements and capabilities, the ultra-wide lenses aren't the best performers when you're trying to shoot videos. This is true even if you rock the latest flagship Android smartphone or even the maxed out iPhone 15 Pro Max.
The GoPro continues to exist to fulfill that vital role in shooting. Its compact form, ease of access, easy usability, and rugged-readiness are more points to consider on owning a GoPro HERO12 Black. It's better than actually pawning your phones just to shoot UWA (ultra-wide angle) footages in the harshest conditions.
Pricing and Availability
The GoPro HERO12 Black is being sold for PhP 24,990 (US$ 399.99 / EUR 449.99 / GBP 399.99 / SG$ 580). Meanwhile, the HERO12 Black Creator Edition retails for PhP 36,990 (US$ 599.99 / EUR 679.99 / GBP 599.99 / SG$ 890).
The Max Lens Mod 2.0 is a separate purchase for PhP 7,490 (US$ 99.99). A special bundle is available for other regions. Visit GoPro.com for specific pricing and other bundle offers in your respective regions.