How to start streaming with the Lenovo Legion Phone Duel 2
Time to show the world your mobile gaming skills
During this entire pandemic, some people spent their newfound time and energy towards more indoor-friendly activities. Instead of playing basketball with a group of friends, you're either playing by yourself indoors or playing NBA 2K21 with your group. Also, some are resorting to e-numans (virtual drinking sessions) or having your version of a rave on TikTok. Whatever floats your boat, right?
For a handful of people, they invested their time, energy, and savings into streaming content. Even if some of you aren't hardcore gamers, it's still a great way to mix passion and profit into one. Of course, you need the proper hardware to start streaming on YouTube, Twitch, or Facebook — apart from faster internet. Maybe there's a way around that.
I present to you the Lenovo Legion Phone Duel 2, the newest gaming smartphone in the market. You're probably wondering how a gaming smartphone will help you start streaming content. Allow me to demonstrate:
Matching power with performance
A key component in any streaming setup is, well, the devices you're using to play the games. For most streamers, a dedicated PC with powerful hardware and decent peripherals is all it takes. However, as I pointed out, the entire bundle is pretty costly if you want the best.
The thing is, gaming smartphones like the Legion Phone Duel 2 are pretty powerful in their own right. Inside the Legion Phone Duel 2, you have a Snapdragon 888 5G CPU with up to 16GB of RAM — a total mobile gamer package. With these hardware, you can play virtually any mobile game to your heart's desire while multitasking with other apps.
Apart from these, the Legion Phone Duel 2 comes with a 6.92-inch AMOLED display for those crispy in-game visuals. What makes it even more powerful is that it also comes with a 144Hz refresh rate — a great feature to have. Because of this, you will experience smooth gameplay and react a bit faster to any challenge.
The streamer-centric features
All the things I just mentioned catered to a bulk of content you will stream to people online. Obviously, you want to keep it as personal and unique to you so a face-cam is in order. Now, you might be wondering: where will you get a webcam to connect to this gaming smartphone for that face-cam? Well, the answer is hiding inside the phone.
See, the Legion Phone Duel 2 comes with a retracting 44MP front camera hiding inside the power button spot. When you open the Camera app, you can simply switch to the front camera and it will instantly pop up. For content creators and streamers, the 44MP front camera supports 4K recording at 60 FPS for buttery-smooth videos.
Also, the Legion Phone Duel 2 comes with an AI-enabled noise cancelling microphone, which is a big deal for most streamers. In essence, you can achieve clear voice audio without having to turn away your fan or close your windows. I mean, you would want to keep a literally cool head when you're playing and streaming, right?
Properly setting everything up
So, how does the Lenovo Legion Phone Duel 2 bring all of these together to achieve a great streaming experience? Allow me to share some ways you can take advantage of these features to maximize your gameplay and streaming capabilities.
Download the streaming service app you want
Before you start broadcasting your gameplay to the world, you will need the streaming service app first. Fortunately, the YouTube, Twitch, and Facebook Gaming apps allow you to stream directly from your phone. Unfortunately, YouTube requires you to meet specific eligibility requirements first before doing that.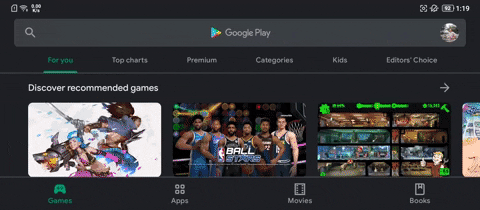 Also, if you decide to stream from those apps natively, it's just you and the game. Essentially, you don't have access to any creative overlays or camera adjustments you envisioned for your first stream. If you want those fancy overlays, I suggest downloading and using Streamlabs instead.
Placing the elements you want and need
If you decide to download and use Streamlabs, it's important to know which elements you want and need for your stream. By default, the app captures your screen when you open it up so you have to add everything else. After opening the app, click the three lines you see on the upper right-hand corner and toggle "Go to advanced settings."
Under these settings, go to the "Editor" section then press "Layers" on the upper right-hand corner. From there, simply press "Add layer" and you can add pretty much all the elements you need. Of course, you have a wide selection of layers to choose from, like your front camera, your overlays, and even your alert boxes.
Fix your streaming settings first
After placing these elements, exit Editor and go to "Streaming Settings" to adjust some more things before you stream. For the most part, you will only need to change the video settings for the stream and the platform settings (whichever platform you want).
For the video settings, I highly suggest researching on the most optimized video bitrate for the resolution you want. See, Streamlabs allows you to stream up to 1080p at 60 FPS, so it's better to match the bitrate towards your desired resolution.
Time to go live
Once everything is in order, it's time for you to go live on your preferred streaming platform! If you opted for the native apps, it's as easy as just clicking the "Go Live" button on those platforms. If you opted to use Streamlabs, it's basically the same idea but with more creativity on your part.
Also, the Legion Phone Duel 2 has a pretty nifty feature that will make the streaming experience less of a hassle for you. See, this gaming smartphone comes with Octa-Triggers, which you normally configure on your games. It allows you to have a controller-like experience that's suitable for most fast-paced games you play.
Now, you can also take advantage of this feature as your own little stream deck, like how Elgato does it. Simply add Streamlabs to your list of games under the Legion Realm app, and map the triggers accordingly. Although, you don't really have to do this, so it's entirely up to you.
The Lenovo Legion Phone Duel 2 is still accepting pre-orders until June 30, 2021, at the following price points:
PhP 39,995

for the 12GB RAM + 256GB storage option

PhP 49,995 for the 16GB RAM + 512GB storage option
Make moments tangible with Instax Square Link
Time to print those core memories!
Life looks pretty in squares — that's how Instagram shaped our favorite moments in the past decade.
With every core memory uploaded in our social media feed for the world to see, there's still something poignant about keeping a hard copy of your favorite moments. It feels nostalgic to be reminded of the good things in your life.
That's what the Instax Square Link delivers. The newest instant printer comes in square, as compared to its previous siblings in the instax link lineup.
The sweet spot
The previous instant printers come in the usual mini film prints, and a wide, rectangular one. Having a square format provides a sweet spot for instant prints since it's neither too big nor small.
Even the design of the device itself looks almost square, albeit taller. It sports the usual big button in its center that powers up the device, while there's a smaller circle on its top-left part for linking the device to your smartphone.
It's still as straightforward as it gets, whether you're already familiar with previous instax printers or not. You simply click the big button until it lights up, link it to your smartphone and confirm the serial number found on the bottom side of the device, and do all the magic inside the app — which you can download via App Store or Play Store.
New device, new features
The instax Square Link carries all the good things from the previous instax printers through its dedicated app.
You can still make personalized stickers, continuously print your best moments with just a press of a button, and collage and edit your photos in frames. They're pretty much the same features you can find on the instax Link WIDE and instax mini Link 2.
However, instax introduced new features that make printing more exciting. Now, instax takes AR to a new level by allowing users to print with personalized AR effects, accessible using a QR code.
It also included a feature where you can chat with a friend or loved one and have the conversation printed as text bubbles to add a more personal touch for those who are in long-distance relationships.
Printing your favorite moments
While the new features are a much-welcome addition, I still stick to what Instax is good about. At its core, it's still printing your favorite moments and of course, sharing them with the people you love.
Back then, I would print my photos and keep them to myself — inside photobooks and boxes that would never see the light of day unless I'm feeling nostalgic.
Being surrounded by new people encouraged me to be more giving, rather than just being selfish with my memories. And instead of constantly seeking validation and sharing my favorite moments with the world, I now love the idea of being intimate and sharing my core memories with only a handful of people.
Is this your GadgetMatch?
The Instax Square Link is still an instant printer like its siblings. If square formats are your thing, this is easily your GadgetMatch. For wide, rectangular prints, there's the instax Link WIDE.
And if the original, mini-sized film prints are what you're after, you can never go wrong with the instax mini Link 2. Whatever formats you want, there's an instax for you.
The instax Square Link comes in Ash White and Midnight Green. It's available in all authorized Fujifilm instax dealers nationwide and Fujifilm's online flagship stores.
IN PHOTOS: Dubbing with Netflix, HIT Productions
Plus a quick glimpse of the Netflix PH office
Have you ever been curious about how the whole dubbing process works? Netflix, along with HIT Productions, was kind enough to give us a quick tour showing how our favorite Netflix shows are dubbed in Filipino. 
HIT Productions prides itself as "The Philippines' top audio post production house and recording studio for advertising." And they have the clientele to back up the claim. Other than Netflix, they've also worked with plenty of notable brands. These include but are not limited to Jollibee, Mitsubishi, Coca Cola, and many more. 
They've partnered with Netflix on many shows and movies. For this particular tour, they showed us how they dubbed Season 4 of Stranger Things.
Different rooms for the talents and director
Heading in, I was fully expecting a Sound Booth like setup – you know, the ones we normally see in TV shows and movies. HIT has a different setup. They have the director in one room and the voice talents in another. The rooms are situated right across each other with sound engineers manning both rooms. 
The communication between the director and talents still happens real time, and they see each other through an iPad.
Each room has a monitor that displays the scene that's being dubbed. The talents' audio goes straight into a computer that's in the same room as the director. 
Multiple talents will be in the same room at one time. This depends entirely on the scene that needs to be dubbed. They take turns dubbing with sound engineers adjusting the height of the mic each time to make sure it's optimized for each talent. 
Although, they did mention this isn't always the case. Sometimes, there will be scheduling challenges, but they're able to work through it.
The actual dubbing back and forth is fascinating. They go through each line meticulously, making sure the cadence, the breaths, the tone, and the emotion matches that of the original actors. 
Recording a single episode will take days. And that's just the recording. The next part is just as tedious.
Painstaking editing
The level of precision applied in the voice acting and directing extends to the cutting floor when the recordings go through post production. 
Here, sound engineers go through each scene, switching between the original scene and the dubbed recordings to make sure they match. This includes how loud or soft the voice is as well as adding effects to mimic the room environment sound of each sound. 
What makes the whole process tricky is a lot of it is guess work. I asked if they are given a cheat sheet of the effects used by the original production. They said that rarely happens. That means they rely both on their sharp ears and years of experience to make sure everything matches.
After post production, an entire episode goes through a quality check. If anything sounds off, it's back to post processing again. 
HIT says in a month, they're able to finish roughly around three to four episodes. Of course, that depends also on the length of the episode. Stranger Things Season 4, for instance, typically lasts over an hour. With some episodes even running as long as feature length films.
Trying out dubbing
After a look at the voice acting and post production process, HIT took us to a room where some members of the media got to try dubbing. Here, Head of Localization Rudolf Baldonado, led the way. 
Baldonado explained that the most important part of the whole process is the script. Localization, as you may have surmised, is no easy task. There are so many things to consider: What words to use to match the movement of the lips, the general direction for each line, and making sure all the lines make sense when delivered together.
A couple of voice talents showed us the ropes first, recording a scene from the Don't Look Up film. Baldonado, who also helmed localization for Trese, noted that mimicking the original actor's voice is less important than delivering the right tone and emotion for the line and the scene. 
During the recording, he also noted that dubbing is more about voice acting than actual voice quality. How well you convey the right emotion is more important than whether or not you sound pleasant or not. 
Sit down with the voice talents
To wrap up the tour of the HIT Productions office, we sat down with the voice talents and the rest of the team that worked on the Stranger Things Season 4 dub. Here's everyone who joined us: 
Christian Velarde (MIKE)

Albert Silos (WILL)

Steve Bontogon (DUSTIN)

JM Canlas (LUCAS)

Steffi Bontogon (MAX)

JM Torres (VECNA)

Nelieza Magauay (ROBIN)

Ericka Peralejo (SUZIE)

Cheska Aguiluze (Dubbing Director)

Rudolf Baldonado (Head of Localization)
Many of them shared their experiences and lessons learned while working as voice actors. 
A lot of the echo the same thing that Baldonado mentioned earlier. That the ability to understand the character's emotion and act it out through your voice is the most important skill in the craft.
What stood out to me the most though, is how each of them seemed like colorful characters on their own. And they deserve just as much recognition as TV and movie actors. 
Quick Netflix PH HQ Tour
After the session at HIT Productions, we were taken to the headquarters of Netflix Philippines. Some interesting things to note: 
The meeting rooms are named after Netflix's shows and films

There are areas designated for quiet time 

The place is spacious with many areas for quick, breakout meeting sessions

It's filled with books and other ornaments that have to do with Netflix shows

Free-flowing drinks! 

This writer would like to spend a work day or two in the area (Thanks in advance, Netflix!) 
Here's a photo dump:
Huawei Mate 50 Pro vs HONOR Magic4 Pro: Camera Shootout
Camera battle between two companies that used to be together
In case you didn't know, HONOR used to be Huawei's sub-brand — until they decided to part ways. While still using Huawei's EMUI software (but calling it Magic UI), HONOR is now operating as a separate entity.
But what actually makes the HONOR Magic4 Pro different from Huawei's reborn flagship, the Mate 50 Pro?
Well, aside from the obvious Magic vs Mate branding, Huawei has its own "Ultra Aperture" camera. Coined from the term itself, it features a dual-variable aperture versus the Magic4 Pro's fixed f/1.8 lens opening.
Huawei Mate 50 Pro
HONOR Magic4 Pro

Wide

50MP

f/1.4-4.0
PDAF + Laser AF + OIS
50MP f/1.8


Multi-Directional PDAF + Laser AF

Ultra-Wide

13MP

f/2.2

120º
50MP

f/2.2

122º

Telephoto

64MP f/3.5




3.5x optical zoom




100x digital zoom




OIS

64MP f/3.5




3.5x optical zoom




100x digital zoom




OIS

Selfie

13MP

f/2.4 + ToF 3D Depth

12MP

f/2.4 + ToF 3D Depth
It also looks like the megapixel count is smaller on the ultra-wide unit of the Huawei Mate 50 Pro. Aside from that, the periscope telephoto lens and selfie cameras of the two phones are very much alike.
Now that you get a clear picture between the similarities and differences of each phone's camera system, let's get on to our camera shootout!
Wide
As previously mentioned, the Mate 50 Pro features a dual-variable aperture while the Magic4 Pro is consistent with its aperture offering. But can you really tell which is which considering they both feature a 50MP sensor?
#1
#2
#3
#4
#5 (Portrait)
#6
#7
#8
Ultra-Wide
For shots that require a wider Field of View (FoV), which do you think wins this round considering that the Magic4 Pro features a 50MP ultra-wide shooter while the Mate 50 Pro has a measly 12MP UWA shooter? (Despite the same f/2.2 aperture)
#9
#10
#11
Periscope Telephoto: Optical Zoom
Both the Mate and the Magic have a similar 64MP f/3.5 lens that has an optical zoom range of 3.5x. But of course, there would still be a difference in post-processing AI algorithm.
#12
#13
#14
 #15
#16
Periscope Telephoto: Lossless to Digital Zoom
With a similar periscope lens, both phones can both achieve a 10x lossless zoom and up to 100x digital zoom. But in this specific section, I chose to just zoom up digitally to just 60x.
#17 (10x)

#18 (10x)
#19 (30x)
#20 (60x)
Night Mode
This is what makes or breaks a smartphone camera. With the obvious differences in Night Mode processing magic, one phone definitely stands out. That's either a matter of personal preference or just fans' favorites.
#21 (Ultra-wide)
#22
#23
#24
#25
#26 (3.5x zoom)
#27
#28
#29
#3o
BONUS: Super Macro
Just like other flagship smartphones nowadays, Super Macro is a feature that uses the ultra-wide lenses instead of the regular wide one in order to take close-up macro shots of objects. Doing so requires you to go closer to the subject you are shooting.
Results
You may already have a hint considering the results are consistent throughout the board:
Photo A — HONOR Magic4 Pro
Photo B — Huawei Mate 50 Pro
Conclusion
What should set both phones apart are the way they process each shot — but Huawei and HONOR's similar AI camera processing techniques are what actually makes it hard to differentiate one phone from another.
For the most part, you can barely tell which is which. Shots taken during the broad daylight looked barely different regardless if its the regular wide, ultra-wide, or even the periscope telephoto lens.
But in some instances, the HONOR Magic4 Pro boosts saturation while the Huawei Mate 50 Pro samples focuses on brightening up the shots. However, its dual-variable aperture camera did not really make drastic differences in daylight shots for it to be considered a "groundbreaking" camera feature in today's flagship smartphones.
Now when it comes to Night Mode "Magic", the Huawei Mate 50 Pro is the clearer winner — especially with its very wide f/1.4 aperture. As I told in my past camera shootouts, the "better" Night Mode shot isn't just about being the brightest nor the most vibrant of the bunch.
In the case of the Mate, it displayed the right amount of shadows, highlights, contrast and even the dynamic range. Most of all, its saturation what you can actually see irl.
Honestly speaking, I thought the HONOR Magic4 Pro is one among the best flagship smartphones for night photography. But after seeing how there's a clear distinction between it and the Huawei Mate 50 Pro, I have reconsidered my opinion.
The less-saturated look of the night shots taken with the HONOR Magic4 Pro is preferential though. Some may still like it because it gives you that flat, RAW-like image. Thus, giving you more creative freedom in post-processing the shot afterwards.
Honestly, you can never go wrong between choosing these smartphones. But the dealbreaker is: can you compromise 5G and proper GMS support over a set of cameras that perform better at night?
SEE ALSO: