How to start streaming with the Lenovo Legion Phone Duel 2
Time to show the world your mobile gaming skills
During this entire pandemic, some people spent their newfound time and energy towards more indoor-friendly activities. Instead of playing basketball with a group of friends, you're either playing by yourself indoors or playing NBA 2K21 with your group. Also, some are resorting to e-numans (virtual drinking sessions) or having your version of a rave on TikTok. Whatever floats your boat, right?
For a handful of people, they invested their time, energy, and savings into streaming content. Even if some of you aren't hardcore gamers, it's still a great way to mix passion and profit into one. Of course, you need the proper hardware to start streaming on YouTube, Twitch, or Facebook — apart from faster internet. Maybe there's a way around that.
I present to you the Lenovo Legion Phone Duel 2, the newest gaming smartphone in the market. You're probably wondering how a gaming smartphone will help you start streaming content. Allow me to demonstrate:
Matching power with performance
A key component in any streaming setup is, well, the devices you're using to play the games. For most streamers, a dedicated PC with powerful hardware and decent peripherals is all it takes. However, as I pointed out, the entire bundle is pretty costly if you want the best.
The thing is, gaming smartphones like the Legion Phone Duel 2 are pretty powerful in their own right. Inside the Legion Phone Duel 2, you have a Snapdragon 888 5G CPU with up to 16GB of RAM — a total mobile gamer package. With these hardware, you can play virtually any mobile game to your heart's desire while multitasking with other apps.
Apart from these, the Legion Phone Duel 2 comes with a 6.92-inch AMOLED display for those crispy in-game visuals. What makes it even more powerful is that it also comes with a 144Hz refresh rate — a great feature to have. Because of this, you will experience smooth gameplay and react a bit faster to any challenge.
The streamer-centric features
All the things I just mentioned catered to a bulk of content you will stream to people online. Obviously, you want to keep it as personal and unique to you so a face-cam is in order. Now, you might be wondering: where will you get a webcam to connect to this gaming smartphone for that face-cam? Well, the answer is hiding inside the phone.
See, the Legion Phone Duel 2 comes with a retracting 44MP front camera hiding inside the power button spot. When you open the Camera app, you can simply switch to the front camera and it will instantly pop up. For content creators and streamers, the 44MP front camera supports 4K recording at 60 FPS for buttery-smooth videos.
Also, the Legion Phone Duel 2 comes with an AI-enabled noise cancelling microphone, which is a big deal for most streamers. In essence, you can achieve clear voice audio without having to turn away your fan or close your windows. I mean, you would want to keep a literally cool head when you're playing and streaming, right?
Properly setting everything up
So, how does the Lenovo Legion Phone Duel 2 bring all of these together to achieve a great streaming experience? Allow me to share some ways you can take advantage of these features to maximize your gameplay and streaming capabilities.
Download the streaming service app you want
Before you start broadcasting your gameplay to the world, you will need the streaming service app first. Fortunately, the YouTube, Twitch, and Facebook Gaming apps allow you to stream directly from your phone. Unfortunately, YouTube requires you to meet specific eligibility requirements first before doing that.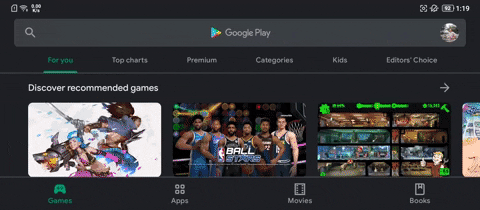 Also, if you decide to stream from those apps natively, it's just you and the game. Essentially, you don't have access to any creative overlays or camera adjustments you envisioned for your first stream. If you want those fancy overlays, I suggest downloading and using Streamlabs instead.
Placing the elements you want and need
If you decide to download and use Streamlabs, it's important to know which elements you want and need for your stream. By default, the app captures your screen when you open it up so you have to add everything else. After opening the app, click the three lines you see on the upper right-hand corner and toggle "Go to advanced settings."
Under these settings, go to the "Editor" section then press "Layers" on the upper right-hand corner. From there, simply press "Add layer" and you can add pretty much all the elements you need. Of course, you have a wide selection of layers to choose from, like your front camera, your overlays, and even your alert boxes.
Fix your streaming settings first
After placing these elements, exit Editor and go to "Streaming Settings" to adjust some more things before you stream. For the most part, you will only need to change the video settings for the stream and the platform settings (whichever platform you want).
For the video settings, I highly suggest researching on the most optimized video bitrate for the resolution you want. See, Streamlabs allows you to stream up to 1080p at 60 FPS, so it's better to match the bitrate towards your desired resolution.
Time to go live
Once everything is in order, it's time for you to go live on your preferred streaming platform! If you opted for the native apps, it's as easy as just clicking the "Go Live" button on those platforms. If you opted to use Streamlabs, it's basically the same idea but with more creativity on your part.
Also, the Legion Phone Duel 2 has a pretty nifty feature that will make the streaming experience less of a hassle for you. See, this gaming smartphone comes with Octa-Triggers, which you normally configure on your games. It allows you to have a controller-like experience that's suitable for most fast-paced games you play.
Now, you can also take advantage of this feature as your own little stream deck, like how Elgato does it. Simply add Streamlabs to your list of games under the Legion Realm app, and map the triggers accordingly. Although, you don't really have to do this, so it's entirely up to you.
The Lenovo Legion Phone Duel 2 is still accepting pre-orders until June 30, 2021, at the following price points:
PhP 39,995

for the 12GB RAM + 256GB storage option

PhP 49,995 for the 16GB RAM + 512GB storage option
The secrets behind iPhone 13's Cinematic Mode
Together with Apple's VP for iPhone Product Marketing as well as their Human Interface Designer
For the first time ever, we had a three-way interview with Apple's VP for iPhone Product Marketing, Kaiann Drance as well as one of their leading Human Interface Designers, Johnnie Manzari. If you're not starstruck enough, both of them appeared in Apple's September 2021 Keynote event!
Other than new camera sensors, newer camera features are also found on the new iPhone 13 Series. One of those is the new Cinematic Mode.
If you've watched some of our latest iPhone videos including the Sierra Blue iPhone 12 Pro Max unboxing, we've let you take a sneak peek on that new video mode.
We're not gonna lie, it's one amazing camera feature Apple has managed to deliver.
But what are the secrets behind it? And are you curious how technicalities work?
Watch our 16-minute interview with the Apple executives explaining why Cinematic Mode is the next big thing in mobile videography.
Apple iPhone 13 and 13 mini Unboxing and Hands-on
Which iPhone 13 is your GadgetMatch?
Huawei nova 8i: Huawei's awesome SUPER midranger
An awesome midrange comeback
Midrange smartphones have been the middle ground for people who want the premium of a higher end smartphone but don't want to burn their pockets. Huawei gives in to this demand and claims the title of midrange king as they dethrone all other midrangers with their new nova 8 series — the nova 8 and nova 8i.
Here, we'll put the spotlight on the Huawei nova 8i.
Build and design
Inheriting the Huawei P Series' signature stylish aesthetic, the Huawei nova 8i has a fancy and premium design. It is slim, sleek, and has exquisite curved edges, which makes it really easy to grip.
Checking out its back, you'll definitely notice the quad camera setup that's surprisingly not bulky at all. It also has a noticeable resemblance with the Huawei Mate 30. But we'll talk more about the cameras later on.
What also caught our attention is the gradient finish of this Moonlight Silver variant that we have which is absolutely stunning.
Fantastic display
The Huawei nova 8i has an edgeless 6.67-inch display with ultra-narrow bezels around it. This results in an immersive viewing experience for browsing your social media pages or watching your favorite music videos.
The Huawei nova 8i also sports full HD+ resolution and DCI-P3 color gamut, giving us that rich and vibrant color reproduction. Once again, Huawei taps on Tuv Rheinland for certification on low blue light emittance to ensure eye comfort for long hours of work and play. It also has a natural tone feature which automatically adjusts the colors on the display depending on your surroundings.
Gaming
Just as you would expect from a midrange phone, gaming is also something you can do with the nova 8i. With its 180Hz touch sampling rate, your favorite mobile games feel very responsive, making the gaming experience really enjoyable.
When you're deep into gaming, the last thing you want is to be interrupted by a call or message. Well, you don't have to worry about that since the Huawei nova 8i has a gaming assistant. You can enable settings so you won't be disrupted and you can indulge yourself fully to the game.
But the experience is not the only thing that's fast with the nova 8i. The 66W Huawei SuperCharge can juice up this phone up to 68 percent in just 20 minutes and can fully charge it in just 38 minutes. You can literally stare at your phone as your battery indicator rises.
Cameras
Here's where the fun part starts. Cameras: 64MP f/1.9 main, 8MP f/2.4 ultra-wide, 2MP f/2.4 macro, 2MP f/2.4 depth, 16MP f/2.0 selfie.
The nova 8i has a quad camera setup with a 64MP main camera which uses a big 1/1.7-inch CMOS sensor. It means its camera sensor has the ability to let in more light. This results to a cleaner image and better low light performance.
And we're telling you, this sensor is not messing around.
It lets you capture the highest resolution images you could probably ever need. Different from the usual software upscaled images typically seen on an ordinary smartphone. This gives you the capability to zoom in and crop your captured image yet still maintain a tremendous amount of details.
With the powerful cameras that the nova 8i has, you can definitely maximize its features to create your content whether just for leisure, a passion project, or social media content for your business.
EMUI and multitasking
As for its software, the Huawei nova 8i runs on EMUI 11 bringing in a bunch of convenient features that boosts your efficiency. For one, if you're someone who loves multitasking, the multi-window feature is perfect as it lets you operate multiple apps on your screen.
Speaking of apps, Huawei's app gallery is loaded with great ones from top shopping apps like Shopee and Lazada, to the most trending ones like TikTok.
And if in case you're having trouble finding the app for you, Petal Search has got you covered. Just type in the app or whatever it is you're looking for and Petal Search looks it up for you on different sources making sure you get the absolute best results.
Taking screenshots has never been this easy. You can do so by just swiping down using three fingers.
And for security, a new safe sharing feature has been included on the nova 8i. We now get the option to delete information of your phone and other details before sharing your photos or screenshots.
nova 8i — easy to recommend
Jam packed with features, the nova 8i just enables you to do so much. From capturing great photos and videos to having a seamless gaming and online experience, the nova 8i is an easy phone to recommend. At its price point, it is truly worthy of its crown.
The Huawei nova 8i retails for PhP 13,999. It's available via online Huawei Store, Lazada, Shopee and Huawei experience stores.
---
This feature is a collaboration between GadgetMatch and Huawei Philippines.