The cost of the post-pandemic movie
Why you should care about Mulan's terrible premiere
The fate of the Hollywood blockbuster rests on a fingertip. A formerly grandiose affair with celebrities dressing up to the nines, the red-carpet premiere is now an impossibility thanks to the ongoing COVID-19 crisis. On the other side, streaming services blossomed with new titles and exclusives. It was (and is) a great era for the home theater. But the home theater will not last forever. Hollywood is now facing a crisis for the future of the premiere.
If the past year is any indication, Hollywood will, of course, not go down without a fight. Large networks and production houses have released their own streaming platforms to monopolize their content, putting additional weight on a consumer's budget. Take Disney's Disney+ or NBC's Peacock, for instance. Now, a few of these (like Disney and Netflix) make their own blockbuster content as well. We've seen Netflix's streaming-only premieres already. How about Disney's (or anyone else's) Hollywood premieres, which often rely on astounding box office numbers?
This week, we got a taste of such a strange premiere scheme. In an earnings call, Disney CEO Bob Chapek detailed the future of a delayed movie, Mulan. Initially premiering in theaters back in March, Mulan was repeatedly delayed because of the continued shutdown of movie theaters. Now, as the company is itching to finally launch it, Chapek announced a hybrid release for the film. Partly premiering in theater in safe countries, the film will also launch simultaneously on Disney+ for unsafe markets.
Now, here's the catch: the film will cost US$ 29.99 for Disney+ users. Even if you have a subscription already, you have to fork over approximately PhP 1,474 to watch the new film. Of course, the hair trigger response is, "c'mon, Disney; stop haggling money from your customers." And the response is right. However, there is so much more to this. Mulan can set the stage for an unprecedented era for Hollywood premieres.
Let's get down to business
In New York, an average movie ticket costs around US$ 15 (approximately PhP 736). Mulan's price tag is twice as much as a theater ticket. It's even weightier in cheaper states and, most especially, in the Philippines (where movie tickets are only around US$ 5). Further, you'll still need an active Disney+ account to access the film, costing an additional US$ 6.99.
(Naturally, it's impossible to accurately translate the prices to an Asian market since Disney+ has not launched in all of Southeast Asia yet. We can only assume that Mulan's streaming price is 200 percent of normal ticket prices, whatever it might be.)
Objectively, Mulan's price is worse than a regular movie ticket. It's easy to conclude the argument with this statement and head home. However, there is a way to justify the price.
The whole family plus your cow
Now, a single movie ticket typically admits one person. Buying Mulan pays for the streaming privilege which can typically include an entire family. With a 15-dollar average, two people watching the same Mulan purchase is already a break-even point. In the same vein, a family of four obtains double the value of the 30-dollar film price. Even better, a family can watch the film over and over again. And, as any parent who has a Frozen-loving child can tell you, unlimited playbacks is a blessing for your wallet (albeit a curse on your sanity).
Unfortunately, despite the mathematical mind-bending, Mulan's price is still far from ideal. The movie-going experience is not the same on a streaming platform as in a cinema.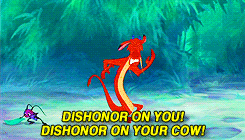 An assumption of equality
A cinema ticket is price of equality. Besides a few slight differences, everyone is paying for the same product. All other things considered equal, a 20-year old college student is paying and enjoying the same experience as a 50-year old CEO. Same film, same seat cushions, same facilities, same projector.
On the other hand, a streaming subscription cannot assume the same thing. A platform cannot control where and with what device a user will watch the movie from. A 20-year old college student watching the film on a laptop screen in a poorly lit dorm room is not enjoying the same experience as a 50-year old CEO watching the same thing in their high-end home theater with Dolby Atmos.
Likewise, the platform cannot assume how many people will watch the film in one purchase. Now, Mulan is a family film. Disney can easily assume that multi-person families will buy and watch the film. However, how will the audiences take the same price tag for a more polarized movie like Christopher Nolan's Tenet or the next James Bond film?
All of Hollywood knows you're here
In the same announcement, Chapek hints that Mulan's price is just a "one-off." Basically, other films might not follow the same pricing scheme. In a way, it makes sense. Mulan was made with a pre-coronavirus budget. It was expected to make millions from box office tickets. This might be the only way for Mulan to recoup its many losses. In the future, Disney might make films with lesser budgets and lesser expectations.
However, make no mistake; other filmmakers are intently watching Mulan's performance on streaming. If Mulan succeeds, they can likely charge the same amount without incurring a lot of losses. That said, streaming premiere prices will likely vary from film to film. Even then, this isn't the last discussion on the future of the film industry.
If the industry hopes to adapt to the new normal, it needs to rethink its strategy even further. Disney is offering only one solution for the problem of streaming. Unfortunately, the brand's solution leverages a family-oriented release, one that might not appeal to the average moviegoer today.
A price worth fighting for
My suggestion: Implement a tiered premiere price. Not everyone will want to pay the full 30 dollars for a film they're not wholly interested in. Most will watch it once and forget about it. Some won't even care about watching it in HD.
Why not implement a pricing scheme based on those different preferences? For example, charge US$ 5 for a standard-definition, one-time playback premiere; US$ 10 for an HD, one-time playback premiere; US$ 20 for a standard-definition, unlimited playback premiere; and US$ 30 for an HD, unlimited playback premiere. In one swoop, a film can appeal to all streaming markets and needs.
Guide: Apple TV+, Music, Arcade holiday specials
Entertainment galore this season of giving
Apple is offering a great holiday lineup across its entertainment services. Enjoy these on Apple TV+, Apple Music, and Apple Arcade as Christmas approaches.
Classics, originals, sing-alongs on Apple TV+
Apple Original special "The Velveteen Rabbit" and musical "Hannah Waddingham: Home for Christmas" featuring Rebecca Welton from Ted Lasso and special guests headline Apple TV+ specials this holiday season.
For kids, "The Snoopy Show," "Frog and Toad," "Sago Mini Friends," and "Shape Island" are available to stream throughout the season while classics like "Mariah Carey's Magical Christmas Special," "I Want a Dog for Christmas, Charlie Brown," and "The Boy, the Mole, the Fox and the Horse" are all streaming on the platform.
As a bonus, a sing-along version of the hit musical comedy "Spirited" which stars Will Ferrell, Ryan Reynolds, and Octavia Spencer has been made available.
Apple Music: TWICE's Jeongyeon headlines Carols Covered
This year, Carols Covered returns with a new lineup of holiday songs reimagined by today's top artists.
The Apple Music selection includes renditions led by TWICE's Jeongyeon. She encourages listeners to bring back "some sweet holiday memories" while tuning in to her cover.
The lineup of performers also includes Ángela Aguilar, Armani White, Bnxn, Coco Jones, David Shaw, Dikka, and Elevation Worship. There's also Ella Henderson, Gallant & Jensen McRae, G Flip, Hakushi Hasegawa, Hemlocke Springs, Lauren Spencer Smith, and Restless Road.
Apple Arcade: Updates for the holidays
For Apple Arcade, more than 50 updates to existing titles on the service have been rolled out. All of that coming in time for the festivities this December.
Players may join Sonic and friends in Sonic Dream Team, step into a Disney magic-filled world with Disney Dreamlight Valley Arcade Ediiton and enjoy an epic fantasy puzzle RPG adventure with Puzzle & Dragons Story.
The award-winning Hello Kitty Island Adventure has also introduced the Give & Gather Celebration on the Island, along with its newest resident, My Sweet Piano. 
Multi-player game Taiko no Tatsujin Pop Tap Beat has six new songs, while Cooking Mama: Cuisine! has an all-new Flour Recipes book to get everyone busy and hooked on their Apple devices.
K-Pop stars, Taylor Swift headline Apple Music Singapore year-end charts
FIFTY FIFTY, NewJeans get a lot of love
FIFTY FIFTY, a Korean girl group formed just last year, has completed its remarkable rise to the top of music charts as "Cupid (Twin Ver.)" earned the top overall spot in Apple Music Singapore Top Songs of 2023 chart.
The song also ranked eighth in the Top Shazamed Songs of 2023 list in the island. No other song was searched on Shazam the most than JIN's "The Astronaut," followed by Rema's hit song "Calm Down."
Meanwhile, Singaporeans have also showcased how much they have loved another girl group — NewJeans — throughout the year, with four songs from the artist entering the Top 25.
 "Ditto" and "OMG" placed second and fifth in the Top Songs of 2023 list, with "Hybe Boy" and "Super Shy" also in the Top 25 at 13th and 21st.
Apple Music Artist of the Year 2023 Taylor Swift had three entries to the Top 25, with "Anti-Hero" ranking third, "Cruel Summer" at sixth, and "Enchanted (Taylor's Version)" at 20th.
Miley Cyrus also had a big year on Apple Music charts with "Flowers" placing fourth on both the top songs and most Shazamed lists.
Apple Music Replay 2023
As the year winds down, it's once again time for Apple Music subscribers to discover, listen, and share their top songs, artists, albums, genres, and more as Apple Music Replay 2023 is now live.
The year-end experience offers listeners worldwide access to expanded listening insights and a completely personalized highlight reel.
Aside from checking their top songs, albums, artists, genres, and more, fans can discover whether they're in the top 100 listeners of their favorite artist of genre, or even listen to their personal top 100 songs chart from each year with the Replay yearly playlists via replay.music.apple.com.
Pilipinas Live to show UAAP finals Game 2, NBA In-Season Tourney playoffs
Avail of the app's 7-day free trial
The ongoing UAAP Season 86 basketball finals and the entire playoffs of the NBA In-Season Tournament can be streamed on Pilipinas Live, Cignal's innovative OTT app.
The University of the Philippines (UP) secured a blowout victory over De La Salle University (DLSU) in the men's basketball finals opener last Wednesday, and is eager to close out the series on Sunday, December 3 at 4 PM.
Meanwhile, the University of Santo Tomas (UST) is also hopeful to put an end to National University's (NU) seven year-long dynasty in the women's basketball scene in Game 2 of their own series at 12 noon.
NBA In-Season Tournament
Fans can also use the app to watch the quarterfinals of the NBA In-Season Tournament.
Only eight teams remain in the inaugural staging of the tournament where NBA teams vie for the NBA Cup: the Milwaukee Bucks, Indiana Pacers, Boston Celtics, New York Knicks, Los Angeles Lakers, Sacramento Kings, New Orleans Pelicans, and Phoenix Suns.
The championship match of the knockout stage shall be held in Las Vegas.
Free trial for new subscribers
New Pilipinas Live subscribers can enjoy a seven-day free trial so they won't miss any action.
Basketball fans can enjoy not just live coverages but also other exclusive features such as multi-cam view and various interactive options.
The Pilipinas Live app can be downloaded via the App Store and Google Play Store. To create an account, visit the website here: https://www.pilipinaslive.com/.