The cost of the post-pandemic movie
Why you should care about Mulan's terrible premiere
The fate of the Hollywood blockbuster rests on a fingertip. A formerly grandiose affair with celebrities dressing up to the nines, the red-carpet premiere is now an impossibility thanks to the ongoing COVID-19 crisis. On the other side, streaming services blossomed with new titles and exclusives. It was (and is) a great era for the home theater. But the home theater will not last forever. Hollywood is now facing a crisis for the future of the premiere.
If the past year is any indication, Hollywood will, of course, not go down without a fight. Large networks and production houses have released their own streaming platforms to monopolize their content, putting additional weight on a consumer's budget. Take Disney's Disney+ or NBC's Peacock, for instance. Now, a few of these (like Disney and Netflix) make their own blockbuster content as well. We've seen Netflix's streaming-only premieres already. How about Disney's (or anyone else's) Hollywood premieres, which often rely on astounding box office numbers?
This week, we got a taste of such a strange premiere scheme. In an earnings call, Disney CEO Bob Chapek detailed the future of a delayed movie, Mulan. Initially premiering in theaters back in March, Mulan was repeatedly delayed because of the continued shutdown of movie theaters. Now, as the company is itching to finally launch it, Chapek announced a hybrid release for the film. Partly premiering in theater in safe countries, the film will also launch simultaneously on Disney+ for unsafe markets.
Now, here's the catch: the film will cost US$ 29.99 for Disney+ users. Even if you have a subscription already, you have to fork over approximately PhP 1,474 to watch the new film. Of course, the hair trigger response is, "c'mon, Disney; stop haggling money from your customers." And the response is right. However, there is so much more to this. Mulan can set the stage for an unprecedented era for Hollywood premieres.
Let's get down to business
In New York, an average movie ticket costs around US$ 15 (approximately PhP 736). Mulan's price tag is twice as much as a theater ticket. It's even weightier in cheaper states and, most especially, in the Philippines (where movie tickets are only around US$ 5). Further, you'll still need an active Disney+ account to access the film, costing an additional US$ 6.99.
(Naturally, it's impossible to accurately translate the prices to an Asian market since Disney+ has not launched in all of Southeast Asia yet. We can only assume that Mulan's streaming price is 200 percent of normal ticket prices, whatever it might be.)
Objectively, Mulan's price is worse than a regular movie ticket. It's easy to conclude the argument with this statement and head home. However, there is a way to justify the price.
The whole family plus your cow
Now, a single movie ticket typically admits one person. Buying Mulan pays for the streaming privilege which can typically include an entire family. With a 15-dollar average, two people watching the same Mulan purchase is already a break-even point. In the same vein, a family of four obtains double the value of the 30-dollar film price. Even better, a family can watch the film over and over again. And, as any parent who has a Frozen-loving child can tell you, unlimited playbacks is a blessing for your wallet (albeit a curse on your sanity).
Unfortunately, despite the mathematical mind-bending, Mulan's price is still far from ideal. The movie-going experience is not the same on a streaming platform as in a cinema.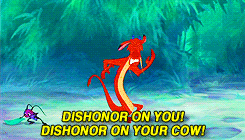 An assumption of equality
A cinema ticket is price of equality. Besides a few slight differences, everyone is paying for the same product. All other things considered equal, a 20-year old college student is paying and enjoying the same experience as a 50-year old CEO. Same film, same seat cushions, same facilities, same projector.
On the other hand, a streaming subscription cannot assume the same thing. A platform cannot control where and with what device a user will watch the movie from. A 20-year old college student watching the film on a laptop screen in a poorly lit dorm room is not enjoying the same experience as a 50-year old CEO watching the same thing in their high-end home theater with Dolby Atmos.
Likewise, the platform cannot assume how many people will watch the film in one purchase. Now, Mulan is a family film. Disney can easily assume that multi-person families will buy and watch the film. However, how will the audiences take the same price tag for a more polarized movie like Christopher Nolan's Tenet or the next James Bond film?
All of Hollywood knows you're here
In the same announcement, Chapek hints that Mulan's price is just a "one-off." Basically, other films might not follow the same pricing scheme. In a way, it makes sense. Mulan was made with a pre-coronavirus budget. It was expected to make millions from box office tickets. This might be the only way for Mulan to recoup its many losses. In the future, Disney might make films with lesser budgets and lesser expectations.
However, make no mistake; other filmmakers are intently watching Mulan's performance on streaming. If Mulan succeeds, they can likely charge the same amount without incurring a lot of losses. That said, streaming premiere prices will likely vary from film to film. Even then, this isn't the last discussion on the future of the film industry.
If the industry hopes to adapt to the new normal, it needs to rethink its strategy even further. Disney is offering only one solution for the problem of streaming. Unfortunately, the brand's solution leverages a family-oriented release, one that might not appeal to the average moviegoer today.
A price worth fighting for
My suggestion: Implement a tiered premiere price. Not everyone will want to pay the full 30 dollars for a film they're not wholly interested in. Most will watch it once and forget about it. Some won't even care about watching it in HD.
Why not implement a pricing scheme based on those different preferences? For example, charge US$ 5 for a standard-definition, one-time playback premiere; US$ 10 for an HD, one-time playback premiere; US$ 20 for a standard-definition, unlimited playback premiere; and US$ 30 for an HD, unlimited playback premiere. In one swoop, a film can appeal to all streaming markets and needs.
Disney+: Black Panther: Wakanda Forever streams February 1
Relive the MCU Phase 4 ender
Black Panther: Wakanda Forever, Marvel Studio's MCU Phase 4-ending film, will be available to stream on Disney+ starting on February 1.
Receiving generally good ratings, Black Panther: Wakanda Forever captivated fans with the introduction of underwater kingdom Talokan in the Atlantic Ocean and its ruler, Namor.
The movie opened with the death of King T'Challa. It then focused on the events in Wakanda after, including how Shuri assumed the mantle of Black Panther.
The MCU's 30th installment which sets up Phase 5 also highlighted the dynamic between the Wakandans and Talokanil. Both people were simply after protecting their respective nations from dangers as the film's plot progressed.
A key art and a new TV spot are now available to download and share as well.
Coinciding with the movie's availability on the streaming platform is the release of the Wakanda Forever: The Official Black Panther Podcast.
Episodes may be accessed via ProximityMedia.com starting on January 18.
LG just launched a limited edition NewJeans laptop
It's pretty… expensive
NewJeans is continuously making waves both in and out of South Korea. From their ultra-catchy songs, dance moves that are trending in TikTok and Instagram Reels, to reaching top charts in UK and US' Billboard, there's no surprise that homegrown tech brand LG Electronics partnered with these power rookies.
LG just released the gram Style NewJeans Limited Edition! While this is an unfortunate news for Hanni (who is actually an iPhone), it's actually a big step towards knowing NewJeans past the K-Pop hype (and by that you should stream Hype Boy).
Mini and Big Bunnies
This special edition LG Gram Style is available in two styles: Mini Bunny and Big Bunny.
There's actually no stark difference between the two except for — you guessed it — the size of bunny decals on its lid. Either of the two, you will never get wrong choosing the bunny for your personal taste.
Other than that, the highlight of this laptop comes from its weight. From the brand itself, it's just 999 grams — actually 23 grams lighter than the 2022 model. It also has the US military-graded MIL-STD 810H standard that passed seven (7) durability tests.
Powerful punch
The LG gram Style NewJeans isn't slouching in performance. Just like a hopping bunny, it's quite a powerful device for its size and heft.
Hardware specifications of these two Bunnies aren't too far off — at least after making a side-by-side comparison of their spec sheets. Both styles come with an Intel Core i5-1340P under EVO Platform for lightweight ultrabooks plus Intel Iris Xe graphics. It's then paired with 16GB of LPDDR5 RAM and 256GB of NVMe 4.0 SSD with an extra PCIe 4.0 slot for expandability.
Just like NewJeans' visuals, you can't also go wrong with the visuals of this device. It has a 14″ low-reflective OLED display with a 90Hz refresh rate, WQXGA+ resolution (2880 x 1800), a 16:10 aspect ratio for wider screen real estate, and an improved 400nits brightness over last year's 350.
Moreover, it supports 100% DCI-P3 wide color gamut for color-accurate goodness as well as VESA Certified DisplayHDR TrueBlack 500 for deeper blacks and better contrast ratio. Its 2-watt stereo speakers with Dolby Atmos support make it a full-on entertainment device.
One more highlight is its "Hidden Touchpad". Instead of the usual rectangular trackpads, it's highlighted by two halo lighting on its two sides dubbed as "Aurora White" paired with haptic feedback for that nice feeling when clicking.
For ports, it has two (2) USB-C plus one (1) USB-A ports, microSD card slot, and a 3.5mm audio jack for headphones, earphones, amplifiers, and other audio peripherals.
Goodies for Bunnies
If you have actually reached this part, you'd know that you are not here for its powerful hardware, rather for the NewJeans styled-laptop. Aside from having that special laptop, there are more goodies that come with this device.
Being one of the few Bunnies out there since NewJeans' Attention, I was actually more excited when I saw the list. There's a notebook pouch, cable strap, posters, sticker and stationery set.
There's even a free NewJeans-style mouse with this cute vinyl-like mousepad. These are truly treats for Bunnies! The laptops even come with preloaded wallpapers and four icons in it.
Pricing and Availability
While the LG gram Style is light, the pricing isn't. It's a pretty laptop with a pretty expensive price. It retails for around KR₩ 2,700,000 — which is about US$ 2190 / SG$ 2675 / ₱119,513.
There's no word on global availability but LG will hold a live event in Korea with NewJeans on February 1, 2023 (Wednesday) around 8PM KST (Korean Standard Time).
If you will participate during the live, a comment could help a participant win a specially-signed autograph from NewJeans or three winners of the Limited Edition Goods.
If you plan on buying the NewJeans' limited edition laptop, there are more benefits other than having the Limited Edition Goods set such as 12 winners of NewJeans autographs.
But if you're just opting to buy the regular LG gram Style without the NewJeans skin, it will still give you other perks such as a free LG gram mouse, Wiggle Wiggle goods package consisting of a notebook pouch, mousepad, and a cable strap, as well as a free 512GB microSD card.
More advanced purchase benefits are Intel software package, 2023 gram gift pack, and 5,000g Jammy points coupon.
Other common benefits include MelOn one-month free subscription, 10,000 membership points after writing a photo review after purchase, and 20 winners of two Helinox chairs and table set.
Prime Video's Drag Den Grand Finale all set
With Manila Luzon
Prime Video's Drag Den is upping the ante with a breathtaking finale concert  and a fabulous grand coronation night on January 26 at the SM Aura Samsung Hall.
No less than "Drag Lord" Manila Luzon is set to host the event that will see the top three contestants — NAIA, Shewarma, Maria Cristina– compete for the title of "Drag Supreme". Cheering on the side are  other members of the "Drag Cartel" — OA, Aries Night, Barbie-Q, Pura Luka Vega, Lady Gagita with  "Drag Dealer" Nicole Cordoves, and "Drag Runner" Sassa Gurl.
Series creator and director Rod Singh could not express her gratitude enough for fans of Drag Den with Manila Luzon.
"For an inaugural season of a new show with a unique format, their level of support was way beyond our expectations. Aside from watching the show on Prime Video, these fans also watch our  viewing parties. They send tips and gifts to our queens," said Rod Singh.
Manila Luzon x Drag Den
Singh also attributes the success of Drag Den with Manila Luzon to its presenter, Manila Luzon, who also served as executive producer. "Having Manila as our 'Drag Lord' is a blessing. She came when I almost gave up my dream of creating the show. She is very collaborative and I am very grateful that she also trusted me. It's a relief to have a host like her because aside from her dedication to sharing her platform with Filipino Drag Queens, she is also very passionate about promoting our show," Singh added, while noting that there have been viewing parties in New York and West Hollywood because of Manila Luzon and fans from around the world are very excited they can stream the show on Prime Video.
Produced by CS Studios, Singh and Antoinette Jadaone of Project 8 Projects, the exciting finale of Drag Den with Manila Luzon drops on January 26, 7 pm PHT, only on Prime Video.
For more updates on Drag Den with Manila Luzon, follow Prime Video on Facebook, Instagram, Twitter, TikTok, and Youtube. Stream anywhere, anytime at 
primevideo.com
 or download the Prime Video app on Google Play, Apple Store, and Microsoft.