The cost of the post-pandemic movie
Why you should care about Mulan's terrible premiere
The fate of the Hollywood blockbuster rests on a fingertip. A formerly grandiose affair with celebrities dressing up to the nines, the red-carpet premiere is now an impossibility thanks to the ongoing COVID-19 crisis. On the other side, streaming services blossomed with new titles and exclusives. It was (and is) a great era for the home theater. But the home theater will not last forever. Hollywood is now facing a crisis for the future of the premiere.
If the past year is any indication, Hollywood will, of course, not go down without a fight. Large networks and production houses have released their own streaming platforms to monopolize their content, putting additional weight on a consumer's budget. Take Disney's Disney+ or NBC's Peacock, for instance. Now, a few of these (like Disney and Netflix) make their own blockbuster content as well. We've seen Netflix's streaming-only premieres already. How about Disney's (or anyone else's) Hollywood premieres, which often rely on astounding box office numbers?
This week, we got a taste of such a strange premiere scheme. In an earnings call, Disney CEO Bob Chapek detailed the future of a delayed movie, Mulan. Initially premiering in theaters back in March, Mulan was repeatedly delayed because of the continued shutdown of movie theaters. Now, as the company is itching to finally launch it, Chapek announced a hybrid release for the film. Partly premiering in theater in safe countries, the film will also launch simultaneously on Disney+ for unsafe markets.
Now, here's the catch: the film will cost US$ 29.99 for Disney+ users. Even if you have a subscription already, you have to fork over approximately PhP 1,474 to watch the new film. Of course, the hair trigger response is, "c'mon, Disney; stop haggling money from your customers." And the response is right. However, there is so much more to this. Mulan can set the stage for an unprecedented era for Hollywood premieres.
Let's get down to business
In New York, an average movie ticket costs around US$ 15 (approximately PhP 736). Mulan's price tag is twice as much as a theater ticket. It's even weightier in cheaper states and, most especially, in the Philippines (where movie tickets are only around US$ 5). Further, you'll still need an active Disney+ account to access the film, costing an additional US$ 6.99.
(Naturally, it's impossible to accurately translate the prices to an Asian market since Disney+ has not launched in all of Southeast Asia yet. We can only assume that Mulan's streaming price is 200 percent of normal ticket prices, whatever it might be.)
Objectively, Mulan's price is worse than a regular movie ticket. It's easy to conclude the argument with this statement and head home. However, there is a way to justify the price.
The whole family plus your cow
Now, a single movie ticket typically admits one person. Buying Mulan pays for the streaming privilege which can typically include an entire family. With a 15-dollar average, two people watching the same Mulan purchase is already a break-even point. In the same vein, a family of four obtains double the value of the 30-dollar film price. Even better, a family can watch the film over and over again. And, as any parent who has a Frozen-loving child can tell you, unlimited playbacks is a blessing for your wallet (albeit a curse on your sanity).
Unfortunately, despite the mathematical mind-bending, Mulan's price is still far from ideal. The movie-going experience is not the same on a streaming platform as in a cinema.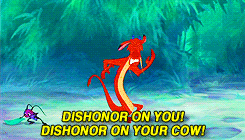 An assumption of equality
A cinema ticket is price of equality. Besides a few slight differences, everyone is paying for the same product. All other things considered equal, a 20-year old college student is paying and enjoying the same experience as a 50-year old CEO. Same film, same seat cushions, same facilities, same projector.
On the other hand, a streaming subscription cannot assume the same thing. A platform cannot control where and with what device a user will watch the movie from. A 20-year old college student watching the film on a laptop screen in a poorly lit dorm room is not enjoying the same experience as a 50-year old CEO watching the same thing in their high-end home theater with Dolby Atmos.
Likewise, the platform cannot assume how many people will watch the film in one purchase. Now, Mulan is a family film. Disney can easily assume that multi-person families will buy and watch the film. However, how will the audiences take the same price tag for a more polarized movie like Christopher Nolan's Tenet or the next James Bond film?
All of Hollywood knows you're here
In the same announcement, Chapek hints that Mulan's price is just a "one-off." Basically, other films might not follow the same pricing scheme. In a way, it makes sense. Mulan was made with a pre-coronavirus budget. It was expected to make millions from box office tickets. This might be the only way for Mulan to recoup its many losses. In the future, Disney might make films with lesser budgets and lesser expectations.
However, make no mistake; other filmmakers are intently watching Mulan's performance on streaming. If Mulan succeeds, they can likely charge the same amount without incurring a lot of losses. That said, streaming premiere prices will likely vary from film to film. Even then, this isn't the last discussion on the future of the film industry.
If the industry hopes to adapt to the new normal, it needs to rethink its strategy even further. Disney is offering only one solution for the problem of streaming. Unfortunately, the brand's solution leverages a family-oriented release, one that might not appeal to the average moviegoer today.
A price worth fighting for
My suggestion: Implement a tiered premiere price. Not everyone will want to pay the full 30 dollars for a film they're not wholly interested in. Most will watch it once and forget about it. Some won't even care about watching it in HD.
Why not implement a pricing scheme based on those different preferences? For example, charge US$ 5 for a standard-definition, one-time playback premiere; US$ 10 for an HD, one-time playback premiere; US$ 20 for a standard-definition, unlimited playback premiere; and US$ 30 for an HD, unlimited playback premiere. In one swoop, a film can appeal to all streaming markets and needs.
Mariah Carey's Magical Christmas Special is 2020's salvation
Mariah Carey, pray for us
Christmas Icon Mariah Carey, together with Apple TV+, released the official trailer for Mariah Carey's Magical Christmas Special.
The holiday extravaganza will feature Carey and a fabulous line-up of superstars: Tiffany Haddish, Billy Eichner, Ariana Grande, Jennifer Hudson, Snoop Dogg, Jermaine Dupri, Misty Copeland, and Mykal-Michelle Harris. Carey's nine-year-old twins Moroccan and Monroe will also have a special appearance in the show.
The Special tackles a holiday cheer crisis where only one person can solve: Santa's great friend, Mariah Carey. Through musical performances, dynamic dancing, and groundbreaking animation, the Queen of Christmas is about to bring a holiday spectacular that will make the whole world merry.
Mariah Carey's Magical Christmas Special will premiere globally on December 4, exclusively at Apple TV+. The soundtrack single and new music video for "Oh Santa!" will also be distributed by Sony Music and released on Apple Music and other streaming platforms on the same day. Other soundtracks will be available exclusively on Apple Music by December 4, and on other platforms by December 11.
Apple TV+
Apple TV+ is available on the Apple TV app in over 100 countries and regions. It's also available on over 1 billion screens, including iPhone, iPad, Apple TV, iPod touch, Mac, select Samsung and LG smart TVs, Amazon Fire TV, and Roku devices, as well as at tv.apple.com/sg, for S$6.98 per month with a seven-day free trial.
For a limited time, customers who purchase a new iPhone, iPad, Apple TV, Mac, or iPod touch can enjoy one year of Apple TV+ for free. This special offer is good for three months after the first activation of the eligible device.
BLACKPINK is new Globe Telecom ambassador
Plus more treats from Globe for the holidays
Announced during the Wonderful World of Globe event, K-Pop sensation BLACKPINK is now the newest brand ambassador of Globe Telecom. Specific details of the partnership have yet to be announced. But, we can expect to hear more from Jennie, Rosé, Jisso, and Lisa through Globe in 2021.
Globe also announced a few other things during the Wonderful World of Globe Event.
New data plan Surf4ALL
Surf4All, as Globe explains, is a fully convergent data offer that knows no boundaries across Globe brands. The promo gives users high GBs for all sites and a shareable GB allocation that is seamlessly accessible to up to four (4) users or devices. Now, you can share data with Globe Prepaid, Globe Postpaid, Globe Platinum, Globe At Home Prepaid WiFi, and even TM.
It can be accessed through the GlobeOne app. Currently there are two promos which are both valid for seven (7) days:
Surf4ALL99 — 9GB of shareable data
Surf4ALL249 — 20GB shared access (15GB + 5GB limited-time bonus data)
PureGo
Globe's 917Ventures also partnered with supermarket store PureGold to give us PureGo. It's an online grocery shopping platform that delivers groceries to customers' doorstep with a next day delivery promise. It supports multiple payment options including GCash.
Globe for Gaming and Entertainment
Globe partnered with Riot Games for special data offers for the mobile game League of Legends: Wild Rift. But it doesn't stop there. Globe also partnered with Niantic — makers of the once very popular Pokemon Go game. The partnership will explore opportunities in AR and 5G.
Speaking of 5G, Globe is also working with YouTube VR to bring VR experience to more people with the help of 5G connectivity.
On the more mainstream entertainment side of things, Globe also announced closer ties with HBO Go as well Filipino-centric live streaming platform Kumu.
Globe Platinum for gift-giving
In the spirit of the holidays, Globe Platinum has partnered with World Vision to create the #ForFutureHeroes program. It consists of virtual experiences in collaboration with BGC Arts Center, Electric Studio, and others that allow Globe Platinum customers to pursue their passions at home while making an impact on others.
Participation in every activity is matched by Globe Platinum with World Vision school kits filled with DepEd approved learning modules and supplies, so the children of Baseco Compound, Manila can continue their education.
Globe Platinum's Thank-A-Hero program is also ongoing for the countless frontliners in the country. Apart from sending them treats from Auntie Anne's, Coco, The Cookie Bar, and JCo Donuts,  Globe Platinum is also preparing a Noche Buena feast for our frontliners, to thank those who will be hard at work all throughout Christmas Eve, keeping Filipinos safe.
Globe at Home also donated modems to DepEd to equip selected public school teachers and ensure that education remains unhampered. The program continues as it now works towards raising funds to provide free WiFi modems for public school students.
For every Globe At Home Prepaid Wifi sold, PhP 100 will be donated to help fund internet connectivity of selected public school students.
Do more with GCash
Since social distancing protocols are still in effect, GCash now has Send Aguinaldo. With it, Ninongs and Ninangs (god parents) can send digital gift envelopes as aguinaldos (tokens/gifts) to their god children. They can even gift insurance thru the app's GInsure service.
GLife, the newest GCash app feature, likewise, provides more gift and handaan options across different brands and e-commerce platforms, ranging from Lazada, Puregold, DataBlitz, Purego, Boozy, Goldilocks, Goama Games, and more.
GCash is also giving up to PhP 30 million worth of prizes just by using the app. Leading up to a few days to Christmas, consumers can get gifts just by buying load, or using GCredit to pay when they shop on their favorite online platforms. They will also get a chance to win a gift of their choice in the grand raffle.
Spotify is testing its own Stories feature
Currently in testing
Every social media platform today is obsessed with the disappearing short-form video. Stemming from TikTok's success worldwide, everyone is developing or launching a rivaling TikTok feature — or, more subtly, a Stories feature. Even Snapchat, the platform most similar to TikTok already, has recently launched its own format. Now, joining the cast of unlikely TikTok adopters, Spotify is testing its own Stories feature.
Tagging along with its holiday lineup, Spotify has unveiled Instagram-like Stories currently exclusive to its artists. Right now, users can view videos created by artists like Jennifer Lopez and Pentatonix.
At the moment, the feature is only a test. The platform has not confirmed if Spotify Stories (or whatever the final name is) will eventually open up to ordinary users.
For every other user, Spotify can link up with other social media platforms for their Stories features. With its own Stories feature on the horizon, Spotify can cut out the middleman. However, no one knows if users will warm up to Spotify Stories in lieu of their social media platforms.
Besides a Stories feature, Spotify has also developed numerous functionalities throughout the year. Among others, the music streaming platform has introduced couple plans, searching by lyrics, and listening together.
Amid the pandemic, Spotify has risen up as a true performer this year, despite the strangeness of a Stories feature.