The cost of the post-pandemic movie
Why you should care about Mulan's terrible premiere
The fate of the Hollywood blockbuster rests on a fingertip. A formerly grandiose affair with celebrities dressing up to the nines, the red-carpet premiere is now an impossibility thanks to the ongoing COVID-19 crisis. On the other side, streaming services blossomed with new titles and exclusives. It was (and is) a great era for the home theater. But the home theater will not last forever. Hollywood is now facing a crisis for the future of the premiere.
If the past year is any indication, Hollywood will, of course, not go down without a fight. Large networks and production houses have released their own streaming platforms to monopolize their content, putting additional weight on a consumer's budget. Take Disney's Disney+ or NBC's Peacock, for instance. Now, a few of these (like Disney and Netflix) make their own blockbuster content as well. We've seen Netflix's streaming-only premieres already. How about Disney's (or anyone else's) Hollywood premieres, which often rely on astounding box office numbers?
This week, we got a taste of such a strange premiere scheme. In an earnings call, Disney CEO Bob Chapek detailed the future of a delayed movie, Mulan. Initially premiering in theaters back in March, Mulan was repeatedly delayed because of the continued shutdown of movie theaters. Now, as the company is itching to finally launch it, Chapek announced a hybrid release for the film. Partly premiering in theater in safe countries, the film will also launch simultaneously on Disney+ for unsafe markets.
Now, here's the catch: the film will cost US$ 29.99 for Disney+ users. Even if you have a subscription already, you have to fork over approximately PhP 1,474 to watch the new film. Of course, the hair trigger response is, "c'mon, Disney; stop haggling money from your customers." And the response is right. However, there is so much more to this. Mulan can set the stage for an unprecedented era for Hollywood premieres.
Let's get down to business
In New York, an average movie ticket costs around US$ 15 (approximately PhP 736). Mulan's price tag is twice as much as a theater ticket. It's even weightier in cheaper states and, most especially, in the Philippines (where movie tickets are only around US$ 5). Further, you'll still need an active Disney+ account to access the film, costing an additional US$ 6.99.
(Naturally, it's impossible to accurately translate the prices to an Asian market since Disney+ has not launched in all of Southeast Asia yet. We can only assume that Mulan's streaming price is 200 percent of normal ticket prices, whatever it might be.)
Objectively, Mulan's price is worse than a regular movie ticket. It's easy to conclude the argument with this statement and head home. However, there is a way to justify the price.
The whole family plus your cow
Now, a single movie ticket typically admits one person. Buying Mulan pays for the streaming privilege which can typically include an entire family. With a 15-dollar average, two people watching the same Mulan purchase is already a break-even point. In the same vein, a family of four obtains double the value of the 30-dollar film price. Even better, a family can watch the film over and over again. And, as any parent who has a Frozen-loving child can tell you, unlimited playbacks is a blessing for your wallet (albeit a curse on your sanity).
Unfortunately, despite the mathematical mind-bending, Mulan's price is still far from ideal. The movie-going experience is not the same on a streaming platform as in a cinema.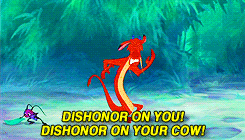 An assumption of equality
A cinema ticket is price of equality. Besides a few slight differences, everyone is paying for the same product. All other things considered equal, a 20-year old college student is paying and enjoying the same experience as a 50-year old CEO. Same film, same seat cushions, same facilities, same projector.
On the other hand, a streaming subscription cannot assume the same thing. A platform cannot control where and with what device a user will watch the movie from. A 20-year old college student watching the film on a laptop screen in a poorly lit dorm room is not enjoying the same experience as a 50-year old CEO watching the same thing in their high-end home theater with Dolby Atmos.
Likewise, the platform cannot assume how many people will watch the film in one purchase. Now, Mulan is a family film. Disney can easily assume that multi-person families will buy and watch the film. However, how will the audiences take the same price tag for a more polarized movie like Christopher Nolan's Tenet or the next James Bond film?
All of Hollywood knows you're here
In the same announcement, Chapek hints that Mulan's price is just a "one-off." Basically, other films might not follow the same pricing scheme. In a way, it makes sense. Mulan was made with a pre-coronavirus budget. It was expected to make millions from box office tickets. This might be the only way for Mulan to recoup its many losses. In the future, Disney might make films with lesser budgets and lesser expectations.
However, make no mistake; other filmmakers are intently watching Mulan's performance on streaming. If Mulan succeeds, they can likely charge the same amount without incurring a lot of losses. That said, streaming premiere prices will likely vary from film to film. Even then, this isn't the last discussion on the future of the film industry.
If the industry hopes to adapt to the new normal, it needs to rethink its strategy even further. Disney is offering only one solution for the problem of streaming. Unfortunately, the brand's solution leverages a family-oriented release, one that might not appeal to the average moviegoer today.
A price worth fighting for
My suggestion: Implement a tiered premiere price. Not everyone will want to pay the full 30 dollars for a film they're not wholly interested in. Most will watch it once and forget about it. Some won't even care about watching it in HD.
Why not implement a pricing scheme based on those different preferences? For example, charge US$ 5 for a standard-definition, one-time playback premiere; US$ 10 for an HD, one-time playback premiere; US$ 20 for a standard-definition, unlimited playback premiere; and US$ 30 for an HD, unlimited playback premiere. In one swoop, a film can appeal to all streaming markets and needs.
Watch: Pretty Guardian Sailor Moon Eternal The Movie main trailer
Anyone feeling nostalgic?
Everyone's favorite anime heroine growing up is back with an all new animated movie. Netflix just released the full main trailer for Pretty Guardian Sailor Moon Eternal The Movie!
Here's the synopis on the trailer:
When a dark power enshrouds earth and a dark circus troupe appears after a total solar eclipse, the scattered Sailor Guardians must reunite to bring light back into the world…
Pretty Guardian Sailor Moon or simply known as Sailor Moon for many was originally created by Naoko Takeuchi. The Eternal movie is directed by Chiaki Kon ('The Way of the Househusband', 'Nodame Cantabile: Paris Edition & Finale'), with music by Yasuharu Takanashi ('Pretty Guardian Sailor Moon Crystal', 'Pretty Guardian Sailor Moon Crystal Season III'), with Kazuko Tadano ('Pretty Guardian Sailor Moon', 'Yu-Gi-Oh! Sevens') responsible for character designs and TOEI Animation / Studio DEEN for animation production.
Pretty Guardian Sailor Moon Eternal The Movie Part 1 & Part 2 premieres worldwide (outside of Japan) on June 3, 2021 on Netflix
League of Legends' animated Netflix show is coming soon!
Out by this fall!
The new animated series is titled Arcane. And, it's coming from the League of Legends (LoL) publishers themselves: Riot games. Despite releasing countless animated shorts, Arcane is a first for the League franchise. Riot Games partnered with Fortiche Productions to develop and produce this series; keeping character designs and art close to home.
Since the first hint of it in 2019, fans have been waiting patiently for this release. And if you want the series now, you'll have to wait a little bit longer. It'll be out on Netflix and on Tencent Video in China by fall this year.
We follow two iconic League champions, their origins, and the power that tears them apart. The backdrop to the story is the utopian region of Piltover and the oppressed underground of Zaun.
Riot Game's Global President of Entertainment, Shauna Spenley said, "Arcane was created as a love letter to our players and fans, who have been asking us for more cinematic experiences that dive deeper into the worlds and champions in League of Legends."
Netflix's video game animated series
Arcane is just one of few new video game adaptation slates in Netflix's lineup. Which, spells good news for fans and players of games. One recent release was Dota: Dragon's Blood, an animated series inspired by Valve's multiplayer online battle arena (moba) game DOTA 2. Other Netflix series based on the video game realm include Assassin's Creed, Castlevania, Cuphead, Resident Evil: Infinite Darkness, and Assassin's Creed.
Couple co-op games to play during the pandemic
Loving from a distance
It goes without saying that the pandemic has drastically altered our lives. And, for the lucky few who've found love amidst the global chaos or barely kept their love life while apart, playing games has become one of the best past time in quarantine.
Below are cooperative games you can play with your partners or friends. We're open to all forms of love here. Also, note that this list won't include classic multiplayer games like Minecraft, Stardew Valley, and Animal Crossing: New Horizons because I'm assuming you and your partner or friends have already played these for an ungodly number of hours. Which, by the way if you haven't, I recommend you start there.
Not included on this list are multiplayer online battle arenas(mobas) since that's a whole genre of it's own. And, I'm sick and tired of blatant sexting and flirting on moba team chats. Get your lives together or stay alone, yeah?
It Takes Two
Steam, PlayStation, Xbox, & PC
It Takes Two is a cooperative action-adventure platformer with gripping stories and game mechanics. You play as arguing parents at wit's end stuck in doll form. The doll form bit is due to your daughter's attempt to cope with her parents' eventual split. Speaking of splits, it's a split-screen multiplayer that allows you to play locally or online. The game mechanics and design are witty and eloquent–drawing you into the characters' stories.
It Takes Two is a good game to play with your partner to see how well you work through obstacles together–in more ways than one. It Takes Two was developed by Hazelight Studios and published by Electronic Arts under the EA Originals labels.
Heave Ho!
Steam, Nintendo Switch, & GOG
Heave Ho! is a multiplayer co-op platformer where you and your partner or friends get through tough puzzles using your wobbly and dangly limbs. Grab on to each other's hands, climb across dangling bodies, and swing your way into safety.
Heave Ho! forces you to work together by throwing the other, climbing over, and using our partner to get to the other side. It's a quirky simple yet challenging game that have left players screaming desperate for hand grabbing. Heave Ho! was developed by Le Cartel Studio and published by Devolver Digital.
Overcooked! 2
Steam, Nintendo Switch, PlayStation, Xbox, GOG
Overcooked! 2 is a cooperative cooking simulation video game. It's the sequel to Overcooked! which had the same game mechanics just without the new and improved stages, mechanics, and features. Overcooked! 2 will make it necessary to yell at each other–which doesn't have to be a bad thing. You work together as a team to prep, cook, and serve.
It's the perfect game to play to break the ice, work together, laugh, and panic. Test your relationship, strengthen it, or break up over a silly game. Overcooked! 2 was developed by Team17 alongside Ghost Town Games and published by Team17.
Valheim
Do two burly Vikings braving the elements sound like a romantic way to spend the night with your partner? No, of course not, but you'll get hours of entertainment riding together with your nordic allies. Valheim is an explorative survival game. Build yourself a little home, roam the giant wilderness for resources, and hunt some trolls. If Minecraft doesn't hit the same way anymore, this will probably fill that gap. But make sure you're playing together, microphone on, and you'll get lost in purgatory.
Valheim was developed by Iron Gate AB and developed by Coffee Stain Publishing.