Samsung tries something new with the Galaxy TabPro S, and succeeds
Whenever we hear the words Samsung and Galaxy put together, Android tablets and smartphones instantly come to mind. That's why it's so strange to see the Galaxy label plastered on a Windows tablet when talking about the Galaxy TabPro S. And yet, it's only when you begin using this convertible that you realize how similar it behaves to an Android tablet.
This revelation pops up despite this Samsung convertible directly challenging the likes of the Microsoft Surface series and Apple iPad Pro. On one hand, it doesn't have the relentless performance Surface tablets have been delivering for four generations; on the other end, it has a much more desktop-like operating system as compared to the iPad Pro's. The balance between both sides is what puts the TabPro S in a unique position to appeal to a desktop-hungry, yet mobility-loving audience.
Windows in an Android body
Throughout our experience with the Galaxy TabPro S, we couldn't help but feel like we've been using an Android tablet on steroids. This isn't to say it's a bad thing; on the contrary, having a fan-less, lightweight Windows 10 device is such a pleasure when all you want do is type and watch stuff while doing errands. Naturally, you're going to have to deal with a flat keyboard and limited travel, but the keys are easy to get used to thanks to the spacious tiles.
Checking out the product page of Samsung, you can tell how much focus is placed on the tablet aspect of the TabPro S, without much mention of how it's actually a full-fledged Windows tablet with a complete keyboard attachment. Even the setup out of the box looks like it came straight out of an Android product: an Adaptive Fast Charger along with a meter-long cable for the single USB Type-C port, plus a slot for inserting an LTE SIM card. This is as mobile as it gets for a 12-inch Windows tablet.
Just enough juice in the tank
Like all of Samsung's flagship tablets and smartphones, this convertible's AMOLED display is absolutely captivating. Not once did we think the 2160 x 1400 resolution wasn't enough. There were times we wished the colors were more accurate, especially while photo editing, but the highly saturated colors are alluring most of the time. We also have to give a positive nod to the stereo speakers found on the sides of the Galaxy TabPro S. They're surprisingly loud – way better than smaller Galaxy Tabs.
For the tech-savvy, you'll notice a no-frills setup here. You get an Intel Core m3 processor with 4GB of RAM and 128GB of internal storage. Putting it simply, there's ample power on board to run through several tabs on Chrome, high-resolution editing on Photoshop, and watching (not editing, mind you) videos on the side, all at the same time. At this price point, you'd hope for something more, as this is the bare minimum to run Windows 10 smoothly on a high-resolution screen, but the upside is there's no noisy fan to bother you.
Here's another juicy tidbit: The TabPro S is a total darling when it comes to battery life. This should go down as one of the rare cases wherein working on 10 percent of remaining charge isn't stressful. It seems like there's always enough to get through a full day's worth of work without looking for a wall socket. Again, we have to credit the energy-efficient Core m3 processor for this.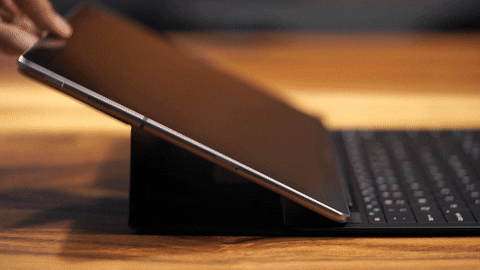 Some things are missing
One of the first things you'd expect in the box is a stylus. To our disgruntlement, it isn't a standard feature of the Galaxy TabPro S; you'll have to make do with touch gestures and the fiddly track pad. And despite the simplicity of the keyboard attachment mechanism, there's a limit of two positions for the rear stand, and they're only usable while the keyboard is latched on. For something that's advertised as being able to work on its own, the tablet is heavily reliant on the keyboard to function properly. Without physical keys and a stylus, working through Windows 10 purely on finger touches is a clumsy affair.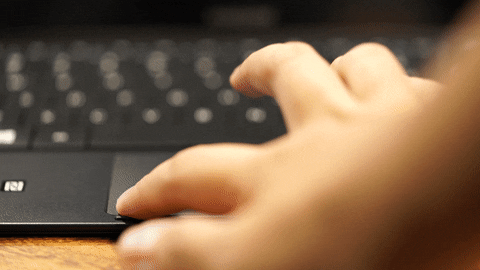 While we're on the subject of pure tablet usage, there's only one digital port to do all your work. You have a single USB Type-C for charging, plugging in a flash drive, or connecting a compatible peripheral, such as a mouse or card reader. It seems like this is the path several manufacturers are choosing to take, and we're practically forced to adjust to the new restrictive standard. On the bright side – and this is also similar to Android devices – the TabPro S comes with Adaptive Fast Charging, letting you go from zero to 100 percent in less than three hours, so there's more time for you to plug in other devices.
Who's this for?
Any Samsung fan who's in need of a seamless transition from Android to Windows should seriously consider the Galaxy TabPro S. The beauty here lies in the sheer convenience of being able to power up a complete Windows 10 machine and attach a keyboard at will – just like an Android device. The official price begins at $899, so it's right up there with the big boys of mobile computing.
As long as you don't force the TabPro S to go beyond its specialities, like making it render graphics-intensive games or heavy photo/video editing, you have a GadgetMatch in your arsenal. You also need to keep the keyboard attachment on, because without it, you're better off buying a Galaxy Tab S2 Android tablet instead with its willingness to work solely on swipes and gestures.
With rumors circulating about a successor in the works, we can't help but feel hopeful about the future of the Galaxy TabPro S line. We're wishing for a stylus and more connectivity ports next time around.
[irp posts="6867″ name="Samsung Galaxy TabPro S unboxing and hands-on"]
Nokia G21: Stock Android experience
Guaranteed updates on a budget smartphone!
Nokia is refusing to throw in the towel as the company tries to keep its footing, at least in the budget segment. This year, the Nokia G21 found its way to the Philippines, promising a stock Android experience without breaking the bank. But will it deliver?
Robust build
Nokia brings in what it's good at — a robust design with a penchant for durability. The Nokia G21 looks and feels sturdy, although I'm sure it isn't as strong as Nokia's phones from two decades ago.
It's painted in Nordic Blue, which seems Navy to me, and at certain lighting conditions, appears green-ish. There's a striking, horizontal pattern that adds texture when you hold the phone and touch its rear.
The camera island is a little bit embossed, but it doesn't protrude that when you place the phone on a flat surface, it's almost even. The disparity isn't noticeable.
More importantly, the heft is quite tolerable, even for those who have tiny, frail hands like yours truly. But when compared to other budget smartphones, it's a bit light.
Comfort features
What most people enjoy about budget phones is their comfort features — stuff you've always wanted to stay in a smartphone.
On the right, you can find the volume rockers above the fingerprint scanner which doubles as a power button.
At the bottom, you'll be glad to see a USB-C port along with the speaker grilles.
On the left side, you can find the SIM tray slot along with a quick button for Google Assistant. Up top, there's a 3.5mm audio jack.
The tray offers an option for a single or dual SIM, along with a dedicated microSD card slot.
The upsides
Running on Android One, the Nokia G21 exhibits a near-stock version of Android with few modifications. It puts a focus on Google services, housing essential apps you might need for your connected lifestyle while still running on Android 11. The operating system might be a bit late considering how Android 13 started rolling out.
Nevertheless, there's still relief in knowing that a budget phone like this — which usually doesn't get favorable treatments from smartphone manufacturers — will get two years of OS updates and three years of security updates. After all, running on Android One means Nokia gets the updates straight from Google.
Frankly, I missed seeing the cleanliness of Android One. It's simple and efficient — easy to the eyes and to the user experience. Every app you'll use is basically under Google. For instance, checking images would prompt you to check Photos app because there's no Gallery. Gmail automatically becomes your mailing app. Chrome is the default browser. Entender?
Surprisingly, it comes with the Netflix  app built in so you can enjoy worthwhile content when YouTube gets tedious for you. Furthermore, you can watch your favorite shows or continue using the smartphone from day to night with its humongous 5050mAh battery. It might take a while for it to fully charge though, given that the unit ships with a 10W charger. Although, the G21 can handle up to 18W of charging. If you have a third-party Power Delivery (PD) charger, it's high time you use it.
At the very least, let the phone charge while you sleep. Think of it as the two of you bonding by recharging through the night.
The downsides
The Nokia G21 sports a 6.5-inch IPS LCD display with a 90Hz refresh rate. With a 20:9 ratio, you can enjoy your favorite shows albeit the waterdrop cutout can get distracting when watching on full-screen mode.
I was catching up with The Rising of the Shield Hero and the experience is as budget as it gets. Nothing stellar, just a smartphone delivering what's expected out of it. Visuals aren't vibrant and audio isn't as loud as most smartphones in the same category.
At the very least, this smartphone is totally acceptable for anyone looking for an affordable smartphone that they can use as a daily driver.
In terms of gaming and even multitasking, the G21 struggles. It runs on a Unisoc T606 chipset, an octa-core CPU inside, and a Mali G57 Mp1 GPU. The configurations for the smartphone are 3GB/64GB, 4GB/64GB, and 4GB/128GB.
IMO, even if you get the 128GB variant, it won't be enough. There's a considerable delay in accessing the phone after unlocking it with facial recognition or other security measures. The same goes for the fingerprint scanner, which you'd think is the faster option among all unlocking methods.
Opening the apps usually takes a while since the phone flashes the app's logo for a second or two before it shows the interface. While the delay is minuscule for most people, it's still puzzling since the slow, laggy experience happens even when I haven't consumed most of the storage.
I only installed Roblox and Ni no Kuni to test the device and of course, get a dose of my favorite games. Playing Ni no Kuni is a real challenge, especially with its graphics-intensive setting.
I was able to play, of course, but it comes with annoyances when it doesn't load as quickly as I would like it to be. I'd recommend not playing on this device unless you have the patience to deal with the inevitable delays.
Hit-or-miss cameras
Let's get this out of the way. The Nokia G21 is equipped with a 50-megapixel primary camera, a 2-megapixel macro lens, and 2-megapixel depth sensor. Its selfie camera houses a single 8-megapixel wide lens. Here are some samples we've taken for you to peruse:
Is this your GadgetMatch?
The Nokia G21, by any means, can't be considered a daily driver worth buying. It's something you'd probably get if it's the only phone available in the nearest stores and you badly need one. After all, it retails for PhP 9,990 and is available in a Nordic Blue colorway.
Its saving grace is the promise of OS and security updates, thanks to its Android One program. There's a guarantee that Google will extend its lifespan as long as it can.
Ideally, there are different budget options you can get for under PhP 10,000. There's the Redmi Note 11, the vivo T1X, and even the Infinix Note 12.
On the off chance that you already have a primary phone, the Nokia G21 has plenty of use cases as a secondary phone. For one, its long battery life and robust build give me the peace of mind that I can rely on it as a companion when I drive a motorcycle. It's durable and can last longer when needed.
Just because it's a budget phone with plenty of compromises doesn't mean there are no use cases for it at all.
PLDT Fast Hub: A taste of (near) 10,000mbps
With the PLDT Fast Hub
Fast and consistently reliable Internet speed has always felt like a pipe dream in the Philippines. But PLDT is doing its best to make it a reality. The latest expansion sees the company bringing up to 10,000mbps to select areas in the county. 
The number seems staggering. To show exactly what it can do, we spent an afternoon at the PLDT Fast Hub. Here's what the experience was like. 
Close to 10,000mbps 
We conducted several OOKLA speed tests and never quite got to exactly 10,000mbps. However, the speeds were consistently around 8,000mbps. That's still more than any other plan in the Philippines at the moment.
Specific hardware required
Naturally, something this fast has to come with its own set of specific hardware. Every household is different, so you'll need to fill-up this form from PLDT to find out exactly what's required for your setup. Consequently, your setup will determine the full pricing.
How many devices can it handle? Covering up to around 6,000 square maters thanks to the ASUS ZenWifi and a mesh system, the service can accommodate up to 100 bandwidth-hungry devices at once without struggling. With this, you still have room to connect a few more passive smart devices. 
And that's exactly what was on display on the Fast Hub.
Multiple devices
This was the primary computer connected to the service. We loaded a bunch of sites, which, to be honest, didn't really put too much strain on the service. Imagine 10 more of these in the household and the connection can still handle it smoothly.
Is there a gamer in the family? Having consistent and fast bandwidth is key, especially if you play competitive multiplayer games like Valorant. We tried our hand on a few games and while we ultimately ate dust in the game, the internet connection more than held up.
To set the mood while taking these photos, we fired up TWICE's Hello (Performed by Nayeon, Momo, and Chaeyoung). Music streaming typically doesn't really eat up too much bandwidth, so you can vibe to whatever your jam is to your heart's content.
Some Playstation 5/console games require you to be online. Inside the fast hub, we ran a few races on Gran Turismo 7. Again, the overall experience was seamless. Would've loved to be able to test this on NBA 2K's Park since that's the mode we consistently have trouble connecting to. Perhaps another time.
Connected Smart Home
Other than the aforementioned devices, the PLDT Fast Hub also featured a bunch of smart lights. We can't recall the exact number but there were probably over 15 lights setup. All of which responded swiftly  after being issued voice commands via Google Assistant.
There was also a smart vacuum in the room which also responded to voice commands. It didn't quite do exactly what you told it to, but perhaps that's more the device than the Internet connection.
They even had this smart mirror in the room. With it you can pull up any workouts on YouTube and follow-along the exercise while the video is playing.
A dream
The PLDT Fast Hub delivered a taste of a dream. In fact, the whole setup likely didn't even push the connection to the limit. But to know that this is now a possibility in certain locations is encouraging. Hoping it becomes more widely available and accessible soon.
To know if it covers your area, again, you may sign up on this form.
vivo X80 Pro with ZEISS: Capturing the city life
Noteworthy smartphone cameras
---
City life. It takes its toll on you. But it also has its charms. And one way to really enjoy its hustle and bustle is to have a companion to capture everything it has to offer.
Thankfully, there's the vivo X80 Pro. It's the company's latest and greatest for many reasons.
Chief of which is its outstanding cameras sprinkled with ZEISS Natural Color goodness.
vivo and ZEISS
vivo's camera-performance has been flying under the radar over the years. But with this ZEISS partnership, they're now ready to soar.
All the lenses on the X80 Pro have ZEISS patented T Star coating. It helps reduce reflections when taking photos of lights at night.
Photos are already sharp as is but the ZEISS Super Night Camera takes things even further. You also get ZEISS Portraits for stylized shots.
And it's not just photos. Zeiss makes its mark on videos too. With the ZEISS Cinematic Video Bokeh feature, you can shoot in a cinematic aspect ratio… While also applying depth of field.
Working in tandem to produce these still and moving images are the ZEISS 50MP Ultra-Sensing GNV Sensor as well as the V1+ Chip. The sensor keeps things steady even if your hands are shaky. And the V1 Plus Chip is vivo's own creation — a product of years of research and development to achieve the absolute best in mobile imaging technology.
Capturing city life
Okay, we're getting ahead of ourselves. Let's pullback for a bit and show you all the cameras equipped on the vivo X80 Pro.
50MP Zeiss Ultra-Sensing GNV sensor
48MP Ultra wide angle lens
8MP Periscope lens, 5x optical zoom
12MP Gimbal Portrait camera
They say the best camera is the one you can always carry with you. And this combination from vivo is about as good and as extensive as it can get.
Combined with the Camera Panning feature working in the background we can get stunning running shots.
It's a great way to document the start to your day. After that quick run, it's time to freshen up and grab a bite. Sharing your breakfast on socials is still a thing, right? Flex all you want. You deserve it.
And while you're at it. Might as well flex yourself too using the 32MP selfie shooter.
Videos are all the rage these days and if you want to take social sharing to another level, do it in motion.
SEE ALSO: GadgetSnaps: vivo X80 Pro in The Fort
Premium flagship
Now, capturing isn't all the vivo x80 Pro is good for. It is, after all, a flagship smartphone. The specs speak for themselves:
Qualcomm Snapdragon 8 Gen 1
12+4GB RAM
256GB Storage
4,700mAh
It's one thing to see it on paper, but the overall performance checks out too. Your usual social browsing, chatting, and jumping between apps is an absolute breeze.
And watching your favorite shows and videos is just flat-out great. The vivo X80 Pro has dual speakers making for a fantastic entertainment experience.
The 6.78-inch AMOLED display is a treat to the eyes. And it has a 120Hz adaptive refresh rate, meaning it goes from 1Hz to 120Hz depending on what you're doing.
This helps conserve the 4,700mAh battery which should last you quite a bit in a day. And if not, you can quickly top up as it supports wired 80W Flash Charge as well as 50W wireless Flash Charge.
As far as its looks are concerned it has a glass back with matte coating and some hints of glitter. Fittingly called Cosmic Black, the look is a straight up classic.
Superb shooter, all around partner
vivo has for itself quite a banger of a smartphone with the X80 Pro. It is literally everything you can ask for from a smartphone camera/ Delivering photos and videos that are vivid, sharp, and captivating while performing like every bit the flagship that it is.
The vivo X80 Pro retails for PhP 59,999. And the vivo X80 series is now available:
---
This feature is a collaboration between GadgetMatch and vivo Philippines.