Samsung tries something new with the Galaxy TabPro S, and succeeds
Whenever we hear the words Samsung and Galaxy put together, Android tablets and smartphones instantly come to mind. That's why it's so strange to see the Galaxy label plastered on a Windows tablet when talking about the Galaxy TabPro S. And yet, it's only when you begin using this convertible that you realize how similar it behaves to an Android tablet.
This revelation pops up despite this Samsung convertible directly challenging the likes of the Microsoft Surface series and Apple iPad Pro. On one hand, it doesn't have the relentless performance Surface tablets have been delivering for four generations; on the other end, it has a much more desktop-like operating system as compared to the iPad Pro's. The balance between both sides is what puts the TabPro S in a unique position to appeal to a desktop-hungry, yet mobility-loving audience.
Windows in an Android body
Throughout our experience with the Galaxy TabPro S, we couldn't help but feel like we've been using an Android tablet on steroids. This isn't to say it's a bad thing; on the contrary, having a fan-less, lightweight Windows 10 device is such a pleasure when all you want do is type and watch stuff while doing errands. Naturally, you're going to have to deal with a flat keyboard and limited travel, but the keys are easy to get used to thanks to the spacious tiles.
Checking out the product page of Samsung, you can tell how much focus is placed on the tablet aspect of the TabPro S, without much mention of how it's actually a full-fledged Windows tablet with a complete keyboard attachment. Even the setup out of the box looks like it came straight out of an Android product: an Adaptive Fast Charger along with a meter-long cable for the single USB Type-C port, plus a slot for inserting an LTE SIM card. This is as mobile as it gets for a 12-inch Windows tablet.
Just enough juice in the tank
Like all of Samsung's flagship tablets and smartphones, this convertible's AMOLED display is absolutely captivating. Not once did we think the 2160 x 1400 resolution wasn't enough. There were times we wished the colors were more accurate, especially while photo editing, but the highly saturated colors are alluring most of the time. We also have to give a positive nod to the stereo speakers found on the sides of the Galaxy TabPro S. They're surprisingly loud – way better than smaller Galaxy Tabs.
For the tech-savvy, you'll notice a no-frills setup here. You get an Intel Core m3 processor with 4GB of RAM and 128GB of internal storage. Putting it simply, there's ample power on board to run through several tabs on Chrome, high-resolution editing on Photoshop, and watching (not editing, mind you) videos on the side, all at the same time. At this price point, you'd hope for something more, as this is the bare minimum to run Windows 10 smoothly on a high-resolution screen, but the upside is there's no noisy fan to bother you.
Here's another juicy tidbit: The TabPro S is a total darling when it comes to battery life. This should go down as one of the rare cases wherein working on 10 percent of remaining charge isn't stressful. It seems like there's always enough to get through a full day's worth of work without looking for a wall socket. Again, we have to credit the energy-efficient Core m3 processor for this.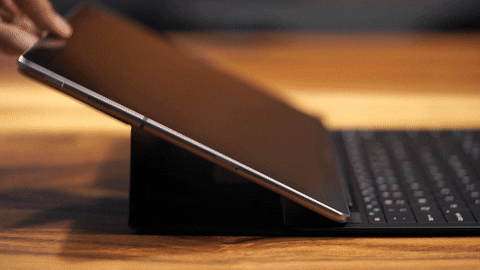 Some things are missing
One of the first things you'd expect in the box is a stylus. To our disgruntlement, it isn't a standard feature of the Galaxy TabPro S; you'll have to make do with touch gestures and the fiddly track pad. And despite the simplicity of the keyboard attachment mechanism, there's a limit of two positions for the rear stand, and they're only usable while the keyboard is latched on. For something that's advertised as being able to work on its own, the tablet is heavily reliant on the keyboard to function properly. Without physical keys and a stylus, working through Windows 10 purely on finger touches is a clumsy affair.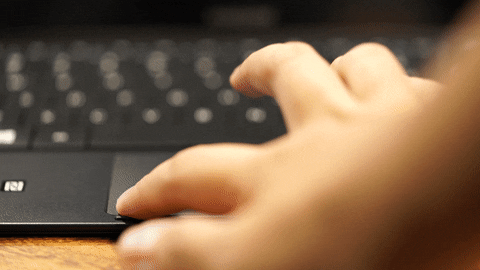 While we're on the subject of pure tablet usage, there's only one digital port to do all your work. You have a single USB Type-C for charging, plugging in a flash drive, or connecting a compatible peripheral, such as a mouse or card reader. It seems like this is the path several manufacturers are choosing to take, and we're practically forced to adjust to the new restrictive standard. On the bright side – and this is also similar to Android devices – the TabPro S comes with Adaptive Fast Charging, letting you go from zero to 100 percent in less than three hours, so there's more time for you to plug in other devices.
Who's this for?
Any Samsung fan who's in need of a seamless transition from Android to Windows should seriously consider the Galaxy TabPro S. The beauty here lies in the sheer convenience of being able to power up a complete Windows 10 machine and attach a keyboard at will – just like an Android device. The official price begins at $899, so it's right up there with the big boys of mobile computing.
As long as you don't force the TabPro S to go beyond its specialities, like making it render graphics-intensive games or heavy photo/video editing, you have a GadgetMatch in your arsenal. You also need to keep the keyboard attachment on, because without it, you're better off buying a Galaxy Tab S2 Android tablet instead with its willingness to work solely on swipes and gestures.
With rumors circulating about a successor in the works, we can't help but feel hopeful about the future of the Galaxy TabPro S line. We're wishing for a stylus and more connectivity ports next time around.
[irp posts="6867" name="Samsung Galaxy TabPro S unboxing and hands-on"]
Huawei Nova 5T vs OPPO Reno vs Galaxy A70: Three-way comparison
Which one offers the most value?
It's very unusual for one person to be carrying three phones at a time. So to put some semblance of structure in this three-way comparison among the Huawei Nova 5T, the OPPO Reno, and the Samsung Galaxy A70, we're going to be a little more straightforward with this piece.
You can expect most of our comparisons from here on out to be looked at from these five categories: General performance, media consumption, UI and design, gaming, and everyone's favorite — cameras.
Let's jump right in!
Everyday performance: Reliable all throughout 
When we say everyday performance, this could mean anything from keeping up with your friends on Facebook, stalking your crush on Instagram, answering emails, and replying to chats. You know, the usual.
All three smartphones do a fantastic job at what we like to call "the basics." As they should, given all three are midrangers with the Nova 5T even carrying the Kirin 980 — a flagship-level processor that is also equipped on the Huawei P30 Pro.
In case you're wondering, the OPPO Reno carries a Snapdragon 710 SoC while the Galaxy A70 is rocking the Snapdragon 675. One key difference we don't see here is the size of the chips. The Kirin 980 measures 7nm while the Snapdragon 710 and 675 come in at 10nm and 11nm respectively.
The differences are minute, but taking up a smaller space goes a long way in adding more components to each phone, which in turn helps with overall performance.
Media consumption: Size and weight matters
How many times have you told yourself, "just one more episode," before dozing off with your phone unceremoniously landing on your face?
This happens to the best of us. And you wouldn't want that happening while using the OPPO Reno. It's easily the heftiest of the three which makes holding the phone in your hand while getting through 40-50 minute episodes of your favorite shows extra tiring.
Meanwhile, the Galaxy A70 is the longest of the bunch. This also adds some imbalance while you're holding the phone for an extended period.
The Nova 5T probably has the most balanced attributes in terms of size and weight, making it easier to hold the phone. And with its surprisingly light weight despite being made out of metal, it won't hurt as much if you drop it on yourself.
The OPPO Reno and the Galaxy A70 both use AMOLED displays while the Nova 5T opts for an IPS LCD screen. At first we thought the Reno and A70 would be far and away better viewing experiences but the difference is almost negligible.
UI and Design: All can be… cleaner
We're not really solid fans of any of the UIs. If you've been using Samsung recently, then you're probably already used to ONEUI as it's essentially a cleaner and faster version of TouchWiz. ONE UI is snappy and has less bloat. It's a welcome change but one that still requires plenty of refinement.
We think ColorOS does look cleaner than ONEUI but something about it just doesn't feel as snappy. The next iteration of the UI should focus on speed if it hopes to feel as premium as the way OPPO is trying to make the external design of the Reno.
EMUI is fast and probably offer more customization than ONE UI and ColorOS. Its implementation of the swipe gesture for fullscreen is already Android 10-esque and it's easier to switch the look of the icons should you wish to do so. And since we've already gotten a glimpse of how clean EMUI 10 will look, it's easy to give it an edge over the other two UIs.
Design-wise it will all come down to preference. The A70 is the most-plane looking, the OPPO Reno looks sleek, and the Nova 5T — with its 3D holographic design — is loud and flashy. Of course, if none of the looks appeal to you, there's always the option of slapping case on the phone.
Gaming: Size matters part 2
These are the dimensions for each phone: Nova 5T (154.3 x 74 x 7.8 mm), OPPO Reno (156.6 x 74.3 x 9 mm), Galaxy A70 (164.3 x 76.7 x 7.9 mm). Why is this relevant? The length of the A70 lends itself nicely to games that are played in landscape mode.
If you have big hands, it just makes it easier to hold the phone as you move around and adjust your aim or press button. The differences may not look like a lot on paper, but it's these little things that make it or break it for some people.
The Reno and A70 also have their own implementations of a Game Assistant. This helps concentrate the processor's power and RAM to gaming while you're playing. It also adds a nifty feature of blocking notifications so you can focus on your game. This wasn't readily present on the Nova 5T.
Performance-wise, it was the Novat 5T that automatically had most settings on high graphics, thanks largely to GPU Turbo 3.0 working in tandem with 8GB of RAM. While the Reno and A70 can handle it, going down to medium might provide a better experience. There's no need for that on the Nova 5T. Factor in the Nova 5T's 128GB of internal storage, and you've got a phone that can store all of your favorite games.
Cameras: The more the merrier
What we're going to do here is drop a few samples in this order: Nova 5T, OPPO Reno, and A70. Carefully scrutinize each one to see the output you like the most.
Food
Portrait
Selfie
Normal, Zoom, Wide
Nova 5T
OPPO Reno
Galaxy A70
You're probably wondering why there's no wide for the Reno and no zoom for the A70. That's because they simply don't have those lenses. This is the inherent advantage of the Nova 5T. Its triple camera setup is versatile giving you different perspectives all in one phone.
Final thoughts
The differences are minute and looks-wise it will come down to preference. But when it comes down to it, the Nova 5T just has more to offer overall. If you feel like you need a wide angle lens, go with the A70. If you zoom is your thing, then it's the Reno for you.
However, wouldn't it be nice to have all those options? That's what the Nova 5T gives you, on top of a flagship-level performance in a sturdy metal body with a fully customizable UI.
But here's the kicker. The Nova 5T offers all of that at the base price of PhP 18,990. Meanwhile, the OPPO Reno and the Galaxy A70 will have you spending north of PhP 22,000. So, if you're looking for overall value among the three, it's clear the Nova 5T should be your pick.
SEE ALSO: Huawei Nova 5T vs Samsung Galaxy A50s: Midrange heavy hitters
---
This feature was produced in collaboration between GadgetMatch and Huawei Philippines.
Google Pixel 4 and 4XL Unboxing and Hands-on
New features, same price
The most leaked phone in history is now official. The new Pixel 4 and 4XL may look similar the outside but come with better cameras (yes there are now two), sport a Radar for faster face unlock, and introduce new air gestures. But is it worth upgrading?
This is our Google Pixel 4 and 4XL unboxing and hands-on.
Joker, Jowable, Jojo Rabbit: Now Playing
Live, love, laugh!
The GadgetMatch team just went through a rigorous back-to-back coverage starting from IFA 2019, iPhone 11, Vivo NEX 3, Huawei Mate 30 Pro, and many more. Like us, people are overwhelmed with smartphone launches one after another.
What kept us sane was these forms of entertainment we watch and play in passing. Here's what's Now Playing in GadgetMatch:
Movies to see
Steven Universe: The Movie
Leez: If you're a fan of Steven Universe and the last episode left you feeling unsettled by how it neatly tucked the whole series, then you're in luck. The movie doesn't fall short in tackling the heart-wrenching significance of struggles and obstacles to be better and be who you are. It's a movie that dives deep into lost friends and lost memories. You definitely need to check this out.
Jowable
MJ: No other film in this century has captured how I've been feeling for years now, except Jowable. This film tackles the joys, pains, and misadventures of singlehood in a comical approach. But don't think it's all just for laughs, Jowable is totally unpredictable — full of plot twists to keep you entertained while preaching you some deep life lessons that Buddha can't even.
Jojo Rabbit
Luigi: Provocative and funny. How else can you describe Taiki Waititi's upcoming comedy? This World War II satire features a German boy trying to hide a Jewish girl while being aided by his imaginary friend, Adolf Hitler (played by Waititi himself).
Joker
Kevin:  Not your usual origin story of a villain. Joker tackles mental health, human nature, and the society that we're living in now. Partner those with Joaquin Phoenix's stellar acting and what you get is a cinematic piece that moves you and makes you think about what "being normal" really is.  It's best to see it on the big screen so be sure to catch it while it's still showing.
Shows to binge-watch
Player reacts to his Highlights | House of Highlights
Rodneil: I haven't been able to commit to watching a series of late so for my dwindling downtime, I've resorted to watching these one-off series on YouTube. Plus I also miss NBA basketball, so this is a great way to scratch that itch.
Marianne
Luigi: People have proclaimed Marianne as the most frightening series of 2019. As a horror enthusiast, I don't think it is. However, this French horror series is still an excellent addition to the Netflix playhouse of monsters. Plus, that French accent is oh-so-sexy.
Vagabond
Rodneil: Gotta admit, I only considered watching because it stars Suzy Bae. But the story is gripping and the cinematography is pretty darn good. It's about a stuntman who loses his nephew in a plane crash that was made to look like an accident but there's more to it than just that.
Albums/Songs/Podcasts to listen to
데자 부 (Deja Vu) by Dreamcatcher
Vincenz: Although the song doesn't sound as intense as their other releases, the latest music video tells a deeper story. There is a line that struck me: "Now I'm holding this pain," especially that it talks about betrayal and abandonment. The melodic musical arrangement accompanied by contrasting light and dark visuals blend so well together — which gives a surreal and melancholic feeling to listeners and viewers alike.
Go Up by SB19
Vincenz: SB19 has been garnering attention for weeks. They sound like a K-Pop boy group because they were trained by a Korean agency. Although I'm not totally a fan, I appreciate their music especially since it talks about aiming high and achieving your dreams. Despite the hard choreography, their live vocals sound great. P-Pop is finally improving!
Linkin Park Favorites
Rodneil: It's been quite a stressful past couple of weeks for me. To combat the urge of setting myself on fire, I've been listening to a lot of my favorite Linkin Park songs. The collection is mostly from the Hybrid Theory and Meteora albums. Listen to the full playlist.
Feel Special by TWICE
Rodneil: TWICE's gradual concept change is evident in their new song Feel Special. More than that, though, the song seems to hold a special place in the members' hearts as it alludes to their struggles. Especially Mina who is struggling with anxiety and begged off from parts of their tour but still participated in the album with strong support from the other members.
Games to play
Madden NFL 20
Gab: I know how everyone is on some hype train towards the recently released NBA 2K20 video game, but there are other sports-related games out there. As someone who is starting to have a level of interest with the NFL, Madden NFL 20 introduced me to how American football actually works. If you need a quick change of pace from shooting the basketball, I suggest you try scoring touchdowns.
NBA 2K20
Rodneil: Echoing what Gab said on his NBA 2K20 review — this game essentially feels like a massive patch for NBA 2K19. That's not entirely a bad thing. It's still the superior NBA simulation game and for it to improve, EA needs to step up big time with NBA Live. Will still play it because it's my number one way to destress.
The Legend of Zelda: Link's Awakening
Luigi: As a child, I never played the original Link's Awakening on the Gameboy. I joined the Zelda party way too late. Thankfully, this Switch remake plays like a traditional game on the Gameboy. The new Link's Awakening brings a lot to the table for both new and old players. It's a well-polished game that doesn't rely too much on nostalgia.
---
Now Playing is the GadgetMatch team's favorite games, movies, TV shows, and more each month. If you're curious to know what we're into at the moment, this is what you should check out. So grab your popcorn, get some drinks, and enjoy what's now playing!