Samsung tries something new with the Galaxy TabPro S, and succeeds
Whenever we hear the words Samsung and Galaxy put together, Android tablets and smartphones instantly come to mind. That's why it's so strange to see the Galaxy label plastered on a Windows tablet when talking about the Galaxy TabPro S. And yet, it's only when you begin using this convertible that you realize how similar it behaves to an Android tablet.
This revelation pops up despite this Samsung convertible directly challenging the likes of the Microsoft Surface series and Apple iPad Pro. On one hand, it doesn't have the relentless performance Surface tablets have been delivering for four generations; on the other end, it has a much more desktop-like operating system as compared to the iPad Pro's. The balance between both sides is what puts the TabPro S in a unique position to appeal to a desktop-hungry, yet mobility-loving audience.
Windows in an Android body
Throughout our experience with the Galaxy TabPro S, we couldn't help but feel like we've been using an Android tablet on steroids. This isn't to say it's a bad thing; on the contrary, having a fan-less, lightweight Windows 10 device is such a pleasure when all you want do is type and watch stuff while doing errands. Naturally, you're going to have to deal with a flat keyboard and limited travel, but the keys are easy to get used to thanks to the spacious tiles.
Checking out the product page of Samsung, you can tell how much focus is placed on the tablet aspect of the TabPro S, without much mention of how it's actually a full-fledged Windows tablet with a complete keyboard attachment. Even the setup out of the box looks like it came straight out of an Android product: an Adaptive Fast Charger along with a meter-long cable for the single USB Type-C port, plus a slot for inserting an LTE SIM card. This is as mobile as it gets for a 12-inch Windows tablet.
Just enough juice in the tank
Like all of Samsung's flagship tablets and smartphones, this convertible's AMOLED display is absolutely captivating. Not once did we think the 2160 x 1400 resolution wasn't enough. There were times we wished the colors were more accurate, especially while photo editing, but the highly saturated colors are alluring most of the time. We also have to give a positive nod to the stereo speakers found on the sides of the Galaxy TabPro S. They're surprisingly loud – way better than smaller Galaxy Tabs.
For the tech-savvy, you'll notice a no-frills setup here. You get an Intel Core m3 processor with 4GB of RAM and 128GB of internal storage. Putting it simply, there's ample power on board to run through several tabs on Chrome, high-resolution editing on Photoshop, and watching (not editing, mind you) videos on the side, all at the same time. At this price point, you'd hope for something more, as this is the bare minimum to run Windows 10 smoothly on a high-resolution screen, but the upside is there's no noisy fan to bother you.
Here's another juicy tidbit: The TabPro S is a total darling when it comes to battery life. This should go down as one of the rare cases wherein working on 10 percent of remaining charge isn't stressful. It seems like there's always enough to get through a full day's worth of work without looking for a wall socket. Again, we have to credit the energy-efficient Core m3 processor for this.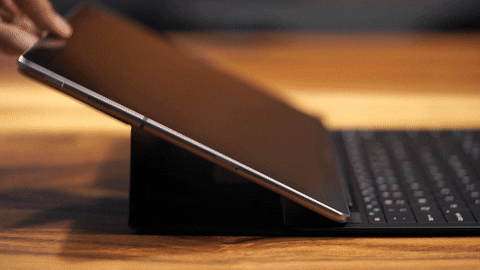 Some things are missing
One of the first things you'd expect in the box is a stylus. To our disgruntlement, it isn't a standard feature of the Galaxy TabPro S; you'll have to make do with touch gestures and the fiddly track pad. And despite the simplicity of the keyboard attachment mechanism, there's a limit of two positions for the rear stand, and they're only usable while the keyboard is latched on. For something that's advertised as being able to work on its own, the tablet is heavily reliant on the keyboard to function properly. Without physical keys and a stylus, working through Windows 10 purely on finger touches is a clumsy affair.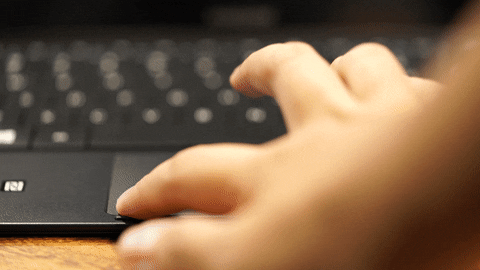 While we're on the subject of pure tablet usage, there's only one digital port to do all your work. You have a single USB Type-C for charging, plugging in a flash drive, or connecting a compatible peripheral, such as a mouse or card reader. It seems like this is the path several manufacturers are choosing to take, and we're practically forced to adjust to the new restrictive standard. On the bright side – and this is also similar to Android devices – the TabPro S comes with Adaptive Fast Charging, letting you go from zero to 100 percent in less than three hours, so there's more time for you to plug in other devices.
Who's this for?
Any Samsung fan who's in need of a seamless transition from Android to Windows should seriously consider the Galaxy TabPro S. The beauty here lies in the sheer convenience of being able to power up a complete Windows 10 machine and attach a keyboard at will – just like an Android device. The official price begins at $899, so it's right up there with the big boys of mobile computing.
As long as you don't force the TabPro S to go beyond its specialities, like making it render graphics-intensive games or heavy photo/video editing, you have a GadgetMatch in your arsenal. You also need to keep the keyboard attachment on, because without it, you're better off buying a Galaxy Tab S2 Android tablet instead with its willingness to work solely on swipes and gestures.
With rumors circulating about a successor in the works, we can't help but feel hopeful about the future of the Galaxy TabPro S line. We're wishing for a stylus and more connectivity ports next time around.
[irp posts="6867" name="Samsung Galaxy TabPro S unboxing and hands-on"]
2019 Hyundai Veloster Turbo: A Stylish Speedster
It's your everyday sports car
One of the biggest factors when buying a new car, apart from function, is how it looks. The impact of that first glance. Something that would make you look twice. Some of us have that desire to break the norm and it seems like Hyundai took note of this demand — and made it fast.
The 2019 Hyundai Veloster is the second of its generation and now has a more assertive exterior than its predecessor. The most noticeable part? Its redesigned front grille. It now comes in this meshed pattern with sharper edges and, if you ask me, this alone gives the car a more aggressive presence.
Then we go to the rest of the exterior and we see those subtle lines that add to the sporty vibe of this vehicle. From the hood to the wheel arches — these accents make the Veloster look like it's always moving.
At the back we also have this eye-catching pair of LED tail lamps plus a rear spoiler with the third brake light. Rounding up the whole sporty look is a rear bumper diffuser to improve the car's aerodynamics.
Other notable details include side mirrors with signal repeaters and sexy 18-inch alloy wheels. If you're already familiar with the first Veloster, then you'd know that it's unconventional in a way that it only has one door for the driver's side while the other has the usual two. Some call it weird. I'd like to call it style.
In terms of features, the 2019 Veloster has the bells-and-whistles for the tech-savvy. There's keyless entry, a mechanical seat for the driver, telescopic steering wheel, voice commands, and support for Android Auto and Apple CarPlay. Those are just some of the things the vehicle assists you with before you start your day. And of course, there's more for the drive ahead!
Your main hub for music, navigation, calls, and more is an 8-inch floating display. For controls, the steering wheel has buttons for Bluetooth as well as audio and cruise control.
In the age of smartphones, charging on-the-go is of utmost importance and with the Veloster, you get more than one option. There are two USB ports up front plus a special wireless charger just below it. Of course, your phone has to support this feature for it to work, but if it does, it feels good knowing you don't have to fumble over plugging the cable to your phone — while you're in the car, at least.
And for when you want more light during the day or when it's simply colder at night, you can open the moonroof and let the breeze roll in. Added comfort creatures like this make the Veloster a package for those who like having fun on the road.
One of the things I love about its interior is how the black and red color of the exterior continues here. Its bucket seats wrapped in leather offer a premium feel for the driver and passengers alike.
The company is obviously keen to details as one can see in the cabin of the vehicle. From the buttons and knobs that reflect its sporty DNA to the ergonomics and materials used to make each ride as comfortable as possible.
Being a Turbo variant, it's powered by a 1.6-liter turbocharged engine. Power is then transferred to the front wheels through a seven-speed Dual-Clutch Transmission. Although unlike Schwarzenegger in Jingle All The Way, it's not always "Turbo Time!" for the Veloster. It offers different driving modes depending on what the situation calls for.
There's Normal, Sport, Eco, and Smart. Eco obviously goes for the most efficient fuel consumption, Smart mode adjusts to your driving habits, Normal is — well, normal. Sport is for Track Day or simply when you want to show off.
Of course, all that speed has to be kept in check with a couple of safety features. The vehicle comes with dual airbags for the front, plus side and curtain airbags. Adding to those are ABS (anti-lock braking system) and an immobilizer for anti-theft.
Having the Veloster as a daily driver made me realize a couple of things. One is that it's actually fuel-efficient for a car with this oomph when it's set to Eco or even Normal mode — averaging about 9km to 10km to a liter in the city and up to 16km/l outside the Metro. It may have slight delays when not in Sport mode but it had no shortage of power. And together with its stance and vibrant red color, the Veloster is a certified head-turner.
See more of it in this video:
Capturing Europe using only a smartphone
Three countries, one device
When traveling to picturesque countries, it's normally best to take a dedicated camera with you. After all, that's what they're for: Capturing scenes with utmost quality.
However, traveling light is another factor, and if possible, bringing as few devices as possible. I thought to myself, Why not use a single smartphone to document my entire trip? And so I did.
I brought the top-ranked camera phone with me to three European countries — namely France, Germany, and Austria — and let it take all my shots. Yes, I let the Huawei P30 Pro see what I saw, and it did not disappoint.
This slideshow requires JavaScript.
The phone's biggest strength for a traveler has to be its four rear cameras that offer different levels of zoom, from 0.6x all the way to 50x hybrid zoom if you're feeling daring.
Its ultra-wide camera has to be the most handy, though, especially when trying to capture as much of a scene as possible. I used this everywhere I went, even for closeups and portraits needing more background.
This slideshow requires JavaScript.
As you can see, the P30 Pro is fantastic at dynamic range thanks to AI optimization. All I have to do is turn on HDR+ and let the phone do all the computing. Needless to say, not once did I feel that there wasn't enough color or brightness in my photos.
Another interesting feature is the RYYB color sensor, which draws in more light for sharper photos even in low-light environments. This allowed me to go full auto even during nighttime.
This slideshow requires JavaScript.
Speaking of nighttime, Huawei's signature night mode makes a return with even smarter illumination. It's amazing how well the cameras can see at night, whether it's using the regular or ultra-wide lens.
It takes only a few seconds for the app to stitch all the multiple exposure into one attractive image. Once finished, you have what looks like a long exposure shot on a tripod, but done using only your hands.
This slideshow requires JavaScript.
When you need a little more control with your compositions, there's a pro mode to help out. This gives you the chance to play around with lots of settings to achieve the perfect shot.
It might seem a little daunting at first to newbies, but the adjustments are made in real time, so you can see how each setting affects the final product. The manual focus scrolling is a personal favorite of mine.
This slideshow requires JavaScript.
Of course, selfies matter too, and Huawei equipped the P30 Pro with a wide 32-megapixel selfie shooter to handle all your self portraits. This becomes especially important when there's no one else to take your photos.
The P30 Pro's camera app offers lots of beauty and background blurring options for selfies, so you still have control over how you look in the end. HDR comes in handy as well when the scene gets too bright.
This slideshow requires JavaScript.
But what I loved most about bringing the P30 Pro as my sole camera around Europe was its auto mode. When time is of the essence and there's no chance to make last-second adjustments, this mode does all the work for me.
I can't count the number of times I double-pressed the volume down button to go straight to the camera app and snap a picture in front of me. It's the feature I used most by far, making my travels that much easier.
This slideshow requires JavaScript.
To be honest, going into this, I was a bit scared about relying on only one smartphone to do everything for me, from navigating places and researching about the top spots to visit, to documenting every step of the way.
Fortunately for me, the Huawei P30 Pro never faltered, and was, in fact, an incredibly reliable all-in-one camera. This is definitely going into my pocket again for my next trip.
---
This feature was produced in collaboration between GadgetMatch and Huawei.
Comparison: Is the Huawei P30 Lite the best midrange phone today?
The affordable Huawei P30 phone with great specs
Flagship devices are indeed the best you can get. Yet, midrange offerings are more attractive to consumers because of their budget-friendlier price tags. You don't always have to spend a lot of cash for a good smartphone. That's why we're going to take a look at two of the hottest phones in the market today: the Huawei P30 Lite and the Samsung Galaxy A50.
Both phones aren't your average midrangers. They offer more features than before, including ultra-wide camera lenses, crazy-fast processors, and plenty of memory to spare.
Let's get right into the comparison.
Specs and Features
Let's start by listing the key specifications of each phone to see which one is better on paper. Here's a quick rundown of their notable features:
Huawei P30 Lite

Samsung Galaxy A50

Display

6.15-inch Full HD+ IPS LCD

6.4-inch Full HD+ Super AMOLED

Processor

Kirin 710

Exynos 9610

Graphics

Mali-G51 MP4

Adreno 512

Memory

6GB

6GB

Storage

128GB

128GB

Rear cameras

20MP f/1.8
8MP ultra-wide


2MP depth sensor

25MP f/1.7
8MP ultra-wide
5MP depth sensor

Front camera

32MP f/2.0

25MP f/2.0

Battery

3340mAh

4000mAh

Other features

Rear fingerprint scanner, Face unlock

In-display fingerprint scanner, Face unlock

OS

Android 9 Pie w/ EMUI 9

Android 9 Pie w/ One UI
Since both are specifically made for the midrange segment, the two phones are quite on par with each other. Of course, each has its own strength. Let's talk about that next.
Design-wise, the two phones sport a tiny notch on their displays. When you flip the phone over, both also have a glossy finish. The P30 Lite has a 3D glass back for easy grip and one-handed use. Meanwhile, the Galaxy A50 uses an inferior plastic panel. If you hold both, you'll notice the P30 Lite feels more solid and premium. The P30 Lite's back won't scratch easily as well.
In the display department, the Galaxy A50 has the advantage with its Super AMOLED display. It produces really punchy colors and deep blacks. It's also supposedly more efficient, giving the battery life a boost. For outdoor visibility, the P30 Lite's LCD panel appears to be brighter. If you use your phone a lot under the sun, the P30 Lite's luminance will benefit you more.
People love to talk about the specs, so let's dive into that already. The P30 Lite is powered by Huawei's own Kirin 710 processor paired with 6GB of memory and 128GB of storage. On the other hand, the Galaxy A50 is powered by Samsung's Exynos 9610 processor with 6GB of memory and 128GB of storage as well.
The only difference here is their chipsets; but, their overall performance is pretty much the same. Also, both run Android 9 Pie out of the box with customizations on top. Being a Huawei phone, the P30 Lite has EMUI 9; meanwhile, the Galaxy A50 has One UI. Whichever you prefer, the two skins offer added features like GPU Turbo on EMUI for a smoother gaming experience.
It's already 2019; we're happy to share that these two midrange phones have a reversible USB-C connector for charging. Likewise, both support quick charging and fast chargers are included in the box.
Speaking of which, the Galaxy A50 has a bigger 4000mAh battery compared to the P30 Lite's 3340mAh cell. However, when it comes to real-world performance, the difference between the two won't be noticeable. Huawei phones have always had good battery life.
Lastly, their security features are quite similar, but differently executed. Both have fingerprint scanners as standard. However, the Galaxy A50 has its scanner built into the display, which can be a bit slow at times. Meanwhile, the P30 Lite has a tried-and-tested rear-mounted reader, which is faster and more reliable.
Cameras
Moving on to the cameras, there are three rear shooters on each phone. The P30 Lite carries a main 24-megapixel sensor with an f/1.8 aperture. Meanwhile, the Galaxy A50 has a 25-megapixel sensor with an f/1.7 aperture. On the software side, AI scene detection is available on both devices which should help in taking the best-possible photo.
Here are a few samples taken using the main cameras:
This slideshow requires JavaScript.
This slideshow requires JavaScript.
This slideshow requires JavaScript.
This slideshow requires JavaScript.
What set these two apart from other midrange phones in the market are their secondary cameras. The P30 Lite and Galaxy A50 both have 8-megapixel sensors with ultra wide-angle lenses that could easily fit in a lot of subjects in just one shot.
Here are the samples using the normal camera versus the ultra wide-angle shooter:
This slideshow requires JavaScript.
This slideshow requires JavaScript.
Let's not forget about selfies. Using the P30 Lite's 32-megapixel front camera and the Galaxy A50's 25-megapixel front shooter, you can take detailed and bright selfies, especially with plenty of light around you.
This slideshow requires JavaScript.
Beauty mode is always available when you need it. A little touch-up wouldn't hurt, right?
This slideshow requires JavaScript.
Conclusion
Is the P30 Lite the best midrange phone today? With the essentials in check and the extra features Huawei has put in, the P30 is indeed a great phone in its segment. Additionally, it's got a premium build which gives it an edge over the competition.
Those looking to buy one can get the P30 Lite for PhP 16,990 in the Philippines — which is PhP 1,000 cheaper than Samsung's. The P30 Lite is available in three colors: Midnight Black, Pearl White, and Peacock Blue.
---
This feature was produced in collaboration between GadgetMatch and Huawei Philippines.