Samsung tries something new with the Galaxy TabPro S, and succeeds
Whenever we hear the words Samsung and Galaxy put together, Android tablets and smartphones instantly come to mind. That's why it's so strange to see the Galaxy label plastered on a Windows tablet when talking about the Galaxy TabPro S. And yet, it's only when you begin using this convertible that you realize how similar it behaves to an Android tablet.
This revelation pops up despite this Samsung convertible directly challenging the likes of the Microsoft Surface series and Apple iPad Pro. On one hand, it doesn't have the relentless performance Surface tablets have been delivering for four generations; on the other end, it has a much more desktop-like operating system as compared to the iPad Pro's. The balance between both sides is what puts the TabPro S in a unique position to appeal to a desktop-hungry, yet mobility-loving audience.
Windows in an Android body
Throughout our experience with the Galaxy TabPro S, we couldn't help but feel like we've been using an Android tablet on steroids. This isn't to say it's a bad thing; on the contrary, having a fan-less, lightweight Windows 10 device is such a pleasure when all you want do is type and watch stuff while doing errands. Naturally, you're going to have to deal with a flat keyboard and limited travel, but the keys are easy to get used to thanks to the spacious tiles.
Checking out the product page of Samsung, you can tell how much focus is placed on the tablet aspect of the TabPro S, without much mention of how it's actually a full-fledged Windows tablet with a complete keyboard attachment. Even the setup out of the box looks like it came straight out of an Android product: an Adaptive Fast Charger along with a meter-long cable for the single USB Type-C port, plus a slot for inserting an LTE SIM card. This is as mobile as it gets for a 12-inch Windows tablet.
Just enough juice in the tank
Like all of Samsung's flagship tablets and smartphones, this convertible's AMOLED display is absolutely captivating. Not once did we think the 2160 x 1400 resolution wasn't enough. There were times we wished the colors were more accurate, especially while photo editing, but the highly saturated colors are alluring most of the time. We also have to give a positive nod to the stereo speakers found on the sides of the Galaxy TabPro S. They're surprisingly loud – way better than smaller Galaxy Tabs.
For the tech-savvy, you'll notice a no-frills setup here. You get an Intel Core m3 processor with 4GB of RAM and 128GB of internal storage. Putting it simply, there's ample power on board to run through several tabs on Chrome, high-resolution editing on Photoshop, and watching (not editing, mind you) videos on the side, all at the same time. At this price point, you'd hope for something more, as this is the bare minimum to run Windows 10 smoothly on a high-resolution screen, but the upside is there's no noisy fan to bother you.
Here's another juicy tidbit: The TabPro S is a total darling when it comes to battery life. This should go down as one of the rare cases wherein working on 10 percent of remaining charge isn't stressful. It seems like there's always enough to get through a full day's worth of work without looking for a wall socket. Again, we have to credit the energy-efficient Core m3 processor for this.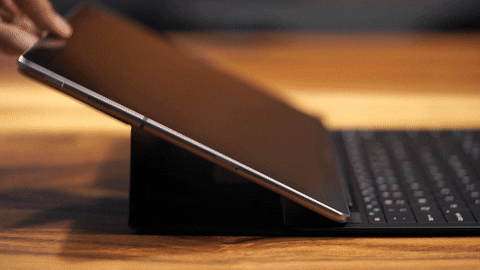 Some things are missing
One of the first things you'd expect in the box is a stylus. To our disgruntlement, it isn't a standard feature of the Galaxy TabPro S; you'll have to make do with touch gestures and the fiddly track pad. And despite the simplicity of the keyboard attachment mechanism, there's a limit of two positions for the rear stand, and they're only usable while the keyboard is latched on. For something that's advertised as being able to work on its own, the tablet is heavily reliant on the keyboard to function properly. Without physical keys and a stylus, working through Windows 10 purely on finger touches is a clumsy affair.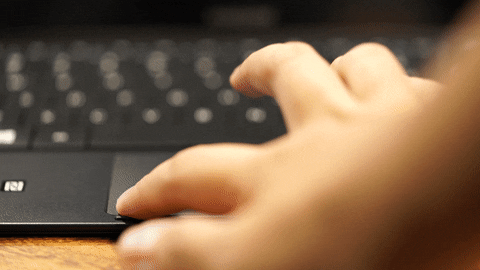 While we're on the subject of pure tablet usage, there's only one digital port to do all your work. You have a single USB Type-C for charging, plugging in a flash drive, or connecting a compatible peripheral, such as a mouse or card reader. It seems like this is the path several manufacturers are choosing to take, and we're practically forced to adjust to the new restrictive standard. On the bright side – and this is also similar to Android devices – the TabPro S comes with Adaptive Fast Charging, letting you go from zero to 100 percent in less than three hours, so there's more time for you to plug in other devices.
Who's this for?
Any Samsung fan who's in need of a seamless transition from Android to Windows should seriously consider the Galaxy TabPro S. The beauty here lies in the sheer convenience of being able to power up a complete Windows 10 machine and attach a keyboard at will – just like an Android device. The official price begins at $899, so it's right up there with the big boys of mobile computing.
As long as you don't force the TabPro S to go beyond its specialities, like making it render graphics-intensive games or heavy photo/video editing, you have a GadgetMatch in your arsenal. You also need to keep the keyboard attachment on, because without it, you're better off buying a Galaxy Tab S2 Android tablet instead with its willingness to work solely on swipes and gestures.
With rumors circulating about a successor in the works, we can't help but feel hopeful about the future of the Galaxy TabPro S line. We're wishing for a stylus and more connectivity ports next time around.
[irp posts="6867" name="Samsung Galaxy TabPro S unboxing and hands-on"]
Samsung Galaxy M20 hands-on: Give the users what they want
Awakening of the sleeping giant
Samsung has been the smartphone market leader for half a decade now, and its flagship phones continue to be an inspiration for everyone. However, while the brand is dominating in developed markets, it has taken a massive beating in the developing ones.
Thanks to players like Xiaomi, the South Korean brand has consistently lost market share in countries like India. Samsung slowly prepared itself to change strategy by the end of last year and intends to go hard in 2019. It announced the new Galaxy M-series lineup of phones in the budget segment and the M10 and M20 are the first ones to roll off the shelf.
The M20 has been launched in India for INR 10,990 (US$ 154) and comes with 3GB RAM and 32GB internal storage. The option with 4GB RAM and 64GB internal storage costs INR 12,990 (US$ 182). The phone goes up against the Redmi 6 Pro, Realme U1, and even the Mi A2.
To start with, Samsung has opted to go with a basic design, consisting of a plastic body that is curved at the edges and is pretty glossy. The phone is extremely comfortable to hold, and the build quality is top-notch. Even the buttons are very tactile and bezels are smaller.
On the front is a 6.3-inch TFT display with a Full HD resolution and small water-drop style notch on the top. This is the first Samsung phone to feature a notch, and the display quality is surprisingly good. The color production is vivid and satisfying, while the viewing angles are perfect. It is easily visible even under direct sunlight.
For authentication, a fingerprint scanner is located on the rear and it is fast enough. You also have the option of face unlock and it works quickly in well-lit conditions. It has dual-SIM support and there's a separate slot for microSD card, as well.
Powering the phone is an octa-core Exynos 7904 processor, which is considered to be on par with the Snapdragon 636. It is a very power-efficient processor with more emphasis on the cameras. Day-to-day tasks are handled smoothly and games like PUBG are playable with low graphics.
It has a dual-camera setup on the rear, consisting of a 13-megapixel primary shooter and a 5-megapixel wide-angle sensor. The pictures clicked during daytime are decently saturated but lack sharpness. Even focus tends to get slow in low-light conditions. The wide-angle lens works best in bright surroundings only and is a very handy tool. For selfies, it has an 8-megapixel shooter with built-in beauty enhancements.
It ships with Samsung Experience 9.5 out of the box and is actually well optimized. There is barely any lag and the UI offers a plethora of customizations and features. The company announced that the Android Pie update will be landing soon. Lastly, it has a massive 5000mAh battery that'll get you through two days of usage.
Xiaomi has been successful because it offers users a balanced product that suits everyone's needs. With the M20, Samsung goes down the same road. While the recently announced A-series phones were for photography enthusiasts, the M20 is good enough for everything.
The M20 is no disruptor, but an indication that Samsung is gearing up. And as a generation-one product, it's performing fairly well.
This slideshow requires JavaScript.
Fujifilm Instax SQ20 hands-on: How good is it?
Trying out the new Motion Mode on doggies!
DALLA DALLA, Crazy Rich Asians: Now Playing
A Valentine's special!
While we wait for the Galaxy S10 to launch and MWC 2019 to start, let's take a moment to celebrate Valentine's Day!
If you don't have a date, don't be grumpy. Sometimes, all you need is self-love and entertainment to keep you going. Have some fun alone time and enjoy what's now playing at GadgetMatch!
Movies to see
Dragon Ball Super: Broly
Marvin: If you're single and unhappy about it this month, catching a late showing of Dragon Ball Super: Broly may be the best way to release stress in the theater. It's by far the best Dragon Ball movie yet with tireless action and gorgeous visuals, plus it's surprisingly friendly to both old fans and those new to the franchise.
Crazy Rich Asians
MJ: Crazy Rich Asians is a film for those who are ready to take it to the next level. It's about standing up to people who get in the way of your happiness, and choosing what's best for the person you love. It's a dash of romance with a sprinkle of comedy to keep you from crying in heart-wrenching scenes.
TV shows to binge watch
Kakegurui
Rodneil: The anime follows a transfer student who seemed sweet and normal at first, but has an insatiable thirst for gambling. It's a relatively easy watch and you can follow along even if you're doing something else.
Games to play
Kingdom Hearts III
Rodneil: There's too much backstory heading into this game that it can get super confusing, especially if this is your first game in the franchise. The story is clunky at best but the game is a visual spectacle. Push the narrative to the side and just play it for the fireworks.
Resident Evil 2
Marvin: I was too afraid to finish Resident Evil 2 on my own as a kid, so I'm glad it's been remade for my braver adult self. In line with Valentine's Day, I'd say it's a perfect game to play with a partner so that you have someone to hold your hand during the most intense zombie sightings. 💕
Albums/Songs/Podcasts to listen to
Kahit Ayaw Mo Na by This Band
Rodneil: Only caught wind of this song recently and I haven't been able to stop listening since. It talks about someone wanting to work it out with her/his partner. However, the partner seems unwilling. The music invites multiple listens and the way the words flow is ear-candy.
Shine by Pentagon
Rodneil: My obsession with girl group Twice has served as a gateway to other K-Pop tracks, and this is one of them. It's simply an absolutely fun song to listen to. A great pick-me-up to get you started in the morning.
Can't Help Falling In Love by Kina Grannis
MJ: Kina Grannis' strings and acoustic guitar rendition of Elvis Presley's classic love song makes you remember how love is a force you can't resist. The emotion you'll feel in this song is overwhelming — ranging from the bliss of being in love to confusion and even heartbreak.
DALLA DALLA by ITZY
Vincenz: The song's unique and dynamic blend of sounds, from a hip-hop centric intro and bridge up to a contrasting, bright chorus, makes it a great and catchy debut song (their visuals are exceptional, too). Message of the song? It's all about empowerment and self-love!
Gokigen Sayonara (A Happy Goodbye) by IZ*ONE
Vincenz: This song caught my ears with its catchy tune and lyrics, which doesn't usually happen since most J-Pop releases sound so different. Its lively, electro-pop vibe opposes the song's message about bidding farewell to someone you truly love, but it works.
Cities/Places to visit
This slideshow requires JavaScript.
Boracay
Marvin: Now cleaner and more beautiful than ever, Boracay's beach is the perfect weekend getaway once again. A lot of activities and shops are still unavailable, but if you simply want to soak in the sun and sea breeze, it would be a great time to go once the tourists leave post-Valentine's.
---
Now Playing is the GadgetMatch team's favorite games, movies, TV shows, and more each month. If you're curious to know what we're into at the moment, this is what you should check out. So grab your popcorn, get some drinks, and enjoy what's now playing!