Samsung tries something new with the Galaxy TabPro S, and succeeds
Whenever we hear the words Samsung and Galaxy put together, Android tablets and smartphones instantly come to mind. That's why it's so strange to see the Galaxy label plastered on a Windows tablet when talking about the Galaxy TabPro S. And yet, it's only when you begin using this convertible that you realize how similar it behaves to an Android tablet.
This revelation pops up despite this Samsung convertible directly challenging the likes of the Microsoft Surface series and Apple iPad Pro. On one hand, it doesn't have the relentless performance Surface tablets have been delivering for four generations; on the other end, it has a much more desktop-like operating system as compared to the iPad Pro's. The balance between both sides is what puts the TabPro S in a unique position to appeal to a desktop-hungry, yet mobility-loving audience.
Windows in an Android body
Throughout our experience with the Galaxy TabPro S, we couldn't help but feel like we've been using an Android tablet on steroids. This isn't to say it's a bad thing; on the contrary, having a fan-less, lightweight Windows 10 device is such a pleasure when all you want do is type and watch stuff while doing errands. Naturally, you're going to have to deal with a flat keyboard and limited travel, but the keys are easy to get used to thanks to the spacious tiles.
Checking out the product page of Samsung, you can tell how much focus is placed on the tablet aspect of the TabPro S, without much mention of how it's actually a full-fledged Windows tablet with a complete keyboard attachment. Even the setup out of the box looks like it came straight out of an Android product: an Adaptive Fast Charger along with a meter-long cable for the single USB Type-C port, plus a slot for inserting an LTE SIM card. This is as mobile as it gets for a 12-inch Windows tablet.
Just enough juice in the tank
Like all of Samsung's flagship tablets and smartphones, this convertible's AMOLED display is absolutely captivating. Not once did we think the 2160 x 1400 resolution wasn't enough. There were times we wished the colors were more accurate, especially while photo editing, but the highly saturated colors are alluring most of the time. We also have to give a positive nod to the stereo speakers found on the sides of the Galaxy TabPro S. They're surprisingly loud – way better than smaller Galaxy Tabs.
For the tech-savvy, you'll notice a no-frills setup here. You get an Intel Core m3 processor with 4GB of RAM and 128GB of internal storage. Putting it simply, there's ample power on board to run through several tabs on Chrome, high-resolution editing on Photoshop, and watching (not editing, mind you) videos on the side, all at the same time. At this price point, you'd hope for something more, as this is the bare minimum to run Windows 10 smoothly on a high-resolution screen, but the upside is there's no noisy fan to bother you.
Here's another juicy tidbit: The TabPro S is a total darling when it comes to battery life. This should go down as one of the rare cases wherein working on 10 percent of remaining charge isn't stressful. It seems like there's always enough to get through a full day's worth of work without looking for a wall socket. Again, we have to credit the energy-efficient Core m3 processor for this.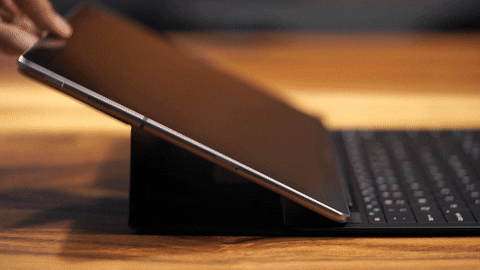 Some things are missing
One of the first things you'd expect in the box is a stylus. To our disgruntlement, it isn't a standard feature of the Galaxy TabPro S; you'll have to make do with touch gestures and the fiddly track pad. And despite the simplicity of the keyboard attachment mechanism, there's a limit of two positions for the rear stand, and they're only usable while the keyboard is latched on. For something that's advertised as being able to work on its own, the tablet is heavily reliant on the keyboard to function properly. Without physical keys and a stylus, working through Windows 10 purely on finger touches is a clumsy affair.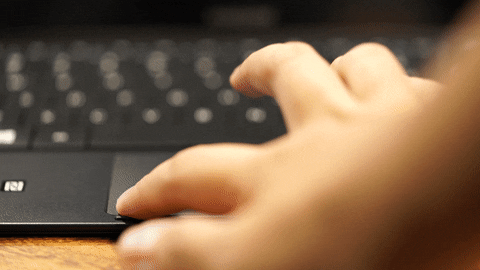 While we're on the subject of pure tablet usage, there's only one digital port to do all your work. You have a single USB Type-C for charging, plugging in a flash drive, or connecting a compatible peripheral, such as a mouse or card reader. It seems like this is the path several manufacturers are choosing to take, and we're practically forced to adjust to the new restrictive standard. On the bright side – and this is also similar to Android devices – the TabPro S comes with Adaptive Fast Charging, letting you go from zero to 100 percent in less than three hours, so there's more time for you to plug in other devices.
Who's this for?
Any Samsung fan who's in need of a seamless transition from Android to Windows should seriously consider the Galaxy TabPro S. The beauty here lies in the sheer convenience of being able to power up a complete Windows 10 machine and attach a keyboard at will – just like an Android device. The official price begins at $899, so it's right up there with the big boys of mobile computing.
As long as you don't force the TabPro S to go beyond its specialities, like making it render graphics-intensive games or heavy photo/video editing, you have a GadgetMatch in your arsenal. You also need to keep the keyboard attachment on, because without it, you're better off buying a Galaxy Tab S2 Android tablet instead with its willingness to work solely on swipes and gestures.
With rumors circulating about a successor in the works, we can't help but feel hopeful about the future of the Galaxy TabPro S line. We're wishing for a stylus and more connectivity ports next time around.
[irp posts="6867″ name="Samsung Galaxy TabPro S unboxing and hands-on"]
Going Cashless: Make payments, transfer funds all on your phone
It's pretty convenient
So you're stuck at home with some extra time on your hands. When you feel like taking a break from all the shows you've been watching, perhaps you can make time to figure out how to transition to cashless payments.
We're dealing with a unique situation right now and cashless transactions is one of the little ways in which we can help with social distancing measures. Not to mention, it's also pretty convenient.
If you already have a bank account, chances are you're already using that bank's mobile app. If not, we encourage you to do so. But we're not going deep into that. Today, we're looking at other payment services that will help you go cashless.
GCash
We partnered with GCash a while back for this quick How-To video. But if you don't feel like watching, the text comes right after.
Before anything else download the app on the App Store, Google Play, or AppGallery.
Step 1. Open the GCash app and enter your mobile number. Tap "Next" to proceed.
Step 2. Fill in the mandatory information. These include your First Name, Last Name, Birthday, Address, Email Address. When you're done, tap "Next" to proceed
Step 3. Review your information. Gotta make sure everything's accurate and matches any official ID you have with you. If you have a referral code, input it using the drop down below your information. Afterwards, tap "Next".
Step 4. Set your Mobile Pin by inputting a 4 digit MPIN. It's very important that you can easily remember your MPIN. It serves as your password to access your GCash account. You also need it for your future GCash transactions. So yeah, don't use your birthday or any birthdays of anyone you're super close with. Protect your MPIN like your life depended on it. Tap "Submit" to move on.
Step 5. You will receive a 6-digit authentication code via SMS in the device authentication page. Enter the code to authenticate your device.
Step 6. Enter your 4-digit GCash MPIN and click 'Log In' to enter the app.
Congratulations! You're now on GCash. There's a ton that you can do here. This is where I connected my bank account so I've been using GCash to move money around my other accounts, transfer money to my family and friends, load up my prepaid sim, and of course the usual in-store transactions. You can also link it to your Lazada account for your online shopping needs.
For more information, visit the GCash Help Center.
PayMaya
PayMaya is very similar to GCash in that they practically let you do the same things. As mentioned earlier, these are making cashless payments, transferring funds, as well as online shopping. Personally, this is the account I used for most of my app subscriptions like Netflix, Spotify, and NBA League Pass.
Again, make sure you have the app. Get it on the App Store, Google Play, or AppGallery.
Step1: Register with your name, email and mobile number​. The mobile number can be with any network you're currently using.
Step 2: Create a password​. Unlike GCash which uses an MPIN, the PayMaya password is a lot more like the usual passwords you use for your social media accounts. Again, make sure it's secure and something easy for you to remember.
Step 3: Receive a verification SMS​. Enter this verification number on the app.
Step 4: Click the VIEW CARD button​.
Step 5: Input your address and birthday​.
Step 6: Receive a confirmation that your account has been activated​
PayMaya also has these cashback promos every now and then. That means anything you purchase, a percentage of that goes back to your account. Here's a quick little video on that.
To find how you can maximize PayMaya just head on over to their Support Page.
GrabPay
Grab has surprisingly expanded its GrabPay services to more than just hailing rides, deliveries, and paying for GrabFood.
You can now also do the following:
Cashless payment for Grab services (GrabCar, GrabFood, GrabExpress, GrabMart)
Buy prepaid load
Pay bills (Cablielink, Cignal TV, Destiny Cable, DFA, Easytrip, Globe, Manila Water, Maynilad, Meralco, Metro Cebu Water, MMDA, NBI, Pag-IBIG Fund, PLDT, Sky Cable, Smart, Smart Bro, SSS, Sun Celular, UNICEF, VECO)
Pay in-store
Pay online
Send money for free (person-to-person and bank transfer)
Registering is pretty straightforward. Download the app on the App Store or Google Play, and then register using your phone number, Facebook account, or Google account.
For more on what else you can do with GrabPay and how they're expanding, you may visit their Help Page.
You can also use these services to donate towards efforts in fighting COVID-19. For other ways to help check out our Where To Donate article.
Her story: Shyama Golden
On childhood memories and creating work that make people more involved
Shyama Golden is a visual artist from Brooklyn, New York. She was born in Texas, but also lived in New Zealand and Sri Lanka, where her family is originally from. These influences didn't start coming out in her work until she became more distanced from them. "Sometimes you have to be taken out of an environment to realize what was special about it," she notes.
The huge painting in her living room called Road Trip was inspired by both her Sri Lankan background and growing up in Texas. Central to the painting is a yakka, a demon character in Sri Lankan folklore that performs exorcism rituals to cure people of their ailments. Shyama says the rituals are something that people have been doing for thousands of years, although they are much less common now — almost like a dying art. In a way, she hopes to resurrect that through the piece.
Shyama draws inspiration everywhere — from distant sources, to forgotten artists, to old books, to obscure references — but so much of her work also reflects her own childhood memories.
"Sometimes you have to be taken out of an environment to realize what was special about it."
Catsquatch is a collaboration between her and her husband. She did a large painting for it, but it's also a children's storybook that they wrote together — a story of house cats running away from home, yearning independence.
Her memory of seeing stray cats wandering everywhere while living in Sri Lanka is also evident in a portrait of the younger versions of her mom and her aunt.
The most notable facet of her body of work, however, isn't their size or the presence of felines, but the number of digital portraits of women of color she's drawn over the years.
From flat, minimalist digital work as a graphic designer, having the iPad Pro and Apple Pencil has allowed her to create work that still looks like an oil painting but at a much faster pace.
"What the iPad did is allow me to keep my style. It was really helpful to me because over two years I was able to output what used to take me 5-6 years," says Shyama.
Among the portraits that she's done, her favorite is the one of Indian author and activist Arundhati Roy for The Atlantic. She says she liked working on it because it tells a story within the portrait, "beyond just the face, it actually has a whole narrative to it."
She also uses the iPad to do studies and mockups of what she intends to be a physical work. Initially drawn on Procreate using its symmetry feature, The Feminine Mirage uses a custom panel and a mirror to convey myths perpetuated by different social constructs. Although extremely challenging and time-consuming, she enjoys working on pieces that have a presence in the physical world but are still interactive as they make people more involved.
Shyama Golden is a visual artist whose memories of growing up in Texas and Sri Lanka are evident influences in a number of paintings that she's done. Most notable of her body of work, however, are theportraits of women of color she's drawn over the years using the iPad Pro and the Apple Pencil. This is her story.

Posted by Her GadgetMatch on Friday, 27 March 2020
---
Her story is a series featuring women we admire from a wide array of cultures and industries — women who excel and work hard at honing their craft by using the tools and technology they have at their disposal. They tell stories of their journey through life, their influences and dreams, their unique experiences, and how they navigate the modern world.
Huawei P40 Pro Unboxing and Complete Hands-On
'Visionary Photography'
Everything you need to know about the new Huawei P40 Series. Yep there are 3 phones this year, the P40, P40 Pro and P40 Pro+. Yep a pro plus model!
In this video you get a P40 Pro Unboxing, Hands-On, some photo samples, and a camera comparison vs the P30 Pro.
Of course I'll also answer you questions: What's new? How is the P40 Pro's camera vs the P30 Pro, and what's it like without Google Play Services? And while you'll have to wait for my full review for a verdict, I'll try to answer the question, Is it your GadgetMatch?
Watch our Hands-On video.