Samsung tries something new with the Galaxy TabPro S, and succeeds
Whenever we hear the words Samsung and Galaxy put together, Android tablets and smartphones instantly come to mind. That's why it's so strange to see the Galaxy label plastered on a Windows tablet when talking about the Galaxy TabPro S. And yet, it's only when you begin using this convertible that you realize how similar it behaves to an Android tablet.
This revelation pops up despite this Samsung convertible directly challenging the likes of the Microsoft Surface series and Apple iPad Pro. On one hand, it doesn't have the relentless performance Surface tablets have been delivering for four generations; on the other end, it has a much more desktop-like operating system as compared to the iPad Pro's. The balance between both sides is what puts the TabPro S in a unique position to appeal to a desktop-hungry, yet mobility-loving audience.
Windows in an Android body
Throughout our experience with the Galaxy TabPro S, we couldn't help but feel like we've been using an Android tablet on steroids. This isn't to say it's a bad thing; on the contrary, having a fan-less, lightweight Windows 10 device is such a pleasure when all you want do is type and watch stuff while doing errands. Naturally, you're going to have to deal with a flat keyboard and limited travel, but the keys are easy to get used to thanks to the spacious tiles.
Checking out the product page of Samsung, you can tell how much focus is placed on the tablet aspect of the TabPro S, without much mention of how it's actually a full-fledged Windows tablet with a complete keyboard attachment. Even the setup out of the box looks like it came straight out of an Android product: an Adaptive Fast Charger along with a meter-long cable for the single USB Type-C port, plus a slot for inserting an LTE SIM card. This is as mobile as it gets for a 12-inch Windows tablet.
Just enough juice in the tank
Like all of Samsung's flagship tablets and smartphones, this convertible's AMOLED display is absolutely captivating. Not once did we think the 2160 x 1400 resolution wasn't enough. There were times we wished the colors were more accurate, especially while photo editing, but the highly saturated colors are alluring most of the time. We also have to give a positive nod to the stereo speakers found on the sides of the Galaxy TabPro S. They're surprisingly loud – way better than smaller Galaxy Tabs.
For the tech-savvy, you'll notice a no-frills setup here. You get an Intel Core m3 processor with 4GB of RAM and 128GB of internal storage. Putting it simply, there's ample power on board to run through several tabs on Chrome, high-resolution editing on Photoshop, and watching (not editing, mind you) videos on the side, all at the same time. At this price point, you'd hope for something more, as this is the bare minimum to run Windows 10 smoothly on a high-resolution screen, but the upside is there's no noisy fan to bother you.
Here's another juicy tidbit: The TabPro S is a total darling when it comes to battery life. This should go down as one of the rare cases wherein working on 10 percent of remaining charge isn't stressful. It seems like there's always enough to get through a full day's worth of work without looking for a wall socket. Again, we have to credit the energy-efficient Core m3 processor for this.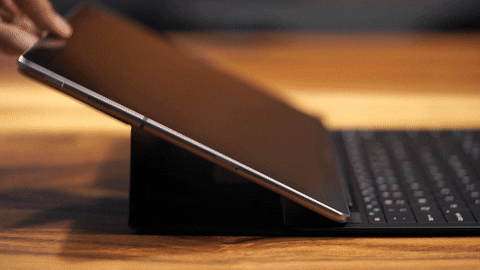 Some things are missing
One of the first things you'd expect in the box is a stylus. To our disgruntlement, it isn't a standard feature of the Galaxy TabPro S; you'll have to make do with touch gestures and the fiddly track pad. And despite the simplicity of the keyboard attachment mechanism, there's a limit of two positions for the rear stand, and they're only usable while the keyboard is latched on. For something that's advertised as being able to work on its own, the tablet is heavily reliant on the keyboard to function properly. Without physical keys and a stylus, working through Windows 10 purely on finger touches is a clumsy affair.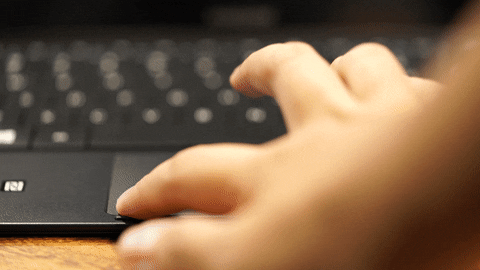 While we're on the subject of pure tablet usage, there's only one digital port to do all your work. You have a single USB Type-C for charging, plugging in a flash drive, or connecting a compatible peripheral, such as a mouse or card reader. It seems like this is the path several manufacturers are choosing to take, and we're practically forced to adjust to the new restrictive standard. On the bright side – and this is also similar to Android devices – the TabPro S comes with Adaptive Fast Charging, letting you go from zero to 100 percent in less than three hours, so there's more time for you to plug in other devices.
Who's this for?
Any Samsung fan who's in need of a seamless transition from Android to Windows should seriously consider the Galaxy TabPro S. The beauty here lies in the sheer convenience of being able to power up a complete Windows 10 machine and attach a keyboard at will – just like an Android device. The official price begins at $899, so it's right up there with the big boys of mobile computing.
As long as you don't force the TabPro S to go beyond its specialities, like making it render graphics-intensive games or heavy photo/video editing, you have a GadgetMatch in your arsenal. You also need to keep the keyboard attachment on, because without it, you're better off buying a Galaxy Tab S2 Android tablet instead with its willingness to work solely on swipes and gestures.
With rumors circulating about a successor in the works, we can't help but feel hopeful about the future of the Galaxy TabPro S line. We're wishing for a stylus and more connectivity ports next time around.
[irp posts="6867″ name="Samsung Galaxy TabPro S unboxing and hands-on"]
ASUS ZenBook 13: A portable all-arounder
Light, versatile, and long-lasting
The problem with ultra slim laptops has always been their lack of ports and generally shaky battery life. Such a problem does not exist with the ASUS ZenBook 13. 
It's the latest on ASUS' ZenBook line and it combines the portability of ultra slim notebooks with the port versatility and long-lasting battery life of typically larger laptops.
What's in the box? 
Immediately after taking things out of the box, you'll see how the ZenBook 13 is a complete package. It comes with two cables to compensate for the ones that you don't find built in on the laptop.
There's a USB to Ethernet port connector, and a USB-C to 3.5mm jack for your audio needs. Rounding up the packaging are the ZenBook 13 itself, your power brick, and a nice and sleek laptop sleeve.
So about those ports
Measuring at just 13.9mm and 1.07kg — this notebook is REALLY thin and light. Normally, laptops like these have one or two USB-C/Thunderbolt 3 ports. Well, this one, certainly has more.
On the right hand side is the USB port and microSD card slot
Over to the left you have TWO USB-C/Thunderbolt 3 ports AND an HDMI port 
The ZenBook 13 can draw power from either USB-C/Thunderbolt port and you can easily connect it to an external monitor through the HDMI port should you need to.
The microSD card slot and USB ports means you can easily transfer files from external sources.
Elsewhere on the laptop is the webcam — a must now that we have to attend virtual meetings.
Oh and it also has ASUS' signature Ergo-lift hinge that remains satisfying to both look at and feel as you lift the laptop lead. A really nice touch and adds to that overall Zen feeling.
A workhorse of a notebook
Don't let its slight build fool you. This notebook is tough and packs some serious punch to power you for work.
Inside is a 10th Gen Intel Core i5 processor with an 8GB LPDDR4x RAM and 512GB of  SSD storage. That's the perfect combination for a laptop that can stay with you shuffle through Word documents, Excel sheets, Powerpoint presentations, and even Photoshop.
The keyboard is edge-to-edge giving you that full-size experience. It's also clickety, giving a satisfying travel experience — crucial if you have to type on it for hours.
Speaking of full-keyboard, the trackpad transforms into a digital numpad at the click of a button. It's a signature ASUS feature and if you're the type who has to fill in numbers a lot, this should prove to be hugely beneficial.
Display for immersive viewing
What do people say again about all work and no play? It makes you dull. That's why after work, the ZenBook 13, which promises up to 22 freaking hours of battery life, can also be your entertainment companion as you wind down.
It has a frameless four-sided NanoEdge display. This means no pesky bezels to get in the way of your binge-watching.
Whether that's watching Karasuno win a match or catching up with Midoriya and Bakugo's hero-in-the-making adventures.
A portable all-arounder 
Slim and light, versatile, long-lasting, and performs just as good as other larger laptops. All these make the ASUS ZenBook 13 an all-arounder that will meet all your work and winding down needs.
As we continue to deal with the stresses of the new normal, the ZenBook 13 is a handy companion that you can bring with you, wherever you are around the house.
As we hope for things to open up soon, this notebook is also ready to go out with you to give you all the productivity and play support you can ever ask for.
---
This feature is a collaboration between GadgetMatch and ASUS Philippines.
Google Pixel 4a Unboxing & Review: Unbelievably Good?
A direct contender of the iPhone SE and OnePlus Nord
Google's 'a'(ffordable) line-up may be long overdue because of the pandemic — but after several months of waiting, we finally have one on our hands.
Cheaper than last year's US$ 399 Pixel 3a, the US$ 349 Pixel 4a might just be the most affordable flagship killer contender you can get over the 2020 iPhone SE and the OnePlus Nord.
But can the mid-tier specifications and less-fancy phone features justify its affordable price tag? Head over to our in-depth Pixel 4a review here.
Best Budget Smartphones below $200
August 2020 Edition
Welcome to GadgetMatch's list of the best smartphones priced below US$ 200! Each month, we update our selection with the budget-friendly phones we believe are most deserving of your hard-earned savings.
Even though the spotlight has been on high-end smartphones this entire year, there have been a few surprisingly good entry-level handsets coming out lately, as well. So good, in fact, that we had to reassess our entire list.
Here they are in no particular order
Redmi 9 (PhP 6,990 / US$ 141)
Quality build with baseline specs that can handle, well, the basics. This is what the Redmi line has been offering and that remains true with the Redmi 9. You'll have to be bit creative with some of the apps you install (always go for the Lite versions), but the pre-installed Google apps run smoothly and should be more than enough to power you through.
Redmi Note 9 (US$ 200)
This is a routine appearance for the Redmi Note line. Xiaomi continues to lord over the budget segment by offering fairly capable smartphones at such an affordable price.
Realme 6i (US$ 196)

Realme finally releases a budget phone with a USB-C port! That aside, everything here is standard Realme — which is great. Its cameras leave much to be desired but what this is a budget phone after all. It does pretty well everywhere else — can game, handle your usual daily things, and has an impressive battery life.

OPPO A5s (US$ 117)
The OPPO A5s perhaps is best looked at as a transition device more than anything else. It does what you expect out of budget smartphones. It's good to have "for now" but you might look elsewhere for a more reliable daily driver.
Samsung Galaxy A20 (US$ 190)
Samsung's revived Galaxy A-series proves that the company cares about every price segment. The Galaxy A20, in particular, is the most well-rounded below US$ 200 thanks to its ultra-wide camera, AMOLED display, and hefty battery.