Samsung tries something new with the Galaxy TabPro S, and succeeds
Whenever we hear the words Samsung and Galaxy put together, Android tablets and smartphones instantly come to mind. That's why it's so strange to see the Galaxy label plastered on a Windows tablet when talking about the Galaxy TabPro S. And yet, it's only when you begin using this convertible that you realize how similar it behaves to an Android tablet.
This revelation pops up despite this Samsung convertible directly challenging the likes of the Microsoft Surface series and Apple iPad Pro. On one hand, it doesn't have the relentless performance Surface tablets have been delivering for four generations; on the other end, it has a much more desktop-like operating system as compared to the iPad Pro's. The balance between both sides is what puts the TabPro S in a unique position to appeal to a desktop-hungry, yet mobility-loving audience.
Windows in an Android body
Throughout our experience with the Galaxy TabPro S, we couldn't help but feel like we've been using an Android tablet on steroids. This isn't to say it's a bad thing; on the contrary, having a fan-less, lightweight Windows 10 device is such a pleasure when all you want do is type and watch stuff while doing errands. Naturally, you're going to have to deal with a flat keyboard and limited travel, but the keys are easy to get used to thanks to the spacious tiles.
Checking out the product page of Samsung, you can tell how much focus is placed on the tablet aspect of the TabPro S, without much mention of how it's actually a full-fledged Windows tablet with a complete keyboard attachment. Even the setup out of the box looks like it came straight out of an Android product: an Adaptive Fast Charger along with a meter-long cable for the single USB Type-C port, plus a slot for inserting an LTE SIM card. This is as mobile as it gets for a 12-inch Windows tablet.
Just enough juice in the tank
Like all of Samsung's flagship tablets and smartphones, this convertible's AMOLED display is absolutely captivating. Not once did we think the 2160 x 1400 resolution wasn't enough. There were times we wished the colors were more accurate, especially while photo editing, but the highly saturated colors are alluring most of the time. We also have to give a positive nod to the stereo speakers found on the sides of the Galaxy TabPro S. They're surprisingly loud – way better than smaller Galaxy Tabs.
For the tech-savvy, you'll notice a no-frills setup here. You get an Intel Core m3 processor with 4GB of RAM and 128GB of internal storage. Putting it simply, there's ample power on board to run through several tabs on Chrome, high-resolution editing on Photoshop, and watching (not editing, mind you) videos on the side, all at the same time. At this price point, you'd hope for something more, as this is the bare minimum to run Windows 10 smoothly on a high-resolution screen, but the upside is there's no noisy fan to bother you.
Here's another juicy tidbit: The TabPro S is a total darling when it comes to battery life. This should go down as one of the rare cases wherein working on 10 percent of remaining charge isn't stressful. It seems like there's always enough to get through a full day's worth of work without looking for a wall socket. Again, we have to credit the energy-efficient Core m3 processor for this.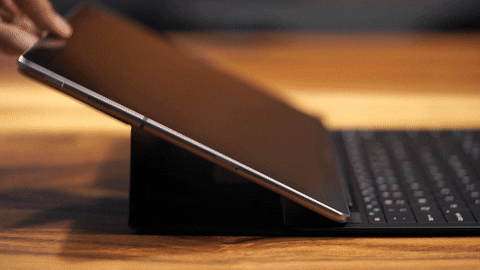 Some things are missing
One of the first things you'd expect in the box is a stylus. To our disgruntlement, it isn't a standard feature of the Galaxy TabPro S; you'll have to make do with touch gestures and the fiddly track pad. And despite the simplicity of the keyboard attachment mechanism, there's a limit of two positions for the rear stand, and they're only usable while the keyboard is latched on. For something that's advertised as being able to work on its own, the tablet is heavily reliant on the keyboard to function properly. Without physical keys and a stylus, working through Windows 10 purely on finger touches is a clumsy affair.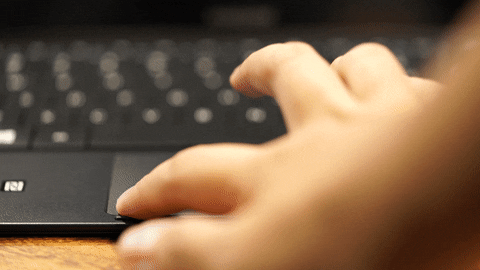 While we're on the subject of pure tablet usage, there's only one digital port to do all your work. You have a single USB Type-C for charging, plugging in a flash drive, or connecting a compatible peripheral, such as a mouse or card reader. It seems like this is the path several manufacturers are choosing to take, and we're practically forced to adjust to the new restrictive standard. On the bright side – and this is also similar to Android devices – the TabPro S comes with Adaptive Fast Charging, letting you go from zero to 100 percent in less than three hours, so there's more time for you to plug in other devices.
Who's this for?
Any Samsung fan who's in need of a seamless transition from Android to Windows should seriously consider the Galaxy TabPro S. The beauty here lies in the sheer convenience of being able to power up a complete Windows 10 machine and attach a keyboard at will – just like an Android device. The official price begins at $899, so it's right up there with the big boys of mobile computing.
As long as you don't force the TabPro S to go beyond its specialities, like making it render graphics-intensive games or heavy photo/video editing, you have a GadgetMatch in your arsenal. You also need to keep the keyboard attachment on, because without it, you're better off buying a Galaxy Tab S2 Android tablet instead with its willingness to work solely on swipes and gestures.
With rumors circulating about a successor in the works, we can't help but feel hopeful about the future of the Galaxy TabPro S line. We're wishing for a stylus and more connectivity ports next time around.
Hanebado!, Ant-Man and the Wasp, BAAM by Momoland: Now Playing
Pop culture overload!
Since the start of the year, GadgetMatch has been covering major tech events like CES, MWC, Computex, and E3. July is the month wherein the GadgetMatch team finally gets to slow down a bit to relax before the next wave of events comes up. If you're curious about what we're up to, here's what's now playing for GadgetMatch.
Movies to see
Ant-Man and the Wasp
Marvin: If you still haven't moved on from the catastrophic ending of Avengers: Infinity War, Ant-Man and the Wasp should be able to turn those sad tears into tears of laughter. It mimics the original movie in terms of action and character development, yet isn't afraid to make fun of itself and the superhero genre in general. Like always, be sure to stick around for two scenes during and after the credits. They fit into the Marvel Cinematic Universe in a… dramatic way.
Isle of Dogs
Chay: The long wait is over, Wes Anderson fans. His latest film is his second animated masterpiece, this time set in a dystopian Japan that centers around the search for a dog exiled to Trash Island. Like most, if not all his films, Isle of Dogs is filled with themes of melancholy and disappointment, and sometimes hope, depending on your own interpretation. Whether you watch it for Anderson's iconic style or your love for dogs, what we have here is a classic that needs to be watched at least more than once in your lifetime.
TV shows to binge watch
Hanebado!
Rodneil: The future is female, and for the first time in recent sports anime history, the main characters are mostly women! Hanebado opens with a riveting badminton sequence between freshman prodigy Ayano Hanesaki and third-year student Nagisa Aragaki. Hanesaki struggles with her desire to play while Aragaki struggles with working hard but still falling short. If you enjoyed titles like Haikyuu!! and Yuri on Ice, Hanebado! is definitely worth checking out.
GLOW
Kevin: The Gorgeous Ladies of Wrestling are who you'll need if you're looking for a well-written TV series that fuses drama, female empowerment, and the poofy hair of the 80s. It's about a group of women with different backgrounds but have a common reason to stick it out together. The second season was released last month, and it's filled with the same gems we loved from the first season.
Music to listen to
BAAM by Momoland
Rodneil: I'm not even gonna lie, this is really more about the visuals for me than the actual music, but as I watched from one version of the music video to another, the song eventually got stuck in my head. It has a nice perk-you-up vibe to it, similar to "Boom Boom" which is the song that propelled Momoland beyond South Korea's airwaves. In case it's not obvious, Nancy is my main bias and Yeonwoo is a close second.
Summer Pack by Childish Gambino
Kevin: Just like his This is America track, Childish Gambino (a.k.a. Donald Glover) dropped new tunes out of nowhere late this week. He didn't only release one, but two fresh originals. Together, they're called Summer Pack and the two-track release consists of "Summertime Magic" and "Feels Like Summer."
While both have that laid-back, relaxing vibe, "Summertime Magic" has more of a dance approach between the two and would go well on the beach while sipping on Pina Colada. "Feels Like Summer," on the other hand, makes you want to take a stroll downtown in a convertible and spark a fatty.
Apps to download

InShot
Rodneil: InShot is a mobile video editor available on both Android and iOS. With it, you can splice together clips you have stored in your phone and even choose the aspect ratio, whether it's 1:1, 16:9, or 9:16. There's also an option to add effects, text, and music that's also stored in your phone. It's a pretty powerful video editing tool on mobile — one that can help jumpstart your IGTV career.
Events to check out
AsiaPop Comicon Manila 2018
MJ: Once again, AsiaPop Comicon is back in Manila from July 27 to 29, 2018, to be held at the SMX Convention Center. Marvel plans to show what's new in the Marvel Cinematic Universe, while Netflix returns to premiere a never-before-seen film. It's also expected to be bigger and more exciting than last year's event. Finn Jones from Game of Thrones and Tye Sheridan who appeared on Ready Player One and X-Men as Cyclops, are the major celebrity guests to attend.
Did you like any of our picks or have suggestions of your own? Feel free to let us know in the comments section!
---
Now Playing is the GadgetMatch team's favorite games, movies, TV shows, and more each month. If you're curious to know what we're into at the moment, this is what you should check out. So grab your popcorn, get some drinks, and enjoy what's now playing!
Sony XB Series Speakers: His and Hers
Portable speakers for everyone!
Speakers may be made for parties and fun gatherings, but that's not always the case. It can also be your best buddy, even during times when you're not out socializing.
In the fourth installment of His and Hers, I went through a different route. I wanted to show how instrumental music is in our lives. These are the latest additions to Sony's Extra Bass Portable Bluetooth speakers: the SRS-XB41 and SRS-XB21.
Both speakers have the same features and the only noticeable differences are in terms of size and, of course, the party lights. The SRS-XB41 comes in red with flashing strobes and a changing line light in multiple colors. It's perfect for guys who like it flashy but don't mind having a bulky and heavy speaker.
The SRS-XB21, on the other hand, comes in white with lights of the same color. It's perfect for girls who like something that will fit in their bags — something they can carry wherever they go.
---
Let your heart sing with art
It's not every day you get to wake up with a beautiful view. So, when creativity kicks in, bring out your portable speaker and art kit! Roll up your sleeves and paint something in sync with the beat. Next thing you know, you've already created something you can be proud of.
---
Beating the game
Some game nights can be enjoyed when you have a friend by your side. But sometimes, a speaker can be enough of a buddy. Play loud music that pumps you up, makes you smash those buttons, clear the stages, and win!
---
Pretty by the pool
There are times when stress gets the best of us, so it's important to find time to relax. Put those sunglasses on and show off that new swimsuit you just bought. This splash-proof speaker is a good companion when lounging by the pool so you can listen to some great summer tunes. Now, go ahead, take a dip, and enjoy this moment.
---
Playing the right jam
After playing ball, you'll find yourself trying to recover from a tiring game. Pull out that speaker and play your relaxing tunes. With the Sony Music Center app, you can select your favorite playlists, change the lighting patterns and sound modes, and be in complete control of your music. Be your own DJ when you turn on the live mode; you'll get a festival vibe that takes your experience to the next level.
---
Lost in music and words
When the weather's all cuddly and gloomy, it becomes ideal to stay indoors and have coffee by the bedside table. Pair it up with a good book, like Eat, Pray, Love, and a speaker to play some mellow music that soothes you. That's the recipe for a perfect day!
---
Own the night
These wireless speakers remind us to stay connected. Invite your BF or BFF to come over and light up the night. Hand over some wine and unwind from everyday stress.
---
This episode of His and Hers proved that music is a necessary companion in our lives. It has the power to change a person or a place's mood, and with the right speakers like Sony's SRS-XB21 or the SRS-XB41, the moment can be more enjoyable and memorable.
No more sucking at Starbucks, Android P leaks: Weekend Rewind
Effort for a greener world, new hardware, and leaked software!
Here are this week's top stories on GadgetMatch.
1. No more sucking! Starbucks halts the use of plastics straws
In an attempt to help make the planet a greener place, the world-famous coffee shop chain has vowed to go strawless and the world is thankful for this contribution. Replacing the offending cold drink accessory is a specially designed cup cover that's made of recyclable materials.
This move has already started, with most people finding no straws in their Starbucks orders today. By 2020, the chain aims to eliminate all single-use straws in their shops.

2. Microsoft outs its smallest and most affordable Surface
Microsoft has just announced new hardware under its Surface line of devices. The company veers away from its usual premium offerings and is going for the affordable route this time. The new Surface Go is the most affordable of the bunch — and also the smallest. It is a full-blown Windows 10 tablet aimed at schools, kids, and even the enterprise market.

3. Expect to lose followers on Twitter
Twitter is serious about taking down trolls and fake accounts. The California-based company just announced that it's removing locked accounts from users' follower list to avoid suspicious activities like spamming or posting questionable links. The way it works is the company prompts the account owner to verify their account and if not done, they lock said accounts.
4. Apple refreshes its Macbook Pro line
Apple has updated the MacBook Pro line with newer processors, more configuration options, a quieter keyboard design, and True Tone displays. The models feature eight-generation Intel Core processors, although only the top-tier variants and those with Touch Bar get the latest features.
5. Did Huawei accidentally reveal the next Android name?
The news came all the way from Poland. As reported by Polish site Tabletowo, a reader of theirs shared an email thread between the support department of Huawei. Long story short, a representative slipped that Android P would be called Android Pistachio.
Of course, take it with a grain of salt, but it lines up with Bloomberg's theory that Google is going for Pistachio Ice Cream for this year's Android version.
---
Weekend Rewind is our roundup of top news and features you might have missed for the week. We know the world of technology can be overwhelming and not everyone has the time to get up to speed with everything — and that includes us. So sit back, relax, and enjoy the rewind.