Samsung tries something new with the Galaxy TabPro S, and succeeds
Whenever we hear the words Samsung and Galaxy put together, Android tablets and smartphones instantly come to mind. That's why it's so strange to see the Galaxy label plastered on a Windows tablet when talking about the Galaxy TabPro S. And yet, it's only when you begin using this convertible that you realize how similar it behaves to an Android tablet.
This revelation pops up despite this Samsung convertible directly challenging the likes of the Microsoft Surface series and Apple iPad Pro. On one hand, it doesn't have the relentless performance Surface tablets have been delivering for four generations; on the other end, it has a much more desktop-like operating system as compared to the iPad Pro's. The balance between both sides is what puts the TabPro S in a unique position to appeal to a desktop-hungry, yet mobility-loving audience.
Windows in an Android body
Throughout our experience with the Galaxy TabPro S, we couldn't help but feel like we've been using an Android tablet on steroids. This isn't to say it's a bad thing; on the contrary, having a fan-less, lightweight Windows 10 device is such a pleasure when all you want do is type and watch stuff while doing errands. Naturally, you're going to have to deal with a flat keyboard and limited travel, but the keys are easy to get used to thanks to the spacious tiles.
Checking out the product page of Samsung, you can tell how much focus is placed on the tablet aspect of the TabPro S, without much mention of how it's actually a full-fledged Windows tablet with a complete keyboard attachment. Even the setup out of the box looks like it came straight out of an Android product: an Adaptive Fast Charger along with a meter-long cable for the single USB Type-C port, plus a slot for inserting an LTE SIM card. This is as mobile as it gets for a 12-inch Windows tablet.
Just enough juice in the tank
Like all of Samsung's flagship tablets and smartphones, this convertible's AMOLED display is absolutely captivating. Not once did we think the 2160 x 1400 resolution wasn't enough. There were times we wished the colors were more accurate, especially while photo editing, but the highly saturated colors are alluring most of the time. We also have to give a positive nod to the stereo speakers found on the sides of the Galaxy TabPro S. They're surprisingly loud – way better than smaller Galaxy Tabs.
For the tech-savvy, you'll notice a no-frills setup here. You get an Intel Core m3 processor with 4GB of RAM and 128GB of internal storage. Putting it simply, there's ample power on board to run through several tabs on Chrome, high-resolution editing on Photoshop, and watching (not editing, mind you) videos on the side, all at the same time. At this price point, you'd hope for something more, as this is the bare minimum to run Windows 10 smoothly on a high-resolution screen, but the upside is there's no noisy fan to bother you.
Here's another juicy tidbit: The TabPro S is a total darling when it comes to battery life. This should go down as one of the rare cases wherein working on 10 percent of remaining charge isn't stressful. It seems like there's always enough to get through a full day's worth of work without looking for a wall socket. Again, we have to credit the energy-efficient Core m3 processor for this.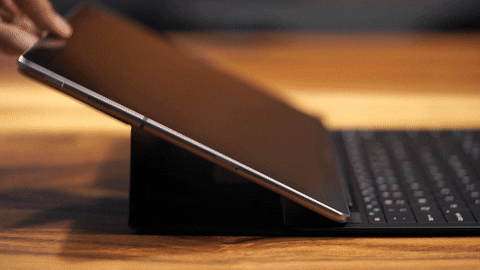 Some things are missing
One of the first things you'd expect in the box is a stylus. To our disgruntlement, it isn't a standard feature of the Galaxy TabPro S; you'll have to make do with touch gestures and the fiddly track pad. And despite the simplicity of the keyboard attachment mechanism, there's a limit of two positions for the rear stand, and they're only usable while the keyboard is latched on. For something that's advertised as being able to work on its own, the tablet is heavily reliant on the keyboard to function properly. Without physical keys and a stylus, working through Windows 10 purely on finger touches is a clumsy affair.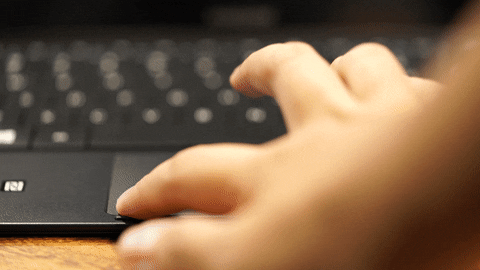 While we're on the subject of pure tablet usage, there's only one digital port to do all your work. You have a single USB Type-C for charging, plugging in a flash drive, or connecting a compatible peripheral, such as a mouse or card reader. It seems like this is the path several manufacturers are choosing to take, and we're practically forced to adjust to the new restrictive standard. On the bright side – and this is also similar to Android devices – the TabPro S comes with Adaptive Fast Charging, letting you go from zero to 100 percent in less than three hours, so there's more time for you to plug in other devices.
Who's this for?
Any Samsung fan who's in need of a seamless transition from Android to Windows should seriously consider the Galaxy TabPro S. The beauty here lies in the sheer convenience of being able to power up a complete Windows 10 machine and attach a keyboard at will – just like an Android device. The official price begins at $899, so it's right up there with the big boys of mobile computing.
As long as you don't force the TabPro S to go beyond its specialities, like making it render graphics-intensive games or heavy photo/video editing, you have a GadgetMatch in your arsenal. You also need to keep the keyboard attachment on, because without it, you're better off buying a Galaxy Tab S2 Android tablet instead with its willingness to work solely on swipes and gestures.
With rumors circulating about a successor in the works, we can't help but feel hopeful about the future of the Galaxy TabPro S line. We're wishing for a stylus and more connectivity ports next time around.
[irp posts="6867" name="Samsung Galaxy TabPro S unboxing and hands-on"]
How to make your crush view your Instagram Story
Three easy steps to get that validation
Catching up with friends entails a discussion about your love life. Being single for a long time, a friend asked if I were dating someone new. I responded gleefully, "no, I'm not dating anyone but I have a new crush I met at an event."
Giggly about my newfound love interest, my friend advised me how to tease my crush. However, it'll only work if we're following each other on Instagram. To see if my friend's strategy works, we used our own accounts and to my surprise, we succeeded.
While it may yield different results, here are three easy steps you can do to make your crush view your Instagram story.
Step 1: Post a story you want your crush to see
Uploading a story feels like a small window to our lives. Make sure the photo you upload is something that you want your crush to see. It's like making an impression, and you only have one shot if he/she ever sees your story. I posted my gym photos and pizza stories — something that both my crush and I enjoy.
Step 2: Edit your story settings
Here's the not-so-tricky part! We're calling it the hide-unhide strategy. When your story is uploaded, immediately adjust your story settings and hide your story from your crush. Save it, and then change the story settings again to unhide the story. This strategy beats Instagram's algorithm and pushes your story to one of the first stories he/she can view.
Step 3: Enjoy the validation
As long as you and your crush follow each other on Instagram and regularly use the app, then it's guaranteed that he/she will view your story. Enjoy the frickin' validation. I've been doing it for almost a month now, and I always giggle whenever I see my crush's name.
There are times that the strategy won't push you to the first story he/she can view. For some reason, my friend tried hiding and unhiding her story to me, and she only ended up being second on the queue. Instagram still prioritizes the accounts you engage with the most through reacts and direct messages. However, being at the first five ensures you have a shot at making an impression that lasts.
Now, hurry and make your crush view your story. It won't be long before Instagram's algorithm changes again!
You Season 2, Psycho: Now Playing
"You" has us feeling like a "Psycho"
Going from the holiday break and diving straight into CES 2020, the team hasn't really had plenty of time to watch or play much of anything. It's been a busy time so there aren't a lot of recommendations here. But they're still worth checking out!
Movies to see
Parasite
Vincenz: We know Parasite has been making rounds online and I attest to its excellence. It shows the common divide between the rich and the poor (as represented by the Kim and Park families), but you'll never really know what happens next — especially when greed arises. It honestly made my jaw drop and my mind was utterly confused while watching it. The astounding cinematography makes this film a whole lot better. No wonder it bagged several awards globally.
Steven Universe The Movie
Leez: During the holidays, I rewatched every episode of the cartoon series Steven Universe and rediscovered the best scenes, songs, and episodes. It's an amazing cartoon series and the movie cuts deep with concepts of trauma, grief, and growth. Steven is all grown up in the movie and everything seems to be set in place until a pink inverted heart gem appears. There's singing, fighting, and a ton of crying. If you haven't seen it, get on it. It's a lovely series and a stunning movie.
Shows to binge-watch
Great Teacher Onizuka 
Rodneil: A former biker gang member decides to pursue teaching after he saw how he can get closer to high school girls that way. While he didn't start off with the best intentions, the titular character Eikichi Onizuka discovers his passion for teaching while solving his students' troubles in the most unconventional ways possible. This show is perfect for a few laughs and a few life lessons.
You Season 2
MJ: Joe Goldberg is back! If you didn't feel that much love for him in the first season, you might be conflicted on how you'll cheer for Joe this time around. While it's not good to romanticize a stalking psycho, You made sure you're going to love Joe. And yes, we want a Season 3.
Brooklyn Nine-Nine
MJ: There's a reason why a sitcom situated in a police precinct got a cult following; not because of hype but because of its quality. It's absolutely funny (without the laugh tracks), has a diverse representation, and tackles pressing social and cultural issues subtly. The series is about to premiere its seventh season, so it's time to binge-watch again from Season 1-6. Oh, they're also working on Season 8 already! You better catch up.
Albums/Songs/Podcasts to listen to
Psycho by Red Velvet
Vincenz: Other than the mesmerizing visuals of Irene, Seulgi, Wendy, Joy and Yeri, the song is highly addictive. Speaking of addiction, the lyrics talk about a love that makes one go "Psycho." It's an extreme love-hate relationship — one that's probably bad for you but you just can't get enough of —  just like a drug. The part before the last chorus states that "everything will be okay" — and I felt that. Prior to RV's Korean recording, there's an English demo which you can listen to for a better feel of the song.
Pwede Ba (괜찮을까) by Lola Amour
Vincenz: I was browsing my Twitter timeline when a popular schoolmate (slash vocalist of the local indie duo Ysanygo) promoted this track through a quote tweet. At first, I didn't mind but when I saw a lot of mutuals sharing the same song, it made me curious to actually try and listen. The mellow tune goes well with the Korean lyrics. Listening to it feels like I'm in an episode of a melancholic K-Drama. It's actually a Korean version of the already existing Pwede Ba (written in Filipino) that was released 2 years ago.
Dive feat. Chris James – Hot Shade, Mike Perry
MJ: If you need a good pick me up song, "Dive" has that upbeat melody that will make you want to move and love life. If you happen to be in love with someone else, the lyrics will resonate with you as it tackles diving into the unknown with your love interest, and following him/her wherever your hearts lead to.
Polaris by BLUE ENCOUNT
Rodneil: I have a weird emotional attachment to My Hero Academia and one of the reasons is how good the opening songs are. "Polaris" — the show's current opening theme — is such a rush of energy. When I need to get going, I just put this on and I almost feel like One for All is surging through my body. It's a fantastic picker-upper.
Games to play
Cities Skylines
Vincenz: I've been a long-time fan of games that lean into city building / urban planning. SimCity has been around for ages but after several years, other developers had their own take. I played Cities XL Platinum prior to this (which is honestly good but just lacks certain features and a bit slow even with high specs in mind) but this game is on another level. With the mods and assets you can install, building cities is limitless. You can even control the growth of the city, underground systems, transportation, traffic, and more. With the video above, it shows that you can even have a glimpse of your city just like a regular person riding a train.
---
Now Playing is the GadgetMatch team's favorite games, movies, TV shows, and more each month. If you're curious to know what we're into at the moment, this is what you should check out. So grab your popcorn, get some drinks, and enjoy what's now playing!
6 shows on Netflix with hot sex scenes
Netflix keeps it wild and steamy
The following is intended for readers 18+
Netflix has a variety of shows that you can enjoy: From romantic comedies that make you blush to thriller films that make your heart race. Common knowledge, but Netflix also has a lot of TV series with steamy sex scenes.
Below are six shows on Netflix with sexy scenes. If you're looking for a show that'll give you a wild, hookup idea or make you drool over someone, you've come (pun not intended) to the right place. And oh, there are spoilers ahead so read at your own risk.
Marvel's Jessica Jones
Marvel's Jessica Jones has the thrill you're looking for — crimes, investigation, murder, and wild sex scenes. Its season 3 may have a lot of sexy scenes, but nothing can beat the first episodes in its first season.
I mean, come on! Luke Cage and Jessica Jones — two powerful superhumans — thrusting while moaning hard, and breaking the bed? That's WILD.
Riverdale
Sure, it's all about murders in Riverdale town, but teens from Riverdale are so hormonal, they're also obsessed with sex. Some of the hottest scenes are from Season 3, Episode 5 (15:00) where Veronica uses her connections to get to Archie — and have sex in the locker room.
Another is from Season 4, Episode 2 (04:00) when Betty and Jughead started making out in front of Archie and Veronica. At first, you'll think it's going to be a foursome, but the two had their one-on-one session in another room instead.
Elite
Another teen series starring some of the casts from the popular La Casa de Papel, Elite follows three teenagers who transferred to an elite school. If you think this is some high school drama, you're kidding yourself. It has a lot of murder, alcohol, party, and of course, sex.
Starting with Season 1, Episode 1 (20:40, 41:43) where a shower and bed scene happened while the couples were being watched. Then, there's Season 1, Episode 3 (47:41) where a threesome between two guys and a girl happened, and Season 2 Episode 2 (38:28) where two guys did the deed while someone beside them is sleeping.
Orange is the New Black
Orange is the New Black has a lot of girl on girl scenes, obviously because the show took place in a women's prison. The show follows Piper Kerman's memoir when she was indicted for money-laundering and drug-trafficking.
One of the hottest scenes in the show was between Alex Vause and Piper Chapman. At Season 3, Episode 2 (54:08), Alex and Piper had a "fight" that led to pushing, grabbing, and a hair-pulling sex scene. There was a lot of strength and aggression.
Sense8
Sense8 might be a sci-fi drama revolving around the theme of "connection," with lots of superhuman powers but its sex scenes are abundant. At the finale of Season 1 and during the first episode of Season 2, an orgy happened. Most of the scenes were shown in unrealistic places like inside a toilet cubicle.
Sense8 is filled with steamy sex scenes that might make you want to stay away from your favorite adult sites. Maybe you can just use this as a buffer for your date night. You can really get them in the mood with the show's intriguing plot and steamy scenes.
Bodyguard
What's hotter than having a relationship with someone you're not supposed to be with? Say, someone older than you, your client, or probably your direct superior at work? At Bodyguard, fans reveled at the sexual tension between the hot bodyguard David Budd and hot politician Julia Montague.
In the second and third episodes, the sexual tension hit a fever pitch with fear and anger becoming one of the driving forces for both David and Julia to do the deed — even though it's going to get things complicated. Also, nothing sounds sexier than hearing someone as hot as David being polite while humping you on a desk.
Bonus: The Witcher
The Witcher has been the talk of the town lately — from memes to incredible fight scenes, and its nudity. Almost every episode has it, but the scene between Istredd and Yennefer at Episode 3 is something to watch out for. *wink emoji*
Finding the right show to Netflix & Chill to
Identifying a scene as hot, wild, and steamy is purely subjective. Some shows might be hot for you, some might not. However, the key to enjoying these shows is to watch and dive into the story. Follow the plot and understand the dynamics between the characters.
The plot is integral since it builds sexual tension. And honestly, we're always pumped in those moments where we can't wait for the characters to "just do it." 😏