Samsung tries something new with the Galaxy TabPro S, and succeeds
Whenever we hear the words Samsung and Galaxy put together, Android tablets and smartphones instantly come to mind. That's why it's so strange to see the Galaxy label plastered on a Windows tablet when talking about the Galaxy TabPro S. And yet, it's only when you begin using this convertible that you realize how similar it behaves to an Android tablet.
This revelation pops up despite this Samsung convertible directly challenging the likes of the Microsoft Surface series and Apple iPad Pro. On one hand, it doesn't have the relentless performance Surface tablets have been delivering for four generations; on the other end, it has a much more desktop-like operating system as compared to the iPad Pro's. The balance between both sides is what puts the TabPro S in a unique position to appeal to a desktop-hungry, yet mobility-loving audience.
Windows in an Android body
Throughout our experience with the Galaxy TabPro S, we couldn't help but feel like we've been using an Android tablet on steroids. This isn't to say it's a bad thing; on the contrary, having a fan-less, lightweight Windows 10 device is such a pleasure when all you want do is type and watch stuff while doing errands. Naturally, you're going to have to deal with a flat keyboard and limited travel, but the keys are easy to get used to thanks to the spacious tiles.
Checking out the product page of Samsung, you can tell how much focus is placed on the tablet aspect of the TabPro S, without much mention of how it's actually a full-fledged Windows tablet with a complete keyboard attachment. Even the setup out of the box looks like it came straight out of an Android product: an Adaptive Fast Charger along with a meter-long cable for the single USB Type-C port, plus a slot for inserting an LTE SIM card. This is as mobile as it gets for a 12-inch Windows tablet.
Just enough juice in the tank
Like all of Samsung's flagship tablets and smartphones, this convertible's AMOLED display is absolutely captivating. Not once did we think the 2160 x 1400 resolution wasn't enough. There were times we wished the colors were more accurate, especially while photo editing, but the highly saturated colors are alluring most of the time. We also have to give a positive nod to the stereo speakers found on the sides of the Galaxy TabPro S. They're surprisingly loud – way better than smaller Galaxy Tabs.
For the tech-savvy, you'll notice a no-frills setup here. You get an Intel Core m3 processor with 4GB of RAM and 128GB of internal storage. Putting it simply, there's ample power on board to run through several tabs on Chrome, high-resolution editing on Photoshop, and watching (not editing, mind you) videos on the side, all at the same time. At this price point, you'd hope for something more, as this is the bare minimum to run Windows 10 smoothly on a high-resolution screen, but the upside is there's no noisy fan to bother you.
Here's another juicy tidbit: The TabPro S is a total darling when it comes to battery life. This should go down as one of the rare cases wherein working on 10 percent of remaining charge isn't stressful. It seems like there's always enough to get through a full day's worth of work without looking for a wall socket. Again, we have to credit the energy-efficient Core m3 processor for this.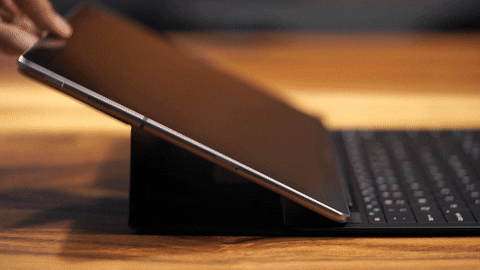 Some things are missing
One of the first things you'd expect in the box is a stylus. To our disgruntlement, it isn't a standard feature of the Galaxy TabPro S; you'll have to make do with touch gestures and the fiddly track pad. And despite the simplicity of the keyboard attachment mechanism, there's a limit of two positions for the rear stand, and they're only usable while the keyboard is latched on. For something that's advertised as being able to work on its own, the tablet is heavily reliant on the keyboard to function properly. Without physical keys and a stylus, working through Windows 10 purely on finger touches is a clumsy affair.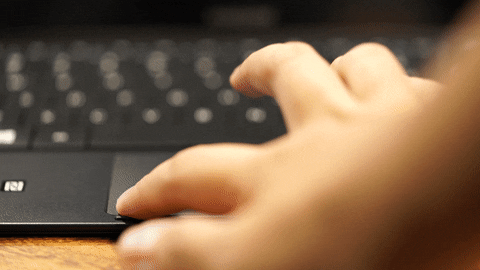 While we're on the subject of pure tablet usage, there's only one digital port to do all your work. You have a single USB Type-C for charging, plugging in a flash drive, or connecting a compatible peripheral, such as a mouse or card reader. It seems like this is the path several manufacturers are choosing to take, and we're practically forced to adjust to the new restrictive standard. On the bright side – and this is also similar to Android devices – the TabPro S comes with Adaptive Fast Charging, letting you go from zero to 100 percent in less than three hours, so there's more time for you to plug in other devices.
Who's this for?
Any Samsung fan who's in need of a seamless transition from Android to Windows should seriously consider the Galaxy TabPro S. The beauty here lies in the sheer convenience of being able to power up a complete Windows 10 machine and attach a keyboard at will – just like an Android device. The official price begins at $899, so it's right up there with the big boys of mobile computing.
As long as you don't force the TabPro S to go beyond its specialities, like making it render graphics-intensive games or heavy photo/video editing, you have a GadgetMatch in your arsenal. You also need to keep the keyboard attachment on, because without it, you're better off buying a Galaxy Tab S2 Android tablet instead with its willingness to work solely on swipes and gestures.
With rumors circulating about a successor in the works, we can't help but feel hopeful about the future of the Galaxy TabPro S line. We're wishing for a stylus and more connectivity ports next time around.
[irp posts="6867″ name="Samsung Galaxy TabPro S unboxing and hands-on"]
Ultrahuman: The essential app to get you through quarantine
Getting through isolation days through workout and meditation
Taking care of our physical and mental health is very much important now more than ever. With everything that has been going on in the world, it's not surprising that people are taking extra steps to advocate and practice self-care.
One way to do this is by adding good habits everyday and being disciplined to sustain these habits.
With self-care as one of their ultimate goals this year, Martynne and MJ decided to try Ultrahuman: an all-in-one fitness app that includes all the good habits they are currently incorporating in their lives — from workout to meditation.
For a few weeks, they put the app to a test and this is their verdict:
Meditation
Martynne: I am a huge advocate of meditation and it has been a life-changing practice for me, as someone who finds a hard time focusing and being in the present.
Ultrahuman has a wide range of course options that can match a specific mood or emotion. One of my personal favorites is the Managing Anger course, which helped me take a step back, consolidate my feelings and give compassion to myself throughout the process.
The Singles option with one-time meditation tracks helped me become more mindful and grounded whenever I feel overwhelmed in the middle of a workday. The productivity course, on the other hand, kept my eyes glued to my laptop screen until I finished what I needed to do.
The only thing I didn't like about it, though, is the visuals seem basic to me, and the "dark" interface is much more fitting for the workout option.
Workout
MJ: When gyms are closed and home workouts aren't fun anymore, how do you remain committed to your fitness goals? That's what Ultrahuman did: Filling the gap by providing fun workouts and challenges that you can do in a span of weeks. It's similar to how Nike Training Club presents their videos albeit more personalized.
The Ultrahuman app comes with guided videos from renowned trainers, and watching their instructions during your exercises felt like having a live session with a personal trainer. Unlike most fitness apps that offer video-on-demand workouts, Ultrahuman remembers that we are all beginners, offering a collection of videos through challenges that suit different levels.
After living a sedentary lifestyle, I knew I have to ease up when working out again. The app did wonders in helping me stay active by gradually increasing the difficulty of my challenges, without straining my body or having myself complain about how difficult a certain workout routine is.
Sleep
Martynne: There was an instance that I had a bad case of insomnia and I needed something to put me to sleep.
I tried listening to Ultrahuman's Bedtime Stories and it reminded me of the sleep podcasts I used to listen to on Spotify.
The voices are relaxing, and the stories come with meditation and sound effects, but I realized I can be impatient with slow stories. I resorted to the app's soundscapes and brain music, and they helped a lot to relax my brain and finally shut my eyes off.
I don't exactly know what's the science behind brain music, but they really work sometimes.
Nokia E3100: Trying new buds for work to workouts
Yes, Nokia has earbuds now
Nokia and I go way back. It was the mobile phone brand of my youth. Our history includes a series of phones that predate the existence of touchscreen ones we use now. Everyone had a Nokia device then. In recent years, it's become a rarity. So imagine my surprise when I first heard that Nokia is now making earbuds. How did it fare against the audio giants of our time?
First impressions
I got a hold of the Nokia E3100 Essential True Wireless Earphones. Compared to my old set of earbuds (Anker Zolo Liberty+), this one's battery case and earbuds are extremely light, almost the same weight as a tube of drugstore lipstick.
The buds can operate up to 2.5hrs with a single charge, and up to 10 hours with help of the rechargeable battery case. Super convenient to pack if we still had our old lifestyle of going out daily.
On the job
I used to be able to maximize my earbuds on my commute — listening to music or watching series whenever I'm in transit. Nowadays, I mainly connect my headset to my laptop for Zoom meetings and other virtual work calls.
The Nokia E3100 did not disappoint on the sound side. Audio from the people I'm in the call with was always clear and crisp. But, it can be a hit-or-miss as a mic. The earbuds have a built-in microphone on the right side, but my experience with it left me wanting. There was a point when I had to switch back to the laptop microphone in the middle of a call just so people can hear my voice clearly.
On the mat
I also tried the Nokia E3100 for a few home workout sessions. Since the earbuds fit my ears perfectly, there's no fear of it falling out in the middle of jumping jacks.
Another nice surprise is how you can easily skip or repeat tracks via push button controls on the earbuds. Less distractions to your exercise momentum! The only time I have to reach for my phone is when I want to switch to a different playlist.
Is the Nokia E3100 your GadgetMatch?
It's reliable as an earpiece for listening to music, working out, and watching series. But when it comes to the demands of working from home, the current built-in mic just won't do.
Nokia has to work on the voice sensitivity and responsiveness of the earbuds' mic in order to take on this new age of virtual calls and meetings.
The Nokia E3100 retails for PhP 1,999 (US$ 41)
OPPO A74 Hands-On: The 7 things I love about you
A budget smartphone that doesn't feel like one
The OPPO A74 was announced not too long ago. While the OPPO A94 is just around the corner, the A74 comes with a lesser price tag — but that doesn't mean they scrapped a lot of features.
Frankly speaking, I've enjoyed using it for about a week now. For the record, this is actually my first time trying an OPPO phone. I'd say, it's not a total slouch because (in Miley Cyrus' voice), "there are 7 things I love about you".
1. Premium-like design and feel
First thing's first, the phone's back is made entirely out of polycarbonate plastic. While it's not prone to cracks and shatters, the phone simply scratches too easily — regardless if you safely put it on tables. Fortunate for clumsy users, there's an included clear case inside the box.
That said, I still like its premium-like look. As I always say, I'm not the biggest fan of flashy, gradient smartphones but this Midnight Blue colorway looks elegant on its own. I'd pick it over the blander-looking Prism Black option (even if black is one of my favorite shades).
On hand, it feels slim and lightweight. I barely felt the heft when holding the phone with my one hand despite that large display. The curves flow well with your hands, too. Most smartphones these days have a slightly uncomfortable feeling due to sharper phone corners.
2. Crisp and vibrant display
As we're already on the topic, the A74 packs a 6.43-inch AMOLED display — the same display found on the A94.
The display is vibrant enough even under the harsh sunlight. While it only has a Full HD+ resolution, it still looks crisp. The only downside of this one is the lack of faster refresh rate. I know what you're thinking. Some affordable smartphones offer faster 90 to 144Hz displays. In return, you get a less bright and vibrant IPS-LCD display.
I'm not complaining with the A74's conventional 60Hz refresh rate. For one, it saves battery power, and two is because I value a more color accurate display than the latter. But hey, take my opinion with a grain of salt as it's just my preference in smartphone displays.
Another thing that makes it look "premium" is the inclusion of its punch-hole camera. That simply looks better versus a dewdrop notch.

There's always an in-display fingerprint scanner which might not be the fastest, but it still gets the job done and is more reliable than a Face Unlock especially in this particular time.
3. Great for multimedia consumption
This is already a given since it has an AMOLED display. But other than that, despite having just mono speakers, it's surprisingly loud with a full sound that doesn't sound tinny and distorted.
While it doesn't feature any HDR10 capabilities, it's still a viewing pleasure when watching YouTube videos (especially K-Pop music videos) and Netflix series and films.
OPPO was also able to put a 3.5mm audio jack in such a slim  form factor. There's a set of earphones inside the box. This is great for users who already have an existing pair and also don't want to spend fortune for another wireless earbuds.
4. Less-confusing Android User Interface
Out of the box, it already runs Android 11 with the ColorOS 11.1 skin. Over the years, I got used to Xiaomi's MIUI and Samsung's One UI but as I get to use their interface for long, the more it gets confusing.
To my surprise, the ColorOS looks clean and tidy. It's not bombarded with unwanted UI elements and at the same time, I love the overall look and feel of the icons and the interface. I also commend how organized the settings are that aren't as cluttered as other Android skins.
5. Optimum performance
On paper, the A74 is packed with a Snapdragon 662 chipset, 6GB of memory, and 128GB of onboard storage with an option to expand with a microSD slot through its Hybrid SIM tray. Opening basic apps such as Facebook, Twitter, Instagram, and more are quick. Even switching between apps is snappy fast as long as you don't get too hard on it.
While it may not sound like a lot, it still is a smartphone capable of running popular titles such as PUBG, Mobile Legends, Genshin Impact, and Asphalt 9.
It also has this handy Game Focus Mode which basically is a game sidebar tool when playing games that turns off unwanted notifications and boosts performance so you can enjoy the game you're playing.
When I played Call of Duty: Mobile, I was able to play with no stutters or lags. While the graphics setting isn't maxed out to high, medium seems fine already especially that you can see game artifacts and farther enemies in this setting anyway.
6. Large battery capacity and fast charging support
To makes this a lot better, it packs a bountiful 5,000mAh battery — which is very surprising for me considering it has a slim and lightweight form factor.
If your phone already ran out of juice, there's a bundled 33W fast charger out of the box. OPPO is true to its words as it's capable of filling it up for around 54 minutes — same as advertised. And for everyone's convenience, it's equipped with a USB-C port.
7. Decent main camera
The OPPO A74 packs a trio set of cameras: a 48-megapixel f/1.7 wide (main) camera, and two 2-megapixel f/2.4 depth and macro sensors. I would've wished for an ultra-wide camera instead but they decided to put one on the A94.
While video recording is limited to just 1080p Full HD, its HDR and AI work wonders when shooting photos indoors.
Samples look better when they're shot outside in broad daylight. If you're always into posting your photos in social media, the A74 won't disappoint.
Zooming in on the subject with 2x zoom is still doable but sometimes, it has a hard time focusing. This is already given because it doesn't have a dedicated telephoto lens. Nevertheless, images still look great even if it's an accidental bokeh shot.
Just don't use the 5x digital zoom as it's not helpful at all. It's either grainy or blurred with a too healthy helping of HDR processing.
For night mode, don't get your hopes up as it's barely usable in low-light conditions. At first, I thought it was just the blurry camera lens, but after taking two more night shots at around three seconds in wide (1x) mode, nothing has changed.
Is this your GadgetMatch?
If you're a long-time OPPO user and you just want to upgrade your OPPO experience without sacrificing too much on money, the A74 is simply a great smartphone to get. With a price tag of PhP 11,990, it's simply isn't the cheapest budget smartphone you can buy right now.
Get the OPPO A94 if you can shell out an additional PhP 2,000 — only if you want a Mediatek chipset, an additional 2GB of memory, and the inclusion of an ultra-wide camera. But if we're talking about better features, you can't go wrong with the A74 simply because it has a competitive Snapdragon chipset, bigger battery with faster charging, and most of all, a cheaper price tag.
If you're keen on trying another smartphone brand, there's the Redmi Note 10 that has a cheaper retail price of just PhP 9,990 (6GB/128GB variant) with an upgraded Snapdragon 76 minus the ColorOS experience.
If you don't care about design and just want a smartphone of the same kind, there's the POCO M3 with identical hardware, but with an IPS-LCD display, a slightly larger battery capacity minus the fast charging — all for a pocket-friendly price of PhP 7,990.