Samsung tries something new with the Galaxy TabPro S, and succeeds
Whenever we hear the words Samsung and Galaxy put together, Android tablets and smartphones instantly come to mind. That's why it's so strange to see the Galaxy label plastered on a Windows tablet when talking about the Galaxy TabPro S. And yet, it's only when you begin using this convertible that you realize how similar it behaves to an Android tablet.
This revelation pops up despite this Samsung convertible directly challenging the likes of the Microsoft Surface series and Apple iPad Pro. On one hand, it doesn't have the relentless performance Surface tablets have been delivering for four generations; on the other end, it has a much more desktop-like operating system as compared to the iPad Pro's. The balance between both sides is what puts the TabPro S in a unique position to appeal to a desktop-hungry, yet mobility-loving audience.
Windows in an Android body
Throughout our experience with the Galaxy TabPro S, we couldn't help but feel like we've been using an Android tablet on steroids. This isn't to say it's a bad thing; on the contrary, having a fan-less, lightweight Windows 10 device is such a pleasure when all you want do is type and watch stuff while doing errands. Naturally, you're going to have to deal with a flat keyboard and limited travel, but the keys are easy to get used to thanks to the spacious tiles.
Checking out the product page of Samsung, you can tell how much focus is placed on the tablet aspect of the TabPro S, without much mention of how it's actually a full-fledged Windows tablet with a complete keyboard attachment. Even the setup out of the box looks like it came straight out of an Android product: an Adaptive Fast Charger along with a meter-long cable for the single USB Type-C port, plus a slot for inserting an LTE SIM card. This is as mobile as it gets for a 12-inch Windows tablet.
Just enough juice in the tank
Like all of Samsung's flagship tablets and smartphones, this convertible's AMOLED display is absolutely captivating. Not once did we think the 2160 x 1400 resolution wasn't enough. There were times we wished the colors were more accurate, especially while photo editing, but the highly saturated colors are alluring most of the time. We also have to give a positive nod to the stereo speakers found on the sides of the Galaxy TabPro S. They're surprisingly loud – way better than smaller Galaxy Tabs.
For the tech-savvy, you'll notice a no-frills setup here. You get an Intel Core m3 processor with 4GB of RAM and 128GB of internal storage. Putting it simply, there's ample power on board to run through several tabs on Chrome, high-resolution editing on Photoshop, and watching (not editing, mind you) videos on the side, all at the same time. At this price point, you'd hope for something more, as this is the bare minimum to run Windows 10 smoothly on a high-resolution screen, but the upside is there's no noisy fan to bother you.
Here's another juicy tidbit: The TabPro S is a total darling when it comes to battery life. This should go down as one of the rare cases wherein working on 10 percent of remaining charge isn't stressful. It seems like there's always enough to get through a full day's worth of work without looking for a wall socket. Again, we have to credit the energy-efficient Core m3 processor for this.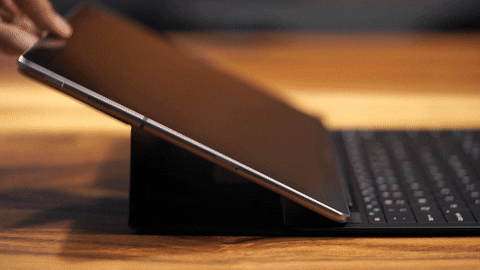 Some things are missing
One of the first things you'd expect in the box is a stylus. To our disgruntlement, it isn't a standard feature of the Galaxy TabPro S; you'll have to make do with touch gestures and the fiddly track pad. And despite the simplicity of the keyboard attachment mechanism, there's a limit of two positions for the rear stand, and they're only usable while the keyboard is latched on. For something that's advertised as being able to work on its own, the tablet is heavily reliant on the keyboard to function properly. Without physical keys and a stylus, working through Windows 10 purely on finger touches is a clumsy affair.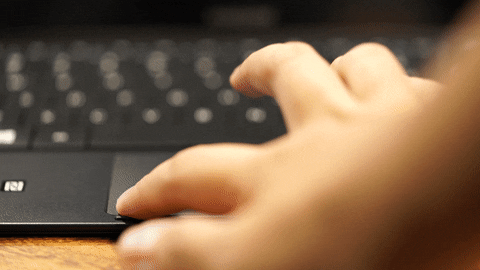 While we're on the subject of pure tablet usage, there's only one digital port to do all your work. You have a single USB Type-C for charging, plugging in a flash drive, or connecting a compatible peripheral, such as a mouse or card reader. It seems like this is the path several manufacturers are choosing to take, and we're practically forced to adjust to the new restrictive standard. On the bright side – and this is also similar to Android devices – the TabPro S comes with Adaptive Fast Charging, letting you go from zero to 100 percent in less than three hours, so there's more time for you to plug in other devices.
Who's this for?
Any Samsung fan who's in need of a seamless transition from Android to Windows should seriously consider the Galaxy TabPro S. The beauty here lies in the sheer convenience of being able to power up a complete Windows 10 machine and attach a keyboard at will – just like an Android device. The official price begins at $899, so it's right up there with the big boys of mobile computing.
As long as you don't force the TabPro S to go beyond its specialities, like making it render graphics-intensive games or heavy photo/video editing, you have a GadgetMatch in your arsenal. You also need to keep the keyboard attachment on, because without it, you're better off buying a Galaxy Tab S2 Android tablet instead with its willingness to work solely on swipes and gestures.
With rumors circulating about a successor in the works, we can't help but feel hopeful about the future of the Galaxy TabPro S line. We're wishing for a stylus and more connectivity ports next time around.
[irp posts="6867" name="Samsung Galaxy TabPro S unboxing and hands-on"]
Galaxy Note 10 photos leak, baby Switch: Weekend Rewind
Lotsa new hardware coming soon!
Here are the top stories on GadgetMatch this week.
1. Samsung Galaxy Note 10 hype train is chugging 
A good indicator that a noteworthy smartphone is coming — pun 100 percent intended — is if its leaks start coming up on the web. That's exactly the case with the Samsung Galaxy Note 10.
The "official" leaked images showcases the front and back of the Note 10. There's a punch-hole camera hovering over the middle top part of the display.
Speaking of the display, it looks absolutely edge-to-edge and while there's no indication of it in the images, it might be nesting an in-display fingerprint scanner. The only buttons immediately visible are the volume rockers and the power button. This means it might not have the Bixby button which has been a staple on Samsung flagships in recent years.
Lastly the renders also show that other than black, the Note 5 will also have a variant that has a gradient back reminiscent of the one we first saw on Huawei.
The Note 10 is launching on August 7 in New York and we'll be there to give you the updates so make sure you're following us everywhere on social media.

2. US gov't can't make up mind on Huawei ban
Here's another chapter to the Huawei Ban saga.
If you haven't kept up, US President Donald Trump lifted the ban on Huawei but just as recently as last week, we learned that no policies were put in place to support the lifting. This week, the U.S. finally issued an official statement about the ban's lifting. It says the U.S. will issue trade licenses to approved companies who do business with Huawei.
However, the licenses will depend on whether the product is deemed a threat to national security. There were no parameters provided on what entails being a "threat to national security" meaning the licenses is still subject to the government's whim.
Essentially, Huawei isn't out of the woods yet and their fate relies heavily on the trade negotiations between Trump and Chinese leader Xi Jinping.

3. Sony working on a rollable smartphone
Sony's mobile phone unit is still alive and they're looking to roll out something new.
Going beyond foldable smartphones like the Samsung Galaxy Fold and Huawei Mate X, the company is reportedly working on a rollable phone prototype. 
Tech leaker Max J tweeted a gif of a footage from a 2016 video by SlashGear to show what the tech looks like.
Sony is working on a competitor to the Galaxy Fold and Mate X.

The current prototypes feature:
3220mAh
SM7250 SoC
LG Display
Nautilus Design
10x Zoom Camera

The retail models may feature:
Snapdragon 855 Soc
Qualcomm X50 Modem

(Video via. @slashgear https://t.co/zZvRjt80Un) pic.twitter.com/mVyqRm1fxd

— Max J. (@Samsung_News_) July 6, 2019
The tweet also mentions the following specs: a Qualcomm SM7250 chipset, a 10x zoom camera, and a 3220mAh battery. However, the final retail unit will likely have a Snapdragon 855 chip along with a Qualcomm X50 modem for 5G connectivity
Before you roll your eyes, note that rollable displays already exist. LG — the company Sony is working with — showcased the LG Signature OLED TV R. It's a 65-inch 4K TV that quietly rolls into a sound bar base when not in use.
It'll be interesting to see if Sony can translate that tech into a phone's form factor. The company is planning a late 2019 or early 2020 launch.
4. Apple fixes its MacBook lineup  
If you were confused about Apple's MacBook lineup for a while, you're not alone. Not to worry though as they have already applied a fix.
First, they completely axed the 12-inch MacBook — a sexy but underpowered notebook. Next, they refreshed both the MacBook Air and the base level MacBook Pro. 
The new MacBook Air now has True Tone display technology but the rest of the specs remain the same which means it will still be powered by Intel's dual-core 8th Gen i5.
The MacBook Pro's refresh brings the Touch Bar to the base model.  It now offers a 1.4GHz quad-core 8th Gen Core i5 chip — with an option to bump up to 3.9Ghz  from Intel's Coffee Lake lineup.
So no touch bar means it's a MacBook Air while having a touch bar means it's a MacBook Pro. Simple, just the way it should be.

5. We're getting a baby Switch!
Did you hold off from buying a Nintendo Switch? If you did, this new baby Switch might finally convince you to get one.
Enter the Nintendo Switch Lite. As the name suggests, it's a smaller, less feature-packed version of the Switch. You can still play most of the titles available to the Switch but this one was made specifically for on-the-go gaming.
Unlike the bigger Switch, there's no option to play on a bigger screen. It also doesn't support the Joy-con controllers. Other than that, it's everything the switch is but strictly for handheld gaming.
It'll retail for $199.99 and will launch on September 20 so you have time to save up.
---
Weekend Rewind is our roundup of top news and features you might have missed for the week. We know the world of technology can be overwhelming and not everyone has the time to get up to speed with everything — and that includes us. So sit back, relax, and enjoy the rewind.
Four tips for driving in the rain
Safety first then teamwork
It's a given that every driver has to be alert at all times while driving. Although, when the weather gets in the way, things could get a lot trickier and also more dangerous. Here are some tips to keep in mind when you're driving in the rain to make sure you get home to your family safe and sound.
Don't turn your hazard lights on!
This is a pretty common practice that I see on the road. As soon as the downpour starts and visibility gets challenging, drivers ignite their hazard lights as a form of caution to other motorists.
Although the intention is well, this is not the appropriate thing to do when driving in the rain. Activating your hazard lights basically signifies to fellow drivers that something's up and they should avoid you. These lights are commonly switched on when the vehicle is stalled at the side of the road. Also, having emergency lights activated eliminates the use of your signal lights. Hence, other drivers wouldn't know when you're changing lanes and might cause more accidents.
Instead of doing so, simply turn on your headlights. This will also ignite the brake lights at the rear and both the headlamps and taillights are designed to still be visible even under heavy rain or fog.
Watch your speed
It just makes sense to slow down when you're not certain about the integrity of the road or when there's low visibility outside the vehicle. Another main reason why you need to watch your speed is to be able to see and avoid puddles of water on the road as they could be covering a deep pothole or even cause hydroplaning.
Hydroplaning is when the vehicle's tire runs above the water due to speed and loses contact to the ground. As a result, you lose traction of the vehicle's tire which could potentially be dangerous both to you and other vehicles. If ever it happens to you and in a split-second you feel the loss of control, remember not to panic and suddenly step on the brakes as this will just make things worse. Instead, let go of the gas pedal, grip your steering wheel firmly and slow down until you gain traction again.
Additionally, for roads with puddles of water, you can also follow the tire trail of the car ahead as there are about 1-2 seconds that the water is set apart, reducing the chance of hydroplaning.
Maintain that distance
It's a good rule of thumb to be about two to three cars away from the vehicle in front of you when moving at a constant speed. Although, that gap should widen when you go faster or when the road is wet. This is to have ample braking time for you when the car ahead suddenly stops.
Seeing more is always better
Remember, visibility is key to be able to plan your actions while driving, react to unexpected hazards, and lessen the chances of running into puddles —  therefore reducing the risk of getting into an accident.
With this in mind, be sure to always keep your wipers in great condition by regularly checking and replacing them. When rain occurs, fog buildup on the windshield is also a common occurrence so be sure to defog the windows.
Lastly, you may choose to mix specific products in your washer reservoir to make it repel more water on your windshield. These things are pretty inexpensive and help a lot during the rainy season.
We hope you picked up something from this article. Remember to always prepare your car ahead of time to ensure that you and your passengers have a safer trip.
Being connected isn't what makes a smart home a dream home
Smart appliances have lasting impacts not just on the wallet but also on the planet
"If money were no object…" is probably one of the most difficult sentences for me to finish. As I grow older my desire to own more things has slowly diminished, especially since I get to play with an enormous amount of new technology every day. If anything, my inclinations have shifted to buying things that will last at least 10 years or my entire lifetime — even if they cost more — especially if it means having less possessions, spending less money, generating less waste, and doing less harm to the environment in the long run.
I try to apply these principles in everything — from fashion, to coffee, to things for the home — whenever possible. Living an efficient and fully sustainable life is a long-term goal of mine so until I can fully realize that (read: afford), for now here's a list of home appliances that can help me live that life today, if money were no object.
Refrigerator
A refrigerator is central to any household — it helps store and preserve food that would otherwise go bad after just a few hours. A good refrigerator though is one that not only lasts a long time, but also consumes less energy, and LG's line of Slim French-Door refrigerators are some of them. It has what LG calls an Inverter Linear Compressor, which manages energy consumption so groceries can last longer and monthly electricity bill can be cheaper.
There are various models that have my favorite feature called InstaView Door-in-Door, which lets you peek into the contents of the refrigerator just by knocking twice, reducing the need to swing open its doors.
Air conditioner
Today's air conditioners are some of the most environmentally-harmful appliances in the world. Until scientists and manufacturers are able to produce greener refrigerants at scale, energy-efficient alternatives will have to do on days that are unbearably hot. LG's Dual Cool air conditioner is one such alternative as it cools 40 percent faster, and consumes 70 percent less energy than the usual air conditioner.
Washer and dryer
The accessibility of laundromats is probably one of the best and worst things to happen in our lifetime. Sure they are affordable and saves us so much time, but they're also the number one culprits to our clothes' shortening lifespans. If we're not careful, our clothes either shrink, get completely destroyed, or get lost while we get on doing other things.
Practicing slow fashion is as much about buying clothes that were consciously made and don't go out of style as investing in tools that help you preserve even existing ones. Thankfully it's 2019 and there are washing machines that determine the characteristics and volume of each load to minimize fabric damage, like LG's front-load washer with artificial intelligence direct drive (AI DD). With a feature called TurboWash 360, clothes get cleaner in less time, helping you save on energy, too.
For those who need it, there's an LG MiniWash that you can put underneath the front-loader so you can wash two loads at the same time. This is great for separating delicates like lace, silk, or linens that require gentler cycles.
Dry cleaner
With great power dressing comes great responsibility. The pantsuits, gowns, and coats that you normally have to take to the dry cleaner 5 blocks away can stay and be cleaned right in your bedroom with the LG Styler, a personal steam closet system. Need wrinkle-free trousers for a town hall presentation while doing your skincare routine? The LG Styler can take care of that. Never burn your slacks or your favorite white button down again and make them last longer.
Home appliances sure make our lives more convenient and efficient, but these things come at a price. We may never fully understand how all the technology in our lives works, but what we have to understand is the impact they have not just on the wallet but also on the planet.
Being connected isn't what makes a smart home the dream home. When the right time comes, invest in appliances that consume less energy, help generate less food and fashion waste and harmful chemical emissions, and take much longer to replace. That way, not only does our dream home last a lifetime, we can also help make this planet we call home last beyond our lifetime.