Samsung tries something new with the Galaxy TabPro S, and succeeds
Whenever we hear the words Samsung and Galaxy put together, Android tablets and smartphones instantly come to mind. That's why it's so strange to see the Galaxy label plastered on a Windows tablet when talking about the Galaxy TabPro S. And yet, it's only when you begin using this convertible that you realize how similar it behaves to an Android tablet.
This revelation pops up despite this Samsung convertible directly challenging the likes of the Microsoft Surface series and Apple iPad Pro. On one hand, it doesn't have the relentless performance Surface tablets have been delivering for four generations; on the other end, it has a much more desktop-like operating system as compared to the iPad Pro's. The balance between both sides is what puts the TabPro S in a unique position to appeal to a desktop-hungry, yet mobility-loving audience.
Windows in an Android body
Throughout our experience with the Galaxy TabPro S, we couldn't help but feel like we've been using an Android tablet on steroids. This isn't to say it's a bad thing; on the contrary, having a fan-less, lightweight Windows 10 device is such a pleasure when all you want do is type and watch stuff while doing errands. Naturally, you're going to have to deal with a flat keyboard and limited travel, but the keys are easy to get used to thanks to the spacious tiles.
Checking out the product page of Samsung, you can tell how much focus is placed on the tablet aspect of the TabPro S, without much mention of how it's actually a full-fledged Windows tablet with a complete keyboard attachment. Even the setup out of the box looks like it came straight out of an Android product: an Adaptive Fast Charger along with a meter-long cable for the single USB Type-C port, plus a slot for inserting an LTE SIM card. This is as mobile as it gets for a 12-inch Windows tablet.
Just enough juice in the tank
Like all of Samsung's flagship tablets and smartphones, this convertible's AMOLED display is absolutely captivating. Not once did we think the 2160 x 1400 resolution wasn't enough. There were times we wished the colors were more accurate, especially while photo editing, but the highly saturated colors are alluring most of the time. We also have to give a positive nod to the stereo speakers found on the sides of the Galaxy TabPro S. They're surprisingly loud – way better than smaller Galaxy Tabs.
For the tech-savvy, you'll notice a no-frills setup here. You get an Intel Core m3 processor with 4GB of RAM and 128GB of internal storage. Putting it simply, there's ample power on board to run through several tabs on Chrome, high-resolution editing on Photoshop, and watching (not editing, mind you) videos on the side, all at the same time. At this price point, you'd hope for something more, as this is the bare minimum to run Windows 10 smoothly on a high-resolution screen, but the upside is there's no noisy fan to bother you.
Here's another juicy tidbit: The TabPro S is a total darling when it comes to battery life. This should go down as one of the rare cases wherein working on 10 percent of remaining charge isn't stressful. It seems like there's always enough to get through a full day's worth of work without looking for a wall socket. Again, we have to credit the energy-efficient Core m3 processor for this.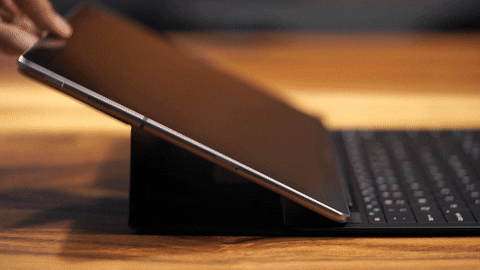 Some things are missing
One of the first things you'd expect in the box is a stylus. To our disgruntlement, it isn't a standard feature of the Galaxy TabPro S; you'll have to make do with touch gestures and the fiddly track pad. And despite the simplicity of the keyboard attachment mechanism, there's a limit of two positions for the rear stand, and they're only usable while the keyboard is latched on. For something that's advertised as being able to work on its own, the tablet is heavily reliant on the keyboard to function properly. Without physical keys and a stylus, working through Windows 10 purely on finger touches is a clumsy affair.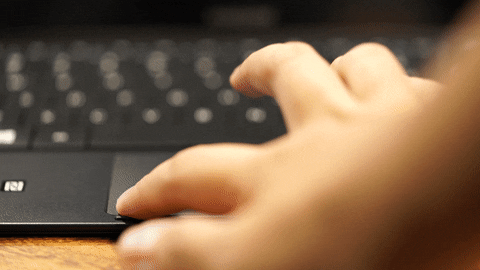 While we're on the subject of pure tablet usage, there's only one digital port to do all your work. You have a single USB Type-C for charging, plugging in a flash drive, or connecting a compatible peripheral, such as a mouse or card reader. It seems like this is the path several manufacturers are choosing to take, and we're practically forced to adjust to the new restrictive standard. On the bright side – and this is also similar to Android devices – the TabPro S comes with Adaptive Fast Charging, letting you go from zero to 100 percent in less than three hours, so there's more time for you to plug in other devices.
Who's this for?
Any Samsung fan who's in need of a seamless transition from Android to Windows should seriously consider the Galaxy TabPro S. The beauty here lies in the sheer convenience of being able to power up a complete Windows 10 machine and attach a keyboard at will – just like an Android device. The official price begins at $899, so it's right up there with the big boys of mobile computing.
As long as you don't force the TabPro S to go beyond its specialities, like making it render graphics-intensive games or heavy photo/video editing, you have a GadgetMatch in your arsenal. You also need to keep the keyboard attachment on, because without it, you're better off buying a Galaxy Tab S2 Android tablet instead with its willingness to work solely on swipes and gestures.
With rumors circulating about a successor in the works, we can't help but feel hopeful about the future of the Galaxy TabPro S line. We're wishing for a stylus and more connectivity ports next time around.
[irp posts="6867" name="Samsung Galaxy TabPro S unboxing and hands-on"]
Snapdragon 865 Hands-on: Top 5 Features
5G for all, 200MP, 8K, and more.
As we lean towards the second decade of the millennium, Qualcomm is ready to ship out their next flagship chipset.
Snapdragon has been running most devices people use today. Snapdragon 865 (together with the midrange 765) are two of Qualcomm's chipset offerings for 2020. They offer more than incremental performance boosts.
Watch more to know the top 5 promising features of the new chipset.
24 hours in Mövenpick with the Honor 9X
I didn't want to leave
I know you must feel strange to be hearing back from me writing another travel article when last time I tried, I preemptively said that I was horrible at writing about my adventures. Well, you guys might have to deal with reading my silly little travel psychobabble again because I went to Cebu for a weekend and I brought the Honor 9X with me.
Feeling beachy
Okay, this is technically not fair since Cebu is like home to me at this point. I luckily grew up visiting Cebu a lot. My older siblings were born there, so that's not much of a surprise. On this trip though, my parents opted out of staying in a hotel in the middle of the bustling city. We decided to stay by the beach at Mövenpick. We have never been to Mövenpick before. So, it was going to be pretty interesting to explore the place.
The view was stunning. I didn't even know what to capture first. It was that gorgeous. When we arrived, the staff were lovely enough to let us roam the area despite not having checked in yet. Mövenpick is pretty. The moment you get dropped off at the lobby, the place instantly assaults your senses with everything beach. It smells, sounds, and feels like you're at the beach. 
That's obviously because a few steps farther, you're already at the beach. The place is well designed to have the ocean breeze flow from the bayfront to the resort lobby. It's open-spaced.
No such thing as fasting at breakfast
This is the only photo of food I managed to snag before inhaling it. I'm not going to apologize for being a little hangry considering I hadn't had a meal for hours and I stayed up all night. This is Mövenpick's poached egg breakfast. Was it good? Yes. I mean, look at it. How could it not be?
I think off the bat, that how the food tasted may have shifted a little considering I was zoning out because of the view. It's really pretty and honestly, it testing my writing skills (if I have any) to try and find more synonyms to great, pretty, and lovely. 
Dinner at the Ibiza
No, I didn't take a pill in Ibiza. And yes I know, nobody asked. Mövenpick has this by-the-bay restaurant and bar called the Ibiza. They have live music and good food so if you've booked a room, this is the place to be at night. There's food, an amazing view, and live music. Is there anything more I could have asked for? No. It was perfect.
The Ibiza is open in the morning too. If you want to have your breakfast there, you can soak in the early morning ocean breeze while eating.
Here come excuses
Alright, I didn't take many photos while in Cebu, at least, not as many as I would like to. I wanted to savor every stunning moment there. I haven't been back in ages and I've barely spent time at the beach. Not to mention, I rarely get to see my little nephew. 
I guess as much as this article is about bringing the Honor 9X with me to show off how the phone is capable of capturing every lovely moment of your travels, it's good to sometimes be in the moment. It isn't on the Honor 9X for uncaptured moments. It's totally on me for leaving it in my bag. Having said that, I think it was good to have eased off bringing the phone along every single second of the trip. I'm more than happy to have lived those quiet undocumented moments.
I'm not saying you should drop taking pictures altogether. It's nice to have documented moments of a trip especially when it's somewhere stunning. It's nice to have something to look back on and to remind us of good times. I suppose it's just nice to sometimes wean off of being so obsessive with what you can capture and instead, be in the moment.
All photos are taken with the Honor 9X

Realme X2 Pro Master Edition hands-on: Tough looks, solid performance
It's made of a soft-frosted glass but feels like cement
The Realme X2 Pro has gotten fans really excited. Touted as the new flagship killer, it has quad cameras, Snapdragon 855+, and other flagship-level features at an affordable price tag.
While the regular Realme X2 Pro is already pretty awesome, what we got here is even more intense. We have the Reame X2 Pro Master Edition to check out, the Concrete edition to be exact.
Tough looks
The Master Edition of the Realme X2 Pro also comes in a Red Brick design. I'm not too big a fan of that look, so I got the Concrete version instead.
The Realme X2 Pro Master Edition is designed by famous Japanese designer Naoto Fukasawa. It comes with a signature of the designer on the back panel.
The texture is pretty similar to the Sandstone feel of the older OnePlus devices — just less rough and more matte.
Realme says this is a soft-frosted glass although it's hard to tell to be honest. The finish looks and feels like concrete cement even if it's soft-to-touch.
Solid performance
Apart from the differences in design, it's pretty much the same exact Realme X2 Pro inside. It packs 12GB of RAM and 256GB of internal storage.
The Realme X2 Pro has a 6.5-inch Full HD+ AMOLED display with a waterdrop notch, and a high 90Hz refresh rate. It boasts a 91.7 percent screen-to-body ratio and an in-display fingerprint scanner that works really fast.
Making it an even better media device is a pair of stereo speakers with Dolby Atmos, and a 3.5mm headphone jack.
There's also a vapor chamber liquid cooling, a superconducting carbon fiber multi-layer scheme, multi-layer graphite sheet and other heat-dissipating materials so the phone can definitely game without heating issues.
This is all backed up by a massive 4000 mAh battery with 50W SuperVOOC Flash Charging technology. It can fully charge the phone from zero, in just about 35 minutes.
This super fast charging is definitely something anyone would appreciate. Imagine waking up in the morning and charging your phone while you're in the shower. It'll be ready and full just before you head out.
Capable cameras
The Realme X2 Pro has a quad-camera setup, with the Samsung GW1 64-MP sensor with a fast f/1.8 aperture as the main camera. There's also a 13MP telephoto lens with support for up to 20x hybrid zoom, an 8MP ultra-wide with a 115-degree field-of-view, as well as a 2-megapixel depth sensor to help with portrait shots. Up front is a 16MP selfie camera.
In China the Realme X2 Pro is priced at CNY 3299 (US$ 469). In India, it will be going on sale around Christmas time for INR 34,999 (US$ 490).
What do you think about this version? Should phone companies make more special edition phones in a similar design? Let us know what you think in the comments below.