5 must-have Nintendo Switch games that aren't Zelda
When the Nintendo Switch launched, one game dominated all conversation: The Legend of Zelda: Breath of the Wild. The highly anticipated flagship title captured hearts everywhere with its "open-air" freedom and ability to approach situations from any angle imaginable. Gamers were transported back to their school days of sharing secrets and trading stories on the playground — "You did what to kill what?" and "I didn't know you could use that to do that!"
But that was well over a month ago, and if you got the Breath of the Wild then, your time in Zelda's fantasy world of Hyrule is probably winding down. Or maybe you'd like to put off beating Ganon and see what else the Switch has to offer. Luckily, the system has plenty of games to complement one of the greatest ever made.
Snipperclips
We included Snipperclips in our list of the best games of 2017 so far, and for good reason. The Switch exclusive is the other killer app of the launch lineup, and is able to provoke shouts of annoyance and delight in equal measure. You play as two pieces of paper that can cut each other into any shape to solve different puzzle types. The closest game to Snipperclips is Crayon Physics or Scribblenauts in the amount of leeway in solutions that it affords the players.
Snipperclips is ideal for two, and is the showcase for the Switch's built-in multiplayer — even Snip and Clip, the player characters, evoke the shape of the Joy-Con controllers themselves. Because the game comprises a series of brainteasers, casual and even non-gamers can join the fun. Early on, the solutions to the puzzles were fairly one-note, although this could be indicative of our lack of creativity. Our solutions usually involved variations of turning each other into bowls or combining ourselves into one big bowl (see the screenshot above). But eventually, the game opens up with variety; you and your partner must use your lateral thinking abilities to the utmost. If you always have a ready Player 2, Snipperclips is essential for your Nintendo Switch library.
Fast RMX
Consoles have typically launched with a racing game that pushes the hardware; Fast RMX — a futuristic arcade racer like F-Zero or Wipeout — fits the bill for the Switch. Digital Foundry has called the Switch exclusive "perhaps the most beautiful portable game ever," and it's easy to see why. Fast RMX has twelve racing machines blitzing along at hundreds of kilometers per hour on tracks with tornadoes and thunderstorms. The visuals work in concert with the sound design and HD rumble (you can feel those tornadoes vibrating in a circle in your hands) for a multisensory spectacle.
The game is a technical marvel. In handheld mode, Fast RMX runs at the Switch's native resolution (720p) at 60 frames per second. When docked, the game runs at a dynamic resolution (but mostly 1080p), still at 60 frames per second. Even more impressively, these specs are maintained when played in splitscreen two-player and even four-player modes, which is just sheer technological wizardry. If you're going to buy one game from this list, get Fast RMX. Its full-fledged single- and (online!) multiplayer modes, with time attack in a future patch, provide almost infinite replay value. Not bad for something developed by five people.
Graceful Explosion Machine
Shoot-em-ups are perfect games to be entranced by, and Graceful Explosion Machine is a beautiful and engaging exemplar of the genre. A timed exclusive for Switch, the game is a side-scrolling shooter where you pilot a spaceship through four planets to get home — these aren't games that you play for the story, but for the mechanics. And Graceful Explosion Machine delivers the mechanics in spades. It kits you out with all the gear at the start: a basic gun, a melee energy sword, screen-clearing homing missiles, and a long-distance Kamehameha-like blast. Then, the game leaves you to figure out how to chain together explosions with grace and efficiency.
The result is a score attack game as good as Geometry Wars and Resogun. The frantic, in-the-zone chase after the combo multiplier, as well the drive to be stylish in weapon use, is reminiscent of Bayonetta or any of Platinum's masterpieces. It helps that Graceful Explosion Machine's art direction is clean and easy to parse no matter how hectic the chaos becomes; HD rumble also provides a unique feel for each weapon. A ranking system (that peaks at S+ for a perfect run — no hits and an unbroken multiplier) plus global leaderboards round out the package. Earning an S+ and seeing that you're only 27th in the world keeps you coming back for more.
Snake Pass
Snake Pass is a mascot platformer with a mascot who can't jump. A 3D collectathon to rival Yooka-Laylee, Snake Pass puts all of its challenge in what is usually the most intuitive part of platformers: moving the player character. Every minute detail of controlling Noodle the snake's movement is in your control, from the orientation of his head to whether he's gripping a surface. It's a puzzle platformer where your body is the puzzle — Banjo Kazooie and Captain Toad meet QWOP and Octodad.
The Dark Souls of snake-based games, Snake Pass is equal to From Software's skill-based series in providing both frustration and relaxation. But once you get past this high initial learning curve — it's a bit like driving a weird, heavy, ropey car — the game becomes more deliberate, and is a matter of planning where you want to slither next. Noodle's ridiculous contortions are greatly enhanced by the game's production values, which show the effectiveness of Unreal Engine 4 in rendering cartoon visuals (and the ease with which the Switch supports an off-the-shelf engine). A soundtrack by David Wise of Rare fame transports you to the Nintendo 64 era, when you played these games for the sheer fun that they entailed.
Lego City Undercover
The only non-indie on this list, Lego City Undercover is the best the Lego series has to offer. While other Lego games practically required you to be familiar with the fandoms they spoofed, Lego City Undercover shines on its own merits with an original story that stars supercop Chase McCain as he infiltrates the criminal underworld of the titular Lego City. The game is a Grand Theft Auto that, as trite as the phrase may be, truly is fun for the whole family. Its pop culture references range from Columbo to The Shawshank Redemption to, of course, The Matrix. Dad jokes abound.
Originally a Wii U exclusive, Lego City Undercover returns on the Switch with a bevy of improvements that include a 1080p presentation when docked, vastly improved lighting, and — perhaps most important of all for a Lego game — local co-op. You will need an extra pair of Joy-Con or a Pro Controller to get in on the two-player action, though. The open world of Lego City is nowhere near the breadth of that of Breath of the Wild, but sometimes it's just comforting to play a game that tells you what to do. Best of all, the Switch's portability makes Lego City Undercover the most complete handheld Lego game to date, and allows you to snap up the game's hundreds and hundreds of collectibles wherever you are.
SEE ALSO: Demon's Souls to Dark Souls III: Ranking the Series
[irp posts="12150″ name="Demon's Souls to Dark Souls III: Ranking the Series"]
This 34" LG UltraWide monitor disrupted my workflow
In the best way possible
I've been working on a laptop almost exclusively for the better part of the last decade. It's been so long that I had forgotten the benefits of working with a bigger screen — a benefit that was shoved into my face when I used the LG UltraWide 34" Curved monitor. 
Easy setup 
Putting it together was relatively easy. I didn't need any special tools or anything of the sort. Everything just fit into place seamlessly.
Here are all the ports on its back. That's two (2) HDMI ports, one (1) Display port, two (2) USB downstream ports, one (1) USB upstream port, and one (1) headphone out port.
It also comes with a cable organizer that you kind of clamp to the stand so your setup can look clean.
Once everything is plugged, you only need to use this button at the bottom center of the display to make any changes in the settings or switch between inputs should that be necessary.
My regular workflow
At any given day I can be doing anything from writing an article, a script, coordinating with the team and external partners, copy-editing articles, and video editing among others.
This means I toggle between screens A LOT. Other than that, my posture while working is mostly crouched down since I'm looking at the laptop screen.
However, that all changed when the fire nation attacked. No, I mean, it was definitely shaken up when I started using the LG UltraWide 34" Curved Monitor.
I didn't really have a proper setup with it owing to the tiny space I live in but in the brief week that I used it, I started craving a better work from home setup.
How the LG UltraWide monitor disrupted my workflow
The first thing I noticed was how I was now looking up instead of looking down. It might not be that big a deal for younger people, but when you reach a certain age, even the smallest improvements to your posture can make a huge difference.
The extra space is invaluable. At one glance I can look at Slack and Tweetdeck. This means I can quickly look up if there's anything new that needs to be edited while also monitoring any potential news that we should run on the website.
Bonus: I can also have a floating tab with a playlist of my favorite girls TWICE cheering me up as I slog through another work day.
This works in other instances too. I can pull up a press release for reference on one side of the screen and have Google Docs on another. This means I no longer have to quickly press Alt+Tab every time I need to double check details.
Just the overall convenience of seeing more at a glance is already a major upgrade to the workflow I've grown accustomed to.
Video editing
I no longer video edit as much as I used to due to changing roles and all. But here, the benefit of having a larger, wider monitor is even more pronounced.
Having a wide workspace means I didn't have to hide certain tools while editing. They're just there, easily and immediately accessible when I need them. It was honestly tough going back to the smaller screen especially for this task.
Taking less steps to complete your everyday tasks is a godsend. Every small thing adds up to a faster, smoother, and generally better working experience.
Should you upgrade to the LG Ultrawide 34" Monitor?
There are plenty of things to consider. For people like myself who have mostly worked on laptops, we're pretty set in our ways. Plus there are a few other peripherals I might need to get so it's not an easy yes or no decision.
You also need to consider your workspace. As I mentioned, I live in a rather tiny place with very little space to accommodate a fully desktop setup.
But this is me. If you're still working on a more traditional 16×9 monitor, I guarantee the difference, while jarring at first, can be truly beneficial in the long run.
The LG Ultrawide 34" Curved Monitor retails for PhP 45,999 (around US$ 937). If you're ready to splurge to up your productivity, this isn't a bad place to start.
SEE ALSO: LG UltraGear 25" Gaming Monitor review: Enough to get you started
The cost of the post-pandemic movie
Why you should care about Mulan's terrible premiere
The fate of the Hollywood blockbuster rests on a fingertip. A formerly grandiose affair with celebrities dressing up to the nines, the red-carpet premiere is now an impossibility thanks to the ongoing COVID-19 crisis. On the other side, streaming services blossomed with new titles and exclusives. It was (and is) a great era for the home theater. But the home theater will not last forever. Hollywood is now facing a crisis for the future of the premiere.
If the past year is any indication, Hollywood will, of course, not go down without a fight. Large networks and production houses have released their own streaming platforms to monopolize their content, putting additional weight on a consumer's budget. Take Disney's Disney+ or NBC's Peacock, for instance. Now, a few of these (like Disney and Netflix) make their own blockbuster content as well. We've seen Netflix's streaming-only premieres already. How about Disney's (or anyone else's) Hollywood premieres, which often rely on astounding box office numbers?
This week, we got a taste of such a strange premiere scheme. In an earnings call, Disney CEO Bob Chapek detailed the future of a delayed movie, Mulan. Initially premiering in theaters back in March, Mulan was repeatedly delayed because of the continued shutdown of movie theaters. Now, as the company is itching to finally launch it, Chapek announced a hybrid release for the film. Partly premiering in theater in safe countries, the film will also launch simultaneously on Disney+ for unsafe markets.
Now, here's the catch: the film will cost US$ 29.99 for Disney+ users. Even if you have a subscription already, you have to fork over approximately PhP 1,474 to watch the new film. Of course, the hair trigger response is, "c'mon, Disney; stop haggling money from your customers." And the response is right. However, there is so much more to this. Mulan can set the stage for an unprecedented era for Hollywood premieres.
Let's get down to business
In New York, an average movie ticket costs around US$ 15 (approximately PhP 736). Mulan's price tag is twice as much as a theater ticket. It's even weightier in cheaper states and, most especially, in the Philippines (where movie tickets are only around US$ 5). Further, you'll still need an active Disney+ account to access the film, costing an additional US$ 6.99.
(Naturally, it's impossible to accurately translate the prices to an Asian market since Disney+ has not launched in all of Southeast Asia yet. We can only assume that Mulan's streaming price is 200 percent of normal ticket prices, whatever it might be.)
Objectively, Mulan's price is worse than a regular movie ticket. It's easy to conclude the argument with this statement and head home. However, there is a way to justify the price.
The whole family plus your cow
Now, a single movie ticket typically admits one person. Buying Mulan pays for the streaming privilege which can typically include an entire family. With a 15-dollar average, two people watching the same Mulan purchase is already a break-even point. In the same vein, a family of four obtains double the value of the 30-dollar film price. Even better, a family can watch the film over and over again. And, as any parent who has a Frozen-loving child can tell you, unlimited playbacks is a blessing for your wallet (albeit a curse on your sanity).
Unfortunately, despite the mathematical mind-bending, Mulan's price is still far from ideal. The movie-going experience is not the same on a streaming platform as in a cinema.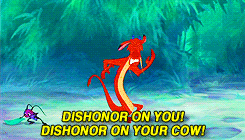 An assumption of equality
A cinema ticket is price of equality. Besides a few slight differences, everyone is paying for the same product. All other things considered equal, a 20-year old college student is paying and enjoying the same experience as a 50-year old CEO. Same film, same seat cushions, same facilities, same projector.
On the other hand, a streaming subscription cannot assume the same thing. A platform cannot control where and with what device a user will watch the movie from. A 20-year old college student watching the film on a laptop screen in a poorly lit dorm room is not enjoying the same experience as a 50-year old CEO watching the same thing in their high-end home theater with Dolby Atmos.
Likewise, the platform cannot assume how many people will watch the film in one purchase. Now, Mulan is a family film. Disney can easily assume that multi-person families will buy and watch the film. However, how will the audiences take the same price tag for a more polarized movie like Christopher Nolan's Tenet or the next James Bond film?
All of Hollywood knows you're here
In the same announcement, Chapek hints that Mulan's price is just a "one-off." Basically, other films might not follow the same pricing scheme. In a way, it makes sense. Mulan was made with a pre-coronavirus budget. It was expected to make millions from box office tickets. This might be the only way for Mulan to recoup its many losses. In the future, Disney might make films with lesser budgets and lesser expectations.
However, make no mistake; other filmmakers are intently watching Mulan's performance on streaming. If Mulan succeeds, they can likely charge the same amount without incurring a lot of losses. That said, streaming premiere prices will likely vary from film to film. Even then, this isn't the last discussion on the future of the film industry.
If the industry hopes to adapt to the new normal, it needs to rethink its strategy even further. Disney is offering only one solution for the problem of streaming. Unfortunately, the brand's solution leverages a family-oriented release, one that might not appeal to the average moviegoer today.
A price worth fighting for
My suggestion: Implement a tiered premiere price. Not everyone will want to pay the full 30 dollars for a film they're not wholly interested in. Most will watch it once and forget about it. Some won't even care about watching it in HD.
Why not implement a pricing scheme based on those different preferences? For example, charge US$ 5 for a standard-definition, one-time playback premiere; US$ 10 for an HD, one-time playback premiere; US$ 20 for a standard-definition, unlimited playback premiere; and US$ 30 for an HD, unlimited playback premiere. In one swoop, a film can appeal to all streaming markets and needs.
Samsung Galaxy Note 20 Ultra Unboxing, Hands-on & Camera Test!
Elegance and sophistication in an ULTRA-big device
Just recently, we had a quick video introduction of Samsung's latest Galaxy Note 20 series. Now, we finally have a Galaxy Note 20 Ultra on our hands!
Be sure to subscribe and hit that notification button to stay notified on our upcoming review video on August 18th.
For now, you can enjoy our unboxing, hands-on, and a quick camera test using the Galaxy Note 20 Ultra by clicking here.