Best Budget Smartphones below $300 (May 2017 Edition)
Welcome to GadgetMatch's list of the best smartphones priced below $300! Each month, we update our selection with the budget-friendly phones we believe are most deserving of your hard-earned savings.
Even though the spotlight has been on high-end smartphones since Mobile World Congress 2017 (MWC), there have been a few surprisingly good entry-level handsets coming out lately, as well. So good, in fact, that we had to knock out some of our favorites in our February list.
Here they are in no particular order:
Honor 6X / Huawei GR5 2017 / Huawei Mate 9 Lite ($250)
No matter what name it goes by in your region, Huawei's borderline-midrange smartphone ticks all the right boxes in our ever-evolving criteria for what makes a handset great. We fell in love with its premium build and fun dual-camera mode, which are two features previously unheard of at this price point.
REVIEW: Honor 6X (aka Huawei GR5 2017 or Huawei Mate 9 Lite)

OPPO F1s (Updated Variant – $280)
While the F3 hasn't rolled out yet and we've yet to review it, the updated F1s with 4GB of memory (up from 3GB) and 64GB of expandable storage (up from 32GB) is our top pick from OPPO. This selfie-centric midranger offers a sleek metal design, one of the fastest fingerprint sensors in the market, and a user interface anyone — even iPhone users — can appreciate.
ASUS ZenFone 3 Max 5.5 ($200)
ASUS has been releasing ZenFone 3 variants like there's no tomorrow, but the one offering the most value for the price is the 5.5-inch ZenFone 3 Max. It's the larger version of the original ZenFone 3 Max, and borrows the faster camera of the ZenFone 3 Laser.
REVIEW: ASUS ZenFone 3 Max 5.5

Xiaomi Redmi 4 Prime ($170)
Xiaomi's best-ever entry-level smartphone first came to mind when forming this list. The Redmi 4 Prime has everything: a responsive fingerprint scanner, sturdy metal body, a battery that lasts days, and surprisingly good camera, making it so complete for such a low price.

Vivo Y53 ($140)
When you talk about great value, you must include Vivo's Y53. Despite having no fingerprint scanner, its processor and build quality are among the things you used to find on phones twice the price of this handset — truly a serious consideration when you can't spend more than $140.
Mobile World Congress will be different in 2018
Setting the stage for the biggest smartphone show on earth! And how Samsung's upcoming S9 will disrupt the whole show.
This year's Mobile World Congress is shaping up to be quite different. And I have a feeling it's in large part because of the Samsung Galaxy S9 launch, happening just one day before the show's actual start.
Last year, the Korean tech giant chose a later time and place for its flagship launch, giving other brands the chance to share the MWC spotlight.
MWC 2017 was a particularly exciting show to cover; Huawei launched the P10, LG the G6, Sony the Xperia XZ Premium, and Nokia an entire lineup of handsets.
Last year, I remember being quietly thankful for Samsung's almost absence from MWC (they unveiled tablets instead. The show then became a place where other brands could all take part in the conversation, and smaller brands were allowed a chance to be part of the narrative.
Perhaps strategically then, and completely within its own rights, Samsung is choosing to exert its dominance at MWC 2018, using it as the platform to launch its most anticipated flagship sequel.
With the Galaxy S9 expected to dominate the headlines, Samsung's closest rivals will have to go big or go home.
We hope to be pleasantly surprised by HMD Global, whose nostalgia-fueled Nokia 3310 reboot was the unprecedented star of last year's show.
Their launch event is also set for the 25th, the same day as Samsung's. Expected are at least two phones: the Nokia 1 meant for developing markets, and a new midranger the Nokia 7+. Although the actual news-maker — if patent filings are to be believed, the Nokia 10 with five rear cameras — is being saved for a later date. But wouldn't it be great if we saw another retro phone make a comeback?
Also on the 25th, Sony is expected to unveil its new flagship, the Xperia XZ2, but that's all we know so far. It's almost uncharacteristic of the smartphone industry to go without any leaks. We've got our fingers crossed that the surprises will be great.
Then on the 27th, ASUS will launch the ZenFone 5. A newcomer to MWC, reps from ASUS tell GadgetMatch their presence at the event will elevate the company's stature in the smartphone space. The original ZenFone 5 from 2014 disrupted the smartphone industry, and their #BackTo5 campaign hints at a similar thrust.
Others have prudently decided to take a back seat and create moments of their own at a later date.
Unlike previous years, LG and Huawei will not be launching their 2018 flagships in Barcelona. Both brands will be at MWC with smaller announcements instead.
LG will instead be showing off its new Artificial Intelligence features called Vision AI that will power its upcoming flagships. As well as its midrange K8 and K10 smartphones.
By not going with its usual launch schedule, LG will have the time to further refine the upcoming G7 (name not yet confirmed), secure the right parts, and prep to hit retail stores closer to the phone's launch date. Factors that could have done last year's phone some good. If last year's V30 was any indication, and with LG's new ThinQ AI announcements at CES coming into play, the G7 has the potential to be a runaway success.
Huawei's is also pushing back its P11 (or P20) launch event to March. I have high hopes for Huawei, whose forward-thinking AI approach to smartphone computing set them apart last year. A later launch date for their next flagship launch will allow them to chart their own path and stand out as the smartphone leader they are quickly becoming.
At MWC, Huawei will be launching a line of new tablets. But we really look forward to sitting down with CEO Richard Yu to speak about the current roadblocks that stand in the way of their entry into the North American market.
Whatever the case, if this is how the cards fall, then 2018 looks to be a great year for smartphone enthusiasts, and for us journalists who cover them live. It all happens in Spain at MWC 2018. We hope you've got your seat belts fastened, because its going to be a thrilling ride.   
OnePlus 5T vs OPPO R11s: Camera Shootout
Which phone has the better cameras?
We are here, yet again. Months after the release of the OnePlus 5T and OPPO R11s, we are left scratching our heads at how much these two phones from supposedly different companies look so alike.
Of course, this isn't the first time, this happened. These two phones' predecessors, the OnePlus 5 and OPPO R11, also looked confusingly similar.
And so, I had to ask: Despite looking like absolute twinsies, how do the phones' cameras perform against each other?
Quick specs
Both phones are equipped with dual-rear cameras: A 16- and 20-megapixel combo. Both phones have ditched using their secondary cameras for optical zoom capabilities and instead champion having two shooters with f/1.7 apertures — to shoot better in low-light situations, they claim.
It's on the front-facing cameras where these two phones differ. The OnePlus 5T sports a 16-megapixel camera with an aperture of f/2.0 while the OPPO R11s is fitted with a 20-megapixel camera with the same f/2.0 aperture.
Now, on to the shootout!
Rear cameras
At first glance, there doesn't seem to be a big difference between the two phones in terms of rear camera performance. In great lighting conditions, the OnePlus 5T and the OPPO R11s deliver great color and detailed photos.
As I used the two phones more, however, I noticed a slight difference with the photos they produce.
In very bright or extreme lighting conditions, the OnePlus 5T's photos had higher contrast while the R11s' photos were usually brighter in terms of exposure.
With HDR on, the OnePlus 5T did slightly better. This handset was better at balancing the bright sky background and the shadowy flower foreground. The flowers on the R11s sample were visibly darker and less detailed.
Colors come out almost the same — bright and punchy, but not too saturated as other smartphone cameras have been known to do. But, notice that the R11s' shot is a tad warmer than the 5T's photo.
This warmth on the R11s photos is more apparent in the photo above. Again, OPPO's photos are more exposed, though in this case, that led to a lack of detail on this particular photo.
That R11s brightness works for some instances, however. In the pictures above, the brightness on the OPPO R11s photo worked as it made for a more vivid photo of the flowers.
In low-light settings, both devices do good, though we've seen other handsets perform better. Colors are brighter and more solid on the OnePlus 5T; its contrast settings work better for scenarios like this.
Portrait mode
The OnePlus 5T and the OPPO R11s both have portrait modes on their rear cameras. For the unfamiliar, this shooting mode just allows for a bokeh effect and slight face-filtering that ensures optimum photos.
On this mode, both devices did well. Bokeh cutouts looked good and natural. As expected and as observed from the other photos, the R11s had a higher exposure which meant less shadows on the face. There was also more airbrushing on the R11s photo with Joshua's (the photo subject) freckles almost disappearing completely.
There's also an extra setting on the R11s' rear camera portrait mode that allows for a tighter portrait shot — I call this the "bust" or "full body" button. Toggling this will either crop into the photo like above, or give you a wider shot like the photo before that.
The same observations are applicable to this next portrait photo. Notice how smooth my skin is on the R11s picture — even golden hour's great lighting wouldn't have been able to get my skin to look that great!
Front-facing cameras
Now on to selfies!
This first selfie batch was taken with the beauty mode turned off.
Look closer and you'll notice subtle differences. The R11s' photo exposure make it seem like my face is brighter, and even without beauty mode, there seems to be subtle airbrushing done on my face. On both photos, you see the detail on my skin, though I'd say that the OnePlus 5T photo is more true to life — not that I'm happy about that fact.
It should be noted, though, that there is no bokeh mode available on the OnePlus 5T's front-facing cameras. Alas, you have to deal with crappy backgrounds when you're on this phone as you can't blur them out.
It's really on the beauty mode that these two phones differ. The OnePlus 5T does have a beauty mode contolled by a bar that you can toggle for intensity. The OPPO R11s, on the other hand, has beauty mode settings with choices from intensities one to six, and artificial intelligence-powered beauty mode when set to "Auto."
The OnePlus 5T's beauty mode is noticeably mild compared to the R11s'. Even on the highest setting, OnePlus' filters weren't as strong as some of OPPO's. Although OPPO's filters run the risk of too much smoothing and plastic-y skin, the improved AI-beauty mode has me impressed with natural-looking selfie results.
Even in group selfies, the same results carry over. Again, there is no bokeh or portrait mode on the OnePlus 5T's selfie camera, which is a shame especially for group photos like above.
Verdict
While these two devices look confusingly similar, they are designed for two different markets. Aside from camera treatment, there are notable differences between two phones in terms of user experience (OnePlus uses OxygenOS which is near stock Android, while OPPO is on ColorOS which mimic's Apple's iOS) and specs (the OnePlus 5T uses a high-end Snapdragon 835 while the OPPO R11s uses a midrange Snapdragon 660 processor).
The OnePlus 5T, slapped with a flagship processor, is aimed at power users who look at utility and value for money as primary priorities. Even this phone's lack of portrait or bokeh mode on the front-facing camera, if it's any indication, shows how selfies just aren't a priority on this device.
The OPPO R11s, on the other hand, sticks to the brand's selfie roots. It caters to an audience that puts importance on selfies and beauty modes, even going as far as installing artificial intelligence on said beauty mode.

To be completely honest, there isn't much of a difference in terms of picture quality between these two handsets. It all boils down to preference. Unless you're very particular about your beauty modes, either phone would work for you.
In this particular case, the cameras aren't a tie-breaker.
SEE ALSO: OnePlus 5 vs OPPO R11 shootout: Which has better cameras?
24 Hours in Phnom Penh with the Vivo V7
A hope-filled city with a horrifying history
Phnom Penh is such an underrated city. If you ask any tourist which Southeast Asian destination he or she would love to visit, the Cambodian capital will probably not even be on the list.
The more popular Siem Reap with its glorious Angkor Wat complex is usually what comes to mind first when talking about Cambodia.
But there's something so special about Phnom Penh. Perhaps the fact that there are fewer tourists here, despite the history and similarities it shares with its French Indochina neighbors is what makes me root for it more.
Feel Good breakfast
Mornings are made for great breakfast food and coffee. Cold brew is still not as common in Southeast Asia as I'd like, but most cafes in Phnom Penh like Feel Good Coffee make their cup of joe the way they also do in Vietnam: with a metal drip and a splash of sweetened condensed milk.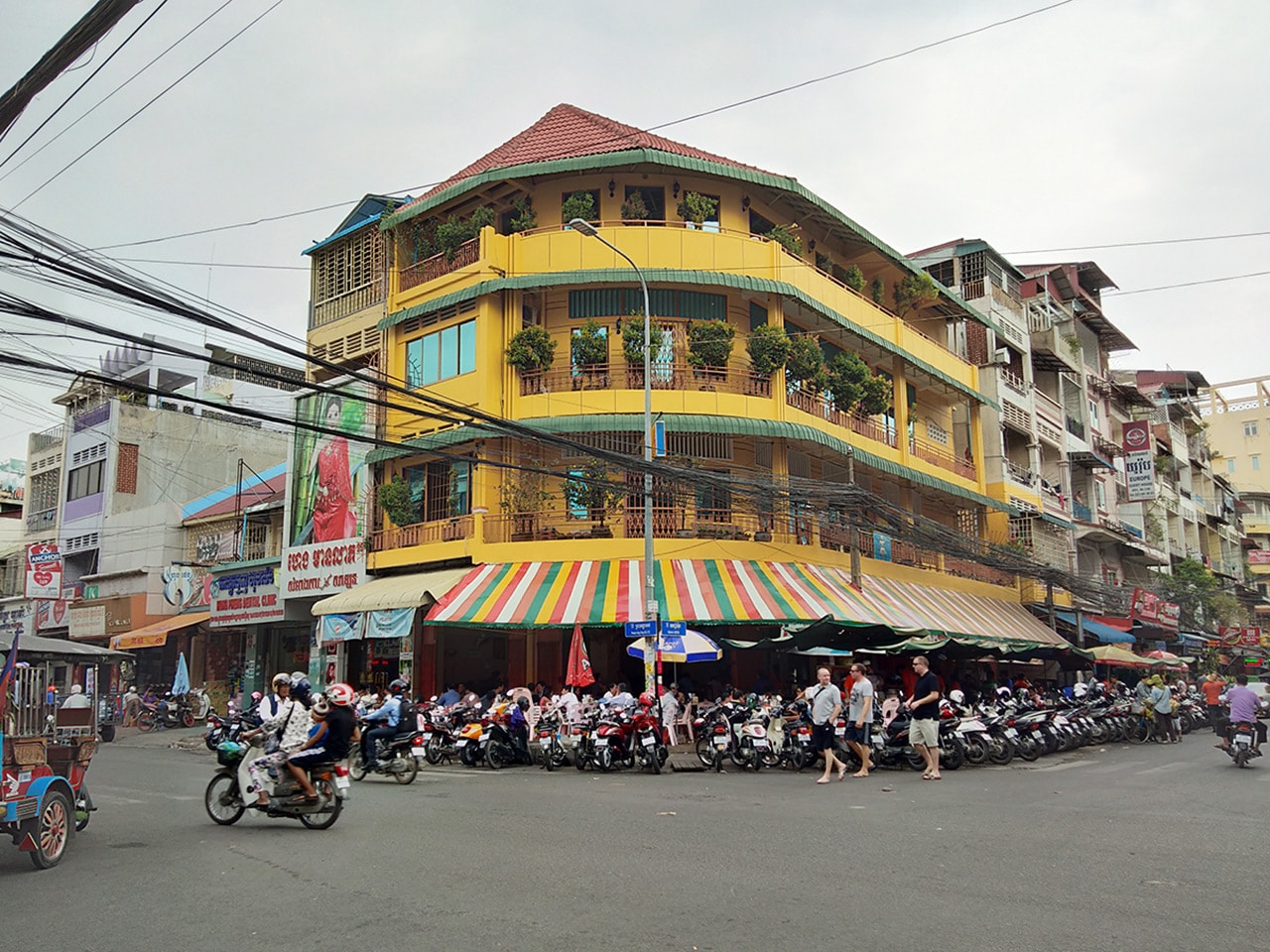 Walking around the neighborhood gives you a quick feel of what modern-day Phnom Penh is like. It's reminiscent of the bustling cities Hanoi and Ho Chi Minh and even Bangkok — lining every street are parked scooters and vendors selling iced beverages including my favorite Thai iced tea!
Choeung Ek killing fields
40 minutes from the city proper is the Choeung Ek memorial, a must if you're visiting Phnom Penh. Tip: Hire a rickshaw or tuktuk to take you there and then back, although the newer rickshaws are cheaper, a lot more comfortable, and feel safer than the latter.
There are no words to describe how disturbing Cambodia's history is — a very recent one at that. No more than 40 years ago, a quarter of the Khmer population — mostly people from Phnom Penh — were murdered by its own government for the promise of a utopian future.
Today, Cambodia tells the gruesome stories of the Khmer Rouge victims and survivors — some of them younger than my own parents — through memorials like the Choeung Ek Genocidal Center.
They are built to remind the new generation to not make the same mistakes and to embrace the freedom that they enjoy today.
Uy Kuyteav
Phnom Penh is home to a lot of good restaurants that serve local cuisine at a reasonable price.
While Khmer food staples lok lak and fish amok are easy to find, the noodle dish uy kuy teav isn't exactly as popular. It's not rare to see Vietnamese and Thai food in the menu as well.
Wat Phnom
If you must visit one temple in the city, it's got to be the tallest one. Inside the Wat Phnom complex is also a huge park where you can relax and reflect.
Shopping at Central Market
Cambodia isn't exactly known for the unique shopping finds unlike Thailand's Chatuchak Market, but a lot of your favorite clothing brands have products made in Phnom Penh. So you'll find good deals on quality overruns from Levi's, H&M, and Nike in the different markets around the city.
Central Market, also referred to as Psar Thmei, is the biggest one, with stalls selling not just clothes, but also jewelry, kitchen tools, and of course, food!
The market is one of the few landmarks that will remind you of Cambodia's colonial history. It was one of, if not the biggest market in Asia when it was built in 1937 during the French colonial period.
Tuol Sleng Genocide Museum
If you still have time, visit the Tuol Sleng Genocide Museum before sunset for more insight on the Khmer Rouge brutality.
The Tuol Svay Prey High School was converted into the largest detention center from 1975 to 1979 when Pol Pot's army took over Phnom Penh and the rest of Cambodia; former classrooms became interrogation rooms, torture chambers, and prison cells.
Phnom Penh Riverside
Phnom Penh sits at the intersection of Tonle Sap and Mekong Rivers. You can enjoy the view from the Riverside Park with a refreshing cup of iced Ceylon tea.
Across the park are restaurants and bars. Some of them have rooftops for a better view of the river.
Romantic dinner at Romdeng
End the day at Romdeng, a restaurant run by an NGO that trains locals in hospitality management and supports the marginalized.
Their version of Cambodia's national dish fish amok is especially tasty!
Cambodia is on a long road to recovery from the horrors of its past, but its capital and people do not forget; they remember. And despite everything they have been through, they remain steadfast — filled with so much hope and kindness — and we could all learn a thing or two from them.
---
24 Hours is a series on GadgetMatch.com where we showcase our travels through a smartphone camera's perspective. It's also a documented guide on things to see and do in a city in case you happen to plan a trip there.