Windows 10, the latest version of Microsoft's Windows operating system (OS) is available starting July 29, 2015. The update brings with an improved user interface, virtual assistant Cortana, and a new web browser called Edge. The new OS is available as a free upgrade for Windows 7, 8, and 8.1 users and is available as a 3GB download. In this video we'll show you how to get it.
How to use your smartphone's camera as a laptop webcam
It's time to level up your webcam game!
We've all been there, especially with most of us working remotely at home. You prepared and even dressed well for a Zoom meeting, only to be disappointed by the grainy image when it's your turn to present. Your laptop's webcam could be the one to blame — but fret not, there are remedies for that.
Most webcams built into laptops have grainy images because they are of low-resolution types. Going into settings, you'll realize that most laptop webcams have resolutions of 2MP or less built-in, which is a magnitude worse than your average smartphone selfie camera. There's only so much that you can do to improve the grainy situation due to the hardware limitation.
Sure, you can buy a dedicated webcam. However, quality dedicated webcams can be costly. Not to mention, they can be hard to find considering the pandemic. Luckily, you don't have to spend in order to up your webcam game — you can use your smartphone as a webcam instead! For this, you'll need your smartphone (of course), an app, and a lot of patience.
There are three note-worthy app options for turning your smartphone into a portable webcam. Here are those:
XSplit VCam and Connect Webcam: free, but with caveats
One of the more reputable options out there is XSplit VCam and Connect Webcam. Both are free-to-download software from the reputable maker XSplit. You need to download and install both to get up and running: XSplit VCam is for the desktop, while XSplit Connect Webcam is for mobile. Both the desktop software and mobile app have a nice, no-frills interface which would really get you up and running in minutes.
An option to sign in to XSplit displays upon opening the desktop software, but you can skip this easily. The mobile app presents you with the view of your smartphone's camera instantly, and there's an indicator of whether you're connected with your PC.
To get started, you just need to connect your smartphone and your PC to the same Wi-Fi network and choose your smartphone from the list of cameras. That's it, basically.
The video quality is good for the most part. You will really notice the "upgrade" from your PC webcam if you're long used to it.  After all, the app streams your video in HD resolution.
However, take note that you may encounter occasional lags and hiccups from time to time. So if you want a more stable connection, make sure to connect your smartphone via USB.
Like they say, every good thing comes with a price. It's the same here on XSplit VCam: you have to cough up for a recurring fee of US$ 70/year to remove the watermark it puts on your video stream. The one-time, lifetime fee costs US$ 230. So, those who are averse to paying up should look elsewhere.
Finally, a major caveat: XSplit VCam is only available for Windows. Fortunately, a macOS version is now in beta. Both Android and iOS support the Connect Webcam app, so you've got no problem there.
DroidCam: light but packed with features
DroidCam is another great option to turn your smartphone into a portable webcam. Just like the XSplit VCam, you download the mobile and desktop apps for it to work. Unlike it, though, it is much lighter in file size and doesn't require any sign-ins. It's easy to get around the app's interface — there are only a few buttons to click for you to get going.
To get started, you must connect your phone to the same Wi-Fi network as your PC. Then, you have to enter your smartphone's IP address and also make sure that the DroidCam port address is one and the same as your smartphone. If all goes well, you'll see the video feed from your smartphone camera.
Take note, though, that the app doesn't let you switch cameras once you established a connection with your smartphone. To switch cameras, you have to disconnect first then choose the camera-like icon in the upper right corner of the mobile app.
For a more reliable video feed, you can opt for a USB connection. Here, the process is as simple as selecting your smartphone from a dropdown menu. Once you've set it up completely, you will now see your smartphone's video feed.
There's also a paid DroidCamX Pro for those who want more features. Pro features include the option for HD mode, which is a bummer since the default resolution maxes out at 480p, though that resolution is still perfectly fine for most.
Some video adjustments such as brightness adjustment and rotation are also pro features. Buying the pro version also removes the ads on mobile apps. Luckily, you only have to pay a one-time fee to access these pro features.
What's not so great is the lack of macOS support. The desktop app is only available for Windows and Linux. Meanwhile, the mobile app is available for both Android and iOS.
Works well for macOS and iPhone: Reincubate Camo
If you've noticed by now, those two apps don't offer an app for macOS. This is where Reincubate Camo comes in the picture. Reincubate Camo has a macOS client and a good one too. It offers an extensive set of features for controlling the appearance of your video feed. Plus, it works well on major videoconferencing apps.
That said, this app is should be your go-to if you're invested in the Apple ecosystem. The app has tons of settings to control your video feed and tweak everything that comes from an iPhone. The mobile app is only available for iOS — iPads included.
Windows users, fortunately, can take advantage of the desktop app. Overall, Reincubate Camo should be the perfect solution for a portable webcam especially if you have an iPhone (or an iPad).
By default, the app settles for 720p HD resolution. However, you can also pay a bit more to unlock 1080p video feeds, which should help with making you look sharper and detailed on video calls. Paying for the pro version of the app also removes the watermark, and gives you extra controls too.
Download Reincubate Camo here.
Other alternatives: using a spare camera, or using the mobile app
Have a spare camera lying around? You can use your camera as a portable webcam, depending on your camera's manufacturer. Canon and Sony both offer a solution so users can utilize their DSLRs and mirrorless cameras as portable webcams. All you have to do is to download their own software into your PC and follow the given instructions.
If you have a camera that is supported, it might be much better to actually use it as a portable webcam than your smartphone. After all, the quality of most dedicated cameras is still better than smartphones. Some cameras even support up to 4K streaming, which is a big boost for Zoom call quality.
One of the best and easiest ways to upgrade your webcam game is to use your videoconferencing's mobile apps instead. Zoom, Google Meet, Microsoft Teams, and more are readily downloadable on Android and iOS and offer almost the same set of features found on the desktop app.
You just download the apps, sign in, and viola. However, this setup may not work for some who want all their work apps on the desktop. People have varying workflows, after all.
SEE ALSO: Guide to the best videoconferencing service
In the end, leveling up your webcam game is also a matter of finding what works best for you. There are apps to make your smartphone a portable webcam, apps that let you use your DSLR or mirrorless camera, or just mobile videoconferencing apps.
Just remember that you don't have to suffer from poor video call quality anymore — an important point to stress out especially today when video calls are now just facts of life.
Singapore's hawker culture shot on iPhone
These look stunning and appetizing
Singapore is known as first world cultural melting pot in Southeast Asia. Despite the multicultural landscape, the country has managed to retain uniqueness, highlighted by their hawker culture.
Celebrating Singapore's National Day, various local iPhone photographers shared various shots along with tips and tricks on hawker photography.
Scene at Ghim Moh Food Centre days just before Phase 2 (Heightened Alert) kicked in. This stood in stark contrast to the more subdued atmosphere at Maxwell Food Center several weeks later, when she visited her favourite 'Ang Ku Kueh' stall. Ishak's tips:
1. Use Portrait Mode to create more focus around your subject. Also, get close! Shooting with an iPhone is less intimidating than a camera and allows your subject to feel more comfortable and natural.
2. Lighting is Key to give your photographs the right mood and emotion. Early morning and late afternoon light have a softer quality that gives your subject more shape, as compared to the flat overhead harsh light one gets in the middle of the day.
3. Use Burst Mode when capturing motion, as it allows you to choose the best movement for your image.
Aristan is a full-time architect and photography who has a soft spot for geometry and hearty fare. This is showcased through the images he captured of Amoy Street Market. Aristan's tips:
1. Utilize the new and improved iPhone12 pro max Ultra Wide Camera while shooting in the public domain or small spaces to capture more action in your frame.
2. Turn on Smart HDR mode from the camera settings when shooting in harsh light and deep shadow conditions. The processor will intelligently blend the best parts of your separate exposures into a single photo. Look for unique shadow patterns to enhance the object and give the final image a bit of texture.
3. Portrait Mode is brilliant under natural daylight. Bring your subject outside for your photoshoot whenever you can. The combination of Smart HDR and Portrait Mode creates a highly dynamic range image in an instant. The depth of field can also be easily adjusted to your liking. The lower the depth of field, the more prominent the portrait subject will be.
Patrice is known for her food photography. She visited Bendemeer Food Centre during Phase 3 (Heightened Alert) for their variety of cuisines, ranging from authentic beef noodles with recipes from the 1970s to a modern take on Indonesian Curry Rice with queues that never seem to stop. Patrice's tips:
1. Whenever possible, work with natural, indirect sunlight. Natural sun is by far the best way to create beautiful photos, and this applies to any photos! not just food photos. I also specified indirect sunlight, as direct sunlight tends to create harsh shadows on your photo. It's not necessarily a bad thing if you're going for a certain photography style, and iPhone's Smart HDR feature actually would help you out by bringing out as many details as possible from the shadows. But for most photos, indirect works best.
2. When it comes to food photography, consider the colours on the plate to make it as appetising as possible. While this depends on what dish you are shooting, adding a range of colours helps. For example, if the dish is mostly brown, try adding a contrasting orange or yellow to spruce up the dish. You can even add the colours using background accessories. Did you know that a colourful dish tends to be naturally more nutritional too?
3. Portrait mode is not just for shooting people! Experiment with Portrait mode in food too, and you might just walk away with a photo that looks like it was shot by an expensive camera instead of your iPhone.
Street photography is Yusman's thing and he loves interplaying light and shadow. He visited Golden Mile Food Centre and Kampung Admiralty Hawker Centre late in the evening, and came out with interesting vantage points to photograph the food centres and captures some stunning images. Yusman's tips:
1. Framing is one of my favourite shooting styles. It creates an illusion of depth and draws focus to the subject in the photo by using any elements around me or any objects I carry with me. Start finding simple framings like windows or fences and then move on to finding more unique ways to create frames.
2. The exposure function on iPhone native camera apps is an important tool to create a different mood in my photo. I specifically like to reduce exposure to increase the darkness of the image and focus on the main subject of the focus.
3. I use the ultra wide camera to show more space in the surrounding. It's specifically useful to use it in a tight space giving it a whole new story to my photos.
iPhone photographer and Instagrammer Jason Lim captured the story of 33 years old Thomas Koh who had taken over his family business of six decades, Pig's Organ Soup stall at Tiong Bahru Market at age 25. Amid the crowds staying thin, Thomas continues to persevere to continue his heritage. Lim's Tips:
1. Press and hold the screen on your subject, to lock your focus.
2. Make use of grid lines when using the camera, allowing you to position your subject following the rule of thirds.
3. Use the wide-angle lens to include more details, but ensure that your subject focus does not get lost in the picture. Make sure there is contrast and proper framing.
Craving some hawker food? Here are apps to get some delivered to you: WhyQ Hawker Delivery, Hungryy: Halal Food Delivery, Burpple – Food Reviews & Deals, and Chope – Discover, Book, Save.
How to start streaming with the Lenovo Legion Phone Duel 2
Time to show the world your mobile gaming skills
During this entire pandemic, some people spent their newfound time and energy towards more indoor-friendly activities. Instead of playing basketball with a group of friends, you're either playing by yourself indoors or playing NBA 2K21 with your group. Also, some are resorting to e-numans (virtual drinking sessions) or having your version of a rave on TikTok. Whatever floats your boat, right?
For a handful of people, they invested their time, energy, and savings into streaming content. Even if some of you aren't hardcore gamers, it's still a great way to mix passion and profit into one. Of course, you need the proper hardware to start streaming on YouTube, Twitch, or Facebook — apart from faster internet. Maybe there's a way around that.
I present to you the Lenovo Legion Phone Duel 2, the newest gaming smartphone in the market. You're probably wondering how a gaming smartphone will help you start streaming content. Allow me to demonstrate:
Matching power with performance
A key component in any streaming setup is, well, the devices you're using to play the games. For most streamers, a dedicated PC with powerful hardware and decent peripherals is all it takes. However, as I pointed out, the entire bundle is pretty costly if you want the best.
The thing is, gaming smartphones like the Legion Phone Duel 2 are pretty powerful in their own right. Inside the Legion Phone Duel 2, you have a Snapdragon 888 5G CPU with up to 16GB of RAM — a total mobile gamer package. With these hardware, you can play virtually any mobile game to your heart's desire while multitasking with other apps.
Apart from these, the Legion Phone Duel 2 comes with a 6.92-inch AMOLED display for those crispy in-game visuals. What makes it even more powerful is that it also comes with a 144Hz refresh rate — a great feature to have. Because of this, you will experience smooth gameplay and react a bit faster to any challenge.
The streamer-centric features
All the things I just mentioned catered to a bulk of content you will stream to people online. Obviously, you want to keep it as personal and unique to you so a face-cam is in order. Now, you might be wondering: where will you get a webcam to connect to this gaming smartphone for that face-cam? Well, the answer is hiding inside the phone.
See, the Legion Phone Duel 2 comes with a retracting 44MP front camera hiding inside the power button spot. When you open the Camera app, you can simply switch to the front camera and it will instantly pop up. For content creators and streamers, the 44MP front camera supports 4K recording at 60 FPS for buttery-smooth videos.
Also, the Legion Phone Duel 2 comes with an AI-enabled noise cancelling microphone, which is a big deal for most streamers. In essence, you can achieve clear voice audio without having to turn away your fan or close your windows. I mean, you would want to keep a literally cool head when you're playing and streaming, right?
Properly setting everything up
So, how does the Lenovo Legion Phone Duel 2 bring all of these together to achieve a great streaming experience? Allow me to share some ways you can take advantage of these features to maximize your gameplay and streaming capabilities.
Download the streaming service app you want
Before you start broadcasting your gameplay to the world, you will need the streaming service app first. Fortunately, the YouTube, Twitch, and Facebook Gaming apps allow you to stream directly from your phone. Unfortunately, YouTube requires you to meet specific eligibility requirements first before doing that.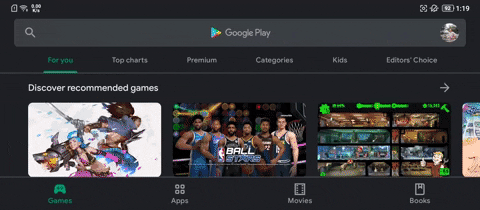 Also, if you decide to stream from those apps natively, it's just you and the game. Essentially, you don't have access to any creative overlays or camera adjustments you envisioned for your first stream. If you want those fancy overlays, I suggest downloading and using Streamlabs instead.
Placing the elements you want and need
If you decide to download and use Streamlabs, it's important to know which elements you want and need for your stream. By default, the app captures your screen when you open it up so you have to add everything else. After opening the app, click the three lines you see on the upper right-hand corner and toggle "Go to advanced settings."
Under these settings, go to the "Editor" section then press "Layers" on the upper right-hand corner. From there, simply press "Add layer" and you can add pretty much all the elements you need. Of course, you have a wide selection of layers to choose from, like your front camera, your overlays, and even your alert boxes.
Fix your streaming settings first
After placing these elements, exit Editor and go to "Streaming Settings" to adjust some more things before you stream. For the most part, you will only need to change the video settings for the stream and the platform settings (whichever platform you want).
For the video settings, I highly suggest researching on the most optimized video bitrate for the resolution you want. See, Streamlabs allows you to stream up to 1080p at 60 FPS, so it's better to match the bitrate towards your desired resolution.
Time to go live
Once everything is in order, it's time for you to go live on your preferred streaming platform! If you opted for the native apps, it's as easy as just clicking the "Go Live" button on those platforms. If you opted to use Streamlabs, it's basically the same idea but with more creativity on your part.
Also, the Legion Phone Duel 2 has a pretty nifty feature that will make the streaming experience less of a hassle for you. See, this gaming smartphone comes with Octa-Triggers, which you normally configure on your games. It allows you to have a controller-like experience that's suitable for most fast-paced games you play.
Now, you can also take advantage of this feature as your own little stream deck, like how Elgato does it. Simply add Streamlabs to your list of games under the Legion Realm app, and map the triggers accordingly. Although, you don't really have to do this, so it's entirely up to you.
The Lenovo Legion Phone Duel 2 is still accepting pre-orders until June 30, 2021, at the following price points:
PhP 39,995

for the 12GB RAM + 256GB storage option

PhP 49,995 for the 16GB RAM + 512GB storage option