I tried playing Just Dance 2022 using a smartphone
And some thoughts on this year's version as a whole
Just Dance 2022 is a simulation game wherein the goal of every single level is to score 5 stars by perfectly copying the moves done on screen. I know, it's that easy with either enough practice or with enough swing in your hips. However, with each new iteration of Ubisoft's dancing simulator, the choreography turns up to another level.
When I say "another level," I literally mean it on both how the game plays and how you play the game. For the past two iterations, Just Dance doesn't require you to play with a camera module attached to your console to play the game. Although, in my opinion, playing with a dedicated console camera optimizes the experience a whole lot! So, why don't we test that out, especially on a next-gen console?
Before we begin, I'd just like to point out that the version of the game used is the one for the Xbox Series X|S. This game is also available for the PlayStation 4, PlayStation 5, Xbox One, and the Nintendo Switch. So sit back, relax, and enjoy a ridiculous trip down Just Dance 2022!
As legacy as it could possibly get
Like previous iterations of the game, Just Dance 2022 is rather easy to get around. In essence, you score points by copying the choreography as accurately as possible. Of course, early on, this game required the use of a camera module to track your movements properly. From the PlayStation Camera to the Xbox Kinect, these were essential for the optimal experience.
Also, if you're not really up for competition with your family and friends, there's always Sweat Mode. With Sweat Mode, you're not keeping track of points and stars to earn for each level; instead, you're more focused on the calories you burn. While this is great for those who want to use the game like zumba, I still don't know how they actually measure that.
Basically, mechanics-wise, it's still the same game as before with all the bells and whistles. There's nothing particularly different, but in the later parts, I felt the experience changed a little bit.
A music library that just keeps expanding and evolving
With each new game, Ubisoft adds a new set list of tracks that comprise of both old and new hits (by old, I mean literally early 2000s). Apart from these, the game's dedicated subscription service, Just Dance Unlimited, kept adding popular tracks from previous iterations. Honestly, this is a trend I appreciated a lot from the franchise as it caters to all ages and genres.
Another thing I also appreciated about this version and Just Dance 2021 was how committed the developers were to bring official choreographies onboard. Specifically, I wanted to see if they would do this for all the K-Pop tracks they added into the game. They set a precedent for this with BLACKPINK's Kill This Love in 2020 and TWICE's Feel Special in 2021.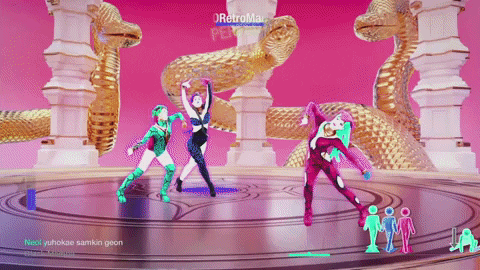 This year, they included pieces of original choreo for SuperM's Jopping and near full choreography for BLACKPINK's BOOMBAYAH, K/DA's POP/STARS and æspa's Black Mamba. Yes, freaking Black Mamba with the signature knee drop in the chorus! Also, these tracks already have them available as Extreme versions right off the bat, instead of having to unlock it by completing the Alternate versions. That alone already deserves a round of applause!
How to play on a smartphone, senpai?
Remember when I mentioned that I have the next-gen version of this game, and it's the Xbox Series X|S version no less? The thing is, if I had a PlayStation 5, this wouldn't be an issue to bring up since you can buy the HD Camera module for it. With the Series X|S, it's a different story since it currently does not support the Kinect camera at all.
In cases where your console doesn't support a camera like the Nintendo Switch and the aforementioned next-gen Xbox, the game tracks your movement through your Joy-Con or smartphone. Believe it or not, the developers found a way to do this since Just Dance 2020 just by tracking your hand. Of course, for me, this isn't the most optimal way of playing the game but it's a compromise they had to make.
For the most part, it just seems weird when you want to go all out and copy the choreography to earn points. In these cases, it's almost 50-50 when it comes to scoring Perfect moves when the game relies on one hand. Also, it's quite difficult to dance properly when you're holding something in your hand. Although, I still got 5 stars on Black Mamba so maybe it isn't that terrible.
Is this worth playing for any console?
Do I think that Just Dance 2022 is a great game to play for any occasion? Of course, it is given the amount of tracks to choose from and it's multiplayer! It sticks to what works for the longest time, and tries to improve on the intricacies every year. While this year's version doesn't seem like it's anything new, I would argue the experience just feels different.
Whether or not you should play it on any console is where I would draw the line just a tiny bit. I still believe that the optimal experience is to track your dance moves from head to toe. In doing so, you learn the movements and appreciate said intricacies in game design. Again, this only works when your console has a camera module to aid the game.
If you want to play this game, keep in mind that currently, the optimal experience is on the PlayStation and the Xbox One versions. It is playable on the Xbox Series X|S and Nintendo Switch, but you might miss out on truly immersive Just Dance gameplay. Still, it's something worth your time keeping in your game library, especially when you can have guests over.
Sony Days of Play: Discounts on DualSense controllers, titles
It's that time of the year
The time has come for Sony's annual Days of Play, offering gamers special deals on DualSense Wireless Controllers and software titles from June 2 to 12.
During the sale period, Sony's DualSense Wireless Controllers will retail for a special price of PhP 2,990.
The controller is available in White, Midnight Black, Cosmic Red, Starlight Blue, Nova Pink, Galactic Purple, and Gray Camouflage colorways.
Popular PlayStation 5 and PlayStation 4 (Blue-ray Disc version) titles will also get special prices during the promo period:
Meanwhile, PlayStation 5 consoles are now available at all authorized retailer stores.
Horizon Forbidden West: Burning Shores sways both ways
And why shouldn't it?
WARNING: SPOILERS AHEAD
---
It's been more than a month since the release of Horizon: Forbidden West's DLC, Burning Shores and the reviews came in hot. There were plenty of raves that the game is a treat as are the visuals. But what really made the most waves on the is that the fiery redhead heroine gets a partner. In more ways than one.
Aloy was first introduced in Horizon Zero Dawn as an outcast, so being on her own was expected. Understandably, when you're treated like a pariah since childhood, warming up to people isn't exactly second nature.
The burden of being The One
She picks up new friends, even some potentially interested parties along the way but the game steers us from expecting that they'll be tagging along for the long run. By the game's sequel, she is still Ms. Independent, but with blossoming character development in terms of her interpersonal relationships
While there's a bit of attraction and tension with men and women alike thrown in-game, Aloy never gets into anything no matter how hard you try to flirt. (Yes, we tried). Horizon clearly didn't focus on finding her mate, given that there is indeed a lot on Aloy's plate.
She even admits in dialogue that her mission as The One created to save the world, is a full-time occupation that she can't think of anything else. Fair enough, you go do what you gotta do, girl.
Along came Seyka
With the introduction of Seyka in Burning Shores, it would've been easy to dismiss that sure, they have chemistry but nothing's going to happen. We've gone so far with Aloy embracing singlehood by choice, why would it change now?
That's probably what made this DLC stand out. After becoming partners in crime, the pair share an intimate conversation where they first met to consider pursuing something more. The player option to engage in a romance probably has the audience saying "finally" or asking, "why now?", and those who appear to take issue in Seyka's sex are asking "why?"
But the better question is, WHY NOT?
Seyka is no stranger to duty and purpose, being intent in rescuing her sister and tribespeople from Burning Shore's main villain, Walter Londra. She is headstrong, agile, and fierce — qualities she shares with our main girl. Aloy also learns to rely on someone for help, which is a big deal.
It shouldn't come as a surprise either that Aloy would take on a lady love: Forbidden West final boss Tilda did express that she loved Elizabet Sobeck — Aloy's clone source or "mother" — more than we know. Who's to say that the genetic copy of the apple would fall far from the tree? Ultimately, should the player to decide to let Aloy initiate a romance, it's not the end of the world if it's a girl. Actually, they even saved it together.
SEE ALSO: Horizon Forbidden West Review: Back to save us from machines
---
Burning Shores
The story of Burning Shores picks up directly where Horizon Forbidden West left off. It contains additional content for Horizon Forbidden West, including new characters and experiences in a stunning yet hazardous new area.
To enter the Burning Shores, you must complete the main quest (up to and including Singularity) in the PS5 version of Horizon Forbidden West. Following the main quest, the player will receive a call over Aloy's Focus, beginning the DLC.
Ratchet & Clank: Rift Apart coming to PC
On July 26
Perhaps easily the best showcase game of the PlayStation (PS5) that anyone can easily jump into is making its way to PC. Insomniac Games' Ratchet & Clank: Rift Apart follows the growing list of PlayStation exclusives making its way to PC. It's coming on July 26.
PC Features
Nixxes Software worked with Insomniac to make this happen. And they're not simply porting the game to PC. They are also adding features especially made for PC gamers. Ratchet & Clank: Rift Apart on PC will have support for multiple types of monitors. Whether you're using 21:9, 32:9 and up to 48:9 resolutions for triple monitor setups, you can rest assured that you'll have a grand time with this inter-dimensional adventure. Both gameplay and cutscenes are optimized for ultra-wide screens.
The game also supports now unlocked framerates. You can choose from NVIDIA DLSS 3, AMD FSR 2, Intel XeSS and Insomniac Games' Temporal Injection. NVIDIA Reflex and image quality enhancing NVIDIA DLAA are also supported.
Availability
Ratchet & Clank: Rift Apart will be available on Steam and in the Epic Games Store. You may head to the aforementioned stores now to Wishlist or pre-purchase the game. If you pre-purchase ahead of launch, you'll get access to the following in-game items early in your playthrough:
Pixelizer Weapon
Carbonox Armor set
SEE ALSO: Ratchet & Clank: Rift Apart Review