I tried playing Just Dance 2022 using a smartphone
And some thoughts on this year's version as a whole
Just Dance 2022 is a simulation game wherein the goal of every single level is to score 5 stars by perfectly copying the moves done on screen. I know, it's that easy with either enough practice or with enough swing in your hips. However, with each new iteration of Ubisoft's dancing simulator, the choreography turns up to another level.
When I say "another level," I literally mean it on both how the game plays and how you play the game. For the past two iterations, Just Dance doesn't require you to play with a camera module attached to your console to play the game. Although, in my opinion, playing with a dedicated console camera optimizes the experience a whole lot! So, why don't we test that out, especially on a next-gen console?
Before we begin, I'd just like to point out that the version of the game used is the one for the Xbox Series X|S. This game is also available for the PlayStation 4, PlayStation 5, Xbox One, and the Nintendo Switch. So sit back, relax, and enjoy a ridiculous trip down Just Dance 2022!
As legacy as it could possibly get
Like previous iterations of the game, Just Dance 2022 is rather easy to get around. In essence, you score points by copying the choreography as accurately as possible. Of course, early on, this game required the use of a camera module to track your movements properly. From the PlayStation Camera to the Xbox Kinect, these were essential for the optimal experience.
Also, if you're not really up for competition with your family and friends, there's always Sweat Mode. With Sweat Mode, you're not keeping track of points and stars to earn for each level; instead, you're more focused on the calories you burn. While this is great for those who want to use the game like zumba, I still don't know how they actually measure that.
Basically, mechanics-wise, it's still the same game as before with all the bells and whistles. There's nothing particularly different, but in the later parts, I felt the experience changed a little bit.
A music library that just keeps expanding and evolving
With each new game, Ubisoft adds a new set list of tracks that comprise of both old and new hits (by old, I mean literally early 2000s). Apart from these, the game's dedicated subscription service, Just Dance Unlimited, kept adding popular tracks from previous iterations. Honestly, this is a trend I appreciated a lot from the franchise as it caters to all ages and genres.
Another thing I also appreciated about this version and Just Dance 2021 was how committed the developers were to bring official choreographies onboard. Specifically, I wanted to see if they would do this for all the K-Pop tracks they added into the game. They set a precedent for this with BLACKPINK's Kill This Love in 2020 and TWICE's Feel Special in 2021.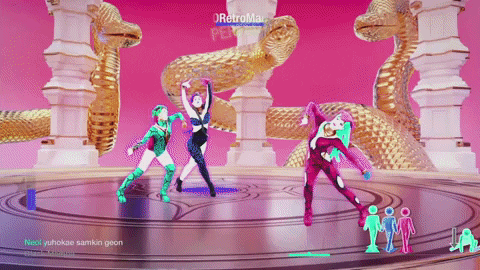 This year, they included pieces of original choreo for SuperM's Jopping and near full choreography for BLACKPINK's BOOMBAYAH, K/DA's POP/STARS and æspa's Black Mamba. Yes, freaking Black Mamba with the signature knee drop in the chorus! Also, these tracks already have them available as Extreme versions right off the bat, instead of having to unlock it by completing the Alternate versions. That alone already deserves a round of applause!
How to play on a smartphone, senpai?
Remember when I mentioned that I have the next-gen version of this game, and it's the Xbox Series X|S version no less? The thing is, if I had a PlayStation 5, this wouldn't be an issue to bring up since you can buy the HD Camera module for it. With the Series X|S, it's a different story since it currently does not support the Kinect camera at all.
In cases where your console doesn't support a camera like the Nintendo Switch and the aforementioned next-gen Xbox, the game tracks your movement through your Joy-Con or smartphone. Believe it or not, the developers found a way to do this since Just Dance 2020 just by tracking your hand. Of course, for me, this isn't the most optimal way of playing the game but it's a compromise they had to make.
For the most part, it just seems weird when you want to go all out and copy the choreography to earn points. In these cases, it's almost 50-50 when it comes to scoring Perfect moves when the game relies on one hand. Also, it's quite difficult to dance properly when you're holding something in your hand. Although, I still got 5 stars on Black Mamba so maybe it isn't that terrible.
Is this worth playing for any console?
Do I think that Just Dance 2022 is a great game to play for any occasion? Of course, it is given the amount of tracks to choose from and it's multiplayer! It sticks to what works for the longest time, and tries to improve on the intricacies every year. While this year's version doesn't seem like it's anything new, I would argue the experience just feels different.
Whether or not you should play it on any console is where I would draw the line just a tiny bit. I still believe that the optimal experience is to track your dance moves from head to toe. In doing so, you learn the movements and appreciate said intricacies in game design. Again, this only works when your console has a camera module to aid the game.
If you want to play this game, keep in mind that currently, the optimal experience is on the PlayStation and the Xbox One versions. It is playable on the Xbox Series X|S and Nintendo Switch, but you might miss out on truly immersive Just Dance gameplay. Still, it's something worth your time keeping in your game library, especially when you can have guests over.
Genshin Impact Version 2.7 arrives on May 31
With two new characters!
The latest update to HoYoverse's Genshin Impact is coming on May 31. Version 2.7 comes with new challenges in The Chasm, Liyue's historical mysteries, and new characters Yelan and Kuki Shinobu.
Checkout version 2.7's trailer here:
Perilous Trail
Front and center in Version 2.7 is the "Perilous Trail" event. This will bring players back to The Chasm with a new Archon Quest story and a series of rewarding challenges. It is where where players will also encounter the two new playable characters Yelan and Kuki Shinobu. Joining them are Yanfei and Arataki Itto.
Meanwhile, danger also lurks ahead for Xiao, the "Vigilant Yaksha" who is on an investigation of his own. As the story progresses, the buried past, including how the people of Liyue fought off monsters 500 years ago, as well as the yakshas' role in the history, will eventually be revealed to this diverse party.
Yelan and Kuki Shinobu
The new five-star character Yelan is a mysterious figure with many faces and identities, which includes the owner of the Yanshang Teahouse and the special intelligence officer of Liyue. Wielding the bow as her weapon, Yelan is a Hydro DPS character that combines rapid attacks with agile mobility.
Four-star character, Kuki Shinobu, is the surprisingly reliable and capable deputy leader of the Arataki Gang. Shinobu is a support character who wields a sword and manipulates the Electro element. She can consume her own HP to heal other party members while dealing periodical Electro DMG to nearby opponents.
ASUS ROG launches new gaming laptop in tandem with SCAR Runner
Announced at For Those Who Dare: Boundless event
During their For Those Who Dare: Boundless event, ASUS ROG announced the launch of their latest gaming laptops, accessories, and SCAR Runner for the ROG Citadel Game on Steam.
The launch covers the following:
ROG Strix SCAR 17 Special Edition

ROG Flow X16

SCAR Runner

first-person parkour game

Expanded ROG Slash Fashion Line

Team ROG partnerships
Pricing and availability of the models announced during the event are yet to be known.
ROG Strix SCAR 17 Special Edition
With more powerful specs than its predecessor, the Strix SCAR 17 SE is poised to be a class-leading gaming laptop.
It is powered by the new Intel Core i9-12950HX processor and NVIDIA GeForce RTX 3080 Ti GPU, on top of advanced features such as:
Maximum GPU TGP of 175W with Dynamic Boost

Maximum CPU TDP of 65W

Boost frequency of 5.2GHz

Up to 64GB DDR5 memory and PCIe Gen 4 storage

ROG's

Conductonaut Extreme

liquid metal
SCAR Runner: Vault to new heights
Available as an expansion of the ROG Citadel XV game, SCAR Runner is a first-person parkour game set in the world of ROG SAGA.
The protagonist, X, is in a race against time in Goemon City and needs to recover critical information while solving puzzles and challenges.
It's no coincidence that the new Strix SCAR laptop and new game have same name, as they were released as a tandem.
Gamers can in fact find clues hidden on the laptop chassis itself, that will allow them to solve in-game puzzles.
SCAR Runner is launching with a giveaway campaign with over US$ 20,000 worth of prizes to be won from May 17 to June 30, 2022.
ROG Flow X16
In addition to the Strix SCAR 17 SE, the Flow X16 has been added to the ROG Flow series, the most powerful yet from the line.
It has a Ryzen 9 6900HS processor and an NVIDIA GeForce RTX 3070 Ti GPU. It likewise supports up to 64GB of memory and up to 2TB of SSD storage.
The Flow X16 features ROG's Nebula HDR Display, a 165Hz Mini LED panel with 1100 nits peak brightness and 100 percent DCI-P3 gamut.
These are all complemented by Frost Force Technology and Pulsar Heatsink to ensure high performance but low temperatures.
ROG Slash accessories
Aside from the two new gaming laptops, ROG also introduced new apparels:
Crossbody Bag

Backpack

Hip Bag

Protective Laptop Bag

Cobra Buckle Cap

Bucket Hat
All these items are built with durable quality and have features like adjustable straps, multiple compartments, and water-repellent TPU materials.
Some of these items are also included in the SCAR Runner giveaway campaign.
The Team ROG initiative
Lastly, Team ROG is expanding its 2022 roster, pairing high-end ROG products with influencers, professional gamers, content creators, and athletes around the world.
A new partnership with ReKT Gaming has been announced while the current partnership with esports team Misfits Gaming has likewise been extended.
505 Games releases 3 new titles available soon
Released after their first-ever product showcase
After their first-ever product showcase, global video game publisher 505 Games has announced three new exciting titles.
Among the Trolls (2022), Stray Blade (2023), and Miasma Chronicles (2023) will be available within the next two years on different platforms.
Gamers may now add them to their wishlists.
Among the Trolls
Among the Trolls is a first-person, survival, action-adventure game where strange mysteries of folklore-laden Finnish forests are unraveled.
Gamers will embark on a quest to find their characters' grandparents who have disappeared in the wilderness, learning how to survive the wild in the process.
For the trailer and how to add to your wishlist, click here.
Stray Blade
An Action RPG, Stray Blade will allow players to assume a rogue Adventurer persona exploring the ancient Valley of Acrea.
The character will be accompanied by a mischievous companion, the Xhinnon wolf Boji. 
The goal is to unveil the history of the forgotten valley and master the powers of the three Acrean Metals to restore balance to the war-torn land.
Stray Blade will be available in 2023 on PC Steam, Epic, PS5 and Xbox Series X|S.
Miasma Chronicles
From the creators of Mutant Year Zero: Road to Eden, comes an unforgettable and beautifully-crafted tactical adventure.
Players will embark on a quest across a post-apocalyptic wasteland, torn apart by a savage force known only as the "Miasma", and unlock the dark secrets that are ravaging the world.
Wishlist Miasma Chronicles on Steam, Epic Games, Xbox and PlayStation now.