Now Playing: 2gether, Final Fantasy VII Remake, Animal Crossing
Quarantine edition!
The year 2020 ushered a sudden change in our day-to-day lives. With social distancing and staying at home becoming our new normal, it's unsurprising that this pandemic has taken a toll on people's emotional and mental health. The GadgetMatch team may be used to working remotely, but we're experiencing this crisis, too. Here's what's Now Playing and what's keeping us sane during the lockdown!
Games to play
Rodneil: There were so many things that could have gone wrong for a title that was so hotly anticipated. Instead, what we got is a thoughtful expansion on a game and story so dear to many gamers' hearts. FF7R is not perfect, but it does more than enough to quench the thirst built up over five years (since it was confirmed to be in development) while also making us want more.
Animal Crossing: New Horizons
Leez: At this point, who wouldn't want to escape the impending doom of millions of people dying across the globe by going on a small island getaway, making it your own, and socializing with friends? Animal Crossing: New Horizons is addictive with more customizable features for you and your island to make every detail your own. This game is definitely one to add to the list of games and reasons you should get a Nintendo Switch if you don't have one by now.
Stardew Valley
Luigi: If you're a fan of the life simulator genre (à la The Sims or Animal Crossing), then you've heard of Stardew Valley before. Released in 2016, this cozy farm simulator is one of the best companions when you're stuck at home in quarantine. With tons of things to do and villagers to warm up to, Stardew Valley can keep you entertained for hours on end.
Resident Evil 3 (Remake)
Kenrick: Capcom just can't get enough of Resident Evil remakes. Last year, fans of the beloved action-horror game were treated to a glorious remake of Resident Evil 2. This year, Resident Evil 3 becomes the latest installment to be remade. The remake will surely please fans as it sticks to the story of the original. There's just so much to love about this game as it breathes new life to the characters of Jill, Carlos, and the dreaded Nemesis.
Shows to binge-watch
Community
MJ: When life throws you a curve ball, that's the universe's way of redirecting you to a new path — it's a lesson I gleefully accept. Community reminded me of my younger days. I remember an unexpected disaster that threw me to a bunch of misfits who I now call friends. The hit sitcom finally found its way to Netflix where you can binge-watch its six seasons, giving you real good laughs and serious life lessons in every episode.
What We Do in the Shadows
Luigi: In the month or so that we've been under quarantine, you might've found yourself stuck with the quirkiest of housemates. Nothing gets stranger, however, than the weird vampire (and vampire wannabe) quintet of What We Do in the Shadows. Inspired by Taika Waititi's 2014 eponymous film, FX's mockumentary comedy series follows the adventures of the most dysfunctional housemates: a 757-year old vampire and his familiar, an overtly sexual vampire and his wife, and an energy vampire.
The Last Dance
Rodneil: The Last Dance is a 10-episode documentary detailing the last 6th and final championship run of the Michael Jordan, Scottie Pippen, and Phil Jackson Chicago Bulls. Seeing as live sports is currently postponed until further notice, the documentary is a much-needed dose of entertainment for basketball fans who badly miss the game.
2gether: The Series
Vincenz: Tine (aka Mr. Chic) is a playboy who's desperately looking for a girlfriend to replace his ex. But here's the catch: a guy named Green likes him so much and follows him around to the point that Green looks like a leech attached to its host. The only way to get him out of the way is to beg Sarawat, a campus hottie, to become his fake boyfriend. He saw Sarawat as his savior to get away from an obsessed gay admirer. Little did he know, Sarawat was already head over heels for him long before they agreed on a pretend relationship.
Unorthodox
Carol: A closer look at the lives of Hasidic Jews in New York and a young woman's struggle when she finds out the world she's always known isn't really for her. The story takes viewers from a secretive part of New York to the freedoms of Berlin. A poignant story spread out in four episodes based on the life of writer Deborah Feldman. It's so good, you'll end up wishing for a second season.
Chay: Unorthodox is a short but profound story about self-discovery and questioning what happiness truly is — is it one that you find for yourself or that which your circumstances dictate? The only bad thing about the series is it doesn't have enough episodes!
TWICE: Seize The Light
Rodneil: This is a YouTube Originals documentary following K-Pop girl group TWICE during their TWICELIGHTS world tour. It also dives deep into their time as trainees and how they overcame hardships together as a nine-member group. It'll surely be an emotional roller coaster for ONCEs — their devoted fans.
Why R U?
Vincenz: BL (Boys' Love) series are common in Thailand, and these are based on fan novels. In Why R U, Zon has a younger sister (named Zol) who became popular because of the BL novel she published online. The characters were named after him and Saifah (the person he hates the most). Other than them, Fighter and Tor are also part of the novel (and they both consider each other as enemies). What if one day, you suddenly realize that you and the person you hate are already falling for each other? Would you still think it's a curse that's why you fell into the world of a BL novel? Or would you believe that homosexual love is the reality all along?
Ugly Delicious
Chay: Award-winning chef David Chang takes us on a culinary trip around the world; watching this felt like traveling while in self-isolation. Not only does the show combine two things I love, it also tackles racism, history, and what the future of regional cuisines as we know it might be like.
Movies to see
Contagion
Kenrick: A timely movie to watch? While the fictional virus in this movie is much more intense than the current COVID-19 pandemic, the story itself remains faithful to how society will respond to a health crisis. While the movie is almost nine years old, the current situation has revived interest in it as people try to understand just how a pandemic will affect the global society.
Godzilla: Resurgence
Rodneil: This feels like a very unique attack on Godzilla/Kaiju movies. Instead of having the protagonist be a regular citizen with some ties to people researching the creature, the film focuses on how the government responds to its emergence. That seems mundane at first glance but the pacing will keep you engaged. It does a good job of maintaining tension with well-timed reminders that ordinary people are dealing with a threat that can end mankind.
Albums/Songs/Podcasts to listen to
Human. :||: Nature. By Nightwish
Luigi: I've always been a huge fan of the hard rock and metal genres coming out of the "it's just a phase, mom" era. If you want a taste away from the ordinary fare, Nightwish, a paragon of symphonic metal, brings together brutal guitar riffs, operatic vocals, and a full orchestra. Their latest album, "Human. :||: Nature." comes in two discs: one, a masterpiece of melodic metal; and, the other, a full orchestral arrangement thematically highlighting the human journey of art and discovery. Listen here.
Social Distance
Chay: A daily podcast from The Atlantic tries to make sense of the grim reality that we're living in. Journalist and physician James Hamblin answers executive producer for podcasts Katherine Wells' questions about the pandemic and its consequences. Listen here.
Foam and Flotsam
MJ: Brooklyn Nine-Nine's Chelsea Peretti (known as Gina Linetti) may not be in the popular sitcom anymore, but she knows how to keep us entertained with her humor. The artist dropped "Foam and Flotsam", a concept comedy album about coffee. These coffee-centric tracks may give you laughs while jamming due to its lyrics, but the songs tackle the complexity of human emotions, only told through coffee.  Listen here.
"Easily" by Bruno Major
Rodneil: It's a song from 2017 but I only chanced upon it recently. The lyrics suggest it's a song about taking a chance on a relationship. While the thought has crossed my mind, I just really flow with the song's melancholic but soothing vibe. Listen here.
Redraftables by The Ringer
Rodneil: With the NBA postponed indefinitely, Bill Simmons of The Ringer decided to do an NBA redraft. The rules are simple: How would we rank the players in a certain draft class knowing what we know now. They start with the notable 1996 draft that featured the likes of the late but great Kobe Bryant, and cultural icon Allen Iverson.
Oh My God by (G)I-DLE
Vincenz: A powerful love song with an unusual concept talking about how one woman is going crazy over another. Homosexuality in South Korea (and several parts of the world), is still a taboo. The music video depicts how same-sex love is considered a sin/crime while the lyrics suggest real intimacy and attraction between the two people. Soyeon, the member who's responsible for writing the lyrics of the song, said it's open to interpretation.
Doors by Ben&Ben
Vincenz: Just like anyone, we "open our secret doors" to people who we fully trust. This is an empowering song that tells us not to be afraid of opening up ourselves to those we hold dear. At the end of the day, people who truly love and care for you will be there in your darkest times. Listen here.
Sugar Calling
Chay: The Internet's agony aunt Cheryl Strayed seeks wisdom and advice from writers like Margaret Atwood, Pico Iyer, and George Saunders. The reassuring podcast comes at a time when nothing makes sense and the future seems more uncertain than ever. Listen here.
---
Now Playing is the GadgetMatch team's favorite games, movies, TV shows, and more each month. If you're curious to know what we're into at the moment, this is what you should check out. So grab your popcorn, get some drinks, and enjoy what's now playing!
The cost of the post-pandemic movie
Why you should care about Mulan's terrible premiere
The fate of the Hollywood blockbuster rests on a fingertip. A formerly grandiose affair with celebrities dressing up to the nines, the red-carpet premiere is now an impossibility thanks to the ongoing COVID-19 crisis. On the other side, streaming services blossomed with new titles and exclusives. It was (and is) a great era for the home theater. But the home theater will not last forever. Hollywood is now facing a crisis for the future of the premiere.
If the past year is any indication, Hollywood will, of course, not go down without a fight. Large networks and production houses have released their own streaming platforms to monopolize their content, putting additional weight on a consumer's budget. Take Disney's Disney+ or NBC's Peacock, for instance. Now, a few of these (like Disney and Netflix) make their own blockbuster content as well. We've seen Netflix's streaming-only premieres already. How about Disney's (or anyone else's) Hollywood premieres, which often rely on astounding box office numbers?
This week, we got a taste of such a strange premiere scheme. In an earnings call, Disney CEO Bob Chapek detailed the future of a delayed movie, Mulan. Initially premiering in theaters back in March, Mulan was repeatedly delayed because of the continued shutdown of movie theaters. Now, as the company is itching to finally launch it, Chapek announced a hybrid release for the film. Partly premiering in theater in safe countries, the film will also launch simultaneously on Disney+ for unsafe markets.
Now, here's the catch: the film will cost US$ 29.99 for Disney+ users. Even if you have a subscription already, you have to fork over approximately PhP 1,474 to watch the new film. Of course, the hair trigger response is, "c'mon, Disney; stop haggling money from your customers." And the response is right. However, there is so much more to this. Mulan can set the stage for an unprecedented era for Hollywood premieres.
Let's get down to business
In New York, an average movie ticket costs around US$ 15 (approximately PhP 736). Mulan's price tag is twice as much as a theater ticket. It's even weightier in cheaper states and, most especially, in the Philippines (where movie tickets are only around US$ 5). Further, you'll still need an active Disney+ account to access the film, costing an additional US$ 6.99.
(Naturally, it's impossible to accurately translate the prices to an Asian market since Disney+ has not launched in all of Southeast Asia yet. We can only assume that Mulan's streaming price is 200 percent of normal ticket prices, whatever it might be.)
Objectively, Mulan's price is worse than a regular movie ticket. It's easy to conclude the argument with this statement and head home. However, there is a way to justify the price.
The whole family plus your cow
Now, a single movie ticket typically admits one person. Buying Mulan pays for the streaming privilege which can typically include an entire family. With a 15-dollar average, two people watching the same Mulan purchase is already a break-even point. In the same vein, a family of four obtains double the value of the 30-dollar film price. Even better, a family can watch the film over and over again. And, as any parent who has a Frozen-loving child can tell you, unlimited playbacks is a blessing for your wallet (albeit a curse on your sanity).
Unfortunately, despite the mathematical mind-bending, Mulan's price is still far from ideal. The movie-going experience is not the same on a streaming platform as in a cinema.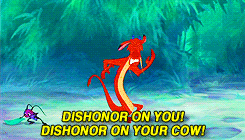 An assumption of equality
A cinema ticket is price of equality. Besides a few slight differences, everyone is paying for the same product. All other things considered equal, a 20-year old college student is paying and enjoying the same experience as a 50-year old CEO. Same film, same seat cushions, same facilities, same projector.
On the other hand, a streaming subscription cannot assume the same thing. A platform cannot control where and with what device a user will watch the movie from. A 20-year old college student watching the film on a laptop screen in a poorly lit dorm room is not enjoying the same experience as a 50-year old CEO watching the same thing in their high-end home theater with Dolby Atmos.
Likewise, the platform cannot assume how many people will watch the film in one purchase. Now, Mulan is a family film. Disney can easily assume that multi-person families will buy and watch the film. However, how will the audiences take the same price tag for a more polarized movie like Christopher Nolan's Tenet or the next James Bond film?
All of Hollywood knows you're here
In the same announcement, Chapek hints that Mulan's price is just a "one-off." Basically, other films might not follow the same pricing scheme. In a way, it makes sense. Mulan was made with a pre-coronavirus budget. It was expected to make millions from box office tickets. This might be the only way for Mulan to recoup its many losses. In the future, Disney might make films with lesser budgets and lesser expectations.
However, make no mistake; other filmmakers are intently watching Mulan's performance on streaming. If Mulan succeeds, they can likely charge the same amount without incurring a lot of losses. That said, streaming premiere prices will likely vary from film to film. Even then, this isn't the last discussion on the future of the film industry.
If the industry hopes to adapt to the new normal, it needs to rethink its strategy even further. Disney is offering only one solution for the problem of streaming. Unfortunately, the brand's solution leverages a family-oriented release, one that might not appeal to the average moviegoer today.
A price worth fighting for
My suggestion: Implement a tiered premiere price. Not everyone will want to pay the full 30 dollars for a film they're not wholly interested in. Most will watch it once and forget about it. Some won't even care about watching it in HD.
Why not implement a pricing scheme based on those different preferences? For example, charge US$ 5 for a standard-definition, one-time playback premiere; US$ 10 for an HD, one-time playback premiere; US$ 20 for a standard-definition, unlimited playback premiere; and US$ 30 for an HD, unlimited playback premiere. In one swoop, a film can appeal to all streaming markets and needs.
Get NBA League Pass with PLDT Home
It's a whole new game!
It's a whole new game! The NBA is back and hoop junkies subscribed to PLDT Home are in for a treat!
PLDT Home subscribers can now conveniently access NBA games and exclusive programs live and on-demand for as low as PhP 485 per month by charging their NBA League Pass subscription to their existing PLDT Home account.
This offer comes as the NBA Restarts after being unceremoniously postponed due to the Coronavirus pandemic.Will LeBron and the Lakers make it all the way to the Finals? Can the Toronto Raptors repeat as Champions despite Kawhi Leonard heading to the Clippers? And can "The Greek Freak" Giannis Antetokounmpo cement his legacy by finally adding an NBA Championship to his resume? If you want to know, having NBA League Pass is the best way to follow the league.
NBA League Pass gives you access to the seeding games as well as the 2019-2020 NBA Playoffs with new statistical overlays, alternative audio, and multiple viewing options.
League Pass subscribers can watch in new camera angles, multiple in-language streams, influencer commentary, as well as in-depth analysis and live game stats. Viewers will also have the ability to impact visual effects and sounds in the venue through a "tap-to-cheer" function.
There's also a 3-Game Choice that lets users watch up to three games of their choice per month.
To subscribe, visit pldthome.com/nbaleaguepass.
SEE ALSO: Kobe is the cover of NBA 2K21 Mamba Forever Edition
The Emmys will be a virtual ceremony in 2020
Will they be in formals or pajamas?
The 2020 Emmys Awards on Primetime will a fully-digital event to avoid public gathering amid a pandemic. The nominations were announced this week and Emmy executive producers, including host Jimmy Kimmel, sent a letter to key acting nominees informing them that this year's ceremony will be virtual.
It also asked them to be prepared to participate from home or wherever they are. The Coronavirus pandemic has forced countries to announce lockdowns and curtail public gatherings to prevent further spread of the virus. The US alone has reported more than 4 million positive cases so far and the rising graph shows no sign of dropping.
Unlike the usual formal wear, the letter said, "If you want to be in formal wear, we'd love that, but equally if you're in the UK and it's 3 a.m., perhaps you want to be in designer pajamas and record from your bed!"
The letter added the organizers are assembling a top-notch team of technicians, producers, and writers to work closely with Jimmy Kimmel and invited guests, to make sure everyone can be filmed.
The Emmys can't ignore the current circumstances and "we also acknowledge that our world is going through a challenging moment in many ways."
A virtual award ceremony is a very modern concept and its implementation matters the most. TV viewership has spiked since work-from-home models got implemented in March, prompting people to seek out new shows and binge older ones. Reality award ceremonies are a dose of fresh content, bringing back some level of normalcy.