Samsung Galaxy A80 offers an all-display solution
Spoiler: It's a rotating camera
Nearly every phone manufacturer is taking a crack at giving us a solution to the notches and punch-holes "problem." As a result, we've seen pop-up cameras and secondary displays. With the Samsung Galaxy A80, the company is offering their take on the pop-up camera solution — the rotating camera.
Instead of just having the front-facing camera hide inside the phone, Samsung's idea is to make the upper part of the phone lift then flip the camera module to face you. This happens automatically when you switch to selfie mode on the camera app. At around a little over a second, it's pretty fast considering the number of actions that have to take place before the camera flips.
It's important to note that we have seen a mechanism similar to this before from the likes of OPPO and Gionnee. However, those rotating cameras had to be moved manually unlike the automatic one on the Galaxy A80.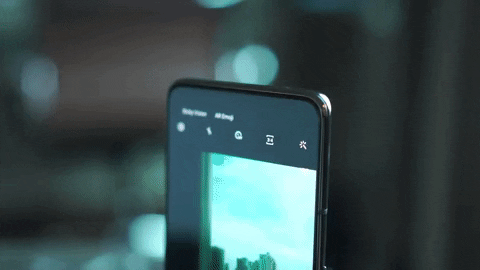 What are the cameras you ask? The Galaxy A80 has a three-camera setup. There's a 48MP main camera, an 8MP ultra wide-angle lens, and lastly, a 3D depth sensor. We only had a limited time with the device, but take a look at these quick samples so you can judge for yourself how it performs:
Capable of live streaming
Samsung is positioning the Galaxy A80 as the phone perfect for the "era of live." The company believes that people are moving on from selfies to live streaming. Having this camera mechanism makes sure no quality is sacrificed when you decide to take selfies or go live.
As of writing, we're still confirming what chipset the phone is using. Samsung representatives tell us that it's an octa-core Qualcomm Snapdragon chip, but we don't know which series yet. You also get 8GB of RAM along with 128GB of internal storage.
Samsung says the Galaxy A80 is equipped with an "intelligent performance enhancer" which regulates the phone's usage. This includes controlling the CPU, RAM, and battery usage for optimum performance. Speaking of the battery, it has a 3700mAh capacity (much lower than the one on the Galaxy A70) that supports 25W fast charging.
All-display goodness
Front and center is the 6.7-inch FHD+ Super AMOLED New Infinity Display which is extremely satisfying to look at. The display also houses an on-screen fingerprint sensor and when taking calls, it vibrates, effectively becoming the call's audio source.
The Samsung Galaxy A80 comes in three colors: Phantom Black, Angel Gold, and Ghost White but only black and gold will come to the Philippines. One can only assume the white one decided to ghost the country.
Pricing will be announced soon.
Google discontinues Datally, its mobile data saving app
It's gone from the Play store
Using the Datally app from Google? It's time to move one and find another as Google officially discontinues its mobile data saving app.
In the official support page of Datally, Google notes that the app is not available on the Play store. True enough, visiting the link to Datally throws the app not found error.
Users of the mobile data saving app can continue using it, but the app will not receive future updates. To speed up its discontinuation, the app is giving a warning that it is incompatible with Android 10. So, users who upgraded to the latest OS can't use the app anymore.
Datally launched last 2017 to help users control their mobile data usage. The app shows the data usage of every app as well as overall data usage metrics. It also let users block background data.
Google Maps will now show you speed traps
You can also report road closures and accidents
Google Maps is borrowing several features from the company's other popular navigation app, Waze. Google today announced a series of new features that will allow drivers using the Maps app on iOS to report accidents, speed traps and traffic jams.
Hazard reporting was introduced on Android earlier this year, but this is the first time that iPhone users can also help crowdsource traffic snarls. Google has also expanded the types of road hazards that can be reported through its incident feature to encompass 'construction, lane closures, disabled vehicles, and objects on the road.
These features have been unique to Waze and many users preferred to use it over Google Maps. It was long-speculated that when Google purchased Waze for US$ 1.1 billion five years ago that the features would be swiftly migrated to Google Maps. The transition has been extremely slow, but it's finally happening.
To report an incident, open Maps and start navigating to your destination. You'll see a small location pin with a + sign button on the left side, tap it. Now, you'll have multiple options that include speed traps, construction, lane closure, and more. Simply select one and you're done.
Google's algorithm constantly looks out for these reports and helps in rerouting other riders. These crowdsourced features made Waze a perfect alternative to Google Maps and many users claim they've reached faster.
A few months back, Google also added augmented reality support for pedestrian navigation. The feature has been highly appreciated since GPS accuracy may not always be very on-point.
OPPO Reno2, Reno2 Z launch in Singapore
Challenges people to #CreateYourWorld
The OPPO Reno2 series launches in Singapore featuring the OPPO Reno2 and OPPO Reno2 Z. The series has a focus on content creation, specifically video.
The series builds on the foundation of the OPPO Reno with fantastic cameras and a premium design.
The Reno2 features a quad-camera setup that applies the same 5x Hybrid Zoom from the OPPO Reno Series' photography features to video shooting, enabling users to not only get closer to their video subjects, but to also uncover different perspectives that may otherwise seem ordinary from further away.
Meanwhile, the OPPO Reno2's Ultra Steady Video brings users closer to an exceptionally clear and smooth video shooting experience and reduces the need for additional stabilisation equipment.
#CreateYourWorld and be a #BeAStorygrapher
The content creation is even more evident with the #BeAStorygrapher short film competition.
The challenge is for aspiring filmmakers to use the new OPPO Reno2 to create a short film that represents their own perspective of Singapore. Up for grabs are cash prizes totaling SG$ 6,000, OPPO Reno2 smartphones and an all-expenses paid trip to Dubai.
Call for competition entries will be open through December 2019. For more information, visit OPPO Singapore's official Instagram and Facebook pages.
Price and availability
The OPPO Reno2 comes in Luminous Black and Sunset Pink with 8GB RAM and 256GB ROM starting at SG$ 899. And the OPPO Reno2 Z in Luminous Black and Sky White with 8GB RAM and 128GB ROM, starting at SG$ 599. Both will be available island wide from October 26, 2019.
Customers who pre-order the phone will receive a free pair of OPPO Enco Q1 Wireless Noise Cancelling Headphones worth SG$ 179 at the NEX OPPO Roadshow from October 21 to 25 2019.
Collection of pre-ordered phones will take place at the NEX OPPO roadshow from October 26 to 27  and the first 100 customers to collect their phones will walk away with an OPPO 10,000mAh Power Bank worth SG$ 69.
The OPPO Enco Q1 Wireless Noise Cancelling Headphones in Midnight Black and Sunny Orange will be available from October 26 2019 at OPPO concept store and OPPO official online store on Lazada, Qoo10 and Shopee, starting at SG$ 179.
SEE ALSO: OPPO Reno 2 review | OPPO Reno2 series in the Philippines