Samsung Galaxy A80 offers an all-display solution
Spoiler: It's a rotating camera
Nearly every phone manufacturer is taking a crack at giving us a solution to the notches and punch-holes "problem." As a result, we've seen pop-up cameras and secondary displays. With the Samsung Galaxy A80, the company is offering their take on the pop-up camera solution — the rotating camera.
Instead of just having the front-facing camera hide inside the phone, Samsung's idea is to make the upper part of the phone lift then flip the camera module to face you. This happens automatically when you switch to selfie mode on the camera app. At around a little over a second, it's pretty fast considering the number of actions that have to take place before the camera flips.
It's important to note that we have seen a mechanism similar to this before from the likes of OPPO and Gionnee. However, those rotating cameras had to be moved manually unlike the automatic one on the Galaxy A80.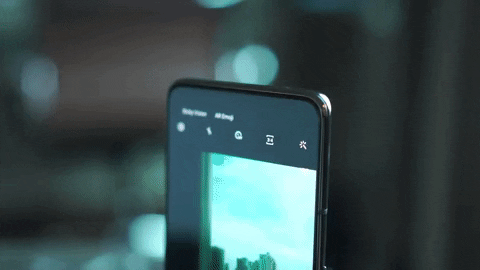 What are the cameras you ask? The Galaxy A80 has a three-camera setup. There's a 48MP main camera, an 8MP ultra wide-angle lens, and lastly, a 3D depth sensor. We only had a limited time with the device, but take a look at these quick samples so you can judge for yourself how it performs:
Capable of live streaming
Samsung is positioning the Galaxy A80 as the phone perfect for the "era of live." The company believes that people are moving on from selfies to live streaming. Having this camera mechanism makes sure no quality is sacrificed when you decide to take selfies or go live.
As of writing, we're still confirming what chipset the phone is using. Samsung representatives tell us that it's an octa-core Qualcomm Snapdragon chip, but we don't know which series yet. You also get 8GB of RAM along with 128GB of internal storage.
Samsung says the Galaxy A80 is equipped with an "intelligent performance enhancer" which regulates the phone's usage. This includes controlling the CPU, RAM, and battery usage for optimum performance. Speaking of the battery, it has a 3700mAh capacity (much lower than the one on the Galaxy A70) that supports 25W fast charging.
All-display goodness
Front and center is the 6.7-inch FHD+ Super AMOLED New Infinity Display which is extremely satisfying to look at. The display also houses an on-screen fingerprint sensor and when taking calls, it vibrates, effectively becoming the call's audio source.
The Samsung Galaxy A80 comes in three colors: Phantom Black, Angel Gold, and Ghost White but only black and gold will come to the Philippines. One can only assume the white one decided to ghost the country.
Pricing will be announced soon.
Black Shark 2 Pro: Price and availability in the Philippines
It's finally here!
It's finally here! The much anticipated Black Shark 2 and Black Shark 2 Pro are finally in the Philippines.
First announced back in July, the Black Shark 2 is a much anticipated gaming smartphone. Powering the phone is the Qualcomm Snapdragon 855 Plus.
The device also comes with an AMOLED display with a 240Hz touch report rate. However, is that the display still retains a 60Hz refresh rate that lags behind its major competitor — the ASUS ROG Phone 2 — which has a display with a 120Hz refresh rate. The display's response speed was reduced to 34.7 ms, promising faster response times during high pressure gameplay.
Price and availability
The Black Shark 2 comes in three variants: 6GB/128GB (PhP 22,990), 8GB/128GB (23,990), and 12GB/256GB (PhP 28,990).
Meanwhile, the Black Shark 2 Pro comes in two variants: 8GB/128GB (PhP 27,990), and 12GB/256GB (PhP 33,490).
The phones will be available in select Mi Stores: SM Megamall, SM North EDSA, and SM Mall of Asia starting December 13.
Resident Evil 3 gets its remake, available Q2 2020
Remade into horror and glory
PlayStation saved the best announcement as its second to the last for its final State of Play. One of the most popular survival horror franchises gets another remake since its release 20 years ago. Capcom wants to take everyone back to Raccoon City in its full, high definition glory in Resident Evil 3.
Revisit the story of Jill Valentine as you venture through the virus-infected city in this modern remake. Avid followers of the multitude of Resident Evil games will enjoy the improved visuals while enjoying the same style of shoulder-perspective gameplay. Capcom programmed the entire remake on their own RE Engine, the engine responsible for Devil May Cry 5.
Apart from that, Capcom also announced Resident Evil: Project Resistance – a 4v1 multiplayer mode within Resident Evil 3. It features similar gameplay to that of Resident Evil 2, as players turn into survivors at the mercy of a Mastermind. Early talks suggested that it would be a separate title, but will now be part of the Resident Evil 3 remake.
The game will be available for the PlayStation 4, Xbox One, and the PC on April 3, 2020. PlayStation is already taking in pre-orders for the game as early as now.
China is banning all American technology
Over 30 million devices to be replaced
For most of the year, we've heard of the American government banning Chinese products on their soil. It has always been the US making its moves against China. For its part, China has found itself on the defensive for most of the time. However, the tides are finally turning.
According to a new report, China is planning to ban all American technology from its government offices. The new ban mirrors the US government's ban on Chinese technology. The Chinese government has issued a three-year deadline for offices to comply.
Based on estimates, Chinese government offices must replace up to 30 million items in three years. Even if it is an estimate, the figure is no joke, especially with the tense relationship between two of the world's biggest technology manufacturers. China depends on American technology, as much as American depends on China.
Given both sides' bans on the other, China must find a way to rely on its own technology or on other sponsors. If anything, China's increased reliance on its own products will intensify its local companies, especially Huawei.
Besides finding better alternatives to its products, the government's loss is a company's gain. Chinese companies — like Huawei, Lenovo, and OPPO — can fill in the void for the government.
What does this mean for the world? Similar to the government's predicament now, Huawei is trying to find permanent alternatives to its American components. If successful, Chinese products will be entirely made in China, rather than being a balanced blend of differently sourced components.
SEE ALSO: Mobile users in China have to undergo mandatory face scan