Samsung Galaxy A80 offers an all-display solution
Spoiler: It's a rotating camera
Nearly every phone manufacturer is taking a crack at giving us a solution to the notches and punch-holes "problem." As a result, we've seen pop-up cameras and secondary displays. With the Samsung Galaxy A80, the company is offering their take on the pop-up camera solution — the rotating camera.
Instead of just having the front-facing camera hide inside the phone, Samsung's idea is to make the upper part of the phone lift then flip the camera module to face you. This happens automatically when you switch to selfie mode on the camera app. At around a little over a second, it's pretty fast considering the number of actions that have to take place before the camera flips.
It's important to note that we have seen a mechanism similar to this before from the likes of OPPO and Gionnee. However, those rotating cameras had to be moved manually unlike the automatic one on the Galaxy A80.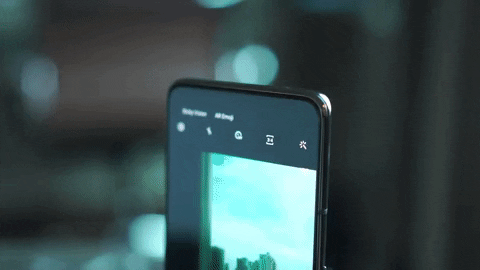 What are the cameras you ask? The Galaxy A80 has a three-camera setup. There's a 48MP main camera, an 8MP ultra wide-angle lens, and lastly, a 3D depth sensor. We only had a limited time with the device, but take a look at these quick samples so you can judge for yourself how it performs:
Capable of live streaming
Samsung is positioning the Galaxy A80 as the phone perfect for the "era of live." The company believes that people are moving on from selfies to live streaming. Having this camera mechanism makes sure no quality is sacrificed when you decide to take selfies or go live.
As of writing, we're still confirming what chipset the phone is using. Samsung representatives tell us that it's an octa-core Qualcomm Snapdragon chip, but we don't know which series yet. You also get 8GB of RAM along with 128GB of internal storage.
Samsung says the Galaxy A80 is equipped with an "intelligent performance enhancer" which regulates the phone's usage. This includes controlling the CPU, RAM, and battery usage for optimum performance. Speaking of the battery, it has a 3700mAh capacity (much lower than the one on the Galaxy A70) that supports 25W fast charging.
All-display goodness
Front and center is the 6.7-inch FHD+ Super AMOLED New Infinity Display which is extremely satisfying to look at. The display also houses an on-screen fingerprint sensor and when taking calls, it vibrates, effectively becoming the call's audio source.
The Samsung Galaxy A80 comes in three colors: Phantom Black, Angel Gold, and Ghost White but only black and gold will come to the Philippines. One can only assume the white one decided to ghost the country.
Pricing will be announced soon.
LinkedIn has its own Stories feature
Including a refreshed design
There is nothing more surprising than the mysterious longevity of LinkedIn. Despite the overwhelming dominance of Facebook and its ilk, Microsoft's workplace-oriented social media platform is still chugging along joyously for some reason. Now, the world's biggest virtual water cooler is trying to catch up with the times. Starting today, LinkedIn has its own Stories feature.
Much like what you can find on other platforms, LinkedIn's Stories will allow users to share images and short videos (overlaid with very SFW GIFs) for 24 hours. Likewise, LinkedIn is also placing the feature right on top of your feed.
Why? Why, indeed. According to LinkedIn, users will likely share more content on the platform if the said content will last only for a short period of time. Currently, with its buttoned-up demeanor, LinkedIn presents itself as a no-monkey-business, no-frills platform for professionals. You won't see content that you normally see in, for example, TikTok.
That said, LinkedIn's latest feature aims to reel in more professionals apart from recruitment experts and hopeful applicants. Besides the Stories feature, the update also comes with a refreshed design complete with better filters and layouts. (It looks a lot like Facebook now.)
Currently, the update is available for all users in the United States and in Canada. LinkedIn hopes to roll out the update for everyone else in the coming weeks.
Amazon is launching its own cloud gaming service
Introducing the Luna
Most gamers today are looking forward to the fast-approaching release dates for the PlayStation 5 and the Xbox Series X. However, a dedicated niche of the industry hopes to come in from behind and take some of the spotlight — cloud gaming. Since the Google Stadia, cloud gaming has developed into its own comfortable niche for device-agnostic gamers. Now, Amazon is launching its own cloud gaming service, Luna.
During an expansive hardware event today, Amazon officially announced the cloud gaming platform coming sometime in the future. On launch, the Luna will offer gaming service for PC, Mac, Fire TV, iPhone, and iPad. Further, an Android version will also launch after the initial offering.
Right off the bat, the Luna will launch with over a hundred titles including Abzu, Control, and Resident Evil 7. Of course, the service will expand beyond the initial list over time. For example, Ubisoft is separately developing its own Luna-compatible channel dedicated for its own titles like Assassin's Creed Valhalla and Far Cry 6.
Since Amazon owns the streaming platform, Luna will stream seamlessly with Twitch. Users can watch Twitch directly from Luna. Likewise, Twitch viewers can link directly to play from Luna while watching a game's stream.
While on early access at the moment, Luna users can purchase a Luna controller separately for US$ 49.99. Alternatively, players can still use a mouse-and-keyboard or their own controllers.
Amazon has not announced official launch dates for the Luna just yet. At the moment, Luna will launch first in the United States for US$ 5.99 per month. Users can play on two screens simultaneously and at 4K resolution for some titles.
vivo Watch with 18-day battery life now official
It'll be available in two sizes
vivo has launched its first smartwatch and it's simply called the vivo Watch. At first glance, it might look like a generic circular smartwatch but has a ton of firepower under the hood. It looks premium while also being perfect for rough usage.
The body consists of stainless steel and brushed ceramic bezel. It's available in two sizes — 42mm and 46mm. The 42mm one gets two rounded buttons on the side while the 46mm has flat ones. This is the only visual difference between the two.
The 42mm gets a 1.2-inch AMOLED display while the 46mm comes in at 1.4-inches. Powering the watch is an ST miniature main control processor along with the Apollo ultra-low power co-processor for heavy-duty tasks and background activities.
Coming to features, it'll automatically track all your movement in the background and automatically recognize exercises like outdoor running, indoor running, outdoor walking, swimming, cycling, indoor cycling, mountain climbing, trail running, elliptical machine, and more.
Obviously, in-line with the competition, it gets a heart rate scanner, sleep tracking, and blood oxygen monitoring. Other functions include notifications, music controls, alarms, and vivo's voice assistant Jovi. It also has NFC support for enabling contactless payments.
The complicated sensor array includes a 5-core optical heart rate monitor, blood oxygen sensor, accelerometer, gyroscope, barometer, altimeter, ambient light sensor, and a geomagnetic sensor.
Lastly, the 42mm vivo Watch can chug along for nine days on a single charge. On the other hand, the 46mm watch can last a whopping 18 days in one go.
Sales are currently limited to China and both watches cost CNY 1,299 (US$ 190).