Crash Landing on You, Pokémon, LOONA: Now Playing
Feels all over!
The GadgetMatch team have been really busy. Samsung unpacked two new galaxies, and Mobile World Congress' cancellation due to the coronavirus outbreak led to a series of smartphone launches. Despite the sudden barrage of events, we made it a point to take a break and relax. Here's what's Now Playing at GadgetMatch.
Movies to see
Pokémon: Mewtwo Strikes Back — Evolution
Gab: The moment it dropped on Pokémon Day, it's a sure watch. There's nothing entirely different from the 1998 version in terms of the story, but this Netflix-exclusive version was just a visual experience on its own. Ash, Misty, Brock, Pikachu, Togepi, and all their partner Pokemon got a massive HD rendition and it's all just adorable. For avid Pokemon fans out there, this will spark some much-deserved nostalgia, especially an HD version of that heart-stopping moment in the movie. You know what I'm talking about.
Taylor Swift: Miss Americana
MJ: Raw, honest, and emotional — Miss Americana reminisces Taylor Swift's journey to stardom. It tackled how lonely it was to be on top, with no one to share your victory with. Swift also showed a glimpse of her vulnerable moments, life-changing opportunities, and chances of redefining herself and the way she sees love and praise. Swift, in this documentary, felt like she's just one of us — fragile, pregnable, and most of all, human.
Birds of Prey
Nissi: The movie does not bring out any of DC Comics' household names — no Batman and, remarkably, no Joker for that matter — but it has a smart script, enthralling performances and plenty of eye-catching action. It brilliantly captures a gaudy, grubby sense of place, part Gotham City, part the sparking trash-fire inside Harley Quinn's deranged mind. The focus on one of DC's most fascinating characters — along with The Huntress, Black Canary, Renee Montoya, and Cassandra Cain — ensures that it continues Warner Bros.' winning streak of bombastic comic book adaptations that are unafraid to embrace their inherent ridiculousness.
Creed II
Rodneil: Missed this while it was showing in the cinemas so I was very glad to finally catch it at an in-flight entertainment. The progression of the story was pretty predictable but the heart, drama, and fantastic cinematography is still there.
Show to binge-watch
Crash Landing on You
Carol: It's been a while since we've had a show that can literally put everything on hold. What got me to watch was how the drama was set in North Korea. It's pretty difficult to just go there for a visit but maybe this drama can satiate the curiosity I've had in my past life as a foreign affairs reporter.
While there's that disclaimer at the beginning that it's all fiction, you can't help but feel for the characters and appreciate the way people survive and fall in love despite risks and the limitations of their situation.
Prepare to swoon, bawl your eyes out, and laugh within a span of 10 minutes. (Scared my dog, really) The chemistry between Captain Ri Jeong Hyuk and South Korean heiress Yoon Se Ri will bring out that level of giddy you thought you already lost as you turned into (what you always thought) was an emotionally-stable adult. Free up a weekend to finish if you're a seasoned binge-watcher. As someone who made the mistake of starting this on a weekday, believe me when I say this can ruin anyone's productivity.
MJ: "It wasn't a coincidence. It was destiny." A popular line heard all throughout the series, I highly believe that it was fate that brought me to my obsession with Crash Landing on You. A casual browsing of K-Dramas to watch for a South Korean phone I've been reviewing led me to a story of two individuals from North and South Korea.
It was enchanting and magical — how can one show make me laugh, cry, giggle, flutter, and sail through a range of emotions in every episode?
Despite all the waves of feelings you'll catch, its story hands out lessons that everyone must realize — the importance of having a strong support system, genuine conversations we can have when we're not distracted, the value of offline connections, and trusting the universe when it comes to finding love. What's meant to be will always find its way, no matter the distance.
Vincenz: My interest in K-Pop and K-Drama is directly equivalent to how interested I am when it comes to North Korea — specifically watching documentaries. As a fan of 한류 (Hallyu) for more than a decade, I never expected a South Korean network would have so much time and budget for a TV series that talks about serious diplomatic issues between two opposing countries with totally different cultures and system of governance.
One of the things that fascinated me the most is when I saw the recreation of North Korean locations, especially Pyongyang. I can even tell how excellent the cast portrayed their roles just by speaking in the North Korean accent — since Seoul and Busan dialects were already distinct in my ears. This is a must-watch series not just for people who are invested with the cast but to open their minds about deep-seated issues between the two Korean countries that were once united.
Songs/Albums/Podcasts to listen to
"So What" by LOONA
Vincenz: If "Butterfly" was all about women empowerment in a dreamy vibe, "So What" is a stronger complementary title track. It's all about raising one's self-empowerment even if it means being reckless. The dominating rap parts, strong choreography, soothing vocals during the bridge part, combined with appealing visuals, cinematography, and post-apocalyptic visual effects may all seem overwhelming but it gives us the message of the song: Women domination.
"
"Scream" by Dreamcatcher
Vincenz: Dreamcatcher gave us a twist in their "ever-horrifying" concept as "Scream" leans more into EDM instead of rock beats and electric guitar synths. It may just be me but the overall concept somehow correlates with their album title Dystopia considering it's a new sight that frightens most InSomnias — but not in any way disturbing and undesirable. It's guaranteed to give you a last-song syndrome!
"Dun Dun" by EVERGLOW
Vincenz: EVERGLOW never fails to bring catchy songs. Known for their eye-catching visuals and powerful choreography, their latest girl crush title track — which is a stylized form of the word "done" — has then captured the eyes, ears, and even hearts of many listeners and viewers. Combined with the message of someone being done, you'll surely freeze upon hearing their vocals.
"Baliw" by SUD
Rodneil: The song feels like a throwback to the music that I listened to a lot while growing up. It's a nice and light listen. Additionally, the video is a continuation of a story that the band's music videos have been trying to tell since they're 2015 song "Sila."
The Full 48: Derek Fisher Remembers Kobe Bryant
Rodneil: Kobe Bryant's untimely passing along with his 11-year-old daughter Gianna and seven others had the entire sports world mourning. In this podcast, Kobe's long-time backcourt partner Derek Fisher pays tribute to the "Black Mamba."
Games to play
Dreams Universe
Rodneil: This is a game perfect for creatives. Anything you can think of, you can probably create. From games to gadgets, music to movies, puzzles to paintings and literally anything in-between, this is a beautiful playground of creativity where everything is possible. It's fun, colorful, and a nice game to take a break with.
Patapon 2 Remastered
Gab: If you literally want a blast from the past while trying to relax, a remastered Patapon 2 may just be for you. This PlayStation Classic brings back the drumbeat style gameplay, 2D armies, and villains but turns up the enhancements so much. If you need to take a break from any possible heartbreak, or you just want to feed your soul with some beat-making, try it out!
One Punch Man: A Hero Nobody Knows
Rodneil: The only reason to get this game is if you're a die-hard One Punch Man fan. Other than that, it seems to be the usual 3D arena fighting game from Bandai-Namco. Yes, you get to create your own "Hero" and level-up through various missions but there's nothing groundbreaking here. However, none of that takes away from the joy of playing your favorite One Punch Man characters. And yes, Saitama can show up and finish battles with one punch.
Bonus: If you don't want to play, the first season of the animé just became available in Netflix PH.
Final Fantasy VII Remake Demo
Rodneil: This is easily one of the most anticipated games over the last five years and with just a month away from its official release, Square Enix finally releases to the public a demo of the game. I have no doubt in my mind that fans will be spending a better part of the month playing and replaying this demo!
Upcoming
Watch out for Castlevania Season 3 (March 5 on Netflix), ITZY's "Wannabe" (March 9), Beastars Season 1 (March 13 on Netflix), Steins; Gate 0 (March 16 on Netflix), and A Quiet Place Part II (March 18 in Cinemas).
---
Now Playing is the GadgetMatch team's favorite games, movies, TV shows, and more each month. If you're curious to know what we're into at the moment, this is what you should check out. So grab your popcorn, get some drinks, and enjoy what's now playing!
The cost of the post-pandemic movie
Why you should care about Mulan's terrible premiere
The fate of the Hollywood blockbuster rests on a fingertip. A formerly grandiose affair with celebrities dressing up to the nines, the red-carpet premiere is now an impossibility thanks to the ongoing COVID-19 crisis. On the other side, streaming services blossomed with new titles and exclusives. It was (and is) a great era for the home theater. But the home theater will not last forever. Hollywood is now facing a crisis for the future of the premiere.
If the past year is any indication, Hollywood will, of course, not go down without a fight. Large networks and production houses have released their own streaming platforms to monopolize their content, putting additional weight on a consumer's budget. Take Disney's Disney+ or NBC's Peacock, for instance. Now, a few of these (like Disney and Netflix) make their own blockbuster content as well. We've seen Netflix's streaming-only premieres already. How about Disney's (or anyone else's) Hollywood premieres, which often rely on astounding box office numbers?
This week, we got a taste of such a strange premiere scheme. In an earnings call, Disney CEO Bob Chapek detailed the future of a delayed movie, Mulan. Initially premiering in theaters back in March, Mulan was repeatedly delayed because of the continued shutdown of movie theaters. Now, as the company is itching to finally launch it, Chapek announced a hybrid release for the film. Partly premiering in theater in safe countries, the film will also launch simultaneously on Disney+ for unsafe markets.
Now, here's the catch: the film will cost US$ 29.99 for Disney+ users. Even if you have a subscription already, you have to fork over approximately PhP 1,474 to watch the new film. Of course, the hair trigger response is, "c'mon, Disney; stop haggling money from your customers." And the response is right. However, there is so much more to this. Mulan can set the stage for an unprecedented era for Hollywood premieres.
Let's get down to business
In New York, an average movie ticket costs around US$ 15 (approximately PhP 736). Mulan's price tag is twice as much as a theater ticket. It's even weightier in cheaper states and, most especially, in the Philippines (where movie tickets are only around US$ 5). Further, you'll still need an active Disney+ account to access the film, costing an additional US$ 6.99.
(Naturally, it's impossible to accurately translate the prices to an Asian market since Disney+ has not launched in all of Southeast Asia yet. We can only assume that Mulan's streaming price is 200 percent of normal ticket prices, whatever it might be.)
Objectively, Mulan's price is worse than a regular movie ticket. It's easy to conclude the argument with this statement and head home. However, there is a way to justify the price.
The whole family plus your cow
Now, a single movie ticket typically admits one person. Buying Mulan pays for the streaming privilege which can typically include an entire family. With a 15-dollar average, two people watching the same Mulan purchase is already a break-even point. In the same vein, a family of four obtains double the value of the 30-dollar film price. Even better, a family can watch the film over and over again. And, as any parent who has a Frozen-loving child can tell you, unlimited playbacks is a blessing for your wallet (albeit a curse on your sanity).
Unfortunately, despite the mathematical mind-bending, Mulan's price is still far from ideal. The movie-going experience is not the same on a streaming platform as in a cinema.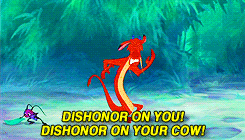 An assumption of equality
A cinema ticket is price of equality. Besides a few slight differences, everyone is paying for the same product. All other things considered equal, a 20-year old college student is paying and enjoying the same experience as a 50-year old CEO. Same film, same seat cushions, same facilities, same projector.
On the other hand, a streaming subscription cannot assume the same thing. A platform cannot control where and with what device a user will watch the movie from. A 20-year old college student watching the film on a laptop screen in a poorly lit dorm room is not enjoying the same experience as a 50-year old CEO watching the same thing in their high-end home theater with Dolby Atmos.
Likewise, the platform cannot assume how many people will watch the film in one purchase. Now, Mulan is a family film. Disney can easily assume that multi-person families will buy and watch the film. However, how will the audiences take the same price tag for a more polarized movie like Christopher Nolan's Tenet or the next James Bond film?
All of Hollywood knows you're here
In the same announcement, Chapek hints that Mulan's price is just a "one-off." Basically, other films might not follow the same pricing scheme. In a way, it makes sense. Mulan was made with a pre-coronavirus budget. It was expected to make millions from box office tickets. This might be the only way for Mulan to recoup its many losses. In the future, Disney might make films with lesser budgets and lesser expectations.
However, make no mistake; other filmmakers are intently watching Mulan's performance on streaming. If Mulan succeeds, they can likely charge the same amount without incurring a lot of losses. That said, streaming premiere prices will likely vary from film to film. Even then, this isn't the last discussion on the future of the film industry.
If the industry hopes to adapt to the new normal, it needs to rethink its strategy even further. Disney is offering only one solution for the problem of streaming. Unfortunately, the brand's solution leverages a family-oriented release, one that might not appeal to the average moviegoer today.
A price worth fighting for
My suggestion: Implement a tiered premiere price. Not everyone will want to pay the full 30 dollars for a film they're not wholly interested in. Most will watch it once and forget about it. Some won't even care about watching it in HD.
Why not implement a pricing scheme based on those different preferences? For example, charge US$ 5 for a standard-definition, one-time playback premiere; US$ 10 for an HD, one-time playback premiere; US$ 20 for a standard-definition, unlimited playback premiere; and US$ 30 for an HD, unlimited playback premiere. In one swoop, a film can appeal to all streaming markets and needs.
Get NBA League Pass with PLDT Home
It's a whole new game!
It's a whole new game! The NBA is back and hoop junkies subscribed to PLDT Home are in for a treat!
PLDT Home subscribers can now conveniently access NBA games and exclusive programs live and on-demand for as low as PhP 485 per month by charging their NBA League Pass subscription to their existing PLDT Home account.
This offer comes as the NBA Restarts after being unceremoniously postponed due to the Coronavirus pandemic.Will LeBron and the Lakers make it all the way to the Finals? Can the Toronto Raptors repeat as Champions despite Kawhi Leonard heading to the Clippers? And can "The Greek Freak" Giannis Antetokounmpo cement his legacy by finally adding an NBA Championship to his resume? If you want to know, having NBA League Pass is the best way to follow the league.
NBA League Pass gives you access to the seeding games as well as the 2019-2020 NBA Playoffs with new statistical overlays, alternative audio, and multiple viewing options.
League Pass subscribers can watch in new camera angles, multiple in-language streams, influencer commentary, as well as in-depth analysis and live game stats. Viewers will also have the ability to impact visual effects and sounds in the venue through a "tap-to-cheer" function.
There's also a 3-Game Choice that lets users watch up to three games of their choice per month.
To subscribe, visit pldthome.com/nbaleaguepass.
SEE ALSO: Kobe is the cover of NBA 2K21 Mamba Forever Edition
The Emmys will be a virtual ceremony in 2020
Will they be in formals or pajamas?
The 2020 Emmys Awards on Primetime will a fully-digital event to avoid public gathering amid a pandemic. The nominations were announced this week and Emmy executive producers, including host Jimmy Kimmel, sent a letter to key acting nominees informing them that this year's ceremony will be virtual.
It also asked them to be prepared to participate from home or wherever they are. The Coronavirus pandemic has forced countries to announce lockdowns and curtail public gatherings to prevent further spread of the virus. The US alone has reported more than 4 million positive cases so far and the rising graph shows no sign of dropping.
Unlike the usual formal wear, the letter said, "If you want to be in formal wear, we'd love that, but equally if you're in the UK and it's 3 a.m., perhaps you want to be in designer pajamas and record from your bed!"
The letter added the organizers are assembling a top-notch team of technicians, producers, and writers to work closely with Jimmy Kimmel and invited guests, to make sure everyone can be filmed.
The Emmys can't ignore the current circumstances and "we also acknowledge that our world is going through a challenging moment in many ways."
A virtual award ceremony is a very modern concept and its implementation matters the most. TV viewership has spiked since work-from-home models got implemented in March, prompting people to seek out new shows and binge older ones. Reality award ceremonies are a dose of fresh content, bringing back some level of normalcy.