The brand new Nike React Infinity Run just went on sale globally earlier this month, and Nike sent us a pair to check out! Nike is pitching this as their solution to help prevent running injuries and you know what? I think it's actually true.
If you're a seasoned runner you've probably had an injury or two pop up every so often because of a bad landing while you run or numerous other reasons. Nike's aim with the Infinity Run was to reduce these overuse injuries, and they worked with the British Columbia Sports Medicine Research Foundation to do so.
They had over 226 runners test this shoe against the Nike Structure 22, which is a more traditional motion control shoe, and they found that the runners using the Nike React Infinity Run reduced running injuries by a huge 52% compared to the Structure. Which if you believe the marketing, is a pretty huge deal.
Nike has already made a name for themselves in the running scene with the vaporfly running sneakers. You know those sneakers that were so good that athletes wearing them started breaking records, so the competition tried to get them banned? Thankfully they didn't get banned and Nike can go on pushing boundaries with their sneakers.
As such the React Infinity Run really stands out in Nike's lineup of training shoes. First, because of the generous amount of React cushioning, but also because of the entire shape of the shoe, along with a lot of improvements.
There's a wide midsole, and a shape that helps with its grounded feel. All that comes together to create a performance-minded running sneaker that allows the miles to just fly by.
Look and feel fly
Buying an everyday running shoe can be really stressful. You need something that's comfortable, yet durable, and able to last intense training cycles and long runs. It turns out, the Nike React Infinity Run is great at all of that.
I was a huge fan of the Epic React Flyknit from 2019., I even bought a pair to check out, so I had high hopes for the React Infinity Run.
You can see I got the really hot Bright Crimson colorway to check out — it's really hard to photograph and color correct, so here is what Nike's press photo of the sneaker looks like to give you a better idea.
But the Infinity Run also comes in a bunch of other colorways as you'd expect, including an all black version. Though, the standard white and pink version is my favorite.
Coming to the shoe itself, the big deal about this running shoe, is the midsole. There's 24 percent more Nike React foam here vs last year's Nike Epic React Flyknit 2, and it's also much wider.
This makes a huge difference in midsole cushioning, with the stack height measuring 30.5 mm in the heel and 21.5 mm in the forefoot. The extra wide base also helps avoid any side-to-side wobbling when you're running in this shoe.
But the main highlight is the React foam which cushions your every step, and springs back into shape, just like we've seen in other React midsole sneakers.
It's quite different from Adidas Boost, somehow being more cushiony but still having a good amount of energy return — different but similar. I'll talk more about this in the performance section later on.
Light with great fit
Moving on to the upper, there's a single-layer Flyknit upper which gives the shoe a really sleek, streamlined look and fit. The Flyknit material used here is slightly stretchy in the forefoot area and has tiny little micro perforation dots for more breathability.
But the best part about the upper for me is the integrated tongue that allows the shoe to have a sock-like feel. Instead of a usual shoe tongue, Nike chose to seamlessly knit stretchy, soft fabric and the elasticity maintains the one-piece construction of the shoe, giving it a really clean silhouette.
At the same time, the material is stretchy enough to accommodate even wide feet so you can go true-to-size. Sometimes running shoes can be too narrow for your forefoot, but here, there's plenty of room and enough stretch so that it is an appropriate level of snug.
There's also the secure, minimal lacing system up top to help ensure a nice fit via four eyelets up the center of the shoe.
Coming to the back, Nike wrapped an extra overlay around the back which gives some extra structure in the mid foot area, with a thin heel counter that helps secure your foot.
That being said, there is no extra padding in the ankle collar, which you'll either love or hate. Instead Nike finished the collar with contrasting stitching. If you wear regular socks this will feel really comfortable, but if you wear no-show socks the sensation of the fabric against your skin might annoy you slightly — so just wear higher socks.
Lastly at the back, there's a pull tab that helps slip your foot into the shoe, which is much appreciated.
Built for an infinite ride
As we mentioned earlier, the main attraction with the Infinity Run is the React foam midsole which really helps ensure an energetic ride. However, the shape of the shoe itself also plays a major role in how it performs.
Nike created a midsole that is in a rocker shape, similar to the curved shape of the midsole and carbon-fiber plate of the first Nike Vaporfly 4% marathon shoe. This rocker shape means the wearer has an ever so slight forward lean.
Nike says this is to move your natural footstrike to the midfoot or forefoot area, which in theory will create a natural feeling of propulsion as you walk in them. As such it helps move your foot through a really fluid foot strike, and you won't notice any weirdness as you transition from heel to toe during your runs.
This rocker shape is becoming more and more common in running shoes so it definitely has a bit of performance benefits, especially so on the Infinity Run.
As you take a stride, the shoe rolls smoothly through the transition, with a relatively quick turnover. In addition to all of this, the shoe is also quite lightweight even with all that foam, so it's surprisingly quite nimble to use.
Plenty of React
The other unique aspect about the midsole here is the width. It's an interesting shape for sure, especially when you look at the shoe from up top. The midsole flares out from the heel and forefoot area. This creates a foundation that is wider at the bottom and that wide base gives the shoe a lot of stability.
With narrow shoes you sometimes feel like you might accidentally roll your ankle in, but you never have to worry about that in the Infinity Run because the wider base keeps your foot closer to the ground to help with stability.
It's something that you feel right away when you start walking in these shoes.
The entire midsole is made from the React foam, and it performs just as you'd expect. According to Nike, their React foam is a combination of thermoplastic elastomer (TPE) and ethylene vinyl acetate (EVA), which are common polymers you'd find in most running shoe cushioning midsoles. And this all makes for a midsole that is springy, yet durable, with a nice soft foam cushioning.
Because of everything that midsole has to offer, coupled with the rocker shape, the Nike React Infinity Run is actually perfect for runs — be it your daily jog in the mornings, an evening run after a long work day, or even if you're only just starting out. This is one of the best running shoes I've tried in a while.
I should point out though that these aren't really meant for long marathon runs. Nike says the Infinity Run works best with variable training where you vary your training instead of running the same amount of distance at the same pace at the same path every day.
Another thing I should point out is that if you tend to overpronate while running, the Infinity Run really helps keep you neutral and allow that toe-off to be right down the middle. If you're a neutral runner, it'll still help control the foot while on a run.
At the end of the day, Nike's claim about this shoe helping with preventing running injuries seems to be true. If you're tired of overuse injuries or you're worried about starting out with running — these are the shoes for you.
Is the Nike React Infinity Run your SneakerMatch?
The Nike React Infinity Run is a shoe that I love for its clean styling and premium level of performance. But honestly, my favorite thing about it is the overall stability.
Nike was spot on with their marketing here. It really is a secure running shoe that's meant to help prevent injuries and for those of you who are new to running — this might actually help overcome your fear or reluctance towards it.
Nike designed the React Infinity Run for everyday runs, and it definitely excels at that. The rocker shape allows for smooth transitions into and out of each stride, and the stretchy Flyknit upper feels great and can accommodate all types of foot shapes.
The heel-to-toe transition here was just amazing and it makes you feel faster in your runs, and generally makes running feel easier.
And then of course there's that amazing bouncy React foam on top of a wide base. There's more React Foam here than on any Nike shoe ever before. It all makes for a shoe that you'll want to wear not just on every casual run, but maybe even throughout a normal workday as well, because they're so comfortable.
Of course, if you're a long-time runner and want something serious, there's nothing better than the Nike Vaporfly Next%. If you're looking for a long distance marathon shoe, well there's the more secure and durable ASICS GEL Nimbus 22 which I still think is a great shoe. And if you're leaning more towards the Adidas camp, there's the Ultraboost 20 which is a decent alternative.
But for everything else, I have to admit, the Nike React Infinity Run is definitely recommended. I think Nike has yet another winner on their hands here, and this is easily going to be my most recommended pair of running sneakers this year!
ASUS ROG, ACRONYM partner for Special Edition Zephyrus G14
Bringing together impressive power and top-tier design into one device
ASUS ROG pits its ROG Zephyrus G14 as its most all-around gaming laptop. It comes with powerful hardware in a sleek design, along with features fit for a personalized experience. In essence, it's the ultimate laptop for gamers and content creators, alike. And apparently, ASUS isn't the only one who sees it that way.
Errolson Hugh, co-founder of leading technical appparel company ACRONYM has his vision of an empowered user. He believes that more empowered users aren't strictly just gamers, but is also a thinker and a creator. Since 1994, the company built an extensive portfolio of apaprel sourced from top notch materials.
These initiatives make ACRONYM an ideal partner for ASUS ROG, and it's seen in their Special Edition Zephyrus G14. In terms of hardware, the Special Edition ROG Zephyrus G14 still carries the latest AMD Ryzen 9 CPU and NVIDIA RTX 2060 GPU. Now, ACRONYM infuses its own design philosophy and brings distinct visual features to the device.
Pricing and availability for the Special Edition ASUS ROG Zephyrus G14 have yet to be announced.
Samsung is shooting an 8K Korean film using the Galaxy S20
To release in 8K, 16:9 resolution
Are you ready for 8K entertainment? Ready or not, the next evolution in resolution is coming. In fact, today's smartphones already have the ability to shoot 8K video, fitting perfectly well with the recent influx of 8K TVs. All that's left is actual content. Blessed with a growing list of 8K-compatible hardware, Samsung is shooting an 8K Korean film using the Galaxy S20 series.
Announced through the company's South Korean newsroom, Samsung will mostly use the Galaxy S20 and the Galaxy Note 20 to shoot the short film titled Untact. The company will release the 8K film in select cinemas in South Korea. To ensure safety, the film will show for only small batches of people. Besides the small theatrical release, Samsung will also release the film through its YouTube channel.
South Korean director Kim Jee-Woon will helm the film. The director is most known for popular thrillers such as The Last Stand (featuring Arnold Schwarzenegger) and A Tale of Two Sisters. Meanwhile, Train to Busan's Kim Joo-Heon and Kim Go-eun will star in the film. The film is a romance flick focusing on the effects of non-face-to-face communication.
Historically, Samsung isn't the only tech maker foraying into the film business. This year, Apple also shot its own film using an iPhone 11 Pro, among other attempts.
Regardless of the obvious marketing for both companies, technology has undoubtedly progress far beyond the expectations of a regular smartphone from a decade ago. Amidst the rise of 8K entertainment, smartphones are rushing to catch up with modern filmmaking gear. Though the industry will always prefer filmmaker equipment, the smartphone's capability is there and ripe for the taking.
SEE ALSO: Selena Gomez's new music video was shot on an iPhone 11 Pro
BLACKPINK is coming to PUBG and we're excited
We can't wait to find out more!
So both the official social media accounts of BLACKPINK and PUBG Mobile shared this:
BLACKPINK IN YOUR AREA! #PUBGMxBLACKPINK@PUBGMOBILE pic.twitter.com/8dKIRaUxGV

— BLACKPINKOFFICIAL (@BLACKPINK) September 17, 2020
Clearly, the K-Pop girl group is teaming up with PUBG for something but we still don't know exactly what. Other than the image, no other details have been revealed yet.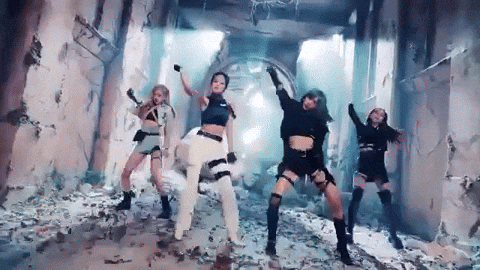 The collaboration can come in many forms but the image suggests a BLACKPINK themed loot crate, vehicle, and other items. Whatever the case may be, you can expect BLINKS to start downloading the game right now.
We'll update this space once we get more details. Until then, stream "Ice Cream" for clear skin.