SCARLET NEXUS First Impressions: Technological dystopia
BANDAI NAMCO's take on an anime-style, cyberpunk RPG
I knew BANDAI NAMCO mostly from their incredible work on classic games like PAC-MAN and TEKKEN. In fact, I grew up playing their games quite a lot, whether with family members or with some friends. To this day, they're still producing a decent amount of games across both current and next-generation consoles and the PC.
This time around, they've ventured into an action RPG mixed with a little bit of "brain punk" as they described it. They called this game, "SCARLET NEXUS," and it's set for release for the PlayStation 4, PlayStation 5, Xbox Series X|S, Xbox One, and the PC. Now, I gave the demo a shot to see just how everything will turn out.
Short, sweet, and action-filled
In total, the entire demo took about 30 minutes to finish, which for a demo isn't that long. At the start, you even get to choose which main protagonist you want to roll with, for a good reason too. Apart from the same tutorial section, you actually get to play a different main stage design. I honestly thought it would be the same all throughout.
Regardless, gameplay immediately picks up after a short tutorial session, and I found myself just having a blast. Honestly, the controls are pretty easy to understand and master after a few combat sequences so the learning curve isn't steep. Plus, part of the combat mechanics includes the SAS, which grants access to additional attacks and abilities.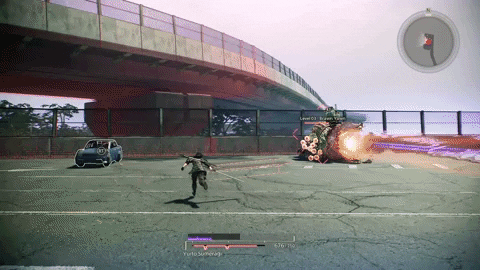 It's a gameplay style I've come accustomed to with other RPGs in the last few years. Even for a short demo, action looks quite fast-paced and reaction-heavy on some occasions. Also, you can add onto that a bit of exploration with the vast level design, so combat feels more loose and exciting to mess around with.
Visuals suited for the time
If you're planning to get the version for the PC or  next-gen consoles, the design for the demo is amazing. I have to give credit to BANDAI NAMCO for integrating some apt lighting fixtures in Kasane's demo level, further emphasizing the technological wasteland in the background. Although, I think that this will also be present in the PS4 and Xbox One versions but not as prominent.
Also, like I mentioned before, the demo levels are quite vast, which also aids in the exploration aspect. I noticed that they scatter some items across the whole level, ranging from healing items to items that aid in combat. In some instances, these items were well-hidden in some of the nooks and crannies of the level.
Of course, it isn't just in the overworld visuals that I'm amazed at, but even in some of the cutscenes in between combat and exploration. The cartoony, comic book-style animations mixed in with some techno-punk were nice touches. I could feel that there was a lot of love given just to this department alone.
Worth all the waiting?
If I could sum up my initial impressions on SCARLET NEXUS, it's an RPG that I truly enjoyed even for 30 minutes. Honestly, the biggest culprit for this goes to the gameplay mechanics that feels so great to execute, and you take a short time learning everything. Packed with some incredible visual design, I think this game has potential to be a favorite for this year.
One of the things I am looking forward to later on is the storylines we'll be working with. The demo doesn't really touch on plot points that you could do mental gymnastics with. Although, it does reveal that you play with different NPCs instead of taking on the enemies all by yourself. Nonetheless, I feel that it's something worth diving into when the full game comes out.
SCARLET NEXUS will be available on June 25.
Sony, Xbox, Nintendo are skipping E3 2023
Might hold their own events
E3 used to be one of the most anticipated showcases for the gaming community. However, since the pandemic, the event's impact gradually shrank especially because of in-person cancellations. Now, despite the return of in-person events, E3 still has a massive uphill climb to bounce back from the past. This year, Sony, Microsoft, and Nintendo have officially pulled out from the event.
For the first time in four years, E3 is holding an in-person event at the Los Angeles Convention Center this June. Unfortunately, according to IGN, three of the biggest companies to grace the show floor will not make an appearance for the event this year.
In an interview with the source, Microsoft says that Xbox will still hold a showcase around the same time. However, the company will likely skip the floor itself and hold its event concurrently in another location.
IGN also reports that Sony and Nintendo will follow in Microsoft's footsteps and skip E3 this year. Nintendo usually holds its own Direct events online. Holding its own outside of an in-person event is just what you'd expect for the Switch's growing library of games.
Sony, on the other hand, has not shared any official plans during June's showcase yet. If anything, the PlayStation 5 is in for an optimistic year, given the console's upcoming games. An exclusive event sounds possible, too.
SEE ALSO: E3 is finally returning to in-person events next year
It's easier to get a PlayStation 5 now, Sony says
More supplies worldwide
Still struggling to get a new PlayStation 5? If dwindling console stocks are keeping you down, Sony has announced a reprieve for queue waiters. The company promised that supply for the console will greatly increase ahead of the PlayStation VR2's launch in February.
Since the console's launch back in 2020, scalpers and bots have persistently plagued the industry, taking supplies away from most gamers. Over the years, the impact of supply problems gradually dissipated. Today, it's easier to buy a PlayStation 5, but supply can still be an issue in some parts of the world.
During CES 2023, Sony initially hinted that PlayStation 5 stocks should increase even more this year. Now, Sony is making it even more official. Today, the company officially posted that it's easier to find one in retailers globally.
For users hunting for the console in the United States, the United Kingdom, and Europe, Sony recommends going to the official PlayStation store to buy one.
To promote the increased supply, Sony has also released a new promotional video for the PlayStation 5's exclusives set to imitate a news show.
Only a month into the year, 2023 is already looking to be a great year for the platform. Later in February, Sony is set to launch the new PlayStation VR2. The console will also host a flurry of notable exclusives including Marvel's Spider-Man 2, Assassin's Creed Mirage, and Street Fighter 6.
Concept Nyx: Dell working on intelligent game controller
The future of gaming
Dell Technologies is working on an all-in-one intelligent game controller that shall interconnect devices and screens while providing a whole different level of gaming experience.
Called the Concept Nyx game controller, Dell's project aims to provide easy access to gaming libraries across multiple devices and screens for effortless sessions at home.
Here's what we know so far about Concept Nyx:
To kick things off, the design-making process took lots of turns. Developers explored adding tons of buttons, attachments, sensors, and more.
This has led to the potential final design that gives users personalized settings at their fingertips. It's composed of the following parts:
Dual thumb control wheels

Light ring

Adaptive thumbstick

Omnipad

Left and right scroll bumpers

Fingerprint sensor in the middle

Left and right adaptive triggers (underneath)

Shift buttons (underneath)
The fingerprint reader detects who is using the controller specifically, to be able to load their games right where they left off instantly.
Dell also prioritized the device's haptics. They come with self-adjusting variable resistance thumbsticks that can be tailored to user preferences and specific game play.
PC gaming musts have also been included in the concept. Shift buttons underneath the controller allow for more front button options, mimicking the shift combos from PC keyboards.
The innovative scroll wheels give users an easier time to navigate and select weapons, while the intelligent touchpad allows for instant access to customizable controls in-game, without having to toggle a menu screen which disrupts your real-time gaming view.
Concept Nyx dashboard
The era of tug-of-wars at home may soon be over as well. The Concept Nyx controller is being designed to accommodate simultaneous gaming.
For instance, while connected on two different headsets, two separate Concept Nyx controllers may be used to play two different games on a split screen.
Streaming to other devices and screens and wi-fi connectivity are also some of the capabilities of the controller by simply pulling the thumbstick.
All these factors have been the foundation for the development of the Concept Nyx's intelligent edge ecosystem beyond gaming.