SCARLET NEXUS First Impressions: Technological dystopia
BANDAI NAMCO's take on an anime-style, cyberpunk RPG
I knew BANDAI NAMCO mostly from their incredible work on classic games like PAC-MAN and TEKKEN. In fact, I grew up playing their games quite a lot, whether with family members or with some friends. To this day, they're still producing a decent amount of games across both current and next-generation consoles and the PC.
This time around, they've ventured into an action RPG mixed with a little bit of "brain punk" as they described it. They called this game, "SCARLET NEXUS," and it's set for release for the PlayStation 4, PlayStation 5, Xbox Series X|S, Xbox One, and the PC. Now, I gave the demo a shot to see just how everything will turn out.
Short, sweet, and action-filled
In total, the entire demo took about 30 minutes to finish, which for a demo isn't that long. At the start, you even get to choose which main protagonist you want to roll with, for a good reason too. Apart from the same tutorial section, you actually get to play a different main stage design. I honestly thought it would be the same all throughout.
Regardless, gameplay immediately picks up after a short tutorial session, and I found myself just having a blast. Honestly, the controls are pretty easy to understand and master after a few combat sequences so the learning curve isn't steep. Plus, part of the combat mechanics includes the SAS, which grants access to additional attacks and abilities.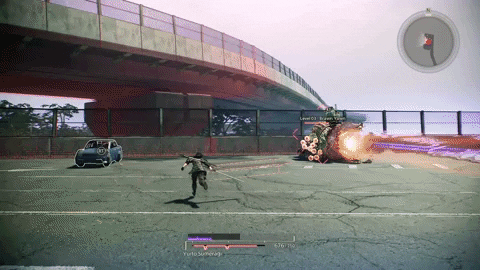 It's a gameplay style I've come accustomed to with other RPGs in the last few years. Even for a short demo, action looks quite fast-paced and reaction-heavy on some occasions. Also, you can add onto that a bit of exploration with the vast level design, so combat feels more loose and exciting to mess around with.
Visuals suited for the time
If you're planning to get the version for the PC or  next-gen consoles, the design for the demo is amazing. I have to give credit to BANDAI NAMCO for integrating some apt lighting fixtures in Kasane's demo level, further emphasizing the technological wasteland in the background. Although, I think that this will also be present in the PS4 and Xbox One versions but not as prominent.
Also, like I mentioned before, the demo levels are quite vast, which also aids in the exploration aspect. I noticed that they scatter some items across the whole level, ranging from healing items to items that aid in combat. In some instances, these items were well-hidden in some of the nooks and crannies of the level.
Of course, it isn't just in the overworld visuals that I'm amazed at, but even in some of the cutscenes in between combat and exploration. The cartoony, comic book-style animations mixed in with some techno-punk were nice touches. I could feel that there was a lot of love given just to this department alone.
Worth all the waiting?
If I could sum up my initial impressions on SCARLET NEXUS, it's an RPG that I truly enjoyed even for 30 minutes. Honestly, the biggest culprit for this goes to the gameplay mechanics that feels so great to execute, and you take a short time learning everything. Packed with some incredible visual design, I think this game has potential to be a favorite for this year.
One of the things I am looking forward to later on is the storylines we'll be working with. The demo doesn't really touch on plot points that you could do mental gymnastics with. Although, it does reveal that you play with different NPCs instead of taking on the enemies all by yourself. Nonetheless, I feel that it's something worth diving into when the full game comes out.
SCARLET NEXUS will be available on June 25.
Plunge into a dark world in Resident Evil: Infinite Darkness
A thriller series based on Capcom's beloved franchise
Resident Evil proved to be one of the most popular game franchises of all time, spanning different console generations. For over 25 years, Capcom produced some of the most jaw-dropping, horrifying game releases that shake people to their core. Just last May, they released Resident Evil: Village to a fanfare of everybody simping for Lady Dimitrescu.
Apart from the games, Resident Evil also received several television and movie adaptations, bringing the same horror to the big screen. From live-action movies to animated TV series, these provide a good amount of fan service to long-time fans of the games. For 2021, Capcom has a new series that I believe fans will also appreciate upon release in RESIDENT EVIL: Infinite Darkness.
A series of unfortunate events
The world of RESIDENT EVIL: Infinite Darkness still revolves around the whole zombie encounter-theme the games follow, but on a rather global scale. In the year 2000, U.S. special forces were sent to intervene in the ongoing civil war in the region of Penamstan. However, tragedy struck when the helicopter fell from the sky, and the special forces were annihilated. At least, that's what they believe happened.
Fast forward to 2006, back in the United States, a hacking incident occurs within the White House. To avert more disaster, the government invited four agents to investigate but were met with strange circumstances. As it turns out, a horde of zombies infiltrates the building and the agents, along with the U.S. S.W.A.T. team, fight them off.
It's an anime series that tackles a ton of mystery about the events of the past, and how they catch up in present time. In essence, the agents seek to unravel what truly happened that day in 2000, and how they could avert another disaster from happening.
A familiar face returns to the scene
Remember how I mentioned that there are four agents assigned to the investigation? Well, one of them is Leon S. Kennedy, one of the main playable characters in Resident Evil 2. In this series, he looks a bit older and wears a more formal attire than a police uniform. In an interview with Director Eiichiro Hasumi, he explained to me why they picked him in the first place.
According to him, Leon's character provides a "lot of freedom to move around" in terms of the storytelling aspect. Compared to someone like Chris Redfield, for example, Leon's character doesn't necessarily tie him down to any specific roles or places in the story.
As seen in his character design, Leon looks a bit more tired — as if the youth in his aura was sucked out of him. Director Eiichiro notes that he is "in a slightly bitter position" compared to his younger self. How exactly will this version of Leon deal with the crisis of Resident Evil: Infinite Darkness? We'll find out soon enough.
Managing your expectations a bit
So, what can you expect from RESIDENT EVIL: Infinite Darkness when it comes? For starters, it's a fully animated TV series that Director Eiichiro hopes would be easily digestible for everyone. It's a series that reveals everything slowly, and eases you in on what's happening with every bit of new information.
Secondly, while I've already mentioned Leon's presence, you will also see Claire Redfield, another protagonist from Resident Evil 2. In the series, she serves as a volunteer for TerraSave based in Penamstan, and even does her own set of investigations. Where these investigations will take her, you'll have to find out on your own!
Finally, there will be zombies and zombie killing, like a lot of it. I mean, it's par for the course for the games to have zombie killing, so the anime series should include it. As for the zombies they will be killing, again, you have to watch the series to find out.
RESIDENT EVIL: Infinite Darkness will arrive on Netflix on July 8, 2021.
Lenovo Legion Phone Duel 2: Price and availability in the Philippines
A immersive, gaming-centric experience like no other
Lenovo continues to break ground on bringing the gaming world to a wider audience. As such, they launched the Lenovo Legion Phone Duel last year to do exactly that. Their own take on a proper gaming smartphone received a mix of adjulation and criticism, but it didn't stop them. This year, they're bringing the heat with the new Lenovo Legion Phone Duel 2.
The Lenovo Legion Phone Duel 2 doesn't necessarily stray away from its predecessor's overall design. Although, with a 6.92-inch AMOLED display, it's certainly a little larger for a good reason. Also, this time around, the Legion Phone Duel 2 sports a whopping 144Hz refresh rate and HDR10+ support for clean and crisp gameplay.
Inside this machine, you will find a Snapdragon 888 5G CPU, up to 16GB of RAM, and a 5,500 mAh battery for intense and extensive mobile gaming.
Another prominent gaming feature of the Legion Phone Duel 2 is its Octa-Trigger system. On the phone, you have eight airtriggers to map onto different actions during gameplay. In essence, it's as if you're already using a controller for your phone to play your games. Along with Lenovo's Dual HaptiX technology, you can also expect precise touch feedback, as well.
The Lenovo Legion Phone Duel 2 is available for pre-order beginning June 18 until June 30, 2021. It comes in two colors in Ultimate Black and Titanium White, but only the former is available during the pre-order. As for the SRPs, here are the available configurations:
12GB RAM + 256GB storage — PhP 39,995
16GB RAM + 512GB storage — PhP 49,995
Razer unveils its new Raptor 27 gaming monitor
Higher refresh rate, and more RGB to boot
During Day 3 of E3 2021, Razer kept their announcements simple and straight to the point. Apart from the new laptop and portable charger, the company also unveiled a new iteration of their gaming monitor. If you're a big fan of RGB setups, the new Razer Raptor 27 might just be the monitor for you.
The new Razer Raptor 27 comes in a similar form factor as its predecessor, with an RGB base at the bottom. Unlike its predecessor, it now comes with a 165Hz refresh rate and a 1ms response rate. For competitive gamers, this is a huge plus to capture higher frame rates without missing a beat. Also, with a 95 percent DCI-P3 color gamut, you can expect more vibrant colors suited for creatives, as well.
Another feature that creatives will also appreciate is that the Razer Raptor 27 is now THX-certified. This means that the 27-inch IPS display will project stunning picture quality according to how creators intended them to. Along with Razer's Synapse 3 software, you will also be able to control its settings for your preferred viewing experience.
The Razer Raptor 27 will be available early Q3 2021 at US$ 799.99.