Battle of the reversibles: USB-C vs Lightning connector
Which port is best for your device?
Gone are the days of the peculiar dance of the ports thanks to reversible connectors. We're talking about the USB-C standard and the Lightning connector from Apple. Both are amazing and helpful for consumers, but the two are quite different. And no, it's not a matter of Android versus iPhone.
What is USB-C?
USB-C, technically known as USB Type-C, is the latest and most versatile USB connector to date. If you happen to have a premium phone, you already have a USB-C port for charging and wired connectivity. If you have the latest MacBook or MacBook Pro, it's the sole type of port on your laptop for wired video and data output, as well as charging. You will find USB-C on most mobile devices nowadays, even laptops, because it's a standard that anyone can use. But not all USB-C ports and connectors are created equal.
A technical explanation as to why they're not all equal is that USB-C is actually just the style of connector and port; the real power comes from the USB 3.1 technology it uses, which can deliver 100 watts of power and is capable of a 10Gbps data transfer rate. It also supports Thunderbolt 3 technology for an even faster 40Gbps transfer. But not all USB-C types have USB 3.1 or Thunderbolt 3 speeds, especially for mobile phones.
While the older USB we're familiar with are mainly used for storing and transferring files, the new USB-C standard is not limited to that. It can relay images for displays with support for full DisplayPort A/V performance up to an 8K resolution. It's also backward-compatible with VGA, DVI, and the trusty HDMI as long as you have the right adapters.
Since all USB-C ports and connectors look alike, it's now harder to distinguish what the port or cable is for. Could it be a power source or for charging? Maybe for high-resolution video? Or high-speed data transfer? You'll have to know the specifications to be sure.
What is Lightning?
Apple already had their proprietary connector with the early iPhones, but it was only since the introduction of the Lightning connector along with the iPhone 5 in 2012 that made their own design popular.
From a cumbersome 30-pin dock connector, Apple had a smaller and reversible one which was ahead of its time. Even the common micro-USB port can't compete with the convenience of the Lightning connector. Since it's proprietary, only Apple can use it and third-party accessory manufacturers have to pay a licensing fee to apply it to their products.
The technical specification of Lightning is pretty limited, but when it first came out, tests showed that its speeds were up to 480Mbps — the same with the old USB 2.0 standards. In 2015, the iPad Pro showed a faster speed of 5Gbps, but that's still only half of USB 3.1 speeds.
What are the significant differences between the two?
It's easy to differentiate the two based on their appearances. If you've ever used or seen an iPhone, you're already familiar with how the Lightning connector looks with its pins exposed. USB-C looks cleaner and simpler with its symmetrical connector.
Again, USB-C refers to the style of the port and connector rather than the technology it has. It is convenient because it's reversible and universal. The whole point was to have a single style of connector and port that could run pretty much everything.
The Lightning connector is solely used to connect Apple mobile devices like iPhones, iPads, and iPods to host computers, external monitors, cameras, battery chargers, and other peripherals. You won't find it on any other device, even MacBooks.
Why is Apple not using the Lightning connector on MacBooks and will USB-C replace Lightning on iPhones?
Will we ever see a Lightning connector on a MacBook? Highly unlikely. But there's a possibility that Apple will use USB-C soon on iPhones. Last year's rumors pointed to the iPhone X having USB-C, but it didn't.
With the new MacBooks relying purely on USB-C, an iPhone with USB-C is not far from reality. That's unless Apple wants to keep the revenue from Lightning connector licensing.
Which is better?
When paired with USB 3.1 or Thunderbolt 3 technology, USB-C is faster, more powerful, and provides greater versatility than Lightning. It's also now widely adopted for consumer technologies may it be on phones, laptops, or other mobile gadgets.
USB-C is the future. Apple already accepted it on their premium notebooks which kind of triggered professionals who are using MacBooks, but that's the future we're heading towards. It will come to a point where we'll just plug in a cable and it'll simply work. For now, we still need to understand the differences and live with dongles.
Explaining smartphone display refresh rates
Are they really any different from PC displays?
Smartphones, little by little, are turning into mini-PCs with the features that come with it. From browsing on social media to playing video games, technology is slowly adopting a more "on-the-go" lifestyle. Recently, smartphones have acquired another feature that your own desktop or laptop already has.
Some of the recently released premium and gaming smartphones now come with displays having their own dedicated refresh rate. Refresh rates aren't new, but to see it on a compact device has a lot of people wondering. How different or similar is it to a PC's refresh rate? And is it actually something good to have?
A crash course on refresh rates
A display's refresh rate, basically is the number of times your display updates every second. Your screen usually takes a few seconds to just a second to load new images, depending on that rate. For example, a 60Hz refresh rate means that in one second, any image on your display is refreshed 60 times. Your eyes wouldn't catch it fast enough, but that's how your display works.
For most PC displays, the default is at 60Hz with companies releasing displays that range up to 240Hz. You mostly see this in displays fit for gaming purposes, since gamers prefer the higher refresh rate for improved performance. If you're someone who mostly likes to watch movies, it really doesn't matter how high the refresh rate is.
Note that this is entirely different from frame rates, in that these show how many images are produced within a second. Although, having a high refresh rate allows you to perform a lot better because it is optimized for higher frame rates. That's why you see some gamers complain about playing on a 60Hz display.
Transitioning to a smartphone near you
Eventually, the concept of amping up a refresh rate will reach the world of smartphones. In fact, the OnePlus 7 Pro was actually the first mainstream smartphone to have a display with a 90Hz refresh rate. Most smartphones, even budget ones, have displays built with a 60Hz refresh rate. Something about it just makes you scroll through your phone without feeling too dizzy, unless you scroll too fast.
Premium smartphones mostly incorporate either a 90Hz or 120Hz refresh rate for a smoother UI experience. With higher refresh rates, scrolling through your phone feels a lot smoother without risking an eye sore. Of course, these smartphones do cost significantly more than your average, everyday smartphone.
Apart from premium smartphones, gaming smartphones have also incorporated higher than 60Hz refresh rates. Phones like the Razer Phone 2 and the ASUS ROG Phone 2 both come with a 120Hz refresh rate to suit mobile gamers, especially FPS (first-person shooter) gamers. With these higher refresh rates, mobile gamers see clearer images with less motion blur involved.
Do you really need all the hertz?
That begs the question: what do you need a high refresh rate screen for? When you use a PC, 60Hz is already good for most tasks and games. Trying to go for higher refresh rates usually means that you're doing a lot more than the ordinary. Tasks such as heavy-duty data analytics or hardcore gaming are optimal for higher refresh rates.
The same logic works for smartphone displays, except on a smaller screen size. A lot of what you can do, you're able to do so on 60Hz displays. If you're just using your phone to browse social media, watch Netflix on the daily, and play games casually, you don't need anything higher. Although, it is a premium to have if you want buttery smooth software.
If you play games competitively, you would prefer higher refresh rates just like in gaming monitors. Higher refresh rates allow you to perform at an optimal level when going for higher frame rates. We're talking close to no image tearing or motion blur when you play PUBG Mobile or Call of Duty. While you can perform well at the default 60Hz, going for a 90Hz or 120Hz ideally makes the experience better.
Some final thoughts
Smartphone display refresh rates have always been a part of the technology. These displays were built in a way that everyone can benefit from them. It's only fairly recently that smartphone companies came up with a way to make the experience a lot smoother. Hence, smartphones started incorporating higher refresh rates.
It almost feels like having that high refresh rate is a premium, given only select smartphones have it. But it's a premium that you don't really need unless you have a good reason to. Apart from the cost of experiencing it, it really depends on what you plan to do with your smartphone.
At the end of the day, it's better to ask yourself if it's a feature worth getting. If it's something you feel you can't live without, by all means, right?
Stranger Things 3: What exactly is an ignition cable?
Possessed Billy knew what he was doing
By now, you've probably seen the third and newest season of Stranger Things on Netflix. If you still haven't, it goes without saying that there are spoilers ahead and you should stay away from this article.
Seeing a pop culture reference such as Stranger Things together with the seemingly unrelated world of automotive in one writeup such as this could be strange (pun intended) for some. We really don't mind and thought it would be a fun and unique way to talk about the show and learn a few things from it, as well.
So we ask the question: What exactly is an ignition cable?
The ignition cable is part of a vehicle's ignition system. In simplest terms, it's a mechanism that starts the engine. By generating a high voltage from the car's battery to the spark plugs in its engine, it causes them to ignite the engine's combustion chambers and get it up and running.
And in order to transfer that voltage from the source to the engine, you'll need an ignition cable as it's like a subway system that acts as pathways for the voltage to pass through. So if the ignition cable is not present, there's no way to start the car.
Back to Stranger Things, Billy (although already possessed by the Mind Flayer) obviously still had his knowledge on cars so he took away the ignition cable trapping our favorite gang at Starcourt Mall's parking lot.
Just to further stress the importance of an ignition cable and the whole ignition system for that matter, we'd like to visit other possibilities and ask, "What if Billy didn't take it away?"
Well, the plan was for Eleven and her group to go to Bauman's secret place and stay safe while Joyce, Hopper, and the rest try to close the portal and render the Mind Flayer powerless. If their ignition cable was intact, they'd be a lot safer away from the Mind Flayer although we wouldn't be able to see that amazing fireworks scene inside the mall.
Through this, we see the importance of that one small part under the hood of the car. In real life, it really pays to make sure that everything is in good working condition and that one faulty cable could mean trouble for you if remained unaddressed — unless there's a car on display inside a mall somewhere that you can take spare parts from!
SEE ALSO: Netflix launches AR Trailer with Stranger Things 3
A phone's water protection plan: IP ratings explained
It doesn't give you the right to dunk it in water, though
If you plan to bring your phone to a beach trip with your friends, you normally bring a pouch with you. The main function of that pouch is to protect your phone from contact with any liquid while you enjoy the waves. Of course, it doesn't fully guarantee that water won't seep through it — especially when a big wave crashes on you and opens the pouch. But, it does give a sense of safety and security for your beloved smartphone.
That's the whole concept behind an IP rating that's given to most smartphones today. Nowadays, you hear a lot about these smartphones being advertised with IP68 ratings. But, what does an IP68 rating actually mean? Is it worth something to consider when buying a new smartphone?
What is an IP rating?
IP ratings are not new in the tech world. In fact, a lot of the electrical appliances and technologies you have at home come with it. An IP rating, or ingress protection rating basically tells you the level of protection any electrical device has against solid and liquid objects. It acts as a security measure to determine what objects the device can handle without malfunctioning.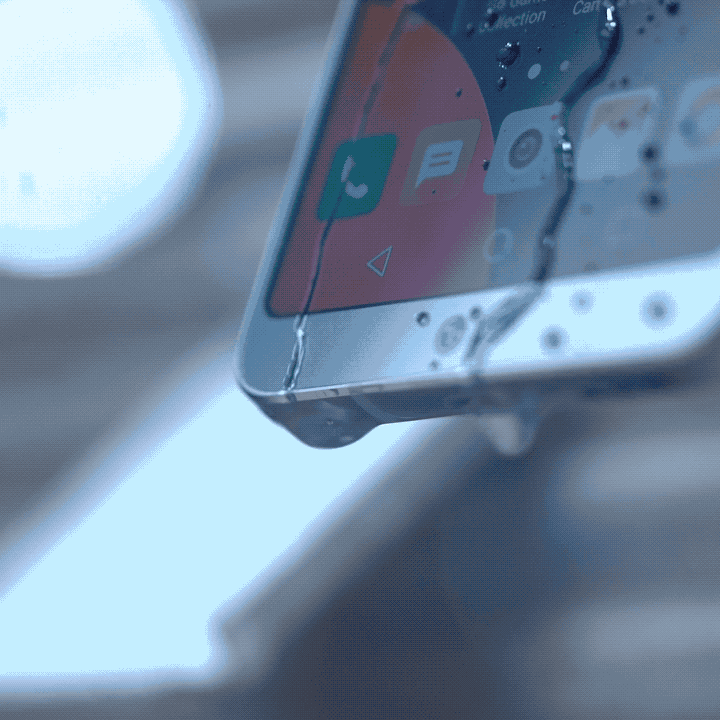 The International Electrotechnical Commission (IEC) gives out these ratings to manufacturers as a safety measure for production. It consists of two numbers that describe its protection against a vast number of objects, even human touch. The first number denotes a device's protection against common solid objects and dust. Meanwhile, the second number denotes a device's protection against liquids, even steam-jet liquids. The higher the number, the more protection it gets!
IP ratings are not just present in most recent smartphones. Things like electrical sockets, cameras, even phone cases come with IP ratings, as well. 
The reason it exists
Manufacturers and consumers see an IP rating quite differently. Those two numbers ultimately stand for how well your device can stand against, well anything. For manufacturers, an IP rating basically gives them a standard to follow when producing more devices. Before shipping their latest smartphones, they subject their devices to numerous tests to validate their IP ratings.
Also, it gives a more concrete way of stating that their devices are resistant to such objects. When you come across smartphones that claim to be water resistant, oftentimes you tend to ask just how resistant it is. With manufacturers, the IP rating gives a more definitive measure to that claim. For example, a smartphone with an IP68 rating is heavily protected against dust, and you can submerge it in waters deeper than a meter — perfect for beach trips.
For consumers, the IP rating just provides a peace of mind when buying a new smartphone. It's basically placed there to tell you that your phone can still be used even if you subject it to too much dust or water that's too deep. You see this in most YouTube videos or channels that basically bend, scratch, and dunk phones in buckets of water. In the end, you won't have to worry about destroying your phone that much when you go on that beach trip without a pouch.
Some manufacturers simply don't need the rating
However, there are manufacturers that simply found the rating unnecessary or simply just a marketing tool. Companies like OnePlus even did an entire ad that showed off their new flagship devices, the OnePlus 7 and OnePlus 7 Pro without an IP rating. The whole issue sparked debates on whether or not IP ratings do make sense, or companies could simply do without them.
OnePlus argues that one reason their new smartphones don't have an IP rating is because of the cost to get one. Even simply requesting for a phone for consideration costs a lot on the manufacturing side, which ultimately bumps up the phone's price. Pete Lau, one of the co-founders of the company estimated the cost for getting an IP rating is at US$ 30. Of course, it is entirely up to the consumer's view of its value to the overall product.
The other reason is because of the coverage of the device's warranty, particularly towards water damage. OnePlus claims that even if smartphones have IP ratings that show how resistant they are to water, water damage isn't fully covered by its warranty. This also furthers their argument on why they wouldn't want to spend on getting one in the first place. An IP rating is not a legitimate reason for people to have their phones fixed for free after dunking them in buckets of water.
To them, it does not make sense to simply attach an IP rating onto a phone even as a marketing tool. It gives off the wrong impression that the device is waterproof when the rating basically leans towards phones being water resistant.
Do we really need to know the IP rating?
The IEC created IP ratings for everyone's protection — from manufacturers to consumers. The whole purpose of having an IP rating is to provide a level of protection for anything electrical, smartphones included. It ensures the safety of everyone, but it's not a way to bail anyone out when they dunk their phones in water.
While some may argue that it helps to know what your device's IP rating is for better care, others just see it as a marketing ploy. It only seeks to sell a device perceived to be waterproof according to a standard. However, IP ratings were not meant to waterproof your phone by any means. It's there to tell you that your phone can handle water, just possibly not too much.
At the end of the day, we have to ask ourselves whether we truly see the value in having these IP ratings. Whether or not your preferred device has an IP rating, just remember: it's not a reason for you to exploit your phone.