Best Midrange Smartphones from $300 to $600 (June 2017 Edition)
When premium phones are out of financial reach and entry-level handsets just don't make your cut, something in between is the next best thing. This is our updated list of the best midrange smartphones retailing from $300 to $600.
Formulating this category was tricky, since you can't set an exact price and some of these devices are, in fact, the flagship phones of their respective brands. To simplify things, we chose a price range that simply sits between our two other lists for best budget and premium smartphones.
Here they are in no particular order:
ASUS ZenFone 3 Zoom ($490)
The ZenFone 3 Zoom is best known for its dual-camera setup that lets you zoom in without quality loss, but less advertised is the massive battery and efficient processor it comes with. Combine both, and you get an ASUS gadget perfect for this selection.
OnePlus 3T ($439)
We previously had the OnePlus 3T in our premium smartphone category, but with its nearly year-old design and the ever-increasing prices of high-end phones, there's no better fit than right here. Speedy performance, great build quality, and a seamless Android interface are still its primary highlights.
REVIEW: OnePlus 3T (3 months later)
Huawei P10 ($580)
While it may seem odd placing Huawei's latest and greatest smartphone in a midrange list, the P10's price is surprisingly competitive, especially when compared to other flagships launched alongside it at Mobile World Congress 2017 (MWC). If you're after something a little more beefed up, there's always the more expensive P10 Plus.
OPPO F3 Plus ($480)
No other phone on this list does selfies better than OPPO's F3 Plus. It continues the "selfie expert" hook with a dual-camera setup in front — one handles high-resolution shots while the other does super-wide-angle selfies. Its great for media consumption as well, with a 6-inch Full HD display, 4000mAh battery, and fast charging.

Samsung Galaxy A5 2017 ($400)
Samsung hit all the right notes with its newest Galaxy A5 variant, owning a design reminiscent of older Galaxy flagships, as well as specs fit for its price point. Best of all, it has both water and dust resistance, which no other phone on this list can boast.
24 Hours in Phnom Penh with the Vivo V7
A hope-filled city with a horrifying history
Phnom Penh is such an underrated city. If you ask any tourist which Southeast Asian destination he or she would love to visit, the Cambodian capital will probably not even be on the list.
The more popular Siem Reap with its glorious Angkor Wat complex is usually what comes to mind first when talking about Cambodia.
But there's something so special about Phnom Penh. Perhaps the fact that there are fewer tourists here, despite the history and similarities it shares with its French Indochina neighbors is what makes me root for it more.
Feel Good breakfast
Mornings are made for great breakfast food and coffee. Cold brew is still not as common in Southeast Asia as I'd like, but most cafes in Phnom Penh like Feel Good Coffee make their cup of joe the way they also do in Vietnam: with a metal drip and a splash of sweetened condensed milk.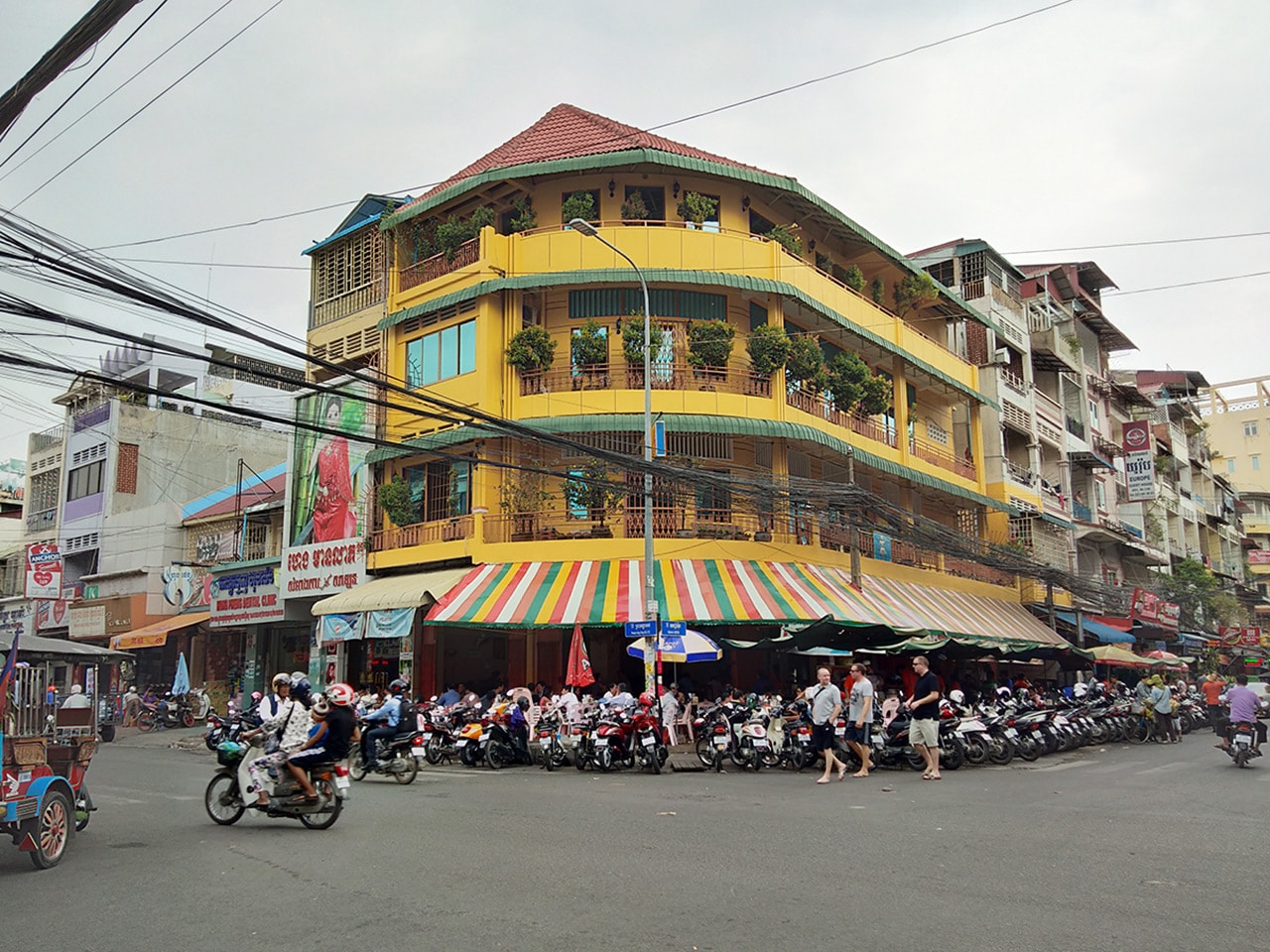 Walking around the neighborhood gives you a quick feel of what modern-day Phnom Penh is like. It's reminiscent of the bustling cities Hanoi and Ho Chi Minh and even Bangkok — lining every street are parked scooters and vendors selling iced beverages including my favorite Thai iced tea!
Choeung Ek killing fields
40 minutes from the city proper is the Choeung Ek memorial, a must if you're visiting Phnom Penh. Tip: Hire a rickshaw or tuktuk to take you there and then back, although the newer rickshaws are cheaper, a lot more comfortable, and feel safer than the latter.
There are no words to describe how disturbing Cambodia's history is — a very recent one at that. No more than 40 years ago, a quarter of the Khmer population — mostly people from Phnom Penh — were murdered by its own government for the promise of a utopian future.
Today, Cambodia tells the gruesome stories of the Khmer Rouge victims and survivors — some of them younger than my own parents — through memorials like the Choeung Ek Genocidal Center.
They are built to remind the new generation to not make the same mistakes and to embrace the freedom that they enjoy today.
Uy Kuyteav
Phnom Penh is home to a lot of good restaurants that serve local cuisine at a reasonable price.
While Khmer food staples lok lak and fish amok are easy to find, the noodle dish uy kuy teav isn't exactly as popular. It's not rare to see Vietnamese and Thai food in the menu as well.
Wat Phnom
If you must visit one temple in the city, it's got to be the tallest one. Inside the Wat Phnom complex is also a huge park where you can relax and reflect.
Shopping at Central Market
Cambodia isn't exactly known for the unique shopping finds unlike Thailand's Chatuchak Market, but a lot of your favorite clothing brands have products made in Phnom Penh. So you'll find good deals on quality overruns from Levi's, H&M, and Nike in the different markets around the city.
Central Market, also referred to as Psar Thmei, is the biggest one, with stalls selling not just clothes, but also jewelry, kitchen tools, and of course, food!
The market is one of the few landmarks that will remind you of Cambodia's colonial history. It was one of, if not the biggest market in Asia when it was built in 1937 during the French colonial period.
Tuol Sleng Genocide Museum
If you still have time, visit the Tuol Sleng Genocide Museum before sunset for more insight on the Khmer Rouge brutality.
The Tuol Svay Prey High School was converted into the largest detention center from 1975 to 1979 when Pol Pot's army took over Phnom Penh and the rest of Cambodia; former classrooms became interrogation rooms, torture chambers, and prison cells.
Phnom Penh Riverside
Phnom Penh sits at the intersection of Tonle Sap and Mekong Rivers. You can enjoy the view from the Riverside Park with a refreshing cup of iced Ceylon tea.
Across the park are restaurants and bars. Some of them have rooftops for a better view of the river.
Romantic dinner at Romdeng
End the day at Romdeng, a restaurant run by an NGO that trains locals in hospitality management and supports the marginalized.
Their version of Cambodia's national dish fish amok is especially tasty!
Cambodia is on a long road to recovery from the horrors of its past, but its capital and people do not forget; they remember. And despite everything they have been through, they remain steadfast — filled with so much hope and kindness — and we could all learn a thing or two from them.
---
24 Hours is a series on GadgetMatch.com where we showcase our travels through a smartphone camera's perspective. It's also a documented guide on things to see and do in a city in case you happen to plan a trip there.
Sony WH-1000XM2 hands-on: A new experience
Old tracks feel new when you listen on these headphones
Using the Sony WH-1000XM2 is an experience I didn't know I needed until I put them on. I felt a sort of transformation in myself and in the kind of headphones I look for.
Disclaimer checklist before we proceed:
I'm not an audio expert.
This isn't a full review.
I'm just sharing the experience — which is really something else.
It was love both at first sight and sound. The Sony WH-1000XM2 is a sleek stunner, especially this particular unit we're testing. It's black all over with only the Sony logo and left and right ear indicators as the parts that are colored.
The power button and noise cancellation/ambient button, as well as the 3.5mm port, all have labels, too. Although I did wish there was some sort of highlight, a little colored part around these buttons and the port so they're easier to find would've been great.
That aside, it looks great, but of course you want to know more about how it performs, right?
Noise Cancellation
I'm actually wearing the headphones as I write this. Not because I want to listen to music, but because it helps a lot in drowning out the background noise. It's great for when you want to focus and don't have immediate access to a quiet room.
You don't have to remove the headphones to turn off noise cancellation. You can either put your right hand over the right ear to allow ambient noise or press the noise cancellation/ambient button on the left side.
However, to truly appreciate what this baby can do, I strongly suggest listening to some pretty darn good tracks.
Familiar songs transform

I'm the type who enjoys an hour or two just sitting or lying down somewhere, quietly listening and really absorbing songs. If you're like me, you will absolutely love the Sony WH-1000XM2.
That's exactly what I did one night after I got these headphones. (And a few more nights, if I'm being completely honest.) It felt like experiencing the songs again for the first time. These headphones had me feeling so fly, I actually turned into a white guy. See photo below:
Suddenly, older tracks like "Summer Romance (Anti-Gravity Love Song)" by Incubus — which I have listened to countless times before —  felt new again.
I turned up Craig David's "7 Days" and my sexy meter suddenly went off the charts. So much so that I felt like I could ask anyone out and they would say yes! I did that. Didn't go well, but that's a story for another time.
Old tracks feel new
I wanted to know what more it could do to certain songs. I remembered listening to some that had the feel of the sound traveling from left to right, vice versa, and then just all around your head.
I crowdsourced on Facebook and Twitter for songs of this nature and my friends did not disappoint. I didn't expect to get classic, old-school rock suggestions but those dominated the suggestions.
Tracks like "Black Dog" and "Stairway to Heaven" by Led Zeppelin, "Come Together" by The Beatles, and "Bohemian Rhapsody" by Queen straight up took me home. These are songs I often listened to as a child who had absolutely no clue what these people were singing about.
"Stairway to Heaven," with the acoustic guitar intro starting off from your left ear and then just an echo of it from your right just before the mellotron flute comes in will touch you in ways you didn't realize you could be touched.
"Bohemian Rhapsody" was a strong recommendation by several friends. Apparently, it's one of the best songs to listen to when you're testing whatever audio device, so always have this on your phone. It didn't disappoint. The song, listened to with the Sony WH-1000XM2, feels as powerful as ever.
When it gets to the "Galileo" part, that's when it gets really interesting. Close your eyes and you'll feel as if you're surrounded by the band as they play the entire thing in all its glory.
If you decide to give these headphones a spin, I put the recommended songs in a playlist. It's mostly rock and roll tracks but I put a few handpicked anime songs there if you're into that.
You should also try this "Love is in the air" playlist, specially since it's the love month and all.
Other bells and whistles
I forgot to mention that I felt all of that while listening via Bluetooth. The sound quality is insanely crispy — imagine if I had used the cable that came with it. My mind might have been blown in an instant.
The Sony WH-1000XM2 also comes with a carrying case. It neatly fits the headphones inside, as well as the cable.
The headphones also have non-visible controls on the right ear panel. Great idea, but it didn't work as well as I had hoped. Often times when I was trying to skip to the next track, I would wonder why the music stopped playing. Turns out, it paused instead of skipping.
The controls and gestures might take a while to get used to but during my test, I never really gravitated towards using them. I would mostly adjust the volume or skip a track on my phone or laptop.
Video editing, podcasts, video games
I switched back to my normal self once I started using the headphones for work.
The ear-opening, near-mind-boggling experience listening to music translates well to other tasks. I could clearly hear any unnatural sound from what I was editing which made applying changes easier for me.
I also played NBA 2K18 and Shadow of the Colossus with these headphones on. It was funny hearing the players' voices better while on the court. Shadow of the Colossus is a pretty quiet game but has great scoring as it changes moods from when you're just wandering to when you're trying to take down a colossus. With the headphones on, you really feel the intensity of the battle and it helps get you on your toes and immerse you in what you're playing.
Final thoughts
If I had my way, I would keep the Sony WH-1000XM2 all to myself. As someone who works with video and audio a lot, and someone who enjoys sitting back and just absorbing good music, this is the exact pair of headphones I would want.
They sound great, look amazing, and battery power lasted long! I only had to charge once in about a week. That's considering I used the headphones a lot for both work and play.
As far as wireless, noise-canceling headphones are concerned, the Sony WH-1000XM2 set the bar high for me.
Google 'stories' are a thing now
Joining the SnapChat bandwagon
Finally, Google is rolling out their version of "stories."
Much like Snapchat and Instagram stories, these stories are highly visual and more impactful on mobile. It's a series of vertical media that you can tap through. According to the Google post announcing this development, "The collective desire was that this format offer new, creative and visually rich ways of storytelling specifically designed for mobile."
Called AMP stories, these media tidbits are not only eye-catching narratives, they also load faster, too. Think instant articles for Facebook, except in story form and on Google. As of writing, only select publishers like Cosmopolitan, CNN, VOX Media, The Washington Post, and a few others have AMP story content.
And because I was once upon a time a big SnapChat story proponent (and I was pretty curious), I checked these stories out for myself. I visited g.co/ampstories and searched for these publishers. Lo and behold:
It shows up this way on your Google search. A tap brings you a full-screen sized story that you can tap through more.
Google says that the AMP format is free and open for anyone to use. I'm pretty curious and excited to see where this goes. If SnapChat's (and eventually Instagram's) story success is any indication, this is going to be big.