Fast Forward: OPPO goes global, Samsung will have a foldable phone
OPPO is on a roll in November
Curious about what to expect in the tech world? Here's a quick roundup of upcoming events and launches happening in November!
OPPO goes global with the RX17 Pro in Europe
After the glamorous launch of the Find X, OPPO plans to go global once again with the RX17 Pro. It's basically the R17 Pro, but with a slightly different name.
The official announcement is in the first week of November and it's happening in Milan, Italy. Given the venue of the launch, it's going to be major event for OPPO.
There's no confirmation if the lower-end R17 variant is also coming to the European market, but it'll be called the RX17 for sure. The Chinese company seems to have big plans for Europe, so we'll be sure to cover this.
Samsung's foldable phone might soon come to life
We have great memories with our clamshell phones. But when the iPhone came out in 2007, all modern smartphones adopted its full touchscreen approach. We even have bezel-less smartphones. What if we combine the best of both worlds?
A Samsung conference dedicated for developers is happening in early November. It's not exactly a phone launch, but the South Korean company will be showcasing the future of mobile phones. They even have a tagline that goes: "Where Now Meets Next."
The crossroads between the present and the future – Samsung Developer Conference is where you'll meet the knowledge needed to stay on tech's cutting edge. #SDC18
Learn more: https://t.co/t66edOWIUi pic.twitter.com/bDZHuZVWee

— Samsung Mobile (@SamsungMobile) October 18, 2018
The event's website advertises developments in Bixby, gaming, and augmented reality technologies, but we are also expecting Samsung to give us an update about its smartphone with a foldable display.
READ MORE: Samsung teases its foldable smartphone's launch date
The Philippines will know its third major telco
The long wait will soon be over! If all goes well, the Philippine government might name the country's third major telco. According to the acting secretary of the country's telecommunications department, they have set the date for the announcement on November 7.
Keep in mind that this is just the unveiling, so the services might take a few months to be available. By mid-2019, the winning telco is expected to have its initial subscribers.
READ MORE: Philippine's new major telco player may be named in November
OPPO R-series will finally be available in the Philippines
OPPO will be on a roll in November. Apart from rolling out in Europe, the Chinese company will also expand its line of devices in one of its key Southeast Asian market: the Philippines.
Currently, the country is only home to the F- and A-series smartphones, which are positioned in the midrange and budget segments, respectively. The uber-expensive Find X is also available in the country, but the price gap is just too much. This is where the R-series comes in.
Announced in late August, the OPPO R17 Pro will finally become available in the Philippines. The price is yet to be announced, but we expect it to be around PhP 33,000.
The local launch is happening on November 7 in Manila.
---
Fast Forward is our roundup of upcoming news, launches, and events. It's a monthly feature to give our readers a heads-up on what is happening in the tech realm. It's sometimes difficult to keep track of the calendar, so we do it for you.
The cost of the post-pandemic movie
Why you should care about Mulan's terrible premiere
The fate of the Hollywood blockbuster rests on a fingertip. A formerly grandiose affair with celebrities dressing up to the nines, the red-carpet premiere is now an impossibility thanks to the ongoing COVID-19 crisis. On the other side, streaming services blossomed with new titles and exclusives. It was (and is) a great era for the home theater. But the home theater will not last forever. Hollywood is now facing a crisis for the future of the premiere.
If the past year is any indication, Hollywood will, of course, not go down without a fight. Large networks and production houses have released their own streaming platforms to monopolize their content, putting additional weight on a consumer's budget. Take Disney's Disney+ or NBC's Peacock, for instance. Now, a few of these (like Disney and Netflix) make their own blockbuster content as well. We've seen Netflix's streaming-only premieres already. How about Disney's (or anyone else's) Hollywood premieres, which often rely on astounding box office numbers?
This week, we got a taste of such a strange premiere scheme. In an earnings call, Disney CEO Bob Chapek detailed the future of a delayed movie, Mulan. Initially premiering in theaters back in March, Mulan was repeatedly delayed because of the continued shutdown of movie theaters. Now, as the company is itching to finally launch it, Chapek announced a hybrid release for the film. Partly premiering in theater in safe countries, the film will also launch simultaneously on Disney+ for unsafe markets.
Now, here's the catch: the film will cost US$ 29.99 for Disney+ users. Even if you have a subscription already, you have to fork over approximately PhP 1,474 to watch the new film. Of course, the hair trigger response is, "c'mon, Disney; stop haggling money from your customers." And the response is right. However, there is so much more to this.
Mulan
can set the stage for an unprecedented era for Hollywood premieres.
Let's get down to business
In New York, an average movie ticket costs around US$ 15 (approximately PhP 736). Mulan's price tag is twice as much as a theater ticket. It's even weightier in cheaper states and, most especially, in the Philippines (where movie tickets are only around US$ 5). Further, you'll still need an active Disney+ account to access the film, costing an additional US$ 6.99.
(Naturally, it's impossible to accurately translate the prices to an Asian market since Disney+ has not launched in all of Southeast Asia yet. We can only assume that Mulan's streaming price is 200 percent of normal ticket prices, whatever it might be.)
Objectively, Mulan's price is worse than a regular movie ticket. It's easy to conclude the argument with this statement and head home. However, there is a way to justify the price.
The whole family plus your cow
Now, a single movie ticket typically admits one person. Buying Mulan pays for the streaming privilege which can typically include an entire family. With a 15-dollar average, two people watching the same Mulan purchase is already a break-even point. In the same vein, a family of four obtains double the value of the 30-dollar film price. Even better, a family can watch the film over and over again. And, as any parent who has a Frozen-loving child can tell you, unlimited playbacks is a blessing for your wallet (albeit a curse on your sanity).
Unfortunately, despite the mathematical mind-bending, Mulan's price is still far from ideal. The movie-going experience is not the same on a streaming platform as in a cinema.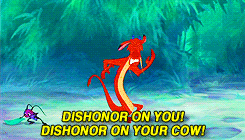 An assumption of equality
A cinema ticket is price of equality. Besides a few slight differences, everyone is paying for the same product. All other things considered equal, a 20-year old college student is paying and enjoying the same experience as a 50-year old CEO. Same film, same seat cushions, same facilities, same projector.
On the other hand, a streaming subscription cannot assume the same thing. A platform cannot control where and with what device a user will watch the movie from. A 20-year old college student watching the film on a laptop screen in a poorly lit dorm room is not enjoying the same experience as a 50-year old CEO watching the same thing in their high-end home theater with Dolby Atmos.
Likewise, the platform cannot assume how many people will watch the film in one purchase. Now, Mulan is a family film. Disney can easily assume that multi-person families will buy and watch the film. However, how will the audiences take the same price tag for a more polarized movie like Christopher Nolan's Tenet or the next James Bond film?
All of Hollywood knows you're here
In the same announcement, Chapek hints that Mulan's price is just a "one-off." Basically, other films might not follow the same pricing scheme. In a way, it makes sense. Mulan was made with a pre-coronavirus budget. It was expected to make millions from box office tickets. This might be the only way for Mulan to recoup its many losses. In the future, Disney might make films with lesser budgets and lesser expectations.
However, make no mistake; other filmmakers are intently watching Mulan's performance on streaming. If Mulan succeeds, they can likely charge the same amount without incurring a lot of losses. That said, streaming premiere prices will likely vary from film to film. Even then, this isn't the last discussion on the future of the film industry.
If the industry hopes to adapt to the new normal, it needs to rethink its strategy even further. Disney is offering only one solution for the problem of streaming. Unfortunately, the brand's solution leverages a family-oriented release, one that might not appeal to the average moviegoer today.
A price worth fighting for
My suggestion: Implement a tiered premiere price. Not everyone will want to pay the full 30 dollars for a film they're not wholly interested in. Most will watch it once and forget about it. Some won't even care about watching it in HD.
Why not implement a pricing scheme based on those different preferences? For example, charge US$ 5 for a standard-definition, one-time playback premiere; US$ 10 for an HD, one-time playback premiere; US$ 20 for a standard-definition, unlimited playback premiere; and US$ 30 for an HD, unlimited playback premiere. In one swoop, a film can appeal to all streaming markets and needs.
Samsung Galaxy Note 20 Ultra Unboxing, Hands-on & Camera Test!
Elegance and sophistication in an ULTRA-big device
Just recently, we had a quick video introduction of Samsung's latest Galaxy Note 20 series. Now, we finally have a Galaxy Note 20 Ultra on our hands!
Be sure to subscribe and hit that notification button to stay notified on our upcoming review video on August 18th.
For now, you can enjoy our unboxing, hands-on, and a quick camera test using the Galaxy Note 20 Ultra by clicking here.
Everything you need to know about the congressional big tech hearing
Why are Apple, Amazon, Facebook, and Google in trouble?
Congressional hearings are uniquely American, and you've surely seen them in a movie or show. It's often the crux, dramatizing a room filled with politicians, media, and the country. Everyone's attention is glued to the protagonist, who sits in front of the committee and answers their hard-hitting questions. If you really want to see a classic, I'd recommend seeing The Aviator.
Coming back to the point, a similar hearing has grabbed the world's attention. Often referred to as "big tech", American internet giants Apple, Amazon, Facebook, and Google are working hard to defend their enormous size, arguing that their dominating position in the market doesn't stifle competition.
In simpler terms, "big tech" has a market capitalization of more than US$ 4.85 trillion. And, this gives them enough clout to discourage competition and continue their virtual monopoly. When companies become too big, the consequences can be radical since the government will find it harder to regulate them.
Data is the new oil
The American economy has witnessed similar situations before and there are precedents available to curtail a company's influence. For instance, Standard Oil was among the world's first and largest multinational companies. It started when oil was a fresh discovery and the world was slowly realizing the fuel's potential. Officially started in 1870, it grew exponentially in the coming years by acquiring smaller companies, controlling market supply, and chasing maximum efficiency while ignoring antitrust regulations.
By 1890, Standard Oil controlled almost 90 percent of the refined oil business in the US. In the coming years, the company would restructure itself into a holding company that controls more than 40 smaller companies. While these smaller companies were separate entities, all profits went to one parent company. In turn, the parent ensured all the kids work in tandem to improve efficiency and control market dynamics.
Finally, in 1911, Standard Oil's control came to an end after the US Justice Department prosecuted it via the Sherman Antitrust Act. Standard Oil was dismantled into smaller companies, again. But, they had an independent board of directors and each was left to fend for its own. It essentially meant that Standard Oil, as one entity, no longer existed and the market had dozens of autonomous companies. For consumers, this ensured healthy competition and innovation, while supply chains and associated trade partners were no longer dealing in a pseudo-mafia regime.
Standard Oil of New Jersey and Standard Oil of New York are predecessors of ExxonMobil, Standard Oil of Kentucky became Chevron, and South Penn Oil is known as Shell today. A similar breakup was enforced on telecom giant Bell Systems in 1982 when the parent AT&T, was split into regional companies. One of these sping-offs was Bell Atlantic, today called Verizon.
Big tech and its influence
Data is equivalent to oil or gold. The three together are fundamental pillars of the twenty-first century. Just like Standard Oil started out at the cusp oil discovery, Amazon and Google can be called the early pioneers of the consumer internet.
Equipped with instant connectivity, Amazon created online shopping as we know it today. The internet becomes a stressful place without Google helping us discover basic information. Facebook is quite literally our personal life and everyone around you uses it.
Lastly, Apple is the only significant hardware maker here, but it has surprisingly more control over software thanks to its closed eco-system. These companies are very similar to Standard Oil and can pose a serious threat to encouraging competition. Free market principles also go out the window when someone has majority control.
Apple and its greed for more
The Cupertino-based giant revolutionized music playback thanks to the iPod and iTunes. When Apple sold you the iPod, it made a profit. But you need music to utilize your purchase. So, you buy a track from iTunes, that's also controlled by Apple. Ultimately, you end up paying more and more to the same company. Thankfully, the system is partially restricted and you can sideload MP3 files, but it's a cumbersome and discouraging process.
Coming to 2020, apps are everywhere. Apple's App Store comes pre-installed on iOS devices shipped in the last decade. Apple takes a 30 percent cut on whatever you sell via the App Store. Whether it's an app or an in-app purchase, Apple will get its share of the revenue. Apple says the store acts as a perfect marketplace for developers as well as users. But, how can a newly started developer or company afford to give away 30 percent of its revenue to Apple as a "service charge?"
Keep in mind, this "big tech" has more than US$ 190 billion in cash. Spotify has publicly called-out Apple for this practice numerous times because it sells monthly streaming plans on its app and can't afford to part a huge chunk of the payment to Apple. Instead of using Apple's payment system, it manages its own subscription to save "Apple tax", an informal slang for Apple's revenue cut. Even Netflix follows a similar approach. The point is, bigger companies are capable of bypassing Apple's ecosystem lock, albeit with considerable expenses. Then how can new competition come up from scratch?
It's practically a monopoly because the developer has two options — take it or leave it. Now, if you're in the market to sell your app, all iOS devices are out of scope if you don't adhere to Apple's demands. And, if you skip the App Store, you're missing out on all the potential revenue. If you agree with Apple, by an optimistic outlook, you'll at least get 70 percent of something as revenue? This is the basic working of a monopoly.
The operating system market is a duopoly controlled by Apple's App Store and Google's Play Store. While third-party app stores like Amazon App Store, AppGallery, and more exist, ask yourself when was the last time you downloaded something off them?
In Apple's defense, the company feels it should be able to collect its 30 percent share because it created the current ecosystem. With the launch of the iPhone, the company created a virtual marketplace out of nothing. The company invested in building an ecosystem that has stood the test of time and brings both, the user as well as developer, on the same page.
The company announced earlier this year that it has paid US$ 155 billion to developers since 2008. That's a lot of money. There's no denying that Apple kickstarted the "app as a product" philosophy, creating a brand new arena in the digital age. But is it's control justified after a decade?
Apple has always been conservative about its ecosystem, but it's efforts to accomplish that are often far-fetched. Recently, the company barred Xbox Gamepass on iOS devices because it "it can't review every game" that's being offered by Microsoft. Going by this logic, Apple should also screen or review every show or album that debuts on OTT (over the top) players like Netflix, Prime Video, Spotify, and more.
It's clear that Apple wants to defend its Apple Arcade subscription service and doesn't want Microsoft to steal the show with Project xCloud. This means that Xbox Gamepass will be available on Android only. If Apple can strong-arm a giant like Microsoft, isn't it very obvious that smaller players stand no chance against the brand?
Amazon and its influence on customers
Starting out with just books, today the site has millions of products listed, ranging from a unique screw to a full-fledged air conditioner. What started out as an online marketplace has grown into a tech giant that has dominance in cloud computing, voice assistants, and even video streaming.
Critics say Amazon has frequently used its funding to undercut the competition. It took some losses in the short-term by trying to retain users. Once the user was accustomed to Amazon, a process that lets them avoid visits to a store, the loss turned into profit. With a yearly Prime subscription, you'd get free delivery on the smallest of products. Eventually, the user has recovered its Prime subscription fee in terms of convenience and Amazon has processed more orders than ever.
This model ensured that Amazon has an edge over everyone else. The site closely monitors your movement on the site and can intelligently suggest new products to purchase. The more one buys, the more Amazon earns. And, so do the sellers. This seems like a fair game.
But then, sellers realized Amazon has started recognizing categories that can be directly dominated. The user data they collect shows them precisely how much demand a product has, the price vs sales comparisons, and more. It leveraged this rich and unique data to launch its own product brand called Amazon Basics. If you'd normally buy a USB-C wire for US$ 10, Amazon Basics provided that for a lesser price. And, the Amazon tag garnered trust, luring the buyer away from third-party sellers to Amazon's in-house accounting.
Now, sellers realized that Amazon used its internal sales data to indirectly push out the competition. Amazon follows a similar strategy in other markets like India. Obviously, a seller can try to sell directly via their own platform using simpler tools like Shopify, but will that match the reachability of Amazon? Can any individual seller match Amazon's marketing and brand recognition?
The company grew as an e-commerce website but is involved in much more than selling books today, the prime reason why it's one of the "big tech." The marketplace's dominant position helped it start brand new investment streams like Kindle hardware, Alexa speakers, and AWS cloud computing. The e-commerce model had worked very well and investors were fine with the company diversifying, even if it meant losing some projects like the Fire Phone.
Today, the company is bigger than physical establishments like Walmart. It's going up against eBay, Flipkart, Lazada, AliExpress, and Rakuten in the e-commerce space. AWS is challenging Microsoft Azure, Google Cloud, as well as Alibaba Cloud. Alexa is fighting against Google Assitant, Siri, and Cortana. And lastly, Prime subscription is taking on Netflix and Spotify in one go.
What's common?
In this article, the most frequently mentioned companies are Apple, Amazon, Google, and Microsoft. Facebook sits in an entirely different vertical, filled with its own unique challenges. However, if you're trying to do something on the internet, you'll end up using one of their technology or platform in some way or the other.
And that's the whole point of the "Big Tech" debate. These companies have grown too much, too quickly. They dominate the publicly known internet and have barely left any space for newcomers. Even if someone dares to do the unthinkable, they'll be either acquired or pushed into infinite losses.
---
This is Part 1 of the series. We'll be covering Facebook and Google's involvement in Part 2.