Huawei Mate 30 Pro vs iPhone 11 Pro Max: Which flagship is your GadgetMatch?
Battle of two of the best smartphones on the market
Announced just a day apart, the Mate 30 Pro and the iPhone 11 Pro Max are two of the best smartphones on the market today. They are the newest and best that Huawei and Apple have on offer. Not only do they offer the most advanced and optimized chipsets right now, they also offer a lot of new features.
Let's see how they fare when compared side by side.
Display and design
Both the Mate 30 Pro and the iPhone 11 Pro Max have gigantic displays at 6.53" and 6.5" respectively. The Mate 30 Pro's Horizon Display is gorgeous, with the edges tapering that you don't see the small side bezels when using the phone. The iPhone 11 Pro's Super Retina XDR OLED Display is flat, with proportional bezels all around.
The Mate 30 Pro's curved OLED display is not just for aesthetics, however. Having the display taper on the sides allow for side-touch interaction, so you can adjust the volume without having physical buttons. This can also be used as controls in certain games, such as aiming and shooting at the enemy.
They both have big notches that house not only the selfie camera but a variety of sensors for fast and secure face unlock as well. The Mate 30 Pro's notch also allows for air gestures, so you can navigate your phone without touching the screen. This also allows for a Dual Biometric Authentication. Aside from face unlock, you also get a fast in-display fingerprint scanner as a biometrics option.
Flipping the phones around will show two completely different designs and finishes: Huawei has a glossy glass back, while Apple switched to a matte finish. The Mate 30 Pro also features a round camera module centered at the top of the phone. They're calling this the Halo design and it gives the Mate 30 Pro a unique look. The iPhone, meanwhile, has a square module on the upper left corner of the phone.
Both Huawei and Apple make their own chipsets and both the Mate 30 Pro and the iPhone 11 Pro Max get the latest and best they have to offer: Kirin 990 and A13 Bionic respectively.
The Mate 30 Pro offers bigger memory at 8GB, while the iPhone only has 4GB. The Huawei flagship also has expandable storage through a nano memory card, if the 128GB or the 256GB options are not enough. With the iPhone 11 Pro Max, you get either a non-expandable 64GB, 256GB, or 512GB of storage.
User Interface 
Both Huawei's EMUI 10 and Apple's iOS 13 are fast. They both have dark mode, and a wide variety of new features.
On the Mate 30 Pro you can activate the Always On Display, so you don't have to turn the display on when you want to check the time or certain notifications. 
Multiscreen collaboration is another useful feature on EMUI 10. If you own both a Mate 30 Pro and a MateBook X Pro for example, you can mirror your phone's screen on the laptop and control the apps from there. You can drag and drop files easily and send and receive texts from your laptop as well. Using Huawei Share OneHop, you can transfer images, videos, and documents wirelessly as well. OneHop Screen Recording allows you to record the screen of your laptop by simply shaking your phone. OneHop Clipboard Sharing, you can copy any text on your phone and paste it on your laptop, and vice versa.
With the iPhone 11 Pro Max you can also do a similar integration with any Apple laptop as most things are synced. You can transfer files via AirDrop, send and receive messages and calls on your laptop, and with Universal Clipboard you can copy and paste text from your phone to your laptop, and vice versa. 
Battery life and charging
Huawei flagships have always been known to have long lasting batteries and the same can be said about the Huawei Mate 30 Pro. With its massive 4500 mAh battery, the phone can last a day and a half of heavy use, or two days with moderate use. The iPhone 11 Pro Max has a smaller 3969 mAh battery, which lasts about a day of heavy use. 
When it comes to charging, the Mate 30 Pro is capable of Dual SuperCharge. It comes bundled with a super fast 40W charger that can get you to 100% full charge in a just a little over an hour via its USB-C port. A 15-minute top-up charges the phone to up to 40%. It's also compatible with Huawei's new 27W Wireless SuperCharge Go, which can charge the phone faster than most wired chargers available today.
Meanwhile, the iPhone 11 Pro comes bundled with an 18W fast charger. Plugging the phone for 15 minutes will render over 25% charge, while a full charge takes about 1 hour and 45 minutes.
Cameras
Most smartphones nowadays can already take amazing photos comparable to those taken with a professional camera. Both the Mate 30 Pro and the iPhone 11 Pro Max have reliable and versatile cameras that you can depend on.
The iPhone 11 Pro Max has three 12MP rear cameras: wide angle lens, 2x telephoto lens, and an ultra-wide angle lens. It also supports 4K video up to 60 fps and 1080p slow motion at up to 240 fps.
The Mate 30 Pro has four: a 40MP wide angle lens, 8MP 3x telephoto zoom, 40MP ultra-wide Cine Camera, and a 3D Time-of-Flight camera for depth sensing and low light images. This combination takes amazing photos, that DxOMark gave the Mate 30 Pro an impressive score of 131 points, making it the best smartphone camera for stills. The 40MP Cine Camera supports ultra low light video of ISO 51200, comparable to cameras used by professionals. It's also able to take ultra slow motion video of up to 7680 fps which can capture bursting bubbles previously only possible with professional cameras.
During the day both phones take great photos, but sometimes differ in processing depending on the lighting condition. Food looks more appetizing on the iPhone, while backlit photos are handled better by the Mate 30 Pro.
The iPhone 11 Pro Max takes ultra-wide angle photos at a 4:3 aspect ratio, while the Mate 30 Pro captures them at 3:2.
At the front the iPhone sports a 12MP selfie camera, while the Mate 30 Pro sports a 32MP selfie camera. Selfies on the Mate 30 Pro have a slightly wider field of view, while the iPhone selfies are little bit tighter. Using the front facing 3D Depth Sensing Camera, it can capture a more accurate depth of field information when taking selfies as well.
When it comes to taking photos in the dark, while both the Mate 30 Pro and iPhone 11 Pro Max have night mode, they can hold their own even on auto mode. On the Mate 30 Pro you can switch to night mode manually if you want to, while on the iPhone the phone will have to detect it automatically. The Mate 30 Pro takes more vibrant photos at night and it also produced less noise compared to the iPhone. The Mate 30 Pro's large sensor and RYYB color filter array allows it to let in more light making it the best smartphone for taking low light photos. 

At the end of the day, which phone takes better photos will depend on your preference. One will have an advantage over the other in different scenarios. 
The iPhone 11 Pro Max is a good choice especially if you already have other Apple products to compliment it with.  The Huawei Mate 30 Pro offers versatility and solid features all around. Its battery life is unparalleled and doesn't make you waste precious hours just to get it all juiced up. Its camera also takes consistently amazing photos regardless of the amount of light source available. With all the camera features available on the phone, you can even get creative and capture images you've never been able to before.
Whichever phone you choose, whether it's for camera, battery life, price, or other features, the iPhone 11 Pro Max and the Huawei Mate 30 Pro are phones you can depend on that you will be plenty happy with.
---
This feature was produced in collaboration between GadgetMatch and Huawei Philippines.
This 34" LG UltraWide monitor disrupted my workflow
In the best way possible
I've been working on a laptop almost exclusively for the better part of the last decade. It's been so long that I had forgotten the benefits of working with a bigger screen — a benefit that was shoved into my face when I used the LG UltraWide 34" Curved monitor. 
Easy setup 
Putting it together was relatively easy. I didn't need any special tools or anything of the sort. Everything just fit into place seamlessly.
Here are all the ports on its back. That's two (2) HDMI ports, one (1) Display port, two (2) USB downstream ports, one (1) USB upstream port, and one (1) headphone out port.
It also comes with a cable organizer that you kind of clamp to the stand so your setup can look clean.
Once everything is plugged, you only need to use this button at the bottom center of the display to make any changes in the settings or switch between inputs should that be necessary.
My regular workflow
At any given day I can be doing anything from writing an article, a script, coordinating with the team and external partners, copy-editing articles, and video editing among others.
This means I toggle between screens A LOT. Other than that, my posture while working is mostly crouched down since I'm looking at the laptop screen.
However, that all changed when the fire nation attacked. No, I mean, it was definitely shaken up when I started using the LG UltraWide 34" Curved Monitor.
I didn't really have a proper setup with it owing to the tiny space I live in but in the brief week that I used it, I started craving a better work from home setup.
How the LG UltraWide monitor disrupted my workflow
The first thing I noticed was how I was now looking up instead of looking down. It might not be that big a deal for younger people, but when you reach a certain age, even the smallest improvements to your posture can make a huge difference.
The extra space is invaluable. At one glance I can look at Slack and Tweetdeck. This means I can quickly look up if there's anything new that needs to be edited while also monitoring any potential news that we should run on the website.
Bonus: I can also have a floating tab with a playlist of my favorite girls TWICE cheering me up as I slog through another work day.
This works in other instances too. I can pull up a press release for reference on one side of the screen and have Google Docs on another. This means I no longer have to quickly press Alt+Tab every time I need to double check details.
Just the overall convenience of seeing more at a glance is already a major upgrade to the workflow I've grown accustomed to.
Video editing
I no longer video edit as much as I used to due to changing roles and all. But here, the benefit of having a larger, wider monitor is even more pronounced.
Having a wide workspace means I didn't have to hide certain tools while editing. They're just there, easily and immediately accessible when I need them. It was honestly tough going back to the smaller screen especially for this task.
Taking less steps to complete your everyday tasks is a godsend. Every small thing adds up to a faster, smoother, and generally better working experience.
Should you upgrade to the LG Ultrawide 34" Monitor?
There are plenty of things to consider. For people like myself who have mostly worked on laptops, we're pretty set in our ways. Plus there are a few other peripherals I might need to get so it's not an easy yes or no decision.
You also need to consider your workspace. As I mentioned, I live in a rather tiny place with very little space to accommodate a fully desktop setup.
But this is me. If you're still working on a more traditional 16×9 monitor, I guarantee the difference, while jarring at first, can be truly beneficial in the long run.
The LG Ultrawide 34" Curved Monitor retails for PhP 45,999 (around US$ 937). If you're ready to splurge to up your productivity, this isn't a bad place to start.
LG has other monitors you can check out. The UltraWide line of monitors start at PhP 12,699 for the 25", PhP 14,799 for the 29", PhP 29,499 for the 34", and PhP 45,999 for the curved 34" version.
LG's UltraGear gaming monitor line on the other hand starts at PhP 12,599 for the 24", PhP 22,199 for the 27", and PhP 23,999 for the 32".
SEE ALSO: LG UltraGear 24" Gaming Monitor review: Enough to get you started
The cost of the post-pandemic movie
Why you should care about Mulan's terrible premiere
The fate of the Hollywood blockbuster rests on a fingertip. A formerly grandiose affair with celebrities dressing up to the nines, the red-carpet premiere is now an impossibility thanks to the ongoing COVID-19 crisis. On the other side, streaming services blossomed with new titles and exclusives. It was (and is) a great era for the home theater. But the home theater will not last forever. Hollywood is now facing a crisis for the future of the premiere.
If the past year is any indication, Hollywood will, of course, not go down without a fight. Large networks and production houses have released their own streaming platforms to monopolize their content, putting additional weight on a consumer's budget. Take Disney's Disney+ or NBC's Peacock, for instance. Now, a few of these (like Disney and Netflix) make their own blockbuster content as well. We've seen Netflix's streaming-only premieres already. How about Disney's (or anyone else's) Hollywood premieres, which often rely on astounding box office numbers?
This week, we got a taste of such a strange premiere scheme. In an earnings call, Disney CEO Bob Chapek detailed the future of a delayed movie, Mulan. Initially premiering in theaters back in March, Mulan was repeatedly delayed because of the continued shutdown of movie theaters. Now, as the company is itching to finally launch it, Chapek announced a hybrid release for the film. Partly premiering in theater in safe countries, the film will also launch simultaneously on Disney+ for unsafe markets.
Now, here's the catch: the film will cost US$ 29.99 for Disney+ users. Even if you have a subscription already, you have to fork over approximately PhP 1,474 to watch the new film. Of course, the hair trigger response is, "c'mon, Disney; stop haggling money from your customers." And the response is right. However, there is so much more to this. Mulan can set the stage for an unprecedented era for Hollywood premieres.
Let's get down to business
In New York, an average movie ticket costs around US$ 15 (approximately PhP 736). Mulan's price tag is twice as much as a theater ticket. It's even weightier in cheaper states and, most especially, in the Philippines (where movie tickets are only around US$ 5). Further, you'll still need an active Disney+ account to access the film, costing an additional US$ 6.99.
(Naturally, it's impossible to accurately translate the prices to an Asian market since Disney+ has not launched in all of Southeast Asia yet. We can only assume that Mulan's streaming price is 200 percent of normal ticket prices, whatever it might be.)
Objectively, Mulan's price is worse than a regular movie ticket. It's easy to conclude the argument with this statement and head home. However, there is a way to justify the price.
The whole family plus your cow
Now, a single movie ticket typically admits one person. Buying Mulan pays for the streaming privilege which can typically include an entire family. With a 15-dollar average, two people watching the same Mulan purchase is already a break-even point. In the same vein, a family of four obtains double the value of the 30-dollar film price. Even better, a family can watch the film over and over again. And, as any parent who has a Frozen-loving child can tell you, unlimited playbacks is a blessing for your wallet (albeit a curse on your sanity).
Unfortunately, despite the mathematical mind-bending, Mulan's price is still far from ideal. The movie-going experience is not the same on a streaming platform as in a cinema.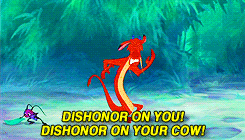 An assumption of equality
A cinema ticket is price of equality. Besides a few slight differences, everyone is paying for the same product. All other things considered equal, a 20-year old college student is paying and enjoying the same experience as a 50-year old CEO. Same film, same seat cushions, same facilities, same projector.
On the other hand, a streaming subscription cannot assume the same thing. A platform cannot control where and with what device a user will watch the movie from. A 20-year old college student watching the film on a laptop screen in a poorly lit dorm room is not enjoying the same experience as a 50-year old CEO watching the same thing in their high-end home theater with Dolby Atmos.
Likewise, the platform cannot assume how many people will watch the film in one purchase. Now, Mulan is a family film. Disney can easily assume that multi-person families will buy and watch the film. However, how will the audiences take the same price tag for a more polarized movie like Christopher Nolan's Tenet or the next James Bond film?
All of Hollywood knows you're here
In the same announcement, Chapek hints that Mulan's price is just a "one-off." Basically, other films might not follow the same pricing scheme. In a way, it makes sense. Mulan was made with a pre-coronavirus budget. It was expected to make millions from box office tickets. This might be the only way for Mulan to recoup its many losses. In the future, Disney might make films with lesser budgets and lesser expectations.
However, make no mistake; other filmmakers are intently watching Mulan's performance on streaming. If Mulan succeeds, they can likely charge the same amount without incurring a lot of losses. That said, streaming premiere prices will likely vary from film to film. Even then, this isn't the last discussion on the future of the film industry.
If the industry hopes to adapt to the new normal, it needs to rethink its strategy even further. Disney is offering only one solution for the problem of streaming. Unfortunately, the brand's solution leverages a family-oriented release, one that might not appeal to the average moviegoer today.
A price worth fighting for
My suggestion: Implement a tiered premiere price. Not everyone will want to pay the full 30 dollars for a film they're not wholly interested in. Most will watch it once and forget about it. Some won't even care about watching it in HD.
Why not implement a pricing scheme based on those different preferences? For example, charge US$ 5 for a standard-definition, one-time playback premiere; US$ 10 for an HD, one-time playback premiere; US$ 20 for a standard-definition, unlimited playback premiere; and US$ 30 for an HD, unlimited playback premiere. In one swoop, a film can appeal to all streaming markets and needs.
Samsung Galaxy Note 20 Ultra Unboxing, Hands-on & Camera Test!
Elegance and sophistication in an ULTRA-big device
Just recently, we had a quick video introduction of Samsung's latest Galaxy Note 20 series. Now, we finally have a Galaxy Note 20 Ultra on our hands!
Be sure to subscribe and hit that notification button to stay notified on our upcoming review video on August 18th.
For now, you can enjoy our unboxing, hands-on, and a quick camera test using the Galaxy Note 20 Ultra by clicking here.