LG might lose its 'Friends'
If the latest reports are to be trusted, LG isn't going to push the modular design of the G5 on its flagship smartphone next year. That's bad news for anyone invested in the system, and the company itself, of course. Actually, the whole plan may have failed as soon as it was drawn up.
The Electronic Times broke the news that the Korean company is cancelling its plans of a modularized design on its next flagship device, presumably called the LG G6, after a string of misfortunes following the release of the G5.
Let's list down what we know: It met with disappointing sales just when LG badly needed an instant money maker; executives in charge of the G5's development were removed a few months later; and users who bought into the idea of the phone's modularity didn't even bother to purchase any "Friends."
[irp posts="1305" name="The LG G5 is here, and it's awesome"]
The third fact is the biggest hit on the G5. According to the report, LG didn't see the expected results because add-on components weren't really wanted. For users, there was never any compelling reason to add expensive accessories to a smartphone that already matched every other top-end handset spec-for-spec.
And that's the thing about smartphones these days; consumers want a gadget that works to its full potential out of the box, with the latest operating system and without any added complications.
Modular ecosystems have always been a tricky affair. Doing too much flushes it down the drain before even launching, and executing a smart yet untested plan yields poor long-term gains, like in the case of the LG G5.
The irony with the G5's Friends is that they aren't exactly friendly to interact with. Popping the phone's chin and snapping out a part involves turning the entire device off and wearing out the metal frame over time. We demonstrated the process in our unboxing video:
Modularity done right goes all the way back to 1998. It's easy to forget, but the Nokia 5110 had a removable battery that acted as the rear cover, and could be exchanged for units that provided vibration functionality or additional energy capacity. The feature phone sold exceedingly well, which eventually led to the release of the even more successful Nokia 3210 and 3310.
Lenovo-owned Moto did its homework before launching the semi-modular Z series. The Moto Z, Z Force, and Z Play have a similar concept to the old Nokia, wherein the attachments could be inserted on the back without removing something first or powering the phone off.
While the modules are still quite expensive, they're very user-friendly and work on up to three handsets at the moment, which is three times what LG is offering. In addition, Moto promises a long-term commitment to the platform, and that's what early adopters want to hear.
Despite the rumors, LG's decision to ditch its ambitious plans isn't much of a surprise, especially if you followed the progress of the V20.
As soon as the follow-up to last year's surprise hit, the V10, was announced without any modularity to speak of, LG's Friends were already assumed to be dead.
What's strange is how the V20's slogan mimics that of the G5's marketing campaign: "Life's good when you play more." It makes a lot of sense when you think about the G5's ability to play more with its Friends, but it's strange to see the same line attached to the V20.
With only a removable battery to toy around with, it feels like someone forgot to update the marketing materials — or maybe, Friends compatibility was originally planned for the V20, before all the bad news came in.
We talked about how this development is a big blow for the tech giant's image, and that backtracking on features has never ended well for smartphone brands. Commitment to a proven program resonates with consumers, even more than delivering next-level innovation, as shown by the incredible fortitude of Apple's iPhone brand.
[i[irp posts="4401" name="V20 both improves and harms LG's image"]p>
It's clear that LG is still worried about losing trust from both its fans and hardware partners. By giving up on a big-time strategy less than a year in, not only will the company sacrifice a lot of hype for its next major announcement, but also scrap lots of useless components designed for the G5's system and its future iterations, leading to tons of electronic waste.
To LG's fortunes, the V20's primary rival is out of the running for phone of the year. So while Samsung's smaller flagship is carrying the brand until early 2017, the larger and far newer LG phablet is a top pick for anyone looking for a smartphone beyond 5.5 inches in display size. It helps that fellow competitors HTC and Sony aren't bringing their A-games this year.
Looking back, you have to applaud LG for trying something new for each of its flagship. From the high-powered Optimus G and series-defining G2, to the bendable G Flex and rugged V10, no other smartphone manufacturer has ever taken more risks than the Korean brand.
ET's report ends with the possibility of the upcoming G6 coming with features "not seen before in previous LG smartphones." Banking on recent history, we have no reason to doubt LG's ability to materialize its imagination.
[irp[irp posts="7000" name="LG V34 is what the V20 should have been"]
The Galaxy Fold is real: Weekend Rewind
And it's pretty darn expensive
Here are the top stories on GadgetMatch this week.
1. Samsung unpacked… err… unfolded the future with Galaxy Fold
Yes, we expected Samsung to release a foldable smartphone. What we didn't see coming is that they would open the Galaxy S10 event with the Galaxy Fold.
No, this isn't just a concept anymore. Samsung demoed a working device on stage and said the device will be on sale starting April 26 at a staggering but also unsurprising price of US$ 1,980.
It'll be interesting to see how other brands respond to the Galaxy Fold. Watch out for our MWC 2019 coverage so we can all find out together.

2. Samsung Galaxy S10 cameras tie Huawei's flagships
Looks like Samsung is determined to hold on to its top smartphone maker reputation with its latest flagship Galaxy S10 tying Huawei flagship numbers on DxOMark. In fact, it even leads in the selfie camera department. That's made possible with an overall score of 109 for the rear cameras and 96 for the front shooters.
However, the S10 isn't just about its cameras. Watch our hands-on to get a good idea on how well-rounded a phone it is.

3. Xiaomi pre-empted Samsung with the Mi 9
Xiaomi almost came out of nowhere when they announced their first 2019 flagship — the Xiaomi Mi 9 — right before Samsung's Galaxy S10 Unpacked event.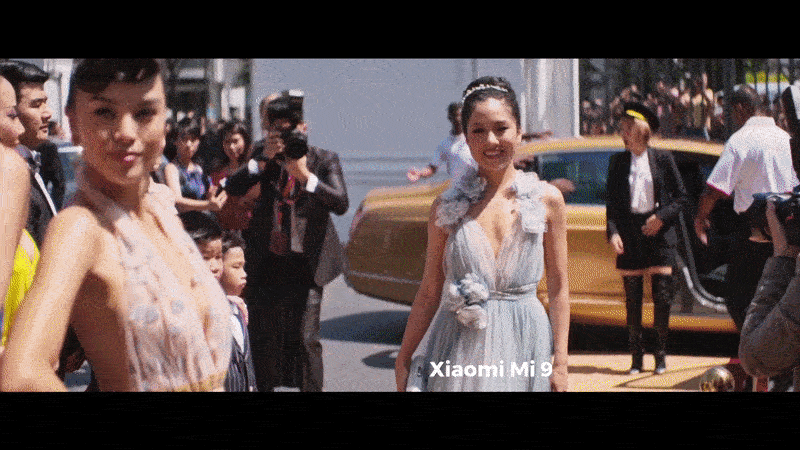 The Mi 9 had more than enough to grab hold of your attention with flagship specs: Snapdragon 855 and a 48MP camera among other things. And since it's Xiaomi, it's bound to be cheaper than the other flagships that will come out between now and MWC 2019.
Xiaomi's a disruptor and they did a good job disrupting with the Mi 9.

4. Huawei building up anticipation for the P30
Not to be outshone by Samsung and Xiaomi, Huawei has been constantly releasing bread crumbs about its upcoming flagship for all of us to chew on.
The P30 series is set to launch on March 26. As early as this week, the Chinese company even confirmed a quad-camera setup after showcasing a really close-up photo of the super snow moon.
All the teasers point to an improved zoom or telephoto lens for the P30. That's something we're definitely excited to test.
5. Fujifilm's X-T30 could be people's mirrorless camera choice
Fujifilm's cameras have always been pretty darn good, but this latest one from them could be a big hit. The X-T30 is a lightweight 4K mirrorless camera, making it a perfect travel companion wherever you go.
The Fujifilm X-T30 will be available in March starting at US$ 899 for the body only. It'll go up to US$ 999 when bundled with an XC 15-45mm f/3.5-5.6 OIS lens, or US$ 1,299 when bundled with an 18-55mm f/2.8-4 lens.
---
Weekend Rewind is our roundup of top news and features you might have missed for the week. We know the world of technology can be overwhelming and not everyone has the time to get up to speed with everything — and that includes us. So sit back, relax, and enjoy the rewind.
Samsung Galaxy S10 vs Galaxy S10+ vs Galaxy S10E: What are the differences?
A decade of Galaxies
Samsung has launched three new flagship phones: the Galaxy S10, Galaxy S10+, and Galaxy S10E. With three new models to choose from, it might be difficult to choose which Galaxy S10 is the one for you.
To help with this, we took the liberty to show you the differences between the three. Which of the Galaxy S10 models will be your GadgetMatch?
Display
Starting with the screen, the three Galaxy S10 models sport Super AMOLED displays in different sizes. The Galaxy S10E is the smallest among the bunch with a 5.8-inch display. It's followed by the regular Galaxy S10 with its 6.1-inch display and, of course, the Galaxy S10+ with its large 6.4-inch panel.
It's also worth noting that the Galaxy S10E has a completely flat display, while the other two Galaxy S10 variants have the curved panels we've come to expect from Samsung.
All three models don't sport a notch, but they do have holes on the upper-right corner for their front cameras. The Galaxy S10E and Galaxy S10 have a perfectly rounded hole-punch camera, while Galaxy S10+ has a pill-shaped cutout since it has two front-facing cameras.
Performance
Despite the size differences of the phones, all models are powered by a flagship processor. Depending on where you are, the Galaxy S10 family will sport either a Snapdragon 855 or an Exynos 9820.
Memory and storage configuration will also vary depending on the region. The lowest possible memory available is 6GB and it can go as high 12GB. As for storage, it starts at 128GB and will reach up to 1TB. The 12GB+1TB combo will be exclusively available for the Galaxy S10+.
Another significant difference between the Galaxy S10 phones is battery capacity. The Galaxy S10E has a modest 3100mAh battery, the Galaxy S10 owns a pretty standard 3400mAh battery, and the Galaxy S10+, being the biggest of the three, comes with a huge 4100mAh battery.
All three variants support fast charging using wired or wireless chargers. They can also do reverse wireless charging (which Samsung calls Wireless PowerShare) to charge other devices using the Qi wireless standard.
Lastly, both the Galaxy S10 and Galaxy S10+ feature the new ultrasonic in-display fingerprint reader, which is definitely faster than any of the in-display fingerprint readers we've tried before. The Galaxy S10E has a more conventional side-mounted fingerprint reader that's still accurate and fast, but not as advanced.
Cameras
The Galaxy S10 and the Galaxy S10+ are the first among the Galaxy S lineup to have triple rear cameras. The setup is composed of a main 12-megapixel Dual Pixel and Dual Aperture camera, a 16-megapixel ultra wide-angle, and a 12-megapixel telephoto with 2x optical zoom.
Since the Galaxy S10E is priced lower, it only has two of the three rear cameras of its more expensive siblings: the main Dual Pixel camera and the ultra wide-angle shooter.
The situation in the front is quite different, though. Both the Galaxy S10 and Galaxy S10E have a single selfie camera, while the Galaxy S10+ gets an extra depth sensor for a more precise bokeh effect or Live Focus.
Pricing and colors
The cheapest model is the Galaxy S10E which starts at US$ 750. The regular Galaxy S10 will set you back US$ 900, while the bigger Galaxy S10+ is priced at US$ 1,000.
All three models will come in Prism White, Prism Black, Prism Green, and Prism Blue. In addition, the Galaxy S10E will be available in Canary Yellow, as well. The Galaxy S10+ also has premium Ceramic Black and Ceramic White variants, but these are only available for the high-tier configurations.
Colors option may vary per region, so not all colors will be available in all markets.
Get to know more about the latest Galaxy S10 series by watching our hands-on video:
SEE ALSO: Samsung Galaxy S10 Hands-on: A refinement of everything
Instagram photo challenge with the Samsung Galaxy S10
Hands-on with all three versions!
Samsung's newest Galaxy S devices have just been announced and we're blessed with three versions: The Samsung Galaxy S10e (small), the Galaxy S10 (big), and the Galaxy S10+ (big big!).
Each phone is equipped with a number of cameras so you know what that means: IG photo test!
In our Her GadgetMatch video, we check out what's so cool about the new Samsung phones and test what the cameras can do. Spoiler: They do a lot!
In case you're having trouble viewing, watch HERE.
SEE ALSO: Samsung's new LED light cover is the phone case we've always wanted