Oops! OnePlus, Samsung figure in blunders: Weekend Rewind
They had a rough week
Here are this week's top stories on GadgetMatch.
1. OnePlus won't have first phone with latest Qualcomm chip after all
So about OnePlus getting first dibs on the Snapdragon 855 SoC, well, it's not accurate. The announcement was just lost in translation.
In a report by Engadget, it appears there were two sets of slides for OnePlus' presentation at the Snapdragon Summit in Maui. One is in English while the other is in Chinese. It was the English version that said OnePlus will be the first to get the Snapdragon 855 but it was mistranslated from Chinese which apparently said "among the first" and not the first.
Qualcomm announced the Snapdragon 855 SoC in Hawaii which is a 5G-enabled chip among other things. Earlier this week, Samsung and Verizon also announced plans to release a 5G phone in the US in the first half of 2019.

2. Samsung caught using DSLR to promote live focus feature
Speaking of Samsung, the company also starred in their own blunder this week when they were caught using a photo taken with a DSLR to promote the live focus feature of the Galaxy A8 Star.
It was Dunja Djudjic of DIYPhotography who spotted her work — something she licensed on photo site EyeEm — on Samsung Malaysia's website that implies it was taken with the Samsung phone. However, this was not the case as Djudjic says a DSLR was used to take the photo.
It's common practice for advertising materials to be sourced from stock image sites. However, it shouldn't be the case when promoting a smartphone camera's capabilities. Samsung phones do take good photos so it's a little puzzling why Samsung Malaysia went with this direction.

3. Samsung and Huawei will come out with holed phones in December
More on Samsung but on a less controversial note. The Korean company is set to announce their first holed smartphone on December 10 — the Samsung Galaxy A8s.
The date will be historic as Samsung looks to beat everyone to the punch by launching the first official smartphone to have a selfie camera within the display. Nothing is confirmed yet, but specs-wise the Galaxy A8s could have a 6.3-inch display with a Full HD+ resolution, Snapdragon 710 chipset, up to 6GB of RAM, and a 24MP selfie camera.
Huawei won't be too far behind as they're also announcing a phone with a similar front-facing camera setup on December 17.  The phone will be called the Nova 4.
The main Nova series always sports the top Kirin chipset despite not being part of the premium P or Mate series. When the Nova 3 was announced, it was rocking the Kirin 970; this means the Nova 4 might have the new Kirin 980.

4. iPhone XR has the best single-lens camera
Apple's decision to stick to one has been validated. In a smartphone market filled with at least dual-camera setups, Apple still opted to go with just one on the more "affordable" iPhone XR.
DxOMark finds the iPhone XR's camera to be a great performer scoring 101 points overall. This makes the iPhone XR the highest-rated single-cam device tested by DxOMark.
Question is, can the iPhone XR keep the throne for long? DxOMark has yet to put the Google Pixel 3 to test. It will be interesting to see once the result for Google's latest smartphones comes out since the Pixel 3 has been killing it in smartphone photography — single lens or otherwise.
5. God of War is Game of the Year
God of War wins big at The Game Awards 2018 — the biggest awards show in gaming. The PlayStation 4 exclusive topped other interesting titles for Game of The Year including fellow PS4 exclusive Marvel's Spider-Man, Celeste, Red Dead Redemption 2, and Monster Hunter: World.
God of War also won Best Direction and Best Action/Adventure Game. Other notable games that got wins are Florence for Best Mobile Game, Dragon Ball FighterZ for Best Fighting Game, Fortnite for Best Multiplayer Game.
---
Weekend Rewind is our roundup of top news and features you might have missed for the week. We know the world of technology can be overwhelming and not everyone has the time to get up to speed with everything — and that includes us. So sit back, relax, and enjoy the rewind.
The Galaxy Fold is real: Weekend Rewind
And it's pretty darn expensive
Here are the top stories on GadgetMatch this week.
1. Samsung unpacked… err… unfolded the future with Galaxy Fold
Yes, we expected Samsung to release a foldable smartphone. What we didn't see coming is that they would open the Galaxy S10 event with the Galaxy Fold.
No, this isn't just a concept anymore. Samsung demoed a working device on stage and said the device will be on sale starting April 26 at a staggering but also unsurprising price of US$ 1,980.
It'll be interesting to see how other brands respond to the Galaxy Fold. Watch out for our MWC 2019 coverage so we can all find out together.

2. Samsung Galaxy S10 cameras tie Huawei's flagships
Looks like Samsung is determined to hold on to its top smartphone maker reputation with its latest flagship Galaxy S10 tying Huawei flagship numbers on DxOMark. In fact, it even leads in the selfie camera department. That's made possible with an overall score of 109 for the rear cameras and 96 for the front shooters.
However, the S10 isn't just about its cameras. Watch our hands-on to get a good idea on how well-rounded a phone it is.

3. Xiaomi pre-empted Samsung with the Mi 9
Xiaomi almost came out of nowhere when they announced their first 2019 flagship — the Xiaomi Mi 9 — right before Samsung's Galaxy S10 Unpacked event.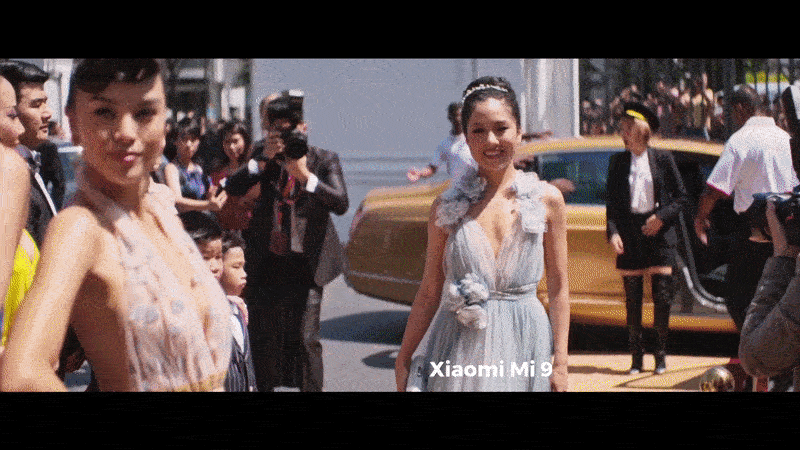 The Mi 9 had more than enough to grab hold of your attention with flagship specs: Snapdragon 855 and a 48MP camera among other things. And since it's Xiaomi, it's bound to be cheaper than the other flagships that will come out between now and MWC 2019.
Xiaomi's a disruptor and they did a good job disrupting with the Mi 9.

4. Huawei building up anticipation for the P30
Not to be outshone by Samsung and Xiaomi, Huawei has been constantly releasing bread crumbs about its upcoming flagship for all of us to chew on.
The P30 series is set to launch on March 26. As early as this week, the Chinese company even confirmed a quad-camera setup after showcasing a really close-up photo of the super snow moon.
All the teasers point to an improved zoom or telephoto lens for the P30. That's something we're definitely excited to test.
5. Fujifilm's X-T30 could be people's mirrorless camera choice
Fujifilm's cameras have always been pretty darn good, but this latest one from them could be a big hit. The X-T30 is a lightweight 4K mirrorless camera, making it a perfect travel companion wherever you go.
The Fujifilm X-T30 will be available in March starting at US$ 899 for the body only. It'll go up to US$ 999 when bundled with an XC 15-45mm f/3.5-5.6 OIS lens, or US$ 1,299 when bundled with an 18-55mm f/2.8-4 lens.
---
Weekend Rewind is our roundup of top news and features you might have missed for the week. We know the world of technology can be overwhelming and not everyone has the time to get up to speed with everything — and that includes us. So sit back, relax, and enjoy the rewind.
Samsung Galaxy S10 vs Galaxy S10+ vs Galaxy S10E: What are the differences?
A decade of Galaxies
Samsung has launched three new flagship phones: the Galaxy S10, Galaxy S10+, and Galaxy S10E. With three new models to choose from, it might be difficult to choose which Galaxy S10 is the one for you.
To help with this, we took the liberty to show you the differences between the three. Which of the Galaxy S10 models will be your GadgetMatch?
Display
Starting with the screen, the three Galaxy S10 models sport Super AMOLED displays in different sizes. The Galaxy S10E is the smallest among the bunch with a 5.8-inch display. It's followed by the regular Galaxy S10 with its 6.1-inch display and, of course, the Galaxy S10+ with its large 6.4-inch panel.
It's also worth noting that the Galaxy S10E has a completely flat display, while the other two Galaxy S10 variants have the curved panels we've come to expect from Samsung.
All three models don't sport a notch, but they do have holes on the upper-right corner for their front cameras. The Galaxy S10E and Galaxy S10 have a perfectly rounded hole-punch camera, while Galaxy S10+ has a pill-shaped cutout since it has two front-facing cameras.
Performance
Despite the size differences of the phones, all models are powered by a flagship processor. Depending on where you are, the Galaxy S10 family will sport either a Snapdragon 855 or an Exynos 9820.
Memory and storage configuration will also vary depending on the region. The lowest possible memory available is 6GB and it can go as high 12GB. As for storage, it starts at 128GB and will reach up to 1TB. The 12GB+1TB combo will be exclusively available for the Galaxy S10+.
Another significant difference between the Galaxy S10 phones is battery capacity. The Galaxy S10E has a modest 3100mAh battery, the Galaxy S10 owns a pretty standard 3400mAh battery, and the Galaxy S10+, being the biggest of the three, comes with a huge 4100mAh battery.
All three variants support fast charging using wired or wireless chargers. They can also do reverse wireless charging (which Samsung calls Wireless PowerShare) to charge other devices using the Qi wireless standard.
Lastly, both the Galaxy S10 and Galaxy S10+ feature the new ultrasonic in-display fingerprint reader, which is definitely faster than any of the in-display fingerprint readers we've tried before. The Galaxy S10E has a more conventional side-mounted fingerprint reader that's still accurate and fast, but not as advanced.
Cameras
The Galaxy S10 and the Galaxy S10+ are the first among the Galaxy S lineup to have triple rear cameras. The setup is composed of a main 12-megapixel Dual Pixel and Dual Aperture camera, a 16-megapixel ultra wide-angle, and a 12-megapixel telephoto with 2x optical zoom.
Since the Galaxy S10E is priced lower, it only has two of the three rear cameras of its more expensive siblings: the main Dual Pixel camera and the ultra wide-angle shooter.
The situation in the front is quite different, though. Both the Galaxy S10 and Galaxy S10E have a single selfie camera, while the Galaxy S10+ gets an extra depth sensor for a more precise bokeh effect or Live Focus.
Pricing and colors
The cheapest model is the Galaxy S10E which starts at US$ 750. The regular Galaxy S10 will set you back US$ 900, while the bigger Galaxy S10+ is priced at US$ 1,000.
All three models will come in Prism White, Prism Black, Prism Green, and Prism Blue. In addition, the Galaxy S10E will be available in Canary Yellow, as well. The Galaxy S10+ also has premium Ceramic Black and Ceramic White variants, but these are only available for the high-tier configurations.
Colors option may vary per region, so not all colors will be available in all markets.
Get to know more about the latest Galaxy S10 series by watching our hands-on video:
SEE ALSO: Samsung Galaxy S10 Hands-on: A refinement of everything
Instagram photo challenge with the Samsung Galaxy S10
Hands-on with all three versions!
Samsung's newest Galaxy S devices have just been announced and we're blessed with three versions: The Samsung Galaxy S10e (small), the Galaxy S10 (big), and the Galaxy S10+ (big big!).
Each phone is equipped with a number of cameras so you know what that means: IG photo test!
In our Her GadgetMatch video, we check out what's so cool about the new Samsung phones and test what the cameras can do. Spoiler: They do a lot!
In case you're having trouble viewing, watch HERE.
SEE ALSO: Samsung's new LED light cover is the phone case we've always wanted