The Realme 2 series is the company's announcement that they're no longer a sub-brand of OPPO. However, there are still plenty of traces of OPPO in these devices. The Realme 2 Pro is their top offering and for better or worse, it still feels like an OPPO phone.
If you think this looks and feels a lot like the OPPO F9, you can't be faulted. Save for a few differences, these two phones are practically twins. From the form factor, to the notch, and even the cameras, these phones almost remind me of that famous Spider-Man meme.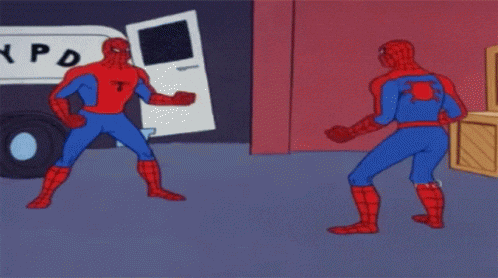 The more obvious difference are the colors. The OPPO F9 went with the trendy gradient look while the Realme 2 Pro goes for more solid color options.
The unit we have for review is the more subdued Black Sea, but the phone is also available in Blue Ocean as well as the color I would have loved to have (hello, folks from Realme): Ice Lake.
Another key difference is the chip powering the devices. The OPPO F9 runs on a MediaTek Helio P60 processor while the Realme 2 Pro went with the Snapdragon 660. Further justifying the Pro on its name is the 128GB of storage and 8GB of RAM on our particular review unit.
For reference the Realme 2 Pro also comes in a 4GB and 64GB configuration, as well as a 6GB and 64GB configuration.
The steady
In that regard, the Realme 2 Pro felt about as snappy as you can expect from a phone rocking those internals. I don't play a lot of mobile games and only really played Dragon Ball Legends in my little over a week with the device, and it handled it with zero problems.
I have had experience with other phones with comparable specs and tested games like PUBG, and Iron Blade on them. Those phones handled the mentioned games nicely and I expect the same is true with the Realme 2 Pro.
I do consume a lot of media on my phone. Listening to my favorite songs and podcasts was a pleasant experience. The speakers on this phone do not deliver the best sound but they're good enough and loud enough for solo listening sessions. It does have a headphone jack so that's a thing you can take advantage of, as well.
I also watch a lot of YouTube and Netflix (and chill right after), and I don't have any major complaints. Would love the display to be more visible under bright sunlight, but I don't really look at my screen a lot in those situations nor do I watch videos under strong light that often.
The bad
I was never a fan of ColorOS and that remains true even on technically a non-OPPO phone. Don't get me wrong, it doesn't make the phone slower or anything. I'm just not down with how it looks and feels in general. I appreciate that it incorporates gesture navigation (get with the gestures people, it's great!) but other than that, I would switch to a different launcher. But that's me. If you dig it, it's all good. I won't judge.
There's also the nice touch of a quick access feature sitting on the display on the area right next to the power button. Swipe quickly and you get screen capture options as well shortcuts to some apps.
Silver lining for those like me that aren't ColorOS fans: During the launch, Realme Southeast Asia Managing Director Josef Wang was asked if they're planning on making their own and he said, "Maybe next year we'll have our own OS." A maybe is always better than a flat out no in OS options, life, and love.
The good-ish
Mostly good, to be more precise. I was pleasantly surprised by how the camera performed under favorable lighting conditions. Check out these two portrait shots taken around noon.
Both images are sharp and you could be fooled into thinking these weren't taken with a phone.
It doesn't perform as well under low-light conditions, but it's about as good as you can expect from a smartphone in this range.
There's also some fun stickers you can play with if that's a thing you're into.
Here are a few more samples you can peruse.
Recon phone
So who would want this phone? Realme said they're aimed at the youth. I thought that was pretty vague so I asked for an age range. Wang had this puzzled look on his face but eventually said they're probably looking at people in college or those just entering the workforce.
During the media interview with the Realme executives, this is the impression I got. The company is still feeling their way through all of this. As Wang noted, they're still studying the markets which is why as of writing, we're still waiting on official pricing for other countries in Southeast Asia.
Realme played it safe with the Realme 2 Pro and for good reason. As a budding company who just spun off, they have plenty of ground to cover. They're hoping the Realme 2 series will sell enough and give them sufficient data to develop a phone that's more Realme than OPPO.
Is this your GadgetMatch?
As for the phone itself. Objectively it's pretty solid. It performs pretty much the way you'd expect it to given the specs.
The UI is a big thing for me. I would have enjoyed this phone more if it had a different skin on top of Android 8.1 Oreo but if you're used to ColorOS or something similar, the Realme 2 Pro is a solid option that will take fantastic photos under proper lighting conditions.
Amazon Fire TV review: Best $250 TV?
Which Fire TV is your GadgetMatch?
Sometimes, all we need is a generic flat-screen TV to fill the void in our living space. But the thing is, you don't need to sacrifice picture quality alongside a cheaper price tag.
From the Kindle to Echo Show, Amazon now has its own smart TVs — and by that we mean smart TVs, not just a smart TV stick you attach.
Ranging from 43 to a whopping 75-inches, which Amazon Fire TV between the Omni and the 4-series is your GadgetMatch?
Watch our Amazon Fire TV review to know more.
Lenovo Legion S7 review: Is it too slim for your liking?
A continuation of power, performance, and portability
Every gaming laptop out there just seems typical, complete with the RGB and the hefty design. Yes, there have been other laptops that are starting to break the mold. However, they did so while sacrificing some huge features in the process. Although, that hasn't stopped most manufacturers like Lenovo from trying their hardest.
What we have here is the Lenovo Legion S7, with the "S" literally standing for "slim." On paper and by design, it's possibly one of the slimmest gaming laptops currently available. Just from the unboxing experience alone, it raises a few eyebrows design-wise and the hardware inside it. Beneath its slim chassis, there lies the beast, as they say.
But is this a gaming laptop worth considering given its potential sacrifices? Let's find out.
Ticks all the boxes for general performance
Every gaming laptop brings impeccable performance for most day-to-day tasks, and the Lenovo Legion S7 is no exception. Of course, the biggest contributor to great performance lies within the hardware, and this machine certainly brings the firepower with an AMD Ryzen 9 CPU inside.
As advertised, the Legion S7 provides performance suitable for any task thrown at it. Whether you're working on work documents or creating your next gameplay video, the laptop handles these things with relative ease. Also, you can effectively multitask on this device no problem with 32GB of RAM to support.
Now, the Legion S7 comes with Windows 10 pre-installed, which was alright. However, seeing how most people were hopping onto Windows 11 at the time, it made sense to upgrade the software first since it's possible. In the three weeks that the laptop was tested, software issues didn't occur so that's a good start!
Decent competitive gaming performance
When talking about gaming performance, there's two things to factor in: the GPU, and the display. For the Lenovo Legion S7, an NVIDIA RTX 3060 with a 165Hz anti-glare FHD display seems like the ideal combo for a gaming device suitable for casual and competitive gamers out there. In reality, this lived up to expectations quite well.
For casual and competitive titles, the Legion S7 provides great performance and frame rates with a smoother feel to them. Sure, a FHD display limits the full dynamic color range compared to the 4K option for this device. But when playing competitively, that hardly ever matters. Games like VALORANT and Halo Infinite felt pretty smooth and looked vibrant when playing.
With RTX on, some games look pretty good but with the obvious frame rate sacrifice, especially with cranked up settings. Although, unlike other RTX mobile GPUs, the frame rate sacrifice isn't as much, which was pretty good. For example, games like Fortnite and Marvel's Guardians of the Galaxy had about an 8 to 10 percent drop in FPS with RTX on vs. RTX off.
Battery life is just good enough for mini breaks
Much like every other gaming laptop out there, this device doesn't last particularly long when used for casual or competitive play. On average, the Legion S7 lasts about 6-7 hours just on productivity and casual gaming on the side. When cranked up to perform at competitive levels, it cuts the lifespan to just 2-3 hours, which was expected.
To its credit, the Legion S7 comes with a 230W battery pack that will nest it back to full health in at most 3 hours. With Rapid Charge Pro turned on through Lenovo Vantage, it cuts the charge time by just an hour. Still, it doesn't change the fact that it's quite fast and would actually give you a short break after playing your heart out.
Some questionable design features
As much as the Lenovo Legion S7 boasts impressive gaming performance, there are a couple of things that hold it back from its true potential. For one, it's quite slim and has the potential to get quite hot when playing too much. Sure, Coldfront 3.0 will do what it can to keep things cool, but it still gets warmer quite fast so it's something worth noting.
Second is in port selection, particularly with what they gave up for this machine. Fortunately, they kept the charging port and two USB Type-A 3.0 ports at the back so nothing got in the way. However, for a gaming laptop to exclude an Ethernet port and an HDMI slot is quite alarming. 
Sure, it's to highlight the WiFi 6 capabilities along with using the Thunderbolt 3 USB-C ports at the right side of the device. However, having a Gigabit Ethernet port significantly improves network performance especially for competitive play. Also, most external gaming displays still come with HDMI ports so it was a missed opportunity.
Is this your GadgetMatch?
For what it's worth, the Lenovo Legion S7 is an ideal gaming device for both casual and competitive gamers. It's slim form factor combined with powerful hardware provides the power and portability that the Legion brand consistently delivers. With a high refresh rate display and RTX-capable GPU, it even provides a solid boost to gaming performance.
Of course, even the Legion S7 has some hits and misses in there. From questionable exclusions to just decent battery life, it fails to maximize its potential to be truly something better than before. Still, with what it has going for it as presently constructed, it's still a great gaming device on-the-go.
Meross Smart Wi-Fi Air Purifier review: 6 months later
An affordable option for better indoor air quality
One Sunday at a Japanese makers market, I came across the material shirasu, a natural ceramic material created using the byproducts of volcanic magma. It's been widely used by the Japanese in construction for many years now, but because it's a material that came from the depths of the earth, it's also got air purifying properties.
One pamphlet about shirasu pointed out that part from food and water, a huge percentage of what humans consume is air — and that indoor pollution is worse than outdoor. We clean our produce thoroughly before cooking it, and the water we drink is filtered, so why don't we think about cleaning the air we breathe as much?
While I came out of that market empty-handed, I remembered that I've been using the Meross Smart Wi-Fi Air Purifier for 6 months now and its filter is due for a replacement.
I already know how dirty my apartment gets just by the sheer amount of dust bunnies my vacuum collects on a weekly basis. What I do not know is how much dirt and pollutants get trapped in the air, so I am both curious and scared to find out.
Buy the Meross Smart Wi-Fi Air Purifier
What's in the box?
Packaging is as simple as it gets. The Meross Smart Wi-Fi Air Purifier comes in a white box, with Meross' logo and the air purifier's picture in front.
Inside are the air purifier, a Meross 3-Stage H13 HEPA filter, as well as the installation guide, and a USB-C power adapter.
Meross says the included 3-Stage H13 HEPA filter has a pre-filter which isolates large particles such as hair and dust, and the filter itself, which catches 99.97% of particles at 0.3 microns including smoke, pollen, pet dander, and contaminated particles. The innermost layer is activated carbon, which removes odors, cooking smells, volatile organic compounds (VOCs), and other toxic substances.
Although not a big deal, I appreciate that it plugs in via USB-C. In case the plug needs replacing in the future, I'm confident I can find a spare cable and plug from other devices I have instead of buying a proprietary one.
Minimalist design
The air purifier from Meross has a minimalist cylindrical body. Its metal chassis makes it feel more premium — something I wouldn't mind showing off if I didn't have an empty corner to tuck it in. It's also slim and doesn't take up too much space, which makes it perfect for a small apartment like mine.
Currently it only comes in white. All my furniture are in a lighter shade of oak and bamboo giving my apartment a light and airy vibe. The purifier, albeit not a decor, doesn't clash against the aesthetics of the apartment. It would be nice to have a dark color option though for those whose interiors have a more industrial or rustic feel.
Easy setup
Setting up the air purifier is easy peasy; so easy that I think even my boomer parents can figure it out.
You open the air purifier at the bottom to insert the filter. There are engraved guides for unlocking and locking the bottom lid.
Once the filter is in and secure, download the Meross app and set up an account. Plug the air purifier and follow the instructions on the app to connect it to your home network. That's it, you're all set. It works with Apple's HomeKit, Siri, Amazon Alexa, and Google Assistant, too.
Buy the Meross Smart Wi-Fi Air Purifier
On the Meross app and HomeKit, you can adjust the speed and power it on or off.  There is also a physical button on top of the air purifier for these same functions.
Loud and lacking
If there's something I would have wanted on the Meross air purifier, it's sensors. It's as basic as it gets.
Because of the lack of sensors, it doesn't monitor the quality of air, so adjusting the speed has to be done manually. When I open my balcony door for example, inviting more dust and pollutants into my apartment, I would turn it up to the highest setting myself.
It's the same story when I'm cooking, and I cook a lot. Instead of automatically adjusting to get rid of the odors coming from the kitchen, I have to go into the app to turn it up.
Over the last 6 months of using the air purifier, I found myself forgetting to do this more and more, so I don't really know how much toxic substances I could have avoided inhaling at this point.
Another pain point I've noticed is that the Meross Air Purifier is loud. At night I would make it a point to adjust it to the maximum speed so I wouldn't wake up sneezing from my allergies as much. Doing so generates a whiny humming sound, which I think would bother some people.
Because I grew up in a relatively noisy city and live in New York now, I've learned to ignore it. The noise is a compromise I'm willing to live with because I do find myself sneezing less in the morning when it's on high.
Replacement filter
On the Meross app, you can monitor the life of the included HEPA filter. Meross suggests replacing it every 3-6 months. I got the alert to get a new one close to 6 months after I set it up.
A replacement filter costs $25 on Amazon. On Meross' website, they have an image of how gray dirty the filters get after a few months.
Six months later, the included filter that I put in still has the original blue color it came in, with just a bit of dust sticking on it here and there.
This means either the air quality in my apartment isn't as bad as others, or the air purifier doesn't work as well as it should.
Seeing as how brand new looking my filter still is, I've held off on buying a replacement for now to save the $25.
Is the Meross Smart Wi-Fi Air Purifier your GadgetMatch?
The Meross air purifier retails for US$ 139.99 on the Meross website and US$ 129.99 on Amazon. It's one of the more affordable options in the market, and the cheapest one that supports HomeKit.
As long as you don't mind the noise and the lack of sensors, the Meross air purifier will do the job. I can't imagine living in a city like New York in the world without an air purifier. This, combined with a vacuum and some house plants that help clean and purify the air in my apartment are a must.
Buy the Meross Smart Wi-Fi Air Purifier
If you control your smarthome with HomeKit and are on a strict budget, the Meross air purifier is the one to get. If you want an air purifier that monitors indoor air quality, look elsewhere or buy a separate sensor to connect to your smart home.
One day, I'll have a home whose walls are built using shirasu so I'll worry about air quality less. For now, the Meross Smart Wi-Fi Air Purifier will have to do.