The Realme 2 series is the company's announcement that they're no longer a sub-brand of OPPO. However, there are still plenty of traces of OPPO in these devices. The Realme 2 Pro is their top offering and for better or worse, it still feels like an OPPO phone.
If you think this looks and feels a lot like the OPPO F9, you can't be faulted. Save for a few differences, these two phones are practically twins. From the form factor, to the notch, and even the cameras, these phones almost remind me of that famous Spider-Man meme.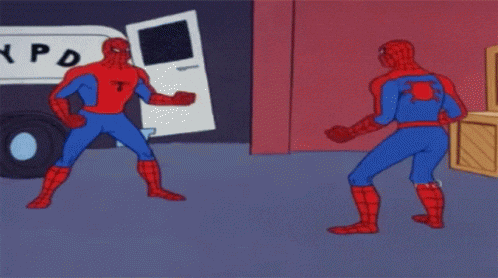 The more obvious difference are the colors. The OPPO F9 went with the trendy gradient look while the Realme 2 Pro goes for more solid color options.
The unit we have for review is the more subdued Black Sea, but the phone is also available in Blue Ocean as well as the color I would have loved to have (hello, folks from Realme): Ice Lake.
Another key difference is the chip powering the devices. The OPPO F9 runs on a MediaTek Helio P60 processor while the Realme 2 Pro went with the Snapdragon 660. Further justifying the Pro on its name is the 128GB of storage and 8GB of RAM on our particular review unit.
For reference the Realme 2 Pro also comes in a 4GB and 64GB configuration, as well as a 6GB and 64GB configuration.
The steady
In that regard, the Realme 2 Pro felt about as snappy as you can expect from a phone rocking those internals. I don't play a lot of mobile games and only really played Dragon Ball Legends in my little over a week with the device, and it handled it with zero problems.
I have had experience with other phones with comparable specs and tested games like PUBG, and Iron Blade on them. Those phones handled the mentioned games nicely and I expect the same is true with the Realme 2 Pro.
I do consume a lot of media on my phone. Listening to my favorite songs and podcasts was a pleasant experience. The speakers on this phone do not deliver the best sound but they're good enough and loud enough for solo listening sessions. It does have a headphone jack so that's a thing you can take advantage of, as well.
I also watch a lot of YouTube and Netflix (and chill right after), and I don't have any major complaints. Would love the display to be more visible under bright sunlight, but I don't really look at my screen a lot in those situations nor do I watch videos under strong light that often.
The bad
I was never a fan of ColorOS and that remains true even on technically a non-OPPO phone. Don't get me wrong, it doesn't make the phone slower or anything. I'm just not down with how it looks and feels in general. I appreciate that it incorporates gesture navigation (get with the gestures people, it's great!) but other than that, I would switch to a different launcher. But that's me. If you dig it, it's all good. I won't judge.
There's also the nice touch of a quick access feature sitting on the display on the area right next to the power button. Swipe quickly and you get screen capture options as well shortcuts to some apps.
Silver lining for those like me that aren't ColorOS fans: During the launch, Realme Southeast Asia Managing Director Josef Wang was asked if they're planning on making their own and he said, "Maybe next year we'll have our own OS." A maybe is always better than a flat out no in OS options, life, and love.
The good-ish
Mostly good, to be more precise. I was pleasantly surprised by how the camera performed under favorable lighting conditions. Check out these two portrait shots taken around noon.
This slideshow requires JavaScript.
Both images are sharp and you could be fooled into thinking these weren't taken with a phone.
It doesn't perform as well under low-light conditions, but it's about as good as you can expect from a smartphone in this range.
This slideshow requires JavaScript.
There's also some fun stickers you can play with if that's a thing you're into.
This slideshow requires JavaScript.
Here are a few more samples you can peruse.
This slideshow requires JavaScript.
Recon phone
So who would want this phone? Realme said they're aimed at the youth. I thought that was pretty vague so I asked for an age range. Wang had this puzzled look on his face but eventually said they're probably looking at people in college or those just entering the workforce.
During the media interview with the Realme executives, this is the impression I got. The company is still feeling their way through all of this. As Wang noted, they're still studying the markets which is why as of writing, we're still waiting on official pricing for other countries in Southeast Asia.
Realme played it safe with the Realme 2 Pro and for good reason. As a budding company who just spun off, they have plenty of ground to cover. They're hoping the Realme 2 series will sell enough and give them sufficient data to develop a phone that's more Realme than OPPO.
Is this your GadgetMatch?
As for the phone itself. Objectively it's pretty solid. It performs pretty much the way you'd expect it to given the specs.
The UI is a big thing for me. I would have enjoyed this phone more if it had a different skin on top of Android 8.1 Oreo but if you're used to ColorOS or something similar, the Realme 2 Pro is a solid option that will take fantastic photos under proper lighting conditions.
Kingdom Hearts III review: More for long-time fans
It didn't spark joy
I played the first Kingdom Hearts game for a grand total of around 40 minutes, so I don't think I can qualify that as actually playing. I didn't have my own PlayStation 2 at the time so I was mostly watching my friend play, waiting for him to wrap up so I could beat him on NBA Live.
However, it's such a popular game that it was impossible for me to not at least be familiar with the premise. I did play my fair share of Final Fantasy games and like most people, Disney titles and characters aren't complete strangers to me.
I didn't have any major expectations jumping into Kingdom Hearts III, but I thought the way the Disney levels are woven in would at least be clever. It was not.
The backstory is massive
The first thing you need to consider when coming into this game is that you're stepping into a massive pile of backstory. It can be hard to catch up to. If, like me, this is your first game in the franchise, it will be like watching Avengers: Infinity War without seeing even at least a quarter of the movies that led to it.
That said, the game is aware that it has tons of lore to get into. Right in the title screen you'll see a Memory Archive which is a chapter by chapter summary of the Kingdom Hearts story. It's best watched in its entirety which means sitting through over 20 minutes of backstory. For the most part, it does its job of catching you up. If that's not enough, there are several story-so-far videos on YouTube. This one I liked in particular.
Despite all of these recaps available, no amount of summarizing can truly prepare you for the tangled mess that is the Kingdom Hearts lore. During certain parts, it even feels like the game is self-aware of how much of a mess it is and pokes fun at itself. That's one of the more entertaining aspects of the game, intentional or not.
The story just isn't gripping enough
This is my main gripe with the game. After playing titles like God of War, Detroit: Become Human, and Marvel's Spider-Man — all of which had stories and characters that you will inevitably invest in as you play — Kingdom Hearts III's story pales in comparison.
I understand the comparison may not be fair. The games I mentioned are either standalone stories (Detroit and Spider-Man) or a fresh start to a long-running franchise (God of War). Given all of that, I can't help but feel the storytelling could have been so much better.
The way I feel about Kingdom Hearts III is similar to how I felt about Final Fantasy XV which, coincidentally, was initially helmed by the same guy behind Kingdom Hearts — Tetsuya Nomura. The story's pacing felt off and it went into places that maybe it shouldn't have.
There's also something off about the dialogue during cutscenes. I felt the characters were talking so much slower than usual and it invites zoning out if you're not that into the story.
If you're a long-time fan of the franchise and have played most, if not all, of the games and feel differently than I do, then that's all good. In fact, I'm really interested to hear what the likes of you thought about the game.
The Disney stuff can be fun
It's not all bad. After I realized the story isn't gonna spark joy in me whatsoever, I started treating each Disney level as a non-canon mini-game. That made me enjoy it for what it had to offer.
Some levels felt like rushed versions of the original films with Kingdom Hearts lore thrown into the mix. Others offered some value-add to the stories we already know and love, and that truly made it more fun to play.
There's also enough variation in each level that can make you forget you can get through most of the game by just smashing X and pressing △. The animations during battle look super flashy and the combat has a few other options you can tinker with if you get tired of smashing X.
Might be made more for long-time fans
I suspect this game was really made as more of a pay-off for long-time fans than an opportunity to acquire new ones. That's perfectly fine. In fact, playing Kingdom Hearts III made me crave another good Final Fantasy game, but perhaps one that features tight turn-based combat versus an action RPG (role playing game) type.
There are plenty of ways to have fun with Kingdom Hearts III, but the story — which I believe should be paramount in RPGs — just isn't one of the them. If you're just coming into the franchise through this game, I suggest you play it for the fun Disney levels and just push the overarching story to the side.  The visual spectacle in this game is off the charts, so go ahead and enjoy that too.
By now, long-time fans would have already bought the game. If you're one of those who are still deciding whether to get it or not, I suggest waiting a little longer for the price to drop. If you simply can't wait, I recommend getting a second-hand copy which would also be cheaper. But whatever you decide to do, may your heart be your guiding key.
ASUS ZenBook 15 review: Everything you need in a laptop?
With great power, comes all the caveats in between
Very few laptops have everything a person would ever need out of it. Whether it's just for typing Word documents or playing all the latest games, only a handful of laptops fit the bill. ASUS has one laptop to offer, which was announced back in IFA 2018.
The ASUS ZenBook 15 has almost every piece of hardware for everyone. But is a device powered by a powerful Intel processor and a gaming-ready graphics card really worth it? Let's find out.
Same premium design through the years
ASUS dubs their ZenBook lineup as its top-of-the-line Ultrabook. Through the years, ZenBooks have retained their premium design and feel. So when I got the chance to try the new ZenBook 15 (UX533) out, I expected nothing less — and I was impressed. The build quality of the device is great, with a sturdy metal-plastic chassis that shows little to no flex. It even feels light to bring around, at only 1.59kg.
My unit has the Icicle Silver finish that shows off the elegance of the laptop. There is an option to get it in the bolder Royal Blue color, but it will definitely feel like you own a premium device the moment you set your eyes on it.
The only real change the company implemented was the addition of the ErgoLift. Essentially, it frees up space for the laptop to release hot air instead of blasting them on the table or your lap. It's also supposed to make the bottom-facing speakers sound better, although this really wasn't the case when I used it.
It almost has everything for everyone
The ZenBook 15 is one powerful machine, from the inside out. My unit comes with an eighth-generation Intel Core i7-8565U processor and 16GB of RAM. This configuration alone guarantees superb performance, and the ZenBook 15 did not disappoint. Typing Word documents, surfing the web, even photo and video editing felt like a breeze with this machine. You can play games here too, but let's save that discussion for later.
On the outside, you have a 15-inch Full HD anti-glare NanoEdge display — perfect for outdoor use at full brightness. It comes in a resolution of 1920 by 1080, a full 16:9 display with tiny bezels on the side.
It's also equipped with a full-size backlit keyboard, with the number pad separated from the trackpad — unlike its 13-inch and 14-inch variants.
The ZenBook 15 does come with three USB Type-A ports and one USB Type-C port that supports external displays; however, it would have been better to make it as Thunderbolt port to fully maximize the potential. The laptop also comes with a dual-band Wi-Fi card, although an additional Ethernet port would have been nice, as well.
It's got game, but it really destroys your battery life
Perhaps the most surprising aspect of the ZenBook 15 is the fact that it comes with an NVIDIA GeForce GTX 1050 Max-Q. With this graphics chip, gaming on this laptop actually feels pretty damn good. It managed to get competitive frame rates for fast-paced games like Fortnite, PUBG, and Rocket League, all with high settings. But, don't expect the same from AAA titles like Shadow of the Tomb Raider.
Also, there is a significant increase in the laptop's overall temperature with longer than 30 minutes of play time. The left side of the laptop felt so hot, it's almost like you could fry an egg on it. Of course, playing for long hours on this device drains the 73Wh battery significantly faster. I got about nine to ten hours on regular use, and only two to three hours on full game mode.
The camera is honestly only good for Windows Hello
The ZenBook 15 comes with an 3D infrared HD camera that supports Windows Hello. The infrared sensors were great at facial recognition, and Windows Hello felt really easy to set up and use. But, the camera was lackluster when taking photos and videos. It only seems passable to use for video calls, but the overall image quality just doesn't equate to HD.
The bottom-facing speakers could be better
The two Harman/Kardon speakers on the ZenBook 15 are placed on the bottom side, facing the table or your lap. Sound quality is impressive until you turn it to maximum. Apart from that, I was expecting that they would sound better because of what ErgoLift supposedly does for them.
Is this your GadgetMatch?
For PhP 89,995 (US$ 1,720), the ASUS ZenBook 15 jams almost everything you need in a premium device. And for that price you get the highest, most powerful configuration possible. Anyone can do pretty much anything with the hardware that comes with it. Apart from that, its elegant design and lightweight body make it a perfect on-the-go device. 
If you're low on cash, you can also get the 14-inch ZenBook 14 for PhP 77,995. It only has 8GB of RAM and an NVIDIA GeForce MX150 graphics card that offers similar, but less powerful overall performance. But, you do get the illuminated number pad on the touchpad.
Of course, that is if you don't mind the otherwise average camera and fryer-like temperatures with heavy gaming. However, if you're looking for a laptop that can handle anything, the ZenBook 15 is for you!
Trying out the Gixo Fitness App: A personal fitness trainer on your smartphone
Get fit on your phone!
I know how demanding working out can be. Especially for those who are just about to start their fitness journey, it can get pretty hard learning even just the basics. And then, there's also getting yourself to the gym — believe me, I know how it feels to drag my feet out the door on the way to an exercise class.
What if you could make it all easier for you? Saddle up, ladies. This is an app that will allow you to get exercising all through your smartphone.
Introducing: The Gixo Fitness App
Like most exercise apps, Gixo will allow you to pick out different workouts depending on your exercise preference.
Because I was in the middle of a crazy work week when I tried out the app, I figured yoga would be a great way to clear my mind and get my body relaxed.
I picked out a class I liked and it was as simple as that. Of course, there were different classes available ranging from kickboxing to strength training, to HIIT, and even weight training — perfect if you're not into only one activity.
Since I was working out to an app, this meant I got to exercise anywhere! I set up a yoga mat in a corner of that week's office space-slash-studio (like I said, busy work week!) and started the class.
It was a very relaxing 15-minute class, just what I needed to refresh my mind and get the blood flowing.
For a mid-week work breather, these short classes are perfect. But, if you want a more intense workout, Gixo still delivers. There are different fitness levels and class length also vary with some classes running up till 60 minutes.
As good as this all sounds, however, it's not even Gixo's best workout feature.
Trying out a live class
Gixo's strength lies in the fact that you can sign on for live classes. You heard that right: You can look through a number of different scheduled classes and join whatever tickles your fancy.
These live classes are headed by actual coaches that will instruct you as you go. For this beginner class, Coach Aaron was facilitating.
The beauty of it all is that this isn't just a person who will talk you through the exercise — watching a YouTube video can do that! The app actually allows you to communicate with the coaches during class via chatting. Communication is two-way which allows for more interactive classes.
So how it works is you have a live coach facilitating a class and based on what you signed up for, you can follow along and ask questions. On the screen, you'll have your coach and exercise visuals to help you along.
You can also turn on your phone camera so your coach can check in on you and give you comments about your form and the actual workouts you're on.
And because it's highly involved, you also get to input the number of reps or even change workout locations — perfect for coached running classes!
Though I've used fitness apps (and a lot of them) before, I've never really had a live coach walk me through things via an app. In fact, I don't think any other exercise app offers the same thing. It's a pretty cool fitness innovation, really, and I'm still geeking over how no one has thought about this setup before.
For those who want even more fitness motivation, there are also exercise challenges that span weeks that you can sign up for. Gixo allows you to pick out a set time for weekdays and weekends and you simply follow along
Final verdict
So will the Gixo app actually get you those rock hard abs you've always dreamed about? Well, yes and no.
The whole experience can seem pretty weird at first but it doesn't take long for you to get used to the setup. Think of it as video calling your fitness coach; you basically get the same interaction without having to leave the comfort of wherever you are. Gixo basically takes away one big step from the working out equation and, as we all know, any help in the exercise department is a big help.
Some would contend that having and being on your phone during workouts is counterproductive. But, think about it: You're still working out and it's an app that will allow you these workouts anywhere at your own convenience. There's literally no excuse now because you only need to fire up Gixo on your phone and you get live, personal fitness exercise training right then and there. Talk about not having excuses! In addition, Gixo will send you workout summaries so you're always reminded of just how much exercising you're actually doing.
Of course, the bottom line is that Gixo can only do so much. It's up to you to do those exercises and get your body in tip-top shape with the inclusion of those abs you dream about so much. To be perfectly honest, though, Gixo already does a lot: It's an app that has someone literally watching you (in a non-freaky, coaching way) while you do your exercises. If that's not making it easy for you to meet your fitness goals, I'm not entirely sure what will.