There are fans who live and breathe Star Wars – they've seen all the movies and know and follow all the canons. They buy merchandise to further express their love for the saga, many probably have a collection of them.
And then there are those who make their own.
One such fan is Angelo Casimiro, an unassuming but brainy Physics student from De La Salle University in the Philippines. Although he says he wasn't much of a Star Wars fan, not until he saw the latest one.
The 17-year-old has been making YouTube videos for almost 5 years now and has been building DIY gadgets and gizmos since he was just 4.
His latest project: a smartphone-controlled life-size BB-8 – exactly like the one in Star Wars Episode VII: The Force Awakens – except he built it using household materials and Arduino circuitry.
"When I saw BB-8 in the movie, it was like love at first sight. He was just so adorable! BB8's spherical design also intrigued me, how it worked," Casimiro told GadgetMatch.
He used half a Christmas ball for the eye, a deodorant cap for the mic, an old router antenna for the antenna, and roll-on deodorant balls for BB-8's mechanism. Everything cost him about $120 (approximately P5,700), cheaper than Sphero's miniature BB-8 Droid.
It doesn't have hologram capabilities and doesn't respond to voice commands yet, but his version of BB-8 rolls, patrols, and makes droid sounds like its movie and Sphero counterparts.
He says anyone can make his own BB-8, if people would follow his tutorial carefully. He also posted the full written tutorial on instructables.com – something he's been doing since he was 10.
Planning the project came naturally to him as he already has a lot of experience in robotics. He is, in fact, a National Robotics champion. He has also competed in several international competitions including the Google Science Fair and the International Robotics Olympiad.
It was his grandfather who got him into electronics but he also comes from a family of scientists. His father is a medical doctor and his uncle is one of the known Filipino scientists today. They both helped add finishing touches to BB-8.
While the adorable droid is not as useful and practical as his other projects, the mechanism is there. He says it can also be used to create spherical vehicles. His ultimate dream is to mass manufacture a Filipino-made solar-powered car.
For now, he's tweaking and working on improving his droid's stability as it's due to appear on TV soon.
He also still has more projects lined up for his channel, as well as some written tutorials: The DIY Bluetooth Boombox, The Portable Fridge Lunchbox, The Portaverter (220v power bank).
"Making something work is really rewarding! I also earn money from it. So far, BB8's my favorite (project). I get the ideas from things around me. I'm just thankful God gave me a mind creative enough for the knowledge I have for making things," he said.
---
All photos c/o Angelo Casimiro
This 34" LG UltraWide monitor disrupted my workflow
In the best way possible
I've been working on a laptop almost exclusively for the better part of the last decade. It's been so long that I had forgotten the benefits of working with a bigger screen — a benefit that was shoved into my face when I used the LG UltraWide 34" Curved monitor. 
Easy setup 
Putting it together was relatively easy. I didn't need any special tools or anything of the sort. Everything just fit into place seamlessly.
Here are all the ports on its back. That's two (2) HDMI ports, one (1) Display port, two (2) USB downstream ports, one (1) USB upstream port, and one (1) headphone out port.
It also comes with a cable organizer that you kind of clamp to the stand so your setup can look clean.
Once everything is plugged, you only need to use this button at the bottom center of the display to make any changes in the settings or switch between inputs should that be necessary.
My regular workflow
At any given day I can be doing anything from writing an article, a script, coordinating with the team and external partners, copy-editing articles, and video editing among others.
This means I toggle between screens A LOT. Other than that, my posture while working is mostly crouched down since I'm looking at the laptop screen.
However, that all changed when the fire nation attacked. No, I mean, it was definitely shaken up when I started using the LG UltraWide 34" Curved Monitor.
I didn't really have a proper setup with it owing to the tiny space I live in but in the brief week that I used it, I started craving a better work from home setup.
How the LG UltraWide monitor disrupted my workflow
The first thing I noticed was how I was now looking up instead of looking down. It might not be that big a deal for younger people, but when you reach a certain age, even the smallest improvements to your posture can make a huge difference.
The extra space is invaluable. At one glance I can look at Slack and Tweetdeck. This means I can quickly look up if there's anything new that needs to be edited while also monitoring any potential news that we should run on the website.
Bonus: I can also have a floating tab with a playlist of my favorite girls TWICE cheering me up as I slog through another work day.
This works in other instances too. I can pull up a press release for reference on one side of the screen and have Google Docs on another. This means I no longer have to quickly press Alt+Tab every time I need to double check details.
Just the overall convenience of seeing more at a glance is already a major upgrade to the workflow I've grown accustomed to.
Video editing
I no longer video edit as much as I used to due to changing roles and all. But here, the benefit of having a larger, wider monitor is even more pronounced.
Having a wide workspace means I didn't have to hide certain tools while editing. They're just there, easily and immediately accessible when I need them. It was honestly tough going back to the smaller screen especially for this task.
Taking less steps to complete your everyday tasks is a godsend. Every small thing adds up to a faster, smoother, and generally better working experience.
Should you upgrade to the LG Ultrawide 34" Monitor?
There are plenty of things to consider. For people like myself who have mostly worked on laptops, we're pretty set in our ways. Plus there are a few other peripherals I might need to get so it's not an easy yes or no decision.
You also need to consider your workspace. As I mentioned, I live in a rather tiny place with very little space to accommodate a fully desktop setup.
But this is me. If you're still working on a more traditional 16×9 monitor, I guarantee the difference, while jarring at first, can be truly beneficial in the long run.
The LG Ultrawide 34" Curved Monitor retails for PhP 45,999 (around US$ 937). If you're ready to splurge to up your productivity, this isn't a bad place to start.
LG has other monitors you can check out. The UltraWide line of monitors start at PhP 12,699 for the 25", PhP 14,799 for the 29", PhP 29,499 for the 34", and PhP 45,999 for the curved 34" version.
LG's UltraGear gaming monitor line on the other hand starts at PhP 12,599 for the 24", PhP 22,199 for the 27", and PhP 23,999 for the 32".
SEE ALSO: LG UltraGear 24" Gaming Monitor review: Enough to get you started
The cost of the post-pandemic movie
Why you should care about Mulan's terrible premiere
The fate of the Hollywood blockbuster rests on a fingertip. A formerly grandiose affair with celebrities dressing up to the nines, the red-carpet premiere is now an impossibility thanks to the ongoing COVID-19 crisis. On the other side, streaming services blossomed with new titles and exclusives. It was (and is) a great era for the home theater. But the home theater will not last forever. Hollywood is now facing a crisis for the future of the premiere.
If the past year is any indication, Hollywood will, of course, not go down without a fight. Large networks and production houses have released their own streaming platforms to monopolize their content, putting additional weight on a consumer's budget. Take Disney's Disney+ or NBC's Peacock, for instance. Now, a few of these (like Disney and Netflix) make their own blockbuster content as well. We've seen Netflix's streaming-only premieres already. How about Disney's (or anyone else's) Hollywood premieres, which often rely on astounding box office numbers?
This week, we got a taste of such a strange premiere scheme. In an earnings call, Disney CEO Bob Chapek detailed the future of a delayed movie, Mulan. Initially premiering in theaters back in March, Mulan was repeatedly delayed because of the continued shutdown of movie theaters. Now, as the company is itching to finally launch it, Chapek announced a hybrid release for the film. Partly premiering in theater in safe countries, the film will also launch simultaneously on Disney+ for unsafe markets.
Now, here's the catch: the film will cost US$ 29.99 for Disney+ users. Even if you have a subscription already, you have to fork over approximately PhP 1,474 to watch the new film. Of course, the hair trigger response is, "c'mon, Disney; stop haggling money from your customers." And the response is right. However, there is so much more to this. Mulan can set the stage for an unprecedented era for Hollywood premieres.
Let's get down to business
In New York, an average movie ticket costs around US$ 15 (approximately PhP 736). Mulan's price tag is twice as much as a theater ticket. It's even weightier in cheaper states and, most especially, in the Philippines (where movie tickets are only around US$ 5). Further, you'll still need an active Disney+ account to access the film, costing an additional US$ 6.99.
(Naturally, it's impossible to accurately translate the prices to an Asian market since Disney+ has not launched in all of Southeast Asia yet. We can only assume that Mulan's streaming price is 200 percent of normal ticket prices, whatever it might be.)
Objectively, Mulan's price is worse than a regular movie ticket. It's easy to conclude the argument with this statement and head home. However, there is a way to justify the price.
The whole family plus your cow
Now, a single movie ticket typically admits one person. Buying Mulan pays for the streaming privilege which can typically include an entire family. With a 15-dollar average, two people watching the same Mulan purchase is already a break-even point. In the same vein, a family of four obtains double the value of the 30-dollar film price. Even better, a family can watch the film over and over again. And, as any parent who has a Frozen-loving child can tell you, unlimited playbacks is a blessing for your wallet (albeit a curse on your sanity).
Unfortunately, despite the mathematical mind-bending, Mulan's price is still far from ideal. The movie-going experience is not the same on a streaming platform as in a cinema.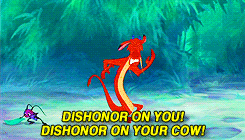 An assumption of equality
A cinema ticket is price of equality. Besides a few slight differences, everyone is paying for the same product. All other things considered equal, a 20-year old college student is paying and enjoying the same experience as a 50-year old CEO. Same film, same seat cushions, same facilities, same projector.
On the other hand, a streaming subscription cannot assume the same thing. A platform cannot control where and with what device a user will watch the movie from. A 20-year old college student watching the film on a laptop screen in a poorly lit dorm room is not enjoying the same experience as a 50-year old CEO watching the same thing in their high-end home theater with Dolby Atmos.
Likewise, the platform cannot assume how many people will watch the film in one purchase. Now, Mulan is a family film. Disney can easily assume that multi-person families will buy and watch the film. However, how will the audiences take the same price tag for a more polarized movie like Christopher Nolan's Tenet or the next James Bond film?
All of Hollywood knows you're here
In the same announcement, Chapek hints that Mulan's price is just a "one-off." Basically, other films might not follow the same pricing scheme. In a way, it makes sense. Mulan was made with a pre-coronavirus budget. It was expected to make millions from box office tickets. This might be the only way for Mulan to recoup its many losses. In the future, Disney might make films with lesser budgets and lesser expectations.
However, make no mistake; other filmmakers are intently watching Mulan's performance on streaming. If Mulan succeeds, they can likely charge the same amount without incurring a lot of losses. That said, streaming premiere prices will likely vary from film to film. Even then, this isn't the last discussion on the future of the film industry.
If the industry hopes to adapt to the new normal, it needs to rethink its strategy even further. Disney is offering only one solution for the problem of streaming. Unfortunately, the brand's solution leverages a family-oriented release, one that might not appeal to the average moviegoer today.
A price worth fighting for
My suggestion: Implement a tiered premiere price. Not everyone will want to pay the full 30 dollars for a film they're not wholly interested in. Most will watch it once and forget about it. Some won't even care about watching it in HD.
Why not implement a pricing scheme based on those different preferences? For example, charge US$ 5 for a standard-definition, one-time playback premiere; US$ 10 for an HD, one-time playback premiere; US$ 20 for a standard-definition, unlimited playback premiere; and US$ 30 for an HD, unlimited playback premiere. In one swoop, a film can appeal to all streaming markets and needs.
Samsung Galaxy Note 20 Ultra Unboxing, Hands-on & Camera Test!
Elegance and sophistication in an ULTRA-big device
Just recently, we had a quick video introduction of Samsung's latest Galaxy Note 20 series. Now, we finally have a Galaxy Note 20 Ultra on our hands!
Be sure to subscribe and hit that notification button to stay notified on our upcoming review video on August 18th.
For now, you can enjoy our unboxing, hands-on, and a quick camera test using the Galaxy Note 20 Ultra by clicking here.