Epson EF-100B Hands-on: Home theater for the uncommitted
Enjoy a home theater without staying at one place
Gone are the days where we watch movies on big screens, at least for now. When the pandemic struck, I spent life stuck at home, watching shows on a smaller screen.
Laptops and smartphones have been my companions in these isolated moments. Frankly, I miss movie nights with my friends and sitting comfortably in theaters with a date. I miss losing myself in awe of a film's plot, as I immerse myself in its spectacular visuals.
When Epson reached out if we'd like to test one of their laser projectors, I accepted without hesitation.
The Epson EF-100B arrived in a marvelous color: Tailored Black.
It comes with a beautiful bronze-gold accent (which also looks copper in certain lighting conditions)…
… accompanied by a black, elegant, leather-like textured shell.
The overall design looks posh with its lines, textures, and finish — blending easily in any surroundings.
It's lightweight and definitely user-friendly!
One of the EF-100's selling points is its portability. Having a slim and lightweight design means it's compact enough to fit in your backpack or be easily ferried from one room to another.
Moreover, you just need to plug the projector wherever there's a power outlet. It offers a different kind of portability since it needs electricity instead of having a set of batteries.
On the same side, you can find fan perforations and an audio jack inside of a flap, in case you want to plug an extra speaker.
Its controls are user-friendly, too, especially for a simpleton like me. Honestly, I prefer having less stuff to figure out and let the device do its thing. That's what technology should be about, right?
Having only a few controls, you can turn on the projector via the power button, amplify the volume through its integrated speakers, make angle adjustments, or correct the focus.
There's only digital zoom, though, due to its inset lens. To find the right distance and angle that fits your liking, you can only adjust its stand or move the projector farther or closer, resulting in a bigger or smaller screen.
Easy wired and wireless connection
Frankly, my impression of the EF-100B was a clean and pretty portless projector. Truth is, all its technical shenanigans can be found on the back of a projector, behind a removable panel.
There's a built-in speaker, a hole for your HDMI cable, a micro USB cable, and a USB Type-A socket for accessories, like a Chromecast device.
The EF-100B doesn't come with an Android stick, so it was a problem for me. I wasn't really big on entertainment and having a smart TV because I spend more time watching on my phone while on the go. My life before the pandemic was spent traveling and I was rarely at home.
Thankfully, I have a friend who's such a homebody who lent me his Chromecast streaming stick. Problem solved? Perhaps.
Things to consider
When I plugged in the stick and started using Chromecast, it felt like a whole new world dawning upon my wall — or ceiling in this instance. What I love about the EF-100B is how you can make it sit upwards so you can stream on your ceiling while you lie down.
But before you decide to do that, consider your ceiling's height. My brother complained about how it feels too close when watching from the bed. We decided to stream The Umbrella Academy on Netflix while we lie down on the floor, in hopes of not straining our eyes.
Moreover, the EF-100B delivers full HD 720p resolution, instead of the usual 1080p. It's down-scaled, but you don't lose a lot of detail. Unless you're running a slow internet connection, which might pixelate your streamed content.
Blacks aren't any good either, especially when you're using white walls. Although there are different modes you can play around with to adjust the output's brightness and it can be bright enough to fill the entire room. Fans can get loud, as well, in exchange for having a better viewing experience.
Having only used a few, cheap projectors in the past, I didn't have any point of comparison for expensive projectors let alone a gorgeous laser projector like this one. But using it for a month made me realize all these points to consider before deciding to get my own portable laser projector.
For those who are afraid of settling down

Just like most of my recent devices, I used the EPSON EF-100B to accompany me in my journey to self-discovery while in quarantine.
My love for the portability, flexibility, and versatility of this projector stemmed from my uncommitted lifestyle. I was always traveling, running away from anything that requires settling down.
But being in quarantine made me realize the importance of having a good entertainment setup at home. I don't have a smart TV, and I'm not sure if I'll be purchasing one since buying one is a metaphor for permanence.
It's something you buy when you're sure of settling down. For starters, you need to beautify your space and buy essentials to make it look good e.g. a TV rack, sofa, center table, etc.
Second, TVs are an investment and you're definitely buying it to accompany you for a long time. But the EF-100B, on the other hand, allowed me to enjoy the freedom of watching shows anytime, anywhere. It can be in my room, outdoors, or even in someone else's space. Moreover, it's something I can bring to my travels. Movie nights in beaches after the pandemic, anyone?
Is this your GadgetMatch?
I know, I know. There are cheaper smart TVs that might be a smarter purchase than buying a projector with an exorbitant price. However, my uncommitted lifestyle is drawn to a projector that makes me feel at home anywhere. For constant travelers, home is a feeling.
Although I would agree, the pandemic isn't going to end anytime soon. We'll be spending more time in our homes, but I still can't invest in a smart TV when I'm certain that I'll be on a traveling spree once more when the world is better.
Having a portable laser projector like the EF-100B can help me achieve a home entertainment setup while still being a little bit detached. I'm still in that "one foot out the door" situation, and until I find someone else I can settle down with, I'd be happy watching on a portable laser projector I can bring anywhere.
Overall, the EPFON EF-100B is a flexible, compact powerhouse — perfect for those beginning to build their home theatre, without investing in other essentials that a smart TV would require.
It's priced at PhP 59,995 (US$ 1210), a worthy investment for those who are afraid of commitment and settling down. If you prefer the Classy White (EF-100W), it's exclusively available on Lazada and 3-Hub, while this Tailored Black model (EF-100B) is available in Epson's official stores.
vivo X60 Hands-On: vivo X Zeiss team up for mobile photography
Redefining power and photography
Now that we're at an age of portability with a purpose, we definitely want to own a smartphone that can provide everything that we want and need, so we don't have to rely on any other gadgets. That's what the vivo X60 aims to be.
One of the features we usually look for in a smartphone is if its cameras are top notch. With that in mind, vivo made sure that they can contend against the best of the best as they comeback with the vivo X60 series — among these is the vivo X60.
With the X60, vivo co-engineers their cameras with high-end lens manufacturer Zeiss, making us experience Zeiss' cutting edge imaging technology through our phones and making X60's photography function more powerful than ever.
Specs and performance
Providing us so much in the camera department, vivo also ticks all the boxes when it comes to amazing specs:
Qualcomm Snapdragon 870 processor
6.56" AMOLED display
120Hz refresh rate
12GB+3GB RAM
256GB internal storage
Expect lag free browsing of your social media content and your favorite mobile games, even the very demanding Genshin Impact.
With so many things that you want to do with your smartphone, the vivo X60 is packed with a 4300mAh battery. This gives you more than enough power for a day of media streaming, social media browsing and some games on the side.
It even comes with a 33W flash charger that lets you juice up your phone back to a hundred percent in just a little over an hour.
As for the software, the vivo X60 runs Funtouch OS 11.1 based on Android 11 which has to be one of the most efficient skins from vivo yet.  It's a very simplistic skin which feels close to vanilla Android but with visual improvements to enhance that vivo experience.
Stunning display
Despite its 6.56" display, the X60 is still ebay to grip thanks to it being slim at only 7.44mm and light at 176g.
Its AG glass back definitely grabs your attention with its gradient finish. Shifting its colors depending on how the light hits it, the shimmer blue design we have in our hands is absolutely gorgeous.
As we've touched on the 6.56" display of the vivo X60 earlier, do not be deceived as this is not your ordinary display. This is a 120Hz LTM AMOLED display and it boasts an HDR 10+ certification. This means you can expect details on the shadow side and lighter side of images that you won't normally see on an average smartphone.
So surely, it would be your perfect companion for streaming films, documentaries, and TV series. LTM technology lets you enjoy clear visuals even with bright sunlight.
Now let's talk about the star of the show, the camera with Zeiss optics.
Smartphone companies partner with camera or lens manufacturers to enhance their camera systems. And vivo pulled off a great move in partnering with Zeiss, making its superb technology present on all of vivo X60's cameras.
Fantastic camera features
There's the 48MP main camera, 13MP telephoto camera, and a 13MP ultra wide angle camera. And up front, you have the 32MP selfie camera.
With all these, you can take remarkable photos in whichever mode you choose. Your photos will look like it came straight out of a DSLR or a mirrorless camera with your main shooter.
Landscape views look amazing on the X60's ultra wide mode, and your photos still look sharp and detailed with the telephoto lens.
The vivo X60 also has the Zeiss biotar portrait style, giving your portrait photos that iconic bokeh look. The portrait lens also has an equivalent 50mm focal length which is a staple for photographers to take great portraits.
As for its super panorama mode, shots are so seamless that you wouldn't see any stitches.
Video taking
Now when it comes to taking videos, its main camera has optical image stabilization (OIS) making your video shots really smooth and steady. The vivo X60 has ultra stabilization which combines OIS and EIS.
But what happens when the lights are out and you only have your surround light to keep you lit? That's what really puts the vivo X60 on the pedestal — its outstanding low light capability.
With vivo's updated AI noise reduction algorithm, you can take stunning photos even at night. With its HDR super Night Portrait Mode, you can still stay in the spotlight and shine even in darkness.
Even if it's pitch black outside, the vivo 60 can still make it seem like it's daytime, giving us photos with good light and clear details, thanks to its Extreme Night Vision 2.0.
The X60 also lets you shoot in long exposure mode, giving you the chance to capture light streaks without worrying about too many settings.
The vivo X60 surely puts the wonder in wonderful with its outstanding cameras. It even takes things a few notches higher among smartphone contenders with its amazing display and performance, with a competitive base flagship pricing.
Pricing and availability
vivo X60, 12GB+3GB RAM/ 256GB Storage — PhP 34,999. Available in vivo Official Stores, Lazada, and Shopee.
---
This feature is a partnership between GadgetMatch and vivo Philippines.
SCARLET NEXUS First Impressions: Technological dystopia
BANDAI NAMCO's take on an anime-style, cyberpunk RPG
I knew BANDAI NAMCO mostly from their incredible work on classic games like PAC-MAN and TEKKEN. In fact, I grew up playing their games quite a lot, whether with family members or with some friends. To this day, they're still producing a decent amount of games across both current and next-generation consoles and the PC.
This time around, they've ventured into an action RPG mixed with a little bit of "brain punk" as they described it. They called this game, "SCARLET NEXUS," and it's set for release for the PlayStation 4, PlayStation 5, Xbox Series X|S, Xbox One, and the PC. Now, I gave the demo a shot to see just how everything will turn out.
Short, sweet, and action-filled
In total, the entire demo took about 30 minutes to finish, which for a demo isn't that long. At the start, you even get to choose which main protagonist you want to roll with, for a good reason too. Apart from the same tutorial section, you actually get to play a different main stage design. I honestly thought it would be the same all throughout.
Regardless, gameplay immediately picks up after a short tutorial session, and I found myself just having a blast. Honestly, the controls are pretty easy to understand and master after a few combat sequences so the learning curve isn't steep. Plus, part of the combat mechanics includes the SAS, which grants access to additional attacks and abilities.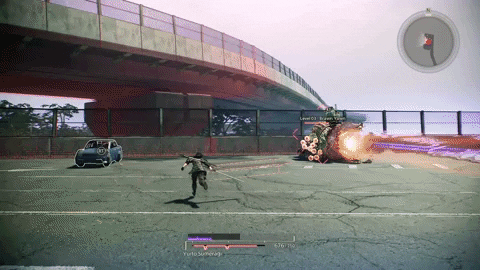 It's a gameplay style I've come accustomed to with other RPGs in the last few years. Even for a short demo, action looks quite fast-paced and reaction-heavy on some occasions. Also, you can add onto that a bit of exploration with the vast level design, so combat feels more loose and exciting to mess around with.
Visuals suited for the time
If you're planning to get the version for the PC or  next-gen consoles, the design for the demo is amazing. I have to give credit to BANDAI NAMCO for integrating some apt lighting fixtures in Kasane's demo level, further emphasizing the technological wasteland in the background. Although, I think that this will also be present in the PS4 and Xbox One versions but not as prominent.
Also, like I mentioned before, the demo levels are quite vast, which also aids in the exploration aspect. I noticed that they scatter some items across the whole level, ranging from healing items to items that aid in combat. In some instances, these items were well-hidden in some of the nooks and crannies of the level.
Of course, it isn't just in the overworld visuals that I'm amazed at, but even in some of the cutscenes in between combat and exploration. The cartoony, comic book-style animations mixed in with some techno-punk were nice touches. I could feel that there was a lot of love given just to this department alone.
Worth all the waiting?
If I could sum up my initial impressions on SCARLET NEXUS, it's an RPG that I truly enjoyed even for 30 minutes. Honestly, the biggest culprit for this goes to the gameplay mechanics that feels so great to execute, and you take a short time learning everything. Packed with some incredible visual design, I think this game has potential to be a favorite for this year.
One of the things I am looking forward to later on is the storylines we'll be working with. The demo doesn't really touch on plot points that you could do mental gymnastics with. Although, it does reveal that you play with different NPCs instead of taking on the enemies all by yourself. Nonetheless, I feel that it's something worth diving into when the full game comes out.
SCARLET NEXUS will be available on June 25.
moto G stylus 5G Hands-on
The last of its kind?
The moto G stylus was launched just last year. This time, Motorola has unveiled the moto G stylus 5G.
From the name itself, it now has 5G support — that's thanks to the new Snapdragon 480G processor.
It may be look like a lower model number on paper, but this one promises better specs.
But is it enough for you to buy one? Watch our moto G stylus 5G hands-on video now.