I know, I know. It's been over a year since the first release of Night in the Woods, but if you need little bit more than just a release and a trailer to give an indie game a try, let me tell you here and now: This game deserves to be on your must-play list and I'll tell you why in this review.
Night in the Woods has been nominated for many awards since its release and to this day, has been earning critics' and players' acclaim for its story and design. It won the Writing in a Comedy award at the National Academy of Video Game Trade Reviewers Awards and has recently rightfully earned Excellence in Narrative at the Independent Games Festival Competition Awards at the Game Developer's Conference this year.
The game's design is charmingly simplistic, the music score is unforgettable, and the cryptic story line leaves you wanting more; but when you sink your teeth into it, it will leave you feeling strangely reflective. If you let it, this game will stick to you even long after you've finished playing.
What will pull you in
Whether you've installed the game with high expectations or none at all, the game will stun you with its characters. In Night in the Woods, you play as Mae, a college drop-out who returns to her hometown, Possum Springs. Her return shifts the dynamic the town has sustained since she left for school.
And, that's not all. When you explore the world of Possum Springs, you not only reunite with family and reignite your friendships, but you also slowly encounter strange ambiguous pieces of darkness hidden within the town.
There are a lot of mysteriously vague loose storylines at the beginning that come at you when you start off talking to people in the town. The game begins with you in a bus stop having left college behind. When Mae comes back to the town, she's forced to walk back home — her father forgets the day she'd be back. You wander off the next day to meet her friends only to find one of them, Casey, missing.
That's a striking contrast to the most charming part of the game which is the characters. From broad-daylight stargazing with your high school professor; to late-night diner adventures with friends; to spending time by the train tracks with a new-found friend, Night in the Woods will tug at your heartstrings with its earnest characters.
Subtleties that pull at heartstrings
Night in the Woods will reel you in with stunningly reflective moments wherein characters develop into intimate conversations. How much they tell you of their story will depend on how often you converse and hang out with them every day.
It's good to note though that there's more to just talking to your three friends. While playing, I highly recommend wandering around the town. The game gives you so much time and space to wander about and if anything, this is what makes this game amazing.
You can wander outside the area, hop around rooftops, and make new friends. The town definitely changes day after day and you'll find yourself meeting surprising characters if you're meticulous enough to notice.
Slow-paced but beautifully so
You'll realize quickly that this game is not as action-packed as most and it can feel a bit of a drag once you get used to the town. I found myself struggling to care when I began playing but over time, I'd gotten hooked. Much to the title's credit though, it puts so much effort on the little subtle stories within the town. You can really notice the time and effort put into the game's storyboard and it pays off.
If you're feeling a bit bored from the general routine you've built in the game, that's fine. This may be a sign you should visit parts of the town you didn't know you could. Even when you're told to not do things, it's fine to jump on reckless parts of the town — maybe even hop on the electric wires even after being told not to.
Fun games within the game
Luckily, if you're not feeling like talking to your friends or people in the town, there are mini-games within the main title that might suck you deeper into the game. I can take back the lack of action in Night in the Woods with the mini-game, Demon Tower. It's an arcade hack 'n' slash game that's installed into Mae's laptop where you can also have her chat with friends.
This game is addictive, and sometimes too much so, that you forget you're in another game — game-ception, I swear.
Another mini-game you can play is a music rhythm game with your bass in Mae's room. Mae plays the bass and aside from getting to play during practice with your friends, you get to practice in your room whenever you feel like mastering a song before performing with your friends. This one was a bit of a challenge to play on a controller — here we go with excuses again. But, really.
This game is properly tough and challenging so if you manage to perfect every song I send you all of my undoubted respect.
What reels you back into it
If you think you're beginning to lose interest in the game, it dumps you straight back into the plot. There are moments that stick out when you go about your daily life and you think the game has had its run. Then, something happens and it kicks you back into the seeping darkness that lurks in the town. It brings you straight back into the main plot after allowing you to explore the town for a while.
There is something wrong with the town and you learn that through Mae's dreams and little hints while you speak with people in the town. There are instances that characters around you begin to have a resounding sense of resignation to the growing troubles of the place. This, more than anything, had me running around every inch of the town being straight-up investigative and borderline paranoid.
Tears through real-world dilemmas
Night in the Woods deals with a lot of real-life and relatable subjects. From the struggles to have ends meet with financials, the wearing friendship due to unresolved jealousy, the existential crises wrapping itself around you day after day, and even the honest urge to leave the town to start anew. Much of the game is wonderfully written and it manages to throw hilarious lines from beginning to end, without making anything that happens in the world feel out of place.
You can undoubtedly feel for each character in what they're going through and that is pretty ballsy to say seeing as most of the characters in the game are anthropomorphic animals. Night in the Woods is just an overall well-thought-out game. No character feels forced. Even in many cases, you have a false sense of control of Mae when she talks since you control her dialogue.
But, that doesn't stop her from being the pesky brat that she is. Your choices are limited as well, and she will do things you didn't sign up for. Even I caught myself feeling like there wasn't much else to do besides watch and laugh at the train-wreck she's so recklessly created.
Calls for a replay
If you're a full-fledged completionist, I wish you the best of luck because this game is tough to complete all the achievements for. This game will require a second playthrough and maybe even more. There are so many secrets in the game and looking for them is a bit of a headache. On the bright side, you learn more and more about every single person in the town.
Night in the Woods rewards you with depth when you put the time into playing the game. The game calls for your attention without forcing it upon the player. At first, the ambiguity will frustrate you and will make you feel like creating a limp story behind all the unexplainable hints, but playing it a second time will be refreshing. You won't run out of spots to explore in the town on your second run. I was genuinely surprised to have missed so many conversations on my first go at the game.
Is this your game match?
This game is undeniably gorgeous. It has characters that you feel for — if not relate to on a deeper level. The story is haunting, the design is stunning, and the music is catchy. It's a game you should most definitely try out. There are so many parts that stole my heart so quickly. I caught myself relating to every character in the game — even the struggle of missed opportunities.
Although it's slow-paced when it comes to building back into the main plot, it's only because it's space for you to rediscover the town you left behind for college — and that's great. Even if exploring lore, character build, and clever design bore you over time, that's perfectly fine. This game is still worth a try. Playing it with a friend will most definitely help.
If you want to give it a go, the game is on Steam for US$ 19.99.
SEE ALSO: Small Talk: A new beautifully engaging indie game
The Galaxy Fold is real: Weekend Rewind
And it's pretty darn expensive
Here are the top stories on GadgetMatch this week.
1. Samsung unpacked… err… unfolded the future with Galaxy Fold
Yes, we expected Samsung to release a foldable smartphone. What we didn't see coming is that they would open the Galaxy S10 event with the Galaxy Fold.
No, this isn't just a concept anymore. Samsung demoed a working device on stage and said the device will be on sale starting April 26 at a staggering but also unsurprising price of US$ 1,980.
It'll be interesting to see how other brands respond to the Galaxy Fold. Watch out for our MWC 2019 coverage so we can all find out together.

2. Samsung Galaxy S10 cameras tie Huawei's flagships
Looks like Samsung is determined to hold on to its top smartphone maker reputation with its latest flagship Galaxy S10 tying Huawei flagship numbers on DxOMark. In fact, it even leads in the selfie camera department. That's made possible with an overall score of 109 for the rear cameras and 96 for the front shooters.
However, the S10 isn't just about its cameras. Watch our hands-on to get a good idea on how well-rounded a phone it is.

3. Xiaomi pre-empted Samsung with the Mi 9
Xiaomi almost came out of nowhere when they announced their first 2019 flagship — the Xiaomi Mi 9 — right before Samsung's Galaxy S10 Unpacked event.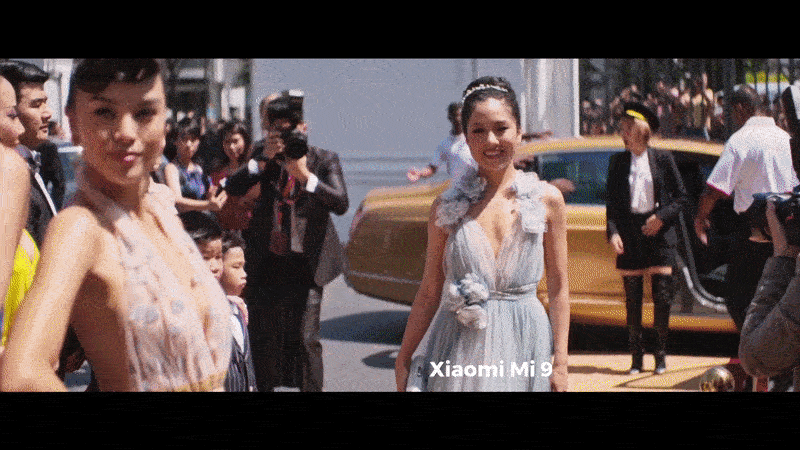 The Mi 9 had more than enough to grab hold of your attention with flagship specs: Snapdragon 855 and a 48MP camera among other things. And since it's Xiaomi, it's bound to be cheaper than the other flagships that will come out between now and MWC 2019.
Xiaomi's a disruptor and they did a good job disrupting with the Mi 9.

4. Huawei building up anticipation for the P30
Not to be outshone by Samsung and Xiaomi, Huawei has been constantly releasing bread crumbs about its upcoming flagship for all of us to chew on.
The P30 series is set to launch on March 26. As early as this week, the Chinese company even confirmed a quad-camera setup after showcasing a really close-up photo of the super snow moon.
All the teasers point to an improved zoom or telephoto lens for the P30. That's something we're definitely excited to test.
5. Fujifilm's X-T30 could be people's mirrorless camera choice
Fujifilm's cameras have always been pretty darn good, but this latest one from them could be a big hit. The X-T30 is a lightweight 4K mirrorless camera, making it a perfect travel companion wherever you go.
The Fujifilm X-T30 will be available in March starting at US$ 899 for the body only. It'll go up to US$ 999 when bundled with an XC 15-45mm f/3.5-5.6 OIS lens, or US$ 1,299 when bundled with an 18-55mm f/2.8-4 lens.
---
Weekend Rewind is our roundup of top news and features you might have missed for the week. We know the world of technology can be overwhelming and not everyone has the time to get up to speed with everything — and that includes us. So sit back, relax, and enjoy the rewind.
Samsung Galaxy S10 vs Galaxy S10+ vs Galaxy S10E: What are the differences?
A decade of Galaxies
Samsung has launched three new flagship phones: the Galaxy S10, Galaxy S10+, and Galaxy S10E. With three new models to choose from, it might be difficult to choose which Galaxy S10 is the one for you.
To help with this, we took the liberty to show you the differences between the three. Which of the Galaxy S10 models will be your GadgetMatch?
Display
Starting with the screen, the three Galaxy S10 models sport Super AMOLED displays in different sizes. The Galaxy S10E is the smallest among the bunch with a 5.8-inch display. It's followed by the regular Galaxy S10 with its 6.1-inch display and, of course, the Galaxy S10+ with its large 6.4-inch panel.
It's also worth noting that the Galaxy S10E has a completely flat display, while the other two Galaxy S10 variants have the curved panels we've come to expect from Samsung.
All three models don't sport a notch, but they do have holes on the upper-right corner for their front cameras. The Galaxy S10E and Galaxy S10 have a perfectly rounded hole-punch camera, while Galaxy S10+ has a pill-shaped cutout since it has two front-facing cameras.
Performance
Despite the size differences of the phones, all models are powered by a flagship processor. Depending on where you are, the Galaxy S10 family will sport either a Snapdragon 855 or an Exynos 9820.
Memory and storage configuration will also vary depending on the region. The lowest possible memory available is 6GB and it can go as high 12GB. As for storage, it starts at 128GB and will reach up to 1TB. The 12GB+1TB combo will be exclusively available for the Galaxy S10+.
Another significant difference between the Galaxy S10 phones is battery capacity. The Galaxy S10E has a modest 3100mAh battery, the Galaxy S10 owns a pretty standard 3400mAh battery, and the Galaxy S10+, being the biggest of the three, comes with a huge 4100mAh battery.
All three variants support fast charging using wired or wireless chargers. They can also do reverse wireless charging (which Samsung calls Wireless PowerShare) to charge other devices using the Qi wireless standard.
Lastly, both the Galaxy S10 and Galaxy S10+ feature the new ultrasonic in-display fingerprint reader, which is definitely faster than any of the in-display fingerprint readers we've tried before. The Galaxy S10E has a more conventional side-mounted fingerprint reader that's still accurate and fast, but not as advanced.
Cameras
The Galaxy S10 and the Galaxy S10+ are the first among the Galaxy S lineup to have triple rear cameras. The setup is composed of a main 12-megapixel Dual Pixel and Dual Aperture camera, a 16-megapixel ultra wide-angle, and a 12-megapixel telephoto with 2x optical zoom.
Since the Galaxy S10E is priced lower, it only has two of the three rear cameras of its more expensive siblings: the main Dual Pixel camera and the ultra wide-angle shooter.
The situation in the front is quite different, though. Both the Galaxy S10 and Galaxy S10E have a single selfie camera, while the Galaxy S10+ gets an extra depth sensor for a more precise bokeh effect or Live Focus.
Pricing and colors
The cheapest model is the Galaxy S10E which starts at US$ 750. The regular Galaxy S10 will set you back US$ 900, while the bigger Galaxy S10+ is priced at US$ 1,000.
All three models will come in Prism White, Prism Black, Prism Green, and Prism Blue. In addition, the Galaxy S10E will be available in Canary Yellow, as well. The Galaxy S10+ also has premium Ceramic Black and Ceramic White variants, but these are only available for the high-tier configurations.
Colors option may vary per region, so not all colors will be available in all markets.
Get to know more about the latest Galaxy S10 series by watching our hands-on video:
SEE ALSO: Samsung Galaxy S10 Hands-on: A refinement of everything
Instagram photo challenge with the Samsung Galaxy S10
Hands-on with all three versions!
Samsung's newest Galaxy S devices have just been announced and we're blessed with three versions: The Samsung Galaxy S10e (small), the Galaxy S10 (big), and the Galaxy S10+ (big big!).
Each phone is equipped with a number of cameras so you know what that means: IG photo test!
In our Her GadgetMatch video, we check out what's so cool about the new Samsung phones and test what the cameras can do. Spoiler: They do a lot!
In case you're having trouble viewing, watch HERE.
SEE ALSO: Samsung's new LED light cover is the phone case we've always wanted