I know, I know. It's been over a year since the first release of Night in the Woods, but if you need little bit more than just a release and a trailer to give an indie game a try, let me tell you here and now: This game deserves to be on your must-play list and I'll tell you why in this review.
Night in the Woods has been nominated for many awards since its release and to this day, has been earning critics' and players' acclaim for its story and design. It won the Writing in a Comedy award at the National Academy of Video Game Trade Reviewers Awards and has recently rightfully earned Excellence in Narrative at the Independent Games Festival Competition Awards at the Game Developer's Conference this year.
The game's design is charmingly simplistic, the music score is unforgettable, and the cryptic story line leaves you wanting more; but when you sink your teeth into it, it will leave you feeling strangely reflective. If you let it, this game will stick to you even long after you've finished playing.
What will pull you in
Whether you've installed the game with high expectations or none at all, the game will stun you with its characters. In Night in the Woods, you play as Mae, a college drop-out who returns to her hometown, Possum Springs. Her return shifts the dynamic the town has sustained since she left for school.
And, that's not all. When you explore the world of Possum Springs, you not only reunite with family and reignite your friendships, but you also slowly encounter strange ambiguous pieces of darkness hidden within the town.
There are a lot of mysteriously vague loose storylines at the beginning that come at you when you start off talking to people in the town. The game begins with you in a bus stop having left college behind. When Mae comes back to the town, she's forced to walk back home — her father forgets the day she'd be back. You wander off the next day to meet her friends only to find one of them, Casey, missing.
That's a striking contrast to the most charming part of the game which is the characters. From broad-daylight stargazing with your high school professor; to late-night diner adventures with friends; to spending time by the train tracks with a new-found friend, Night in the Woods will tug at your heartstrings with its earnest characters.
Subtleties that pull at heartstrings
Night in the Woods will reel you in with stunningly reflective moments wherein characters develop into intimate conversations. How much they tell you of their story will depend on how often you converse and hang out with them every day.
It's good to note though that there's more to just talking to your three friends. While playing, I highly recommend wandering around the town. The game gives you so much time and space to wander about and if anything, this is what makes this game amazing.
You can wander outside the area, hop around rooftops, and make new friends. The town definitely changes day after day and you'll find yourself meeting surprising characters if you're meticulous enough to notice.
Slow-paced but beautifully so
You'll realize quickly that this game is not as action-packed as most and it can feel a bit of a drag once you get used to the town. I found myself struggling to care when I began playing but over time, I'd gotten hooked. Much to the title's credit though, it puts so much effort on the little subtle stories within the town. You can really notice the time and effort put into the game's storyboard and it pays off.
If you're feeling a bit bored from the general routine you've built in the game, that's fine. This may be a sign you should visit parts of the town you didn't know you could. Even when you're told to not do things, it's fine to jump on reckless parts of the town — maybe even hop on the electric wires even after being told not to.
Fun games within the game
Luckily, if you're not feeling like talking to your friends or people in the town, there are mini-games within the main title that might suck you deeper into the game. I can take back the lack of action in Night in the Woods with the mini-game, Demon Tower. It's an arcade hack 'n' slash game that's installed into Mae's laptop where you can also have her chat with friends.
This game is addictive, and sometimes too much so, that you forget you're in another game — game-ception, I swear.
Another mini-game you can play is a music rhythm game with your bass in Mae's room. Mae plays the bass and aside from getting to play during practice with your friends, you get to practice in your room whenever you feel like mastering a song before performing with your friends. This one was a bit of a challenge to play on a controller — here we go with excuses again. But, really.
This game is properly tough and challenging so if you manage to perfect every song I send you all of my undoubted respect.
What reels you back into it
If you think you're beginning to lose interest in the game, it dumps you straight back into the plot. There are moments that stick out when you go about your daily life and you think the game has had its run. Then, something happens and it kicks you back into the seeping darkness that lurks in the town. It brings you straight back into the main plot after allowing you to explore the town for a while.
There is something wrong with the town and you learn that through Mae's dreams and little hints while you speak with people in the town. There are instances that characters around you begin to have a resounding sense of resignation to the growing troubles of the place. This, more than anything, had me running around every inch of the town being straight-up investigative and borderline paranoid.
Tears through real-world dilemmas
Night in the Woods deals with a lot of real-life and relatable subjects. From the struggles to have ends meet with financials, the wearing friendship due to unresolved jealousy, the existential crises wrapping itself around you day after day, and even the honest urge to leave the town to start anew. Much of the game is wonderfully written and it manages to throw hilarious lines from beginning to end, without making anything that happens in the world feel out of place.
You can undoubtedly feel for each character in what they're going through and that is pretty ballsy to say seeing as most of the characters in the game are anthropomorphic animals. Night in the Woods is just an overall well-thought-out game. No character feels forced. Even in many cases, you have a false sense of control of Mae when she talks since you control her dialogue.
But, that doesn't stop her from being the pesky brat that she is. Your choices are limited as well, and she will do things you didn't sign up for. Even I caught myself feeling like there wasn't much else to do besides watch and laugh at the train-wreck she's so recklessly created.
Calls for a replay
If you're a full-fledged completionist, I wish you the best of luck because this game is tough to complete all the achievements for. This game will require a second playthrough and maybe even more. There are so many secrets in the game and looking for them is a bit of a headache. On the bright side, you learn more and more about every single person in the town.
Night in the Woods rewards you with depth when you put the time into playing the game. The game calls for your attention without forcing it upon the player. At first, the ambiguity will frustrate you and will make you feel like creating a limp story behind all the unexplainable hints, but playing it a second time will be refreshing. You won't run out of spots to explore in the town on your second run. I was genuinely surprised to have missed so many conversations on my first go at the game.
Is this your game match?
This game is undeniably gorgeous. It has characters that you feel for — if not relate to on a deeper level. The story is haunting, the design is stunning, and the music is catchy. It's a game you should most definitely try out. There are so many parts that stole my heart so quickly. I caught myself relating to every character in the game — even the struggle of missed opportunities.
Although it's slow-paced when it comes to building back into the main plot, it's only because it's space for you to rediscover the town you left behind for college — and that's great. Even if exploring lore, character build, and clever design bore you over time, that's perfectly fine. This game is still worth a try. Playing it with a friend will most definitely help.
If you want to give it a go, the game is on Steam for US$ 19.99.
SEE ALSO: Small Talk: A new beautifully engaging indie game
This 34" LG UltraWide monitor disrupted my workflow
In the best way possible
I've been working on a laptop almost exclusively for the better part of the last decade. It's been so long that I had forgotten the benefits of working with a bigger screen — a benefit that was shoved into my face when I used the LG UltraWide 34" Curved monitor. 
Easy setup 
Putting it together was relatively easy. I didn't need any special tools or anything of the sort. Everything just fit into place seamlessly.
Here are all the ports on its back. That's two (2) HDMI ports, one (1) Display port, two (2) USB downstream ports, one (1) USB upstream port, and one (1) headphone out port.
It also comes with a cable organizer that you kind of clamp to the stand so your setup can look clean.
Once everything is plugged, you only need to use this button at the bottom center of the display to make any changes in the settings or switch between inputs should that be necessary.
My regular workflow
At any given day I can be doing anything from writing an article, a script, coordinating with the team and external partners, copy-editing articles, and video editing among others.
This means I toggle between screens A LOT. Other than that, my posture while working is mostly crouched down since I'm looking at the laptop screen.
However, that all changed when the fire nation attacked. No, I mean, it was definitely shaken up when I started using the LG UltraWide 34" Curved Monitor.
I didn't really have a proper setup with it owing to the tiny space I live in but in the brief week that I used it, I started craving a better work from home setup.
How the LG UltraWide monitor disrupted my workflow
The first thing I noticed was how I was now looking up instead of looking down. It might not be that big a deal for younger people, but when you reach a certain age, even the smallest improvements to your posture can make a huge difference.
The extra space is invaluable. At one glance I can look at Slack and Tweetdeck. This means I can quickly look up if there's anything new that needs to be edited while also monitoring any potential news that we should run on the website.
Bonus: I can also have a floating tab with a playlist of my favorite girls TWICE cheering me up as I slog through another work day.
This works in other instances too. I can pull up a press release for reference on one side of the screen and have Google Docs on another. This means I no longer have to quickly press Alt+Tab every time I need to double check details.
Just the overall convenience of seeing more at a glance is already a major upgrade to the workflow I've grown accustomed to.
Video editing
I no longer video edit as much as I used to due to changing roles and all. But here, the benefit of having a larger, wider monitor is even more pronounced.
Having a wide workspace means I didn't have to hide certain tools while editing. They're just there, easily and immediately accessible when I need them. It was honestly tough going back to the smaller screen especially for this task.
Taking less steps to complete your everyday tasks is a godsend. Every small thing adds up to a faster, smoother, and generally better working experience.
Should you upgrade to the LG Ultrawide 34" Monitor?
There are plenty of things to consider. For people like myself who have mostly worked on laptops, we're pretty set in our ways. Plus there are a few other peripherals I might need to get so it's not an easy yes or no decision.
You also need to consider your workspace. As I mentioned, I live in a rather tiny place with very little space to accommodate a fully desktop setup.
But this is me. If you're still working on a more traditional 16×9 monitor, I guarantee the difference, while jarring at first, can be truly beneficial in the long run.
The LG Ultrawide 34" Curved Monitor retails for PhP 45,999 (around US$ 937). If you're ready to splurge to up your productivity, this isn't a bad place to start.
LG has other monitors you can check out. The UltraWide line of monitors start at PhP 12,699 for the 25", PhP 14,799 for the 29", PhP 29,499 for the 34", and PhP 45,999 for the curved 34" version.
LG's UltraGear gaming monitor line on the other hand starts at PhP 12,599 for the 24", PhP 22,199 for the 27", and PhP 23,999 for the 32".
SEE ALSO: LG UltraGear 24" Gaming Monitor review: Enough to get you started
The cost of the post-pandemic movie
Why you should care about Mulan's terrible premiere
The fate of the Hollywood blockbuster rests on a fingertip. A formerly grandiose affair with celebrities dressing up to the nines, the red-carpet premiere is now an impossibility thanks to the ongoing COVID-19 crisis. On the other side, streaming services blossomed with new titles and exclusives. It was (and is) a great era for the home theater. But the home theater will not last forever. Hollywood is now facing a crisis for the future of the premiere.
If the past year is any indication, Hollywood will, of course, not go down without a fight. Large networks and production houses have released their own streaming platforms to monopolize their content, putting additional weight on a consumer's budget. Take Disney's Disney+ or NBC's Peacock, for instance. Now, a few of these (like Disney and Netflix) make their own blockbuster content as well. We've seen Netflix's streaming-only premieres already. How about Disney's (or anyone else's) Hollywood premieres, which often rely on astounding box office numbers?
This week, we got a taste of such a strange premiere scheme. In an earnings call, Disney CEO Bob Chapek detailed the future of a delayed movie, Mulan. Initially premiering in theaters back in March, Mulan was repeatedly delayed because of the continued shutdown of movie theaters. Now, as the company is itching to finally launch it, Chapek announced a hybrid release for the film. Partly premiering in theater in safe countries, the film will also launch simultaneously on Disney+ for unsafe markets.
Now, here's the catch: the film will cost US$ 29.99 for Disney+ users. Even if you have a subscription already, you have to fork over approximately PhP 1,474 to watch the new film. Of course, the hair trigger response is, "c'mon, Disney; stop haggling money from your customers." And the response is right. However, there is so much more to this. Mulan can set the stage for an unprecedented era for Hollywood premieres.
Let's get down to business
In New York, an average movie ticket costs around US$ 15 (approximately PhP 736). Mulan's price tag is twice as much as a theater ticket. It's even weightier in cheaper states and, most especially, in the Philippines (where movie tickets are only around US$ 5). Further, you'll still need an active Disney+ account to access the film, costing an additional US$ 6.99.
(Naturally, it's impossible to accurately translate the prices to an Asian market since Disney+ has not launched in all of Southeast Asia yet. We can only assume that Mulan's streaming price is 200 percent of normal ticket prices, whatever it might be.)
Objectively, Mulan's price is worse than a regular movie ticket. It's easy to conclude the argument with this statement and head home. However, there is a way to justify the price.
The whole family plus your cow
Now, a single movie ticket typically admits one person. Buying Mulan pays for the streaming privilege which can typically include an entire family. With a 15-dollar average, two people watching the same Mulan purchase is already a break-even point. In the same vein, a family of four obtains double the value of the 30-dollar film price. Even better, a family can watch the film over and over again. And, as any parent who has a Frozen-loving child can tell you, unlimited playbacks is a blessing for your wallet (albeit a curse on your sanity).
Unfortunately, despite the mathematical mind-bending, Mulan's price is still far from ideal. The movie-going experience is not the same on a streaming platform as in a cinema.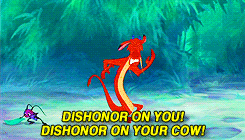 An assumption of equality
A cinema ticket is price of equality. Besides a few slight differences, everyone is paying for the same product. All other things considered equal, a 20-year old college student is paying and enjoying the same experience as a 50-year old CEO. Same film, same seat cushions, same facilities, same projector.
On the other hand, a streaming subscription cannot assume the same thing. A platform cannot control where and with what device a user will watch the movie from. A 20-year old college student watching the film on a laptop screen in a poorly lit dorm room is not enjoying the same experience as a 50-year old CEO watching the same thing in their high-end home theater with Dolby Atmos.
Likewise, the platform cannot assume how many people will watch the film in one purchase. Now, Mulan is a family film. Disney can easily assume that multi-person families will buy and watch the film. However, how will the audiences take the same price tag for a more polarized movie like Christopher Nolan's Tenet or the next James Bond film?
All of Hollywood knows you're here
In the same announcement, Chapek hints that Mulan's price is just a "one-off." Basically, other films might not follow the same pricing scheme. In a way, it makes sense. Mulan was made with a pre-coronavirus budget. It was expected to make millions from box office tickets. This might be the only way for Mulan to recoup its many losses. In the future, Disney might make films with lesser budgets and lesser expectations.
However, make no mistake; other filmmakers are intently watching Mulan's performance on streaming. If Mulan succeeds, they can likely charge the same amount without incurring a lot of losses. That said, streaming premiere prices will likely vary from film to film. Even then, this isn't the last discussion on the future of the film industry.
If the industry hopes to adapt to the new normal, it needs to rethink its strategy even further. Disney is offering only one solution for the problem of streaming. Unfortunately, the brand's solution leverages a family-oriented release, one that might not appeal to the average moviegoer today.
A price worth fighting for
My suggestion: Implement a tiered premiere price. Not everyone will want to pay the full 30 dollars for a film they're not wholly interested in. Most will watch it once and forget about it. Some won't even care about watching it in HD.
Why not implement a pricing scheme based on those different preferences? For example, charge US$ 5 for a standard-definition, one-time playback premiere; US$ 10 for an HD, one-time playback premiere; US$ 20 for a standard-definition, unlimited playback premiere; and US$ 30 for an HD, unlimited playback premiere. In one swoop, a film can appeal to all streaming markets and needs.
Samsung Galaxy Note 20 Ultra Unboxing, Hands-on & Camera Test!
Elegance and sophistication in an ULTRA-big device
Just recently, we had a quick video introduction of Samsung's latest Galaxy Note 20 series. Now, we finally have a Galaxy Note 20 Ultra on our hands!
Be sure to subscribe and hit that notification button to stay notified on our upcoming review video on August 18th.
For now, you can enjoy our unboxing, hands-on, and a quick camera test using the Galaxy Note 20 Ultra by clicking here.