Pixel Fold now official
Google's first foldable
It's been leaked incessantly and was officially confirmed to be true roughly a week before it's grand reveal. Now, the Pixel Fold, Google's first foldable smartphone, is finally truly official.
It's form-factor more closely resembles OPPO's Find N series — wider and shorter versus the taller, narrower form of the Samsung Galaxy Fold. Folded, you get a 5.8-inch display — just about the size of "mini" phones by today's standards. Unfolded, you get a 7.6-inch display for a more tablet-like real estate.
Both outer and inner displays have a 120Hz screen refresh rate and have HDR support. Its peak brightness goes as high up as 1,450 nits.
Its hinge allows a full 180-degree range of motion. Friend of GadgetMatch Mr. Mobile says on his Hands-On video that it has "enough friction to pose the phone at any posture." Google claims their custom-built hinge was designed to be both thin and durable.
The foldable has an IPX8 rating. Yes to water resistance, but nothing for dust.
Everything you expect from a Pixel
Perhaps the most important thing about the Pixel Fold is Google's implementation of Android. Now that they have their own foldable, there's reason to hope that more apps will be supported for this form factor.
When folded, the Pixel Fold functions just like any other Pixel phone. Everything from messages, browsing, video viewing, and what not will be a familiar experience.
Unfolded, it unlocks many more features. For instance, if you're watching a video, it will continuously play from the small display to the larger inner display. The feature is aptly called Continuity. You can also prop it up like a laptop and playback will show up on the bottom-half while the video plays up top. Google says they're working on adding more playback features in this mode. But this isn't really new as this is also present the Galaxy Fold as well as other foldables.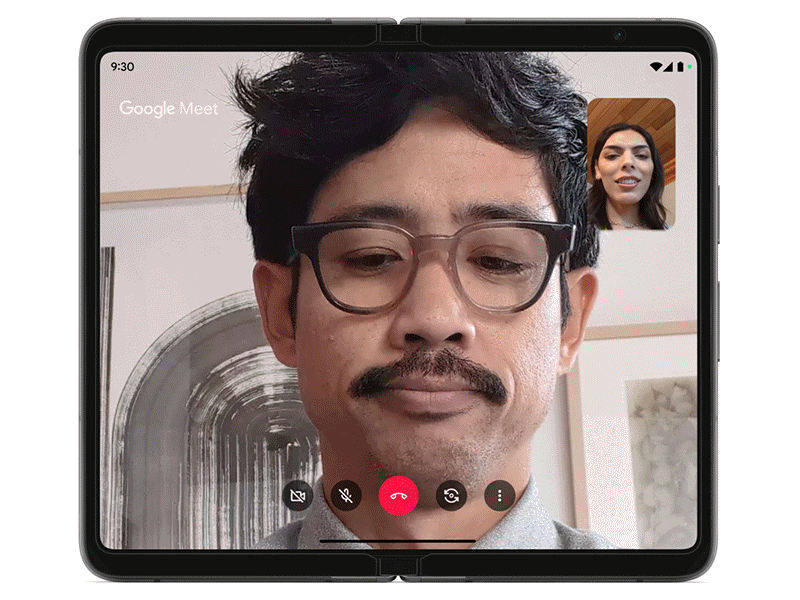 On their blog, Google says that when fully open, the Pixel Fold functions much like a tablet. They add that "your favorite apps are optimized to take full advantage of the larger screen." But as most reviewers will tell you, Android on larger form-factors is still far from being a fully-optimized experience. Granted, Google did say some 50 of their apps will adapt to the foldable naturally.
Some additions include a Taskbar that lets users easily switch between apps. From here, users can also drag compatible apps and go into split-screen. They actually made a true multi-tasking feature by adding the ability to drag and drop files from one app to another where it applies. The Taskbar is also dynamic. Swipe up from the black bar when you need it. When you're done, it'll disappear.
Coming soon with Android 14
Google also showcased a translation feature that can be extremely helpful when you're travelling. Called the Dual Screen interpreter mode, it lets the Pixel Fold display live translations simultaneously on both the inner and outer screens. Hopefully, it works well enough to punch through language barriers.
Best camera on a foldable?
That's the promise, at least. Pixel phones are known for taking great photos. Google promised to deliver the same with the Pixel Fold. Powered by the G2 Tensor chip, the Pixel Fold should have all the AI goodness that Google applies when Pixels take a photo.
Also home to the Pixel Fold are many of the Pixel's notable features. These include but are not limited to Super Res Zoom with 5x optical zoom, Real Tone, Night Sight, and more. You also have access to software tools like Magic Eraser and Photo Unblur via Google Photos.
Speaking of cameras, here they are by the numbers:
Main camera array:
48MP with 1/2″ sensor, f/1.7 aperture
10MP ultrawide with 1/3″ sensor, f/2.2 aperture
10.8MP 5x optical zoom telephoto with 1/3.1″ sensor, f/3.05 aperture
Outer screen:
Inner screen:
Price and availability
The Pixel Fold comes in two colors: Porcelain and Obsidian. According to their listing, it will be available initially in the United States, United Kingdom, Germany, and Japan. It starts at US$ 1,799 for the 256GB variant while the 512GB one will cost US$ 1,919.
Fans created an amazing remake of Final Fantasy IX
It's the best game you won't be able to play
Remakes are popular in the world of gaming these days. Three Japanese studios — Square Enix, Capcom, and Konami — all have released or upcoming remakes of their popular titles. However, the most impressive remake right now comes from somewhere other than these three giants. A group of fans have successfully recreated Final Fantasy IX with modern graphics.
Initially released way back in 2000, Final Fantasy IX remains one of the most endearing entries in the decades-long franchise. It was released for the original PlayStation. Of course, because of the hardware limitations back then, the original game looks dated.
Now, more than two decades after the original game's release, a team of over fifty fans worked hard since 2021 to create a short demo of Final Fantasy IX using modern technology. The team does have a storied resume, though. It included individuals with experience from big companies like Sony, Blizzard, Riot Games, and Sucker Punch.
We're thrilled to present the gameplay demo for our Final Fantasy IX Remake project, crafted with love and passion by over 50 professional videogame developers and artists over the span of three years. 

We hope you enjoy the ride. pic.twitter.com/hUReF7ZuPR

— Final Fantasy IX: Memoria Project (@MemoriaProject) June 7, 2023
Unfortunately, if you want to play the remade game, you're out of luck. The Memoria Project, as the collective is known, has no intentions of releasing a finished game — unless Square Enix gives them explicit permission to do so. Given how accurate the project is to the original game, copyright infringement is a legitimate concern.
As such, all fans have right now is a 25-minute gameplay video showcasing the opening Alexandria section of the game. It's an impressive showcase, though. If you were a fan of the original, check out the video.
SEE ALSO: Final Fantasy XVI PS5 Bundle announced
Diablo IV will get two expansions
Hell is expanding
In today's gaming landscape, live-service games often come with a veneer of controversy. While the format ensures content continuously pouring through the gate, a lot of players equate it to the plagued world of microtransactions. Eager to break out of the stereotype, the newly released Diablo IV, itself a live-service game, is already promising a wealth of content coming in the future — including two expansion packs.
In an interview with Kinda Funny Games on YouTube, the franchise's general manager Rod Fergusson has confirmed that the newly released entry in the popular series is getting at least two expansions down the line. With the live-service format, the studio can focus on polishing the content, rather than rushing them through the gate, according to Fergusson.
Though the expansions are already confirmed, neither Fergusson nor Blizzard have confirmed where the expansions will take players next. Both expansions will include unnamed narrative storylines, rather than focusing on introducing new mechanics.
Also, it will likely take a while before either expansion is announced. After all, Diablo IV just released a few days ago. Plus, the developers are working on putting out the first season of the title's battle pass.
Two expansions are quite impressive for the new title. Both Diablo II and Diablo III only had one expansion.
Instagram is building an AI chatbot
Follows TikTok in doing so
Do you need an AI chatbot to hold a conversation? Instagram seems to think so. As the world rapidly experiments with developments in AI technology, the platform is reportedly working on a chatbot for its users.
According to Alessandro Paluzzi, a reverse engineer who usually digs up future plans for popular apps, Instagram is working on the AI chatbot feature for a future iteration of the app. Much like other chatbots out in the market today, Instagram's unnamed bot will enable users to interact with it in casually flowing conversation.
The screenshots obtained by the engineer read that it "answers questions, gives advice." Additionally, it helps users "find the best way to express [themselves] … [through] writing messages." From a usability standpoint, the feature can help users craft replies to direct messages. They can also bring the bot into human-to-human conversations by mentioning the bot in the conversation.
To add to the quirkiness, Instagram will supposedly add 30 different personalities to the chatbot. Users can pick and choose which one they like the best. The sneak peek does not reveal any personalities included in the feature. (We're hoping for a snarky one that judges and critiques posts.)
The feature has no timetable as to its release. However, since TikTok already released its own chatbot for testing, it should stand that Instagram's feature will come out soon.