The Galaxy Fold is real: Weekend Rewind
And it's pretty darn expensive
Here are the top stories on GadgetMatch this week.
1. Samsung unpacked… err… unfolded the future with Galaxy Fold
Yes, we expected Samsung to release a foldable smartphone. What we didn't see coming is that they would open the Galaxy S10 event with the Galaxy Fold.
No, this isn't just a concept anymore. Samsung demoed a working device on stage and said the device will be on sale starting April 26 at a staggering but also unsurprising price of US$ 1,980.
It'll be interesting to see how other brands respond to the Galaxy Fold. Watch out for our MWC 2019 coverage so we can all find out together.

2. Samsung Galaxy S10 cameras tie Huawei's flagships
Looks like Samsung is determined to hold on to its top smartphone maker reputation with its latest flagship Galaxy S10 tying Huawei flagship numbers on DxOMark. In fact, it even leads in the selfie camera department. That's made possible with an overall score of 109 for the rear cameras and 96 for the front shooters.
However, the S10 isn't just about its cameras. Watch our hands-on to get a good idea on how well-rounded a phone it is.

3. Xiaomi pre-empted Samsung with the Mi 9
Xiaomi almost came out of nowhere when they announced their first 2019 flagship — the Xiaomi Mi 9 — right before Samsung's Galaxy S10 Unpacked event.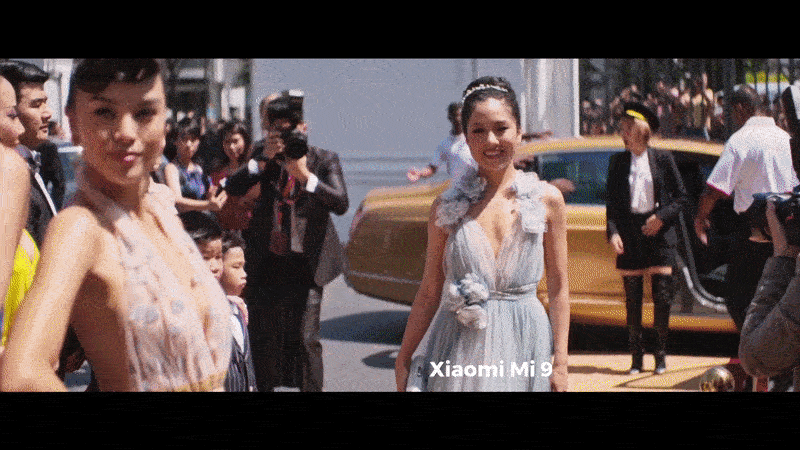 The Mi 9 had more than enough to grab hold of your attention with flagship specs: Snapdragon 855 and a 48MP camera among other things. And since it's Xiaomi, it's bound to be cheaper than the other flagships that will come out between now and MWC 2019.
Xiaomi's a disruptor and they did a good job disrupting with the Mi 9.

4. Huawei building up anticipation for the P30
Not to be outshone by Samsung and Xiaomi, Huawei has been constantly releasing bread crumbs about its upcoming flagship for all of us to chew on.
The P30 series is set to launch on March 26. As early as this week, the Chinese company even confirmed a quad-camera setup after showcasing a really close-up photo of the super snow moon.
All the teasers point to an improved zoom or telephoto lens for the P30. That's something we're definitely excited to test.
5. Fujifilm's X-T30 could be people's mirrorless camera choice
Fujifilm's cameras have always been pretty darn good, but this latest one from them could be a big hit. The X-T30 is a lightweight 4K mirrorless camera, making it a perfect travel companion wherever you go.
The Fujifilm X-T30 will be available in March starting at US$ 899 for the body only. It'll go up to US$ 999 when bundled with an XC 15-45mm f/3.5-5.6 OIS lens, or US$ 1,299 when bundled with an 18-55mm f/2.8-4 lens.
---
Weekend Rewind is our roundup of top news and features you might have missed for the week. We know the world of technology can be overwhelming and not everyone has the time to get up to speed with everything — and that includes us. So sit back, relax, and enjoy the rewind.
realme 8 5G Unboxing and First Impressions
Midrange game changer?
Game-changer. It's a bold adjective to use, especially when you're describing a smartphone that's situated in a competitive midrange segment. But realme has always dared to leap, and they're doing exactly that with the realme 8 5G.
They're calling it a 5G game-changer. It will require more extensive testing to determine whether that's true or not, but for the meantime, here are our first impressions of realme's newest offering.
But first, a quick rundown of the specifications for this device.
Display
6.5-inch IPS LCD display, 90 hZ 1080p
Processor
MediaTek MT6833 Dimensity 700 5G (7nm)
RAM + ROM
128 GB ROM/8GB RAM
Cameras
48MP primary camera (wide)
2MP macro camera
2MP depth sensor
Battery
5000 mAh
The phone comes in realme's signature yellow box. No surprises there.
Taking out the lid, you're greeted by a short note from the brand. Nice touch!
Going through the rest of the box, you'll find your usual set of manuals, a charging cable, and your charging brick. Realme also included a case for free out of the box. Good stuff!
It makes a good first impression, but can it last?
Out of the box, the first thing you notice is how pretty the device is. Without touching it, you'd think it was made out of glass. But in reality, they used plastic for this device. The radiant light effect is definitely a nice touch.
Outside of the fingerprint smudges you'll definitely be leaving on the back, you'd want to rock this phone without a case.
The realme 8 5G uses a curved back for added ergonomics. The phone is well-built, and it doesn't feel cheap even if plastic was realme's material of choice.
That extra feeling of sturdiness matters, especially in a competitive midrange market. First impressions can make or break whether you get a smartphone or not. In this case, realme passed with flying colors. Early indications suggest that realme has a winner with the 8 5G.
That's all we have on realme's newest midrange offering for now. We'll be testing the device to see whether the realme 8 5G can truly #CaptureInfinitePossibilitiesWith5G.
Huawei MatePad 2021 Unboxing and First Impressions
The device for people on the go!
Huawei has updated its primary tablet the Huawei Matepad. Come and join me as we unbox the new Huawei MatePad 2021.
Unboxing
Starting off, we have the box. A clean and simple look, but definitely pleasing! The front of the box shows us the branding and the name of the device.
A Huawei logo on the upper left corner, the AppGallery on the lower right, and on the lower left, the screen size of the device.
The box also has an interesting texture, only on the top cover though.
Opening the box, we have the device itself wrapped in fine paper and a pull tab to assist you when lifting the device out of the box.
Underneath the device, you are presented with two boxes. One box for the charging brick…
and the second containing the paperwork, USB Type-C cable, a 3.5mm headphone jack adaptor, and a warranty card.
Only the larger box is removable so be careful not to rip out the smaller box. Behind the larger box is the sim ejector tool, be sure to keep it safe!
Huawei MatePad
Removing the paper, we now see the simple but gorgeous Huawei MatePad in the "Midnight Grey" colorway. Be sure to remove the sticker — it's optional but I suggest that you do.
The device itself is lightweight and easy to carry around, as a slim device it's very easy to place it in a bag and you will have no problem carrying it around all day.
Starting off at the front, you will see the 10.4-inch screen with the camera at the top. Referring to the format at the back of the device, the front-facing camera is placed at the top.
On the left side of the device, you will be able to find the speakers along with the sleep/wake button. The right side shows you another pair of speakers and a charging port.
The top shows 4 microphones with the volume up and down button at the very left.
Heading over to the back you'll be able to see the single-shooter camera, the Huawei branding, and an indication of their partnership with Harman/Kardon. The camera is accompanied by a flash and a microphone.
Specs
Display: 10.4-inch 2000×1200 IPS, 225 PPI
Processor: Huawei Kirin 820 series
Memory: RAM – 4GB, ROM – 128GB
Camera: 8MP front, 8MP rear
Battery: 7250mAh
Final thoughts
Finally, now we have unboxed the new Huawei MatePad. With this, the device itself feels good to the touch and is a good size for a tablet. Additionally, the "Midnight Grey" colorway of the MatePad is a great choice, it doesn't collect fingerprints easily and the device is lightweight so you don't have to worry when taking it with you anywhere.
The initial setup of the new MatePad was fast and easy, there are pre-loaded apps that are ready to use. Although I'm not sure if it's just me or the apps change from time to time when you open the designated folders of the pre-loaded apps. For media consumption, the experience was good. Although the YouTube app was not the same as the ones we see on our devices, it works well as it should.
The screen looks good so far with the 2000×1200 IPS display, trying a few videos and films, the quality was great. Additionally, the speakers are a huge boost to the volume — loud but good quality. The MatePad also doesn't have a 3m5mm headphone jack, luckily, they provided an adaptor. The MatePad is looking good so far, stay tuned for the next article as we are going deep and we'll be having a full review of the Huawei MatePad 2021.
Virtual Assistants reimagined as animé characters
Voice assistants no more!
What if we gave a face to our favorite virtual assistants? That's a question that sparked among us when Virtual Assistant Sam made the Internet go nuts.
After seeing people's reception towards an animated assistant, we decided to commission Ange Salasiban, an artist based in the Philippines. Here, we reimagine how the popular voice assistants would look like.
Google Assistant
Not a girl, and not a robot. Google Assistant is giving us Janet's vibes from the comedy show The Good Place. After all, Google decided to give it a gender-neutral name — and multiple voice options — to make them a personality that can serve depending on a user's need.
In a way, we reimagine Google Assistant as a femme-presenting non-binary persona, albeit looking like a cis, blond woman, who's knowledgeable and conversational, and isn't defined nor limited by their gender to do certain tasks. It's a much-needed representation in our society, slowly paving the way to encourage acceptance.
SEE ALSO: Google wants Samsung to favor Google Assistant over Bixby
Apple's Siri
Apple's Siri is sassy, sophisticated, and definitely a trendsetter. She most likely has a million followers and built a social media empire in her teens.
A celebrity-like persona, whatever Siri does encourages her cult-like community to follow her. Whether it's dyeing her hair with an attention-grabbing color, sporting a new style to wear for Coachella, or even eating at a hip restaurant around Brooklyn. Although, she's loud most of the time she talks and takes a lot of mirror selfies in every mirror she passes by.
She's giving us major Leo vibes bordering between obnoxious and self-absorbed. But what made her cult-like community love her is her ability to connect and create a conversation. People just love it when they're a part of a story, or if the lines of communication are open. And Siri is definitely a people person.
SEE ALSO: Apple's Siri listens to private conversations, sexual adventures
Amazon's Alexa
Amazon's Alexa, in our reimagination, is the resourceful friend we all have in our lives. You might've mistaken them as Virgo multiple times because of their ability to provide information exactly the way you needed it.
After all, Alexa is well-rounded and possesses a versatile set of skills. She's analytical, methodical, and highly organized. She's a reliable friend that you can trust when it comes to finding solutions, as long as she's not busy cooking and cleaning her home filled with gadgets and smart appliances — that probably make her life better.
SEE ALSO: How Alexa wants to be your round-the-clock assistant
Microsoft's Cortana
Miss Ma'am Cortana, step on us. Kidding aside, Cortana is that intimidating yet softie superior in your office. She's smart, sexy, and talented that you might even question your sexuality.
She looks serious and determined most of the time, kinda like a Capricorn. Though ambitious and goal-oriented, Cortana knows how to bond with her team, sometimes bringing out dark humor due to her sardonic personality.
Nonetheless, Cortana knows how to get a job done, and knows how to simplify tasks without using too many resources. She's the efficient team leader we all need.
SEE ALSO: Even Microsoft listens to your Skype and Cortana recordings 
Jang Yeong-sil
If you haven't watched Start-Up, you need to rethink your life. The hit K-drama showcased Jang Yeong-sil as the superior voice assistant that enabled two-way communication for the blind through an app called NoonGil.
Though the show *spoiler alert* introduced a character in the final episode with the same voice as Jang Yeong-sil, that didn't stop us from reimagining the virtual assistant into this hot, gorgeous guy sporting the latest Samsung devices.
He's classy, sexy, sometimes cheeky, and definitely a looker but you won't see him bragging about it. He can be a good friend or a chivalrous partner that you might want to introduce to your parents. Or even envision marrying him in the future.
SEE ALSO: GadgetMatch Reacts: Netflix's Start-Up