The Galaxy Fold is real: Weekend Rewind
And it's pretty darn expensive
Here are the top stories on GadgetMatch this week.
1. Samsung unpacked… err… unfolded the future with Galaxy Fold
Yes, we expected Samsung to release a foldable smartphone. What we didn't see coming is that they would open the Galaxy S10 event with the Galaxy Fold.
No, this isn't just a concept anymore. Samsung demoed a working device on stage and said the device will be on sale starting April 26 at a staggering but also unsurprising price of US$ 1,980.
It'll be interesting to see how other brands respond to the Galaxy Fold. Watch out for our MWC 2019 coverage so we can all find out together.

2. Samsung Galaxy S10 cameras tie Huawei's flagships
Looks like Samsung is determined to hold on to its top smartphone maker reputation with its latest flagship Galaxy S10 tying Huawei flagship numbers on DxOMark. In fact, it even leads in the selfie camera department. That's made possible with an overall score of 109 for the rear cameras and 96 for the front shooters.
However, the S10 isn't just about its cameras. Watch our hands-on to get a good idea on how well-rounded a phone it is.

3. Xiaomi pre-empted Samsung with the Mi 9
Xiaomi almost came out of nowhere when they announced their first 2019 flagship — the Xiaomi Mi 9 — right before Samsung's Galaxy S10 Unpacked event.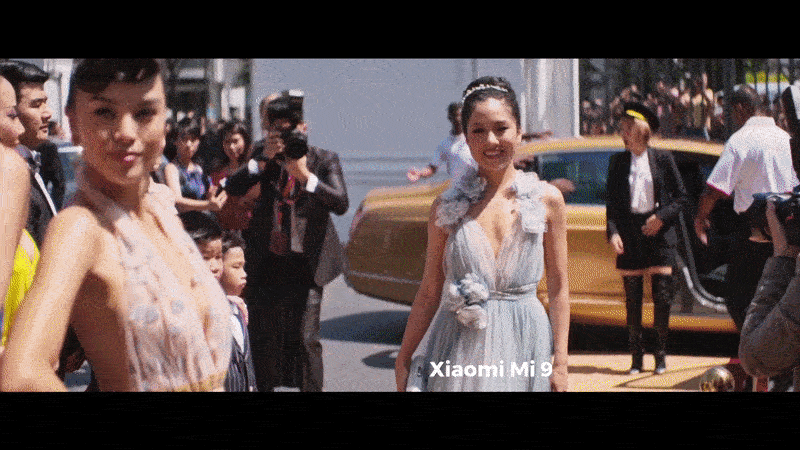 The Mi 9 had more than enough to grab hold of your attention with flagship specs: Snapdragon 855 and a 48MP camera among other things. And since it's Xiaomi, it's bound to be cheaper than the other flagships that will come out between now and MWC 2019.
Xiaomi's a disruptor and they did a good job disrupting with the Mi 9.

4. Huawei building up anticipation for the P30
Not to be outshone by Samsung and Xiaomi, Huawei has been constantly releasing bread crumbs about its upcoming flagship for all of us to chew on.
The P30 series is set to launch on March 26. As early as this week, the Chinese company even confirmed a quad-camera setup after showcasing a really close-up photo of the super snow moon.
All the teasers point to an improved zoom or telephoto lens for the P30. That's something we're definitely excited to test.
5. Fujifilm's X-T30 could be people's mirrorless camera choice
Fujifilm's cameras have always been pretty darn good, but this latest one from them could be a big hit. The X-T30 is a lightweight 4K mirrorless camera, making it a perfect travel companion wherever you go.
The Fujifilm X-T30 will be available in March starting at US$ 899 for the body only. It'll go up to US$ 999 when bundled with an XC 15-45mm f/3.5-5.6 OIS lens, or US$ 1,299 when bundled with an 18-55mm f/2.8-4 lens.
---
Weekend Rewind is our roundup of top news and features you might have missed for the week. We know the world of technology can be overwhelming and not everyone has the time to get up to speed with everything — and that includes us. So sit back, relax, and enjoy the rewind.
Huawei MatePad T 10: A Family's GadgetMatch
Built for different needs
Gadgets, for the most part, take away the family quality time. We're glued to smartphones, laptops, and TVs that we forget to bond with the people close to us.
Technology may have been in the way of our relationships, but we can use it to bring the connection back. With the right device, we can strengthen the bond inside our homes.
This Holiday season, take the opportunity to stay closer using the Huawei MatePad T 10.
GadgetMatch for the Family: Spending quality time together
The MatePad T 10 can help a family strengthen their bonds by spending quality time together. With an entrancing 9.7-inch HD display, families can share the tablet when watching movies or TV shows.
Its vibrant display delivers a stunning visual experience, augmented by Huawei's proprietary ClariVu Display Enhancement Technology — which boosts image and video quality, upping detail, contrast, and more.
Coupled with Huawei's Histen 6.1 software, families can enjoy a surround sound experience. Truly, it's a theatrical audio-visual treat for the whole family.
GadgetMatch for Moms: Working from home
For busy parents, sometimes work doesn't stop during the Holidays. With a smart tablet like the MatePad T 10, parents can work at the comforts of their own home while bonding with their families.
The MatePad T 10 — even with an affordable price tag — also carries Huawei's top smart features evident on their premium lineup. Work seamlessly by using Huawei Share and Multi-Screen Collaboration, where you can transfer files easily between your smartphone and tablet.
Both devices can also be used simultaneously, so you can work remotely, without being tied to a desk. For video conferencing needs, the MatePad T 10 has a noise reduction feature so you don't have to worry if kids are being rowdy.
GadgetMatch for Dads: Helping the kids learn from home
Holidays can also be a time for learning. Stay-at-home parents can help kids utilize MatePad T 10's versatility.
Make learning easier when you use certain features such as eBook Mode and Eye Comfort Mode which delivers a pleasing reading experience.
The tablet intelligently adjusts the brightness and contrast, filters blue light through a certified TÜV Rheinland panel, and send health-related alerts to ensure you have a healthy experience.
It's also lightweight which makes it easy to hold. No more worrying about strained arms caused by similar yet heavy devices!
GadgetMatch for the Older Siblings: Spreading the holiday cheer
Leave it to the older siblings to be the DJ and play some holiday tunes. With the MatePad T 10's quad-channel speaker system engineered by Harman Kardon, you can revel in an immersive sound enveloping the spaces.
Even though the built-in speakers are loud enough to fill a room, there's a headphone jack in case you want to connect the tablet to a bigger speaker system.
It also has a 7250mAh battery, which lets you play holiday tunes on loop for hours. Powered by Kirin 710A and EMUI's power-saving technology, the MatePad T 10 can even last longer!
Have a ball whenever Mariah Carey graces any Spotify playlist. If you're not into Spotify, AppGallery and Petal Search Widget makes it easy to find the apps you might want to install.
GadgetMatch for the Kids: Create and play to heart's content
Kids don't have to keep on learning and watching videos all day! The MatePad T 10 supports Huawei's M-Pencil (with 4,096 levels of pressure sensitivity), so anyone can write and draw accurately on the tablet.
Moreover, the tablet sports a powerful chipset and a custom Mali-G52 GPU supporting GPU Turbo 3.0, so kids can effortlessly switch between apps and play graphics-intensives games. Even better if it's an educational game!
There's also a dedicated Kids Corner, helping parents to create a safe, manageable space for children. Several features can help deliver a secure experience. For instance, the tablet creates an alert whenever the kid's face is too close to the screen. Parents can also tailor the experience to make sure kids access only the apps that are suitable to their age.
Huawei's Christmas Treat
The Huawei MatePad and MatePad T 10 retail for Php 20,990 and PhP 6,999 respectively. Purchasing the MatePad comes with freebies up to PhP 1,378 such as a Free Huawei MatePad Cover and 15GB Huawei Cloud storage for 12 months. Meanwhile, the MatePad T 10 comes with 15GB Huawei Cloud Storage, too.
Moreover, the MatePad Family comes with special gifts perfect for Christmas. Starting November 27, the MatePad T8 comes with a free Moon Night Light while the MatePad Pro comes with a free Entertainment Gift Box.
Consumers can pay through credit card installment in all major banks up to 24 months with no interest rate in official stores and authorized dealers.
---
This feature is a collaboration between GadgetMatch and Huawei Philippines.
The industry's next big thing: Cloud gaming explained
It's gaming on the go, but for internet that's not slow
Everybody's getting into gaming these days, and you can't blame them. With the pandemic continuing its ravaging ways in the world, people turn to their consoles or PCs for some action. However, not everyone can afford all the expensive PCs and the next-gen consoles when they come out.
Instead, a new player comes into the fray with a pretty great idea. What would happen if you can just play your favorite games from any device? Also, what if we told you that this won't take up space on your device at all? This is basically what cloud gaming offers to you: a way to play games from any device at any time!
So, how does that actually work? What do you need to ensure quality gameplay, and should you even consider it?
The basics of playing on a cloud
On paper, it's pretty easy to understand how cloud gaming works. Basically, you have access to a library of games from a cloud storage service. When you subscribe to the service, you can virtually play your library from any device regardless of the specs. Also, you don't have to worry about storage problems since these games are stored on a server.

It's no joke when these companies tell you that you can play your games on any device. With their dedicated data servers, they make sure that the games run smoothly once you access them from the cloud. On your end, you will need a strong and consistent internet connection to play the games smoothly.
Several companies already have cloud gaming software available for people to subscribe to. Some examples include NVIDIA's GeForce Now, Microsoft's xCloud, and Google Stadia — all of which store PC games on a server. These companies even take the time to update their server hardware every so often to bring the best possible quality.
System requirements for cloud gaming
Much like your ordinary PC or gaming console, companies that run cloud gaming servers need certain equipment to run smoothly. First, these companies must set up active data centers and server farms that run the games. These data centers ensure that games are up and running, while reducing latency. In other words, these serve as the powerhouse of cloud gaming.
Next on the list is the network infrastructure necessary to send these to the users. To ensure that people don't experience lags when they play their games, companies also invest in acquiring proper data connections. However, in most cases, this isn't something these companies have control over; it's mostly coming from their available internet service providers.
On the front-end, companies also provide dedicated hardware and software to house the cloud. For example, NVIDIA integrated GeForce Now into their own cloud streaming device, the NVIDIA Shield back in 2013. Meanwhile, Google Stadia relies heavily on using pre-existing Google software like Google Chrome and the Stadia App.
Something great to offer, for the most part
Cloud gaming services offer something unique in the industry. Essentially, it eliminates the user from investing so much into buying expensive PCs as it allows people to play from virtually any device. Whether it's on a smartphone, laptop, or even a smart TV, people get access to games at high frame rates without an RTX 3080.
Furthermore, the game and save files are stored on the cloud, and don't take up any storage on your devices. This is greatly beneficial for people who are already running on limited storage space, especially if they play Call of Duty: Warzone. With everything stored on the cloud, you don't need most of the 512GB of SSD storage.
However, one of the biggest issues with cloud gaming revolves around the thing it's based on: the internet. Specifically, it's on the user's internet connection as these services require the fastest internet to run smoothly on any device. Basically, you will need either an Ethernet or a 5G wireless connection to ensure the lowest latency possible.
That infrastructure isn't readily available in most markets, which is a prominent issue among several third-world countries. Furthermore, even if there are companies that have 5G in their pipeline, these same providers also put data caps on it. Even if the user can play at an optimal frame rate, they're doing so with a restriction in place.
Does this new player have any place?
With the world continuously opening its arms to the gaming industry, innovation becomes the forefront of success. Companies come up with a variety of gaming technologies that seek to cater to a wide variety of people. From individual hardware to pre-built systems, gaming often revolved around these things.
With cloud gaming, it gives people not just another option within the mix. Rather, it seeks to challenge the notion of availability and accessibility, and give it a viable solution. Essentially, it takes away the physical hardware limitations on the user's end, and makes it available for everyone.
But like most gaming technologies, everything is still limited somehow. These systems still experience bottlenecks both on the manufacturer and the user's end. In the end, it will depend on how much you're willing to shell out for them, and how willing you are to accept the risks.
Playing Big Brother with the realme Smart Cam 360
Cat spy
CCTVs like the realme Smart Cam 360 are often marketed as home security devices. Most people use these kinds of cameras to monitor strangers passing by the house or to prevent criminal activity.
I, however, had something else in mind. As a pet owner, I often wonder what my cats are up to. What are they doing when I'm not looking? Could I be missing a moment of cuteness whenever they're up in their hideouts?
So, I decided to play Big Brother and document their days using the realme Smart Cam 360.
Setting up the mobile CCTV
Initially, I thought that the camera was rechargeable like a smartphone. It is not. It has to be constantly plugged into a power source. This was a problem for me since the areas where the cats frequent, don't exactly have accessible electrical sockets.
But lo and behold, A LIFEHACK! My brother helped me devise a way to use the CCTV camera portably, so I can move it from place to place, wherever the cats are. We plugged it to a power bank! The 16000mAh power bank was able to supply electricity to the camera for a little less than 24 hours.
The next step was installing the realme Link app on my phone so I can use it to view the camera's feed. I just had to create a realme account, link the camera to the app and voila, I can already use my phone as a monitor and a remote control for the camera. Another thing I like about the app is that you can use it to customize the camera's name.
Last is putting in a memory card. This part is actually optional, but having a memory card in the camera is very handy if you want to review moments you might have missed. The Smart Cam 360 has event-triggered recording which means it automatically saves any activity whenever the camera detects sound or motion.
Big Brother: Cat Edition
The cats found it strange at first.
But eventually, they learned to werq it.
Changing the direction of the camera is not a problem. The mobile CCTV is very responsive to the phone's remote control. The camera adjusts to the lighting conditions of the room. Even in the dark, it's still able to show what's happening.
The infrared night vision does give the cats some creepy-looking eyes though!
In typical Big Brother fashion, the Smart Cam 360 also lets you communicate with whoever's with your camera. Sort of like a PA system, or a walkie-talkie. I tried using it to call my pets' attention, but cats do as cats do–ignore humans.
A helpful housemate?
In a lot of ways, yes. The realme Smart Cam 360 has been my extra set of eyes at home.
It does a good job of notifying me whenever there's activity in the room I placed it in. It can capture moments I would have otherwise missed, like that one time my cat was causing mischief in the dining area.
It's ideal for when you need to watch home, away from home. The realme Link app is also fairly easy to understand, a plus for people like me who prefer their tech simple.
But, there's the question of privacy. There have been reports of home security cameras that accidentally leaked their feed to other households. With the current digital landscape, you can't help but wonder where your data is being sent to. Who else could be watching? Who else could be listening to what's happening at home?
It would be ironic if, in the course of trying to be like Big Brother, you yourself became the subject of observation. It's good to keep that in mind and set some limits to what the camera has access to.