Xiaomi has had a great year and the launch of the Mi MIX 2S in Shanghai this week is a milestone for a number of reasons.
During his keynote, Founder and CEO Lei Jun was quick to point out that like a dark horse, Xiaomi came back to the world stage in 2017 — climbing back to the top five and nearly doubling shipment growth while the rest of the top smartphone manufacturers' numbers suffered.
Xiaomi also reached its target revenue of CNY 100 billion (US$ 15.8 billion), after just seven years of operations.
Lei Jun says this was possible not just because of Xiaomi's solid fanbase, but also because of their relentless commitment to innovation. Xiaomi was able to acquire more than 6,000 patents by the end of last year, with more than half being global patents. And of course, who could forget, Xiaomi popularized the now mainstream full-screen display.
While fans will always argue that Sharp did it first, it was Xiaomi who opened the doors for other OEMs with the original Mi MIX. At the time, Google's Compatibility Definition Document said that all Android devices must conform to the 16:9 aspect ratio. But Xiaomi challenged that and changed the Android world forever with the original Mi MIX and its 17:9 ratio.
And if innovation is the core of Xiaomi, design and quality are its life. Xiaomi is now the Chinese company that has won the most number of industrial awards not just in China but in other parts of the world.
But among its growing ecosystem, Xiaomi is proudest of its award-winning MIX line, with the Mi MIX and MIX 2 also parts of European art museum collections.
Same beautiful design
It comes as no surprise then that Xiaomi retained the same beautiful form factor in this S update. Despite everything we've seen so far, the Mi MIX 2S is still one of the most beautiful phones out there.
Xiaomi Global Spokesperson Donovan Sung says the MIX 2S represents the company's dedication to cutting-edge innovation and top-notch quality design. No pun intended.
The only compromise and the one thing we haven't liked since the original MIX is the awkward front camera placement.
Sure it makes the design unique and now iconic, but it's still the sore point in a phone that would otherwise be great.
If you're like our managing editor Marvin or account manager Alven who don't take a lot of selfies, this shouldn't really be a problem. Rotating the phone is always an option if you have to. But if you use Snapchat, Instagram Stories, and video calls a lot like the rest of the population, this might be a deal-breaker.
While most brands have opted to put their own versions of the notch to achieve a full-screen display, Xiaomi is choosing a rather uncomfortable route for the MIX line for now.
Unlike the Mi MIX 2, the MIX 2S will not come in special edition unibody ceramic versions. Instead, we're getting two colors by default: black or white.
Black is the more seamless of the two, especially when turned off — even the front camera has a black coating.
Sung says the ultimate vision for the MIX line is for the phone to become one unblemished piece of glass — no notch, no bezels. He says the black version of the Mi MIX 2S is the closest we have to that vision and as for me, I personally can't wait for that future.
But me and the rest of the GadgetMatch team really like the white version even if the front camera sticks out. Having reviewed hundreds of smartphones, it's a refreshing sight in a sea of black devices.
It's also less of a fingerprint magnet, comes with a really nice matte case that doesn't make the phone look cheap, and most importantly, matches my outfits better if I must say so myself.

That notch-free display
Not everyone gives users the option to hide the notch, hence the hesitation among Android fans. It can be distracting especially when watching videos or playing games.
On the Mi MIX 2s, that's not a problem. Videos fill up the entire screen as long as the app supports taller aspect ratios.
One caveat though is Netflix doesn't support beta ROMs, which most of our Xiaomi units are on. It doesn't even show up on the Google Play Store. There are, of course, do-it-yourself fixes available online, but like most users, I would rather have my favorite apps like Netflix available at my disposal without much tinkering, especially for a phone designed perfectly for content consumption.
Other than that, Xiaomi kept the same LCD display from the previous generations. It's not the brightest we've seen but it's bright enough for use under the sun.
AI in Cameras
Like most phones this year, the biggest upgrade on the Mi MIX 2S has to do with the cameras. Not only does it have dual 12-megapixel cameras, they're also now equipped with AI, largely thanks to the high-end Snapdragon 845 chipset found inside.
The unit I'm using doesn't have the final software yet so I didn't really get to test all the new features, but at the event, Xiaomi showed off what it can do. The camera adjusts settings depending on your subject and scenario. It can detect 206 (yes, 206!) different scenes, including different settings for thinner leaves and Instagram-worthy succulents.
There's real-time translation and currency conversion, which would be really useful in China for tourists like me. There's also depth effect even on the selfie camera, and probably what I'm most excited to try: dynamic bokeh.
Can't wait to try Dynamic Bokeh on the #MiMIX2S pic.twitter.com/iHgJY7yLZE

— Chay Lazaro (@chaylazaro) March 30, 2018
That said, the camera improvements don't stop with the AI features. Compared to the Mi MIX 2, the MIX 2S' cameras are noticeably better at handling dynamic range resulting in better color accuracy.
Photos are also more detailed and sharper without being oversharpened.
Selfies are not as mushy as before but still too tight for our liking, making group selfies almost impossible.
Although low-light photos have always been a weak spot for Xiaomi phones, improvements can be seen on the Mi MIX 2S on the main rear camera. It still has optical image stabilization, but now has a bigger 1.4µm pixel size on its new Sony IMX 363 sensor.




The second camera on the Mi MIX 2S is a telephoto lens for zoomed-in shots and portrait mode, which works surprisingly well — a far-cry from the Mi 6 and Mi A1's crooked cutouts — even with my usually challenging wavy hair.





DxOMark gave the Mi MIX 2S an impressive photo score of 101 and an overall score of 97 — the same overall score as the iPhone X and Huawei Mate 10 Pro's. I didn't get to do a comparison with those two but here are more sample photos I took around Shanghai:




Despite the high photo score, DxOMark gave the phone a lower 88 for video performance, which is usually the case for a lot of smartphones. Even with OIS, videos shot on the Mi MIX 2S can still be a little shaky. Although I had way too much fun using the built-in time-lapse feature on the camera.
I enjoyed using built-in time-lapse feature on the #MiMIX2S way too much 👀 Sped up 4x, colored, and 'Boomeranged' on FCPX 😆 pic.twitter.com/JvYaohF9cb

— Chay Lazaro (@chaylazaro) March 30, 2018
Efficient battery
Apart from powerful chipsets coupled with cheaper price tags, battery life on Xiaomi phones is usually what we're most impressed with, and the Mi MIX 2S is no exception.
After a 10-hour day of taking photos and videos, checking emails, writing, a lot of social media, I still managed to get a little above five hours of screen-on time. Although again, the phone I'm using doesn't have the final software yet so it can still improve or regress from here.
I didn't do a charging test, but I got to try the white wireless charger that matches my new phone. Yes, the Mi MIX 2S now supports the standard Qi wireless charging and Xiaomi will be selling its own wireless charger for CNY 99 (US$ 15).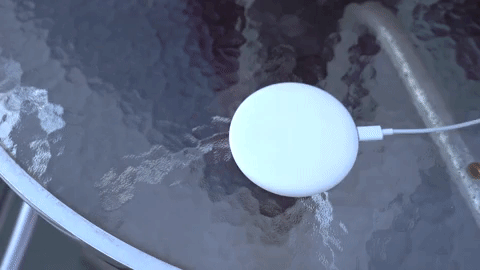 It only charges at a maximum of 7.5W, which is faster than most wireless chargers, but still a little slower than Samsung's wireless charging pad that maxes out at 9W. A full charge of the Mi MIX 2S on the Xiaomi wireless charger takes less than three hours.
Is this your GadgetMatch?
It's hard to say given I haven't tried the phone's new features and full potential. But there's one thing I know for sure: While more and more manufacturers are increasing prices for their devices recently, Xiaomi is proud to stay true to its brand.
Whenever asked whether they can maintain the same value proposition, Xiaomi's response is always a resounding yes; they have been doing it for seven years and there's no changing that.
The Mi MIX 2S is proof that Xiaomi's reputation of building high-quality products for much less is here to stay. It will be available in China starting April 3 and pricing is as follows: CNY 3,299 (US$ 525) for the 6GB + 64GB model, CNY 3,599 (US$ 573) for the 6GB + 128GB model, and CNY 3,999 (US$ 573) for the 8GB + 256GB model.
Although if there's one thing that's changed about Xiaomi, it's that they're no longer the same Chinese startup that disrupted the smartphone space in 2011.
Their expansion in Western Europe and launching not in Beijing but in the cosmopolitan city of Shanghai signify that Xiaomi recognizes they're now a global company, ready and confident to be compared with the rest of the world.
With Xiaomi leading the way, and the MIX line as their pride and joy, Lei Jun says together with other Chinese companies, they are embarking on a transformation — changing the way the world perceives their products — shifting from the derogatory made in China to a proud label of designed in China.
OPPO Reno5: Ideal upper midranger
It's a stellar overall package for its price
OPPO's Reno line has slowly carved out an identity as somewhat of an affordable premium smartphone. Priced at around half of what flagships today cost but offering about two-thirds of the features, the OPPO Reno line has the makings of the ideal upper midranger, and the Reno5 fits that description to a T.
How it looks
The Reno5 (both the 4G and the 5G variants) come in either Galactic Silver or Starry Black. The Black has a more traditional glass finish, thereby being more magnetic to fingerprints and smudges, while the Galactic Silver has a frosted matte finish making it more palatable if you don't like using a protective case.
The Galactic Silver Reno5 is flashier. The color kind of shifts depending on how light hits it. If you're into phone finishes that catches the eye, this is totally the way to go.
Button placements are pretty standard. On the right hand side is the power button while the volume buttons are on the left. At the bottom you'll find the speaker grille, USB-C port, and 3.5mm jack (nice).
At around 180g and with these dimensions (159.1 x 73.4 x 7.9 mm) with a 6.4-inch display, the Reno5 sits very close to my personal sweet spot in terms of overall smartphone size. It's a little too light to my liking but it never feels fragile.
The 'Oxygenation' of ColorsOS
There's been some buzz about how OnePlus — a sister company of OPPO under the BBK electronics umbrella — is becoming more and more like OPPO. What's getting lost in all that noise is how OPPO is turning into OnePlus just as much as the latter is being 'OPPO-fied.'
This is most evident in ColorOS 7.2. From its cluttered and bloatfull past, the UI skin that OPPO layers over Android has gotten more breathing room letting more oxygen come through. The customizations available run deep — everything from light vs dark mode, the shape and size of the icons, to the accent color of the settings menu.
Also present are the gesture shortcuts that longtime OnePlus fans will be familiar with like drawing a V to open the flashlight, O to open the camera, and double tap screen to wake. These are all OxygenOS staples that have found their way to OPPO and sometimes other Android skins too.
Some purists or overly zealous brand supporters might dismiss this as blatant copying, but is it really that big an issue especially when these are all quality of life improvements no matter how subtle they may be?
All things considered, ColorOS is now overall more appealing thanks in large part to applying design decisions first applied on OnePlus's OxygenOS.
OLED, 5G, and Snapdragon 765G
This section is probably the least contentious about this phone. Its display, performance, and promise of next gen mobile connectivity work exactly as advertised. The 6.4-inch OLED display has a 90Hz refresh rate. It's nice and smooth with the deep blacks typically found on OLED displays. It could use a bit more brightness when under intense daylight, but it's in no way unusable under such circumstances.
The 5G variant will cost you a little more and it's not at all a bad deal considering most especially if you live or frequent areas with 5G coverage. We used the OPPO Reno5 as a hotspot hub for half a day and it did not feel at all like we were on mobile hotspot.
Shifting talk over to the Qualcomm Snapdragon 765g SoC, this seems to be the best-performing midrange chip. It won't leave you wanting in terms of general smartphone use. We didn't use it a lot for gaming on this particular handset but previous experience dictates it's pretty darn good for mobile gaming as well.
Battery life is also pretty straightforward. Standby time is great and the 4300mAh will last you a day on moderate usage. That goes down to around five hours when used primarily for gaming and with 5G connection.
Fun with the cameras
The Reno5 sports a quad-camera system: 64MP main, 8MP ultra-wide, 2MP macro, 2MP depth. But all the fun really happens in the software sid of things.
It still features OPPO's fun AI Color Portrait mode that isolates the subject from the background by draining the color out of the background and putting the subject front and center in full color.
This same feature also works on the 32MP selfie camera.
Even more exciting, this feature is now also available in video mode so there are more ways for you to have fun with it.
Another addition is the Night Flare Portrait that captures your subject in a nice stylized night shot filled with color and creamy bokeh.
More than just portraits
Naturally, the cameras along with the AI engine behind its imaging works not only for these fun and funky portrait images and videos. As a standard shooter for documenting your daily life, it's more than reliable. Check out these samples:
Is this your GadgetMatch?
The easy answer is yes. The OPPO Reno5's overall package is the ideal upper-midranger. There's a lot of fun to be had with its camera features, it looks great, and performs just about as good as any phone in its price range.
It also doesn't hurt that in the Philippines, OPPO went out of its way to make sure it can be had in may different ways including through TelCos and via installment basis.
The OPPO Reno5 is by no means a perfect smartphone (no such thing exists anyway), but for what you're getting in relation to its pricing, it's a stellar option.
ASUS Zenbook 14 UX435 Unboxing and First Impressions
Embodies everything you expect from a ZenBook
The hunt for the perfect notebook for work and play is never really over — well, until the ZenBook 14. ASUS zeroed in on their line-up to make sure it embodied everything you want and (of course) need in a laptop. So, while you weigh in your options for the right notebook for you, we'll unbox it for you.
The black box comes with ASUS' signature concentric circle design. 
Lifting the box open props up the Zenbook 14 UX435EG in the box
Underneath the laptop, you'll find important booklets and papers that you'll probably leave unread. (Admit it).
Over to the left and right-hand side of the ZenBook 14 are connection essentials.
On the right, you'll find the power brick.
And, you'll be quick to find a USB-C to LAN cable on the left.
Oh! In case you missed it, there's something peaking through the upper compartment of the box. A gentle tug will reveal a sleek carrying case.
Now, let's get back to the star, shall we? The ASUS ZenBook 14 UX435EG
At first glance, the laptop looks and feels nearly paper-thin but, don't let that fool you. The ZenBook 14 has a lot more than the looks going for it. It has Intel 11th Gen inside along with NVIDIA GeForce graphics.
There's some unapologetic showing-off of the Ergo Lift hinge the moment you open the ZenBook 14.
Optimizing space, it features an HDMI port and the two Thunderbolt  USB-C ports on one side…
and a USB 3.2 port, audio jack and the SD Card slot on the other.
As much as the stunning display takes center stage,
While a sneakily small webcam lays atop,
Who can forget the ScreenPad?
Just below the backlit keyboard, you'll find the eye-catching ScreenPad
On it, you can access apps quickly, use it as a TrackPad, and multitask efficiently.
First Impressions and Quick Hands-On
There are no surprises here. The ZenBook 14 UX435EG embodies everything you expect from a ZenBook. It's light, pragmatically designed, and gorgeous. And on top of that, it doesn't fall short in performing what's asked. From work, to play, to binge-watching, the laptop delivers on all fronts.
When working on the daily grind of spreadsheets, presentations, photo-editing and word processing, the ZenBook 14 UX435EG didn't struggle or stutter once. It took a decent beating and then some.
When all the day's work comes to a halt, you'll be happy to hear that it won't falter on an immersive watch with its gorgeous display and audio quality. When playing games like Spiritfarer, the laptop seemed to handle it fine.
We didn't have much time with it to stress test the ZenBook 14 but, so far, we haven't encountered hiccups. And, the ScreenPad may take a little getting used to if you're not used to more convenient features besides the typical TrackPad. But with it, the laptop furthers quick and easy multitasking — making both work and play a breeze.
More details on ASUS ZenBook 14 UX435 here.
---
This feature is a collaboration between GadgetMatch and ASUS Philippines
Samsung Galaxy S21 Series Hands-on
Most of the leaks were true after all
Samsung started 2021 early with their newest Galaxy S21 series.
Unlike last year where the S20 models were announced last February, these new S21 units were unveiled as early as January 2021. Although we've covered most of the leaks and rumors about Samsung's latest flagship trio, we still need to confirm them.
Head over to our latest hands-on video to find out more.