Best of Mobile World Congress 2017
Before the exhibition doors of Mobile World Congress open to the public, for most journalists, half the job is already done.
48 hours prior, my team and I had scuttled across the beautiful Mediterranean city hopping from one launch event to another.
We were at a total of eight during this year's show; overall one of the best in recent years.
Credit Samsung, if you will. Them pushing back the Galaxy S8 launch to later in March, allowed other brands to collectively bask in the spotlight it once monopolized. Credit Nokia for its nostalgia-fueled comeback. Or credit every other smartphone brand that stepped it up and gave us, not only something to talk about, but also more wows than disappointment.
If MWC 2017 is any indication of what the rest of the year will look like in terms of smartphones. We're pretty darn excited!
BlackBerry KEYOne
After a two-year absence, BlackBerry is back!
This time via a lifeline from Chinese tech company TCL (also known for its midrange TVs and Alcatel smartphones).
The KEYOne is only the second truly BlackBerry phone to run Android, and is perfect for those wanting both a 2017 smartphone experience and the familiarity of the full keypad BlackBerry is known for.
In the short time we spent with the KEYOne, it felt exactly like what you'd expect from a BlackBerry – metal frame, rubber back, and that keypad which it gets its name from. The new, old keypad doubles as a touchpad and comes with a fingerprint sensor built into its space bar.
LG G6
While LG has pulled the plug on its modular smartphone concept, the new G6 leaves plenty more to be excited about.
LG's biggest talking point is big screen, small phone. And while size is relative, you've got to hand it to them; despite having 0.2 inches more screen real estate than the iPhone 7 Plus, the G6 is indeed a much smaller phone that fits in the hand better.
What I like most about the G6 is its design. The phone is solidly built, much more than last year's model. It's a difference you can see and feel. And I'm lusting over the ice platinum one as I write this piece.
LG's made sure the G6 satisfies by all accounts. It's got a beautiful display, water and dust resistance, and a great camera. LG also says it's given the G6 a heat pipe to protect it from unexpected situations — their subtle way of saying it won't explode, if you note what I'm saying.
Huawei P10
Following a very successful year, Huawei didn't dramatically change much about the P10. Instead, it improved on the already good product.
The company is working together with color experts Pantone to release its new smartphone in two unique new shades, including 2017 Color of the Year, Greenery.
A Huawei executive told GagetMatch, the new color symbolizes new beginnings, and it hopes that these little touches contribute to how users feel about their phones and life in general.
Like its predecessor, the camera on the P10 is co-engineered with Leica. We had the pleasure of shooting with the phone around Barcelona, and have been blown away by its excellent camera.
Nokia 6 / Nokia 3310
Nokia is back, too! Like a phoenix from the ashes, the phone brand that many of us grew up with is given new life by Finnish startup HMD Global.
The new company hopes to leverage its pool of Nokia old-timers and new talent to deliver the core qualities that we expect from Nokia with a fresh flavor that makes it relevant to millennials who have never used a Nokia before.
The new Android-powered Nokia 6 flagship is just that. Carved from a solid block of aluminum and with a pure Android experience — just how all smartphones should be.
Nokia also announced the new 3310 — a revival retro phone that's just as you remember it: Snake, Symbian OS, removable battery, one-month standby time, and the Nokia ringtone. And because it's the question I've been asked most this week: The 3310 will retail for €49 when it goes on sale in the 2Q of 2017.
Sony Xperia XZ Premium 
Sony loyalists will love the new Xperia XZ Premium, a phone that's way too beautiful to be used. Fingerprints will ruin the aesthetics of it, and so will need a much-needed protective case. But I guess that's the point; the XZ Premium is meant to be a phone of excesses.
Take for example its 4K HDR display — simply put, the new phone has as good a display as a top-of-the-line TV. Sony is also working with Amazon Prime Video to guarantee a list of original content that will benefit such a smartphone when it launches later this year.
Film makers will also love the new super-slow-mo feature, 960 frames per second in total! This will let you freeze the exact moment a water drop drips from a kitchen faucet.
OPPO 5X
OPPO didn't have a new smartphone to announce at MWC; just a promise of what future phones could be like.
The company debuted new camera technology that utilizes a dual-camera setup to zoom in on subjects up to 5X. Previously to achieve such a feat, you'd need bigger lenses that protrude from the phone.
OPPO's been able to shrink that technology into a lens element that's only a few millimeters thin. My iPhone 7 Plus can zoom up to two times without relying on digital zoom; five times would be such a game-changer when you're trying to steal a shot of that attractive person two tables away.
Samsung Galaxy Tab S3 / Galaxy Book
There weren't a lot of new tablets announced at MWC, but Samsung, in lieu of its S8 announcement, had two to show off.
The most important thing about both the Galaxy Tab S3 and Galaxy Book is that they come bundled with an S Pen, unlike Apple's iPad Pro that requires you to buy it separately. There's even a special edition Staedtler that looks like an actual pencil.
 [irp posts="11072" name="Samsung responds to protest incident at MWC"]
The Galaxy Fold is real: Weekend Rewind
And it's pretty darn expensive
Here are the top stories on GadgetMatch this week.
1. Samsung unpacked… err… unfolded the future with Galaxy Fold
Yes, we expected Samsung to release a foldable smartphone. What we didn't see coming is that they would open the Galaxy S10 event with the Galaxy Fold.
No, this isn't just a concept anymore. Samsung demoed a working device on stage and said the device will be on sale starting April 26 at a staggering but also unsurprising price of US$ 1,980.
It'll be interesting to see how other brands respond to the Galaxy Fold. Watch out for our MWC 2019 coverage so we can all find out together.

2. Samsung Galaxy S10 cameras tie Huawei's flagships
Looks like Samsung is determined to hold on to its top smartphone maker reputation with its latest flagship Galaxy S10 tying Huawei flagship numbers on DxOMark. In fact, it even leads in the selfie camera department. That's made possible with an overall score of 109 for the rear cameras and 96 for the front shooters.
However, the S10 isn't just about its cameras. Watch our hands-on to get a good idea on how well-rounded a phone it is.

3. Xiaomi pre-empted Samsung with the Mi 9
Xiaomi almost came out of nowhere when they announced their first 2019 flagship — the Xiaomi Mi 9 — right before Samsung's Galaxy S10 Unpacked event.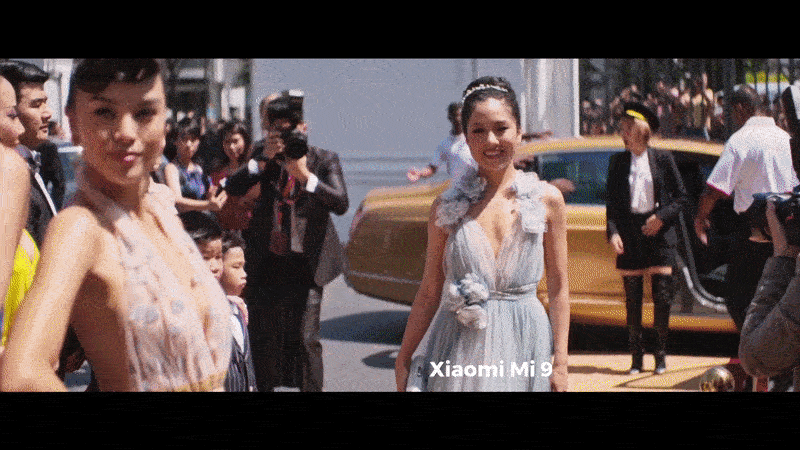 The Mi 9 had more than enough to grab hold of your attention with flagship specs: Snapdragon 855 and a 48MP camera among other things. And since it's Xiaomi, it's bound to be cheaper than the other flagships that will come out between now and MWC 2019.
Xiaomi's a disruptor and they did a good job disrupting with the Mi 9.

4. Huawei building up anticipation for the P30
Not to be outshone by Samsung and Xiaomi, Huawei has been constantly releasing bread crumbs about its upcoming flagship for all of us to chew on.
The P30 series is set to launch on March 26. As early as this week, the Chinese company even confirmed a quad-camera setup after showcasing a really close-up photo of the super snow moon.
All the teasers point to an improved zoom or telephoto lens for the P30. That's something we're definitely excited to test.
5. Fujifilm's X-T30 could be people's mirrorless camera choice
Fujifilm's cameras have always been pretty darn good, but this latest one from them could be a big hit. The X-T30 is a lightweight 4K mirrorless camera, making it a perfect travel companion wherever you go.
The Fujifilm X-T30 will be available in March starting at US$ 899 for the body only. It'll go up to US$ 999 when bundled with an XC 15-45mm f/3.5-5.6 OIS lens, or US$ 1,299 when bundled with an 18-55mm f/2.8-4 lens.
---
Weekend Rewind is our roundup of top news and features you might have missed for the week. We know the world of technology can be overwhelming and not everyone has the time to get up to speed with everything — and that includes us. So sit back, relax, and enjoy the rewind.
Samsung Galaxy S10 vs Galaxy S10+ vs Galaxy S10E: What are the differences?
A decade of Galaxies
Samsung has launched three new flagship phones: the Galaxy S10, Galaxy S10+, and Galaxy S10E. With three new models to choose from, it might be difficult to choose which Galaxy S10 is the one for you.
To help with this, we took the liberty to show you the differences between the three. Which of the Galaxy S10 models will be your GadgetMatch?
Display
Starting with the screen, the three Galaxy S10 models sport Super AMOLED displays in different sizes. The Galaxy S10E is the smallest among the bunch with a 5.8-inch display. It's followed by the regular Galaxy S10 with its 6.1-inch display and, of course, the Galaxy S10+ with its large 6.4-inch panel.
It's also worth noting that the Galaxy S10E has a completely flat display, while the other two Galaxy S10 variants have the curved panels we've come to expect from Samsung.
All three models don't sport a notch, but they do have holes on the upper-right corner for their front cameras. The Galaxy S10E and Galaxy S10 have a perfectly rounded hole-punch camera, while Galaxy S10+ has a pill-shaped cutout since it has two front-facing cameras.
Performance
Despite the size differences of the phones, all models are powered by a flagship processor. Depending on where you are, the Galaxy S10 family will sport either a Snapdragon 855 or an Exynos 9820.
Memory and storage configuration will also vary depending on the region. The lowest possible memory available is 6GB and it can go as high 12GB. As for storage, it starts at 128GB and will reach up to 1TB. The 12GB+1TB combo will be exclusively available for the Galaxy S10+.
Another significant difference between the Galaxy S10 phones is battery capacity. The Galaxy S10E has a modest 3100mAh battery, the Galaxy S10 owns a pretty standard 3400mAh battery, and the Galaxy S10+, being the biggest of the three, comes with a huge 4100mAh battery.
All three variants support fast charging using wired or wireless chargers. They can also do reverse wireless charging (which Samsung calls Wireless PowerShare) to charge other devices using the Qi wireless standard.
Lastly, both the Galaxy S10 and Galaxy S10+ feature the new ultrasonic in-display fingerprint reader, which is definitely faster than any of the in-display fingerprint readers we've tried before. The Galaxy S10E has a more conventional side-mounted fingerprint reader that's still accurate and fast, but not as advanced.
Cameras
The Galaxy S10 and the Galaxy S10+ are the first among the Galaxy S lineup to have triple rear cameras. The setup is composed of a main 12-megapixel Dual Pixel and Dual Aperture camera, a 16-megapixel ultra wide-angle, and a 12-megapixel telephoto with 2x optical zoom.
Since the Galaxy S10E is priced lower, it only has two of the three rear cameras of its more expensive siblings: the main Dual Pixel camera and the ultra wide-angle shooter.
The situation in the front is quite different, though. Both the Galaxy S10 and Galaxy S10E have a single selfie camera, while the Galaxy S10+ gets an extra depth sensor for a more precise bokeh effect or Live Focus.
Pricing and colors
The cheapest model is the Galaxy S10E which starts at US$ 750. The regular Galaxy S10 will set you back US$ 900, while the bigger Galaxy S10+ is priced at US$ 1,000.
All three models will come in Prism White, Prism Black, Prism Green, and Prism Blue. In addition, the Galaxy S10E will be available in Canary Yellow, as well. The Galaxy S10+ also has premium Ceramic Black and Ceramic White variants, but these are only available for the high-tier configurations.
Colors option may vary per region, so not all colors will be available in all markets.
Get to know more about the latest Galaxy S10 series by watching our hands-on video:
SEE ALSO: Samsung Galaxy S10 Hands-on: A refinement of everything
Instagram photo challenge with the Samsung Galaxy S10
Hands-on with all three versions!
Samsung's newest Galaxy S devices have just been announced and we're blessed with three versions: The Samsung Galaxy S10e (small), the Galaxy S10 (big), and the Galaxy S10+ (big big!).
Each phone is equipped with a number of cameras so you know what that means: IG photo test!
In our Her GadgetMatch video, we check out what's so cool about the new Samsung phones and test what the cameras can do. Spoiler: They do a lot!
In case you're having trouble viewing, watch HERE.
SEE ALSO: Samsung's new LED light cover is the phone case we've always wanted