NBA 2K17: The Prelude is a sign of great things to come
What goes up must come down. Right? The NBA 2K17: The Prelude demo was launched this weekend on PS4 and Xbox One to give fans a taste of what to expect from this year's entry to the series.
The biggest problem with yearly franchises like NBA 2K is peaking. Series like Assassin's Creed and Call of Duty have shown that it is difficult to keep iterating on a game and show significant improvements that would entice players. Which is why Ubisoft is taking a break from making an Assassin's Creed's sequel to focus on other titles.
It seemed like only a matter of time until NBA 2K succumbed to the same fate as the once prestigious NBA Live franchise and wound up dealing with the issues of a short shelf life that could lead to gamer fatigue.
I always thought the NBA 2K series peaked in 2014. Or that it would start to experience decline during these recent years, after several improvements to gameplay and graphics. But credit the development team's tenacity for bringing innovation and attention to detail, because NBA 2K continues to break new ground.
With a revamped MyCareer mode, which promises a cinematic narrative of an NBA prospect's journey from college to the pros, and a new face-scanning system that makes it easier than ever to put your likeness in the game, NBA 2K17 is shaping up to a be a unique and worthwhile addition to the franchise.
But I'm getting ahead of myself here, as the game isn't due out until next week, September 16 (for those who pre-ordered, anyway; September 20 is the global release date). For now, I'll focus on what I can critique.
Physical gameplay
In the "Friction" trailer that 2K Games released a few weeks ago, we noticed an emphasis on physicality, the kind we see in an actual NBA game. Contact looked much more real, especially off the ball.
It turns out physicality is a huge part of NBA 2K17. Boxing out for rebounds; fighting through screens; dribbling through contact — all of it feels much more real now, thanks to an improved contact-recognition system that ties together with a ton of new animations. Even an opponent swinging his elbow has repercussions and can cause your controller to vibrate.
This combined with my favorite gameplay element from last year, which was the momentum physics when changing direction, shows why, even this early on, NBA 2K17 is the best simulation game of its kind. And it reaffirms that it is in fact light years ahead of the competition.
Gameplay-wise, the latest installment introduces some notable tweaks like a new shot meter, the ability to throw a skip pass across the court, and the ability to rapidly shift your position on defense, which is something I have been desperately hoping for.
MyCareer story mode
I had honestly given up on previous iterations of NBA 2K's MyCareer story mode because of the monotonous experience of playing through NBA seasons and answering repetitive post-game questions from the media.
But Spike Lee's "Living' DaDream" on NBA 2K16 changed my perspective, as it told an engaging story that featured memorable characters. It was a breath of fresh air. My only problem was that it was too short.
This year, 2K Games is sticking to the same approach but with a different narrative. I haven't finished The Prelude's MyCareer mode yet — I'm only up to my last game in college. But I can only hope the development team has a longer story to tell this year. Without spoiling anything I can tell you it is still very detailed and personal, though probably not as intimate as NBA 2K16's Spike Lee joint, with the team bringing in a new writer, director, and cast.
This year's story feels much more mainstream; actors Hannibal Buress, Michael B. Jordan, and others have lent their voices and faces to NBA 2K17. This tells me we will be seeing more Hollywood-driven storylines in the coming years. A rotating roster of writers and directors helming the story also opens up the franchise to more creative possibilities.
Face-scanning in NBA 2K17
It's probably important that I talk about the new face-scanning feature, which now supports Android and iOS devices. Unfortunately, I couldn't get it to work.
I first tried face-scanning in NBA 2K15 on Xbox One, using the Kinect camera. I spent several hours in front of the camera, slowly turning my head from side to side to get a decent result, but without success; I always ended up with a deformed version of my face. Which led me to sculpt a face from one of the presets. I wasn't able to try out the face-scan feature in NBA 2K16 because I got a copy for the PS4 and didn't have a PlayStation Eye cam.
It isn't as limiting this time, as for the first time ever, 2K Games is making the feature available to more users by integrating it into the free MyNBA 2K17 app. It's a godsend for people who don't own a PlayStation Eye or Kinect, although in my experience, the app is just as frustrating to use.
It still couldn't generate a decent mold of my face from the pictures I uploaded. This time, however, instead of creating a monstrous mug for me to post on social media, it just shows an error message. Thankfully though, they've added even more options now for sculpting faces from presets.
Early impressions
From what I've seen from this prelude, it looks like NBA 2K17 is going to be another success. Once again, the developers have proven that their focus and meticulousness when it comes to translating the NBA game into virtual form are the key to the franchise's winning record. Their efforts this year serve to create the perfect basketball simulator.
Casual fans might not notice the fine nuances, particularly the new collision mechanic. But hardcore fans of the game and of basketball will be sure to pick up the finer details.
In the end, most of us want our basketball game to be as close to the real thing as possible. And I think once again, NBA 2K17 delivers on that front more so than before.
[irp posts="10750" name="Drone assists in 2017 NBA All-Star Dunk Contest"]
The Galaxy Fold is real: Weekend Rewind
And it's pretty darn expensive
Here are the top stories on GadgetMatch this week.
1. Samsung unpacked… err… unfolded the future with Galaxy Fold
Yes, we expected Samsung to release a foldable smartphone. What we didn't see coming is that they would open the Galaxy S10 event with the Galaxy Fold.
No, this isn't just a concept anymore. Samsung demoed a working device on stage and said the device will be on sale starting April 26 at a staggering but also unsurprising price of US$ 1,980.
It'll be interesting to see how other brands respond to the Galaxy Fold. Watch out for our MWC 2019 coverage so we can all find out together.

2. Samsung Galaxy S10 cameras tie Huawei's flagships
Looks like Samsung is determined to hold on to its top smartphone maker reputation with its latest flagship Galaxy S10 tying Huawei flagship numbers on DxOMark. In fact, it even leads in the selfie camera department. That's made possible with an overall score of 109 for the rear cameras and 96 for the front shooters.
However, the S10 isn't just about its cameras. Watch our hands-on to get a good idea on how well-rounded a phone it is.

3. Xiaomi pre-empted Samsung with the Mi 9
Xiaomi almost came out of nowhere when they announced their first 2019 flagship — the Xiaomi Mi 9 — right before Samsung's Galaxy S10 Unpacked event.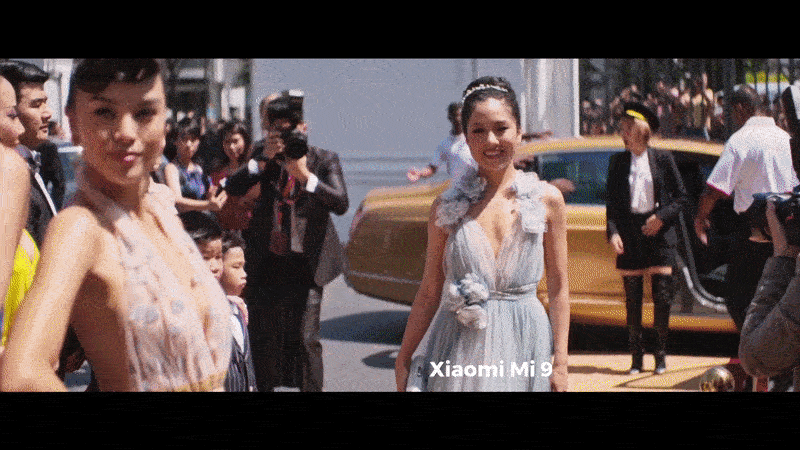 The Mi 9 had more than enough to grab hold of your attention with flagship specs: Snapdragon 855 and a 48MP camera among other things. And since it's Xiaomi, it's bound to be cheaper than the other flagships that will come out between now and MWC 2019.
Xiaomi's a disruptor and they did a good job disrupting with the Mi 9.

4. Huawei building up anticipation for the P30
Not to be outshone by Samsung and Xiaomi, Huawei has been constantly releasing bread crumbs about its upcoming flagship for all of us to chew on.
The P30 series is set to launch on March 26. As early as this week, the Chinese company even confirmed a quad-camera setup after showcasing a really close-up photo of the super snow moon.
All the teasers point to an improved zoom or telephoto lens for the P30. That's something we're definitely excited to test.
5. Fujifilm's X-T30 could be people's mirrorless camera choice
Fujifilm's cameras have always been pretty darn good, but this latest one from them could be a big hit. The X-T30 is a lightweight 4K mirrorless camera, making it a perfect travel companion wherever you go.
The Fujifilm X-T30 will be available in March starting at US$ 899 for the body only. It'll go up to US$ 999 when bundled with an XC 15-45mm f/3.5-5.6 OIS lens, or US$ 1,299 when bundled with an 18-55mm f/2.8-4 lens.
---
Weekend Rewind is our roundup of top news and features you might have missed for the week. We know the world of technology can be overwhelming and not everyone has the time to get up to speed with everything — and that includes us. So sit back, relax, and enjoy the rewind.
Samsung Galaxy S10 vs Galaxy S10+ vs Galaxy S10E: What are the differences?
A decade of Galaxies
Samsung has launched three new flagship phones: the Galaxy S10, Galaxy S10+, and Galaxy S10E. With three new models to choose from, it might be difficult to choose which Galaxy S10 is the one for you.
To help with this, we took the liberty to show you the differences between the three. Which of the Galaxy S10 models will be your GadgetMatch?
Display
Starting with the screen, the three Galaxy S10 models sport Super AMOLED displays in different sizes. The Galaxy S10E is the smallest among the bunch with a 5.8-inch display. It's followed by the regular Galaxy S10 with its 6.1-inch display and, of course, the Galaxy S10+ with its large 6.4-inch panel.
It's also worth noting that the Galaxy S10E has a completely flat display, while the other two Galaxy S10 variants have the curved panels we've come to expect from Samsung.
All three models don't sport a notch, but they do have holes on the upper-right corner for their front cameras. The Galaxy S10E and Galaxy S10 have a perfectly rounded hole-punch camera, while Galaxy S10+ has a pill-shaped cutout since it has two front-facing cameras.
Performance
Despite the size differences of the phones, all models are powered by a flagship processor. Depending on where you are, the Galaxy S10 family will sport either a Snapdragon 855 or an Exynos 9820.
Memory and storage configuration will also vary depending on the region. The lowest possible memory available is 6GB and it can go as high 12GB. As for storage, it starts at 128GB and will reach up to 1TB. The 12GB+1TB combo will be exclusively available for the Galaxy S10+.
Another significant difference between the Galaxy S10 phones is battery capacity. The Galaxy S10E has a modest 3100mAh battery, the Galaxy S10 owns a pretty standard 3400mAh battery, and the Galaxy S10+, being the biggest of the three, comes with a huge 4100mAh battery.
All three variants support fast charging using wired or wireless chargers. They can also do reverse wireless charging (which Samsung calls Wireless PowerShare) to charge other devices using the Qi wireless standard.
Lastly, both the Galaxy S10 and Galaxy S10+ feature the new ultrasonic in-display fingerprint reader, which is definitely faster than any of the in-display fingerprint readers we've tried before. The Galaxy S10E has a more conventional side-mounted fingerprint reader that's still accurate and fast, but not as advanced.
Cameras
The Galaxy S10 and the Galaxy S10+ are the first among the Galaxy S lineup to have triple rear cameras. The setup is composed of a main 12-megapixel Dual Pixel and Dual Aperture camera, a 16-megapixel ultra wide-angle, and a 12-megapixel telephoto with 2x optical zoom.
Since the Galaxy S10E is priced lower, it only has two of the three rear cameras of its more expensive siblings: the main Dual Pixel camera and the ultra wide-angle shooter.
The situation in the front is quite different, though. Both the Galaxy S10 and Galaxy S10E have a single selfie camera, while the Galaxy S10+ gets an extra depth sensor for a more precise bokeh effect or Live Focus.
Pricing and colors
The cheapest model is the Galaxy S10E which starts at US$ 750. The regular Galaxy S10 will set you back US$ 900, while the bigger Galaxy S10+ is priced at US$ 1,000.
All three models will come in Prism White, Prism Black, Prism Green, and Prism Blue. In addition, the Galaxy S10E will be available in Canary Yellow, as well. The Galaxy S10+ also has premium Ceramic Black and Ceramic White variants, but these are only available for the high-tier configurations.
Colors option may vary per region, so not all colors will be available in all markets.
Get to know more about the latest Galaxy S10 series by watching our hands-on video:
SEE ALSO: Samsung Galaxy S10 Hands-on: A refinement of everything
Instagram photo challenge with the Samsung Galaxy S10
Hands-on with all three versions!
Samsung's newest Galaxy S devices have just been announced and we're blessed with three versions: The Samsung Galaxy S10e (small), the Galaxy S10 (big), and the Galaxy S10+ (big big!).
Each phone is equipped with a number of cameras so you know what that means: IG photo test!
In our Her GadgetMatch video, we check out what's so cool about the new Samsung phones and test what the cameras can do. Spoiler: They do a lot!
In case you're having trouble viewing, watch HERE.
SEE ALSO: Samsung's new LED light cover is the phone case we've always wanted